This story first appeared in TRANSWORLD SNOWBOARDING.
With an upcoming Olympic season approaching and a precursor of qualifying events to prepare for, training for snowboarding's hucking hopefuls is in full swing. And with that training, amidst our normal summer newsfeed of glaciers and good times, a new shape has risen out of the slush.
The new shape is a sloped airbag made by Progression AirBags that is helping riders learn their tricks from start to snow in a safer environment than ever before.
First conceived to push the level of slopestyle riding, Marc-André Tarte of Acrobag teamed up with Aaron Coret and Stephen Slen of Katal Innovations in the Squamish, British Columbia, area for a customized airbag that mimics the grade of an actual landing instead of just a flat pillow.
The result of their planning is a 200-foot-long, 77-foot-wide bag that weighs around 12,000 pounds and separates into multiple pieces for travel. Complete with a 35-foot deck, landing and walls to prevent the athletes from sliding onto the ground, the first ever Progression AirBag was set up at Mammoth Mountain this past month for visiting and hometown pros to train.
U.S. Team riders Hailey Langland and Chris Corning were two of the many riders attempting new tricks into the bag. Both coming off big seasons, Langland taking gold in Women's Big Air at X Games and Corning holding his own in some major competition stops, here is what they had to say:
Hailey Langland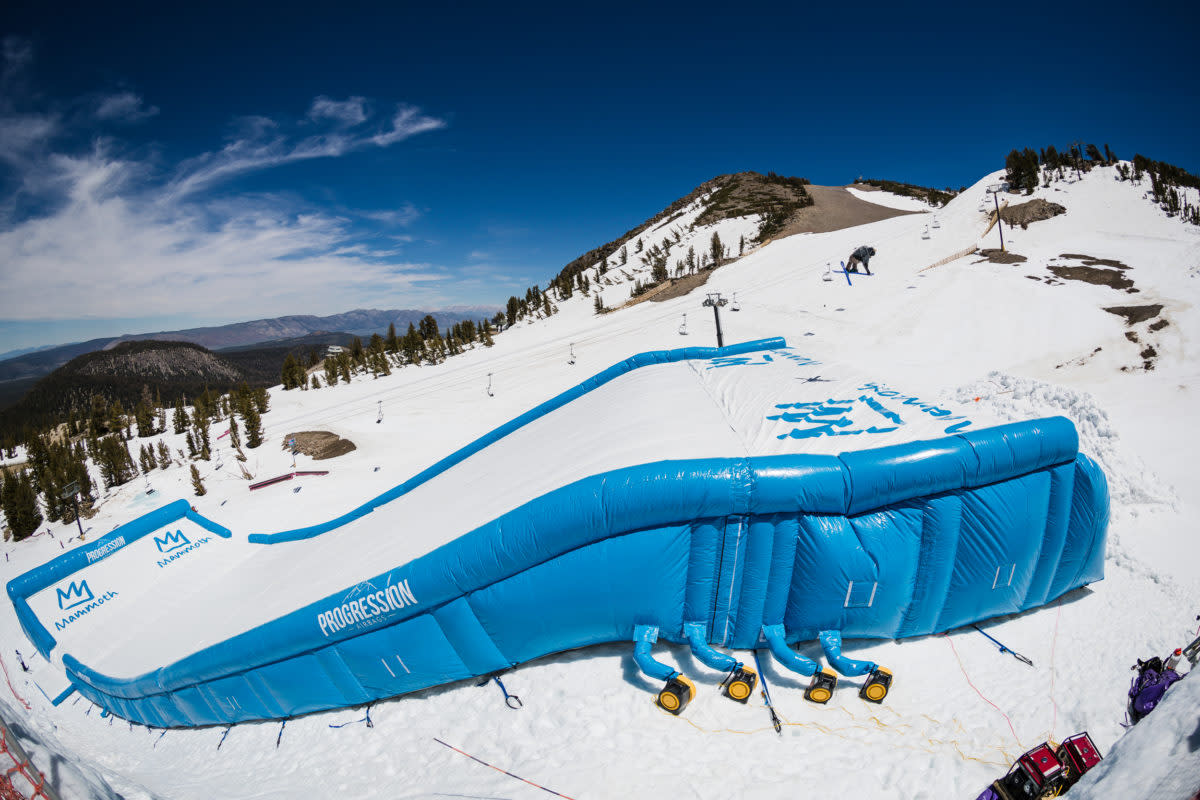 The slope/jump bag is a newer addition to the training camps; can you describe what it's like hitting it?
The bag is basically a gigantic bouncy house, material wise. Speaking from my personal experience, the bag is definitely a hit or miss. If you fall on it the right way, you won't feel a thing.
I have literally landed upside down — pretty much on my head — and didn't feel it. But if the bag is kind of sticky or you fall on it wrong or land a certain way, it can whip the living daylight out of you.
Traditional airbags didn't have the ability to mimic a landing, so this one seems like a game changer with learning new tricks. You've already been dabbling in doubles without the added security of the bag, so will this change how you try new variations or other tricks entirely?
I've only tried and done one double ever in my life, and so to have this kind of resource is super exciting for me. It's not only to try and get comfortable with going upside down twice, but even to try basic tricks that I'm terrified of.
FYI switch backside is literally my kryptonite.
Having this type of facility when it comes to slopestyle contests and heading into the upcoming contest season and an Olympic year, how do you think this will affect women's slope and big air in general in 2017-18?
I have mixed emotions about going into the Olympics this season. I think that everyone knows, on the women's side of things, if you don't at least have a double cork, your chances of being on the podium are pretty low.
Which makes me so excited because it means we are going to see the highest level of competition and progression from the ladies. Ever. But it also makes me super nervous and antsy from a competitor's standpoint.
Every day that you know someone else is on that bag, they're learning something new, and you're not.
Chris Corning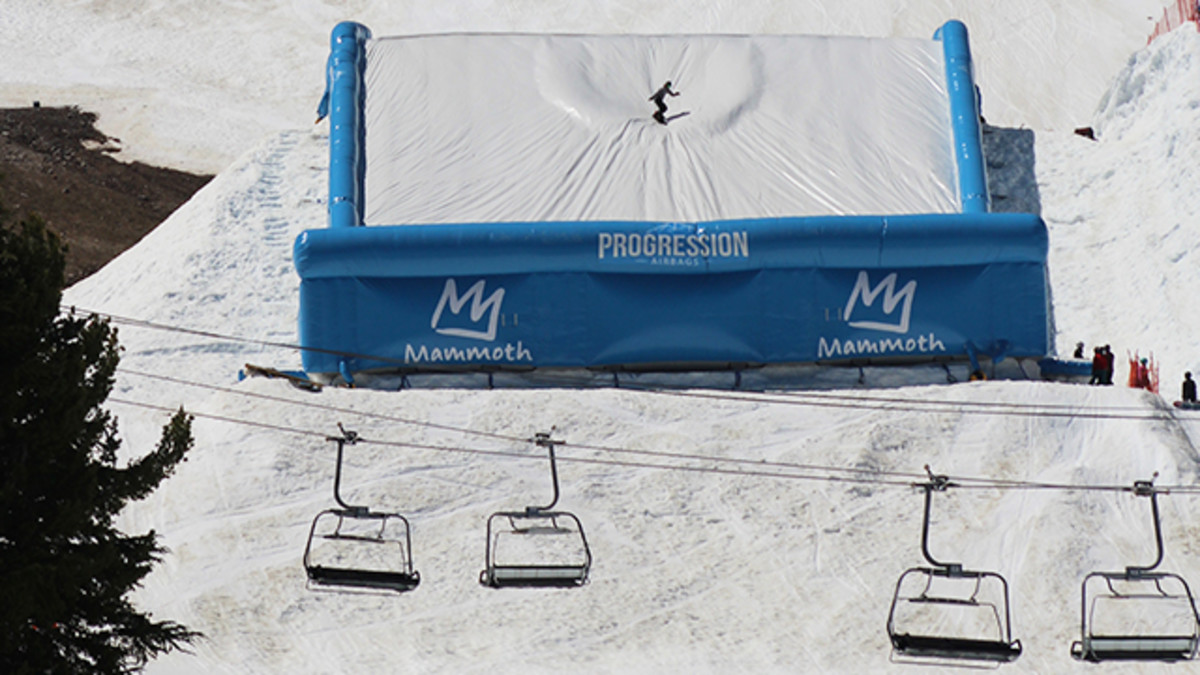 The slope/jump bag is a newer addition to the training camps; can you describe what it's like hitting it?
I would describe hitting the airbag as a big Slip 'n Slide if you hit it right, or getting your board caught in a really sticky situation that sends you into a really bad rag doll.
Traditional airbags didn't have the ability to mimic a landing, so this one seems like a game changer with learning new tricks. To go from learning doubles/triples/etc. on traditional airbags/regular jumps/etc. to this method, are you guys learning things so much faster? Is it a game changer with being able to try new things?
Having the airbag is a real game changer. You have to go into learning new tricks with the right attitude, though. You can go into it thinking you can chuck your body and forget about the mechanics of how to throw the trick.
If you learn your trick without your mechanics and your brain kinda lagging because [the airbag] is soft and you can fall, when you go into the jump and actually try the trick it's going to be a lot different; you need your mechanics and your brain in full effect because you do have to land it! If you do it the right way, I think you can progress really fast!
For quads and/or any other trick you want to learn or just dial in, how do you see the bag fitting into the process in a general sense?
Well, I definitely see myself using it when there is no snow, just to keep my air awareness in high intensity over the summer. Keeping my tricks dialed over the summer will be key on the airbag, I think. I see myself using it in the future for sure, though!
For more Q&A about this epic airbag, head over to TRANSWORLD SNOWBOARDING.
Read more from TRANSWORLD SNOWBOARDING
2018 Winter Olympic U.S. Snowboard Team qualifying events schedule
6 places you can camp and ride this summer
Spring storm dumps late season pow
For access to exclusive gear videos, celebrity interviews, and more, subscribe on YouTube!