It takes a certain amount of nerves to launch yourself off a ski flying ramp. To attempt to do so backwards requires another level of bravery that borders on insanity. And that's just what pro skier Sammy Carlson did for his new feature film The Sammy C Project.
Teaming up with the folks at Teton Gravity Research, the eight-time X Games medalist set out to create a mind-bending ski movie that would raise the bar for what people thought was possible on two skis. Part of that effort was becoming the first person to ever hit a ski-flying ramp, long jump with freestyle intentions.
RELATED: Eight-time X Games medalist talks new movie, future of backcountry skiing
Ski flying, for those who don't know, is like the long distance Olympic ski jumping events you might recognize, but on steroids. While ski jumping hills aren't larger than 476 feet, ski flying hills can be as large as 738 feet.
Currently, there are only five active ski-flying hills in the world; Carlson chose to send it off the largest in the Western Hemisphere, Copper Peak in Michigan.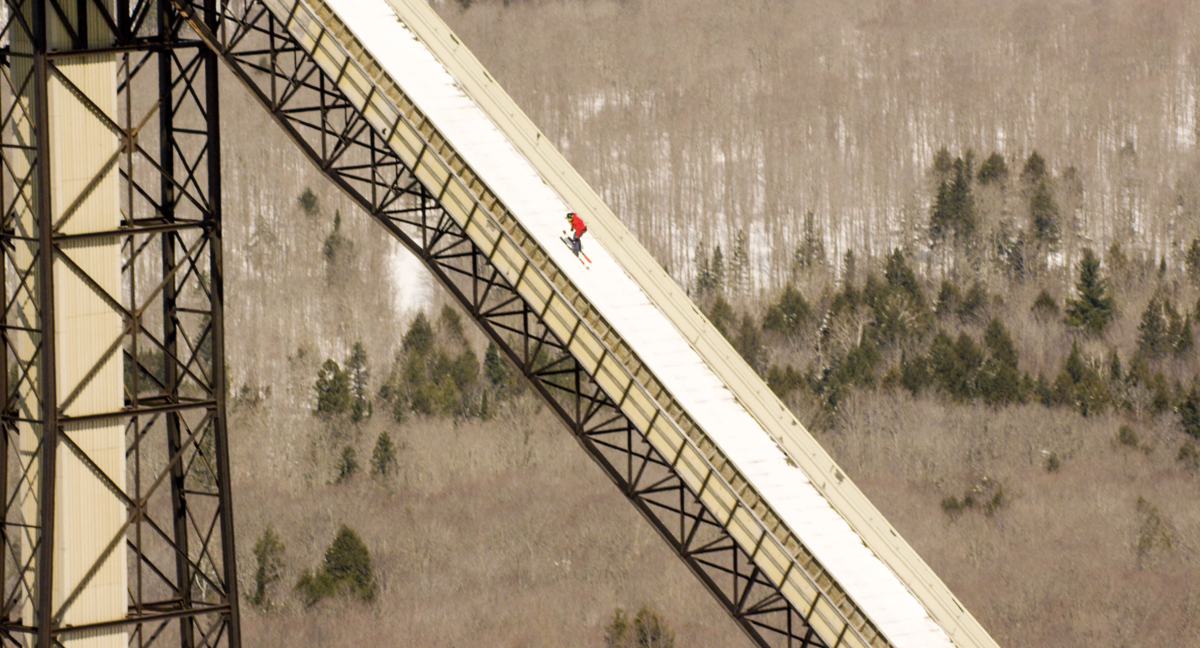 Built in 1970, Copper Peak is located on Michigan's upper peninsula along the shores of Lake Superior. The 24-story, 300-ton steel structure offers 364-feet of vertical drop and a 35-degree in-run, providing for jumps with distance records stretching over 500 feet.
Naturally, Carlson decided to not only spin himself off the lip of the towering jump, but to also launch himself off it backwards multiple times.
RELATED: Sammy Carlson wins Real Ski Backcountry … again
"When we showed up it was a ghost ramp. It not been hit in 20 years," Carlson said of conquering the jump. "The people helping me from the community were just as committed as I was to hitting the ramp. It was true team effort."
"The jump is truly enormous," Teton Gravity Research co-founder Steve Jones said. "Hitting a gap this big in general takes significant confidence and skill, not to mention spinning from its lip or dropping in switch. Sammy is unbeatable when it comes to skiing like this."
More from GrindTV
New app motion-controls your music while you ride
Dirtbagging 101: How to break in your hiking boots
Bern Unlimited releases game-changing first line of snow goggles
For access to exclusive gear videos, celebrity interviews, and more, subscribe on YouTube!