Canoe & Kayak Gear Review
first appeared in March 2008 Canoe & Kayak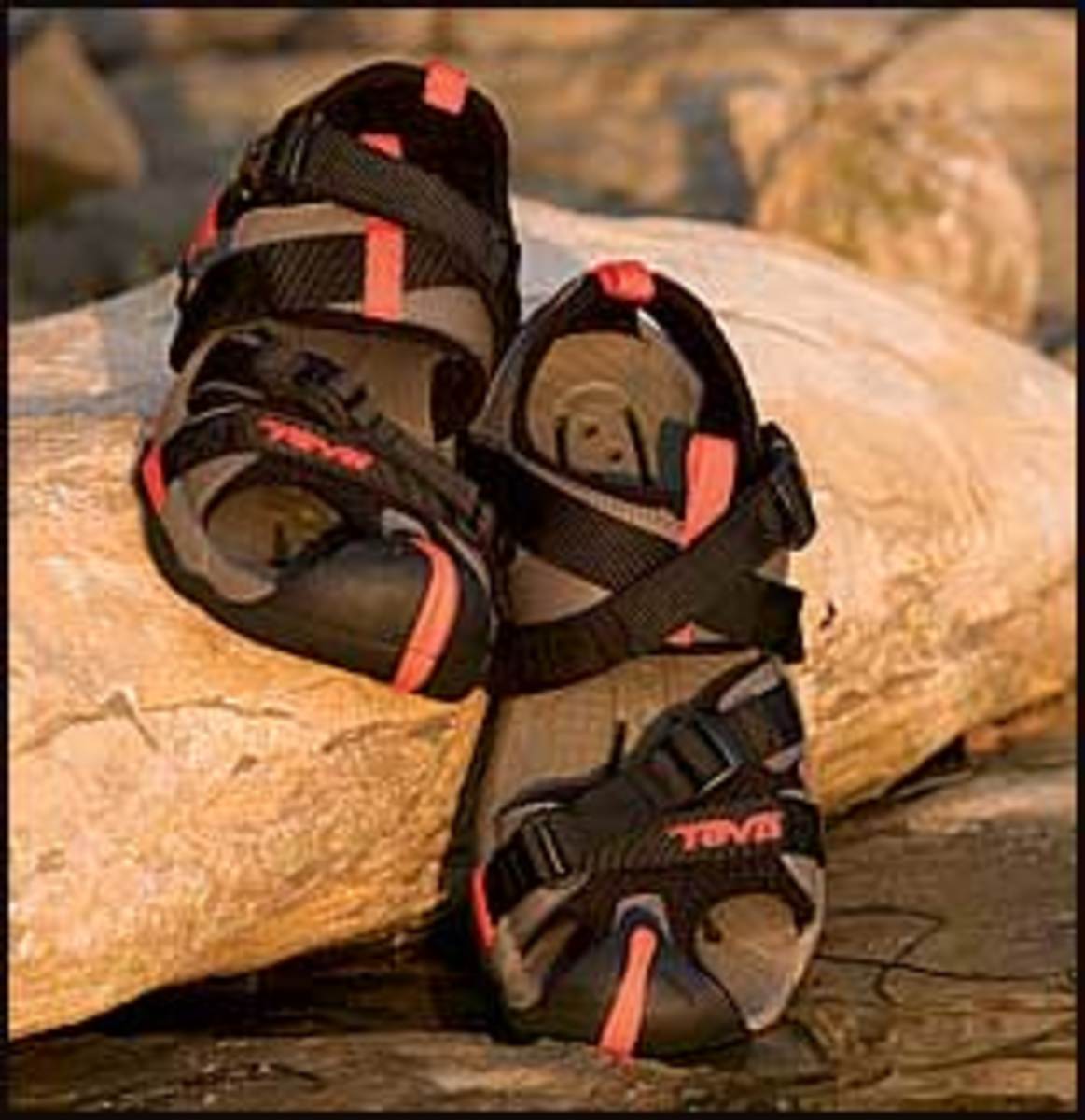 Raft guides don't wear flip-flops–they fall off the feet in whitewater–and water shoes go against the rafting ethos. Instead, they wear sandals with heel straps—-all day every day, loading and unloading heavy gear from rafts and scrambling over canyon rocks in wet, slippery conditions. It's a tough gig, for guides and rafting sandals alike-the perfect proving ground, you might say. So we sent a batch of water-friendly sandals down to Chile's infamous Futaleufu River, where the boys from Bio Bio Expeditions ran them through the gamut for two months on gut-check trips like Class V Inferno Canyon. The test program yielded plenty of data, starting with how to get 30 pair of rafting sandals out of Chilean customs (four trips to the Argentinean border and a few hundred dollars in "duties.") Here's what else our gear-testing guides had to say.
Teva Karnali Wraptor, $100 (teva.com)
Quote: "It seems they have thought of everything on this one, I would be comfortable jogging the shuttle in these shoes." —Marc Goddard
Water drains through the sticky, non-marking soles of this latest model from the hard-charging sandal gurus at Teva. Tiny stainless steel screens let water escape, prevent debris from entering, and allow air to flow through, a godsend for guides who are often plagued with a variety of infections collectively known as "footrot." Nylon straps backed by soft moisture-wicking polyester wrap fully around the foot through a channel in the sandal bottom, securing your arches to the padded, anti-microbial footbed, which is reinforced with a stiff EVA midsole. One tester with blister-prone heels suggested breaking the Wraptors in slowly. An additional adjustable strap hugs the front of the foot while a rubber plate protects your toes as you jam them repeatedly under the raft's cross tubes.
Keen Zerraport, $85 (keenfootwear.com)
Quote: "Glad I was wearing these the day I scouted Inferno Canyon." –Laurence Alvarez
The Zerraport's three-layer sole is as sturdy and protective as something you'd find in a light hiking boot, and the adjustable strap system and padded toe guard keep the foot in place on steep slopes even when the footbed gets slicked with mud. Back in camp, the heel strap can be removed to convert the sandal into a casual slide. Siped outsoles grip in wet conditions, but some testers said the beefy sandal body tends to trap rocks and sand. Another bonus: Keen infuses the rubber on select models with vanilla to combat other odors they may
Chaco Z2, $90 (chacousa.com)
Quote: "The only time I have to replace my Chacos is when I lose them somewhere." –Marc Goddard
For almost two decades, Chaco has been making the sandals that are now the raft guide standard for surviving years of abuse. The fully adjustable polyester webbing, with the Z2's signature toe-loop, dries fast and delivers a consistent fit damp morning after damp morning in camp. The textured footbed can be rough on the soles of doughy feet, but, along with the strap system, keeps the foot in place even while climbing steep muddy banks. On the shoe's underside, the Diamond Stealth soles keep traction on the most treacherous river rocks. And since the polyurethane sandal body usually outlasts the softer rubber underside, Chaco will gladly re-sole your worn out kicks so you can tread a little more lightly on our delicate planet.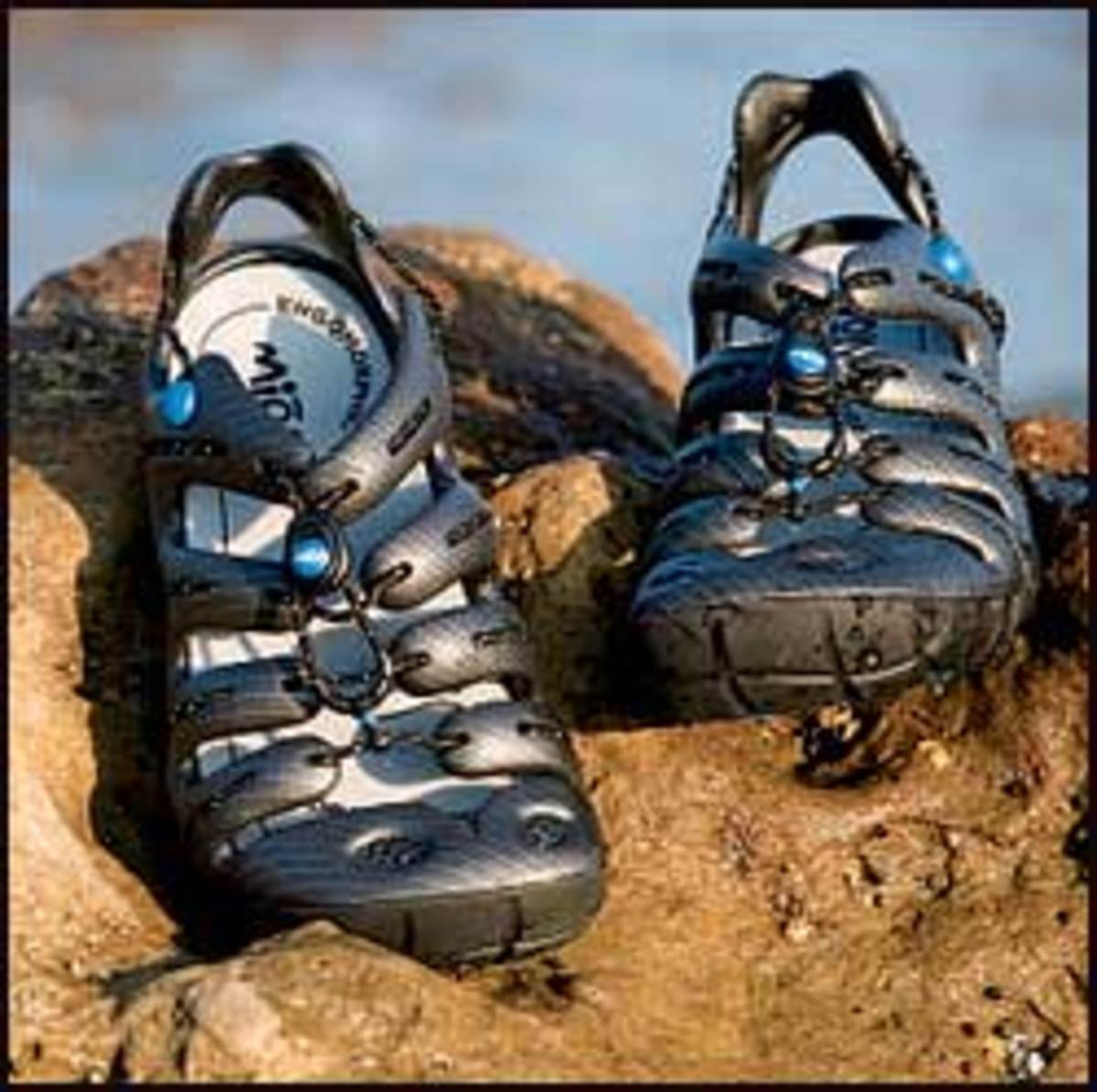 Mion Current, $100 (mionfootwear.com)
Quote: "Best comfort of the batch." –Piero Velutino
Eleven points of contact means great fit; you can adjust the tightness of the Current with the pull of a single, climbing-grade Kevlar cord. The soft EVA foam upper sheds water instead of absorbing it, unlike fabric or leather, keeping the average weight of each men's shoe under a pound, even while wet. Siped soles provide good traction on wet rocks or rafts, and the removable Mion foot bed permanently molds itself to the wearer's foot shape after a day's use. While the construction didn't quite stand up to the daily abuse of working raft guides, the average rafter or amphibious adventurer will delight in this ultra-light, waterproof sandal. For more rugged expeditions, check out Mion's new Flood Tide shoe, which features a removable bootie/liner.
Hi-tec V-lite Scirroco
$60 hi-tec.com
Quote: "A great day hiking sandal." —Marc Goddard
More of a terrestrial sandal, the V-lite Scirroco lacks the toe protection of some of the models tested. This, coupled with the thinner elastic in the tightening system, caused the guides' feet to slide off the front of the sandal in wet, contorted conditions. While it didn't quite stand up to the rigors of daily guide work, the V-lite Scirroco, with its soft, wide neoprene lining and sturdy, yet lightweight, contoured footbed, would make for a nice trail runner. And, at just over half the price of some of the other models, it's a perfect pick for multi-sport outings—including milder water excursions.
The article was originally published on Canoe & Kayak
For access to exclusive gear videos, celebrity interviews, and more, subscribe on YouTube!