By Larry Laba, SOAR Inflatables
Web Exclusive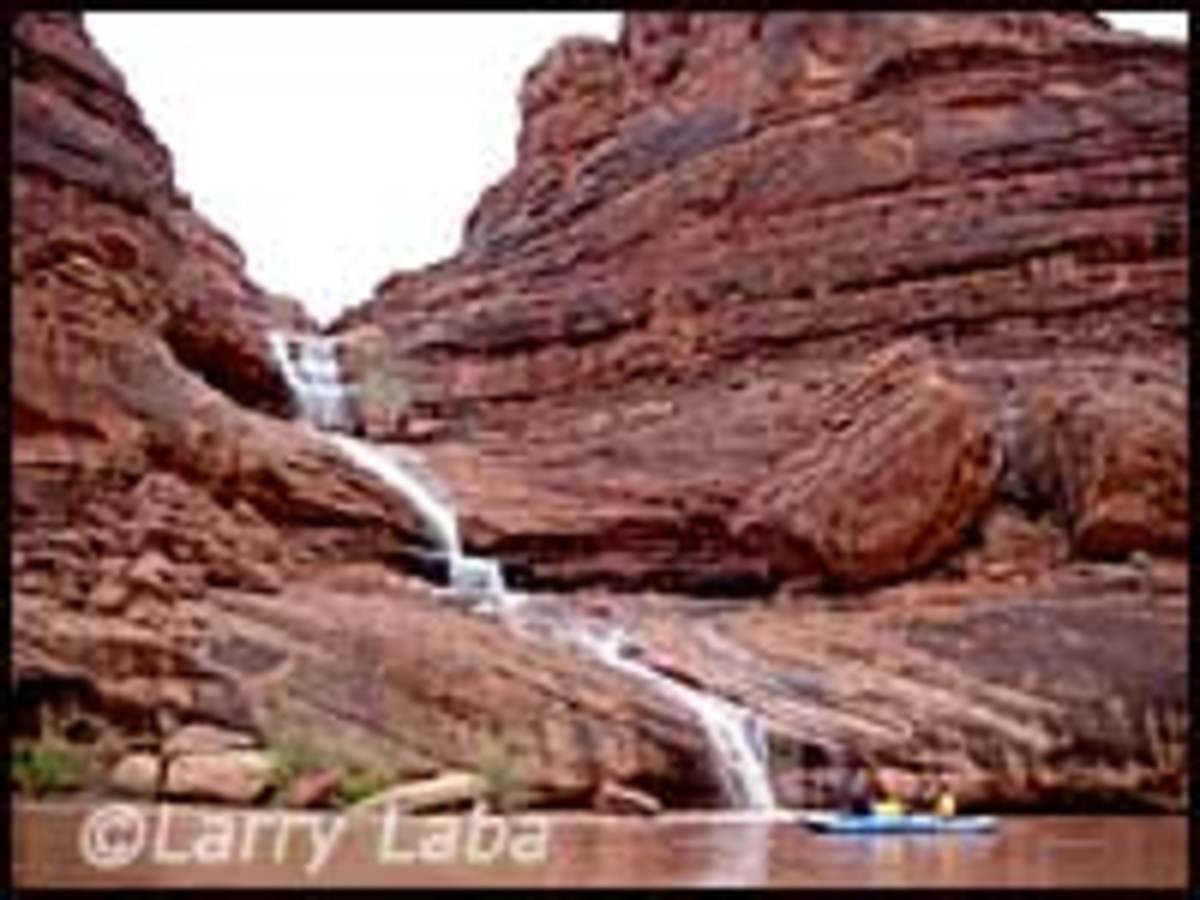 I returned last week (mid-October 2006) from paddling for six days on the San Juan River, then camping and exploring the Eastern Sierras for a week.
Normally, a trip report on the San Juan isn't necessary. It's a wonderful, easy, canyon classic. However, this trip did not end on a normal note. For anyone who has not run the San Juan, the last 17 miles from Slickhorn Gulch down are slow, shallow, braided with sand bars, and sometimes an upstream wind. All of this makes a SOAR inflatable canoe a bit more of a challenge to paddle.
We didn't have a full eight days to enjoy the San Juan, so four of us launched from Mexican Hat on Sunday, Oct 1, and we enjoyed mostly sunny weather, and a low 800 cfs flow, and great camaraderie for the first five days. On our last evening, the seriously dark clouds began to gather overhead and even more threatening clouds appeared in the downstream canyon horizon.
It soon began to rain, and after an hour of hard, steady rain, water began flowing down Oljato Wash where our camp was situated. Paul took the first watch until 2 am, and then I took over the next watch, making sure that we would not be caught by fast-rising waters on two sides of our camp. Those fears proved overblown, but it's always better to be prepared than to suffer the consequences.
The next morning we awoke to mostly cloudy skies, and then I noticed several thin ribbons of waterfalls cascading over the sides of the canyons. I watched with amazement at a sight that I had never seen before during my many river and hiking trips through canyon country. I felt blessed to be watching this event, even as the waterfalls receded and disappeared before my eyes.
With the sadness that always is somewhat pervasive on the last morning of a wonderful river trip, we launched into a river that hardly resembled the low, brown river of the evening before. This morning, we encountered a river that was now more reddish in color, resembling the high canyon walls surrounding us. It was clear the river level had increased by over a foot, and the velocity looked like we wouldn't have to paddle much during the last 7 miles.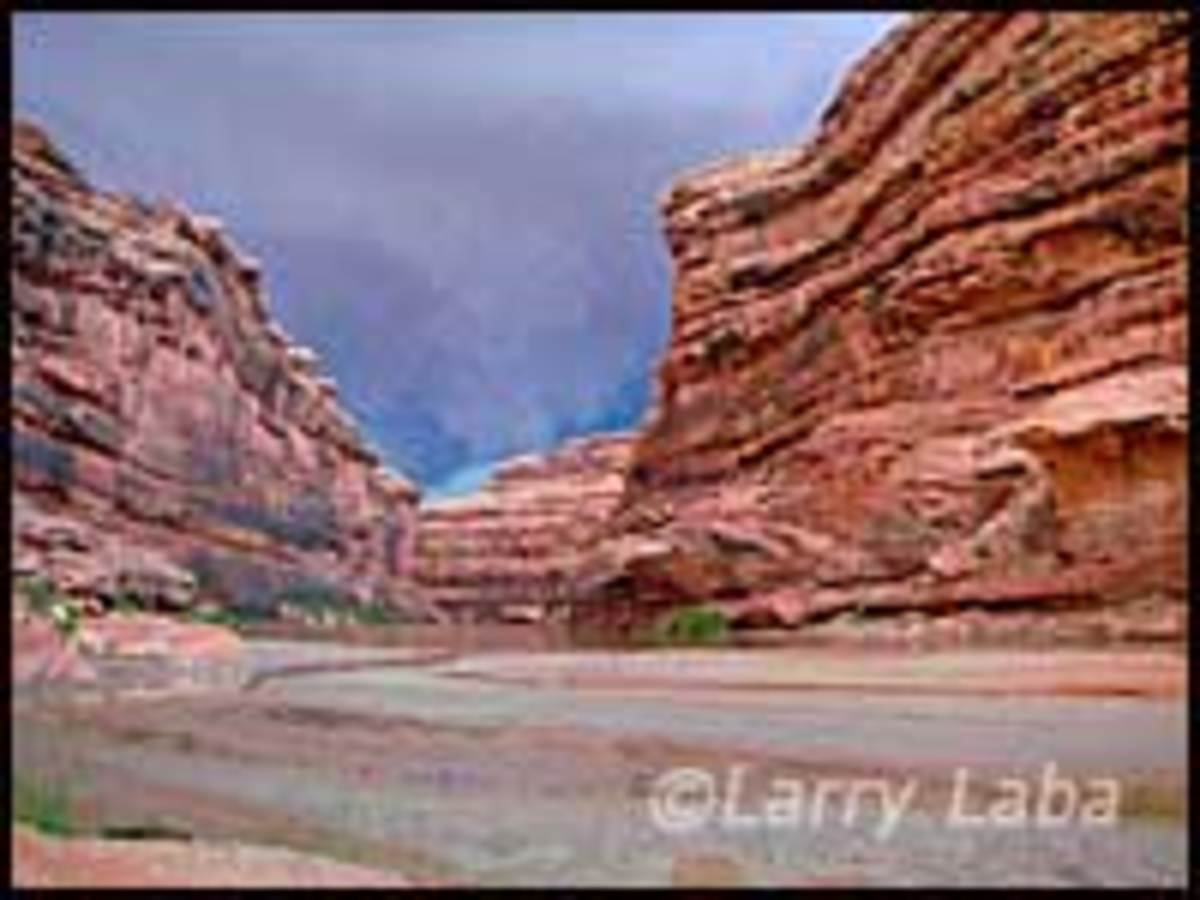 We had rain gear on since the clouds above looked loaded and ready to drop at any moment. We passed by several small waterfalls cascading down the canyon slopes, and stopped at two side canyons: Whirlwind and Grand Gulch to watch their muddy flows race towards the San Juan. And then the rains began to pound us again. My wife and I rigged up our solo inflatable canoes so that we could paddle side by side, tandem style. I tried to make some jokes so that she wouldn't be very bothered by the torrential downpour.
Then, the joking stopped and the most remarkable thing happened. Waterfalls began pouring over the tops of the canyon walls. For the next 45 minutes, we let the speedy San Juan push us along as we watched waterfalls ranging in color from clear, pure water to deep, red mud fly over the canyon rims. We forgot about the rains, whooped and hollered in awe and amazement at this most glorious sight. All I can say is this was truly jaw-dropping and breath-taking.
Fortunately, my camera is a Pentax Optio waterproof digital and we were able to capture a few good shots. There would have been more, but there were drops of water on the lens, and the speed of the San Juan affected the focus.
There was more to the trip, actually. The road to the takeout was washed out. We had to wait an extra day for a high clearance four-wheel-drive to be able to get in to Clay Hills and get us!
Best (on and off the water), Larry Laba
SOAR Inflatables
The article was originally published on Canoe & Kayak
For access to exclusive gear videos, celebrity interviews, and more, subscribe on YouTube!