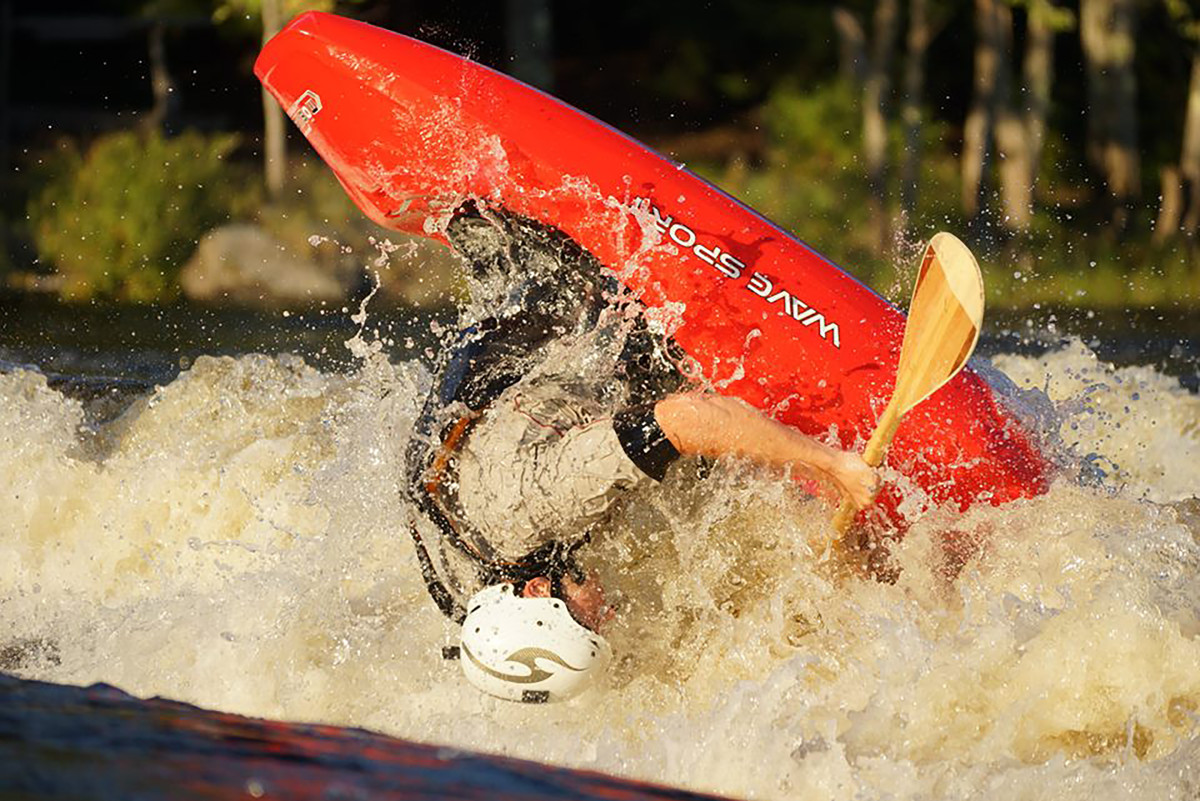 Review by Eugene Buchanan
Discovered by German mathematician August Ferdinand Möbius in 1858, a Möbius band is a non-orientable surface with only one side and boundary component (to make one, half-twist a paper strip and join its ends; an ant could circumnavigate both sides). It's an apt name for Wave Sport's newest freestyle machine, which will have you looping and twisting just as easily.
Designer Hans Nutz wanted to create a kayak in which both experts and novices could excel. "We wanted to keep its play level high for our athletes, but also keep it forgiving for those just starting," he says.
The first thing you'll notice hopping inside is its looks. Instead of being new-fangled, its lines look familiar, like visiting an old friend. "That's a cool-looking boat," said more than one onlooker. Indeed, Nutz tried to maximize "aesthetics with function." Behind the sleek simple look, its crisp, simple bow lines add hull rigidity for better power transfer.
Eye candy characteristics aside, it truly shines on the forgiveness front. The bow's more rounded, less grabby sidewalls deviate from the sharper edges of the Project X, while a higher overall waterline keeps it from being catchy. It also comes with a higher-volume stern, complete with a new "release" edge along its back that allows water to wash off rather than create drag. While it's two inches shorter than the Project X, it has more volume, allowing it to plane quicker and build up more speed. "For a boat that short, it's way faster," says Nutz. Like a bowl of Rice Krispies, all this makes it snappier and poppier than its Project X predecessor, while retaining its forgiving nature.
We put the 57-gallon version (for medium-sized paddlers) it to test at the height of runoff on our hometown Yampa River, which saw 4,000 cfs careen into river-wide Charlie's Hole for six weeks straight, creating a colossal monster that even most pros have put on their list. We tested it at all levels, from getting spanked by a static tow-in rope to dodging tubers front surfing. It excelled at every one, whether we looped into orbit or front-surfed with kids on the stern.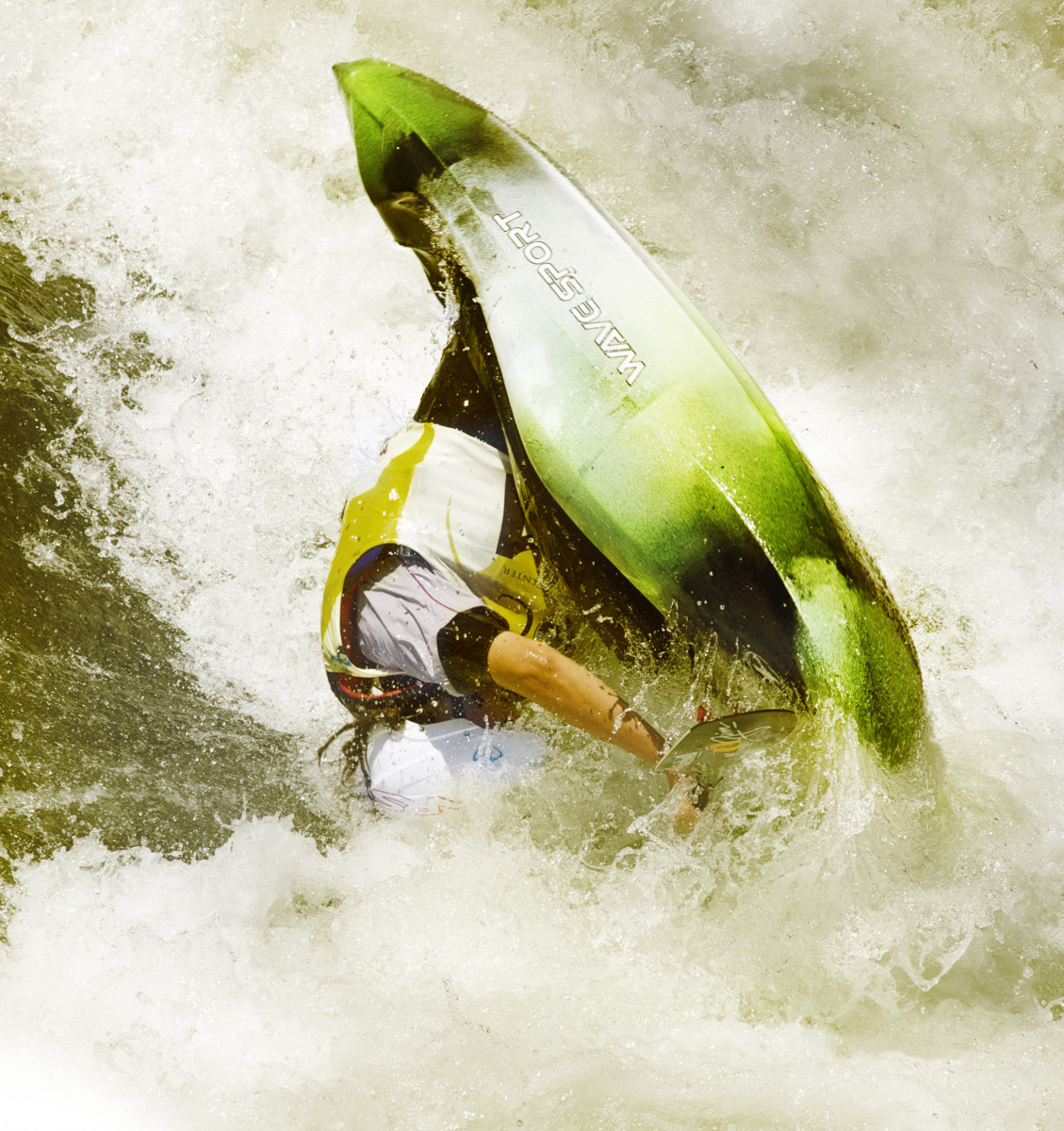 "It backsurfs super well," noted one tester. "Better than any other boat I've paddled." This comment owes itself to its wide stern and raised waterline, and well as its diminutive 5'9″ length. The stern rarely caught on spins and surfs, yet came around quickly on blunts, backstabs and other more hard to pronounce aerials. "Super loose, yet easy to control," said another tester after clambering in line for a ride.
What testers liked more than anything, it seems, was its mother-like forgiveness, which comes from its rounded edges, sculpted side walls and a woman-like soft curvature in the bow. All this made everything from carves to loops easy to initiate, while its continuous rocker profile and stern release edge accentuated acceleration and speed. Another unique feature is its higher-than-normal, sculpted knee bumps. As well as encouraging a more aggressive seating position and enhanced leverage for edge control, these are also what let it come in two inches shorter than the Project; they bring your knees higher, pulling your feet in closer. For a 57-gallon boat, this also lets it fit a wider range of paddlers.
Inside the cockpit, the Mobius features a redesigned outfitting system that keeps you as comfortable as you are on a wave. A new footpad shape offers ergonomic positioning while maximizing its limited foot space; the racheted backband is easily micro-adjustable for all things lumbar; hip pads can be simply added (or subtracted, for that post-winter poundage); and the seat rachets up to secure your hamstrings and snug your connection.
For overall "playful" river running, we tested it on nearby Class III-IV Cross Mountain Canyon, once levels returned to something mere mortals could handle. At first it felt a tad squirrelly, most likely owing itself to its short length (or maybe the fact that everyone else was still in creek boats). But a little time in the saddle quickly had us happy with our choice, able to catch every wave we wanted to on the fly. While we didn't venture into any holes the size of our monstrosity back home, it spun, surfed, carried speed and, most importantly, stayed stable for the section's entire seven miles.
Faults with this new freestyle machine are hard to find. But if we must, trivial as they are knocks include: 1) the crinkly plastic wrap that comes standard over the outfitting pads. It's kind of weird…you don't know if it belongs or should be removed (Nutz says there's no real purpose to it, it's just the way it comes from the supplier). 2) Sometimes you hit your knuckles, or even elbow, on the higher knee bumps, creating the dreaded Phonics Monkey Knuckle Syndrome. 3) The foam foot pads tend to stray from their mooring during transport.
But these are all paltry compared to where it shines, which is paddling. Where the Mobius strip bends over on itself, you'll bend over adding it to your quiver.
Wave Sport Mobius
($1,100; www.wavesport.com)

49: L: 5'6″; W: 25″; Wt.: 30 lbs.; Cap: 150 lb.; msrp: $1,149

57: L: 5'9″; W: 26.25″; Wt.: 32 lbs.; Cap: 200 lb.; msrp: $1,149

65: L: 6'0″; W: 26.75″; Wt.: 34 lbs.; Cap: 250 lb.; msrp: $1,149
The article was originally published on Canoe & Kayak
For access to exclusive gear videos, celebrity interviews, and more, subscribe on YouTube!