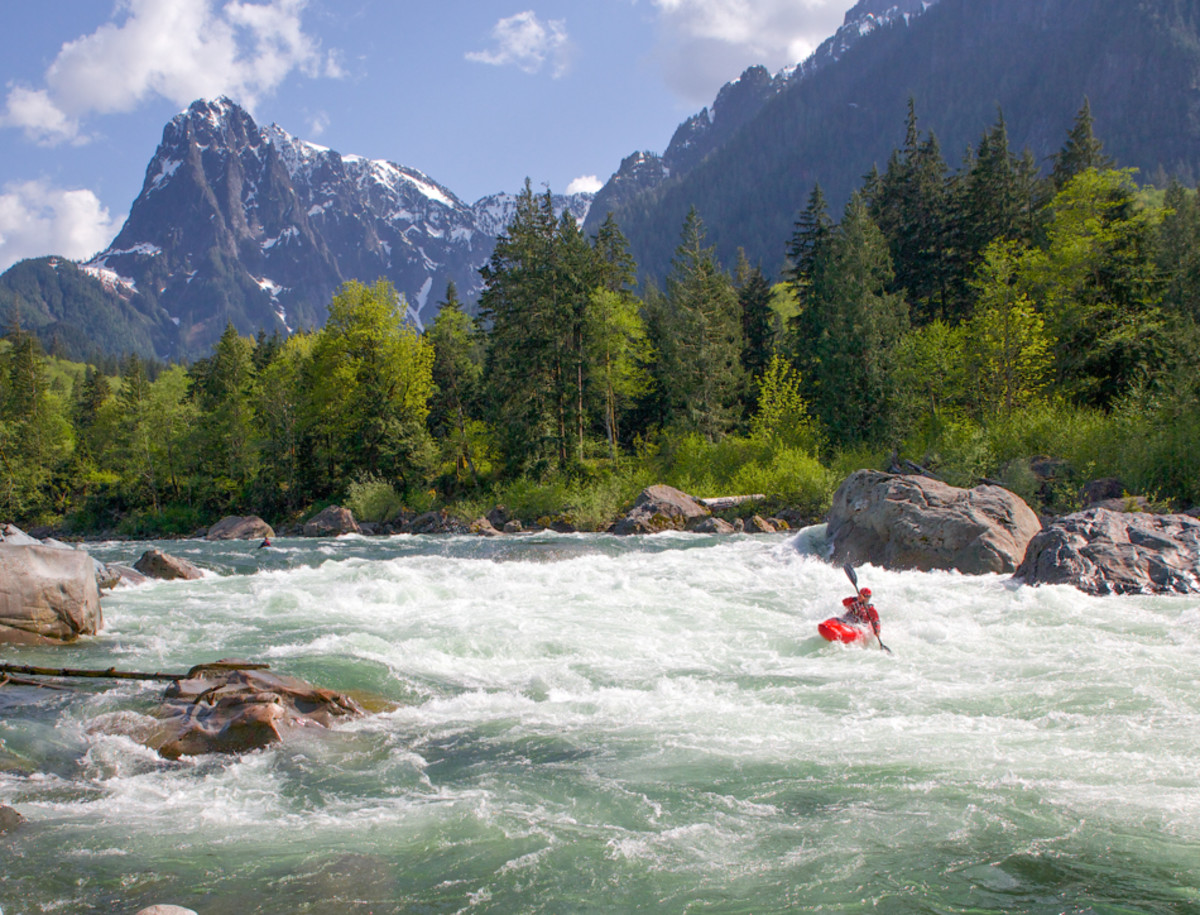 Jackson Kayak Tip of the Week
By Boyd Ruppelt

As spring temperatures begin to rise, so do the rivers. That's good news for us paddlers, but since the days warm up more quickly than the water, we need to take certain precautions to kayak the spring runoff safely. Even on a warm day, a long swim in mountain snowmelt could lead to hypothermia if you're not properly dressed. The refrain to keep in mind is: Dress for the water temperature, not the air temperature.
But when it comes to the specifics of a cold water dress system, there's plenty of room for debate. You may pride yourself on being a thrift store savvy dirtbag kayaker or maybe you're someone who wants the highest quality gear and maximum comfort for all conditions. My goal here is to discuss different layering systems for your arsenal so that you can make the most educated decision about what to wear in cold water before you leave the put-in.
First, a word on wetsuits. We've all put on that classic farmer john and pulled a drytop over it. The reality is that as awesome as wetsuits are, they're not designed for the kayaking environment. The problem for kayakers is that wetsuits require a consistent layer of water that has to be heated by your core. If the suit starts to dry out, your body will have to heat the water again when it gets wet, causing your body to expend unnecessary energy. As kayakers, we're typically in and out of our kayaks to scout, portage, rescue, and possibly swim. This makes wetsuits an inefficient layer option. Multiple swims on a windy day can lower your body's core temperature enough that it may not be able to adequately heat the water layer to keep you warm. Furthermore, wetsuits tend to restrict movement. Personally, I save my wetsuits for the beach.
So what is the ideal system? Every cold weather layering system should consist of three basic parts: a moisture-wicking base layer, an insulating mid layer, and a waterproof shell. These three layers together can produce a comfortable, light-weight, and effective system that will keep you warm no matter what kind of trouble you find.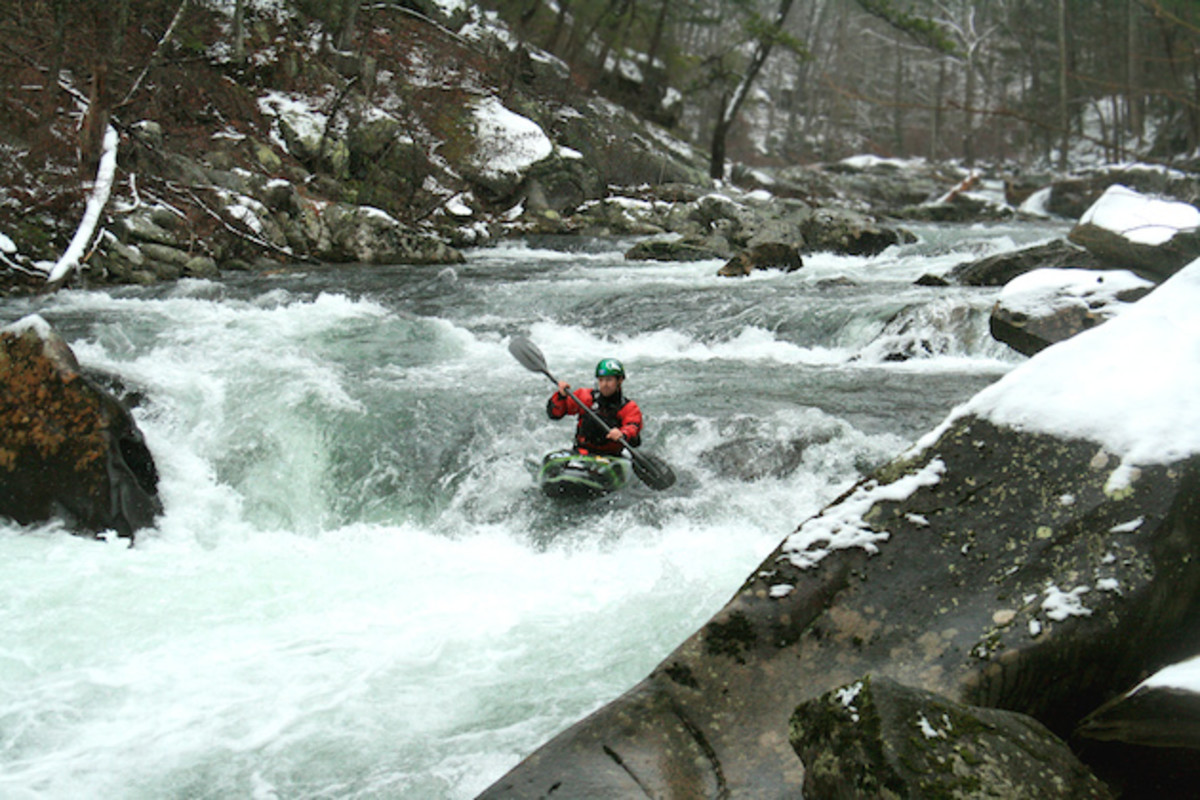 Let's start at the base layer and work our way up. A moisture-wicking layer that is designed to transport perspiration away from your skin is ideal. (Perhaps it goes without saying, but cotton and water sports don't mix. Cotton does not wick moisture so it quickly becomes saturated, and once it's wet, any cooler air around your body will quickly bring down your core temperature, potentially causing hypothermia.) Personally, I'm a huge fan of thin merino wool. I know the idea of wool sounds heavy and itchy, especially considering the fact that traditional wool can hold about 35 percent of its weight in water, but merino wool is different. It's light, versatile and provides outstanding moisture-wicking ability so it can prevent large swings in body temperature. If you're a bit cold, it traps just the right amount to keep you warm, but if you get too hot, it sheds the excess heat just as easily. It's almost like magic. Some synthetic fabrics make outstanding base layers as well. The drawback to most synthetics is that they do tend to build up the river funk we've all grown to love while wool does a better job of resisting the stink. The benefit of synthetics is a potentially lighter base layer.
The mid layer is best if it's light but warm. It can be a down substitute like Coreloft or Primaloft, which will keep you warm and fairly dry no matter what situation you find yourself in. Cheaper options can simply be a fleece or polypropylene layer, or any other insulating synthetic layer. I prefer Coreloft or thicker merino wool mid-layers for myself. Many paddling brands make fleece one-piece suits (to go under your drysuit) that are out of this world in comfort. Other similar layers will work as well, but my primary concern typically comes back to weight and moisture-wicking ability.
Finally, the shell. Whether you choose a drytop, a drysuit, or a splash jacket, the shell is the waterproof, outer layer of your system. A waterproof layer like a drysuit is ideal. Despite being expensive, drysuits are increasingly being seen as a crucial pieces of safety equipment for cold water kayaking trips. You can sandwich most drytops and drypants together and get a similar benefit, allowing you to only wear the drytop if it's warm outside and the water is a little chilly, but not freezing. If you take a long swim without a drysuit, however, water will probably saturate your under layers. A wide range of waterproof fabrics are available from nylon to Gore-Tex. Most waterproof-breathable fabrics these days are nearly as good as each other. Multi-layered fabrics are typically going to provide more protection and better moisture wicking ability than single layered fabrics. Nylon is cheap, but provides very little breathability. (It's important to note, breathability does not necessarily mean that wind will cut through a fabric, it refers to a fabric's ability to transport excess heat and moisture away from your body to prevent a clammy feeling while you're active.) If you go the drysuit route, I strongly suggest wearing wool socks under the suit and neoprene booties between the suit's feet and your shoes. It's just so nice to hop in and out of a drysuit with dry, warm feet, and you'll get more milage out of your investment that way.
The key to dressing for cold water paddling is finding a balance between comfort in your boat and safety for extended stays in the water. If you can't wrap your head around dressing for a swim, then consider dressing for an extended rescue. Both will require a versatile layering system to keep you warm and comfortable in varying conditions.

—Boyd Ruppelt is a member of Jackson Kayak's Regional Team.

More Tips of the Week
How to Lift your Kayak without Injuring your Back
10 Tips for Dealing with Fear on the Water
The article was originally published on Canoe & Kayak
For access to exclusive gear videos, celebrity interviews, and more, subscribe on YouTube!