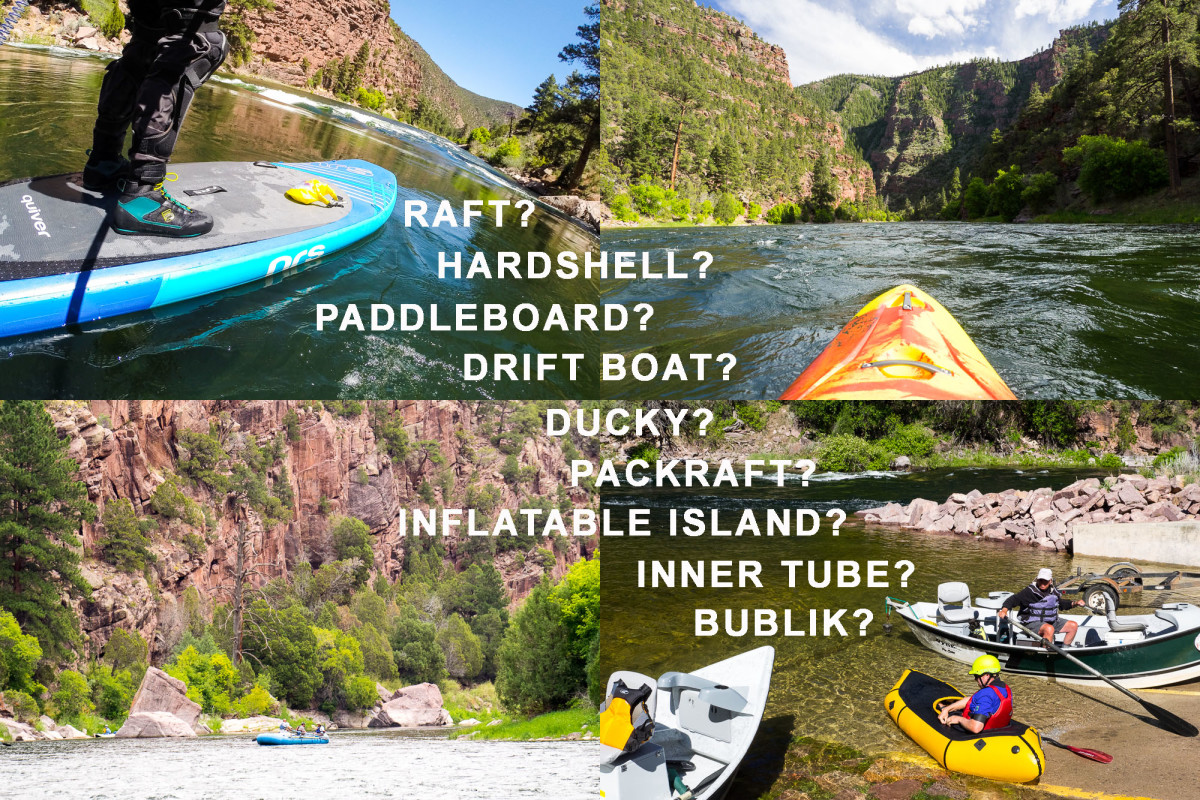 Can a paddler get too much of a good thing? I was wondering this as I started on my sixth overall pass—fourth on this early June weekend—through the startling sandstones and cliff-clinging pines of the Green River's A Section in Red Canyon. It was Saturday evening and there were only a few scattered fishermen putting on, after a typical hundred-boater glut at mid-day. Like a magician, I'd saved the best for last—a bomber run in my Pyranha Machno. Though the real trick was convincing my worn-out wife to run this final shuttle down to Little Hole Rec Area.
I'd come to Red Canyon a few times, always with a few objectives. Four years before, I'd first passed through on a roughly 150-mile through-trip from Green River, Wyo., to Gates of Lodore. Back then I was exploring the John Wesley Powell route in stages as part of a personal passion project. After crossing Flaming Gorge Reservoir in kayaks, we'd switched to a raft for the final third to stretch out and add ice. In 46 miles over four days, we passed through (day-use only) A Section, then camped one night each in popular B Section, the little-paddled C Section, and Browns Park Wildlife Refuge.
A few months later, I stumbled into a job as a guidebook author with Paddling the Ozarks. When my next project became the upcoming book Paddling the John Wesley Powell Route, I soon returned with camera in hand. But with deadline looming and a variety of photos needed, I instead hiked the Little Hole National Recreation Trail, which parallels A section for all 7 miles.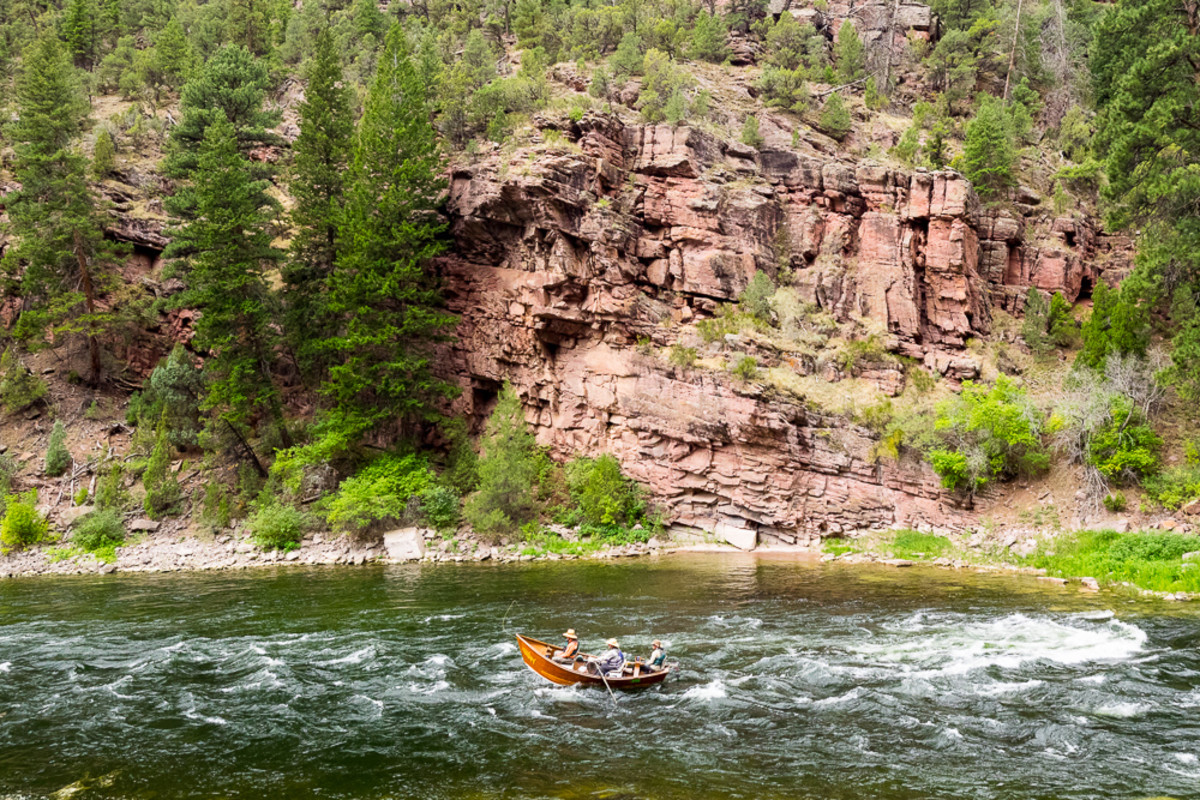 Being unable to paddle that day got me daydreaming about this ridiculously scenic and fun Class II day-trip in the Uinta Mountains of far northeastern Utah. How many different ways could one paddle this stretch in a weekend? I'd already taken a raft, and the regulars had fishing drift boats covered. Given the riverside trail, taking my new whitewater packraft seemed obvious. But the relatively deep waters of the typical late-spring release—often several thousand or more—suggested I toss my NRS Quiver whitewater paddleboard into the truck.
And leave my hardshell at home all alone?! Was I really that heartless? Sadly, my playboat was hanging in my friend's barn in rural Missouri, victim of our recent move to South Carolina. Meanwhile our ducky was at my buddy's dental practice in St. Louis—if I recall, this was his attempt at an equipment-focused intervention related to my boating addiction. "Why don't I own a riverboard plus fins, Russian bublik, or inflatable island with palm tree?!" I practically screamed into the vacant shed. Then my wife and I hit the road heading west.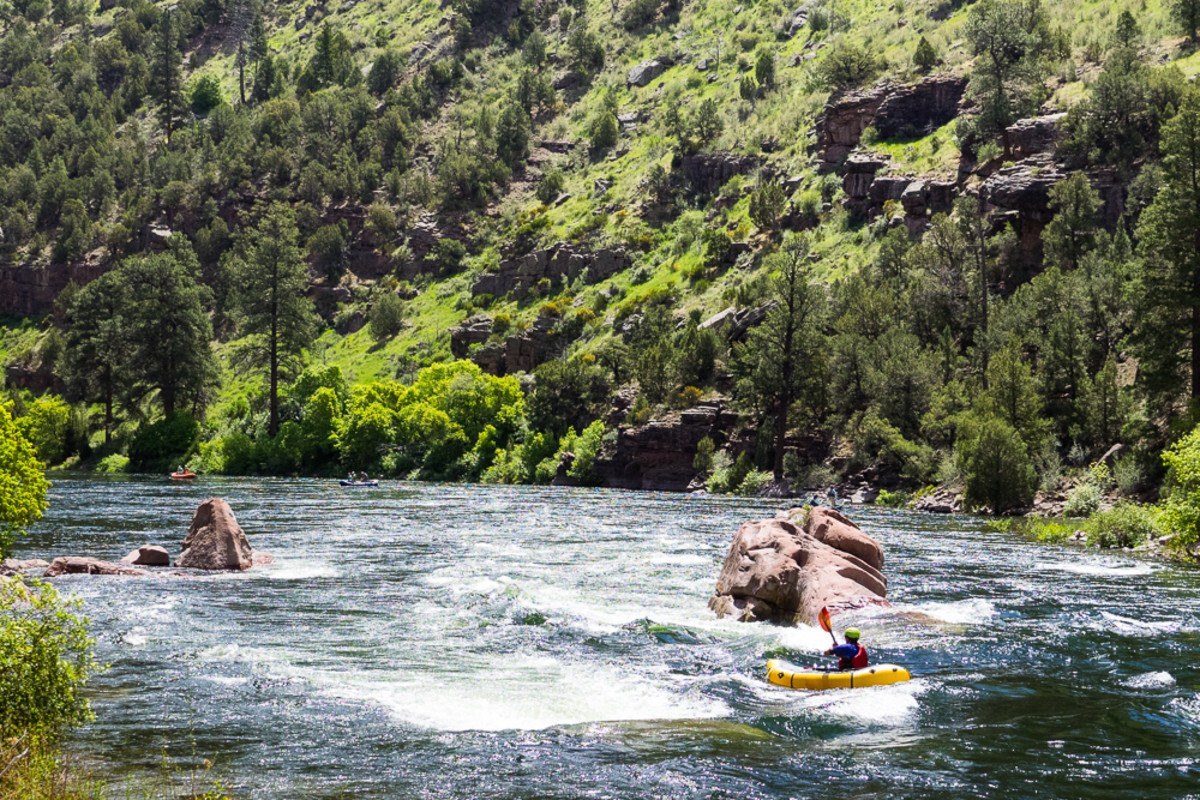 On this particular trip, my wife was focused on hiking, so I started with a packraft run in my new Kokopelli Nirvana. On a Thursday morning, we arrived to a ramp of de-trailering drift boats and fly fishermen stretching their forearms.
A skeptical river ranger gave me a look. "It's running 4600 today," he said, pointing at my 10-pound boat. "You sure you can handle it in that?"
A nearby fisherman offered a friendly declaration, "At this level, it's a class III river."
"Sounds fun," I said. Though, frankly, I doubted the escalated classification. A Section is an awesome run without any need to inflate its difficulty—one of those friendly and forgiving rivers with perhaps a half-dozen distinct rapids that somehow accumulated a dozen ominously named features over the years.
I zipped downriver on fast flow and was soon playing in the first rapid, a mid-river rock that splits the channel. Even at the higher level, you couldn't budge me past 2+, no offense. The real draw here is the scenery, punctuated with enough playful spots to keep it sporty. If you can stand the cold water coming out of the bottom of Flaming Gorge Dam, a half mile above put-in, then this is a perfect river for learning whitewater skills or taking family and friends.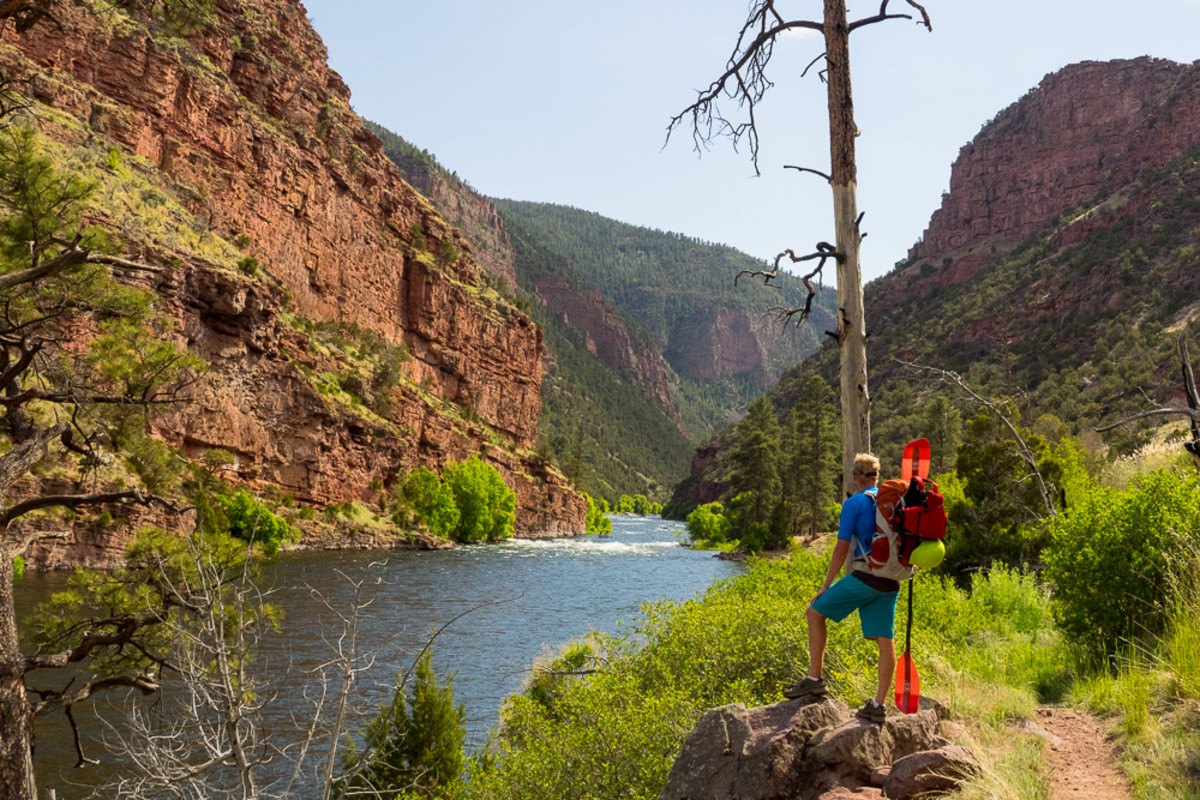 Speaking of which, my wife was hiking the trail downriver when I heard a shriek. I paddled over and found her practically hyperventilating.
"Snake?" I asked—her biggest fear.
"Like, all the snakes," she clarified, clearly rattled.
The packraft run was a gem. My third trip since getting the boat, and second whitewater run, after starting with a Lees Ferry into Glen Canyon loop and following it up with a hike on the Appalachian Trail and paddle down the Nantahala.
At Little Hole, there was a massive rat snake sunning itself on the take-out ramp.
"You have got to be kidding me," said my wife.
A fisherman laughed curiously.
"She saw about twenty snakes or so on the hike," I explained.
"It was seven snakes," my wife clarified, as we hiked back upstream (and saw only one snake). "But they were in particularly terrifying locations."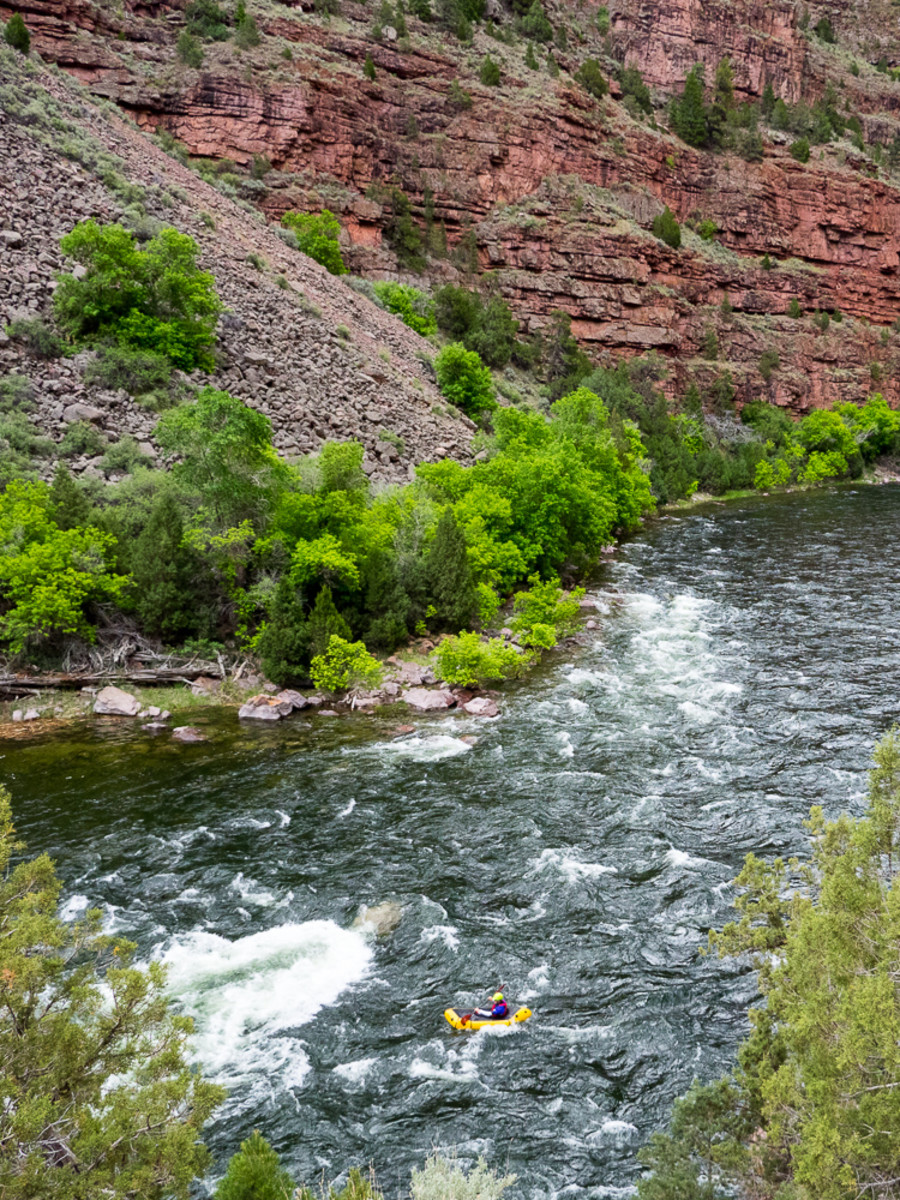 We had an easy Friday, taking boats out in Sunny Cove to dodge the gusty winds on the main reservoir. Come Saturday, I started mid-morning on my first-ever whitewater paddleboarding run. These weren't my first rapids, if you must know. I one-time fell into a rapid. While trying my friend's board on the St. Francis River in the Ozarks. I've also fallen off friends' boards in moving water on the mysterious Eleven Point and near a lock on the great Mississippi. So, I'm basically an expert.
I mean, true, I'm not even sure what to call the activity. Am I a SUPer? A paddleboarder? Just some dude loitering clumsily down the middle of a river? Regardless, I'm a huge fan of the sport, having found an exciting way to explore a few reservoirs and runs on the Powell route. Plus, the blackwater Waccamaw River—occasionally sprinting away from logs that might be alligators—near our new South Carolina home.
People at put-in were staring when I walked up like a cowboy in a scuba suit. Decked out in a full whitewater paddleboarder get-up—under sunny skies, projected high of 80 degrees, nothing to see here. We're talking Five Ten Water Tennies, Kokatat drysuit, WRSI knee pads, elbow pads, helmet, and a GoPro.
The same river ranger from the day before asked, "Who's the brave soul on the paddleboard?"
The same friendly fisherman from the day before declared, "Badass."
And that's exactly how I felt, right until a stiff wind knocked me into the river about fifty feet from put-in. I fell three more times—and I wish I could say it was due to huge rapids, but once it was just curiosity over an interesting bird—before I decided I'm a hot mess of a paddleboarder. Didn't help when I learned two more paddleboarders came down that day, wearing only shorts and tee-shirts.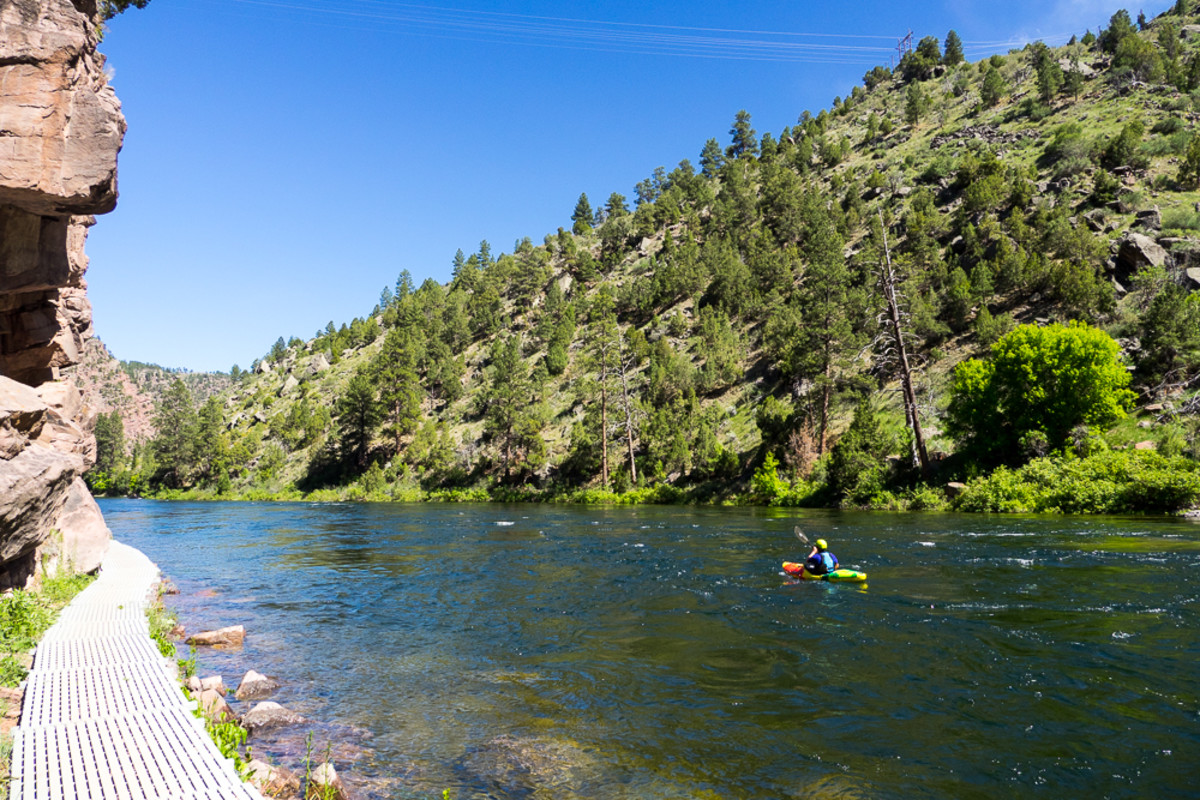 Eventually, I figured things out. Scooted back on the board, became friends with up-rapid laterals, and bent my knees like an avatar in a street fighting video game. I didn't fall in at all during the final five miles. I loved the high perspective over the crystal-clear waters, rippling cobble river-bottom, and wave train rapids. It made Class II feel like exciting Class III. Even if A Section is just Class II, no offense.
The day was drawing to a close, but a final hardshell run was in order. I had the river to myself as I surfed a few spots, boofed a few ledges, and called it a day after a quick hour-long lap through canyon walls that start narrow and low before rising until they tower overhead and climax a few miles upstream from Little Hole.
"How was it?" asked my wife, at take-out. "Did it get boring?"
"It was great every time," I said. "Thinking of picking up an inner tube in town."
"You can do anything you want," said my wife. "But you're walking your next shuttle."
Fair enough. And, fortunately, that's an option here, too.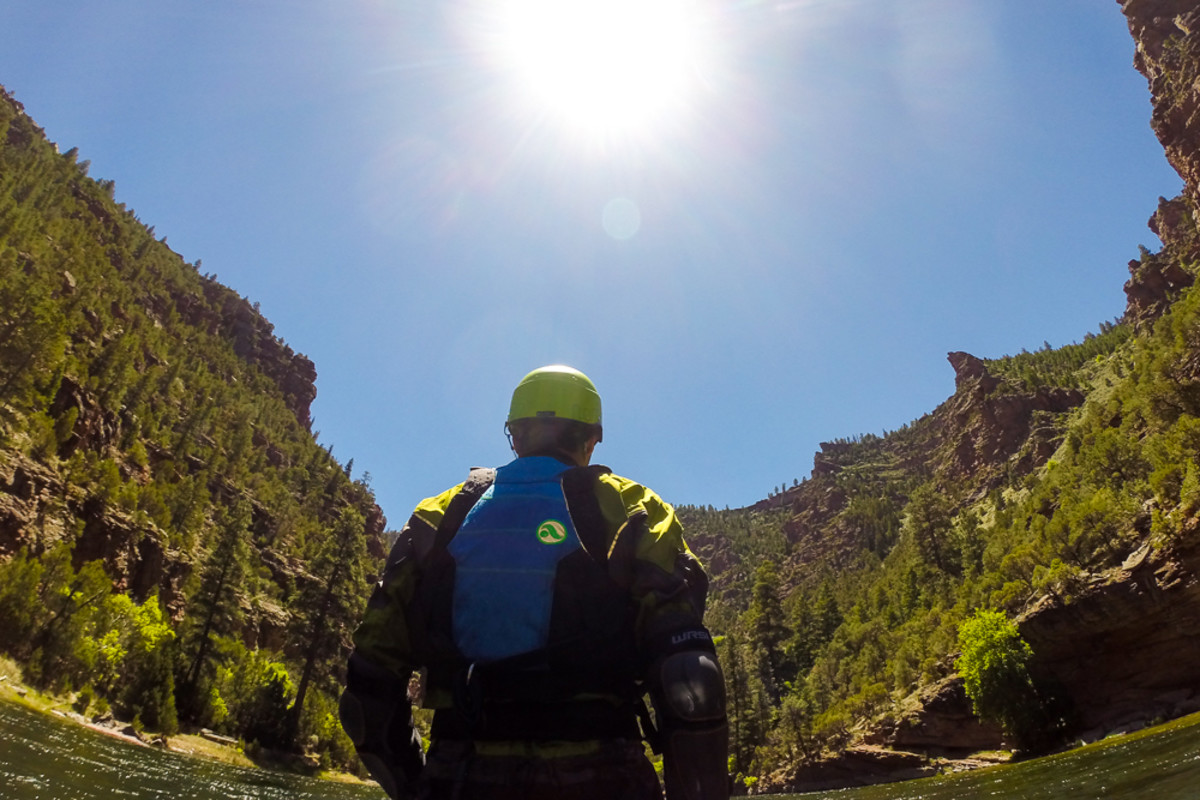 Photos by Ina Seethaler and Mike Bezemek
Read more by Mike Bezemek, who writes and photographs the series Regular Paddler, Remarkable Waters and Weekend Expeditions for C&K. He is author of Paddling the John Wesley Powell Route and Paddling the Ozarks for Falcon Guides and Twit Lit Classics® for Skyhorse Publishing, a book series which reimagines classic works of adventure literature as tweets for a 21st century audience. Learn more at mikebezemek.com.
The article was originally published on Canoe & Kayak
For access to exclusive gear videos, celebrity interviews, and more, subscribe on YouTube!