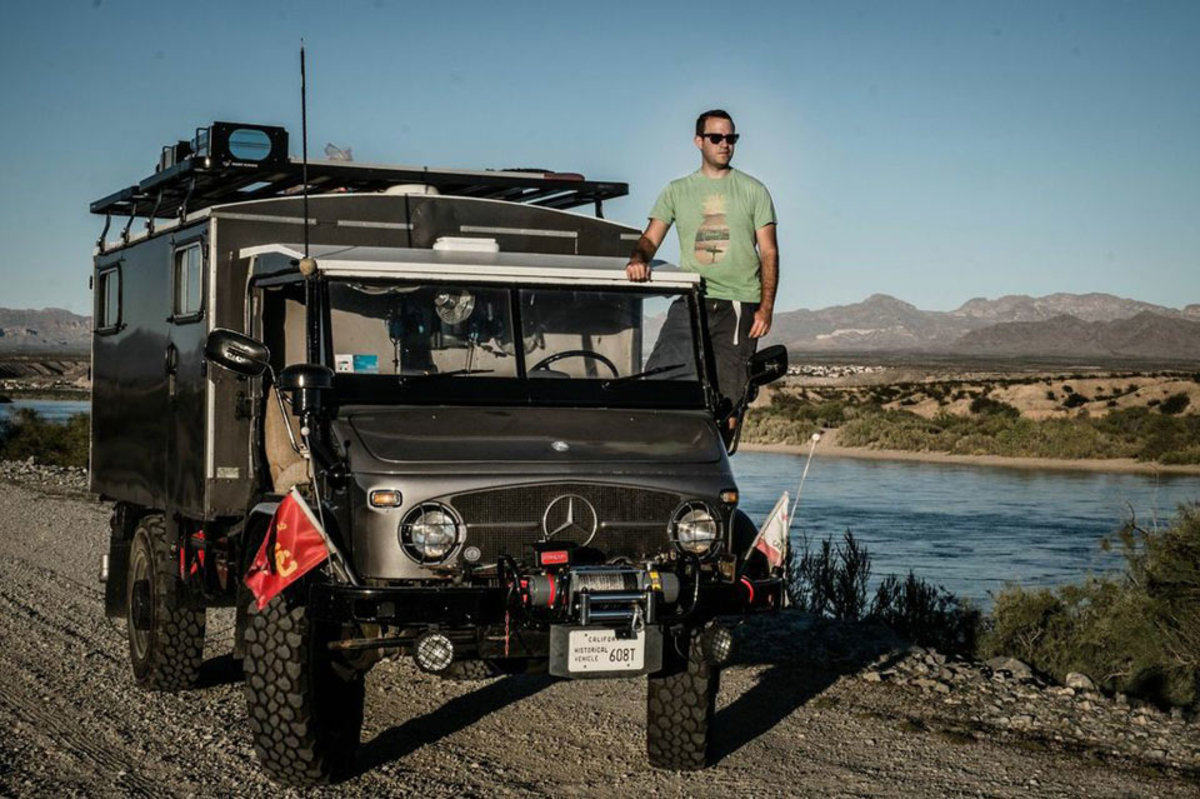 If you spend enough time in Los Angeles, you're bound to spot it: David Roth's 1964 Mercedes-Benz Unimog, piled high with adventure gear and lovingly dubbed "Barf" (it's a reference to John Candy's character in "Spaceballs"). The Craigslist find started out as an ambulance for the German military in 1964 before it migrated to the U.S. in 2000, where it was adopted by Roth and his then-girlfriend, Kathryn West, who he is now engaged to. The duo gutted her and rebuilt her to serve as a road-trip vehicle that's taken them from the dirt trails of the Mojave desert to football games at the University of Southern California—since buying Barf in 2009, Roth has put approximately 15,854 miles on her. "I've kept a journal outlining the date and mileage of every single oil change, repair, tire replacement," says Roth. So who better to fill us in on the intricacies of the adventuremobile? Here, Roth offers advice for first-time owners.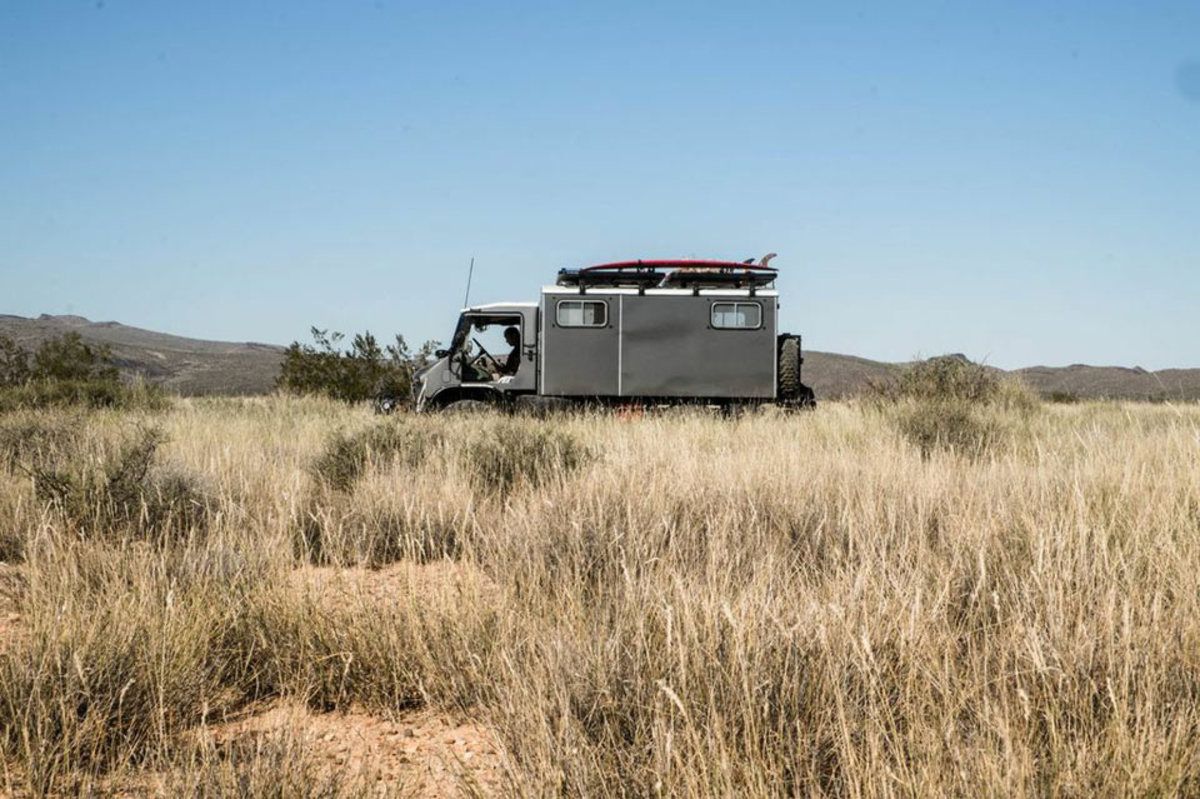 Have somewhere to park it
Roth lives in Los Angeles, where parking is tight and tickets happen more often than he'd like. "In previous years, I've had to park her on the street and been forced to move her every Wednesday or Thursday for street cleaning," says Roth. "I've actually gotten two citations for failing to move her on street-cleaning days, but have managed to fight them both off successfully. I'm sure at some point the city of Los Angeles will win … but just not yet."
Have a plan on where you'll park your car to avoid the added costs of a ticket, and keep in mind that many destinations may have restrictions on the size of a vehicle they'll allow in their lots. Make sure you know the weight and height of your vehicle so it doesn't get scalped on an overpass, and it's also important to know if you'll need a commercial license to drive an oversized vehicle, like you would with a renovated school bus.
Make a plan before you build
Roth enlisted a friend to help with the initial measuring and cutting required to construct the new interior of the Unimog, but the hardest part for him was finishing. "Each piece of wood in the rear of the truck had to be coated with several layers of stain and water protection," he remembers. "Cutting all of the pieces took a day. Protecting the wood with the polyurethane coats took weeks of sanding, painting, drying, and repeating."
When revamping a vehicle to fit your needs, plan ahead and think about what amenities are important to you. Roth made sure to install a roof rack so he could transport extra gear and water on the roof, freeing up space inside the Unimog. "I've also built myself a nice little sundeck for relaxing or finding a better vantage point for my photography, too," he says. An amenity he wishes he'd remembered? "A sink. There's no built-in water storage system, so washing hands or showering on the road consists of a bucket and some soap. Ideally, I'd like to install a small water-system set-up. It's too small for a toilet, but having running water would be a nice amenity."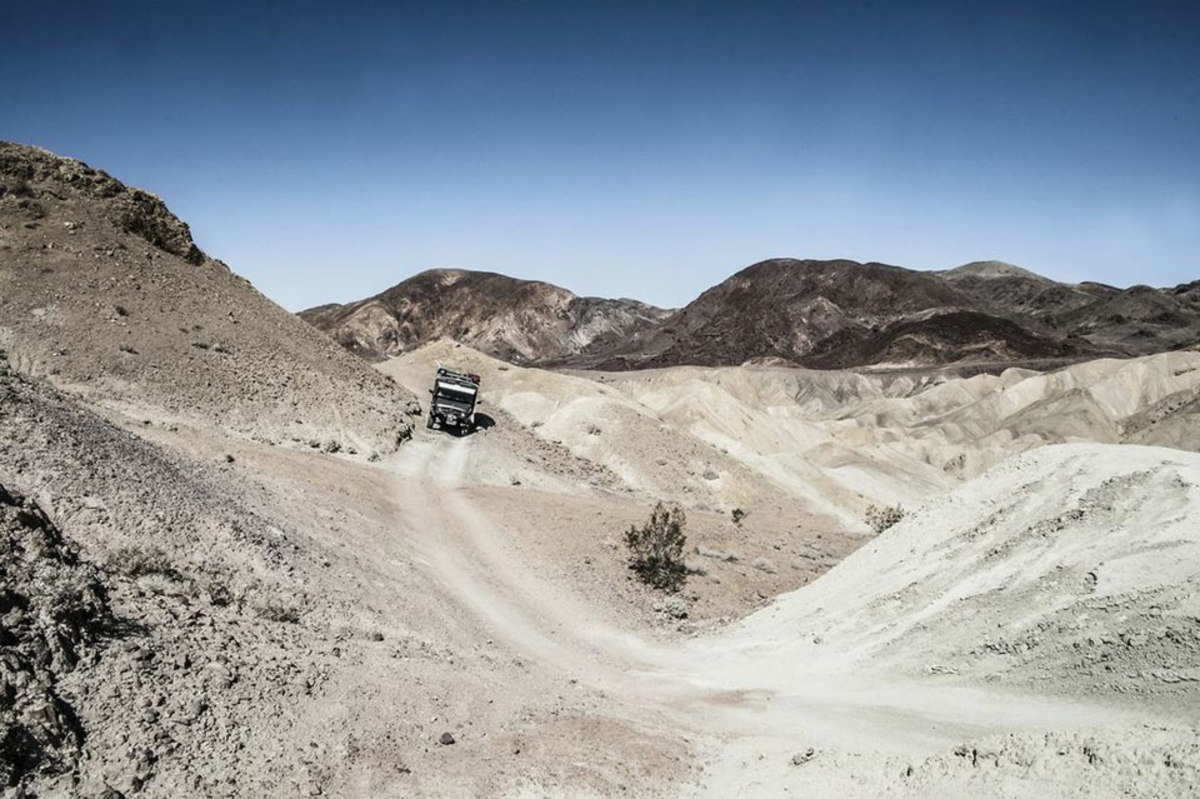 Learn how to change a tire anywhere

If you keep up with regular repairs and maintenance to your vehicle, most roadside breakdowns can be avoided. You won't likely be doing an oil change in the field, but Roth does suggest knowing how to do one simple repair: changing a tire. "You have to be able to change your own tire with the tools you have on your vehicle," says Roth. "It's easy to change a tire when you're sitting in your driveway and have a floor jack, but what if you puncture a tire on a sharp rock sticking out of a sandy wash?" Since AAA might not service the remote places you travel, practice changing your tire ahead of time a little closer to home and then plan your tool kit accordingly.
Learn how to avoid getting ripped off
Budgeting for a road trip—whether it's for food and gas or an emergency repair bill—is crucial, but you can quickly go over your limit thanks to sly mechanics who take advantage of stranded motorists. "There's no guarantee to avoid being ripped off, but if you understand how each part on your vehicle functions, then you'll be one step ahead," suggests Roth. "While it's helpful to know the 'how,' you should really focus on understanding the 'why.'" At the mechanic shop, ask questions, like why the throw-out bearing would be harder to replace than the water pump. Understand how long the repair will take since most of the time the parts you need are cheaper than the labor costs. "Once you have a general understanding of the vehicle, you should be able to understand when you start feeling, hearing, or smelling something funky and then at least you have an idea as to the time it will take to replace it," Roth says.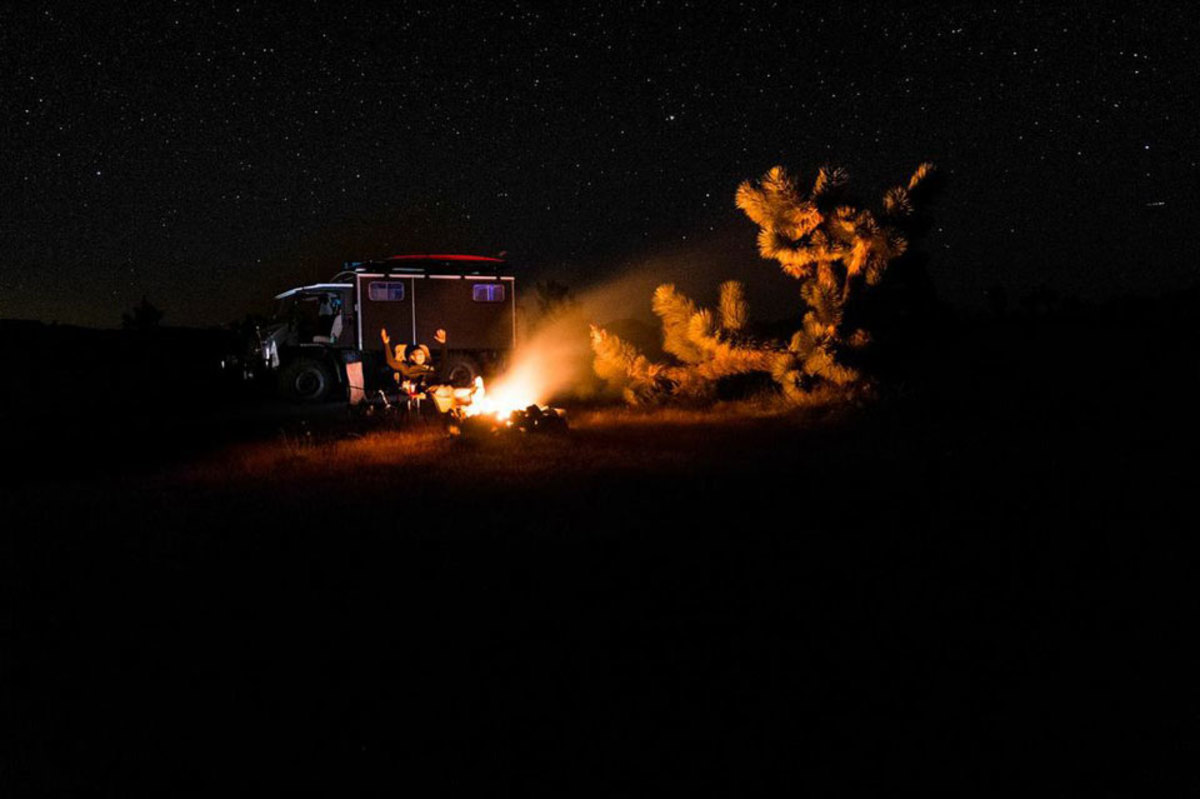 Keep your toolbox stocked
"The Unimog is a unique beast and keeping her properly lubricated tends to be my most frequent maintenance," says Roth, who stocks his wagon with a quart of motor oil and gear oil, as well as the necessary sockets and wrenches to remove plugs. Once you know your vehicle's maintenance needs, build a toolbox with everything you'll need to perform repairs yourself: jack stands, a bottle jack, a breaker pipe, blocks of wood, a mallet, hammer, spare bolts, spark plugs, belts, hoses, fuses, and lights are all staples of Roth's kit. "Duct tape always works in a pinch," he adds. In addition, Roth keeps a first-aid kit, a sleeping bag, hand wipes, and a small air compressor handy, as well as four sets of chains for the winter.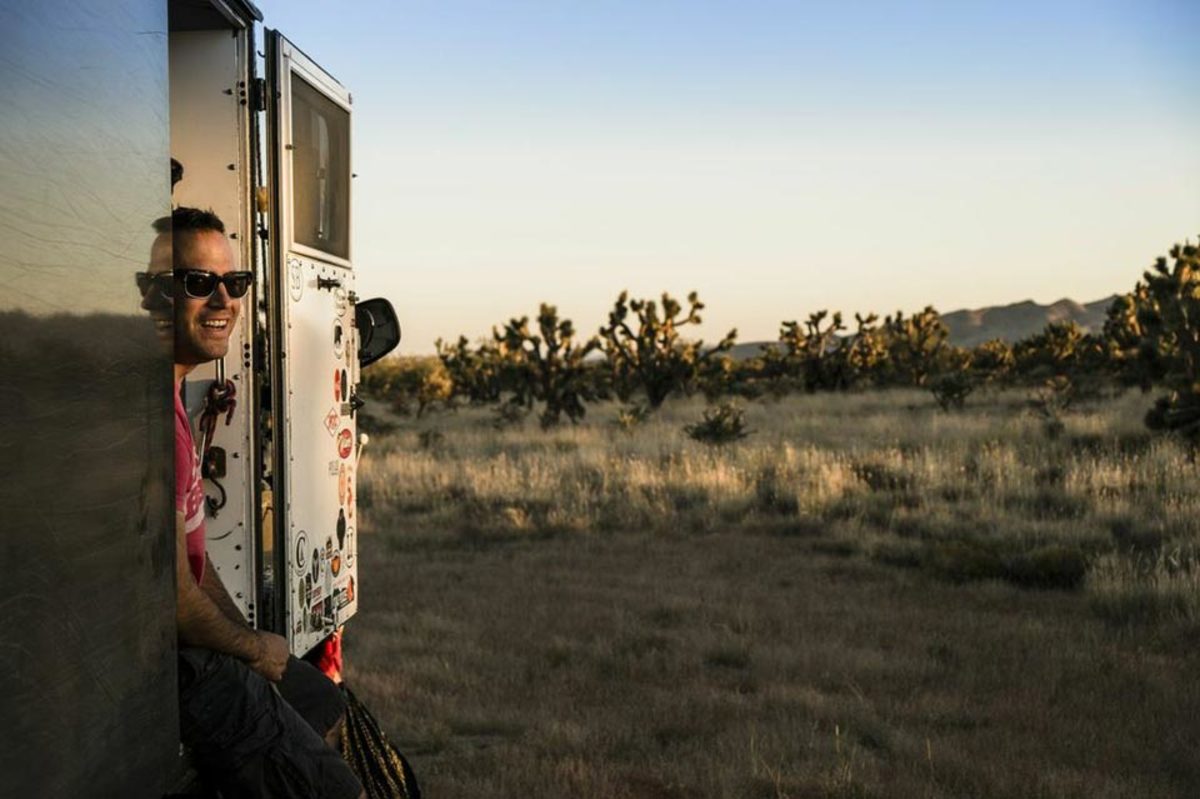 Embrace curiosity
One side effect of traveling in a vehicle as unique as Barf? Questions from bystanders—and lots of them. "I tend to answer the same set of questions so much to the point that my good friends and fiancé can actually answer a lot of the information about her just from listening to my answers over and over," says Roth. "I love that there's something fun, approachable, and unpretentious about Unimogs. She's got her credentials as a true off-roading, take-you-anywhere-in-the-outdoors kind of force, so off-road enthusiasts, outdoorsmen and women, surfers, etc., enjoy her company. She's not too common around Los Angeles and as an older vehicle, when I take her to auto shows, a lot of people show their appreciation, too. I even get a good amount of attention at places like football tailgates at USC." Be open to answering questions about mileage, renovations, and price points concerning your own attention-getting vehicle.
Similar stories on GrindTV
The best swimsuits for outdoorswomen
Car camping extras worth the splurge
For access to exclusive gear videos, celebrity interviews, and more, subscribe on YouTube!