This story was produced with support from our friends at Mastercraft
I've been pulled behind boats on many different types of crafts: inner tubes, knee boards, wakeboards, wake skates, old surfboards and even an inflatable orca. But I'd never really had a proper wakesurfing experience until a recent trip out to Lake Elsinore, California. I spent a day in the latest MasterCraft XT25 for my first legitimate venture into the world of wakesurfing.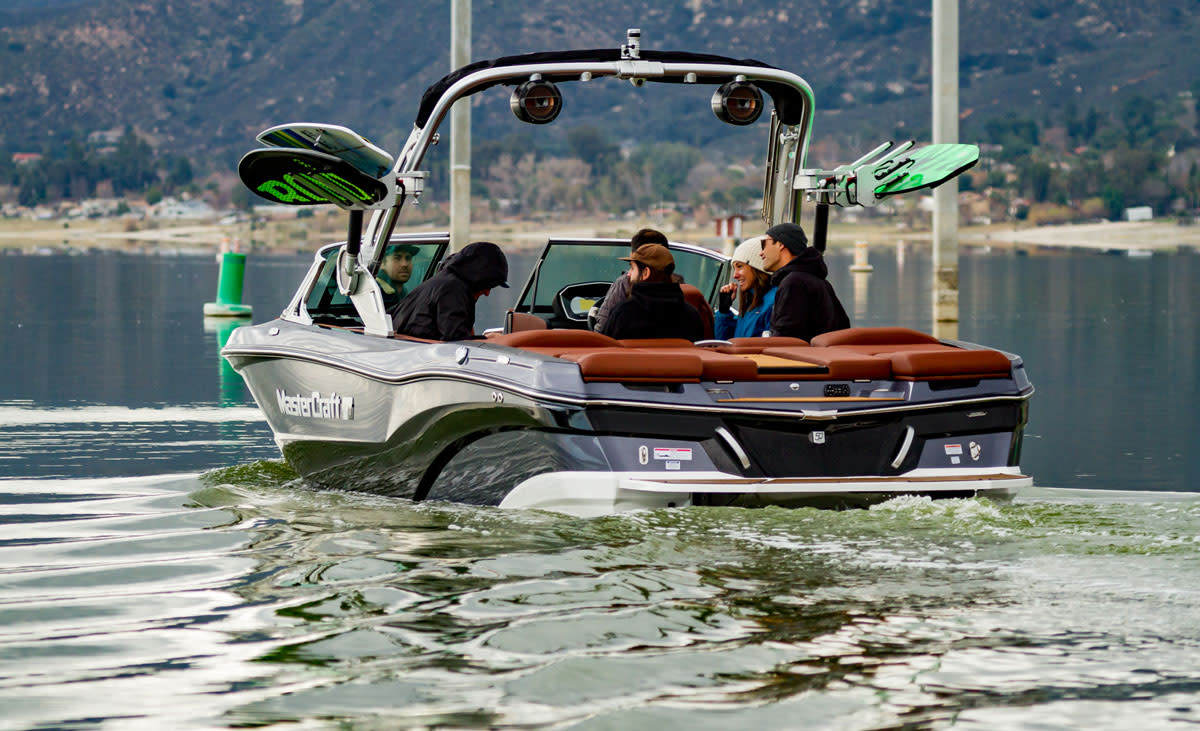 And what I learned was … that there was a lot to learn. The proper equipment, wake and knowledge can make or break your experience, but with a few tips, this might just turn into your favorite lake activity.
Here's what I learned during my first proper wakesurfing experience.
Find a Boat That's Built for Creating Surfable Wake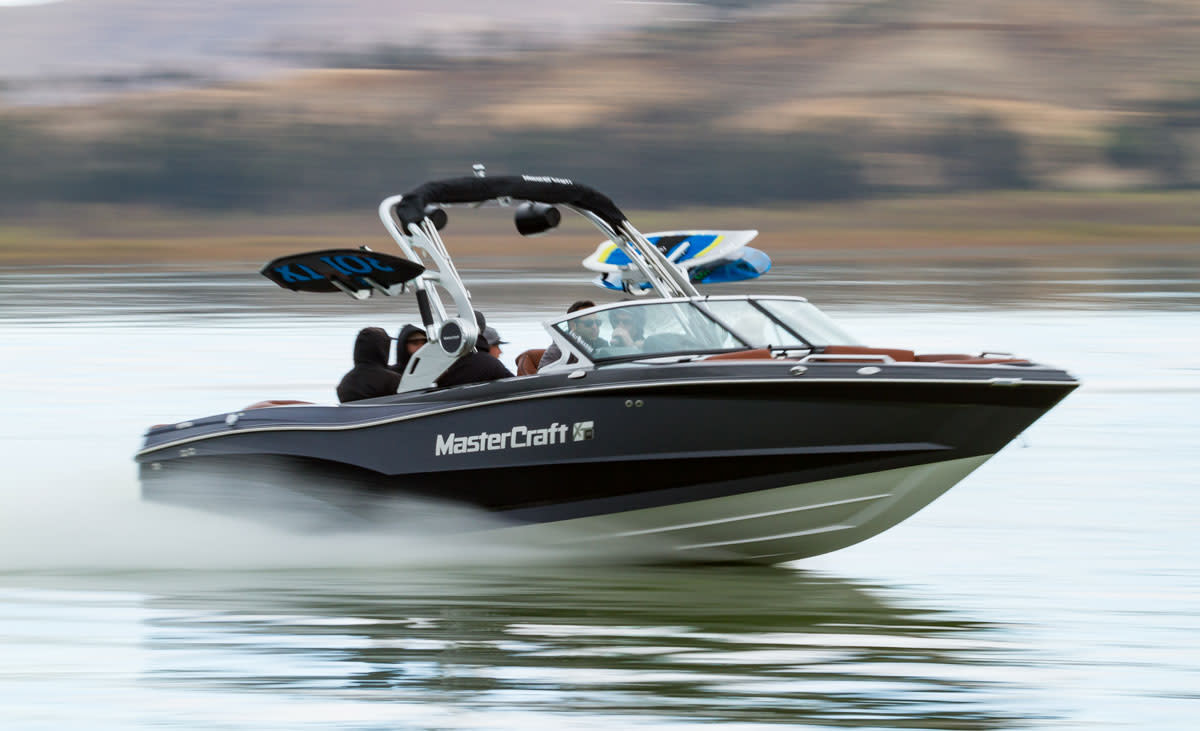 For me, previous attempts at wakesurfing had proven unsuccessful and downright frustrating, as we'd try to create a wave large enough to endlessly surf without holding the rope. Wakesurfing is all about letting go of the rope and surfing freely for as long as your legs (or skills) will allow. If done right, you can quite literally surf un-tethered until the boat runs out of gas.
To get the wave to produce enough power for us to surf, we'd try boat hacks like sand/ballast bags, gathering everyone on the boat into one corner, and even sliding all of the heavy items in the boat (e.g. coolers and backpacks) to one side, with limited success.
Which is why the best way to have a good wakesurfing experience is with a boat customized for the sport. The MasterCraft XT25 not only makes the wave you want, but it does so with literally the lift of a finger, thanks to its unique Gen2 Surf System.
From creating different sized (and shaped) wakes on the fly, to adjusting sides of the wake to cater to goofy or regular-footed surfers, a boat customized for wakesurfing allows each person on the boat to have the exact experience they want, based on their board choice, stance, wave preference and skill level.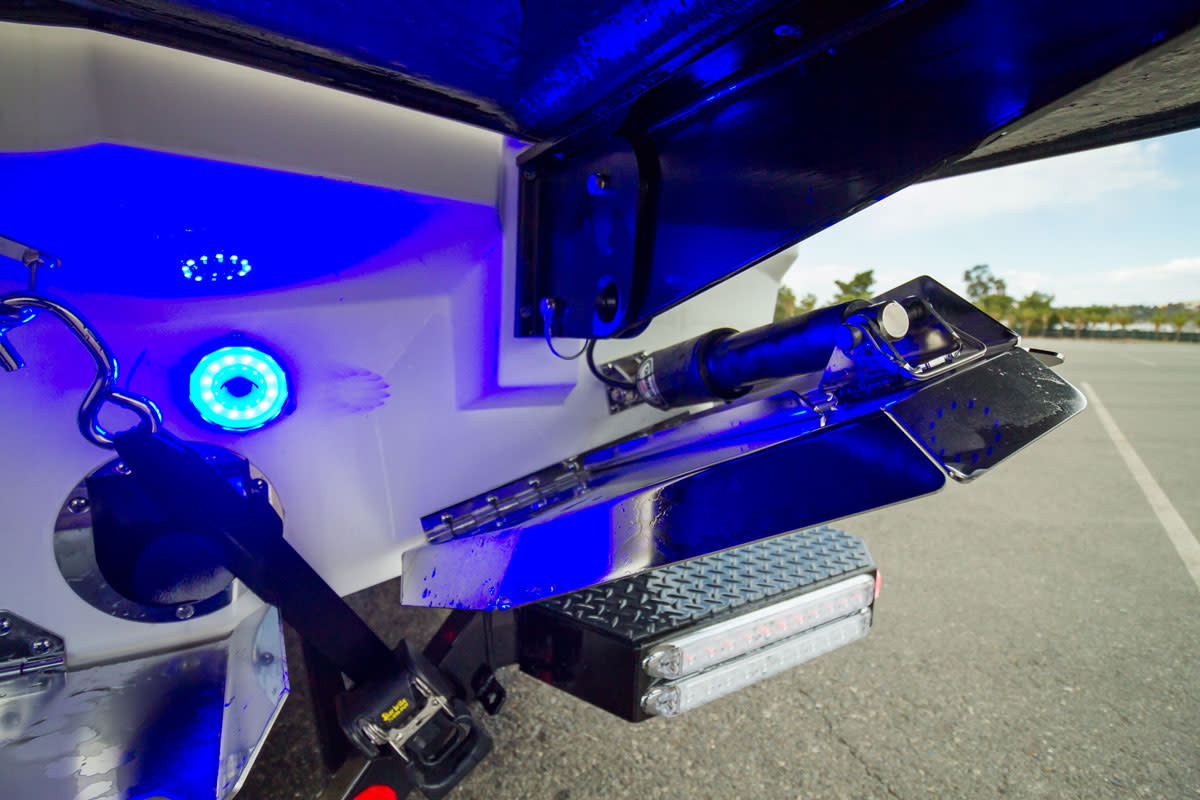 If you want to be positioned farther away from the boat, you can extend the wake. If you want a slightly larger, punchier wake with a lip-line, you can create that. If you want to surf backside or frontside, the XT25 can change the wake direction.
"You just press the button and the boat does everything else," MasterCraft Product Specialist Chad Borba tells ASN. "It fills up the internal ballast, it sets the cruise control, adjusts the Gen2 surf device … all you do is drive straight."
A long list of options keeps everyone (it has seating for 18) on the XT25 happy and comfortable: heated seats and heater hoses for those getting wet, a rearview camera and a dual-screen dash for for the driver, and for the partiers, hidden coolers under the seats and Bluetooth connectivity for music.
No Need to Toss the Rope Right Away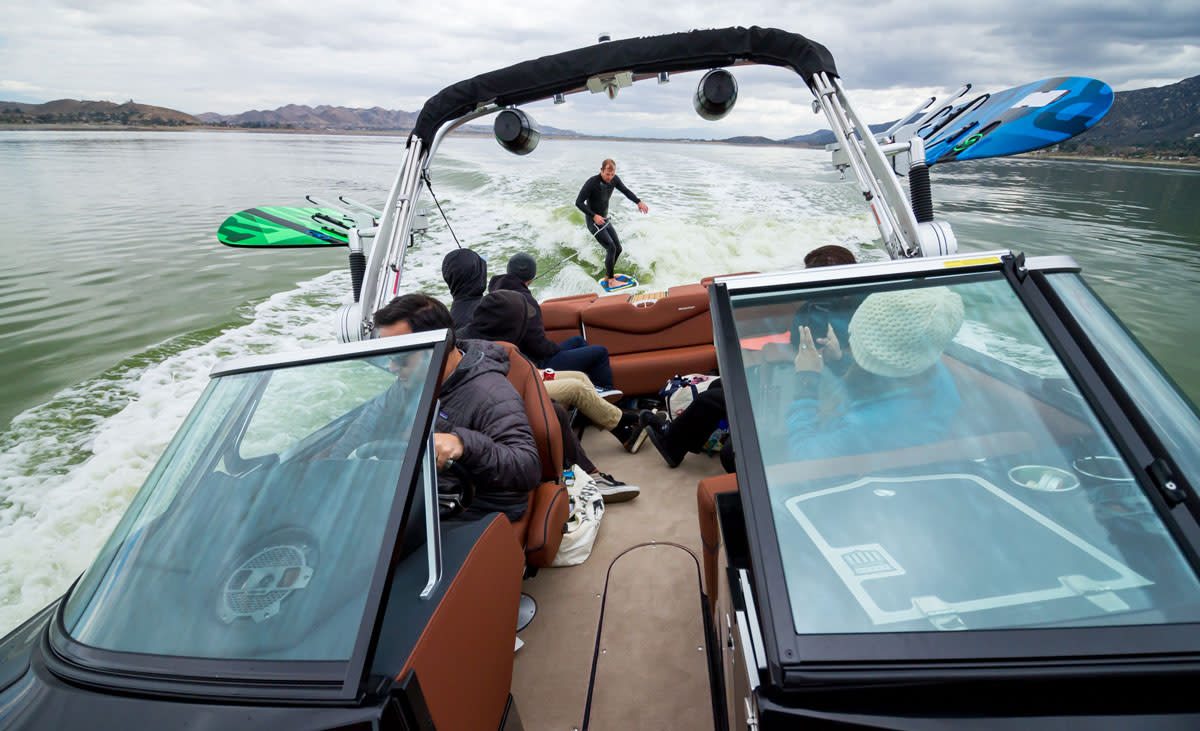 Once you've created the wake that suits your preference, it's time to surf. Get a good feel for the board and the wave before you toss the rope back to your buddies. If it's your first time surfing behind a boat without a rope, then it might take a few turns to get a feel for the sweet spot. It's important to be able to identify where the power source of the wake is, so just hold onto the rope until you've found your position.
Don't Rush It … The Wave Won't Close-Out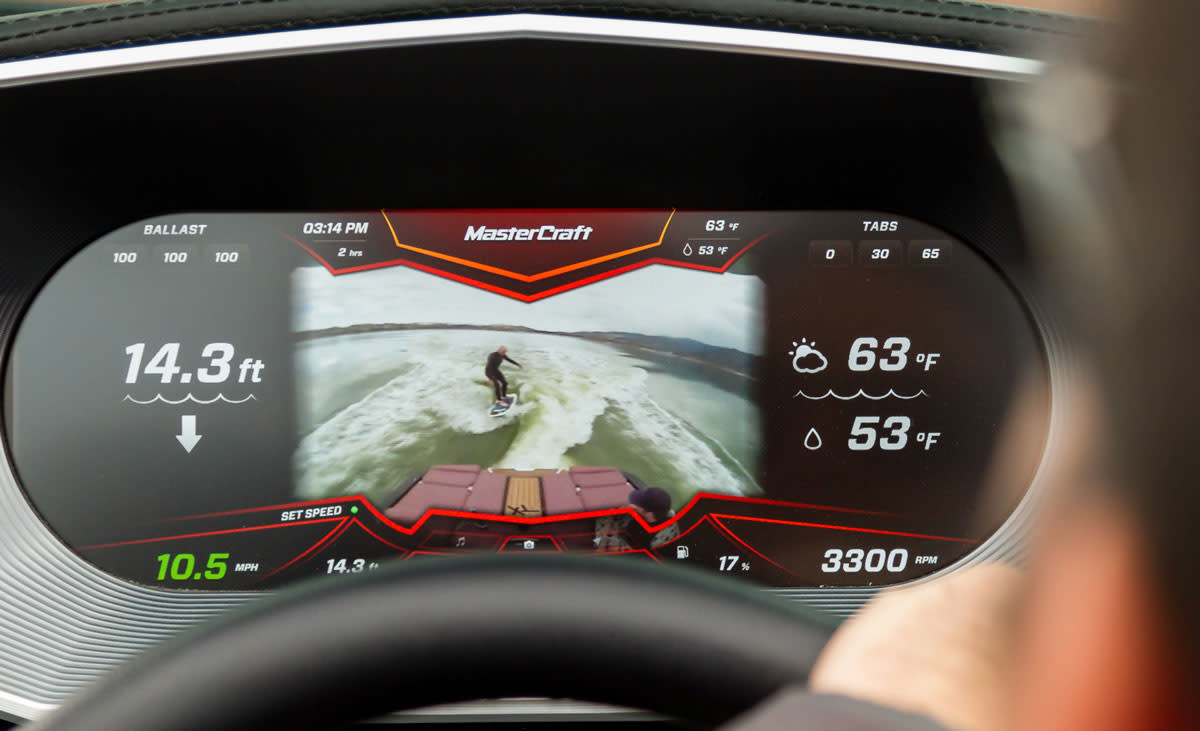 Once you find that sweet spot in the wake, there's really no need to pump your way down the line. This is something that was kind of strange to get used to. Surfing in the ocean, I typically get to my feet and immediately try to pump down the line to generate speed on the wave.
Wakesurfing is different in the fact that the speed is always there, you just have to slot your board with the right trim to really feel it. However, if you do feel yourself starting to slip behind the sweet spot, a couple of quick pumps will propel you right back into the power source where you need to be.
Lean into the Wake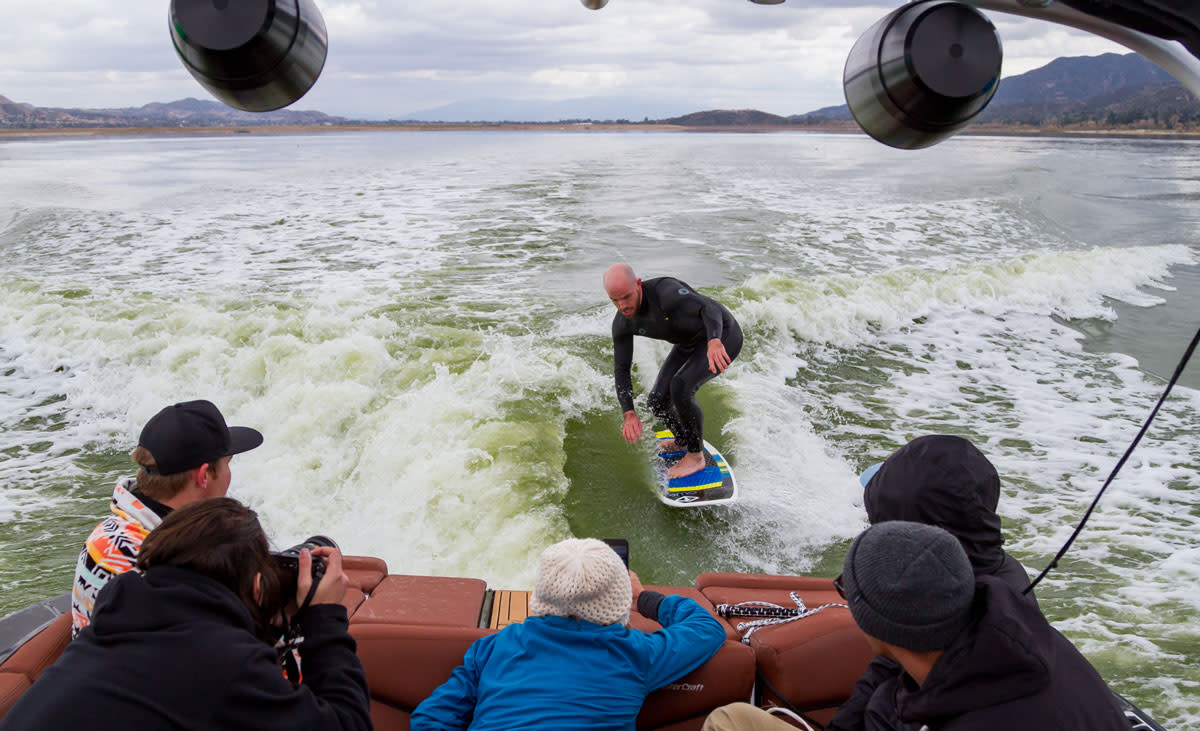 If you're surfing frontside, lean on your toes to get that trim you need. Again, as a surfer it might feel a little odd to constantly be trimming up into the wave without ever easing back, but if you lean out toward open water, your momentum could propel you out into flat water where there's no energy to keep you going.
And you don't need a specialized board in order to properly wakesurf. You can certainly pack a board form your own personal quiver (which is something that our whole crew all agreed might be the way to go on the next excursion). A surfboard that's short and wide with a decent amount of volume would likely be the ticket, and certainly feel more familiar to avid surfers.
Don't Fear the Swim Step (Nor the Prop)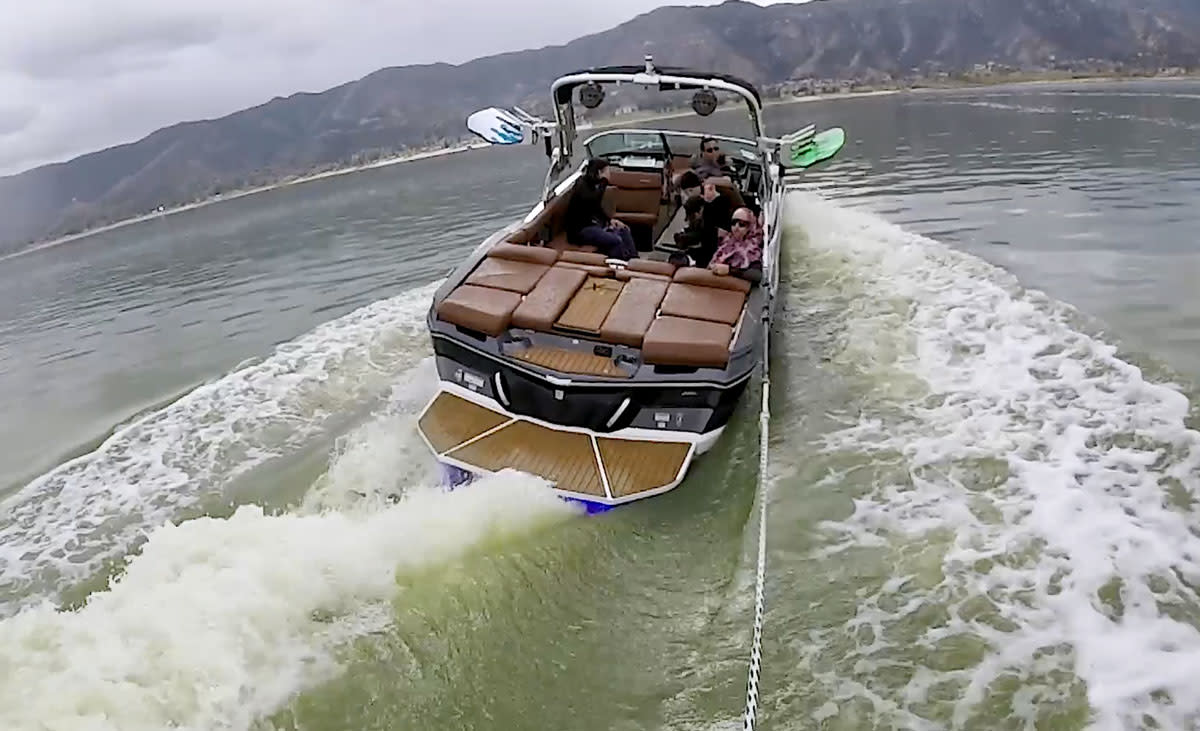 This was probably the most difficult thing for me to get used to. The swim step and prop are only feet away from you. If you get just the right trim, you can quite literally speed up right into the rear end of the boat.
This can seem a bit sketchy at first, but as soon as you realize that there's no way to actually slam into the boat or the propeller (the boat is moving much quicker than you are, and the prop is much further underneath than where the swim step is), it eases any worries and let's you concentrate on your surfing.
Have a Reliable Person Pull the Line in ASAP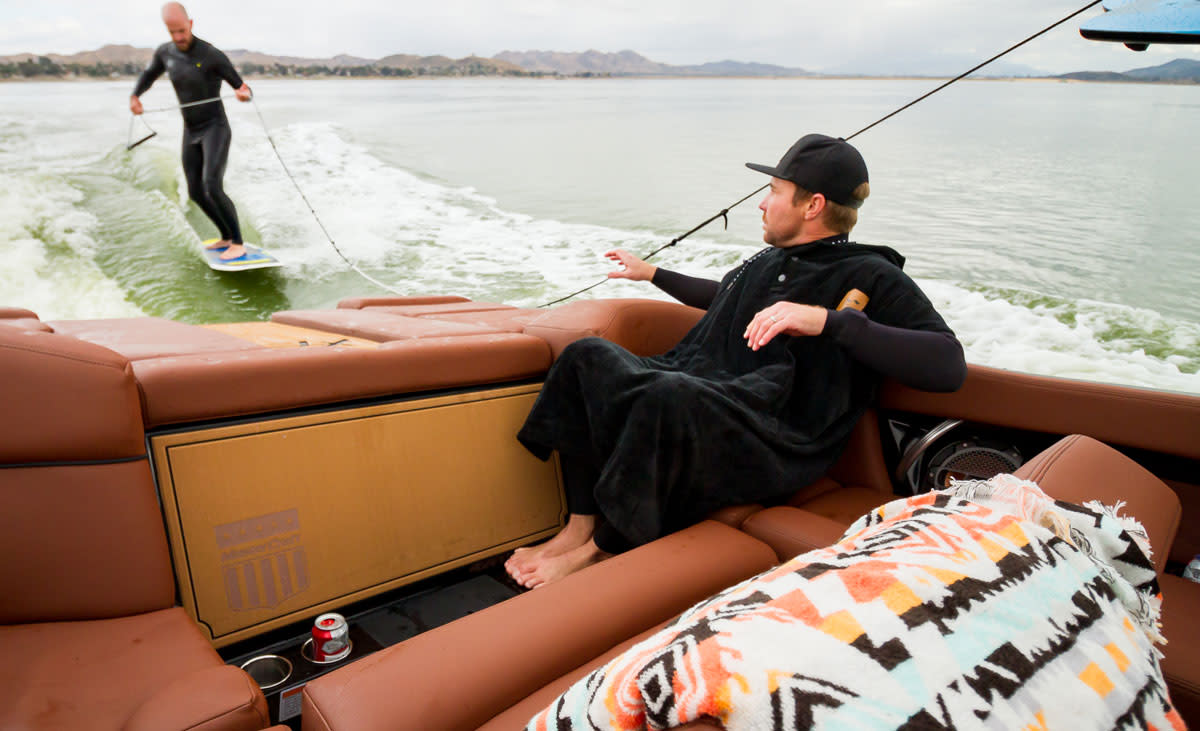 If you really get the hang of it, then tossing the rope back into the boat all on your own is typically pretty easy. However, sometimes the surfer would toss the rope and it wouldn't quite make it back into the boat. In these instances, the rope would bounce around in the wake, and even sometimes get tangled up in the surfer's feet. This is where a reliable buddy standing by to pull that rope in immediately is key.
At the end of the day, our forearms felt like noodles and our quads were burning … but we all had great big smiles on our faces. In wakesurfing, the key in many ways was not to overthink it. Of course, it helped to have a boat that did most of the thinking for us.
For access to exclusive gear videos, celebrity interviews, and more, subscribe on YouTube!