Adventure
What It's Like to Be a Gear Tester: Putting Mountain Hardwear Through Its Paces in Norway's Lofoten Islands
"Matt, see anything?" I yelled in his general direction. From the other side of a small grove of trees, he shouted back "just a whole lot of grass and moss." Less than a mile from the trailhead and we had already lost the trail. Twice. For context, Matt and I both run a lot. Seventy or so miles each week, mostly on trail. We're not new to backcountry navigation, either. We met while living in Jackson, WO, and became close friends through big days in the Tetons. Now, back in the present day, we were stuck in a maze-like bog in what can only be rightly described as the middle of nowhere, Lofoten, Norway, serving as a gear tester for Mountain Hardwear.
The best—and perhaps only—decision was to climb a nearby rock feature to get a better view. That we did, and soon we re-found the trail. Fortunately, from there, the trail switchbacked up an elevator-steep scree slope, getting us out of the marshy morass and onto runnable singletrack. We would then follow a series of ridgelines for a few miles to the coast, before doing it all in reverse, to get back to the car.
Monotonous Beginnings
Last winter, sitting at my faux-wood desk squeezed between a ski rack and the living room window, I received an email. Out of the hundred or more I read that day, this one stood out. The subject line was just one word, "Availability," and the body was much the same—anything but flowery or verbose.
Friends who worked at Mountain Hardwear were looking for gear testers to throw their unreleased performance line through the wringer. Full disclosure, I work with these folks regularly on a variety of projects and there's a good rapport both ways, so this wasn't a complete cold call. The offer was simple and concise: a paid trip to northern Norway, to spend a week hiking, scrambling, and running as much as possible. The goal was to see how these new coats, layers, and packs would hold up to the elements.
Did I want to test new gear in the Arctic? Do kids like candy? Yes, of course I did. As a gear and travel writer, I see my fair share of inbound email pitches, but this one was above the rest. After four previous trips, there's not many places in the world I love as much as Lofoten, and fall is the best time to visit. Fast forward a handful of months later, and I was on a small prop plane to Svolvaer, Norway.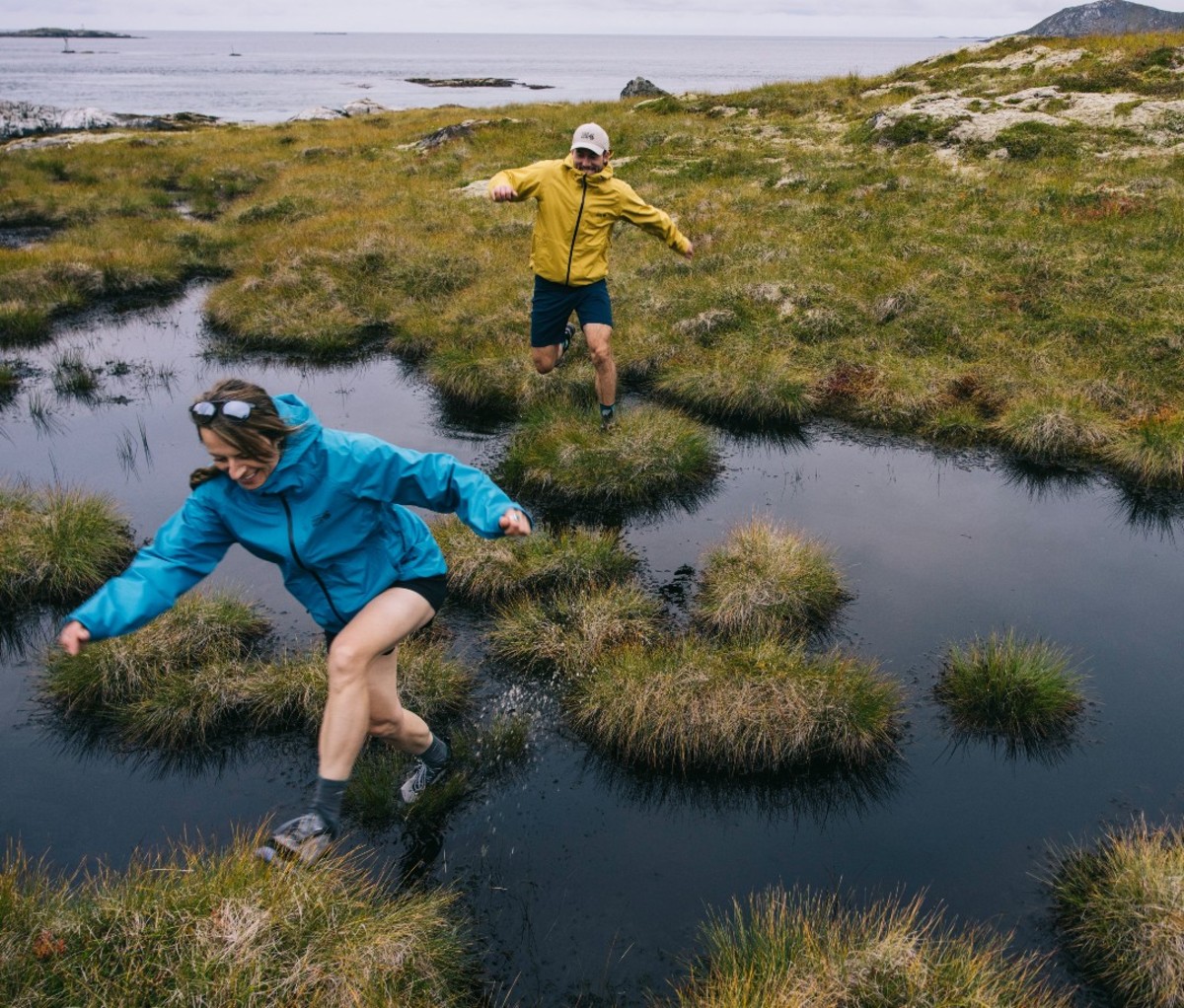 An Escapist Paradise
For those unfamiliar, Lofoten, Norway is a chain of islands just above the Arctic Circle. It takes five hours to drive from one end to the other, using bridges and underwater tunnels (and circuitous routes around fjords) to connect the islands. The area is renowned for its distinctive mountains—jagged peaks that stick straight out of the ocean—covered in vibrant green during the summer and snow all winter.
Despite being a bucket list destination, the archipelago is home to just 24,000 full-time residents. And, without a large, international airport, Lofoten isn't totally overwhelmed by outdoor tourism. We found most of the trails to be completely empty, especially the ones off the beaten path. For our group, this was a dream, as it offered a sense of freedom and solitude that is increasingly rare in many parts of the States.
The weather in Lofoten is notoriously fickle, due to its proximity to the North Atlantic. Storms roll in quickly, shrouding the mountains in mist and rain in just minutes—ruining the day if you're not prepared. It's no surprise the word maelstrom originates in Lofoten, as even bucolic mornings can turn foul in a moment's notice. Just offshore, the Rost Reef is the world's largest deep water coral in the world, and 70 percent of all the fish caught on the western shore of Norway use Lofoten as a breeding ground.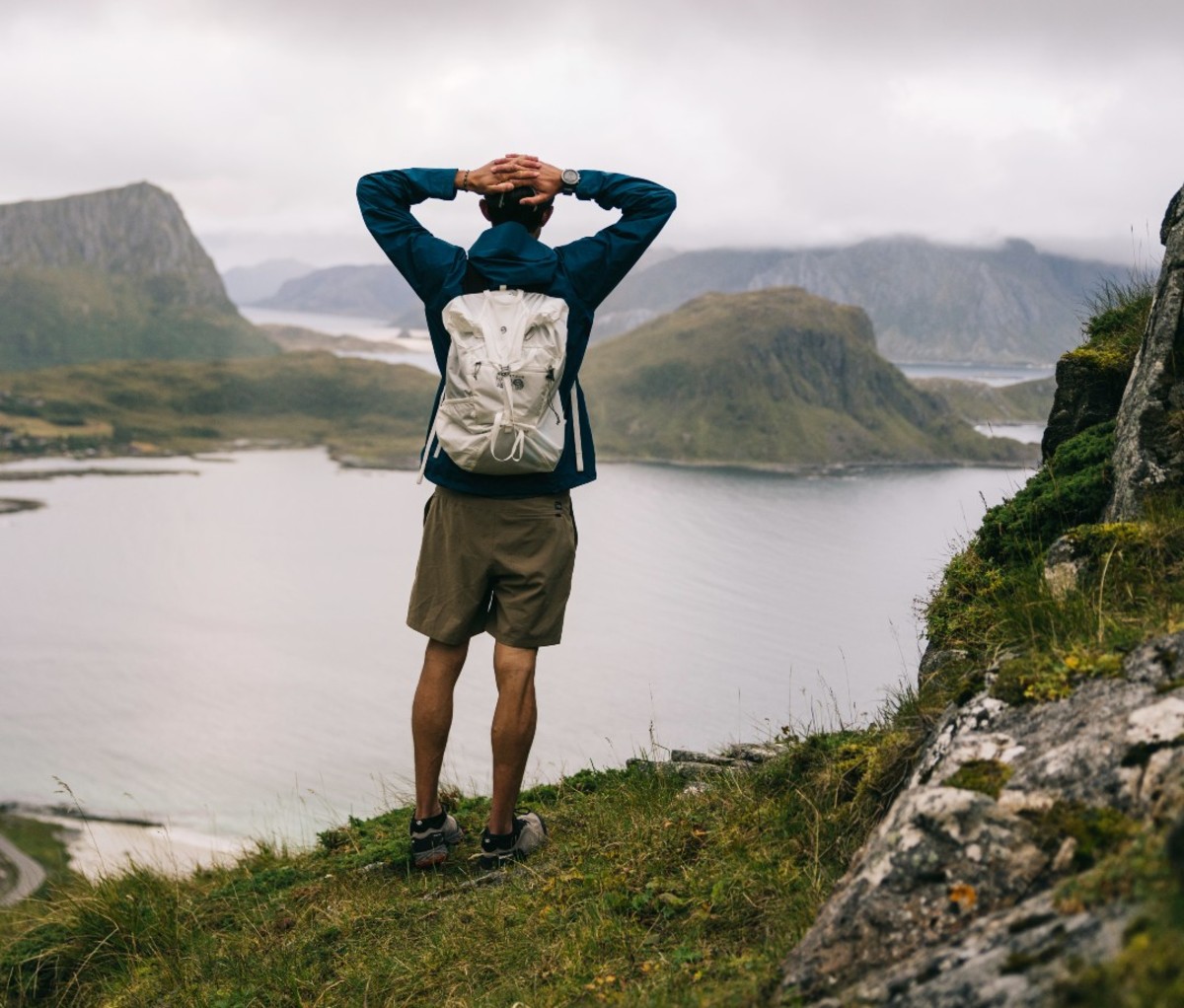 The Gear Tester Experience
There's an old saying that goes, you can't make an omelet without breaking a few eggs, which sums up my ethos for gear testing. You have to get a little messy, dirty, and make a few mistakes to figure out what really works, and what needs improvement. Fortunately, Lofoten serves up a buffet of options to do so.
We ran into more than just the one marsh, dead end, and flooded trail, and each became part of the testing protocol. For example, comfort out of the box can be different than actual comfort in the field. When an insulating layer, for example the unreleased Summit Grid Fleece, is damp, does it chafe? Still stretch? Feel abrasive or annoying? All of that user feedback gets captured and shared.
Much of our testing was on big output days, often in suboptimal weather. If a rain shell can hold up to these conditions, it's probably solid for milder outings, too. We had a few new shells to test, including a more burly GoreTex offering and a more affordable basic option. To do that, we'd get up early and hike at dawn, or in afternoon storms, or even into the night. Some days we'd have a heady cocktail of all three.
When testing rain shells, the name of the game is breathability and durability. They need to hold up while hiking through thick brush or while scrambling up rocks, but not feel like a garbage bag that's trapping all the sweat and moisture in. To be a practical option for a consumer, a pretty high standard for both is necessary. Materials sometimes perform differently in a lab than the real world, and it shows when gear is only tested in the former.
The Review Summary
Overall, I loved the new trail kit from Mountain Hardwear, with a few minor tweaks. The kit isn't launched yet, but I have permission to spill a few details. Against expectations, the highlight for me was the Summit Grid Fleece Hoody. It's a warm, light, comfortable midlayer that's comfortable next to skin and handles moisture and adverse conditions well, which is a must in a place like Lofoten. It launches next spring.
The prototype shells we had ran a little large, so I don't have a ton of feedback on fit. That said, I was impressed with the performance, and how far material science has gone in just a few years. The performance-first Minimizer Gore-Tex jacket is especially breathable, holding its own in a number of storms throughout the week.
The UL 20-liters packs and pants were, as the name implies, lightweight and simple, without unnecessary bells and whistles. For a quick summit strike mission, I think they would work well. The Ghost Whisperer puffies—a pre-existing and award-winning piece by the brand—are an absolute must-have. The weight-to-warmth ratio is the best I've ever tested, although inherently that makes them less durable than other jackets with stronger face fabrics.
Overall, I felt incredibly lucky to have the experience and impressed with the new products that Mountain Hardwear plans to roll out this spring. For those looking for a new hiking kit, it'll certainly be a great option, no matter where you live or what you plan to get into.
Matter of fact, you should put the kit through its paces, too, once it drops.
For access to exclusive gear videos, celebrity interviews, and more, subscribe on YouTube!