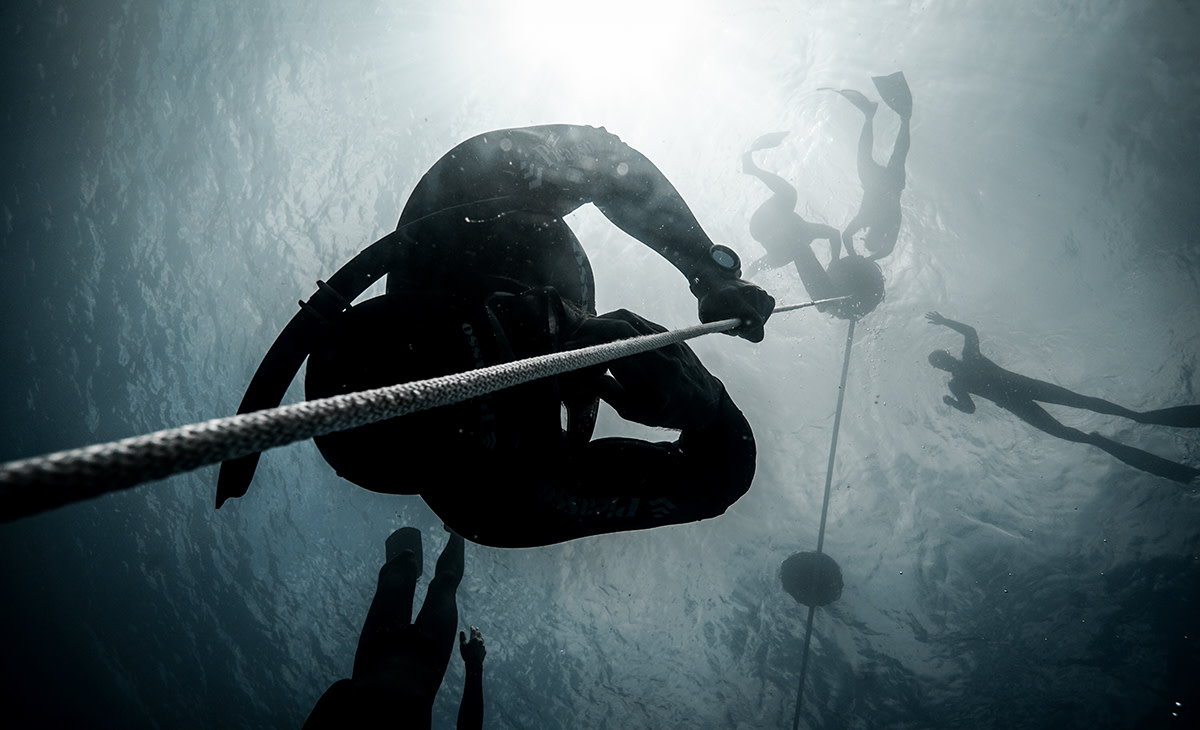 I'll admit that I'd heard the term "Mammalian Diving Reflex," but I had no idea what it was. Now, I think it's about the most fascinating thing since my first fish taco.
As it turns out, our bodies have an evolutionary-based ability to sense when we're in water, to pump oxygen to the brain and heart. And should something happen where we blackout while we're exploring a reef or shooting rapids, the reflex kicks in to protect us from drowning.
Mind … blown.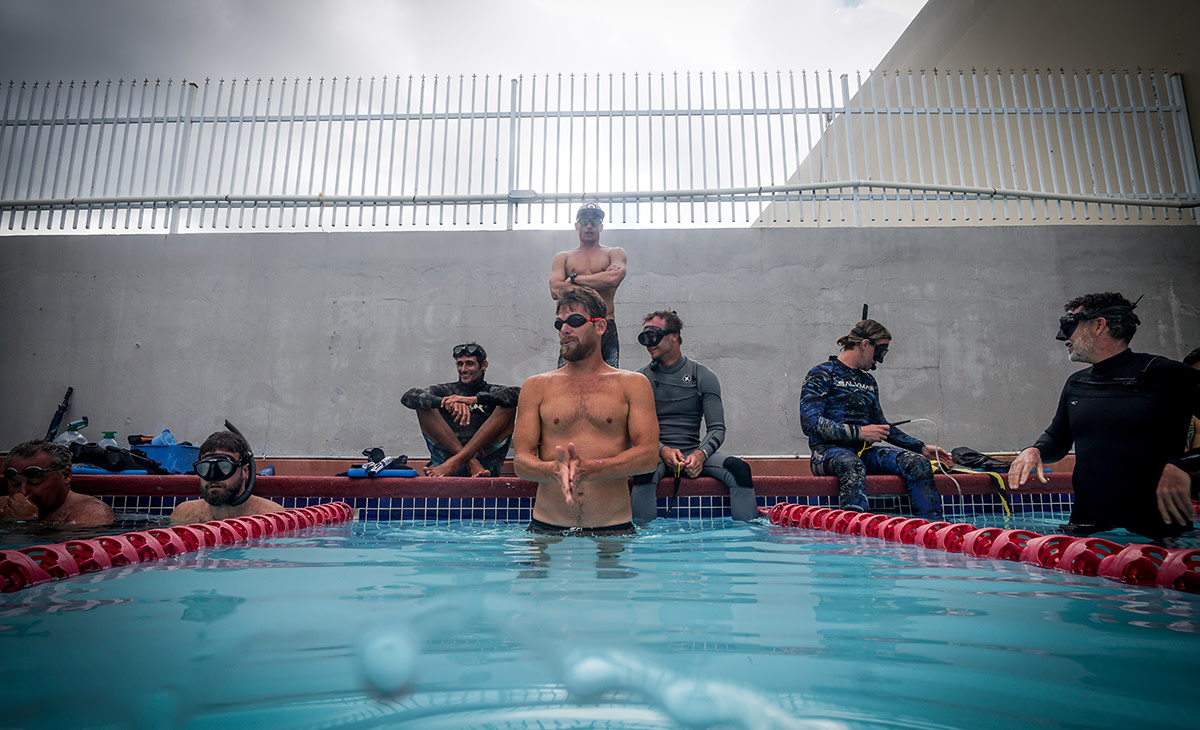 And that's just one aspect of a Level One Freediving and Waterman Survival Extended Course. I recently had the opportunity to take the course with Freediving Instructors International (FII) instructor Joe Sheridan and his co-instructor, Alex Llinas, both from Wilmington, North Carolina.
Sure, I wanted to learn freediving, but the ultimate goal was to expand my abilities and confidence underwater for spearfishing and surfing.
Sheridan offers the class in North Carolina and South Florida but also several times a year in Puerto Rico, as well as private courses.
Back in New Jersey, I had actually bellyboarded on an ice chunk earlier this winter. Feeling I'd paid my cold water penance already, if there's an excuse to get out in March, I'll take it.
The course is held in Rincon, Puerto Rico, which has been known to world travelers since the '60s as a gorgeous corner of the island away from the all-inclusive resorts. Life revolves around fishing, surfing, sailing and diving. So, when you've completed your training, you can put it right to use.
Day 1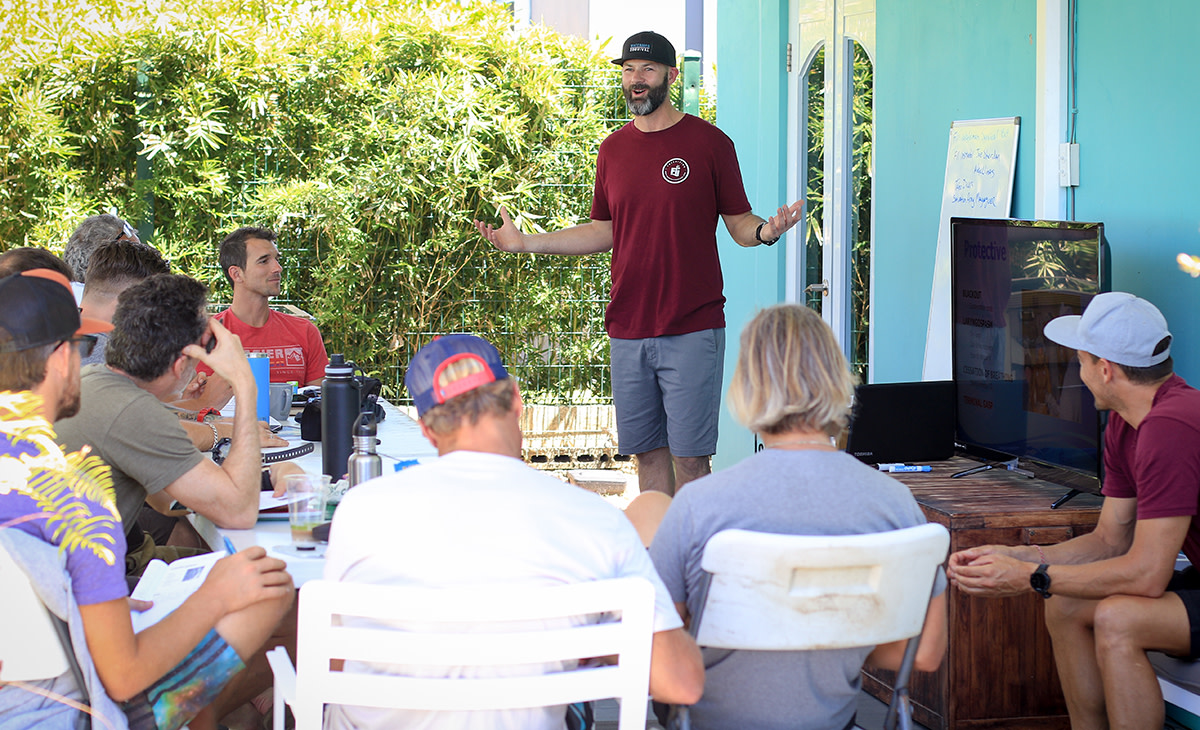 We were essentially taking the two classes at once – Freediving and Waterman Survival Extended. The first day began in the classroom with the basics of freediving. Our group consisted of all manner of watermen – SCUBA divers, surfers, paddlers, spearfishermen, and kiteboarders from all over the states and Puerto Rico.
Freediving, at its core, is tapping into your body's unknown potential. But to fully unlock it means learning basic human physiology. We were introduced to the intricacies of how your body exchanges oxygen and C02.
And obviously, any pursuit that involves holding your breath for extended periods has some risks. We spent a lot of the day learning about safety, specifically what to look for and how to respond. The idea of putting yourself at 30, 45, or even 60 feet underwater is intimidating, hence you don't really mind getting protocol beat into you for hours on end.
But what was most memorable about the classroom session was understanding how mammals have this intrinsic ability to condition their bodies for significant amounts of time underwater, wrapping your head around the concept that your body stores oxygen, but movement uses it up. At the very core of freediving is slowing the body down to conserve. It's just about the exact opposite of every instinct you have.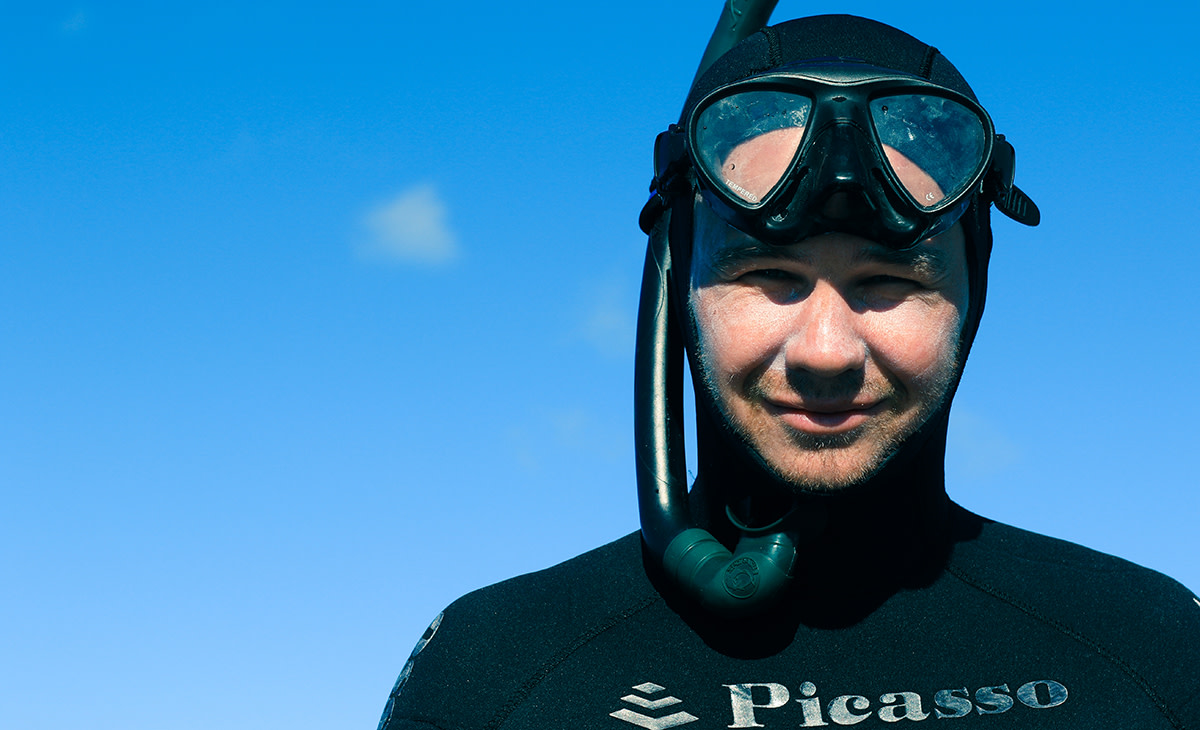 In short, moving slower and being underwater longer is actually more bearable than rushing down to an underwater point and rushing back up to the surface. If you hear about how much of a mental game it is in the classroom, you have no doubt when you apply it in the pool.
Day 2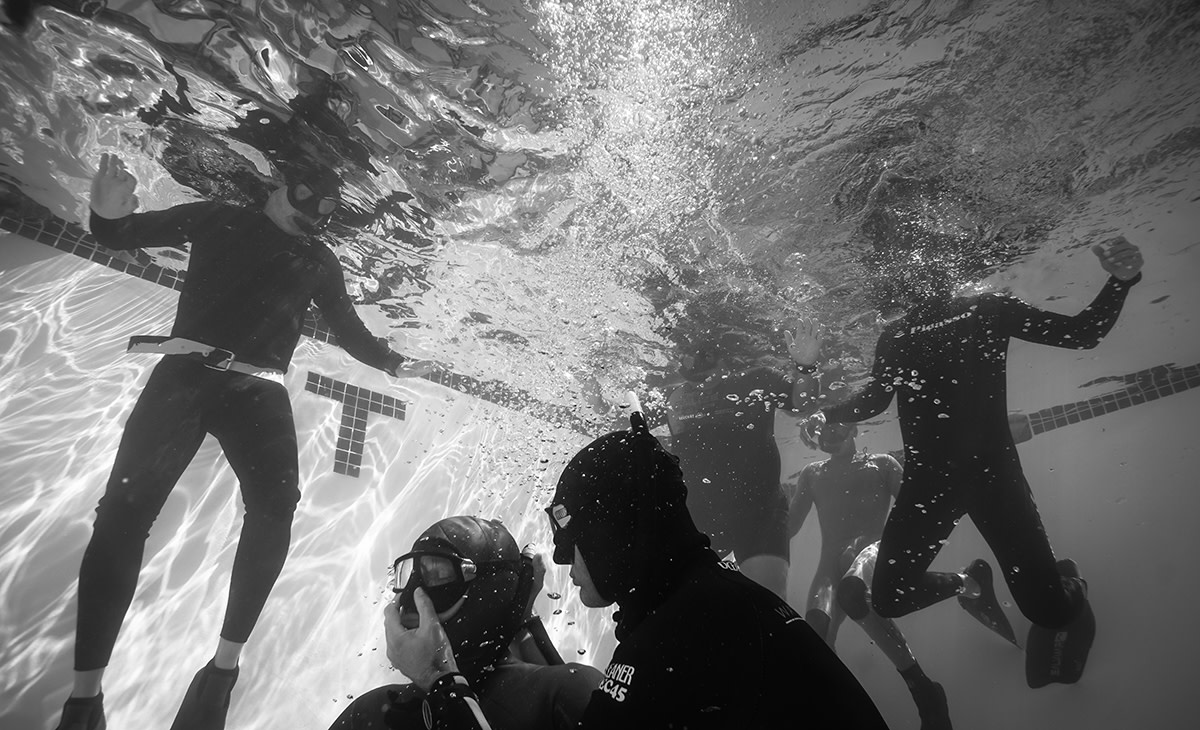 Most of the morning at a pool in Mayaguez was applying what we had learned about gear, safety and reacting to different scenarios. Shallow water blackout is serious business. It was helpful to have these skills dialed before we ever got into the ocean.
WSL Big Wave Tour surfer Will Skudin and his tow-in partner, highly-respected all-around Hawaiia waterman Chuck Patterson, were taking the class.
Skudin was at about 80 percent, still recovering from a major big-wave injury last year in Ireland, but his abilities in the water are phenomenal. Learning practical skills is cool; learning them with guys who've survived eating 60-feet of whitewater is on another level.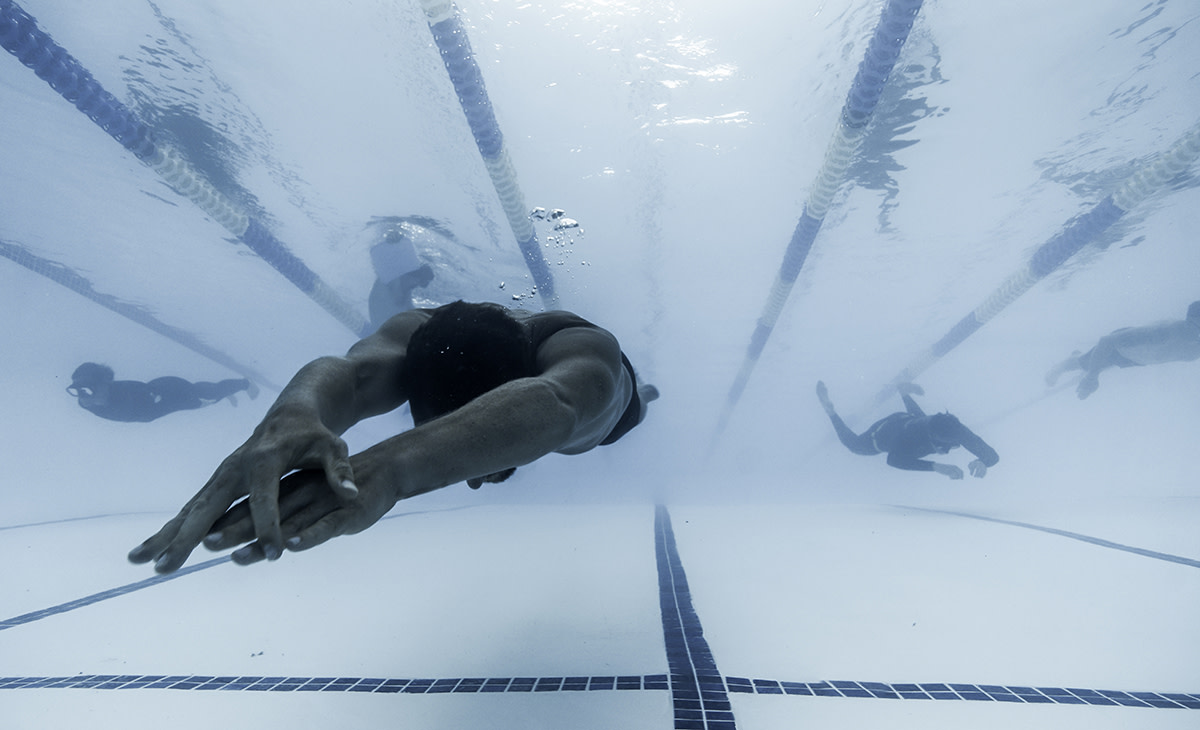 Next we got into static apnea, an essential freedive training tool and a pillar of breath holding, staying underwater completely still in the pool. With literally a day and a half of this class, I more than doubled my breath hold time. If nothing else, the whole course was worth it right there.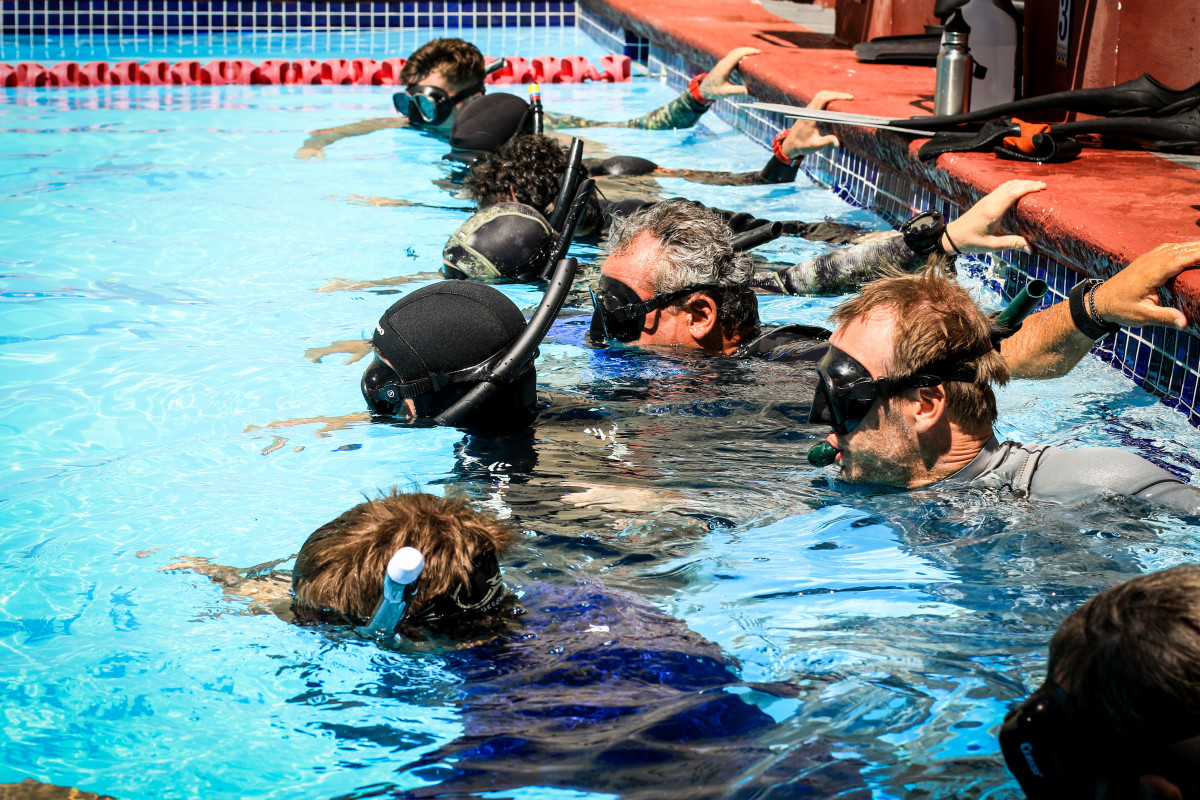 The rest of the afternoon was a brutal series of drills where we applied our "breath up techniques." That mostly involved different 50-meter underwater swims with 50-meter crawls, interval training, active recovery and one drill where you had to swim underwater without kicking, towing your partner – good times, relaxing in the Isle of Enchantment.
Day 3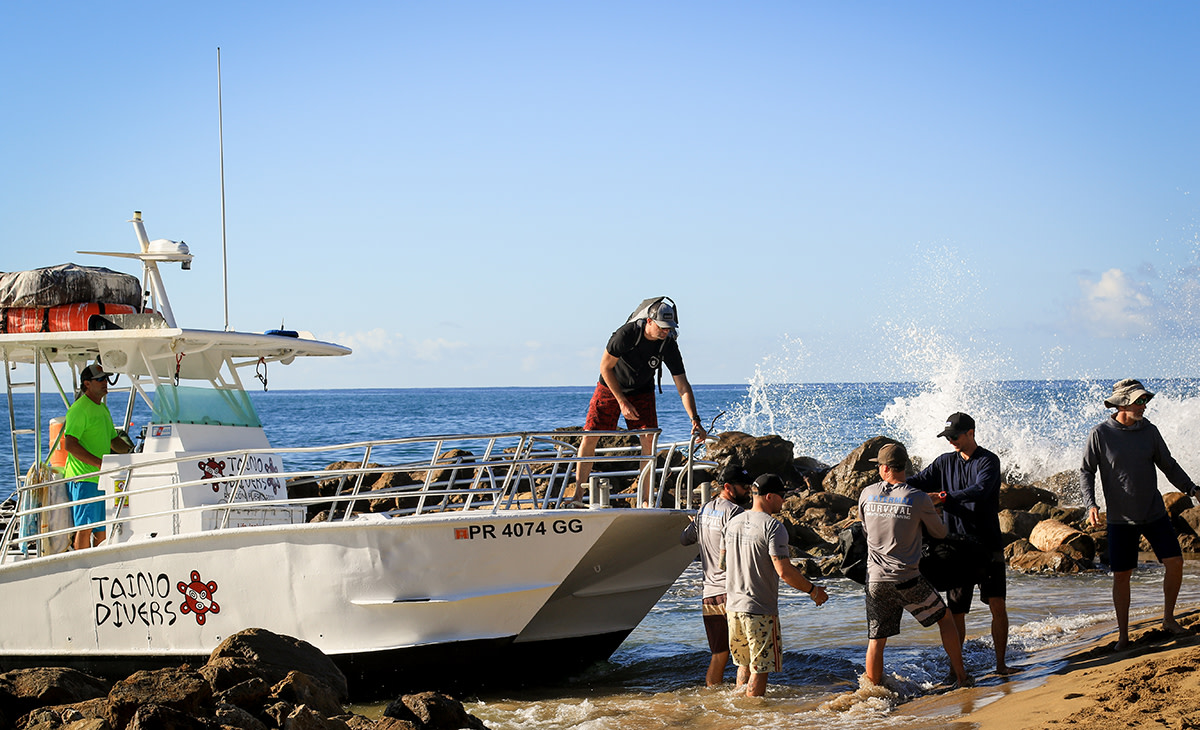 With what was forecasted to be a massive swell rolling in thanks to another East Coast bombogenesis storm, we had to wrap up the ocean portion of both the Freedive and Waterman Survival in a single day. Knowing the new depths at which we were going to be tested was terrifying, but the idea of tapping into something in our bodies for real in the deep blue Caribbean was beyond exciting.
And just as we got in the water to start the day, Captain Greg Carson, longtime owner of Taino Divers pointed out a pod of dolphins that were curious as to what we were doing.
That moment with these fellow mammals, two miles off the coast of Rincon in some 1500 feet of water, was a calming reminder of our evolutionary biology, the ultimate lineage back to our Mammalian Diving Reflex.
Again, we began with technique. Before long, we were properly diving to 15 and 30 feet along the dive line. I watched in amazement as everyone in the class applied the skills we'd learned in the past few days.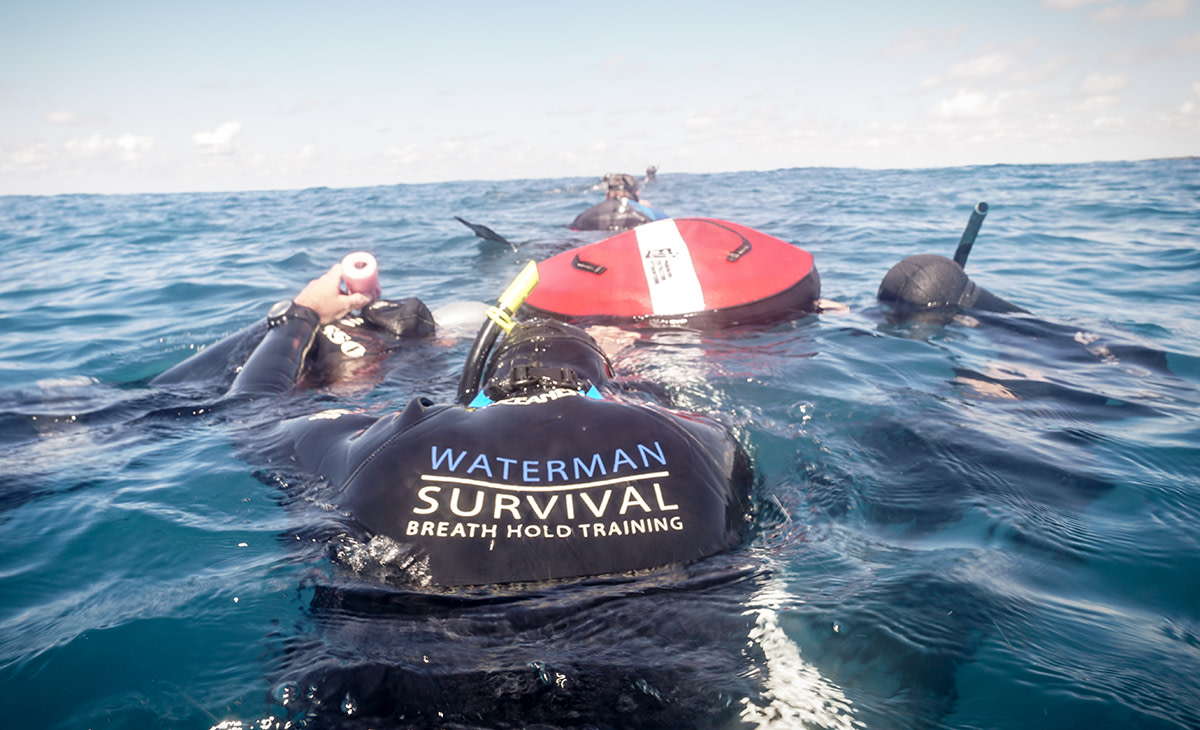 It's a mental game where you have to trust in your body. And knowing there was a freedive instructor with so much experience next to you the whole way, as well as skilled dive photographer Tony Dooley, certainly helps you keep it together.
It was incredible to see how each student had progressed, but I was completely inspired by Mouse, a 60-year-old retired NYC firefighter who was trying to heal the lung damage he incurred on 9/11. (Think about that for a minute.)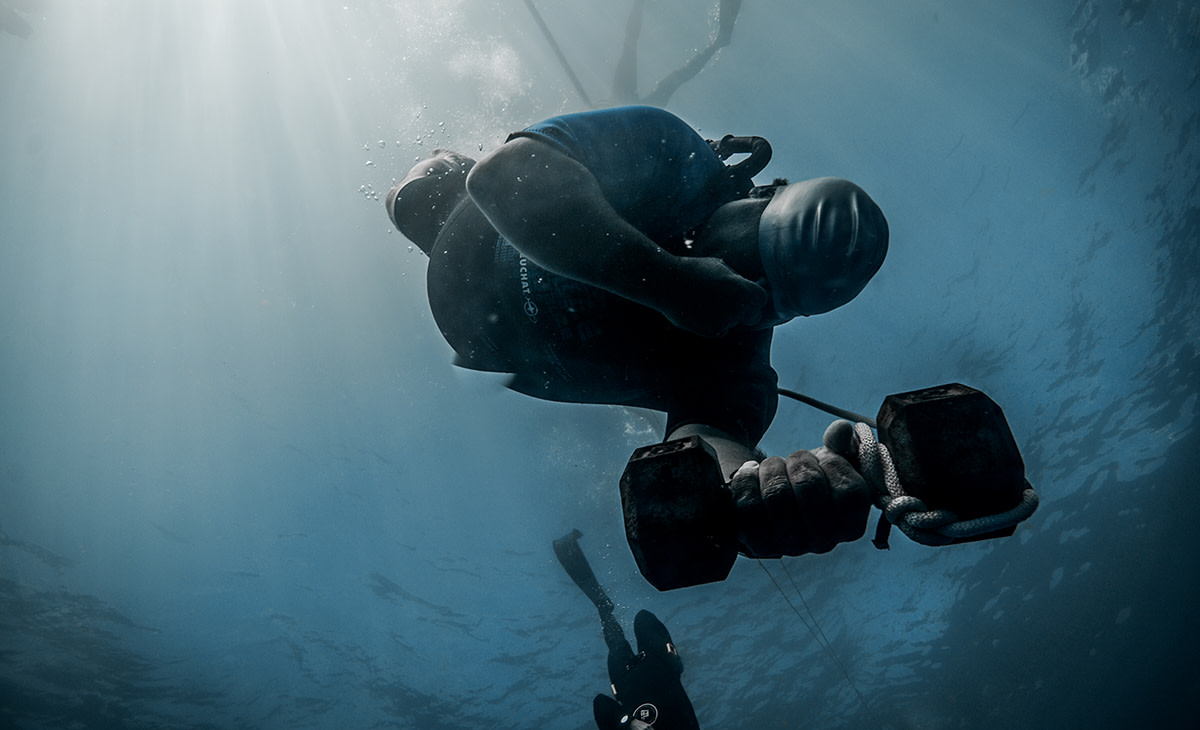 Unfortunately, when I got to around 35 feet, I felt a build-up of pressure in my ears. Freediving requires equalization – exerting pressure outwards to counter the pressure that builds in your inner ear. Now that I understand the training, with more practice I'm confident that in time I will be able to clear and go deeper safely.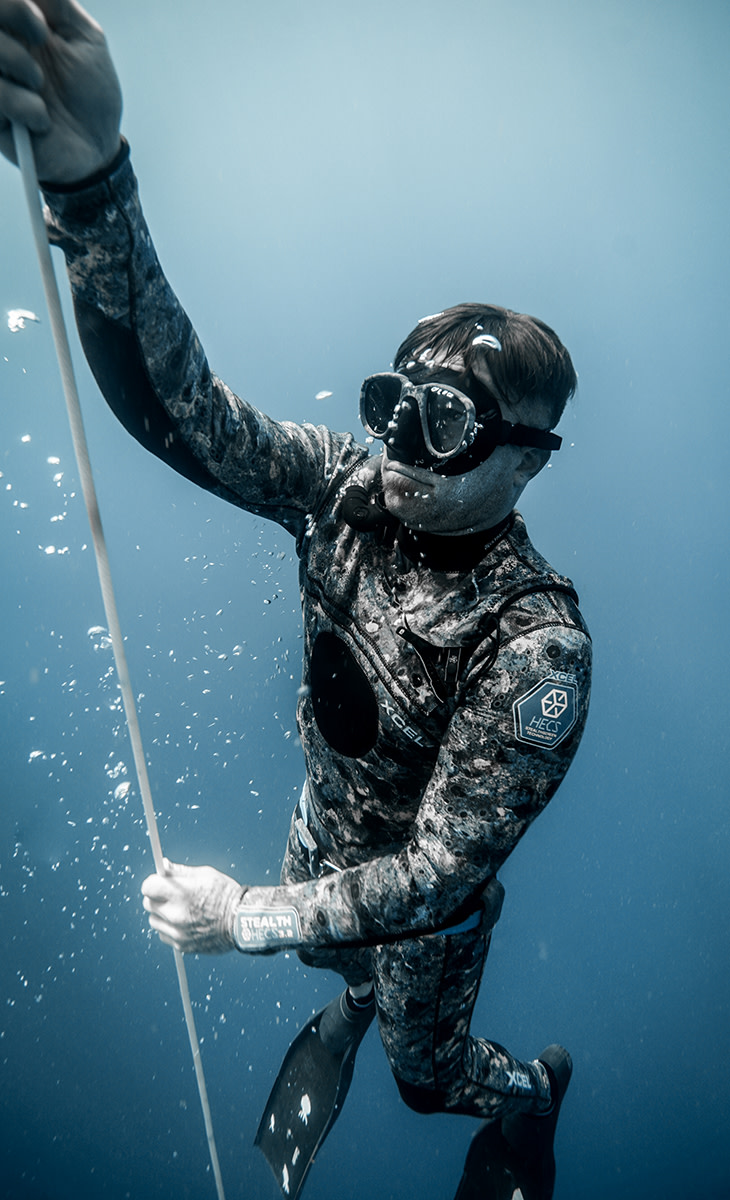 To say that it was frustrating would be an understatement. I was deeper than I'd ever been, calm, with oxygen in my lungs, but the pressure in my ears was too much. Sheridan explained it's the primary reason why people struggle to get the depth.
He said it's common in these courses. The bad news is that I couldn't get the Level One Certification. The good news is that I have a year to retake the class with Sheridan or any other FII instructor.
The rest of the day was the conclusion of the Waterman Survival Extended Class, which involved many of the earlier dives, this time without fins, leading to the finale of the class where each freediver is dropped, holding onto a 25-pound weight. And to simulate a situation where you have to remain comfortable when things are out of your hands, you get blindfolded. Isn't that what everyone flies to the tropics to do?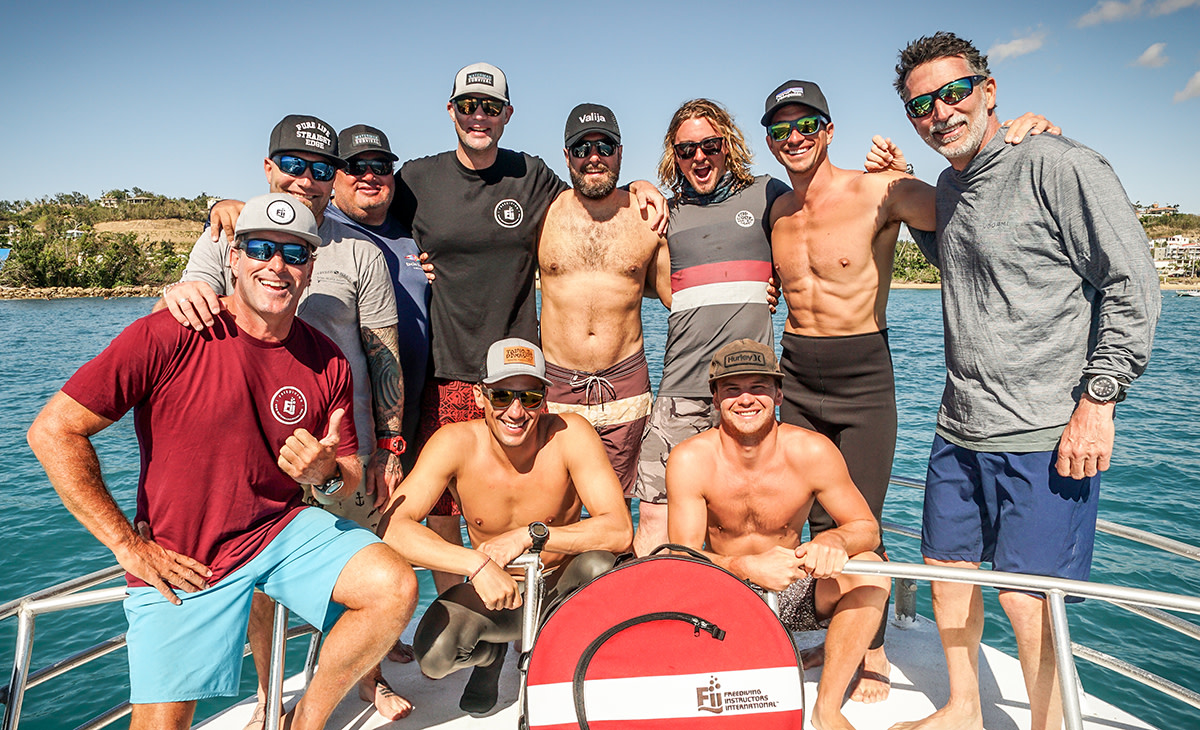 After a full day on the boat, the written test seemed easy. Even without meeting the depth requirement, everything about this course was worthwhile to gain a deeper understanding of the ocean and the capabilities of the human body.
These are the skills and knowledge that will make anyone a more competent surfer, kiteboarder, fisherman, kayaker, freediver, swimmer, or sailor. And to be honest, the breath hold training would come in handy in calming the body in almost any outdoor situation.
For access to exclusive gear videos, celebrity interviews, and more, subscribe on YouTube!