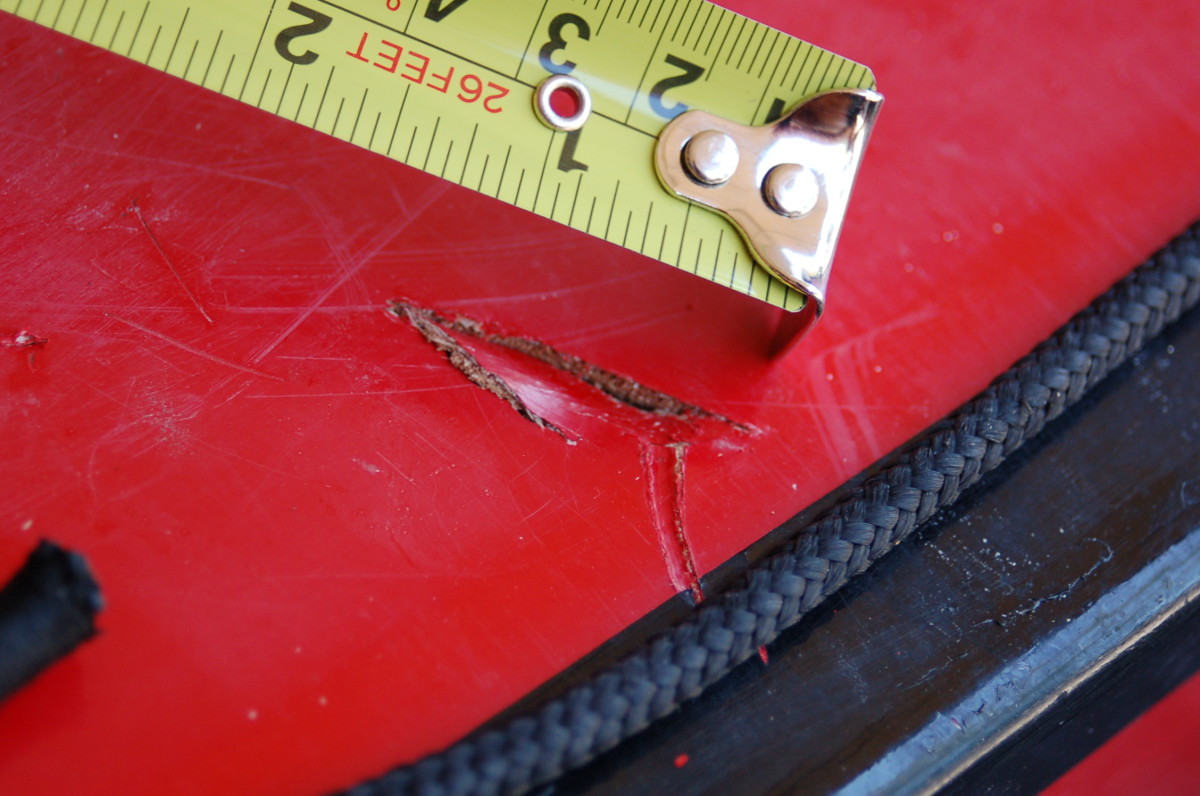 By Conor Mihell
Alone on a foggy morning in early August and five miles off the Santa Barbara, Calif., shoreline, Duane Strosaker experienced a sea kayaker's worst nightmare. "All of a sudden this huge head and gaping jaws came splashing out of the water on my left side," says Strosaker, 46, who was heading to the mainland during the last of a series of crossings to raise environmental awareness of Southern California's 23 offshore oil rigs.
An estimated 15- to 17-foot-long great white shark bit down on the front bulkhead of Strosaker's homemade wood and fiberglass sea kayak, puncturing the hull in several places and "gently gumming" the boat for about 15 seconds. Shocked, Strosaker says he "screamed like a little girl," but had the presence of mind not to hit the shark, splash wildly or otherwise act like the apex predator's typical quarry. Finally the shark released and appeared to circle back. Strosaker braced himself for another strike, but the shark abruptly dove deep and disappeared.
Strosaker's encounter was the first of three incidents in California last summer involving paddlers and sharks. Two weeks later, a great white slammed Adam Coca on his 13-foot sit-on-top fishing kayak on the San Mateo coast, near San Francisco, knocking him into the water. The shark chewed on the plastic kayak for a moment before leaving, and Coca made a distress call on his VHF radio and was assisted by other kayak anglers, hastily retreating to shore. In September, a persistent blue shark circled expedition paddler Sean Morley on a solo crossing between two of Southern California's Channel Islands. Morley tossed a shiny energy bar wrapper into the ocean in hopes of distracting the shark, which eventually lost interest in the paddler.
Other than keeping one's wits and hoping for the best, a paddler's options are few in a shark encounter. "I'm lucky that it wasn't thrashing, because that would've broken the boat in half," Strosaker says. "A kayak actually gives you a lot of protection. The thing is to stay out of the water." After the attack, Strosaker kept an eye on his bow to make sure it wasn't sinking, and kept his marine radio close in case he needed to make a mayday call. He had to bilge his kayak five times—once each mile—while paddling to shore.
"Before last summer, shark attacks weren't in my danger equation when planning a crossing," he says. "This is going to make me think twice about solo paddling, but it won't eliminate it. Now I always carry a marine radio, flares and a GPS, even on shorter trips."
The article was originally published on Canoe & Kayak
For access to exclusive gear videos, celebrity interviews, and more, subscribe on YouTube!