Before I started canoe tripping with him, my friend Ryan hinted at his love for his rickety wooden camp kitchen box, known as a "wannigan." He told me about clinging to the semi-floating grub box in a Class III whitewater canyon after upsetting in a rapid on Quebec's Moisie River. Later, I witnessed him perform this strange survival move after flipping on a feisty tributary on our 2014 journey to Hudson Bay. He packed that old wooden box over countless portages by tumpline alone, using his PFD to cushion his back. Clearly, this man was in love with his wannigan.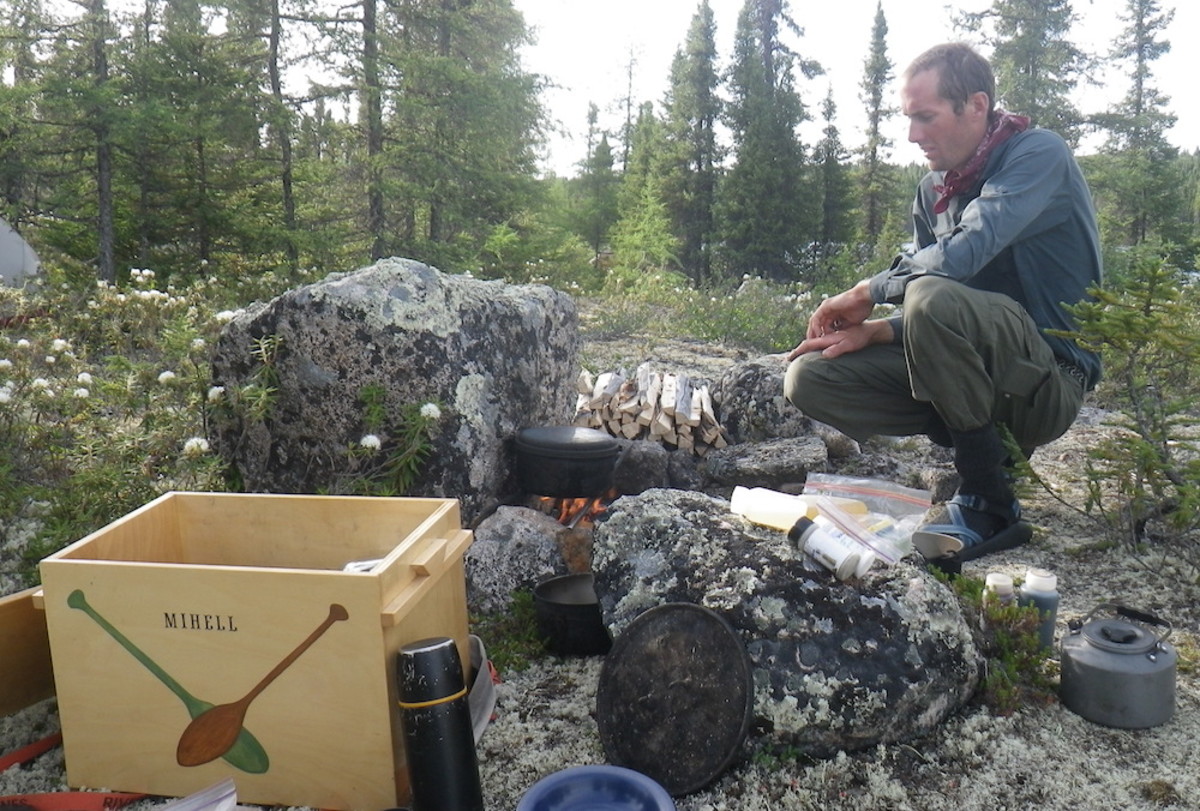 Over my canoe tripping career, I have devolved from modern plastics to old-school equipment that I feel remains equally functional—and aesthetically superior—to the new stuff. I use an ash paddle in a wood-and-canvas canoe; I carry my food and gear in duffels and canvas Duluth packs; and for the past five years I've travelled with a wannigan.
The wannigan traces its contemporary roots to Temagami, Ontario — a vast canoe country I am intimately familiar with. Much of its continued use today is owing to Camp Keewaydin, a youth canoe-tripping facility that's been around for well over a century. According to author and Keewaydin alumni Brian Back, "wangan" is "a variant of the [indigenous] Algonkian word for trap or container of odds and ends." Back claims the voyageurs—the canoe-paddling engines of the Canadian fur trade, who plied the waters of North America's hinterlands in the 18th and 19th centuries—carried a similar wooden box that held the canoe party's valuables. From there, similar boxes found their way into logging camps.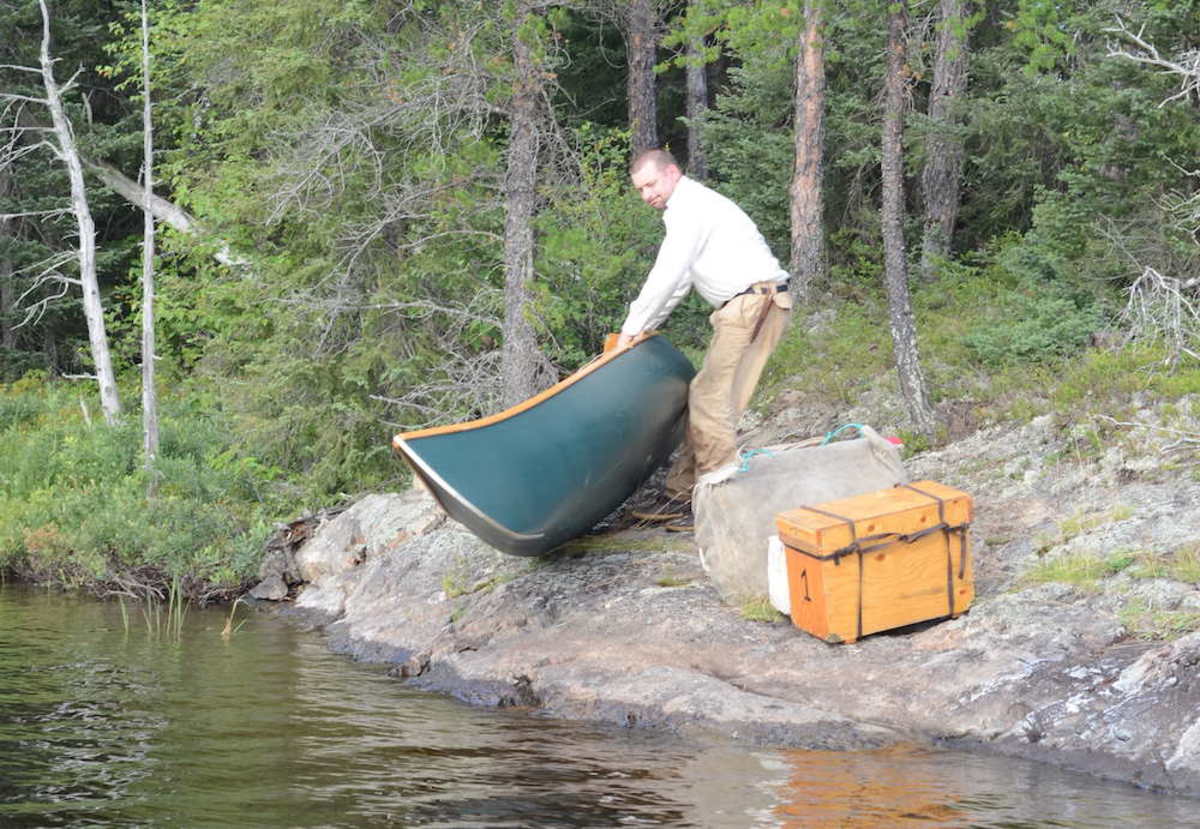 "The wangan was probably introduced to [Keewaydin] in 1898 when the lumberjacks, who had been hired as guides, added them to the gear that was carried into the base camp," Back writes in The Keewaydin Way. Keewaydin packs its food items in wannigans measuring 22 inches long by 12 inches wide and 12 inches deep; a larger box, known as the "jewelry," is used to carry cooking gear such as pots, pans and utensils.
Before I discovered the wannigan, I struggled with pots and pans digging into my back in an unpadded canoe packs or rolling around annoyingly inside a waterproof barrel pack. A wannigan contains these awkward items, and rides flat and level in the canoe. What's more, it also offers an easy, one-stop-shop for lunch, snacks and other items needed throughout the day. I pack the following items in my wannigan:
– Pots and Dutch oven (or a frying pan)
– Cooking utensils, such as a spatula, large spoon and fillet knife
– Plates and bowls; eating utensils
– Mugs
– Staple foodstuffs, such as powdered milk, ground coffee, sugar, cooking oil, peanut butter, condiments and spices—each packed in waterproof plastic jars
– Soap and dish-cleaning supplies
– Water treatment pills
– Lunch and snacks, including a thermos, for access during the day
Empty space is filled with extra food—particularly stuff that's non-perishable and odor-free, such as energy bars. If you paddle in whitewater, it is important to note that a wannigan is semi-buoyant at best. Its wooden construction lends some flotation, but its buoyancy is a function of packing as much of its contents as possible in watertight units.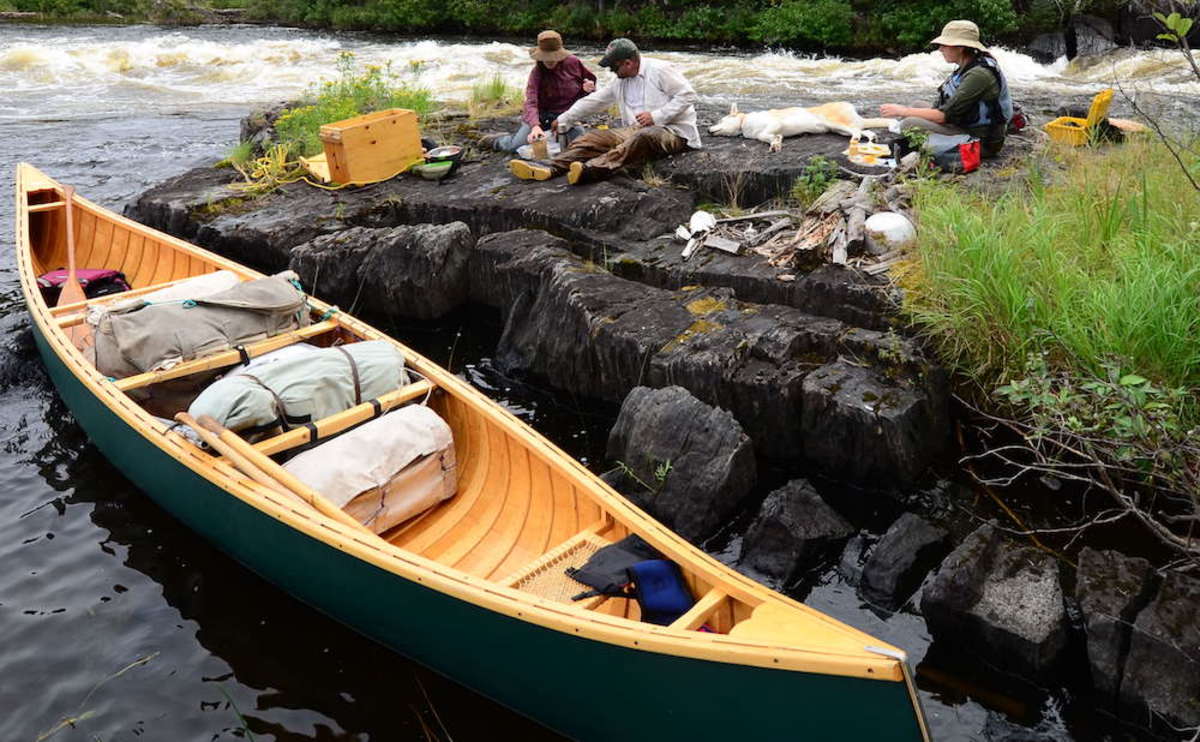 With a few tools and some basic woodworking skills it's easy to build your own wannigan in a day. Alternatively, you can order a custom wannigan from Maine's Pole and Paddle Canoe. There are also plenty of appropriately sized plastic options to be discovered in big box stores. In my experience, you're best to err on the side of too small rather than too big. Use the Keewaydin dimensions (24x12x12) as a tried and true starting place.
The lynchpin to using a wannigan effectively is developing a comfortable and efficient way to carry it on the portages. Here, a tumpline is your only option. The traditional approach is leather: Make your own from rivets and belt leather (or buy one here) and tie it using the Temagami Tumpline Knot. Your other option (my preference) is to rig a quick-release setup with two basic 9-foot cam straps and an 18-inch length of 3-inch-wide seatbelt webbing for the headpiece, with extra reinforced stitching.
Whichever approach you take, the headpiece should rest above your hairline, near the crown of your head, and the loaded wannigan should be suspended just below your shoulders. Use your hands to stabilize the tumpline on either side of your neck, and make use of the flat space on top of the wannigan to carry a small pack or camera box.
A classic wannigan is best paired with a legendary canoe. Read more about Headwaters Canoes' passion to continue the legacy of Chestnut canoes.
More canoe tripping on CanoeKayak.com:
— Different Strokes: Experts discuss canoe tripping technique, part one, part two
— Expedition Planning 101 with Alan Kesselheim
— Go old school in Labrador with Pete Marshall
— Video series: Follow Adventurer Jim Baird on a wilderness canoe trip in northern Saskatchewan
The article was originally published on Canoe & Kayak
For access to exclusive gear videos, celebrity interviews, and more, subscribe on YouTube!