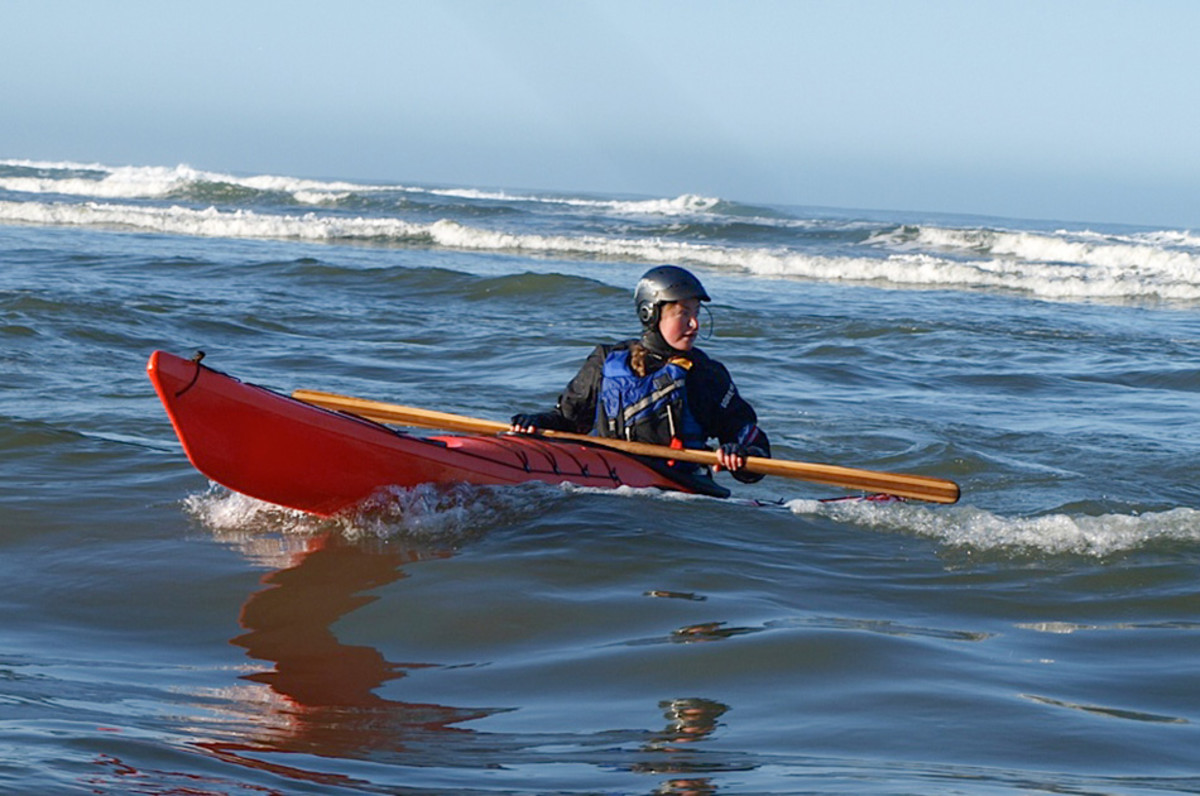 By Helen Wilson
I don't think that there's a kayaker who hasn't showed up for a paddle missing an important piece of gear. Whether it's the forgotten helmet for a rock garden adventure, the left-behind spraydeck for an evening roll practice or the empty tube of sunblock during the brightest day of the year. We've all been there. A well-organized kit bag can make or break a day on the water, and it's important to have a system.
My kit bag actually consists of two bags, my handy blue Ikea tote bag and my Peak UK Kit Bag. On a typical outing, everything starts in the Ikea bag. By the end of the outing the wet gear is in the Peak UK Kit Bag, and the (somewhat) dry stuff goes back into the Ikea bag, and wet gear goes in the Peak UK Kit Bag.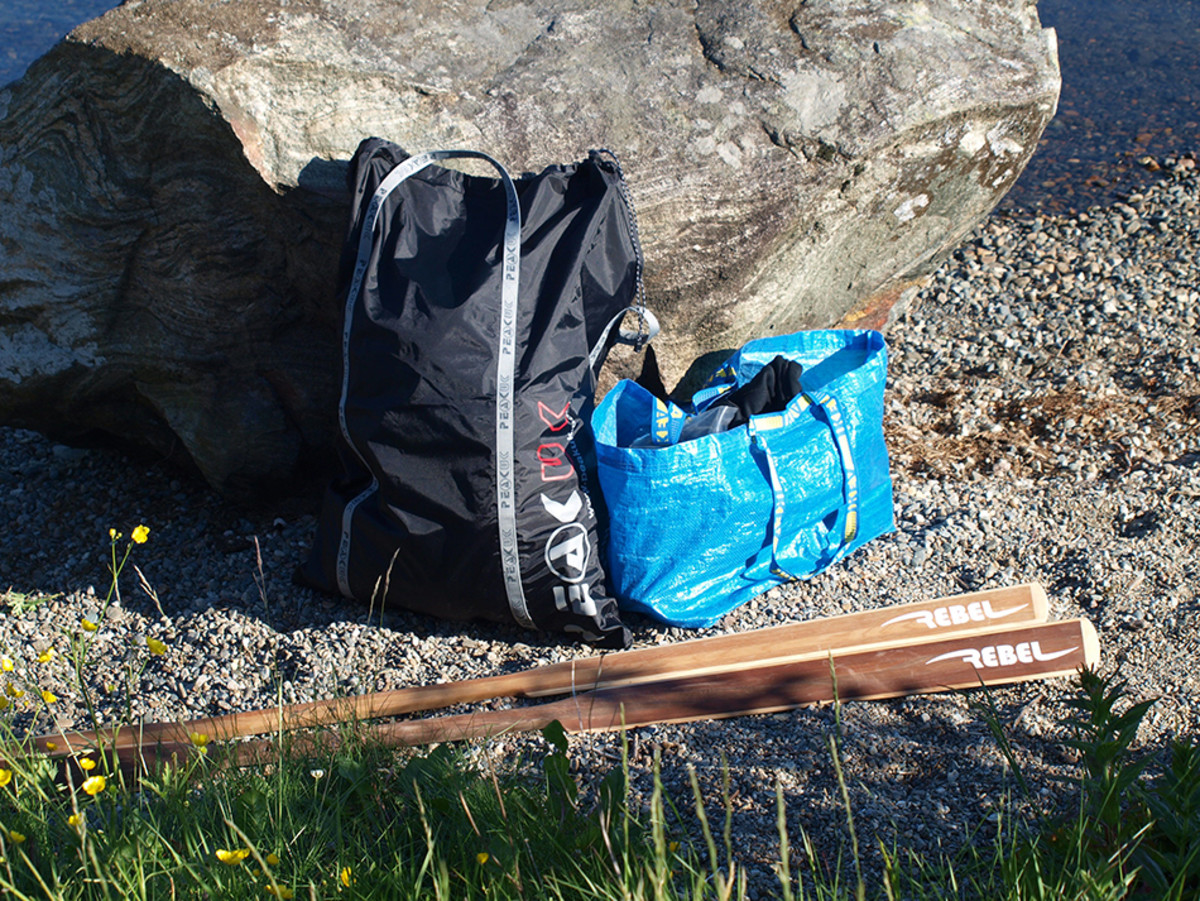 Blue Ikea bags have a cult-like following among kayakers, and for good reason. They're lightweight, fold up small, have a huge opening and a flat bottom and hold a ton of gear. And they're only 59 cents, if you can resist buying the BORGSJÖ bookcase/puzzle project when you go to Ikea to get yours. But they do have one disadvantage. When holding wet gear they leave a rectangular wet spot wherever you leave them. The longer your Ikea bag sits in that spot, the wetter that rectangle becomes.
This is where the Peak UK Kit Bag comes in. This PVC coated nylon bag is huge and completely waterproof. Very wet gear can be dropped in it, sealed up with the drawstring, placed on the seat of the car, carried into the house and placed on the carpet or hardwood floor and forgotten about until you're ready to deal with it, and it won't leave a puddle. It also has strong carry handles, and looks cooler at the put-in than a big blue Ikea bag.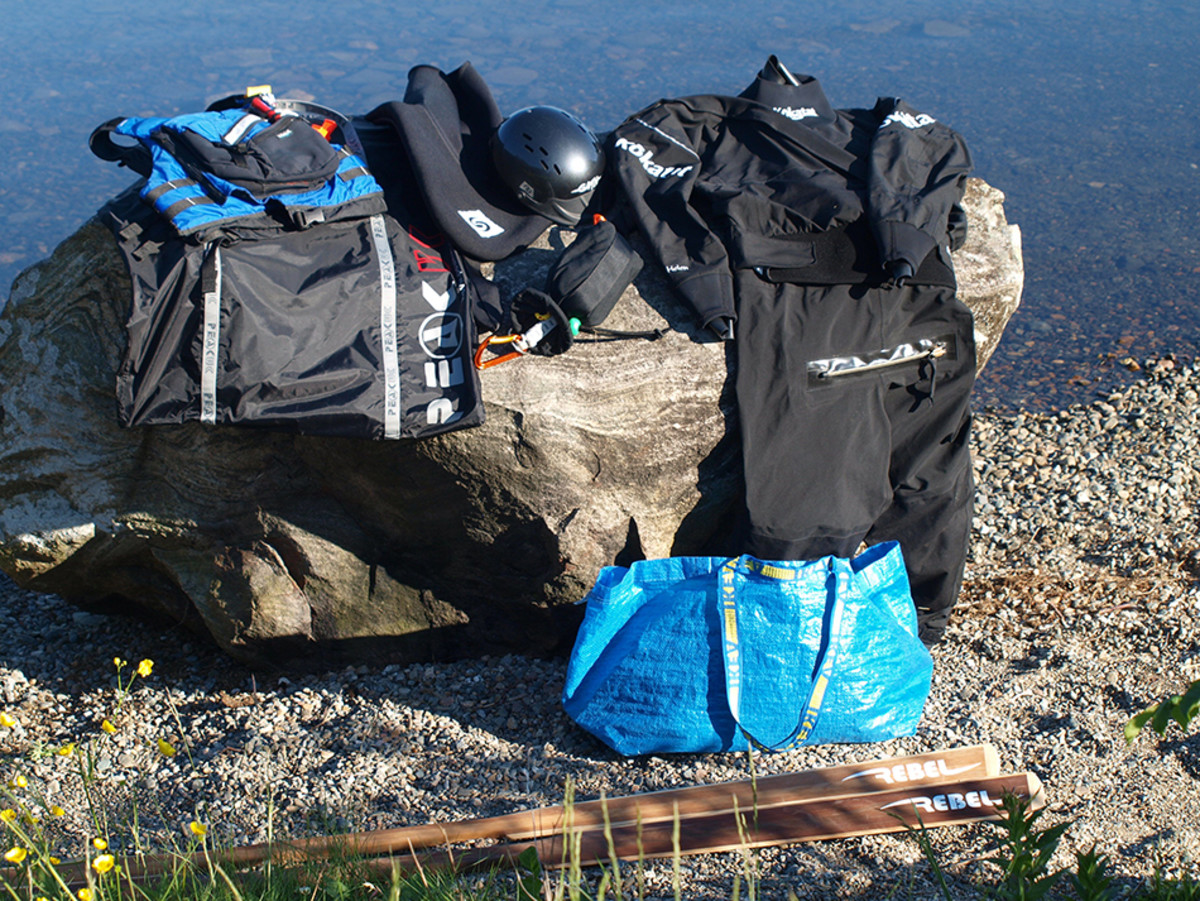 Whatever kit bag(s) you choose, the stuff that goes into it is very important, so here's my list for a typical day out on the water.
• Spraydeck (If going out primarily for roll practice,I use a tuilik instead.)
• PFD
• Helmet
• Buff or hat
• Booties
• Drysuit liner
• Drysuit (or rash guard, neoprene vest, Hydroskin pants and board shorts)
• Storm Cag
• Norsaq (rolling board)
• Fingerless gloves and fingered gloves
• Small dry bag (my "purse") which contains a basic first aid kit, lip balm and sunblock)
• Neoprene hood
• Nose clip (this is attached to either my helmet, my hood or my tuilik)
• Earplugs (these are kept in the pocket of my PFD)
• Whistle (attached to my PFD)
• Marine radio
• Camera
• Cell phone
• Car keys
• FUD
• Tow line
• Paddle float
• Bilge pump
• Sponge
• Socks
• Change of clothes
• Extra Ikea bag for keeping in the kayak
• Lunch or snack
• Water
In addition to the above list I also carry a kayak (hopefully you haven't forgotten this item before), a paddle and a spare paddle. Perhaps the strangest thing that's in my kit bag is a small, clear plastic bottle. I fill the bottle with a sample of the water that I'm paddling in, and once home, I label it with the location and date of where it was collected, and put it on a shelf in the living room. Kind of weird, but I've grown a little fond of my water collection.
This list is very basic, but I don't like carrying more than I need to. My husband Mark Tozer and I travel more days in the year than not, and we don't have the space, or the desire, to weigh bags down with things that we don't need. Whatever you chose to put in your kit bag, it's good to have a system. With the right gear, your day on the water will be much more enjoyable.
Helen Wilson lives in Arcata, California. She specializes in traditional paddling skills using traditional equipment. Helen performs rolling demonstrations, presentations and instructs at events worldwide and has produced two instructional DVDs, Simplifying the Roll with Helen Wilson and Yoga for Outdoor People. www.greenlandorbust.org.
The article was originally published on Canoe & Kayak
For access to exclusive gear videos, celebrity interviews, and more, subscribe on YouTube!