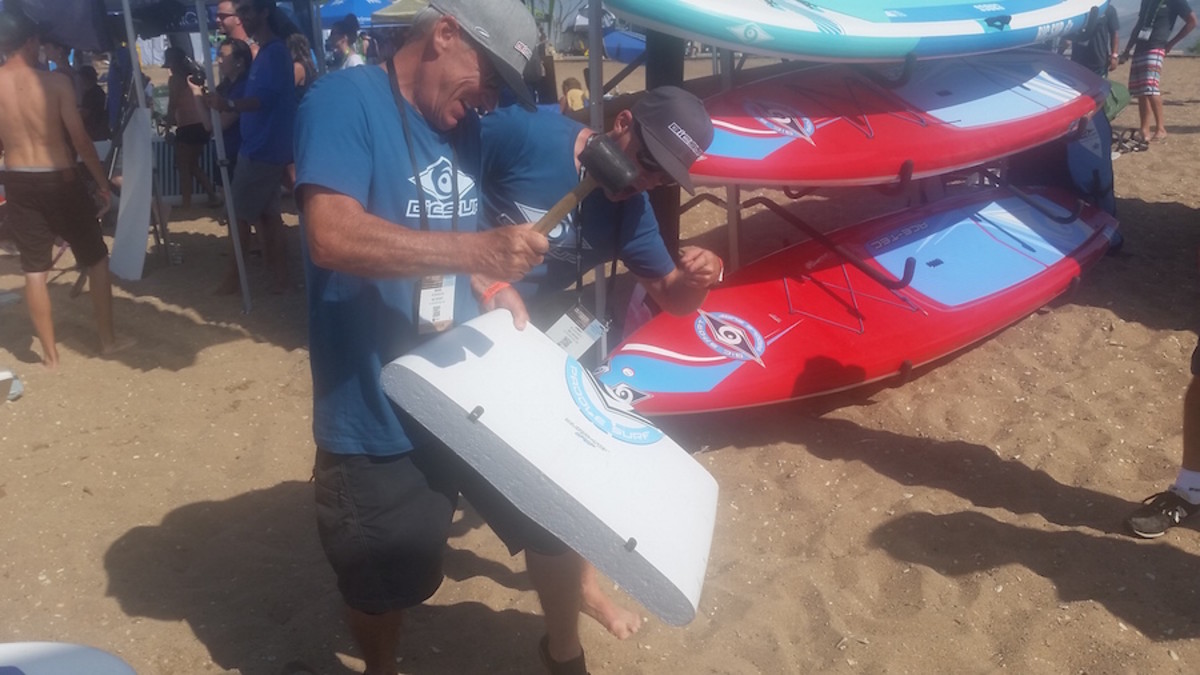 The Outdoor Retailer show is in full swing, with gear makers from around the world displaying their latest and greatest products in Salt Lake City. Having spent a day looking at boats and paddling gear on the Demo Beach and another on the show floor for Day One (Outdoor Retailer capitalizes things), there are some clear patterns emerging for the 2017 season.
Trend A: A lot more Standup Paddleboards, specifically inflatables
Stand-up Paddling is clearly a juggernaut, judging from the test paddling traffic. There were a lot of hard-board companies, but the number of new inflatable SUP boards was staggering.
According to the manufacturers I spoke with, the growth is fueled by two things: storage space issues and improved technology. My experience says this is true. A lot of paddlers, particularly urban ones, don't have the storage space for an 11-foot board in their living quarters. So they turn to inflatables.
Unfortunately, the early inflatables were not really up to the task. Blowing up a basketball to a high pressure is easy; a sphere can stretch in all directions. Not so with a long, flat, surfboard-shaped object. With improvements in construction and materials, floppy inflatables are becoming a thing of the past. Air pumps have improved and are capable of inflating some boards to 20 psi. That makes for basketball-like hardness.
Notable boards that stood out were Red Paddle Co and NRS, both with the capability to withstand high pressure.
On a side note, several manufacturers are making multiple-person boards. C4 Waterman's SUPsquatch paved the way for stand-up barges. They may seem silly, but remember, this is all about fun.
Trend B: Pedal Drives and Electric Kayaks
We know fishing kayaks are a growing market segment. Hobie was the first company to come out with a mechanism that allowed a paddler to sit in a kayak and propel themselves, totally hands-free. The Mirage Drive was a huge hit with anglers who don't want to paddle and fish at the same time. Last month Hobie debuted its new Mirage Drive 180, which allows reverse propulsion.
At Outdoor Retailer this year, Native Watercraft and Hurricane Kayak, Old Town Canoe, FeelFree Kayaks, Jackson Kayak, and Wilderness Systems are all showing off some sort of propulsion system, whether it be battery or human powered. All these systems have upsides and downsides, of course, and look for a more thorough review when these boats are out of the prototype stage.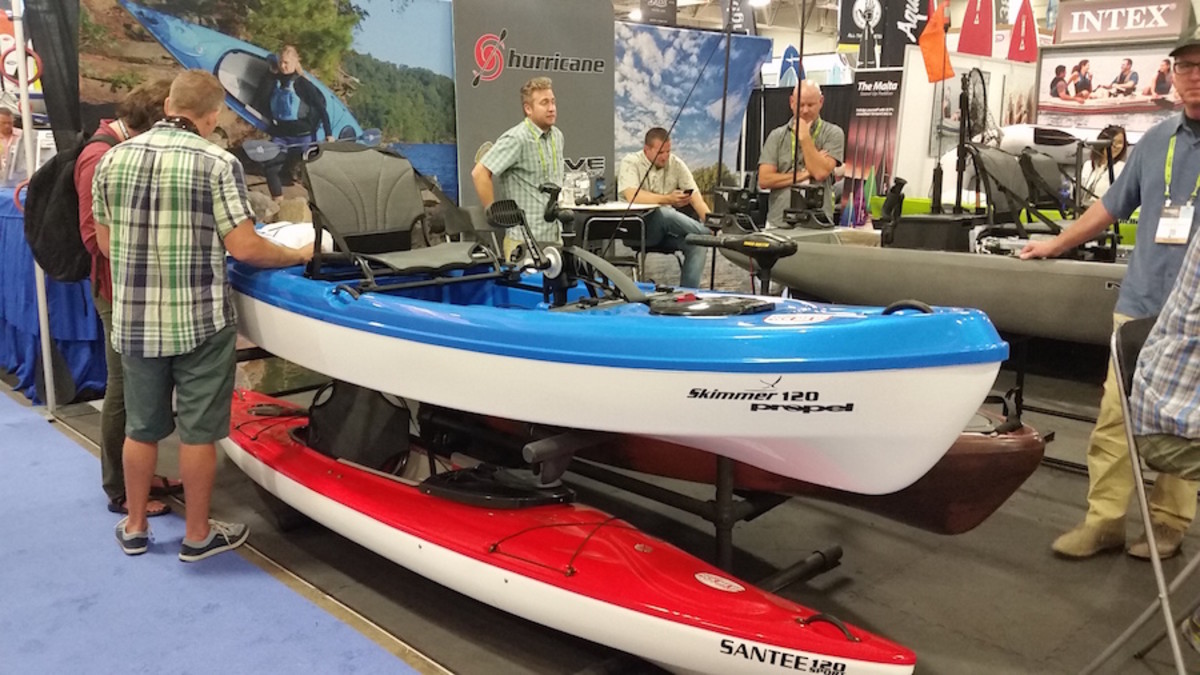 Trend C: Make it Lighter
No one has ever told me, "Gee, I wish my boat weighed more. Can someone tape a couple of plate weights to the hull?" What I have heard and observed on the beach is that lightweight trumps almost anything else. If you can't pick it up, you can't paddle it.
This trend manifested itself in different ways. The most obvious one to me was when I saw a Hurricane Skimmer sit-on-top made out of thermoformed plastic. Weight was the bane of a kayak angler's existence, with most boats being upwards of 80 to 85 pounds. The Skimmer came out about 63. That's a nice boost.
Composite kayak companies like to mess around with new materials, or just new materials combined in different ways. Stellar Kayak, for example, has a new composite construction with a gorgeous clear carbon and aramid (think Kevlar) fiber. Slightly more flexible than the Advantage layup, the mainstay of Stellar, it's light and tough, and worthy of a look.
Lighter doesn't have to mean less durable. BIC's new material, Tough-Tec, replaces Dura-Tec, and it's a great move. The new Tough-Tec material is lighter than the Dura-Tec while dropping the price. I beat on a section of Tough-Tec board with a giant rubber mallet and it lives up to its name.

Trend D: Make it Versatile.
Many folks want a boat that will do it all. In answer to these requests, boat manufacturers are making subtle changes. Several companies are adding RAM mounts to allow attachment of fishing accessories or other gear to their standard models.
Several companies have introduced boats that blur the line between categories. The Native Watercraft Titan is either a large kayak or a small pier. At 42 inches wide, it's huge. Not for car-topping, it's the perfect platform for the big guy with a ton of gear who wants stability over all.
Perception's High Life might be the ultimate in blurred lines. If I have to put it into a category, I would say it's a sit-on-top kayak that is exceptional for stand-up paddling. Its molded-in raised seat makes it easy to stand up and sit down, and since a lot of people sit on their SUP boards, why not add a seat? Under the seat is a small cooler, too. I can see people who want to paddle with their pets loving this kayak/SUP hybrid.

Trend E: Knockoffs
Trend E is most unfortunate. There is a different feeling about intellectual property in many offshore manufacturing facilities. They look at it as business as usual; I see it as stealing. Because taking someone else's work is piracy. It bothers me. A lot.
My personal plea is this: if you're dealing with a new brand in the marketplace, do your homework. Don't buy knock-offs. One SUP startup that will go unnamed was claiming that there product was better than an established brand, for half the price. That's impossible. Caveat paddlor, I guess I'd say.
The article was originally published on Canoe & Kayak
For access to exclusive gear videos, celebrity interviews, and more, subscribe on YouTube!