When most people think of Vail, Colorado, they think of posh hotels and one of the world's largest ski areas — certainly not the ice and mixed climbing routes surrounding town.
But for a few months out of the year, while passersby gaze out their car windows en route to or from Denver 100 miles to the east, it's possible for climbers to spy a few long strings of ice popping out from the walls above town. Some of these frozen drips extend down more than 10 stories from the cliff's edge. Some even touch the ground. In total, there are approximately 16 ice routes at East Vail.
The most obvious of these ice flows is the Rigid Designator, first climbed by Bob Culp in the 1970s, and The Fang, first climbed by the late Alex Lowe in the 1980s. Both routes are more than 100 feet tall.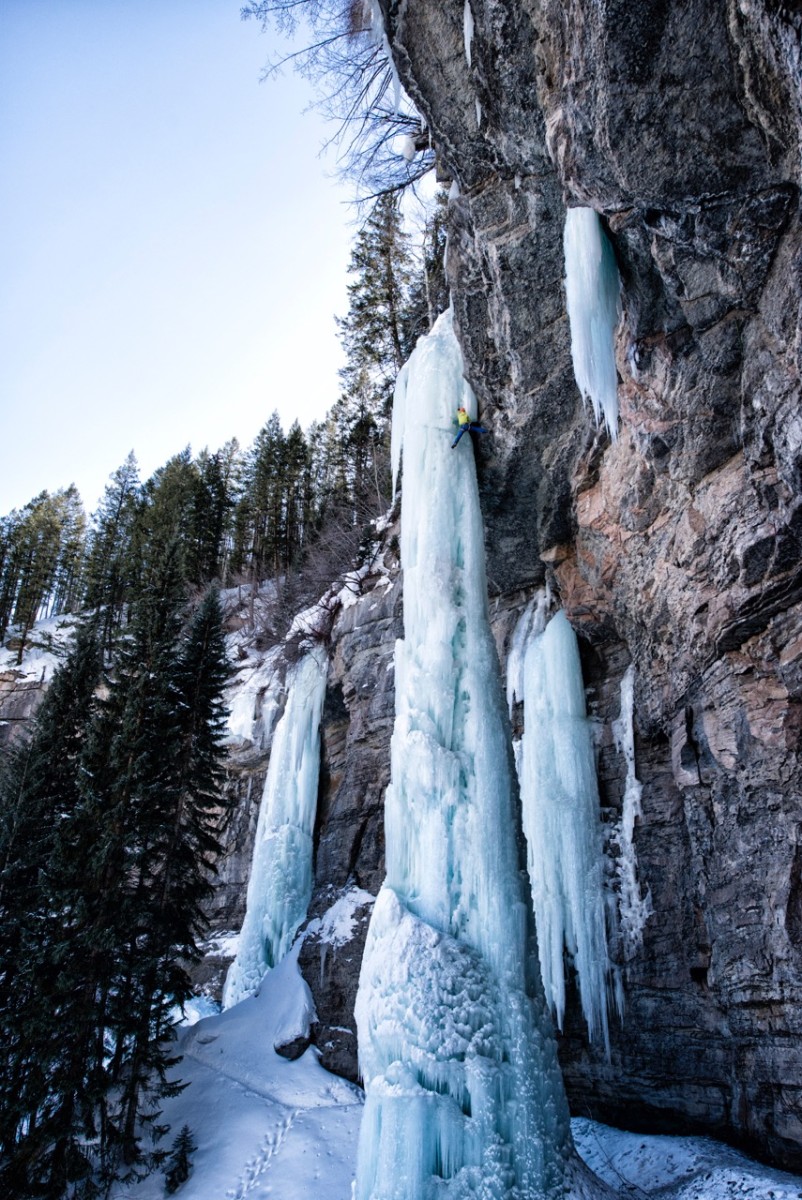 The Fang/Designator Amphitheater at East Vail is a massive, radically overhanging limestone wall split with horizontal bands. In 1994, Jeff Lowe, author of "Ice World: Techniques and Experiences of Modern Ice Climbing," was credited with inventing hard "mixed climbing" when he was the first to ascend an enormous limestone roof at East Vail.
Move after move, he hooked his ice picks on rock edges and in pockets — and performed crazy calisthenics by throwing his legs over his ice tools, something not heard of at the time — to complete the first ascent of Octopussy (M8). It was the hardest mixed route in the world, and the climb graces the cover of his book.
"Some people think Jeff Lowe started it for the whole world at Vail. Certainly [he did] in the U.S.," local climber David Roetzel told GrindTV.
Today, the hardest route in America is East Vail's Saphira (M15-).
For the past 20 years, Roetzel has been climbing hard in this area, establishing many routes in the process. "This is the modern embrace of mixed climbing," he says. He hopes to complete a new M13- later this season.
RELATED: Why the Bozeman Ice Festival is the heart of ice-climbing culture
On March 13, 2014, Roetzel free-soloed (climbing without using a rope) 15 ice routes in the East Vail area, including The Fang, Rigid Designator and several other routes he showed GrindTV during a recent visit. (The Fang wasn't formed this year.)
Roetzel, 47, originally from Akron, Ohio, has lived outside of Vail since 1994. At first he was just a rock climber, but the winters are long in Vail, and it didn't take long for his friends to convince him to give ice climbing a shot. Within a few seasons, he broke away from strictly climbing ice, moving onto rock with his sharp and pointy tools like Jeff Lowe and several others had before him.
The day we climbed with Roetzel, he pointed out the best practices required to advance over ice picks cammed in the rock. He also provided ice-climbing tips. His suggestions kept our ice tools from unexpectedly whipping off the rock and smacking us square in the face. (He sees this happen a few times each year, and people also hit themselves in the mug with displaced ice.)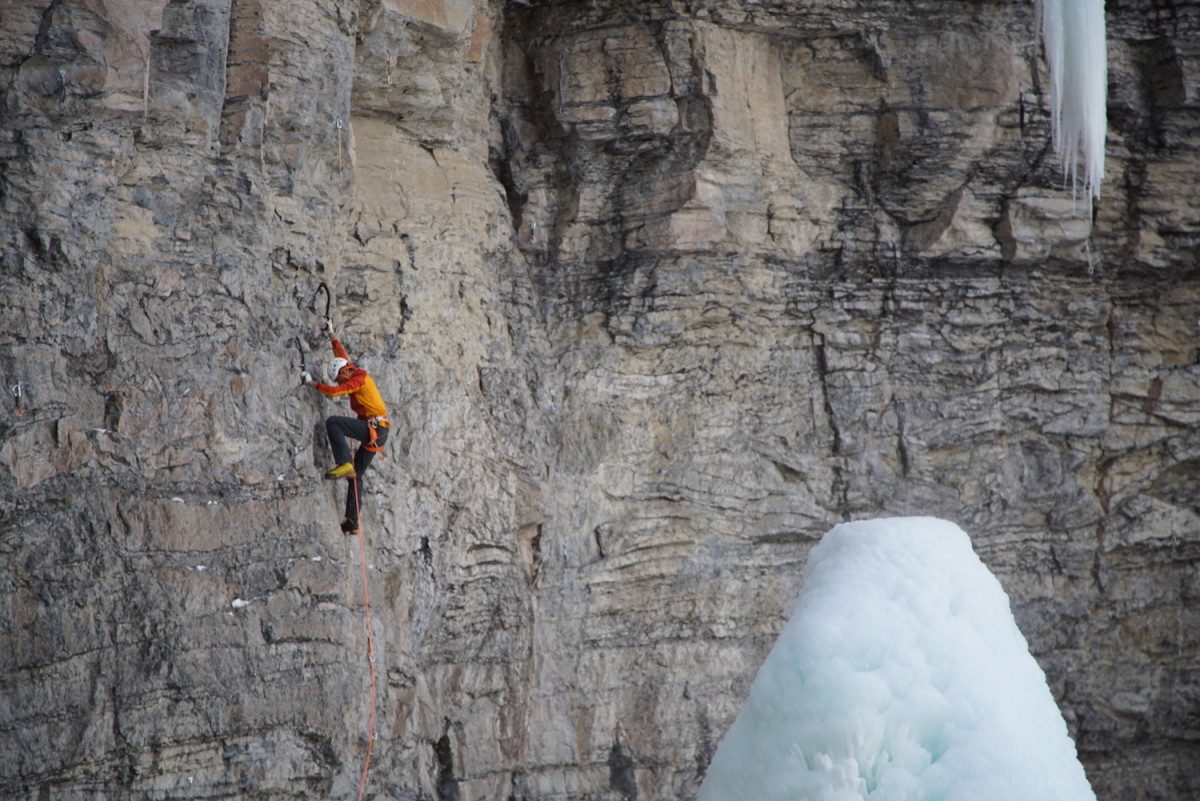 A well-slotted ice pick gives a solid "ka-thunk," but it takes a lot of practice to advance past the picks without dislodging them. "You just can't feel things the same way as you do with rock climbing," he says. "I can feel placements differently now than I used to, for sure."
RELATED: Ice climbing video offers impressive panoramas
The best time to visit Vail for ice climbing is mid-January to early March. This is when the ice has begun to rapidly re-grow, as the days become warmer and longer and the climbing temps are more desirable. By late March the ice begins peeling away.
Ice-climbing lessons and guided mixed climbing are available at Vail through RMI Expeditions, Apex Climbing School and the Colorado Mountain School.
For access to exclusive gear videos, celebrity interviews, and more, subscribe on YouTube!