On a snow-covered mountain in northeastern Utah, somewhere between the towns of Eden and Paradise, I stepped out of a snowcat, clicked into my skis, and soon discovered why those names might just be warranted. The first run of the day was about 1,200 vertical feet of almost impossibly perfect, fluffy, shin-deep powder, layered over an impressive variety of terrain. A small ridge led to a wide-open face, followed by some well-spaced trees, with other drainages punctuated by little facets and snow pillows on either side. By the time the eight skiers and two guides in my group reconvened at the bottom, the verdict was unanimous: Every one of us was caked in powder and smiling widely. It was going to be a good day. And then the best part: We hopped back into the waiting snowcat's heated cab, cranked up some tunes on its speaker system, passed around snacks, and rode the 10 minutes back to the top to do it all again.
This was cat skiing at Whisper Ridge, one of North America's newest and most ambitious backcountry operations, on an almost unthinkable 60,000 private acres, with a maximum of 60 skiers per day. At night, guests crash in a remote, mountaintop yurt "village" complete with fire pits, hot tubs, home-cooked meals, and regular live music—all roughly 90 miles north of the Salt Lake City airport.
Whisper Ridge, now in its third season of operation, is the brainchild of 50-year-old Dan Lockwood—a former land manager, fishing and hunting guide, and biologist—and his son, Cort, a 23-year-old MBA student at Utah State. The backcountry resort's base, in the Wasatch's Cache Valley, is home to a handful of historic ranches that have mostly been owned by the same families for generations. It's used primarily as summer range for sheep and cattle. The Lockwoods, however, looked at the massive, mountainous ranchland owned by their family and their neighbors and figured there might be a way to use those hills during the winter, too.
"Cort and I would go up there riding around on snowmobiles just for fun, dropping each other off to take runs," Lockwood says. "We started talking about the future, how to protect and preserve the ranch and open it up to other people, and we eventually decided that this seemed like a good opportunity."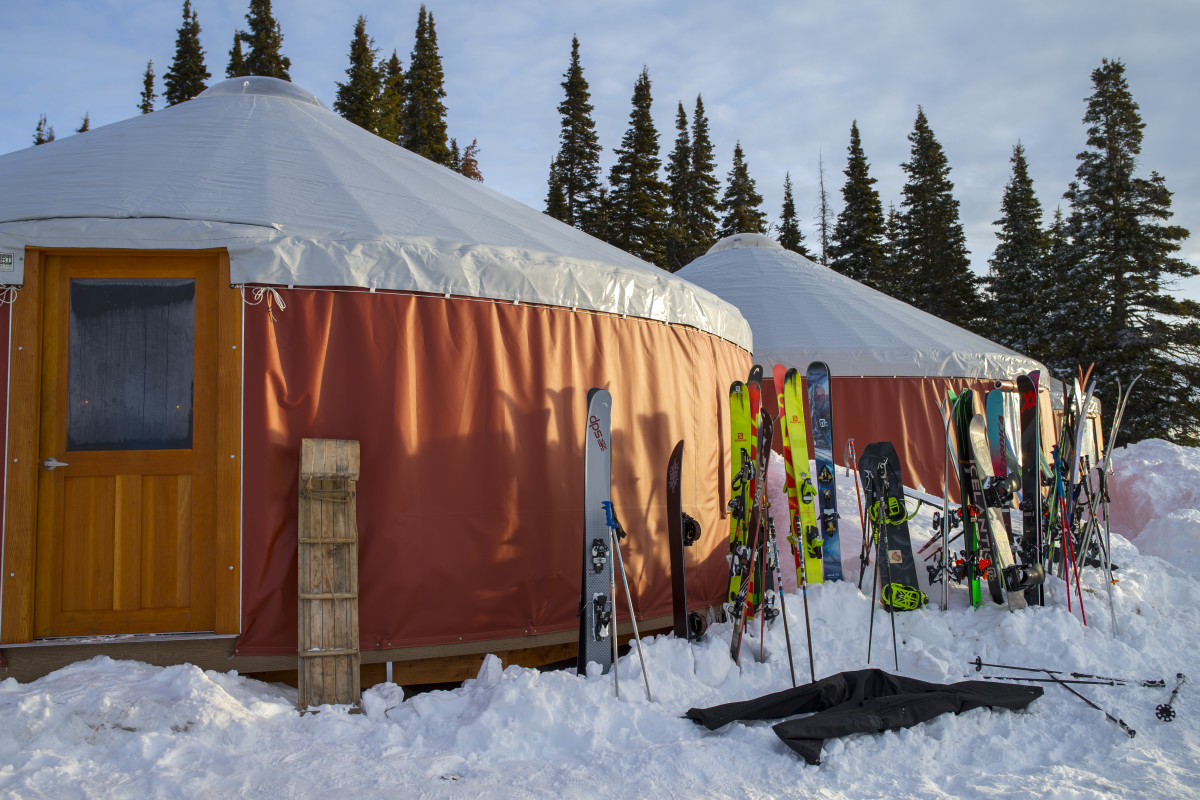 Cat-skiing operations are typically small and remote, offering skiers a chance to escape the crowds and descend open slopes of untracked powder. In a way, it's like heli-skiing—without the weather delays and for about half the price. (Whisper Ridge trips start at $550 to ski and $930 for the all-inclusive yurt package.) And the cat-skiing industry has been booming lately, mirroring a rise in backcountry skiing overall.
Assessing other successful operations, Lockwood quickly realized he had the prerequisites in spades: lots of space; ample, high-quality snow (500-plus inches annually); and access to Utah's deep bench of backcountry- savvy guides, many of whom jump at the chance to work for Whisper Ridge.
"It's badass," said one guide I spoke with. "We basically get to start a ski area from scratch—cut roads, name runs, open new zones—which just doesn't happen."
When I arrived at the 1881 trading post that serves as Whisper Ridge's base camp, snow was falling and there was a quiver of fat skis lined up along the back wall. The next morning, six inches of fresh fluff covered the ground.
"You're about to have the best day of your life," said Pat, a towering, bearded New Yorker, who had been there the previous winter.
As we loaded up into the cat for our first run, the guides walked us through a safety briefing. "We should have nice skiing all day," said the lead guide, John. And he was right. The runs kept going like that first one, each in the 1,000- to 1,300-foot vertical range, and all with the same nice rhythm, changes of pitch, well-spaced trees, and variety of features. By early afternoon, the skies had cleared, and it was obvious that this was a day for the ages—so good that I soon noticed the guides getting a little restless, gently urging us to get through the loading and unloading transitions faster so we (and they) could maximize our runs.
"That was a heli-caliber run!" John said after one good one. "I'd do that every day until I die."
The run of the day, called Gina's, came mid-afternoon. A little longer than the others, it was accessed by traversing out a ridgeline, past a few wind-sculpted cornices, until the terrain opened up in front of us, revealing a low-angle run, followed by a section of trees, before the hillside steepened and opened. Halfway down, I stopped to take photos and soon saw Pat, who emerged from most runs with his beard caked in snow like a superstoked sasquatch, basically cartwheel off a small cliff drop, crater, and pop right back up smiling and whooping.
By the end of our day, we had tallied 11 runs and nearly 14,000 vertical feet. Tom Petty's "Free Fallin'" was blaring through speakers in the cat, and everyone was buzzing. "That was beautiful, wasn't it?" John said to second guide Ryan.
"I don't know if I can liken this to anything I've ever done," said an East Coaster named Marta, who had been nervous about skiing backcountry powder. "It's like a different sport."
Later, we crossed paths with Lockwood, and I mentioned Marta's change of outlook. "That's one of the things I'm most proud of, if we can open up cat skiing to people who were intimidated by it," he said. "You don't have to be a Red Bull athlete to do this."
That night, as we packed up to depart and cracked beers, that feeling of floating in deep powder still pulsed through our legs. Pat was exultant: "I'm going to spend all my days until next winter thinking about these lines."
For access to exclusive gear videos, celebrity interviews, and more, subscribe on YouTube!