Adventure
Death in Stone Forest: Why 21 Runners Died Competing in China's Ultramarathon
Why did 21 runners die competing in an ultramarathon in Gansu, China? Turns out, a freak weather event wasn't the only problem.
At around 3 p.m. on May 22, Kong Ming received a phone call from the organizing committee of the Yellow River Stone Forest mountain race, a trail ultramarathon in a remote part of northwest China he was coordinating transportation for. The committee member on the other end of the line told him a runner had been injured around the third of the 100-kilometer course's nine checkpoints. The man asked Kong to bring some warm clothes and help the injured man down the mountain.
Checkpoint three (CP3), located at the summit of a brutal climb considered the race's hardest section, was the event's only unmanned checkpoint. It was also the only one not accessible by road.
As Kong neared the ridge crest, he spotted plumes of smoke coming from one of the small caves used as shelters by local shepherds. Inside, six runners huddled around a small fire, shaking uncontrollably. Their skin was turning blue.
A short, thin man in his 50s stepped out of an adjacent cave. A local shepherd, the man told Kong he'd helped five of the people in the cave down from the mountain. One had found his own way there. There were more uphill he couldn't help.
Kong began running through the wind, rain and hail to the place where the shepherd had pointed. The sweat on his face began to freeze and his muscles cramped and froze as he picked his way up the slippery, muddy path. After half an hour Kong came upon a runner lying prone on the ground. He's exhausted and resting, Kong initially thought. But the runner's eyes were squeezed shut. He wasn't breathing.
Kong looked down at his bib: 001. Runner 001 was the favorite to win the race, just as he had been every other year—Liang Jing. A "god" in Chinese trail running circles, Liang's most recent triumph was placing first in a grueling 250-kilometer ultra across the Gobi Desert. In Gansu, he was just one of the 21 runners who died only a few hours into the race, after temperatures plummeted and rain, hail and gale-force winds lashed the exposed landscape.
Liang had proven he was capable of running over 150 kilometers within 12 hours, but after his body was recovered the GPS data on his watch revealed his slowest time on record: one kilometer in 57 minutes. This was his final kilometer, a frantic zigzag as he stumbled and crawled off-course in a desperate search for shelter.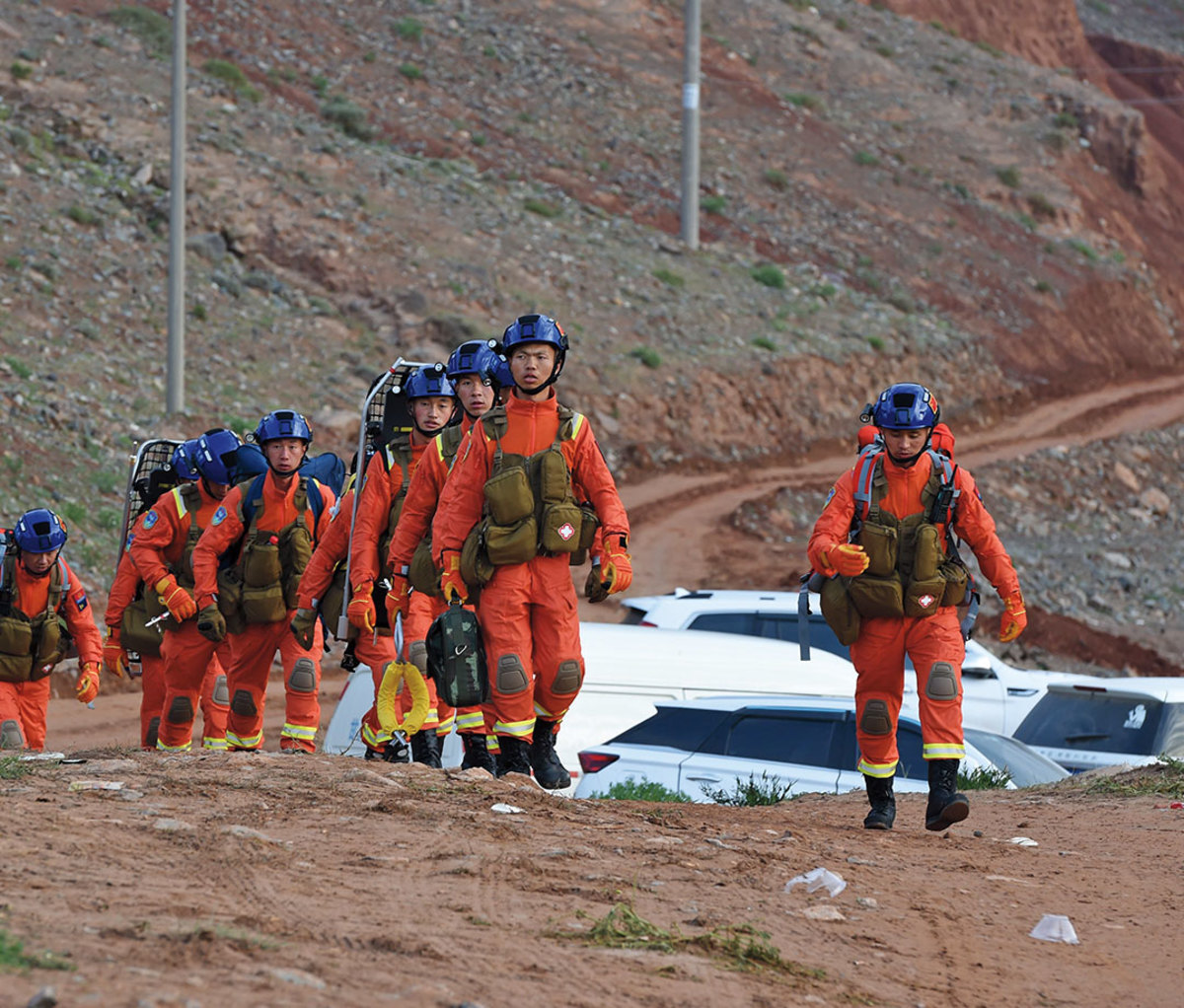 FATAL RISE
When news of the tragedy in Gansu Province made headlines around the world, many Chinese internet users were quick to lay blame at the feet of inexperienced runners chasing a new fad and getting in over their heads. It's a familiar news-cycle trope in China, which hosted 1,828 marathons in 2019—five years earlier it had held just 51.
The running boom has led to a particularly Chinese brand of tragicomedy that's occasionally veered into the absurd, like when thousands of novice runners fell ill during a marathon in Guangdong after they mistook scented soap in their swag bags for energy bars.
What made the Gansu tragedy exceptional, besides the devastating death toll, was how it seemed to pick off with murderous precision the most experienced and talented athletes in the sport. In addition to Liang Jing, there was Paralympic marathon champion Huang Guanjun; regional record-holder Cao Pengfei; professional trail racer Huang Yinbin; running group leader Lu Zhengyi; and veteran of over 100 marathons Duan Jihong. The threshold for competitors to enter the Gansu event meant everyone had run at least one prior ultra or two marathons, and it was the spearhead of front-runners that bore the brunt of the severe weather. If the extreme weather front had descended an hour or two later upon the main body of runners, said one anonymous volunteer, perhaps dozens more might have perished.
"People say the Yellow River Stone Forest ultra is the simplest 100-kilometer trail race in China," said a participant who shared his story anonymously. "This is because the total elevation gain—less than 3,000 meters—isn't that much compared to other races, and because most of the terrain isn't that technical and can be run."
However, the course has unique challenges. It begins at an elevation around 6,560 feet above sea level. After leaving an area known for sightseeing, the course tracks through barren, uninhabited areas. The eight kilometers between checkpoints two and three are the most challenging. This section features a near-vertical 1,000-meter scramble along a steep and narrow stone-and-sand path.
At the end of the climb no relief awaits runners. Because the section is inaccessible by vehicle, no supplies, food or water are delivered to the summit, nor is there anywhere to shelter. Runners simply have to persevere for another 11 kilometers to reach checkpoint four.
It was on this stretch that the real trouble started. Rainfall that began as a few droplets turned into a dense downpour. As runners rounded a sharp corner after CP2 they were met with force-eight headwinds (over 40 mph) that pelted the rain—then hail—against their faces. As they squinted to see the ground in front of them, the temperature kept dropping.
GANSU WAS SHOCKING FOR THE WAY IT SEEMED TO PICK OFF THE SPORT'S BEST AND MOST EXPERIENCED ATHLETES.
As he was making the climb between CP2 and CP3, one competitor who shared his story using his online handle Wanderer in the South, passed another runner going in the other direction. He told Wanderer it was too cold up ahead, that he couldn't bear it and that he was withdrawing from the race.
"At the time," Wanderer says, "I thought to myself, 'how can you give up the 1,600RMB [$248] finishers' prize just like that?' Every time I think of that now I want to smack myself."
More runners passed Wanderer running downhill, even top competitors. By this time he was soaked, tired and couldn't stand steady in the wind. He hid behind a stone and took out his emergency blanket, but it was instantly torn apart by the wind. By the time he broke out his walking poles and started the delicate descent back down the mountain, he'd lost feeling in his extremities.
"I didn't care if I fell," he says. "Even then I'd fall all the way down."
Midway down the mountain he found shelter in a small wooden hut. About a dozen runners were already huddled inside. Soon there were around 50. Runners from ahead who later joined the group recounted what they'd seen on their retreat: runners unconscious, laying lifeless on the ground with white foam ringing their mouths. They wanted to help them but could barely save themselves.
"I was lucky I made the decision to go back down, right as I was on the verge of hypothermia," Wanderer says now.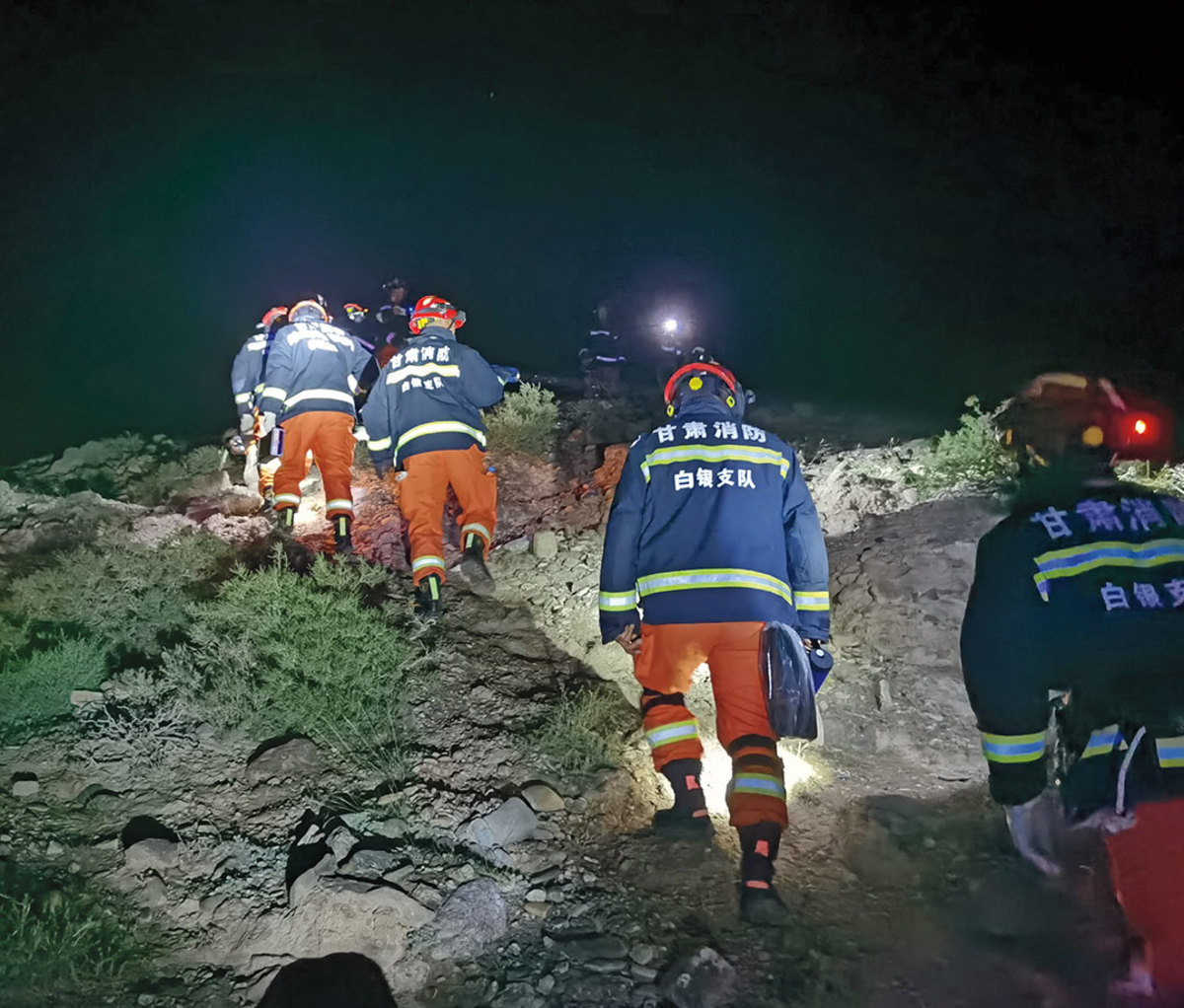 RUNNING FOR THEIR LIVES
Gansu Province girds a narrow corridor of traversable and arable land sandwiched between the inhospitable Tibetan and Mongolian plateaus. It sits along the mighty, sediment-laden Yellow River, eulogized as "China's Sorrow" for the vast amount of land it sweeps out to sea. For China's imperial dynasties, its string of oasis settlements were one of the most important trade arteries in the empire, linking China proper to the western borderlands (present-day Xinjiang) for trade caravans and military incursions into Central Asia.
Despite its storied history, Gansu has become the poorest province in the country, with the lowest average income among all 31 provinces and regions when adjusted for purchasing power. The greatest claim to fame for Baiyin city, the host of the race, is as the prowling ground for modern China's most prolific serial killer, the "Chinese Jack the Ripper" who killed 11 women between 1988 and 2002. Prestigious sporting events such as the Yellow River Stone Forest ultra hold out the promise of rescuing the area's reputation and providing the local government with a much-needed revenue stream.
In this way, the fortunes of both the ground they ran on and the runners themselves were closely intertwined. or no one was that more true than a 50-year-old local competitor named Zhang Fenglian.
Zhang worked as a doctor in the People's Provincial Hospital in the Gansu capital of Lanzhou, until she lost her job because she bore a second child, still forbidden at the time under China's one-child policy. After returning to the countryside she made a living by buying some 200 pounds of vegetables from a wholesale market each morning, then hauling it on foot to sell in surrounding villages. Her typical daily profit for up to 12 hours of grueling labor? Just under $5.
In 2016, Zhang was handed a flyer for a half-marathon in Lanzhou. Seeing that the first 20 finishers would win 200RMB ($31), she decided to sign up. As she began to join races across the province and then nationwide, Zhang became the main breadwinner of her family, making up to 40,000RMB ($6,196) a year in prize money—enough to put both of her children through school. She made sure she finished every race in time to get home by evening, to avoid paying for a hotel room.
When her remains were recovered from the Yellow River Stone Forest race, she was still wearing the four-dollar pink shoes she'd bought five years earlier for that first half-marathon in Lanzhou— the only piece of running gear she ever purchased and didn't get free at a race.
Zhang was far from the only participant running for the money. Huang Guanjun, the hearing-impaired Paralympic champion, also relied on cash prizes for most of his income. "He lived for the prize money," said his friend, marathon runner Wei Jing. It was a living preferable to the string of odd jobs (waiter, food delivery driver) he relied on after dropping out of high school.
In Gansu, the first-place finisher stood to win 15,000RMB ($2,324); second place, 12,000RMB ($1,858); third place, 9,000RMB ($1,394); at least 2,000RMB ($310) for everyone in the top 10; and, crucially, 1,600RMB ($247) for everyone who ran the 100 kilometers before the 20-hour cutoff time. For people like Zhang and Huang, and many other competitors, there was a fortune to be made. Despite the steep 1,000RMB ($155) registration fee, they were still guaranteed a windfall as long as they pushed through, no matter what the race threw at them.
The centrality of the prize money thus produced perverse incentives on both sides: for the runners, not to withdraw under any circumstance or else risk their livelihoods; for the organizers, the fewer finishers the less they'd have to dole out, and the more they could keep themselves—charitably, to pour into investment projects in the poor region, or, more cynically, to line their own pockets.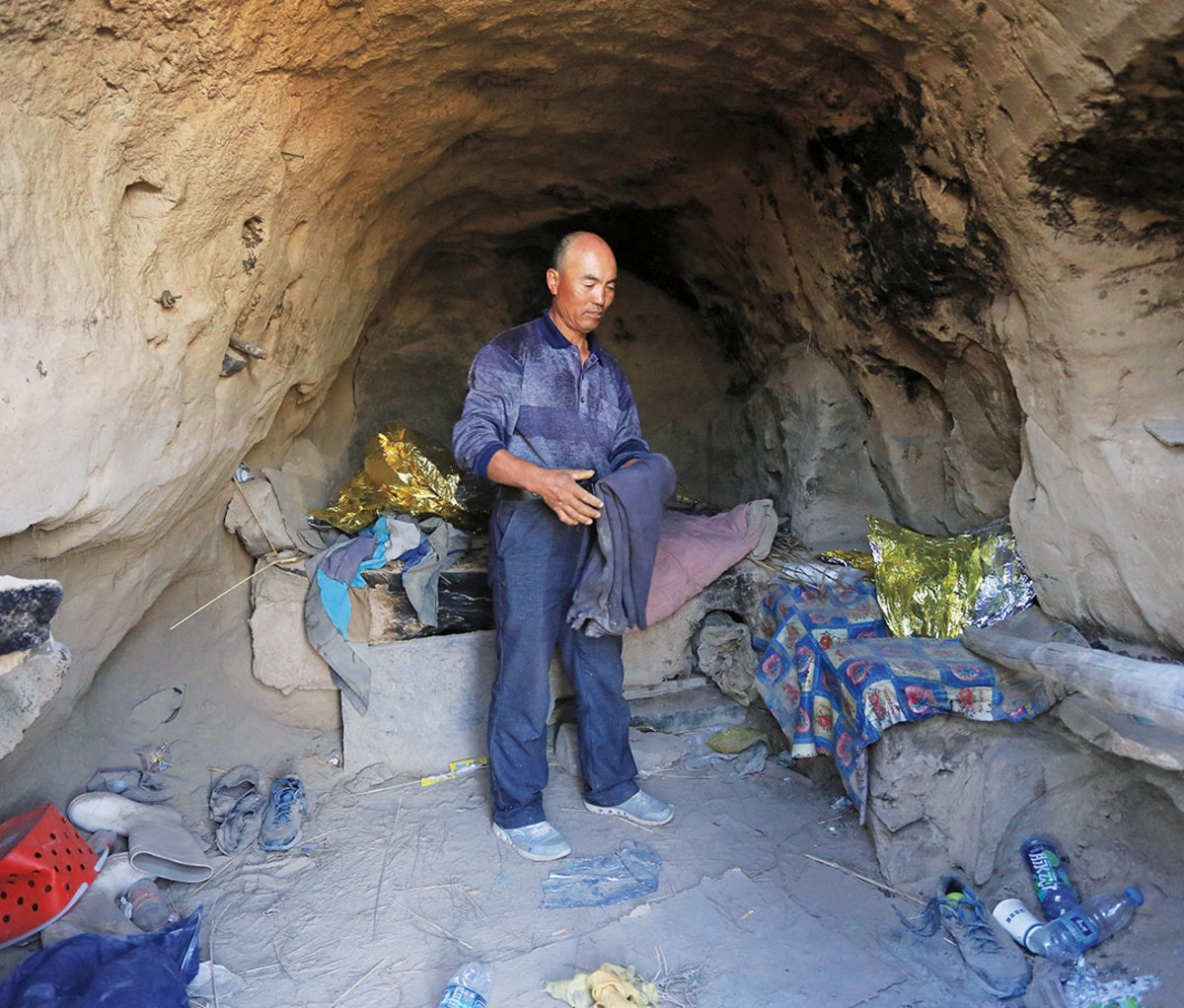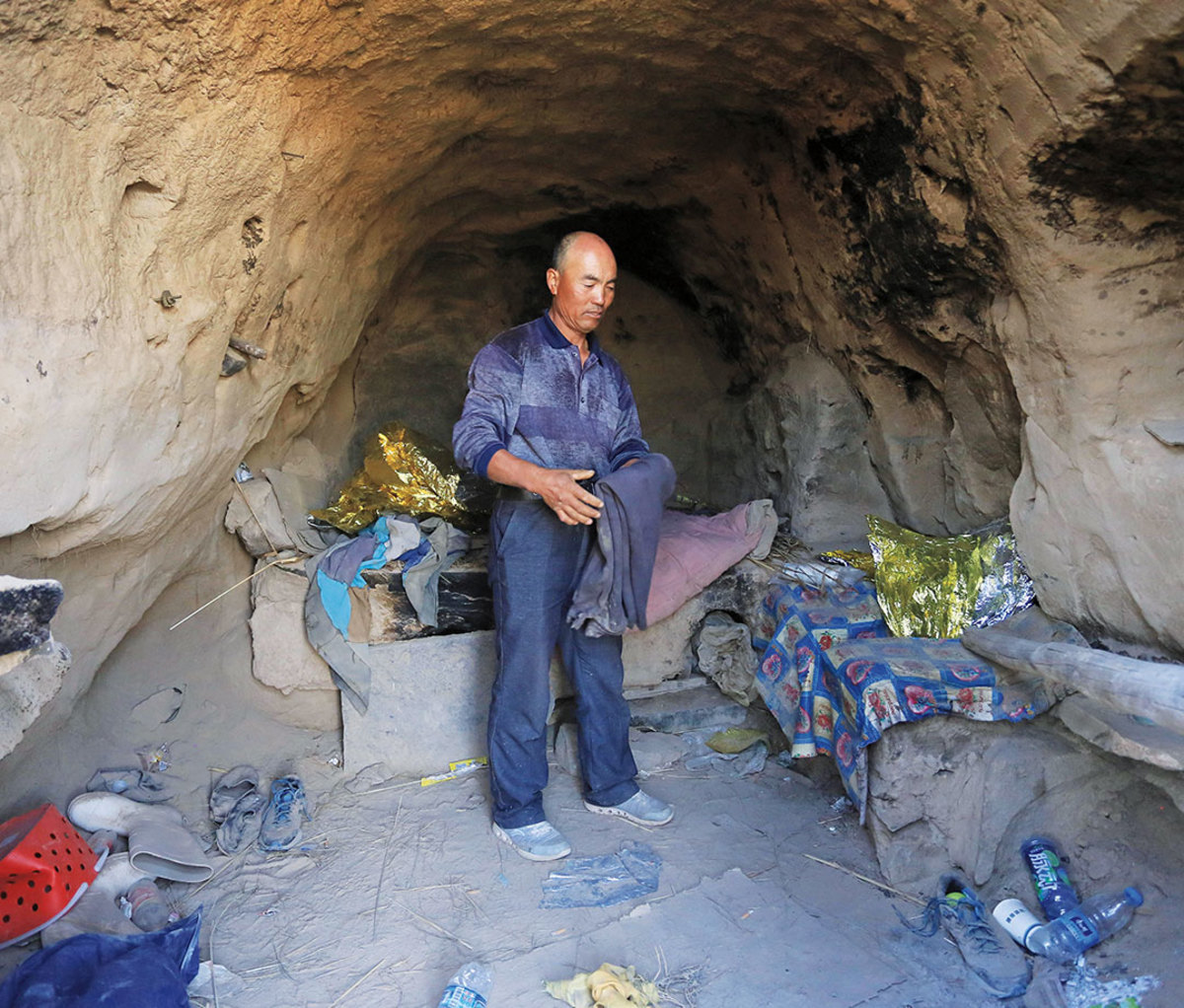 FALLOUT
On June 9, the marathon claimed its 22nd life.
Li Zuobi, the Communist Party secretary of Jingtai County, where the course was set, jumped to his death from his high-rise apartment building after he was called in for questioning with the party's dreaded Central Commission for Discipline Inspection and fingered in an official circular as the one who should "bear the main responsibility of leadership."
In the days after the Gansu tragedy, an investigation was launched by the provincial government. It took just two weeks to release its findings and mete out punishments. When the investigation committee handed down administrative warnings and termination notices to 27 officials two days later, Li was posthumously exempted.
The punishments followed a familiar pattern in Chinese politics: When disasters occur, local officials invariably take the fall; heads roll swiftly and pitilessly throughout the provinces to ensure the central government in Beijing is never called into question.
It's a pattern that repeats itself every time a coal mine collapses, a river floods or a train derails. As 2019 rolled into 2020, it was pattern that took on global ramifications when the coronavirus fanned out from its initial epicenter in Wuhan across the country and around the world. Rank and file cadres were blamed for the cover-up that had allowed it to spread unabated so that, in the Great Hall of the People, President Xi Jinping could bask in his "victory" over the virus.
The authoritarian nature of the Chinese state ensures that when action needs to be taken by the central government, it happens rapidly. But the conspiratorial opacity of that same system, and the lack of a free press, also ensures Beijing isn't aware of the need for action until disaster strikes and local authorities can no longer hide the problem.
The warp-speed investigation and resolution after Gansu was in large part a product of this, but it also ensured that the tragedy didn't linger in headlines and sully the Chinese Communist Party's grand 100th birthday bash on July 1, which dominated the news through the early summer. Investigators blamed the deaths on a mix of unpredictable weather, "substandard" organization, "unprofessional" execution of duties and, in Party-speak, minor officials' "bureaucratism" and "formalism."
Closer inspection revealed a wide raft of safety oversights by local officials who hosted the race and the company they outsourced it to. These started long before the race itself did. Whereas other ultra trail marathons like the Ultra-Trail du Mont-Blanc and the Ultra-Trail Mt. Fuji require runners to carry an inventory of gear including a survival blanket, whistle, waterproof rain jacket with hood, rain pants, thermal underwear, a warm fleece shirt, full-length tights, gloves and a hat, the Stone Forest ultra's only piece of required equipment was a survival blanket. And since organizers didn't inspect runners' packs many did not even carry these.
In a sport where competitors will pack as light as possible to gain an advantage, and in an event in which livelihoods were at stake, it was a catastrophic mistake. Since the weather on race morning was relatively warm (in the low 50s), most started in shorts and T-shirts, expecting to pick up their cold-weather gear before nightfall at a later checkpoint.
The response, when disaster struck, was also shambolic. Rain began falling at around 11 a.m. and picked up suddenly at noon. Volunteers began wondering aloud if the race would still go ahead. It's unknown when the first call for help was privately communicated, but the first one known to the public came through at 12:17 p.m. in the form of videos posted online to a race group chat. By 1 p.m. people, including Wanderer, began piling into the small hut for shelter. At 3 p.m., Kong Ming was ordered to help with a single injured runner. By now, temperatures had dropped into the upper 30s. Due to rain, hail and high winds, however, the apparent temperature for the barely clothed runners had plummeted to the low 20s.
The first report of casualties on the course, received just after 3 p.m., came not from organizers, but from Zhu Keming, the hero shepherd who rescued half a dozen runners by housing them in his cave. Half an hour later, the Baiyin municipal fire department received a phone call from race organizers and dispatched first responders. But with the nearest village fire station over an hour's drive away, the sky was already darkening by the time they arrived on scene. It had been more than five hours since the first confirmed distress call was sent. Hypothermia can kill in as little as one hour.
LU'S TIGHTLY CLENCHED FISTS REVEALED LAST DESPERATE MOMENTS IN WHICH HE TRIED TO CONSERVE BODY HEAT.
A large-scale rescue operation didn't begin until 7 p.m., around the same time provincial authorities found out what was happening. At 8:20 p.m., the last runner was finally taken off the course, 32 kilometers shy of the finish line. GPS data later retrieved from another runner, 32-year-old Wu Panrong from Guizhou, showed he was moving as late as midnight, pacing back and forth just off-course to stay warm as he awaited help that never came.
FINISH LINE
In the early hours of the following morning Lu Zhengyi's 21-year-old daughter began receiving videos on Douyin, China's TikTok, from friends and members of the running group her father headed in their native Guizhou, on China's southern frontier. "Doesn't this look like your dad?" they asked. The clip showed a runner crumpled on the earth with streams of white foam pouring from his mouth. They weren't wrong: It did look like Lu, so much so that his daughter and wife also thought it was him, until they found it was another victim of what had become the deadliest trail race in the sport's history. Their relief was short-lived. It turned out Lu had also died.
Both women boarded the next flight from subtropical Guizhou to the harsh, arid northwest. At a funeral home in Baiyin, they grieved alongside the families of other dead runners. Lu's daughter recalled the moment they saw his body, and how tightly clenched his fists were from his last desperate moments trying to conserve body heat. She began chronicling her experience online under the username Daddy, I'm Here to Warm Your Hands.
When others broke down in tears and the women went to console them, officials followed every step of the way, she wrote, insisting they call them if they had any concerns and preventing them from sharing contact information with each other directly. After their loved ones' remains were cremated, the families went their separate ways, returning the ashes home, their race finally over.
"Today the victims are all back home," Lu's daughter posted online. "The people over in Gansu can heave a sigh of relief and say they're finally rid of us. We're gone, but still waiting. You can monitor us and suppress our Weibo accounts and those of all the people helping us speak but you'll never stop our hearts awaiting justice."
Gansu was a wake-up call for China's booming marathon industry, whose rapid expansion has produced races like the Yellow River Stone Forest ultra that lack qualified staff and make no contingency plans for disasters. For Wanderer in the South, it was also a warning to runners: a reminder that trail ultramarathons, despite their growing popularity, are still an extreme sport. Whatever is on the gear list, at the end of the day runners can't rely on anyone but themselves for survival. Thinking back to that moment scrambling uphill when he almost traded his life for less than $300 in prize money, he thinks his biggest mistake was thinking that the 100th kilometer was the ultimate goal, the only thing that mattered.
"The finish line," says Wanderer, "isn't until you make it back home."
For access to exclusive gear videos, celebrity interviews, and more, subscribe on YouTube!