This story was originally published in POWDER Magazine. Words by Sierra Davis.
Imagine answering a call from you mom on the chairlift — in July — and trying to explain to her that you were spending the week skiing slalom gates on a glacier, on a volcano, with a bunch of preteens.
Yes, there's still snow … yes, a lot.
No, I'm not a counselor, I'm a camper.
Yes, the other kids are being nice to me.
Yes, mom, I'm wearing my helmet.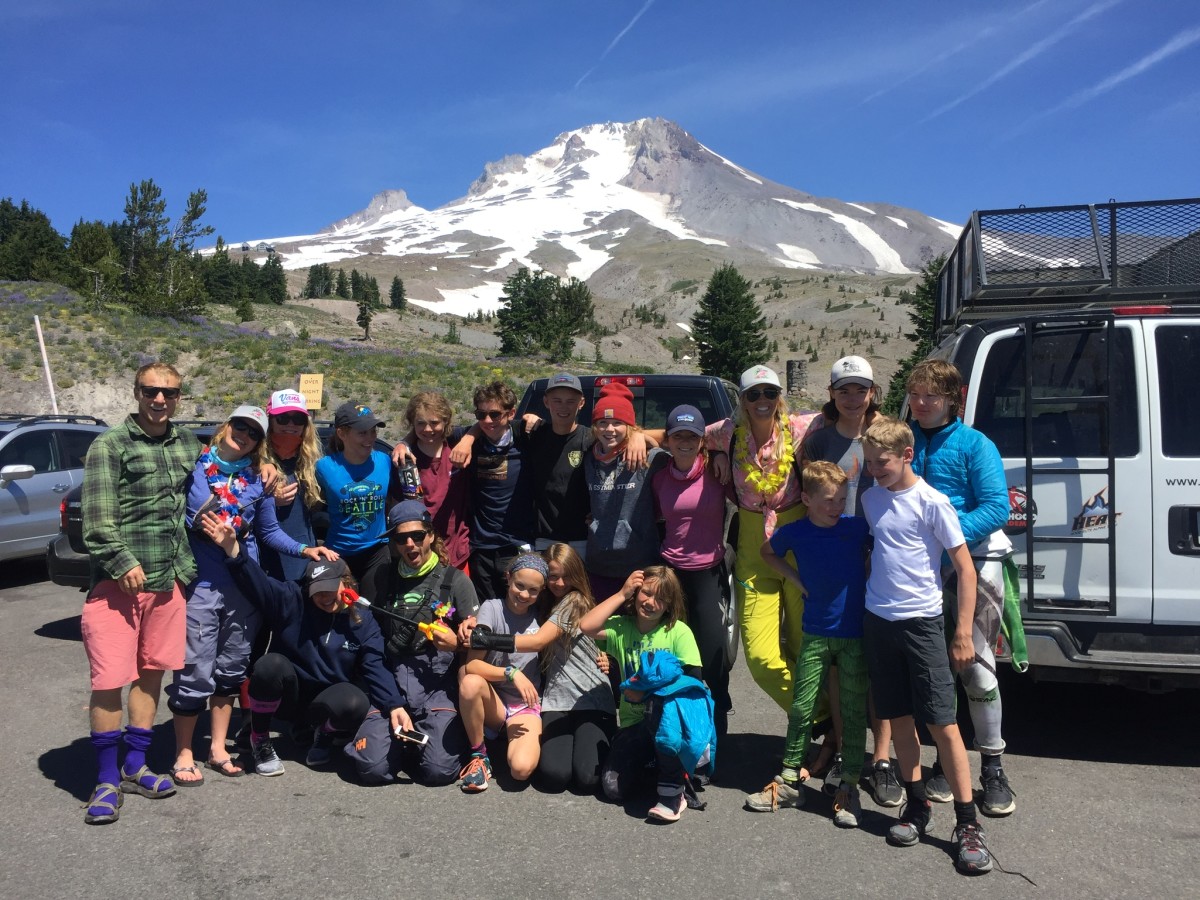 If you grew up ski racing in the Western United States, this might make sense to you — and your mom. But for me, a 27-year-old more familiar with fat skis and intercontinental altitudes than structured race training, my first time to Mount Hood was otherworldly. Add a Lycra race suit, shin guards, and slalom skis and my first day at race camp felt as familiar as stepping foot on the moon — or maybe Mars, considering the hot summer temperatures.
Going to ski camp was a mile outside my comfort zone, but working adults invest in professional development all the time — why shouldn't I do the same? I spend half the year clocked in on skis yet I've never invested in learning how to ski other than just going skiing.
Last winter, I got the chance to ski a few times with Lyndsay Strange, an "inspirational ski consultant" who co-founded, along with Marcus Caston, Party Beach Ski Camps in 2016. Strange coaches young racers all year long, including at Party Beach, and I asked her how I could improve my own abilities. She invited me to camp.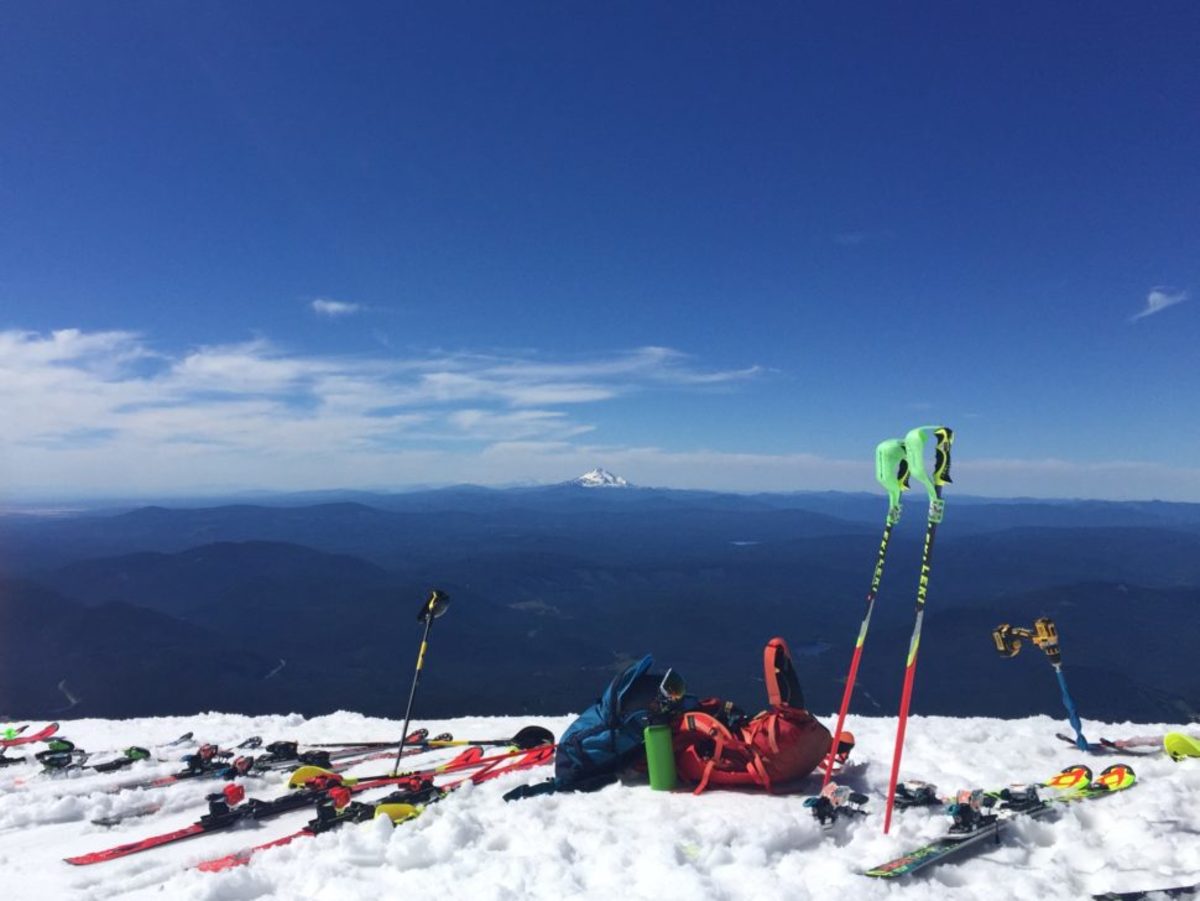 Last week, I showed up in Government Camp, Oregon — ski boots and rollerblades in tow — and joined 12 other campers for a week on Mount Hood. I figured tagging along with a group of skiers whose average age was 14 would be the least threatening way to progress. That was before I saw them ski.
Day one, we were on the glacier by 7 a.m. I followed Ian, 14, and Charlotte, 12, siblings from Sauvie Island, Oregon, who, along with their younger brother, Max, are Party Beach veterans. We took two laps top to bottom where I did everything I could to keep up with Charlotte as she arced graceful, athletic turns on the bulletproof snow — her long, brunette ponytail tangling with a Hawaiian lei behind her in the wind.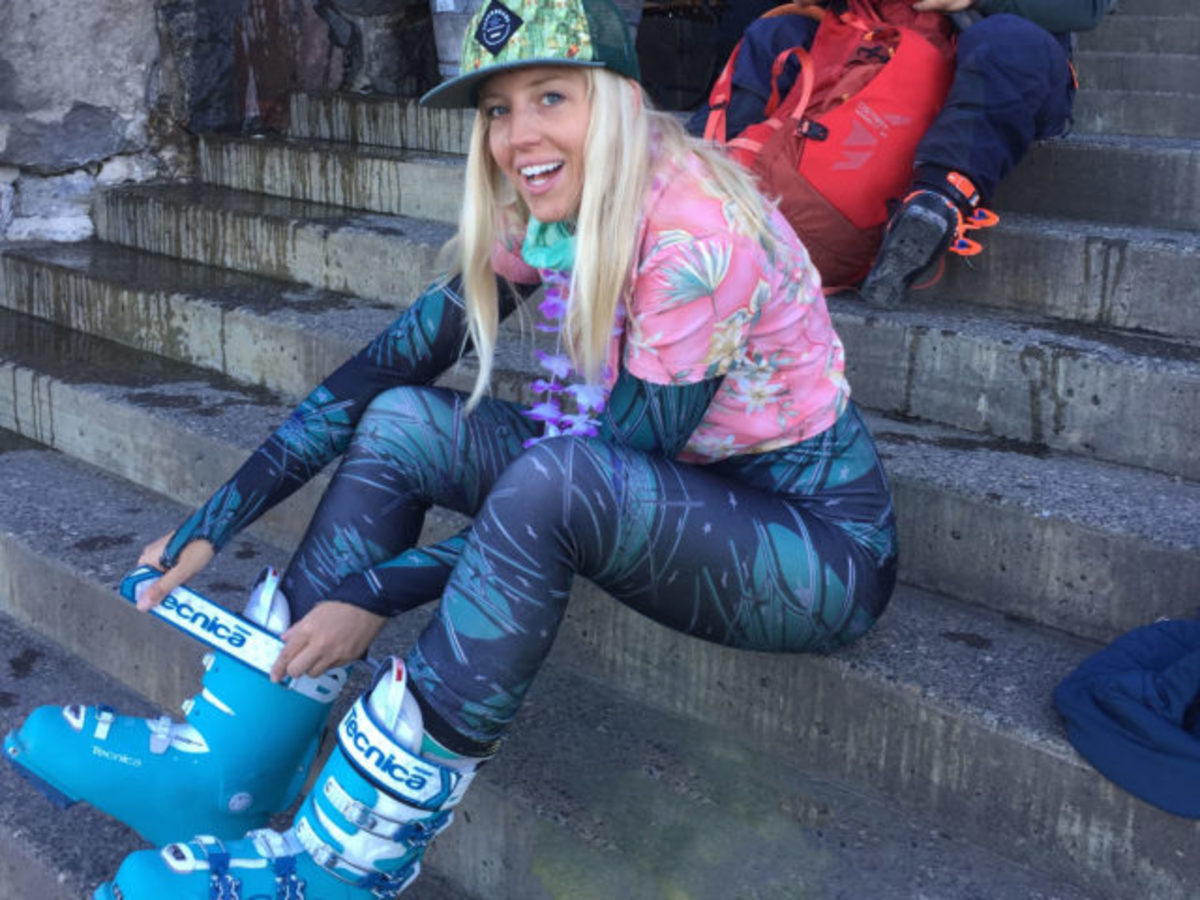 Riding back up the Palmer Lift, skis on the back of the chair, ski boots dangling over a blend of soon-to-be corn snow and ribbons of volcanic rock, I pressed a 12-year-old camper for pointers.
Hands up. Hips forward. Get low. Lower. Even lower.
We spent the rest of the morning running a race course in lane 12. I faltered through hop turns, single-ski turns, the mandatory penguin slide, and a 'Jesus Christo' maneuver with poles I just couldn't quite nail. (You make an X-Y axis — a cross — with your poles and then ski on one foot and keep the X-axis parallel with the slope as you turn. You should try it sometime, tough guy.)
I struggled through the drills they'd been doing for years. But no one laughed (at least not to my face). Instead, I got a pat on the back from a rambunctious 9-year-old, encouraging words from a pair of 14-year-old boys from Missoula, and cheers from a trio of teenage girls when I took my first-ever lap through the slalom gates.
Had they not turned around and genuinely encouraged each other the same way, their enthusiasm toward my mediocre skiing and slow progression might have seemed patronizing. The joy I saw this group of skiers take in seeing each other succeed and improve and push boundaries of fear and skill was boundless as it was energizing.
By noon we were off the glacier but not before a lap through the terrain park where I snaked along the margins carrying four or five ski bags while Party Beach skiers less than half my age hucked their bodies one by one off the 20-foot kicker on race skis.
Holy sh**. I could never.
In the afternoons, after a violent nap, we loaded into a 15-passenger van and took advantage of the diverse playground that surrounds Mount Hood, collecting infinite mosquito bites and dirt between our toes as we went. Swimming in Lake Trillium, climbing on French's Dome, trout fishing for our dinner, rollerblading through town, hours of four square and Capture the Flag. Every day was like two days in one and my head hit the pillow tired. Not I've-been-responding-to-emails-for-eight-hours tired, but pure, nostalgic, dog days of summer, full-body tired. Lights out by 9 o'clock. Alarms set for 6. Skis on by 7 to do it all again.
By the end of the second day, I had somehow let a group of kids in Spandex coach me off my first jump. It gave me the shakes like too much coffee on an empty stomach and I loved it. Day three, a lanky 14-year-old named Nils coached me off a bigger one.
Just lean forward, he said. Like it was that simple. I did. And it was, and I was reminded what we adults so often forget: You don't have to be an expert to teach someone, and you don't have to be a beginner to learn.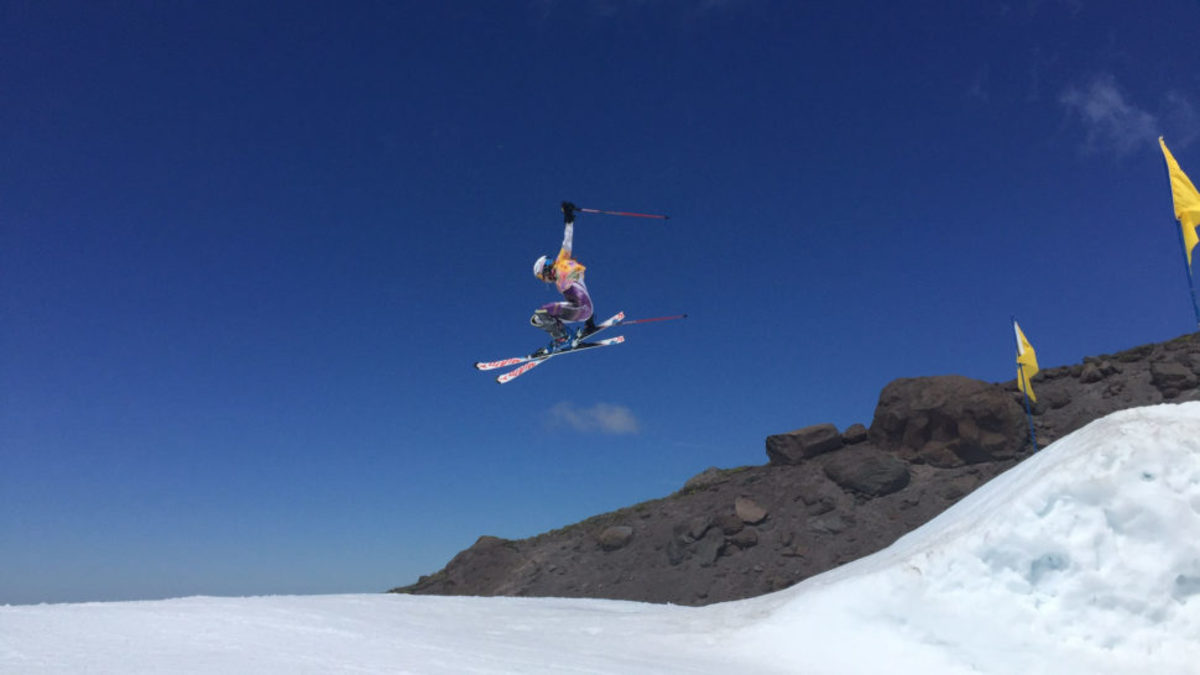 That afternoon, we drove a van full of kids to a spot near Hood River where the hot, rocky cliffs provide a perfect perch from which to jump into deep glacier run-off. Jackson, the youngest camper, launched without hesitation. The second time, he twisted his small body around in a 360. A couple kids tried backflips. Some of the younger girls stood at a lower jumping point, coaxing up enough bravery to take the plunge.
Elsa, who at 12 years old reads two books a week, hates the movie Frozen, and races road bikes when she's not skiing, said she'd jump if I jumped. Damn kids.
"We spend all day encouraging these kids to push their own boundaries, and then here we are — never doing it ourselves," one of the coaches said to me as we watched her send it. Looking over the edge after her, my hands were shaking. I wondered when I got so old and scared of things.
Elsa climbed back to the top, "I know it's scary but you can do this. You hit that jump today. Think how proud you'll be when you do it."
She counted me down from 3 … 2 … 1 … I closed me eyes, stepped off and jumped.
Back on the glacier, we were about to take the last run of the last day — a sublime lunchtime corn lap — and I confessed my goal to hit the first kicker in the park, the one I swore I could never. Before I could talk myself in or out of it, Nils told me to follow him for speed. These damn kids. Off he went, me behind him. Airborne.
Holy sh**.
More from POWDER Magazine
The Center of the Powder Universe
A Skier Jumps to Politics to Help Save His Mountain Town
Behind the Scenes of Colorado's All-Girl Urban Crew
For access to exclusive gear videos, celebrity interviews, and more, subscribe on YouTube!