The hottest golf destination to open in recent memory, Streamsong Resort is about to get even hotter. The Resort recently announced Gil Hanse, who is constructing the venue for golf's return to the Olympics for Rio 2016, will begin building the Black Course at the resort this summer and launch in 2017.
A few short years ago in late 2012, Streamsong's original duo of courses opened to tremendous fanfare. The golfers lucky enough to play the circuits raved about the tranquil beauty and dueling layouts, which were each designed and built by acclaimed, minimalist-architectural darlings of the golf world. The Blue Course was designed mostly by Tom Doak and the Red Course largely by the team of Bill Coore and Ben Crenshaw — the two teams swapped a few unidentified holes back and forth across courses. This year, both tracks debuted inside the top 25 on Golf Digest's 100 Greatest American Public Courses (Red at 18 and Blue at 24).
(With 30+ mile an hour winds, a player hits his approach shot to the sixth hole on the Blue Course low, along the ground, links-style.)
With all the anticipation and accolades, one would assume it an impossible task for the resort to live up to its gilded reputation. But Streamsong somehow manages to transcend the hype, and once you do play the courses you might find yourself wondering why you didn't get here sooner.
Built on a reclaimed phosphate mine by the Mosaic Company, Streamsong's 36 holes were sculpted from the mine's left-behind sand fill. The result is terrain that looks like it was plucked off the Irish coast — albeit with no ocean in sight. Many compare the resort to Ireland's Ballybunion.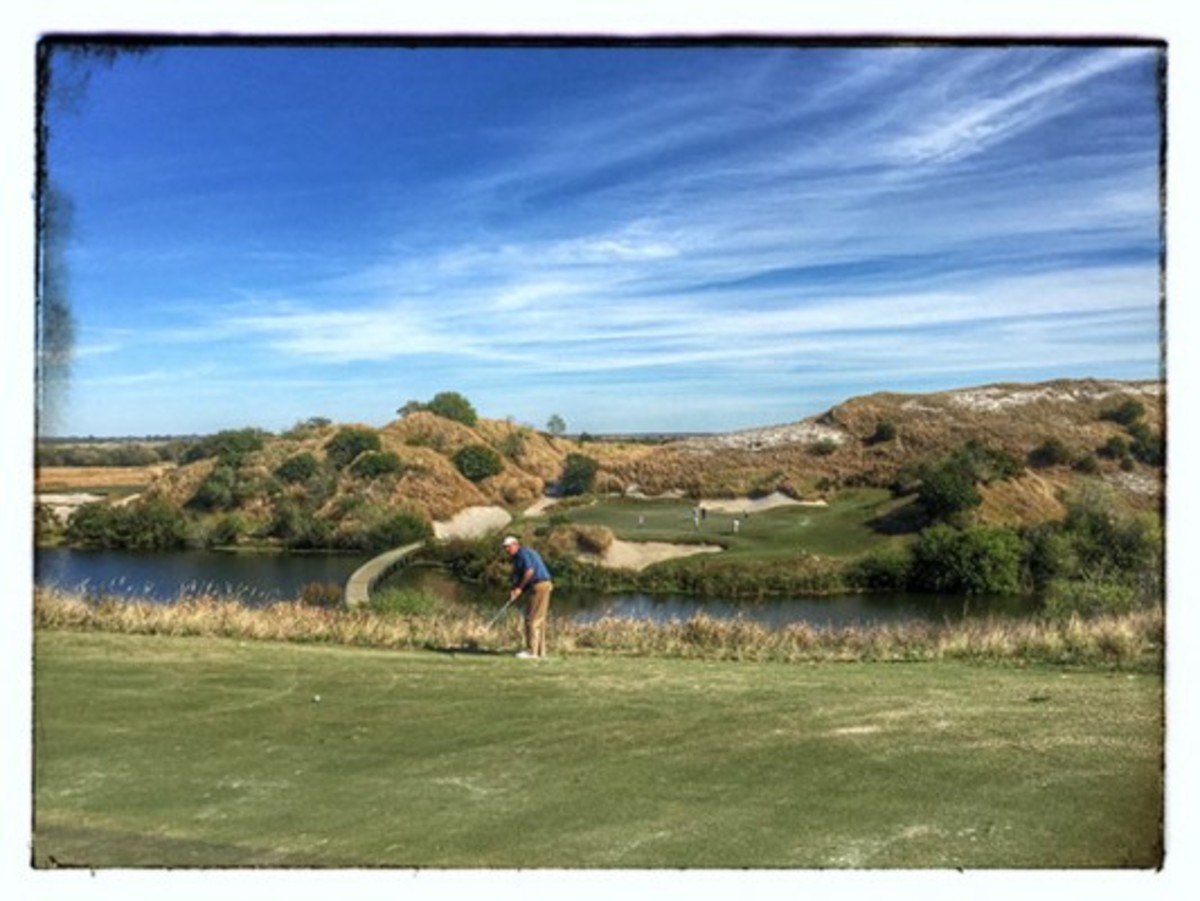 (An unlucky golfer chips from the rough behind the Red Course's 15th green, the hardest on the course.)
The two courses at Streamsong, constructed in tandem by their respective architects, share quite a few similarities, yet still manage to stand apart. While generally, tee shots on either offer rather generous, Rubenesque fairways that won't punish moderately wayward drives, the Red Course is slightly tighter off the tee and deploys more than a few, beautifully shaped and cleverly deployed fairway bunkers.
The Blue Course is more scenic from hole to hole, though we spotted more wildlife on the Red, including a mulligan-inspiring bobcat and a growling alligator the size of a steamer trunk. Both courses also place a premium on quality approach shots. Numerous multi-tiered greens demand you knock it close or risk a three or even four-put. To boot, the tremendously quick putting surfaces require a smart, speed-sensitive short game. There are no gimmes on these greens and you'll want a caddy to help you read nearly every putt outside of two feet.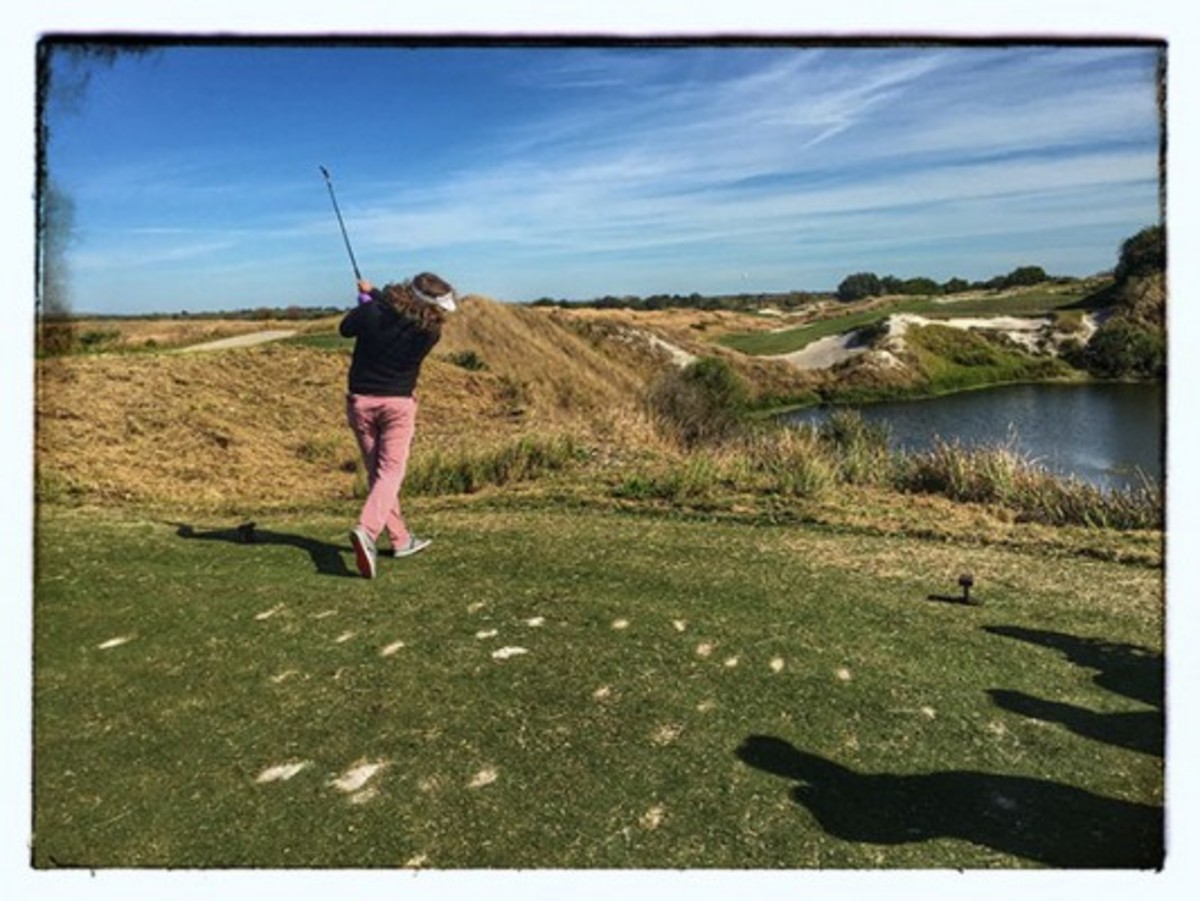 (The author tees off on the Red Course's beastly par-three 16th hole.)
The twin tracks also share conjoined signatures holes. Blue's seventh and Red's 16th sit parallel to one another. Both are enchanting par threes that require a precise, lengthy over-water carry, to a multi-tiered green. Par on either is a good score.
Back a the clubhouse you'll find the 'Bye Hole' for settling any bets if your big-money Nassau ends in a draw and you want risk the dinner tab with one of your playing partners. For a bit of respite between rounds, hit the bar at Restaurant 59 in the clubhouse — they still had a bit of Pappy van Winkle left during our visit and the blackened grouper sandwich is so good they sell more of them than steaks at dinner. Above all else, forgo the fries and order the sublime onion rings instead.
If your legs won't carry you for 36 holes in one day, spend the afternoon catch-and-release bass fishing on the lake near the hotel or test your aim and reflexes shooting sporting clays.
Even if you play each course at Streamsong a few times, it's incredibly difficult to choose a favorite. No matter what, you will leave wanting more, and it turns out more is what they are making. Beyond the Black Course, the growth of Streamsong is rumored to hold a fourth circuit in planning. But with only 228 rooms on the property, we hope they also have designs ready for another hotel to accommodate all the golfers flocking to Florida's middle of nowhere.
More info: Streamsong is located about 90 minutes from Orlando and 75 from Tampa. Golf at Streamsong runs $225 per round in the high season and a room for the night at the hotel is roughly the same. For those golfers committed to more than one round, the resort offers substantial discounts on packages; streamsongresort.com.
For access to exclusive gear videos, celebrity interviews, and more, subscribe on YouTube!