For most adventure-minded families, summer vacation is the most anticipated trip of the year. It's the perfect opportunity to spend copious quality time together while brushing up on everyone's skills (or learning a new sport entirely) in the warm weather. No bundling up, no homework, no problem.
Deciding on just the right destination for your week in the wild, however, is a delicate matter, made tricky by each family's particular makeup. Are your kids toddlers or teenagers? Do they thrive on adrenaline or do they love to just cruise? What are your fallback activities when someone's tired, or the daylight's run out, or you just aren't feeling another day in the saddle?
A trip out to Killington Resort, nestled in Vermont's Green Mountains, could be the compromise you've been looking for. With ways to explore by land, water and air, it's got all the elements of an outdoorsy getaway covered for everyone in your gang, from the littles to the bigs, plus music, food and more to pad out your adventure time.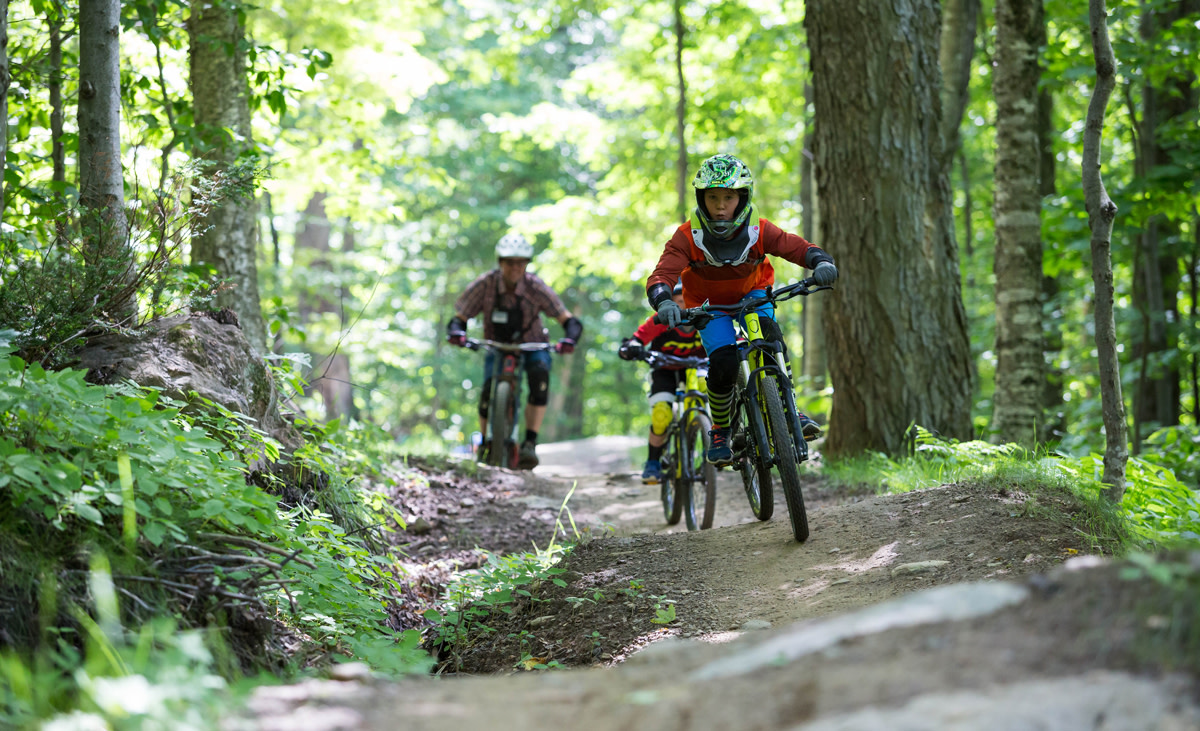 While Killington is known as "The Beast of the East," don't let the nickname fool you. Sure, mountain biking is king here, and the resort's partnership with Gravity Logic has expanded their downhill offerings to 29 trails and more than 30 miles of riding accessible by two lifts and a gondola, but there are incredible options for all skill levels.
The resort recently built out a Strider bike park for the littlest pedalers, and they're in the midst of adding a pump-track version this summer. Killington is the fastest-growing lift-accessed mountain bike park in the East; two new trails on Ramshead expand the intermediate terrain, and last summer they opened a bermed intermediate flow trail, an expert jump trail and a pro downhill race trail.
To help families of all stripes enjoy the new dirt, Killington offers bike lessons and tours designed to get you and your children comfortable on the gravity-fed offerings. (Yep, you can rent all the gear you need right there at the resort, too — no need to rig a bunch of bikes to a car rack or make a special trip to a bike shop in town.)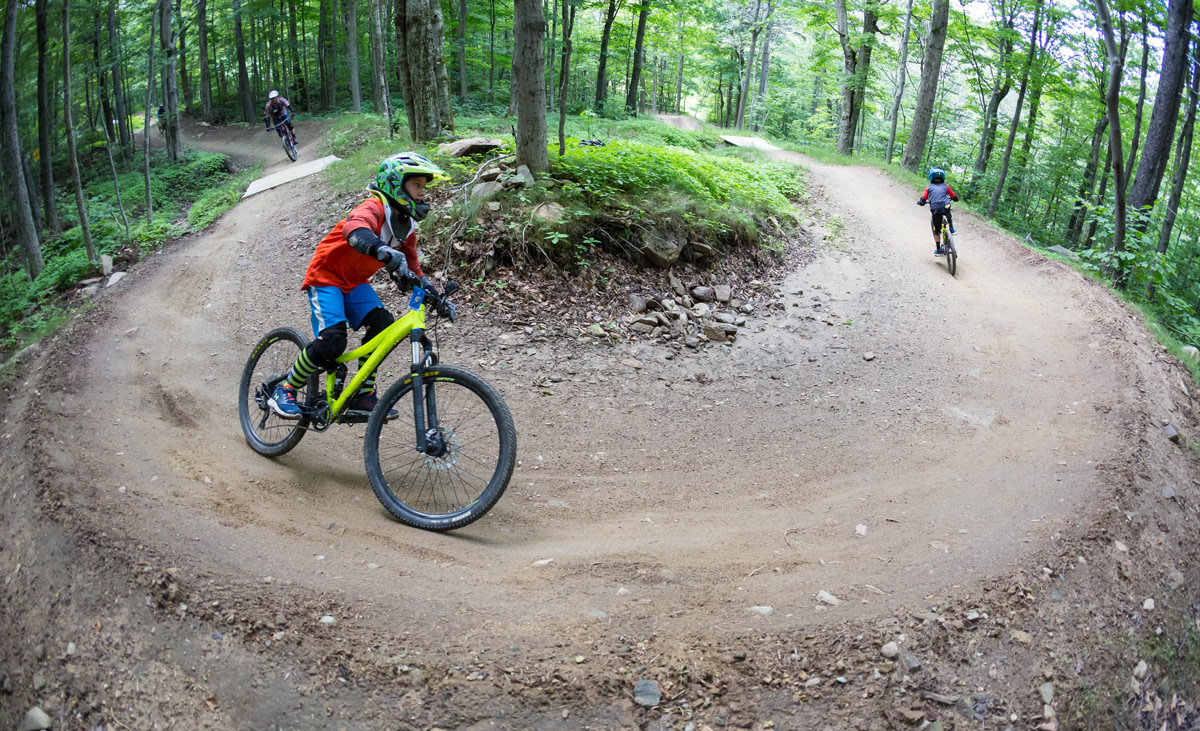 If you time your trip just right, you can also catch a mountain-biking festival hosted right at Killington, such as the Vermont Bike & Brew Festival, held in June, which featured locally brewed beer, free demo bikes and gear, a bike swap and killer riding, as well as bonfires, live music and parking lot camping on newly constructed tent platforms. And if you want to inspire your kids to shred it up at the highest level, you can also check out The Beast of the East Pro GRT downhill race, held in late July, which is perfect for family spectating.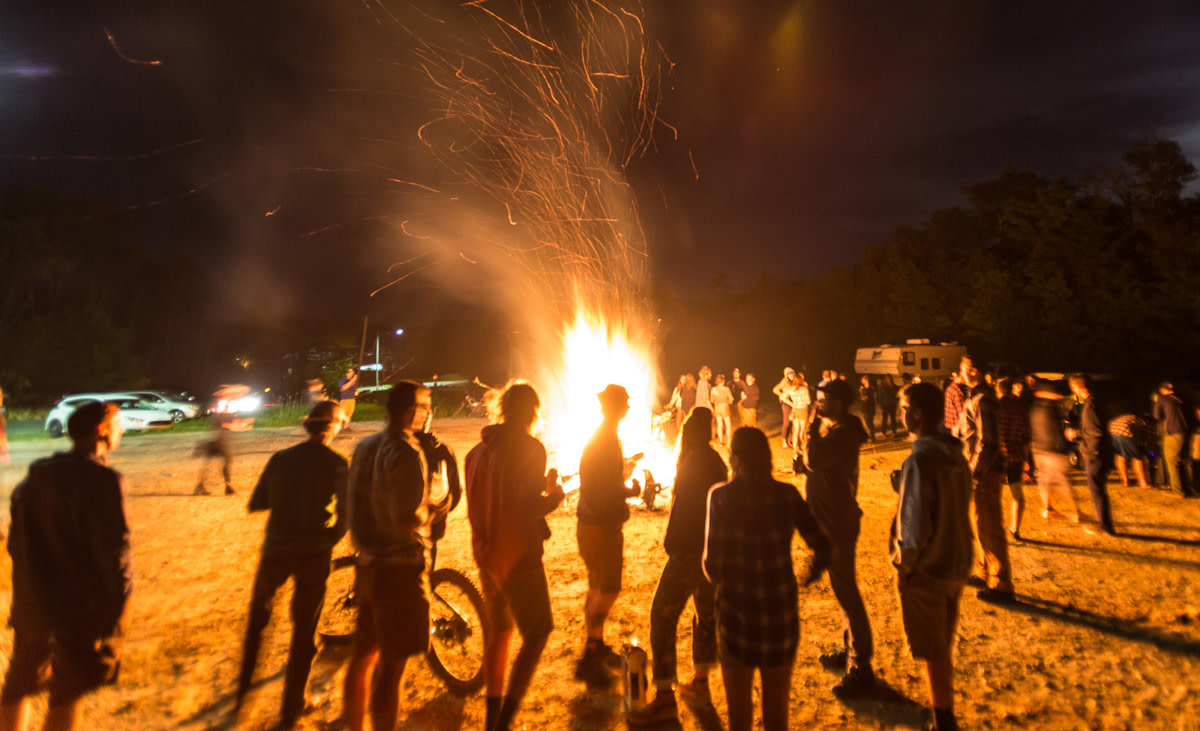 Part of the trade-off with vacationing out of town is making sure that there's plenty to do when everyone's had their fill of the main course. Killington's epic Adventure Center will keep the whole fam entertained for days. For starters, the Beast Coaster, Killington's alpine roller coaster, zips under trail bridges through fields of wildflowers and along the edge of the resort's ski slopes for a thrilling 4,800 feet. The gentle ride to the top builds anticipation for zippy corkscrew carves through forests and meadows at a pace totally controlled by the rider; let your little one handle the brakes and the 15- to 20-minute lap can be as scenic or speedy as they like it.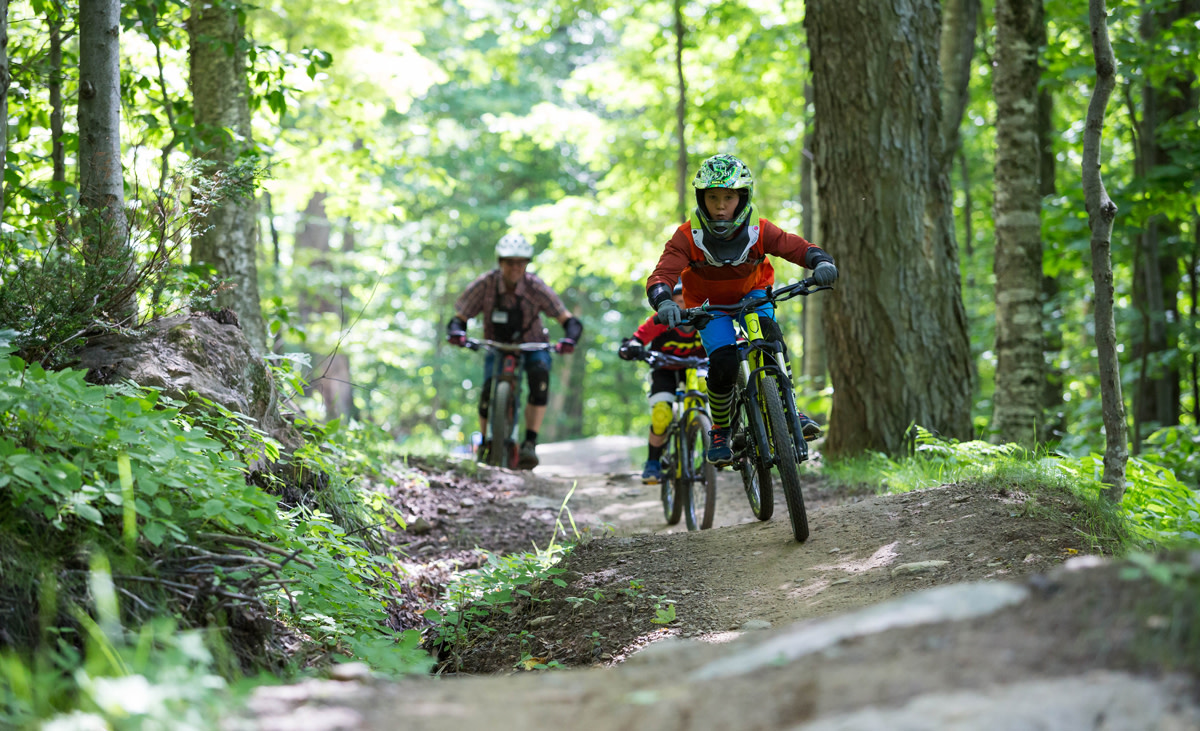 Once they've got the lay of the land by rail, clip your kiddos in for an aerial tour of Killington on the Zip Line Racer. Stepping off the wooden tower is a unique exercise in trust (and fun), and sailing across Killington's Snowshed Pond is plenty of incentive to take the leap as a family. (Need another hit of adrenaline? Your ticket also includes a jump off the 30-foot bungee-assisted Jump Tower.)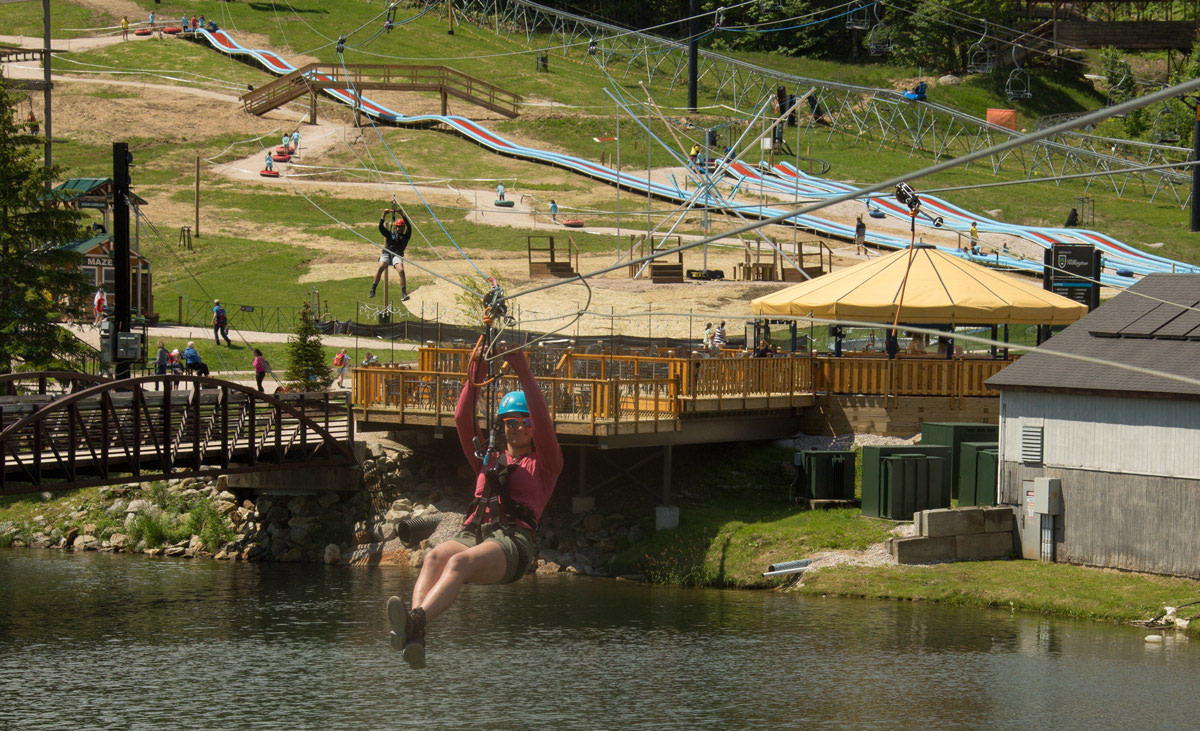 If you're more the togetherness type, pair off for a ride on the Soaring Eagle seated zip line. Strap into comfortable seats to be ratcheted to the top of the 600-foot-long, 100-foot-high cable. You'll gain stunning, sweeping, bird's-eye views of Vermont's misty, layered Green Mountains on the ride up, then be let loose to free fall down the mountain at 30 mph — a more thrilling (and memorable) version of a gondola ride.
It definitely wouldn't be a real summer vacation if there weren't some water involved, so when you're ready to cool it down, circle back to Snowshed Pond to hire out a kayak or standup paddleboard. There's no swimming permitted, but paddling your kids around an alpine lake (or teaching them how to take the reins) is a nice balance to burning quads from morning bike rides.
Killington's got so much on offer in the physical space that you and your crew might tuck in understandably early, but their free Saturday-night concerts might be the magical last touch to your trip. Grab a picnic and a blanket and hit the resort lawn for the Cooler in the Mountains series, featuring nationally known musicians from solo guitarists to full brass bands, all playing against the backdrop of the Green Mountains, music echoing through the valley.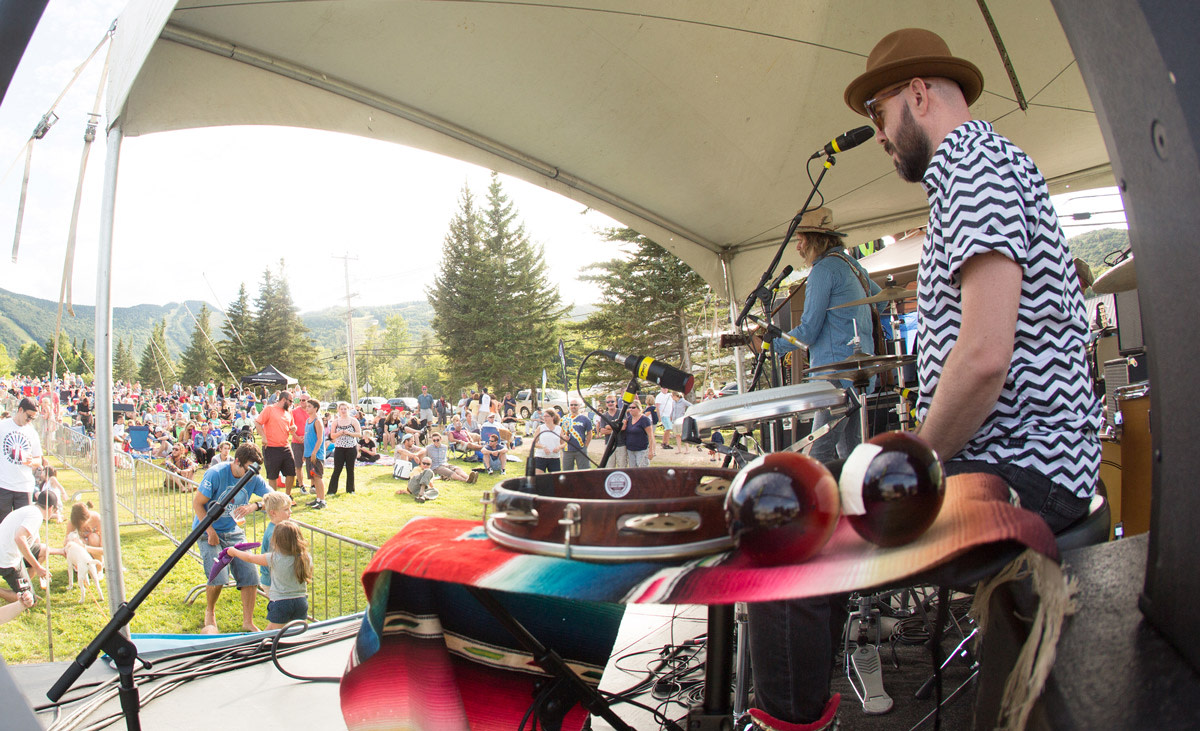 It's the closing credits to a summer vacation the whole family will want to write home about.
For access to exclusive gear videos, celebrity interviews, and more, subscribe on YouTube!