Every day for the entirety of the 162-game baseball season, Teddy McDermott* wagers up to $10,000 betting on the surprise ascendancy of pro athletes. His career has made him more than $1.5 million during the last two years. This is the power of Draft Kings, Fan Duel, and other daily fantasy sports sites, on which running through stats and picking successful players can earn you big money from the comfort of your home, without the need to resort to any actual gambling, at least according to those operating the sites and their partners. 
But earlier this month the Nevada Gaming Commission ruled that daily fantasy sports is a form of gambling, not "skill-based entertainment" like the sites purport. The board's decision now outlaws these sites from conducting business in the state unless they get the same license that casinos on the strip are required to operate under. Some think doing so would look like admitting to the 45 states where it's still currently legal that daily fantasy sports are in fact gambling. So, what's a law-abiding father like McDermott to do?
This is familiar territory for McDermott. The fantasy sports pro lived through this once before as a full-time online poker player until April 15, 2011 — "Black Friday" among the poker community — when the Department of Justice seized the web domains of the three most prominent online poker brands — Full Tilt, Poker Stars, and Cereus, which owns Absolute Poker and Ultimate Bet — and put a lot of people out of what was assumed perfectly legal work. When Black Friday happened, McDermott says he had no recourse. He went to the nearby casino and "was able to go grind and get by." Then, some months later, he — along with now some 3.5 million others — discovered daily fantasy sports, or "DFS" for short. 
"The growth of DFS and poker has been similarly exponential," says Eric Raskin, editor in chief of All In Magazine, which started as a poker publication, but now also covers DFS. "It's unquestionably following a similar trajectory." Just how married are the fates of the two?
Know When to Hold 'Em
The poker boom of the early-aughts lasted more than a decade starting around the release of the popular card-shark movie Rounders in 1998. January 1 of that same year, planetpoker.com debuted the first real-money online card room, followed quickly by hoards of others. The sites enjoyed underground success until 2003, when no-name Chris Moneymaker bought a $39 ticket into a pokerstars.com satellite tournament, earned a spot at the World Series of Poker Main Event, and walked away with the coveted championship bracelet and $2.5 million. He also took down poker legend Phil Ivey in the process.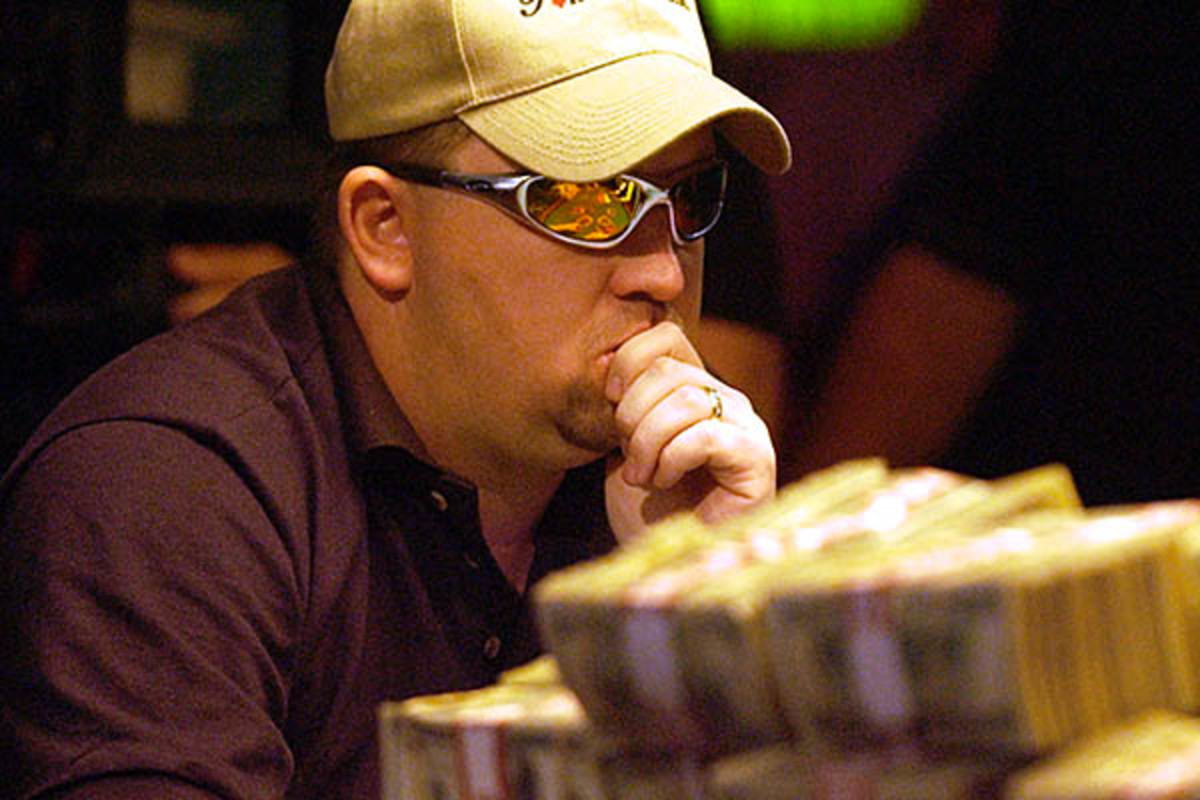 Moneymaker plays the final hand of the 2003 World Series of Poker. (AP Images)
Thanks to Moneymaker's underdog narrative, poker — online and in casinos — was soon everywhere. ESPN showed tournaments and replays non-stop, online players and aged veterans alike gained celebrity status, movie stars sat across from pros on network television, and cable was inundated with ads for poker sites and casinos. Then came April 15, 2011. Charges alleged that sites had violated the Unlawful Internet Gambling Enforcement Act of 2006, which extended American gambling laws to the internet, and charged the sites' operators with bank fraud and money laundering while processing transactions. Overnight the industry nearly evaporated in the States, with many sites migrating overseas and shutting down pay-for-play within U.S. borders. The day left thousands of online gamblers scratching their heads and looking for new places to play and maybe make a quick buck. 
"Before Moneymaker, people were hesitant to gamble over the internet," says Raskin, who also wrote The Moneymaker Effect: The Inside Story of the Tournament that Forever Changed Poker. "Now the idea of plunking down 25 bucks to give this daily fantasy thing a try is less worrisome."
How Daily Fantasy Sports Filled the Void
The original fantasy leagues were born at Harvard as a statistics exercise and migrated to dens and garages in the 1980s. It soon grew to a cultural phenomenon, in parallel with the internet's ascent, as sports fans were more easily able to draft their own teams, build and manage rosters, deal with injuries, and battle friends and strangers across the globe. Television shows and movies soon centered around fantasy sports, and advice sites and gurus made millions off players' need to win. But all this was under the guise of something innocent, like a NCAA March Madness pool or a home card game, with Yahoo and ESPN ignoring obvious implications of gambling. Daily fantasy sports changed all that.
Rather than enduring a full season of fake football, the immediacy, and the windfall of money, twisted fantasy sports into something akin to a spin of the roulette wheel, or your weekly lottery ticket. You still fill your roster with players and accrue points based on their statistics, but since athletes can be chosen by an unlimited number of DFS players, stars are picked frequently and often cancel each other out, meaning DFS players are banking on obscure players and performances to make the difference. It's more of a gamble.
After only a few years, the NBA, NFL, NHL, MLB, NASCAR, and the like have all aligned themselves with a daily fantasy sports site, either directly profiting from the operations, or acting as content partners. ESPN has an exclusive deal with DraftKings to "integrate the company directly" into programming, including running prices for players in the TV scroll, and fantasy analyst Matthew Berry, a paid spokesman for DraftKings, broadcasting and writing about daily fantasy valuations of athletes. And two of the NFL's most important owners, Jerry Jones (Dallas Cowboys) and Robert Kraft (New England Patriots), have a stake in daily fantasy sites, even though league commissioner Roger Goodell forbids it.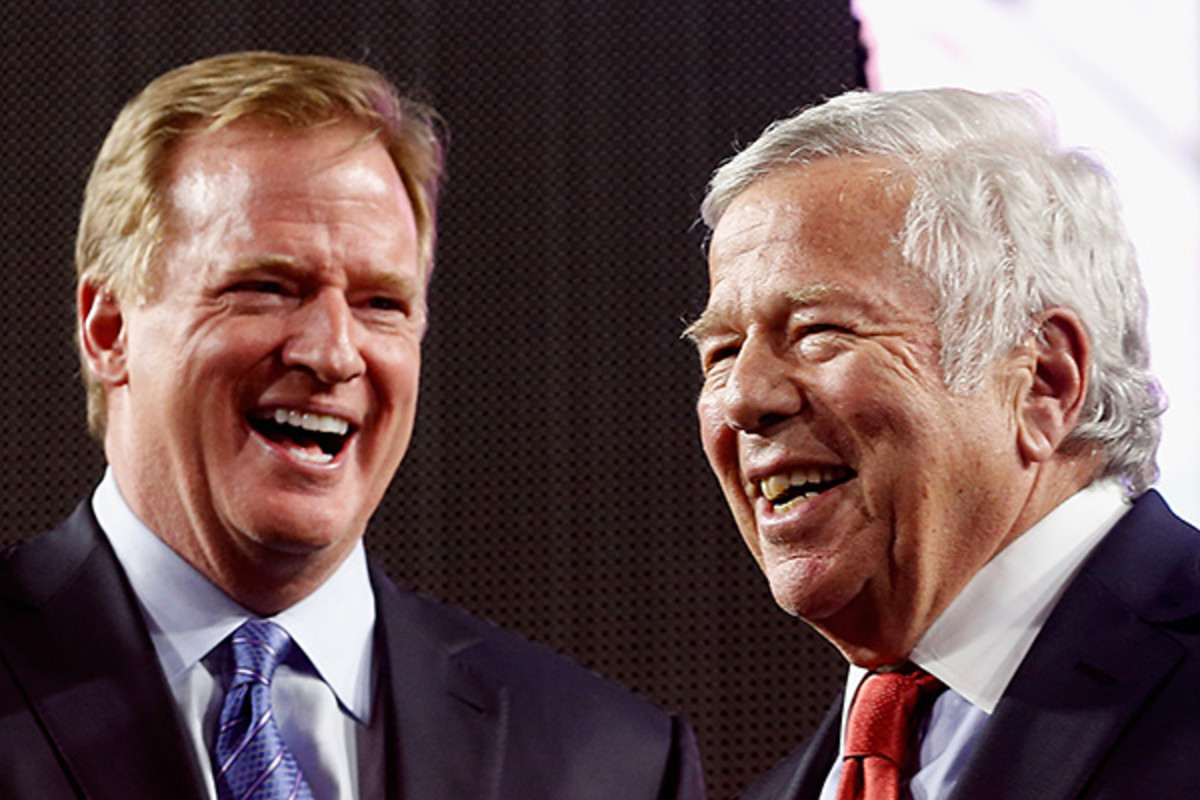 Goodell (left) and Kraft at the 2015 Super Bowl (Christian Petersen/ Getty)
"We are not in favor of legalizing sports gambling…" Goodell told ESPN. "When you are making money directly from it, people will question, or at least [have a] perception of, whether that influenced any actions, and we want to stay above that."
Currently only 6 percent of all fantasy players participate in daily fantasy sports, but the appeal of the daily format, million-dollar tournaments, and the beat-you-over-the-head advertising blitz that's flooded airwaves (thanks to the investors), has provided the industry with rocket-ship growth. Launched in 2012, DraftKings is already pulling in more than $100 million in annual revenue from more than 2 million active users. Last year it awarded more than $1 billion to users with methods identical to how a casino or online poker game works: Players pay to participate in an event, the site keeps a percentage of the pot, and the competitors fight for their share of the remaining cash. Its rival, FanDuel, had more than 1.1 million active players at the end of 2014, generated $57 million in revenue, and expects to pay out $2 billion in winnings this year. When FanDuel launched in 2009, it had five registered players, most of which were found on Craigslist.
What Luck
Online poker experienced a rash of cheating software that allowed players to see the hidden cards of other players, giving them a major advantage. Likewise, cases against DFS sites so far seem to be predicated on an element of cheating going on behind the scenes, with charges that algorithms, robots, and other types of mechanized systems are being used. Defenders argue that most of these are part of the game — a computer scientists' version of skill. 
"There's no advantage other than just having more skill or putting more time into research that any player can gain," says Jason Robins, founder and CEO of DraftKings. "Some players do put more time and research into it, and they end up being competitively advantaged because of that."
Despite two "big scores" of more than $250,000, McDermott laughs off the thought of using complicated algorithms or formulas to select his daily lineups. "I honestly don't have any of that stuff," he says. "I know people who do and have all sorts of crazy spreadsheets and stuff, but I don't do any of that. I do all my research by hand." His skill set is one that would be most familiar to online poker players: 
"Bankroll management is a big thing," he says. "I think a lot of people who don't have a poker background struggle with that. Just knowing how to manage and not going above my means in any particular buy-ins. And then there's game selection. You don't sit down at an online poker table of really good players. In DFS, you don't join a heads-up game against really good players if you can help it."
With Federal scrutiny and non-stop news about the ethics, legalization, and upcoming regulation of daily fantasy sports, the line between it and online poker gets ever thinner. "The one advantage that DFS has that poker didn't is all these companies and MLB, NFL, Robert Kraft, and Jerry Jones have equity stakes in it," McDermott says. "I don't think those guys are going to go down without a fight and lose millions, or billions even. Hopefully it won't happen, but I'm definitely worried about it."
*McDermott's true name has been withheld as other DFS pros have been named in class action suits in New York and Florida.
For access to exclusive gear videos, celebrity interviews, and more, subscribe on YouTube!