In 2011, Ed Caesar traveled to Kenya to report on the death of marathon champion Sammy Wanjiru. "While I was there, I found this hugely rich world," says Caesar, "the thousands of people in Kenya who want to become runners." Caesar, who was selected for the Prix Bayeaux for war correspondents in 2014, has reported from conflict zones ranging from Kosovo to the Democratic Republic of the Congo. "The news is mostly so grim," he says, "so it was really nice to come across an African story with African heroes. And I was interested in what this athletic gold rush had done to Kenya and why there are so many great runners there."
The modern marathon essentially belongs to East Africans — nearly every major contest in the past decade has been won by runners from Kenya and Ethiopia. And yet their names, writes Caesar, "are as good as indistinguishable, and their stories mysterious."
Caesar seeks to repair that gap with his captivating first book, Two Hours. To report the story, he spent stretches living with the African competitive elite at Skyland — their Kenyan village training camp at 9,000 feet — where runners pound out 125 miles a week in their quest to run a sub-two-hour marathon. Though the world record of 2:02:57 (held by Kenyan runner Dennis Kimetto) may sound tantalizingly close, those last three minutes are an Everest away.
Some scientists still question whether a two-hour marathon is humanly possible. But that hasn't stopped companies like Adidas from working on sub-two shoes, or engineers from creating "tuned" tracks that give higher energy returns on each foot strike, or trainers from combing the human body for untapped reservoirs of speed. Some researchers attribute the Kenyan advantage to childhoods spent running barefoot (at altitude) on uneven roads, developing supermuscular feet that essentially act as "trampolines," propelling the athletes along as they run.
The heart of Caesar's book is Kenyan runner Geoffrey Mutai. In 2011, Mutai became the world's greatest marathoner, with a personal record of 2:03:02 in Boston. As with many of his compatriots, he's overcome incredible adversity just to compete, rising from poverty and political uncertainty to world domination. "It's no exaggeration," writes Caesar, "to say that the man who runs the first sub-two-hour marathon will have overcome not only a sporting challenge but an existential one."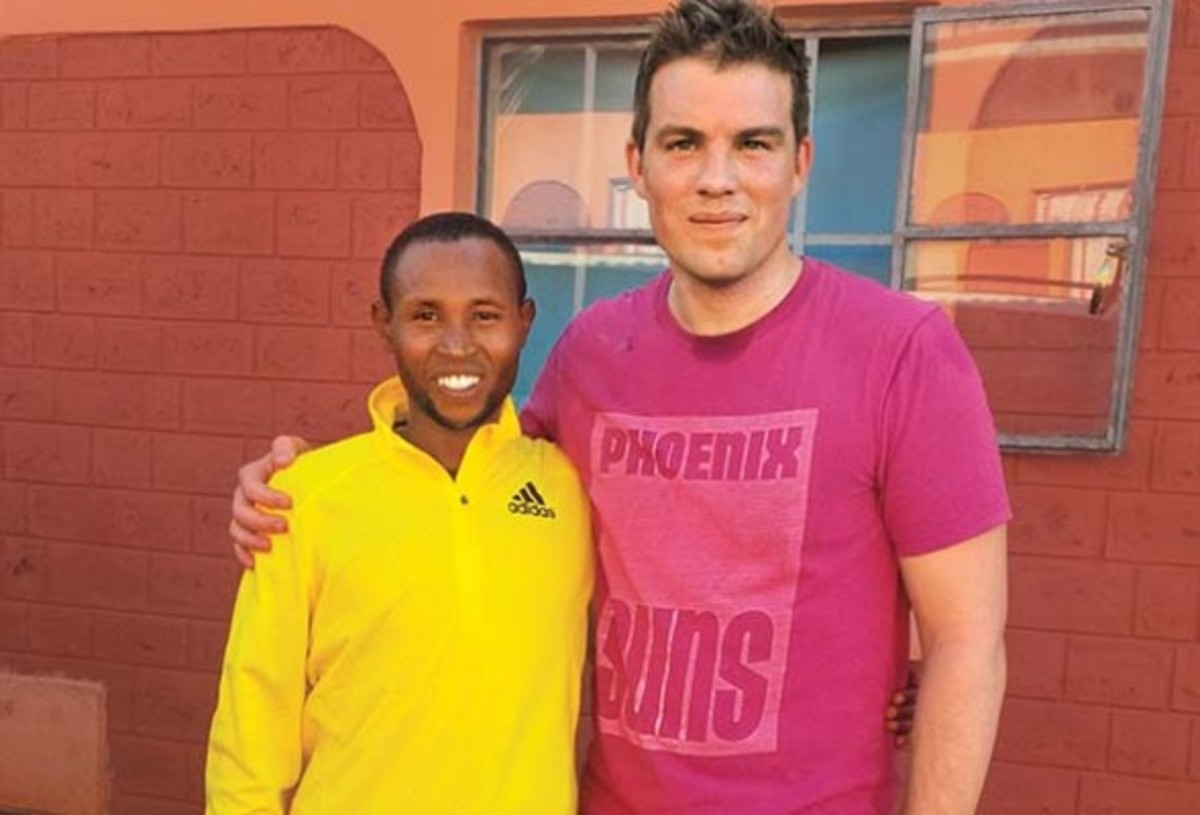 (Mutai with Ed Caesar in Kenya in 2014. Courtesy Ed Caesar)
For access to exclusive gear videos, celebrity interviews, and more, subscribe on YouTube!