At the very least, count on Corran Addison to shake things up. The brash, innovative, and often-controversial designer of the late '90s and early 2000s is back. Addison more or less disappeared from whitewater kayaking in the mid 2000s after a storied career as the brains behind Riot Kayaks, where he sparked design revolutions with radical hulls like the Disco.
After reading a slough of social media announcements from Addison, who is aggressively hyping his new company, Soul Waterman, I tracked him to his home near the Lachine Rapids in Montreal, Québec. The once purple-mohawked bad boy of the '90s is clean cut and now schedules his paddling days between days watching his young son.
Some commenters on social media are going gaga over Addison's new designs, his "screw the status-quo" mentality, and his nascent custom boats business model. Others accuse him of egoism—which he might not dispute—and defend the status quo.
The gears inside Addison's head are turning fast. Nearly every day as I was writing this piece, Addison would go ahead and announce his next mad-scientist plan for a boat. One day it's a Class-V-capable downriver boat, the next day it's a tandem creek boat meant specifically for kids. Oh, a purpose-built closed C1, you say? An open boat? A whitewater wave-ski? Now he's patenting replaceable and interchangeable bows and sterns. His most recent bombshell, that he will to build custom kayaks based on customer requests, is almost certain to turn some heads. There's some amount of irony that Addison, who operates in direct opposition to the old mantra that the "customer is always right," is building custom boats. Perhaps his goal is to democratize design and give other paddlers the same freedom that he's had throughout his paddling career.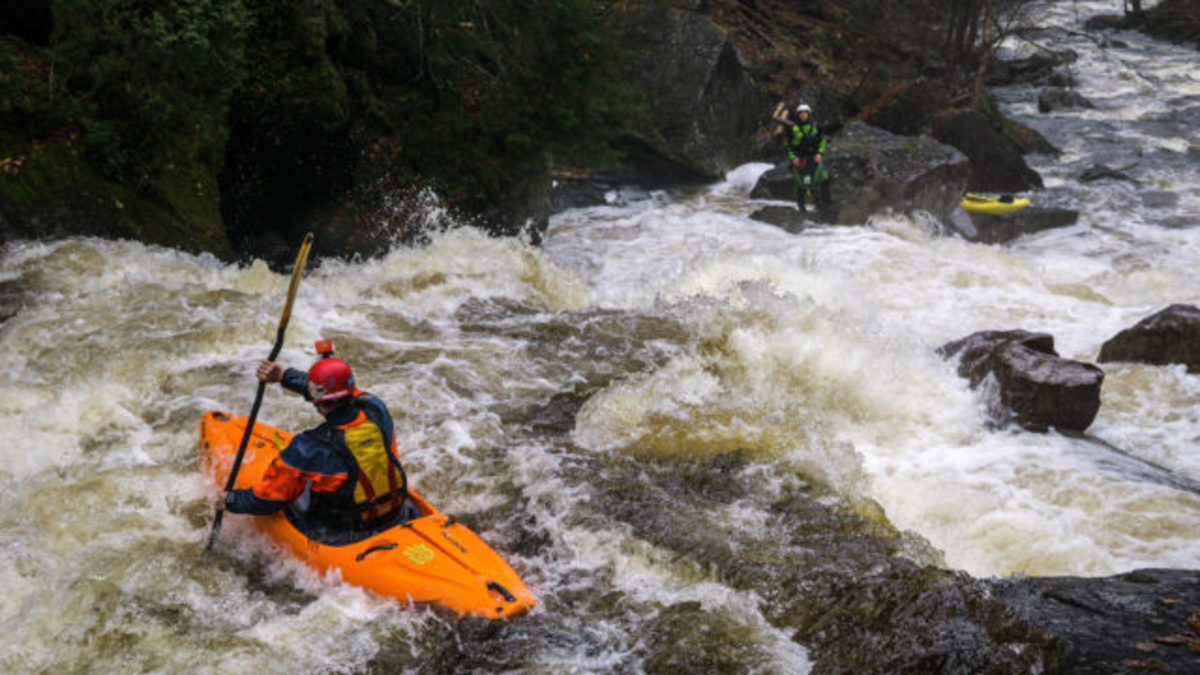 Addison implies that he is doing this just for fun, mixing things up and hopefully making a profit somewhere down the line, but I'm not sure I buy it. I think he's trying to build something big.
After testing a few of his new Soul Waterman boats over the course of a 10-day visit to Québec, I sat down with Addison at his kitchen table, which overlooks the Lachine Rapids, to get his perspective on design, his return to the industry, and why he decided to start a new company after all this time. Here he is in his own words:
Designing is a disease. I can't separate paddling and designing—they're intertwined, they're not two different things.
This goes back to when I was a kid and I started paddling with my dad in South Africa—you couldn't buy a kayak. If you wanted to go paddling you had to build a kayak. Half of the reason I go paddling is the process of creating something that does what I want it to do, testing it and riding the flaws, and making another one with those modifications.
Part of my freestyle success in the '90s was that I had better gear. I could show up at an event with my fiberglass glide prototype and come back two weeks later with an even better version.
That's how evolution works, this is how design works and it's how sports move forward. If you snub that, things stagnate.
I reached a point in my life with extreme kayaking where I just wasn't willing to risk my life every time I went out. You're playing with this danger zone that has relatively large consequences and there was a period in the mid 2000s where people who I had known for a long time died as people started pushing the limits and I thought, I don't want to do that.
I didn't just disappear from kayaking—it was a slow fade. I stared surfing a lot and got into river surfing and by 2006 I was starting to lose interest in paddling mostly because I was progressing so fast in surfing. When you learn something—when every time you go out you're learning something new—you're motivated to go out and do it again. By 2009, I was barely getting in a boat.
When I moved back to Montreal last year, part of the motivation was I wanted to go back to rivers. And it was instantaneous. The Lachine, which is right outside the window, is one of the most epic play spots in the world. This wave is in all the time.
There hasn't been a design revolution for a long time and it would be really sad to say that it's not going to happen again, but I don't see anything on the horizon. It's going to take a new, young, excited person with his own opinion about what paddling should be, who's going to open doors and blow peoples' minds. It's unlikely that it would come from the major companies because we're all old now. I'm old, EJ (of Jackson Kayaks) is old, Shane (of LiquidLogic) is old. We're in our 40s and I think the next jump will come from someone who's 22, thinks he knows everything, and comes up with something really awesome.
With Soul I don't necessarily need to sell large numbers of boats, so I can take risks. I can go out on a limb and try new things and if not everybody accepts it that's OK. But it was really fun to face the design challenge.
One of the things that I learned when I first started designing surfboards—before we had production surfboards—was that almost every board you made was tailor-made to somebody's needs. You don't get to prototype it, test it, and make it. You make it and that's it.
So now my designs are a lot more on point. I can shape the boat on the computer and pretty much know what it's going to do even before I build the prototype. It's spot on. The Booty Call, from CAD to proto to production had zero changes. I couldn't have done that ten years ago.
Material development in kayaking is severely lacking and the main reason is that manufacturers are entrenched in the rotomolding technology that they have. When you've spent a million dollars on ten rotomolding ovens you're not particularly motivated to develop a new technology. So you look for better materials that can go into a rotomold. And the materials are improving, I mean, the super linear high-density polyethylenes that we use to make a kayak today are vastly superior than they were just 10 years ago. We've come such a long way.
I don't think that a magic material is out there. Kayaks used to last ten years, sure, but they used to last ten years when the Green was considered the limit of what you could do in a kayak and you ran the Green once every two weeks. People now go there five times a week and do three laps, running new lines through tighter slots, and in six months they put their boat through the same kind of wear and tear that we used to put it through in ten years. Even though the plastic is significantly better now than it ever was, man it's still plastic! It's just not going to take it. There is something to do on materials but I don't know what the answer is yet because many of the materials I've looked at as possibilities are cost prohibitive and the tooling is cost prohibitive and you can't sell enough boats at those prices.
*Editor's note: This interview has been shortened and edited for clarity.

More from C&K
The article was originally published on Canoe & Kayak
For access to exclusive gear videos, celebrity interviews, and more, subscribe on YouTube!