Human beings are tribal and nomadic by nature, so it's no surprise that the cult of adventuremobiles and overland travel taps directly into our natural propensity for both. In fact, road trips are the modern equivalent of wandering for a common purpose, but these days our lifestyles are less about adapting to the weather and seasonal migration routes. The popularity of packing yourself and a few friends into your vehicle of choice has not only gained a lot of attention as right of passage, but temporary respite from the "real world". Many have hit the road indefinitely, leaving a permanent address behind.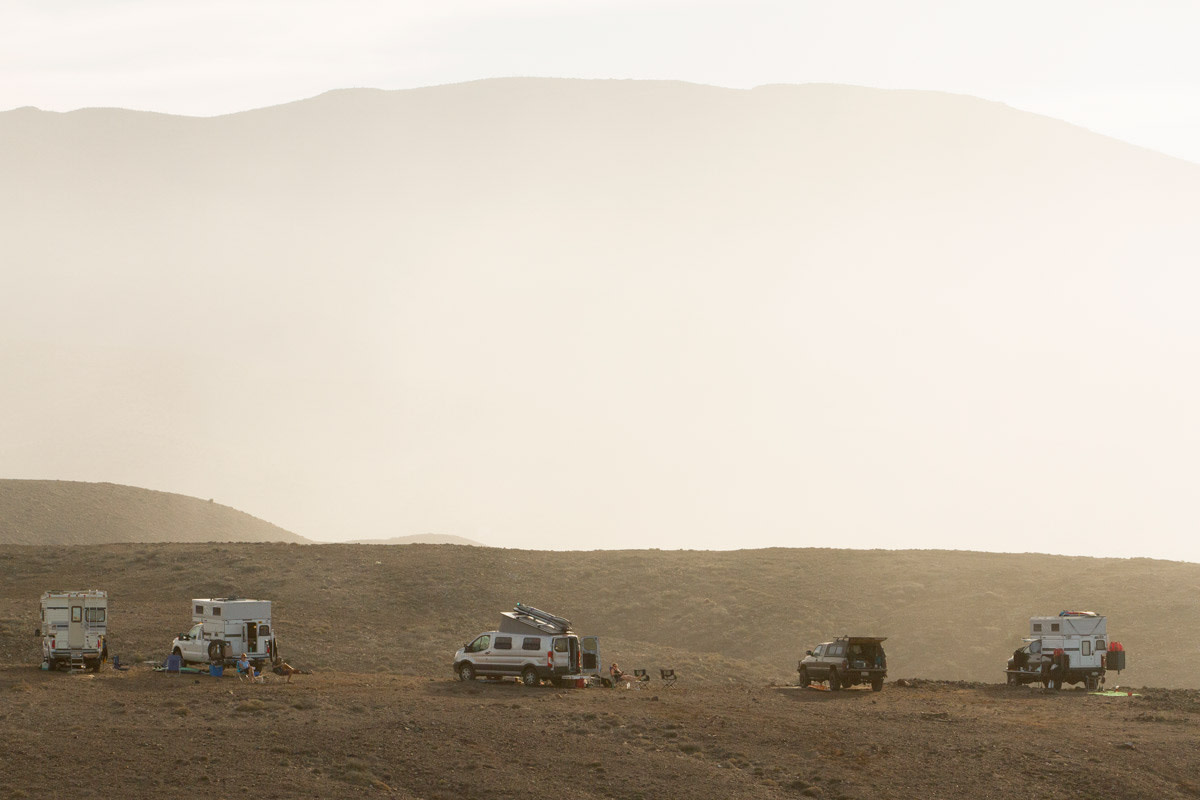 Dozens have been brave enough to make the popular idea of vanlife a reality while others sharing the same dream are nervous by the unknown; financially hobbled to do so, or simply intimidated by scrolling through the ubiquity of global expedition vehicles. What if we told you that the opportunity of overland travel is closer than you think?
Let's start with defining exactly what overland travel is, a topic that started a heated debate on a recent trip to Baja. One friend said that the concept includes travel on terra firma with any vehicle or on foot, emphasizing that the term "overland" is pretty self-explanatory. Immediately, I remembered seeing a guy riding a unicycle down Highway 1 in Big Sur with a minimalist bikepacking set-up that triggered the purist in me to define overland travel as limited to bike, motorcycle, truck, van or any other capable high-clearance vehicle. I'm fairly certain the popularity of unicycle-packing is growing very organically (meaning slowly) and travel by foot has appropriately been called walking, trekking or hiking, so let's explore the how to do the three options above on the cheap, which is of course relative to your budget.
Overland by Bike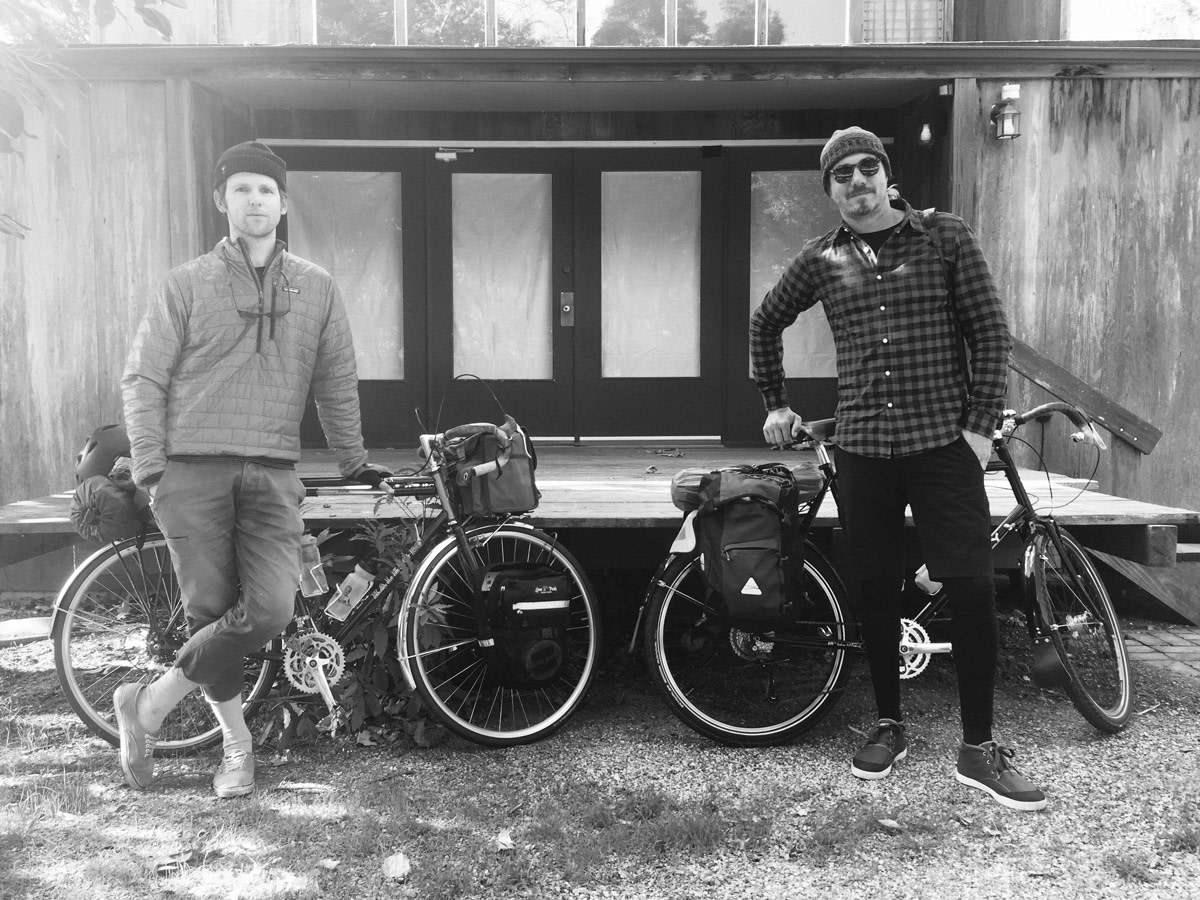 With rising fuel costs, pedal power is the most economical way to traverse a vast landscape. While a brand new bikepacking rig can easily climb north of ten grand and rival the spend on a decent motorcycle, building a capable loaded touring bike is merely a matter of preference. My personal favorite is a steel framed Surly which might run you around two grand max if you're lucky to find one on a popular online used marketplace. I've run into countless travelers who ride some impressively simple setups; like Lesther Martinez Nougues, who I met in Mexico on his old Raleigh mountain bike towing a homemade trailer packed with surfboards and gear. If you're thrifty like Lesther, you could hit the road for less than a thousand bucks with some rudimentary camping gear; post up on on public land and need only spend money on food. The only thing holding you back is your willpower … and you need a lot of that when doing distance on a bicycle.
Bike Essentials Under $200 *
Brooks Flyer Imperial Seat ($155)
Ortleib Back Roller Classic Panniers ($180)
Kelty Cosmic 40 Sleeping Bag ($119)
Crank Brothers M19 Tool ($34)
Klymit Insulated Static V Lite Sleeping Pad ($95)
Jet Boil Micro Mo Cooking System ($130)
REI Passage 1 Tent ($139)
LED Lenser MH10 Rechargeable Headlamp ($80)
BioLite Solar Panel 10+ ($130)
Overland by Motorcycle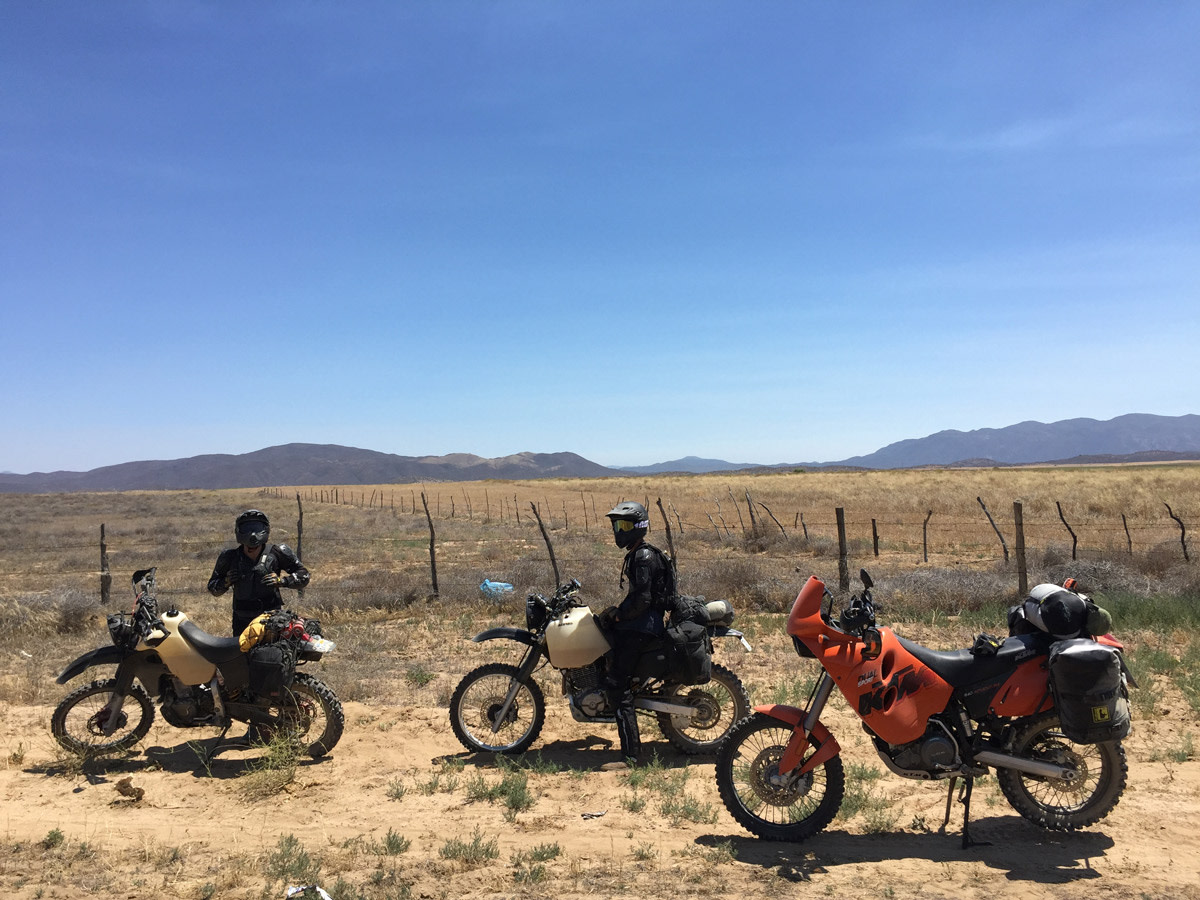 Costs start to climb with two wheel travel once you start to think about a motorcycle, but it can still be done on the cheap. I've found that despite having thirty years behind the bars there is no such thing as a perfect bike. While a lighter motorcycle will be nimble in the tight stuff, wind and road exhaustion will get the best of you with long burns on slab. Bigger bikes make iron assing it a little easier, but they're a nightmare in sandy or narrow sections even in the hands of the most capable riders. Just watch Ewan McGregor try and muscle a four-hundred pound BMW in Long Way Round and it's enough to make the case that these days big touring machines are mainly made for the pavement. Many also romanticize Zen and The Art of Motorcycle Maintenance, so if you find breaking down part of the journey then go for the vintage bike. However, be prepared to spend more on repairs and unpredictable detours in hotel rooms, almost always in towns you don't want to be broken down in.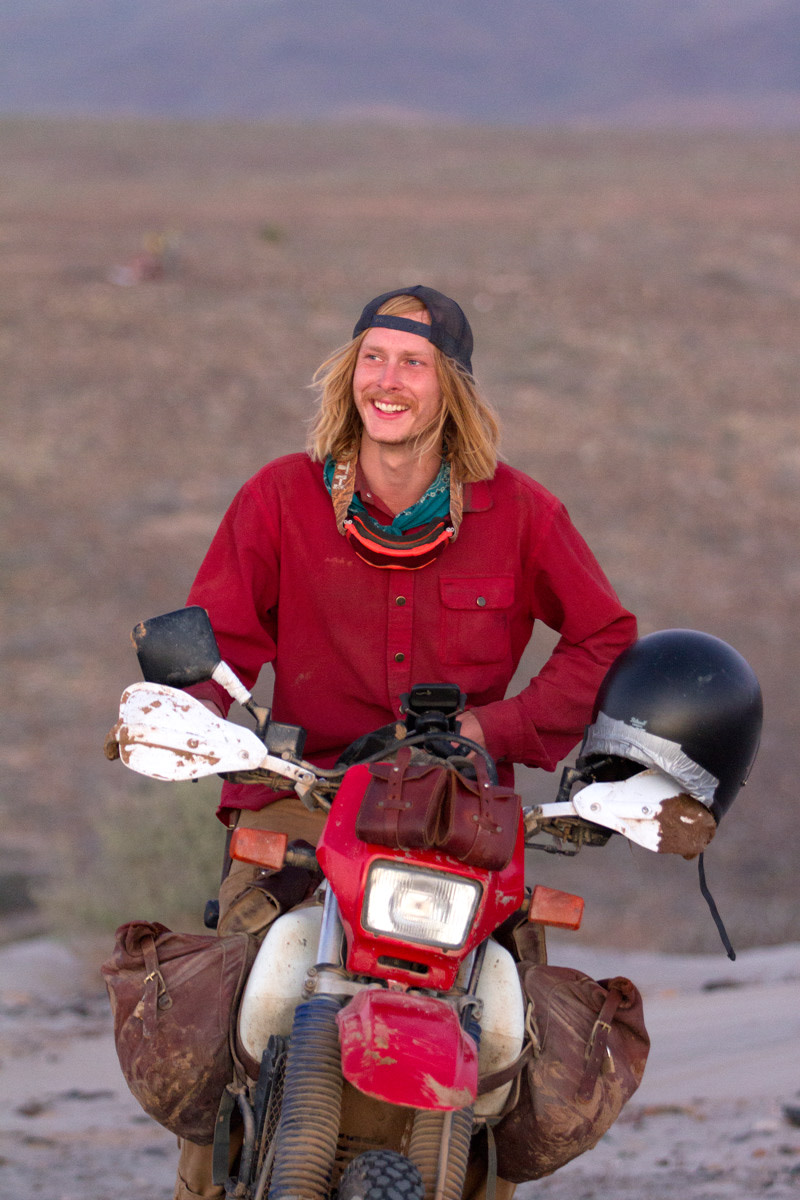 Despite my personal experiences, a recent run in with photographer James Barkman reminded me that affordable motorcycle overlanding can be done, especially after seeing his hand-made panniers! To ride from Alaska to Argentina, James saddled up to a Suzuki DR650; the Honda equivalent would be a street legal XR650 and you can grab both used for around two grand for older models. "I chose to overland via motorcycle, a 1996 Suzuki DR650, because it is undoubtedly the most cost effective way to travel. My bike averages 45-50 mpg, and one tank even boasted a glorious 57. Not only is the bike itself relatively affordable, the maintenance is easily handled by even a motorcycle novice," he further explains.
Parts are also relatively easy to find in other countries and there are a ton of aftermarket add-ons you can find for these bikes. With some models, you can also kick start them, alleviating the stress of a bad battery and they'll run forever with regular oil changes. Just remember to do all bike prep at home and if you can swing it, have a professional mechanic go through things from tip to tail. If a bike has been around for more than a decade it's certain to have issues, so the more prep you can do before you leave the better. Flat tires and occasional breakdowns are a bust but remember: It's all part of the journey.
Motorcycle Essentials Under $300 *
Wolfman Enduro Dry Saddle Bags ($284)
Wolfman Expedition Dry Duffle ($167)
Bell MX-9 Adventure Helmet ($210)
Klim Adventure Glove ($180)
Goal Zero Sherpa 50 Power Bank + Nomad 13 Solar Kit ($250)
Overland by Truck
If sitting behind a steering wheel is more appealing to avoid the elements and carry more gear, then driving doesn't have to deplete those dollars. I'm partial to Toyotas, mainly because every time you see a cadre packed into a truck in other countries it's usually a Toyota. Top Gear even tried to destroy a Toyota Hilux and it kept on kicking. The U.S. equivalent is the Tacoma. I've been watching on-line listings for a month to average out the cost for this story: A solid, used low-end first-generation 4×4 will run you around five grand, which could be cost prohibitive for some, but hear me out. The high cost of unpredictable vanlife or another rolling home pales in comparison to buying a reliable truck at the outset, and you can score a cheap shell to sleep inside. Google your way to the plans and build a plywood sleeping platform for an extra cozy cabin.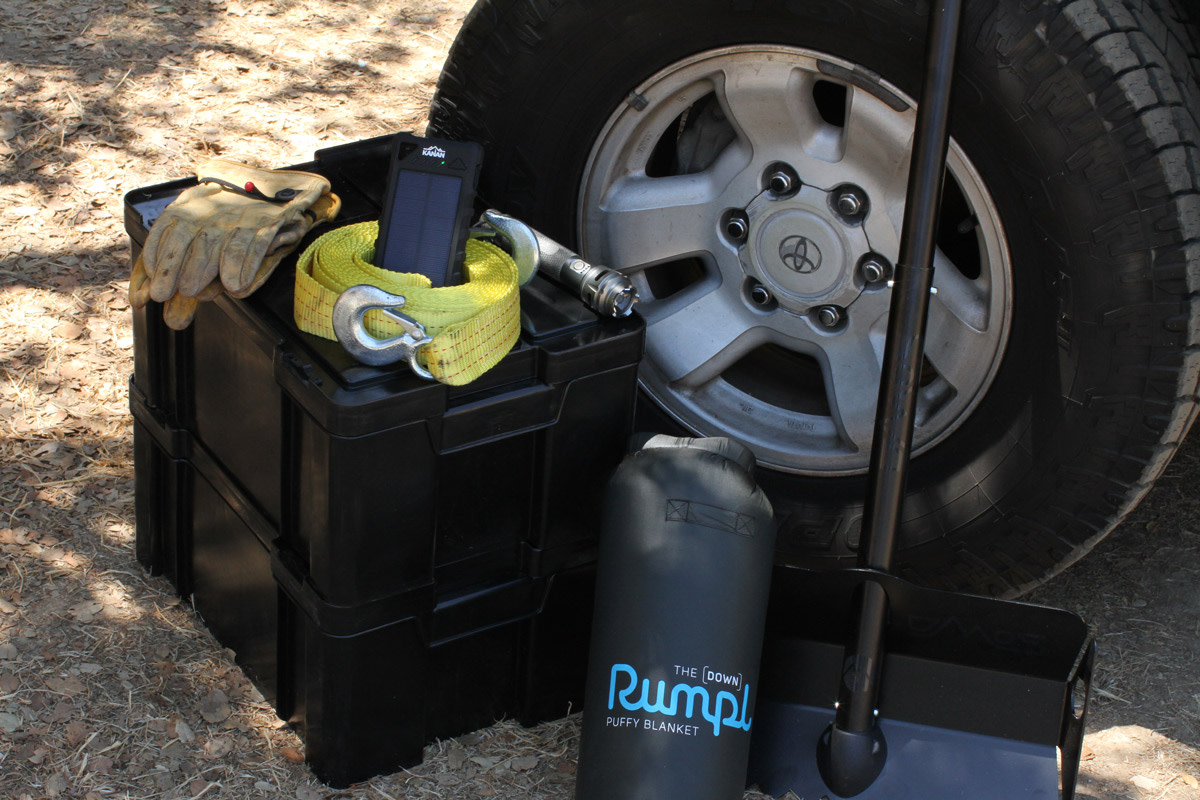 Like with bikes, a good mechanic is your best friend when prepping to pull the plug on the daily grind, and most will look under the hood for a small fee. Rust is a no-go and a new timing chain on bigger motors is added assurance that you won't have to use a tow strap. Instead of spending what money you have left on a Flip Pack, rooftop tent or beefy bumper, master the basics to fine tune your truck. New tires and suspension will make washboard roads less teeth-chattering. A solid jack and recovery straps will ensure you don't stay stuck and extra water cans, a satellite tracker and first aid/bug out kit just might save your life in a worse case scenario. Apps like MotionX and Avenza can help with smartphone navigation and rely on Delorme for their expert printed Atlas & Gazeteer as a backup. Lastly, a well-made cooler should keep your perishables cold for a few days between ice stops.
If all this still sounds too financially daunting, there are plenty of novel rental places around that will let you live the dream for a few hundred dollars per day. But remember, with a basic camping kit and a will to wander, the dream to unplug and see the world from the road less traveled isn't too far out of reach.
Truck Essentials Under $200 *
Front Runner Wolf Pack Storage Container ($40)
DMOS Stealth Shovel ($119)
Hi-Lift Jack ($80)
Hi-Lift Recovery Strap ($71)
Front Runner Plastic Jerry Water Can ($55)
Bug Out Basics by Kanan Outdoors ($86)
VIAIR Air Compressor ($44)
* These are simply recommended and tested items if there is money left over in the bank.
All photos by Dustin A. Beatty
For access to exclusive gear videos, celebrity interviews, and more, subscribe on YouTube!