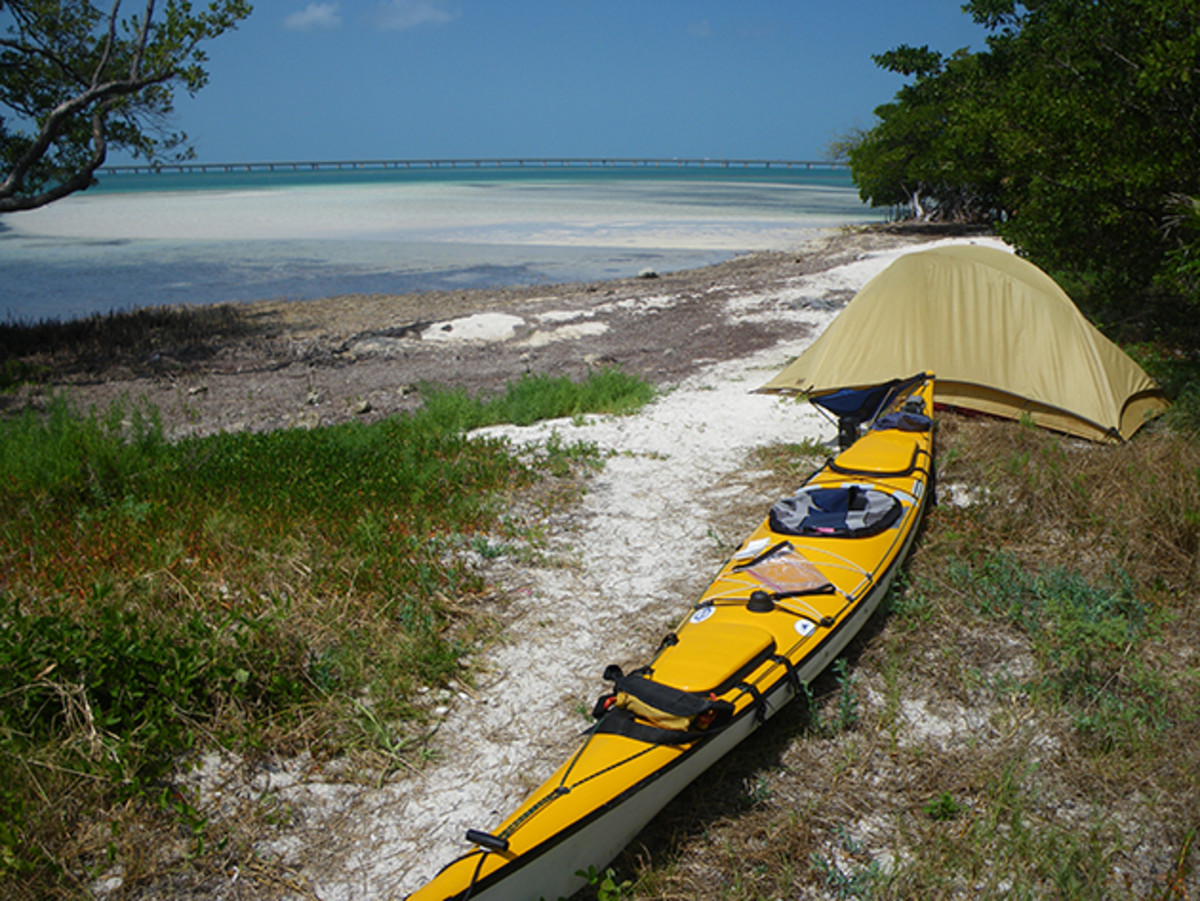 Story and photos by Michael Daugherty
I awoke in the dark and lay in my sleeping bag, listening. Wind hissed through the trees and ruffled the rain fly. Small waves slapped the beach. I crawled outside and took a few steps toward the gravel beach. Despite a stiff breeze, the water surface appeared only mildly corrugated, metallic grey in the pre-dawn gloom. On the bridge, less than a mile away, cars and trucks progressed slowly east and west, white headlights and red taillights passing each other, a background hum like the wind, almost constant, like ringing in the ears that you get used to after awhile.
I listened to the weather on the VHF while I made coffee and oatmeal, leaning in my camp chair against my kayak, the computer-generated voice grinding-out the forecast: thunderstorms, thirty-knot gusts. It always sounded worse somehow, coming from the tinny robot voice. I had a choice to make: get moving or spend the day and another night on this island. The weather didn't look much worse than the previous day's, but then again, the previous day had turned bumpy toward the end, and I'd found myself wishing I were on land instead. There's an adage that goes "better to stay on land and wish that you'd gone to sea rather than to be at sea wishing you'd stayed on land."
I made more coffee and walked the edges of the island. Thunderheads piled up to the east and passed on either side, spitting a few raindrops. The island wasn't much more than a bump of fossilized coral, worn-down by waves, barely rising above sea level. Not much larger than a suburban front lawn, it sprouted enough stunted mangroves along one shore to make a wind break where I'd pitched my tent. Elsewhere, weedy succulents rooted in patches of decomposing seaweed, but most of it was pocked coral, like the surface of another planet with tide pool fingers reaching nearly across. It would be my home for another day. I had plenty of drinking water, food for a few more days, a stack of paperbacks, and a day off on my own personal Florida key. On the bridge, a Budweiser truck trudged northward in the rosy light, followed by a school bus, strobe flashing on its roof.
Though I'd made my choice, I felt dogged by uncertainty. Despite the towering cumulonimbus bearing down on the island, the thunderstorms never quite hit, and though the wind picked-up and began shearing wave-tops into white spray, the shallow stretch to the north looked fairly calm. The sun rose and the day began to resemble one like any other in the Keys: white sand and turquoise water. Warmth. I sat beside the tent and felt the sun on my skin. I pulled out the charts and re-traced my route. Over the last six days I'd threaded my way through the Keys, over a hundred miles from Miami. Another two days of paddling would bring me to Key West, 45 miles away. I deserved a day off. This was, after all, my vacation.
I spent the morning reading, making coffee on the Jet-Boil, eating snacks. Songbirds flitted through the mangroves while egrets and herons stood in the shallows. A hermit crab ambled past in an oversized shell. Occasionally the wind abated and the chirping of crickets seemed to increase in volume, along with the traffic rumble on the bridge. I kept getting distracted by the traffic, reaching for the binoculars every now and then for a better look. A year earlier I'd driven over the bridge and had seen people camped on a different, nearby island. Now here I was, but I felt small, insignificant and nearly invisible – a feeling that lingered from the previous afternoon.
I could still feel it: a little off-balance, shaky. I'd paddled alone frequently, and I was accustomed to constantly assessing the risk and my ability to deal with it. I wasn't accustomed to realizing that I may have been beyond my abilities, and that I didn't have much recourse. In hindsight it was easy to list the mistakes I'd made: a nimble weekend boat overloaded and riding low in the water with ten days' supplies, a worn-out spray skirt with increasingly bigger holes. And though I knew the wind was building and I would be crossing the open stretch south of Seven-Mile Bridge at the worst time, when the south wind opposed the mid-tide current, I went anyway.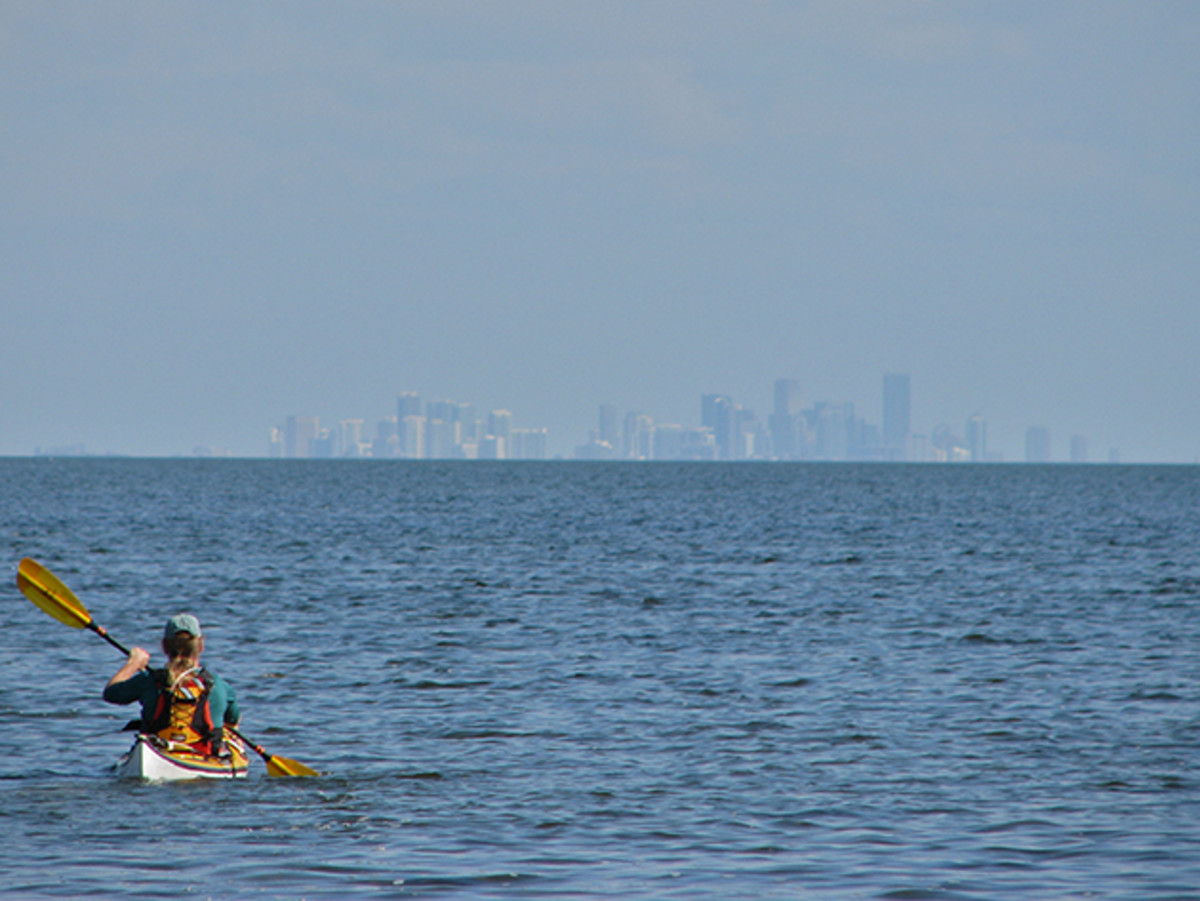 Near Boot Key I'd taken a bearing on Molasses Key, some four miles away, and set-off with following seas pushing me along. Somewhere in the middle of that crossing, the mid-tide current shot south from a channel below the bridge, stacking the waves into a mogul field of confused seas — much steeper and taller than I'd anticipated. I was already overloaded with the drinking water I'd packed that morning, but when the waves began helping themselves gently over the cockpit rim, pooling atop my spray skirt and sloshing around my legs, my boat began to ride even lower and was hard to maneuver. I began bracing almost constantly. When I could, I focused ahead on Molasses Key in the distance, thinking just stay upright, I'll get through this. But weirdly, my mind began to wander. Up on the bridge, a windshield glinted, and I pondered if anyone up there could see me, if I would appear to motorists as a brief flash of color disappearing beneath the waves before they changed the radio station and continued onward. Something surfaced beside me. A sea turtle, bigger than my cockpit, regarded me with calm, indifferent eyes. Entirely in its element, it underscored the obvious: that I was out of mine. As quickly as it appeared, it dove and was gone, leaving me alone. Finally, the chaos gave way to ordered waves, and eventually even they subsided as I entered the shallow water near the island.
I finished the serious book and started on a spy-thriller. At lunch, I lifted my kayak and shook it to dislodge one last avocado that had wedged in the bow. The day passed and the sun sank over the islands to the west where Route One briefly made landfall. As it grew dark, headlights passed on the bridge, the only lights out there. I found it hard to look away. This would be the seventh night of my trip. My wife had dropped me off a week earlier and most days I didn't get near enough other people to even say hello. I'd felt a little lonely at first, but loneliness had been gradually replaced by an aloneness that sharpened my senses. I'd needed a time-out from my life, but this solitary day on the island was a time-out from everything: a zero day. I would remember it when I returned to my life as a small town shopkeeper, answering tourists' questions, getting tired of the chit-chat. And somehow the keen edge of my aloneness had been honed out there in the waves as I focused on staying afloat, and it felt good. So I savored it: the alien coral moonscape of this island, the passing lights of traffic on the bridge, and in the morning I shoved-off at sunrise, eager to be on my way.
Michael Daugherty guides and teaches sea kayaking on the Maine coast through Pinniped Kayak and at Sea Surf & SUP in St. Marys, Georgia. His book, AMC's Best Sea Kayaking in New England will be available in April, 2015 from Appalachian Mountain Club Books. Check-out his blog at seakayakstonington.blogspot.com.
The article was originally published on Canoe & Kayak
For access to exclusive gear videos, celebrity interviews, and more, subscribe on YouTube!