There are athletes, fitness experts, and models who often look for ways to gain weight rather than lose it, so it should come as no surprise that there are products that can help achieve this.
In most cases, following a healthy diet that includes all the major food groups should suffice for those wanting to pack on a few pounds. However, sometimes, you need a leg up to achieve your target weight and may be confused about how you can go about it.
If you're running low on time or finding it difficult to put on weight with a diet and exercise regimen alone, you can start using supplements to help you get there.
These supplements are ideal for those who struggle with putting on weight for any number of reasons. Besides, it's often healthier to enlist the help of supplements rather than indulge in junk food—something people resort to when nothing else works.
However, since there are so many mass gainers on the market, we'll take you through the supplements currently available and review them to help you make the right choice.
Top 5 Best Mass Gainer Supplements to Buy in 2021:
1. Naked Nutrition (Naked Mass Protein): Most Natural Ingredients, Overall Best & Editor's Pick

2. Muscle Feast (Ultimate Weight Gainer): Best in Value

3. Muscle Feast (Whole Oat Powder): Best Vegan Supplement

4. Transparent Labs (Protein Series): Most Flavorful

5. Optimum Nutrition (Serious Mass): Most Affordable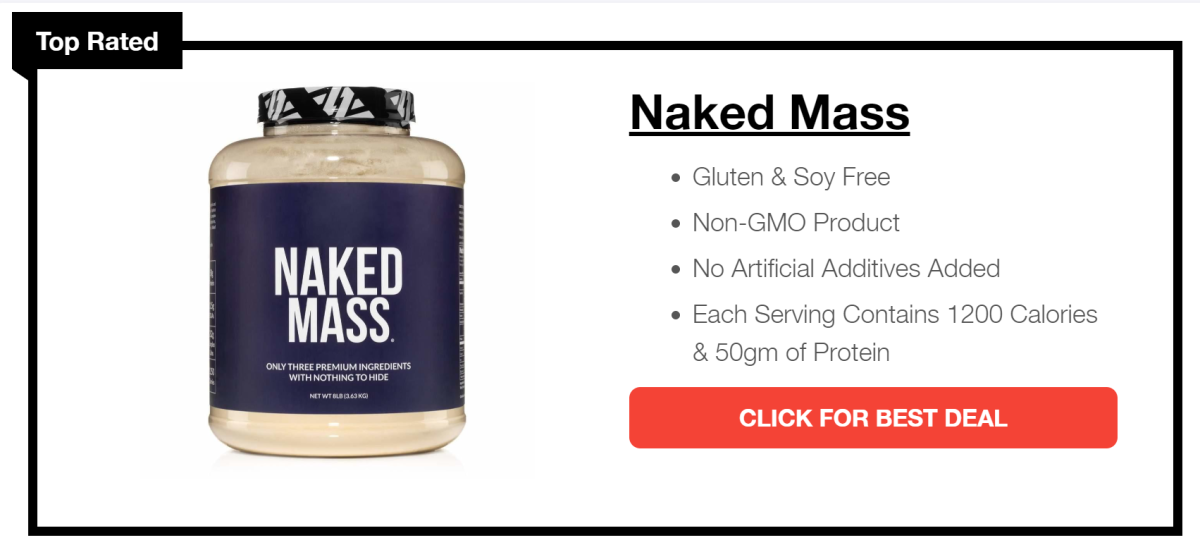 Brand Overview
This is easily one of the most popular and best weight gainer supplements available in the market today. You only need to take a quick look online to see the hundreds of positive reviews it has received to realize how effective most users find it to be. This supplement is ideal for both those who want to gain weight and those who want to focus on muscle building.
This mass gainer contains organic maltodextrin that may help fuel your workouts. How? It is a kind of complex carbohydrate that can help your body release energy and allow you to perform better at your exercise routine. This ingredient alone is effective enough to give you the boost you need to power through your workouts and daily activities.
The main reason maltodextrin is included in weight gainer supplements such as this one is that it improves the texture of this high-quality protein powder. Without it, your powder would not be as thick or as easy to digest. Besides, it also helps the other ingredients contained in the powder stay firmly together. The maltodextrin used in this formula is especially great because it is derived from tapioca rather than wheat.
Those brands that derive it from wheat drive away potential customers who are averse to consuming gluten. Moreover, too much gluten in a diet is not ideal for maintaining good health, which is why it is impressive that this product is completely gluten-free. Also, it is GMO-free and soy-free, which is good news for those who suffer from allergies or intolerances.
Another reason why this mass weight gainer protein is excellent is that it contains natural ingredients that have not been around pesticides at all. This helps ensure you do not consume anything that may cause harmful side effects or damage your health in the long run. It also promotes the following of a healthier and more organic lifestyle overall.
A common misconception most people have with protein supplements is that they can only be used by those who visit the gym regularly. Naked Nutrition is one of the few brands that actively seeks to disprove this by producing mass gainers, such as this one, that can be used by anyone looking to gain a few pounds or build muscle. It is also perfect for those who face difficulty maintaining their body weight and wish for an organic solution.
However, note here that this mass gainer supplement is far from ideal for those who are sensitive to dairy or lactose. Aside from this, there is no reason why you should not give this supplement a try. Its formula is so natural and free from adverse side effects that anyone can safely consume it. This is mainly because it does not contain any artificial additives, such as preservatives, that can damage your health when used regularly.
This formula relies on the strength of only three main ingredients — maltodextrin, casein, and protein. Other weight gain supplements often contain various ingredients, including synthetic additives, for color, flavor, and preservation. Also, it contains both carbohydrates and proteins that are designed to give you enough power to complete your workouts and tackle more intense exercise regimens than you could before.
Other mass gainers simply are not as effective as this one, as they often do not get the balance between carbs and proteins right to promote muscle growth. In addition, these inferior-quality weight gainers contain growth hormones, which should not ideally be consumed in this manner. However, Naked Mass does not contain any kind of growth hormones and relies only on the ingredients we mentioned above to support mass gaining.
Even the carbs used in this formula are natural, unlike the processed carbs you will find in most other mass-gaining supplements currently on the market. Another great feature of this protein powder is that you do not have to add it to water or protein shakes alone, as you could even add it to your meals and consume it in this manner. This makes it quite versatile and very easy to consume, even when you are on the go and cannot whip up a protein shake to fuel your workouts.
If you prefer drinking your whey protein concentrate powder, you can add about four scoops of it to a glass of milk. While the powder we have linked for you above is not flavored, this powder is available in a variety of flavors, including chocolate and vanilla. Therefore, it is easy to see why some users even consider this to be their favorite beverage rather than just a plain protein drink.
You can either consume it right before you go to sleep at night or have it during the day to boost your daily dose of calories. However, whatever you do, do not consume more than two servings of this protein powder a day, as recommended by the manufacturer. Also, if you do not think you expend enough energy throughout the day to merit two servings, go with one serving instead.
This powder contains 50 grams of protein and 1,250 calories per serving, which explains why it can help you increase your mass as soon as possible. In addition, the brand's official website offers flexible payment options, so you can either opt for a one-time purchase or get a subscription that will result in savings worth 5% of the retail price.
Pros
• Non-GMO, gluten-free, and soy-free
• Contains natural ingredients
• Can be mixed in food or drink
• No growth hormones
• Discounts offered with subscription
Cons
• Not suitable for those intolerant to dairy or lactose
⇒ Click Here to Visit the Official Website of Naked Nutrition for the Best Deals
Brand Overview
This weight gainer consists of a healthy mixture of natural ingredients to give you one of the best mass supplements for quick results. Like most high-quality mass-gain supplements, it contains maltodextrin, which may give you the daily boost you need to power through your workouts and daily activities. This ingredient takes its time to get digested, so you are sure to enjoy its benefits for several hours throughout the day.
Every serving of this powdered supplement contains an impressive 46 g of protein — ideal for those looking to build muscle. As for the calories and carbs it contains, it comes to 600 and 101 g, respectively, which is about right for a supplement of this caliber. The protein contained in the formula can be digested fairly quickly, but the casein takes a fair amount of time, just like maltodextrin does.
The processes used in manufacturing this protein supplement are more advanced than those used by most other brands in the industry. A cross micro method is used to keep the formula pure and unadulterated — a technique that lower quality brands have not been able to catch up to. Also, this brand is staunchly opposed to factory farming, and all of the ingredients used in it are sourced from organic farms.
Moreover, the brand's advanced and highly efficient filtration processes can get rid of lactose and other ingredients that might cause discomfort among users with regular usage. After all, a protein powder is consumed regularly, so it is impressive that this company emphasizes using ingredients that do not cause digestive issues for sensitive users.
The ingredients in this formula are also very rich in amino acids, which makes this mass gainer one of the healthiest supplements available for those looking to achieve their fitness target. Besides, it is a purely vegetarian formula and is certified to be gluten-free and Kosher. Furthermore, no synthetic additives were used to make this supplement, which makes it ideal for those looking to follow a healthier lifestyle.
Even the sweetener used in it is stevia rather than sugar. Those who have used this product regularly since it was first introduced claim they admire how convenient it is to use and how flavorful it is. Also, customers seem to be satisfied with how swiftly and easily they were able to gain weight without having to suffer from any negative side effects.
You can drink this protein powder with a glass of milk or add it to water. You will find the consistency and texture of it are quite pleasing and easy to digest with both water and milk, so you can easily mix it at your convenience. Within a few weeks of using this supplement and following a healthy diet, you are very likely to see promising results that will stay with you if you continue following it.
Since this powder is low in fats and sugar, you can be sure it will not have any long-term detrimental effects on your health, even when consumed regularly. You can either choose from the chocolate or vanilla flavors offered by the brand (both of which are equally tasty), or you can choose the unflavored option and add flavor to your glass of milk as you drink it.
Like the flavor options, you have more than one pricing option as well. You can either purchase one bottle of it and pay the full price, or you can opt for a subscription and receive a 5% discount on every purchase. However, the advantage of using a subscription is not limited to the discount alone. With a subscription, you could ensure you never miss a dose and have access to any special promotions or offers the brand may provide in the future.
One of the many reasons regular users of this supplement prefer it over various others is that it makes them feel full, which could be due to the unusually high protein content in the powder. Whatever the case, this is a great advantage, considering it could help keep users away from unhealthy junk food cravings while allowing them to put on some weight every day.
It may also give them the energy to complete their workouts and get back to dealing with their routine activities once they are done at the gym. Those who wish to improve their overall lifestyle with the help of supplements are pleased with the results they have achieved with this one. Even more, it is not as costly as some other, similar mass-gaining supplements in the market.
Those who use this supplement regularly will likely tell you it does not cause any bloating or similar issues that are generally associated with such supplements. But, of course, this applies to those who have not used such supplements before and are just beginning their weight gain journey.
Pros
• Vegetarian-friendly, gluten-free, and Kosher
• Natural ingredients
• Advanced manufacturing methods
• Multiple flavors available
• Discounts offered with subscriptions
• Makes users feel satiated
• Affordable compared to other brands
Cons
• Unflavored option is very bland
⇒ Click Here to Visit the Official Website of Muscle Feast for the Best Deals
Brand Overview
This is one of the most healthy mass gaining supplements out there, considering it consists of whole oat powder. The fact it is very reasonably priced contributes to its universal appeal and popularity among fitness experts and enthusiasts. It is specially designed for those who follow an active, busy lifestyle and want a viable solution to help them gain some weight without undergoing expensive treatments or procedures.
Muscle Feast has made this powder by grinding whole oats into a fine, very slightly grainy powder that can easily add the right kind of carbohydrates to your diet. The oats used in this supplement are obtained from local farmers that use only the best techniques. This supplement is so effective and popular because the quality of oats used in it is top-notch, and its taste is quite rich and fulfilling as well.
This powder is so effective and easy on the digestive system because it does not contain GMOs or artificial additives. This is ideal for those who are either allergic to such ingredients or face issues with their digestive system regularly and prefer more natural products.
Also, this supplement has a very low, almost negligible glycemic load, which makes it perfect for those facing troubles with their blood sugar levels. If you are afraid of having your blood sugar levels spike because of supplements, you can rely on this one not to pose an issue. In addition, the carbs contained in this Muscle Feast powder are digested by your body very slowly.
This allows you to experience the feeling of feeling full for longer, thereby making you less likely to entertain any unhealthy eating habits. It also sustains you through challenging physical exercises you may want to take on to help build your muscles. Unlike many other protein supplements available today, this one does not require a blender for you to make a protein shake out of it.
Instead, you can simply add a scoop of it to a drink of your choice and consume it wherever you are. This is what makes this powder the go-to choice for those following exceptionally busy lifestyles. Alternatively, you could even use this oat powder as a replacement for flour when you are baking.
This is not only a far healthier replacement to wheat flour, but it adds an extra dimension in terms of its flavor and texture as well. Additionally, it will help you meet your daily intake of calories without piling on any added sugars or other unhealthy ingredients in the process. However, be careful not to consume more than one scoop every day, because it may make you feel heavy and bloated if you have too much of it.
Not everyone enjoys the somewhat grainy texture of the drink they make with this supplement. If you enjoy oatmeal, though, you are sure to find the texture perfectly pleasant and ideal to consume at any time of day. In just a few weeks after you start using it regularly, you will likely notice you have put on some lean muscle.
In other words, you may take on a bulkier but more toned physical appearance. This is in contrast to the mass you gain from eating too many carbohydrates, which gives you more unwanted fat. On the other hand, this mass gaining solution makes you look heavier but healthier.
Moreover, those who are unable to find adequate energy every day to keep up with work, household chores, and an exercise regimen could do with the slow carb boost this powder provides. All of the ingredients used in it are quite fresh and will not affect your health no matter how regularly you consume it (except for the daily intake recommendation).
Since it is all about oats, it contains a good amount of fiber as well, which eases your digestive processes. This is unlike other protein powders that can sometimes interfere with your digestion with the lactose-heavy ingredients they contain.
Also, it does not have any flavor, such as the slight nutty or grainy taste that oats generally possess; therefore, you are free to add any flavoring to it you like.
Like other Muscle Feast products, this protein powder is available with two payment options — a one-time purchase price and a subscription. The subscription entails a 5% discount on the retail price and exclusive access to special offers, promotions, etc. Therefore, as you can see, there are various benefits of subscribing to Muscle Feast's mass gaining program other than the money you will save with each purchase.
Another reason why this brand is so popular is that it has excellent customer support services. So, if you are unhappy with the products you have received or if you have some queries related to the ingredients or usage of the product, you can share it with their customer support agents, who will provide a prompt and satisfying reply. You can fill in the online form on its official website and await a response, or they also take phone calls on weekdays.
Muscle Feast also offers you free shipping across the U.S. on all orders that are priced at $39.99 and above, which is an added advantage of purchasing from the brand.
Pros
• Contains no GMOs or artificial additives
• Has a low glycemic load — no added sugars
• Does not require a blender
• May help with energy levels due to the slow carb boost
• Contains fiber to help with digestion
• Excellent customer support services
Cons
• Has a grainy texture that some users do not prefer
⇒ Click Here to Visit the Official Website of Muscle Feast for the Best Deals
Brand Overview
This deliciously flavored protein powder is highly effective and completely safe for most users to gain weight and build muscle mass with. This powder is available in two flavors — Cookies n Cream and Sweet Vanilla. Both of these flavors are quite popular and make for delicious beverages.
This formula is pure, unadulterated, and works wonders for those who wish to put on weight without wanting to increase their intake of unhealthy foods. A mass gainer is a good source of protein, calories, and carbs — all of the nutrients you would require to gain a few pounds while staying healthy. The protein used in it is sourced from 100% grass-fed whey concentrate, which is ideal.
More often than not, brands in the dietary supplements industry rely on hormone or steroid-fed cows to derive their whey. Unfortunately, this can have harmful effects on those who consume it, which is why bigger brands are now opting for grass-fed whey only. Therefore, it is easy to see how it can boost one's overall health.
To use this protein powder, simply add two scoops of it to a glass of milk during the day and drink it. Alternatively, if you do not prefer drinking milk, you could consume it with plain water instead. However, since milk can give you an extra boost of calories and calcium, it is easy to see why it is the recommended beverage here. You can even use the creatine formula produced by the brand alongside this one for the best results.
Many people prefer preparing their protein drinks way ahead of time so they do not need to make them every day before or after a workout. You can do the same with this protein powder, and it will not lose its potency.
However, be careful not to prepare and store the drink more than one day in advance, or it might lose some potency and, therefore, would not be as effective. This is especially true if you do not store it correctly and do not drink it soon after preparing it. At the most, you can prepare and store it for two days, then consume it to retain its nutritional value.
Also, one of the best features of this mass gaining supplement is that you can somewhat use it as a viable meal replacement. This is mainly because it is made up of whole raw oats and contains a good amount of proteins. Also, it is rich in essential minerals and vitamins, so you could consider it to be a healthy alternative to a proper meal.
Even if you decide to use it as a meal replacement, ensure you do not eat it for more than one meal in a row. It may contain a good number of essential nutrients, but that does not mean you can use it to replace every meal. Following a healthy, balanced diet is one of the many prerequisites to weight gain.
Therefore, if you want to gain mass the right way, you could perhaps use it for more than a few meals a week, but not every day. Besides, you can only use it to replace only one meal, as it does not contain all of the required nutrients. So, as you can see, it is not a viable option to depend on if you do not want to cook up proper meals.
Another advantage of ordering from Transparent Labs is that this company has a very convenient shipping policy. You can place an order for the product you like on the brand's official website and wait to receive an order confirmation. You will receive the confirmation in your email, and you can then track your order accordingly, provided you have opted to receive tracking information.
The shipping fees, too, are quite reasonable, and you can check them after adding the products to your shopping cart. Standard shipping will have your order arriving within one week, and priority shipping takes two to three business days. You even have the option to receive it within one day if you opt for FedEx overnight delivery.
Those who have used this formula to put on weight have claimed it works fairly quickly without causing any of the side effects that are generally associated with such supplements. In addition, users who rely on this supplement to put on some muscle mass and tone their bodies have found impressive results with it.
However, note that the Cookies n Cream flavor is not gluten-free; therefore, this product would not be ideal for you if you follow a gluten-free lifestyle. Each serving of this mass gaining supplement contains 53 g of protein, 109 g of carbs, and 12 g of fat, and all of these nutrients are obtained from oats, sweet potatoes, and organic tapioca.
These sources are completely natural and organic, which means they may help enhance your overall health once you start consuming this supplement regularly. It also contains coconut milk powder and MCT, which are known to have enviable health benefits. In addition, it does not contain any artificial sweeteners.
Instead, it is sweetened using monk fruit and stevia — neither of which have any harmful effects on your overall health. Even the colors and flavors of this product are achieved using only natural ingredients, so those following a healthy diet do not need to compromise on it because of this protein powder.
Pros
• Multiple flavors offered
• 100% grass-fed whey concentrate used
• Can be prepared in advance
• Can be used as a meal replacement, in moderation
• Natural, organic ingredients
• No artificial sweeteners used
Cons
• Cookies n Cream flavor is not gluten-free
⇒ Click Here to Visit the Official Website of Transparent Labs for the Best Deals
Brand Overview
This weight gain supplement is one of the most affordable mass gainers currently available. With the help of this protein powder, you are sure to achieve your weight goals quickly, provided you complement this with a balanced diet and a reasonably active lifestyle.
Note that this powder contains no less than a whopping 1,250 calories per serving, which may limit your intake of other calorie-dense foods. In other words, to achieve your weight goals, make sure to have proper meals during the day, and do not couple this powder with unhealthy junk meals.
Each serving (which consists of two scoops) also contains 50 grams of protein. If you are looking to build muscle and not just put on weight, you would know this is about the right amount of protein you should expect from a good-quality supplement. Not only does this protein build up your muscles, but it also allows you to maintain your current muscle mass, regardless of whether you are lean or bulky.
The number of carbs contained in it per serving is ideal as well, which is around 254 g. So, if you are looking to gain a quick energy boost to fuel an intense workout, this should suffice. What we liked best about this protein powder — aside from its attractive pricing — is that it has excellent flavor options.
You can choose from Chocolate, Chocolate Peanut Butter, Strawberry, and Vanilla. Considering most other protein powders we have come across thus far are either devoid of flavor or do not have more than a couple of flavor options, we would say this offers this product a definitive advantage over its many competitors.
You can also choose from two size options — 6 lbs and 12 lbs — depending on your budget and how often you will be consuming the powder throughout the week. The benefit of opting for the larger size option is that it would allow your order to qualify for free shipping. However, if you are planning on using the supplement regularly for a while, it would make sense to opt for the 12 lb bottle and save some money.
Another way you can save a few dollars is if you sign up for Optimum Nutrition's newsletter, as this can entitle you to receive a flat 15% off on your first order placed on the brand's official website. In addition, the newsletter contains helpful information on the different products manufactured by the brand and highlights the main features of these. It also features additional information, such as general tips on nutrition and fitness.
Serious Mass is a good product not only because it contains the right amount of carbs, calories, and protein to facilitate healthy weight gain but also because it helps you stay in shape. Not all protein powders that claim to increase body mass can help you achieve a toned, muscular physical appearance like this one can. Moreover, the amount of protein in it can also facilitate muscle recovery, something that not a lot of similar products can boast of — at least not in this price range.
A very impressive feature of this supplement is that it has been enriched with no less than 25 essential vitamins and minerals. These nutrients help you meet your daily nutritional intake of vitamins and minerals while slowly increasing your body mass at the same time. We say this feature is impressive mainly because there are not many protein supplements that contain more than 10-12 essential nutrients in their formulas.
Moreover, it is fairly easy to use this product even if you have not used protein powders before. You simply add two scoops of the powder to 24 oz of water, and blend it with a blender. Using a blender is recommended, because it is quite difficult to get a smooth drink with this powder without it. However, if you would rather make a shake out of it using milk, you can add it instead of water. This may give you a smoother consistency and give your calorie intake a further boost as well.
If you want to make a healthy and filling breakfast shake out of it, you can even add peanut butter or the fresh fruits of your choice to it. This will also help you mix things up and prevent you from tiring of consuming it day after day. If you have been relying on protein powders for a while, you could start with two scoops of it per serving, and drink it whenever you like.
However, if you are a new user and would rather take it slow and see how your body reacts to the powder, you would be better off adding 1 or 1.5 scoops to your beverage and drinking it. Also, new users should drink it either after their workouts or in between meals, whenever they feel it will not interfere with their digestion.
Those who use this protein powder regularly claim it has helped them gain a good amount of weight in just four to five weeks. This is quick enough to be impressive but not quick enough to suggest any unhealthy weight gain patterns. More often than not, when powders make you gain weight very quickly, the results do not stick around, and you may end up experiencing some unwanted side effects.
However, you can rest assured this will not be the case with any Optimum Nutrition products, and this protein powder is no exception. A decided drawback of this shake is that it contains a little too much sweetener, which may be off-putting to those users who prefer a plain protein powder. Other than that, it seems to appeal to most people with its wide variety of flavors.
Pros
• Multiple flavors and size options offered
• Affordable
• Discounts available
• Contains 25 essential vitamins and minerals
• May help users gain mass in as little as four to five weeks
Cons
• Contains too much sweetener for some
• Requires a blender to achieve optimum consistency
⇒ Click Here to Visit the Official Website of Optimum Nutrition for the Best Deals
Concluding Thoughts: Which Mass Weight Gainer Supplement/Supplements Should You Buy?
Now that we have reviewed our top picks for mass gaining supplements, all that is left for you to do is to read through each review carefully and decide on which product you think will work best. Of course, your product choice would ideally depend on the number of nutrients contained in each powder, its price, flavors, and more. However, whatever your deciding factors may be, you can rest assured we have covered them above.
All of the protein powders we have reviewed above are from highly reputed brands that use only the kind of ingredients in their products that are safe for a wide variety of users. Therefore, you can rely on these brands to provide you with quality solutions to aid your fitness journey. However, our personal recommendation is to go for either Naked Nutrition's Naked Mass Protein Powder or Muscle Feast's Ultimate Weight Gainer. Also, the products we have reviewed above contain several natural, organic ingredients that may help you improve your overall health.
However, although these supplements are highly effective, you should not rely on them alone to help you gain mass, as you should also be following a healthy diet and exercise regimen to complement your goals. Remember, it is about gaining mass, not fat; so, ideally, your weight should increase in line with how much muscle you are building.
Moreover, do not resort to binging on junk foods and following a sedentary lifestyle in the hopes that it will help you put on weight. Instead, work out as you usually would and eat a balanced diet to gain weight healthily. With the aid of these mass gaining supplements, you could even maintain your current weight if that is what your fitness goals are.
For access to exclusive gear videos, celebrity interviews, and more, subscribe on YouTube!