This is sponsored content. Men's Journal is not endorsing the websites or products set forth below.
You're ready this time. You've already downloaded a calorie tracker and gotten your food scale out. You've acquired a recipe book, learned the magic of portion sizes, and hopefully have a bodybuilding workout regimen.
All you need are some mass gainer supplements to boost your calorie intake. And what better than using the best mass gainer on the market?
Before going ahead, we should mention that we totally get it. You've read the phrase "best mass gainers" at least a hundred and ten times. You've read it on websites that claim to know what they're talking about but have no in-gym experience. You've also read it on websites that aren't even trying to hide that they just want you to spend money through their links.
Yeah, scrap all of that. Why? Well, unlike all the other websites, we've taken our time to painstakingly research each of the products we'll be recommending to you here. Stay with us to learn more about how we confirmed the best mass gainers of 2022. 
Top 5 Picks For The Best Mass Gainer Protein:
#1. Naked Mass: Overall Best Mass Gainer On The Market, Editor's Choice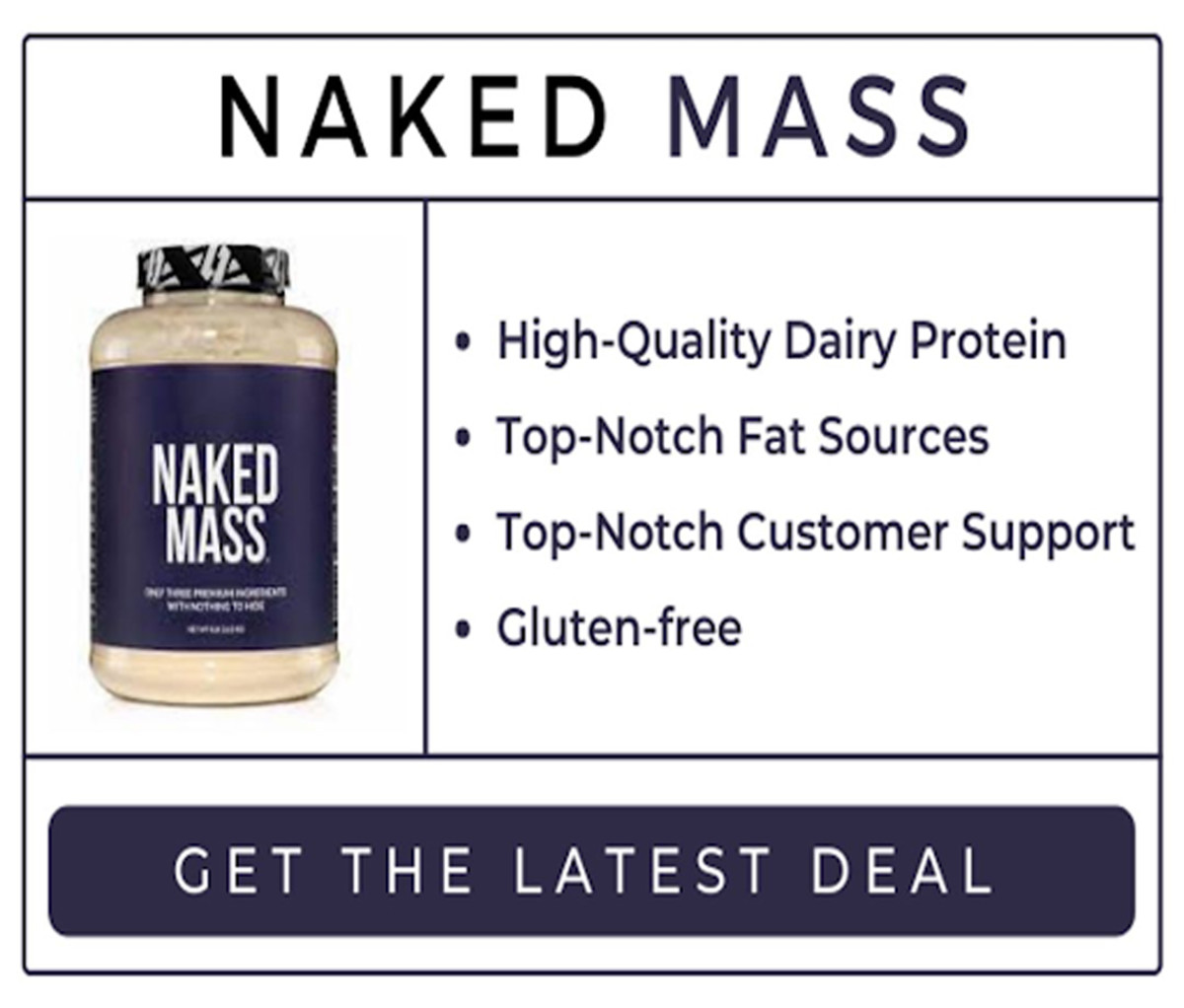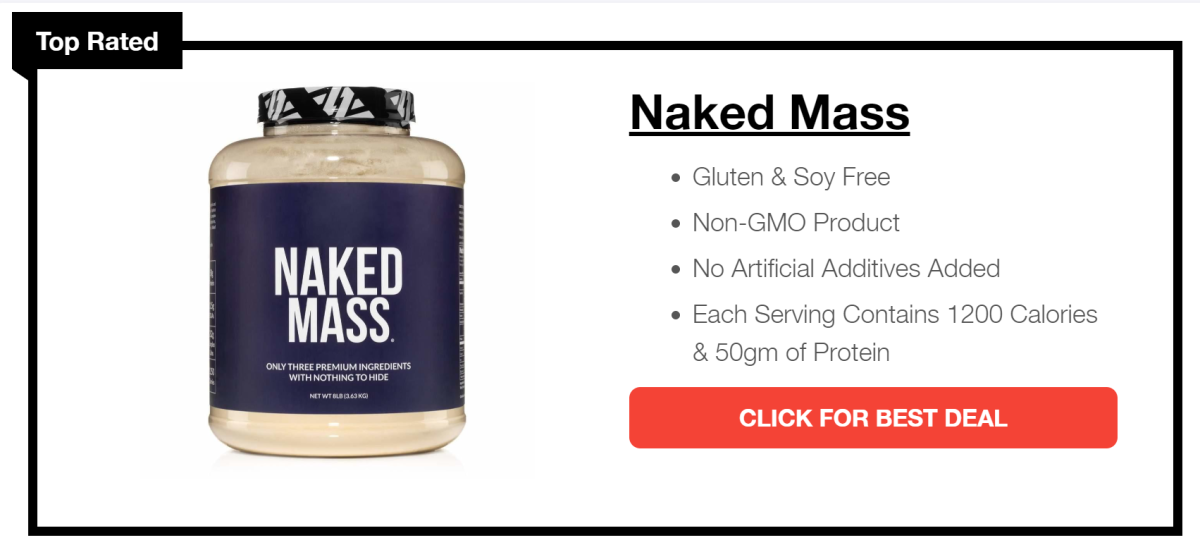 The core value of Naked Nutrition, the brand behind the Naked Mass Weight Gainer Protein Supplement, is staying naked. That is, staying transparent and open to probing. They're kind of saying, "Hey, we got nothing to hide!" 
What they do is put out quality weight gainer supplements using five ingredients or less. This cuts out all those long but useless ingredient names and leaves behind a formula with a few ingredients that work.
Naked Mass has only three premium ingredients. These are naked whey, naked casein, and organic maltodextrin. Naked Whey is a fast-absorbing protein. It is great for promoting muscle growth and aiding muscle recovery after a hard workout. Casein is also a protein, but your body absorbs it at a much slower rate. This way, it provides constant nourishment to your muscles for the whole day.
Organic maltodextrin might as well be the main ingredient as it's the primary source of carbohydrates in this supplement. Maltodextrin provides complex carbohydrates to boost your caloric intake and energy levels. This makes it a great pre-workout shake to give you that extra push during intense workouts. 
In total, a complete serving of Naked Mass adds 1250 calories to your diet. About 50 grams of that is protein, which is just about the recommended daily intake for the average person. But for somebody looking to gain some healthy weight and build muscle, that amount has to be supplemented with actual food. 
There are 252 grams of carbs in Naked Mass, which make up the rest of the calories. This is only around 15% shy of the recommended daily intake of the average person. 
This isn't a downside. Most meals are already big on carbs. If your mass gainer contained any more sugar, you might end up eating more carbs than you burn and putting on fat instead of muscle. 
Naked Mass also provides a wealth of micronutrients. They're enough to supplement you with vitamins and minerals that you didn't even know you needed. 
Some people describe Naked Mass's unflavored nature as a little off-putting, so the brand has put out several options. There are chocolate and vanilla versions with even higher calorie counts than the unflavored ones. 
There are also three vegan options. There's an unflavored one with 1230 calories and vanilla and vegan chocolate versions that only have slight variations in calorie counts. Manufacturers make each flavor with five ingredients or less. Additionally, each flavor is gluten-free, soy-free, and GMO-free.
Naked Mass has also been certified by Informed-Choice, Trusted by Sport. This is a monitoring program that tests gainer supplements monthly for banned substances. That is, with this certification, you can be sure that Naked Mass is legit. 
Highlights
Great Ingredient Choices: Naked Mass only had three ingredients. This means that only the ingredients that are actually useful to you are in the product.
Variety: You get three regular flavors and three vegan options. We love inclusivity.
Large Caloric Intake: Each serving of Naked Mass adds over a thousand calories. While there are many mass gainers, there aren't many that add so many calories at once.
Easy to Personalize – All you need to do is add a serving of Naked Mass to your favorite beverage to really make the protein shake yours. The best part is that there's almost no limit to the type of beverage you can combine Naked Mass with.
Contains Two Types of Protein – This product might help you boost muscle growth by having both fast-absorbing and slow-absorbing protein.
Pros
Only three ingredients
No additives
Vegan options are available
Huge calorie addition with every serving.
Provides essential amino acids, BCAAs, and other micronutrients
Supplements protein needs
Free shipping on orders over $49
Ideal for bodybuilding
Value for money
Cons
Only ship select products to the US and Canada.

Shipping can be expensive

One jar contains only 11 servings
=> Click here to visit the official website of Naked Mass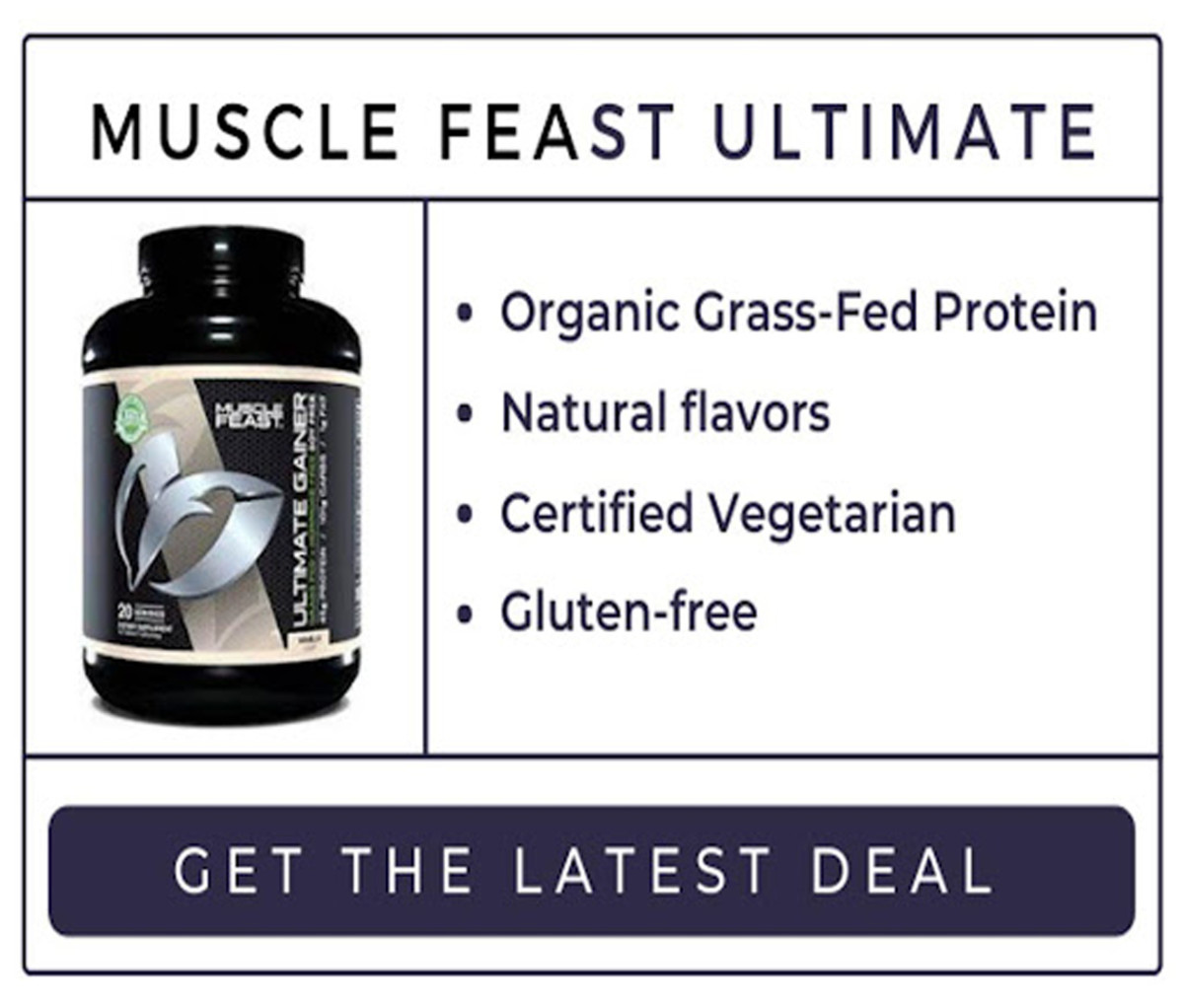 Here's a brand that's upfront about its product quality. The web page for Muscle Feast's Ultimate Weight Gainer immediately tells you that its ingredients are from pasture-raised cows who have never consumed any artificial hormones.
And that's not the end of it. They don't have the three ingredients or less policy that Naked Nutrition mass weight gainer has going on. But, Muscle Feast is also very light on ingredients, with only four elements making up their mass gainer. 
The first ingredient is waxy maize which is an excellent source of complex carbs. It also digests pretty slowly, so it'll keep your system active for longer and replenish the burned-off glucose as it continues to digest. This makes it a good way to promote exercise recovery and give you that extra energy for one more set. 
The next ingredient is maltodextrin, but we've already discussed this one. So, we'll move on to whey protein isolate. It's a protein that's been processed to remove the extras and isn't as easily digested. Micellar Casein is also a protein but one that is processed slowly. 
Micellar casein has a different filtration process than caseinate. This process leaves many biologically active compounds that offer many benefits as compared to caseinate. 
All of these ingredients add up to 600 calories per serving. One serving is five-level scoops of this mass gainer into water, milk, or any beverage of your choice. In addition to the unflavored version, the chocolate and vanilla flavors have received high praise from many reviewers.
There are 101 grams of carbohydrates, 46 grams of protein, and lots of essential amino acids and amino acids to ensure that you don't sweat out all your electrolytes in each shake. 
Don't get us wrong. This product might not work if you're lifting heavy constantly or burning thousands of calories per day. However, if your goal is to supply your body with enough carbohydrates and protein to gain some lean muscle mass, this might be the best mass gainer for you.
The seven-pound bottle contains enough content for 20 servings. That's enough to last you at least 20 days if you're taking a serving a day and ten days if you're adding up to two servings.
Shipping on orders over $40 is free within the USA. There's a map that shows you how long it'll take for your product to arrive if you live in the US. 
But if you aren't satisfied with it, Muscle Feast also provides the option of returning the product with your complaint within 30 days of receipt. However, the product must be unopened and undamaged to get your money back. 
But, because this product has been certified OU-D Kosher and has received hundreds of great reviews, we don't think you'll need to worry about that. 
Highlights
Fresh, Natural Ingredients: Muscle Feast really took their time taking care of their ingredients. There are no artificial fillers, sugar, artificial sweeteners, or factory-farmed ingredients.
Great Taste: Most unflavored mass gainers taste awful. But not this one. The flavor of the unsweetened version was very mild but not sour. And the flavored ones were even better.
Vegetarian-Ready: Muscle Feast's Ultimate Weight Gainer is certified to be vegetarian-friendly by the American Vegetarian Association.
Option for returns available. This is possible with the brand's 30-day money-back guarantee
Pros
Natural ingredients

Great for gaining lean muscle mass

Free shipping over $40

Great customer service

30-day refund policy

A good taste

Good reviews across different retailing sites.
Cons
Stringent returning conditions 

Some customers complained that the product was too expensive.
=> Click here to visit the official website of Muscle Feast ultimate Weight gainer
#3. Muscle Feast Whole Oat Powder: Best Mass Gainer Protein For Athletes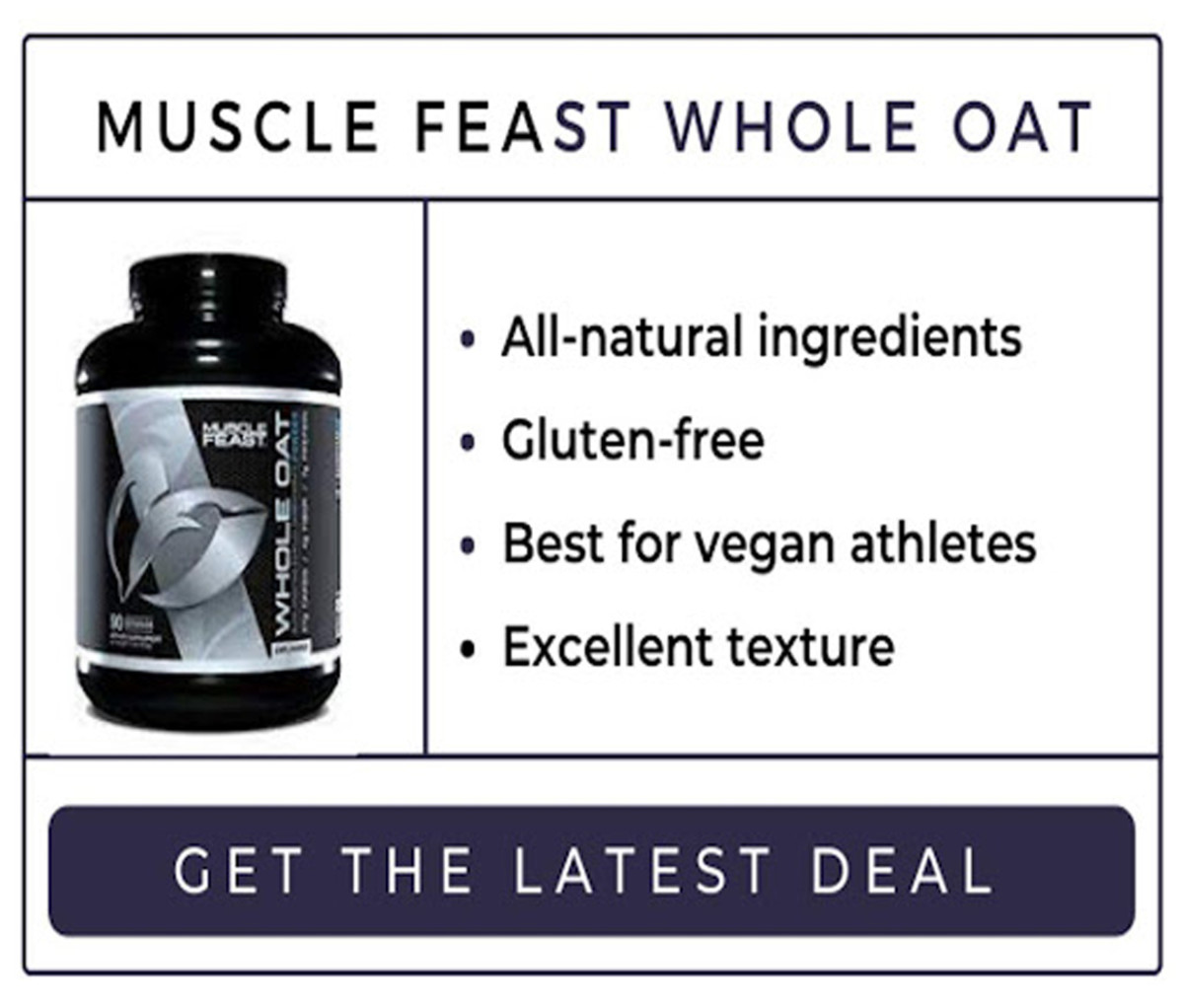 Now, we completely understand that many people need an extra source of calories that isn't so… "gainy." These include people who want the advantage of a mass gainer but cannot handle consuming large amounts of carbs. If this describes you, then Muscle Feast's Whole Oat Powder might just be the best mass gainer for you.
As the name says, this product comprises whole oats that were ground into a fine powder to become your supplement. This product is also one of Muscle Feast's most clear-cut when it comes to ingredients, seeing as there's only one – oats. 
And since there's only one, they went for it with their transparency, detailing the entire process of making Whole Oats Powder right there on the product page. But with excellent raw materials sourced from Vittera, a leading North American grain handler, the process isn't all that long. 
They also do not add any artificial sweeteners or additives to this product. All you get is natural, soy-free, whole grain oats. If you want to liven it up with some extras, you can do that with your mix. The product is unflavored to allow for better mixing, so don't be afraid to add some crazy combos. 
A serving of Whole Oats Powder is one even scoop in 6 to 10 ounces of water or your preferred beverage. Each serving contains 27 grams of carbs and 7 grams of protein. It also includes a lot of micronutrients, which is a bonus. Its manufacturers didn't quite leave a specific number of servings for the product. So, you can take it several times a day. Many customers who reviewed this product said that they took it twice a day.
Muscle Feast's Whole Oat Powder is an excellent alternative for diabetics or pre-diabetics who aren't overweight. This formula only contains oats that offer complex carbs, which help with insulin resistance. Plus, the oats' processing leaves them with a low glycemic index, which is the best method of determining whether to eat a food or not.
In addition, Whole Oat Powder is certified gluten-free by the Gluten-Free Organization. So, there really isn't anything that would make your stomach go off. 
But if you have a question about this product, Muscle Feast's customer service lines are open Monday to Friday. They're manned by people who know exactly what they're doing and understand the struggles of putting on healthy weight. 
They'll help if you have any requests or need some information. They're also there in the unlikely chance that you want to cash in on Muscle Feast's 30-day return policy. 
Highlights
Origins: Oats are sourced from American grain handlers. 
Transparency: Everything from their suppliers to their processing is laid bare for you to see.
Great for Diabetics: Whole Oat Powder is the best option for people with diabetes who want to put on some lean muscle without consuming too many carbs. 
Value for Money: If you do the math, this product probably has the most value, costing only a few cents per calorie.
Pros
Transparent handling

Reliable ingredient source

The product has many applications; you can use it as a shake, beverage, or even in your baking.

Certified gluten-free by the Gluten-Free Organization

The low glycemic index makes it excellent for people living with diabetes

Vegan-friendly
Cons
Calories are low

The return policy has stringent conditions
=> Click here to visit the official website of Muscle Feast Whole Oat Powder
#4. Transparent Labs Mass Gainer: Popular Weight Gainer & Protein Powder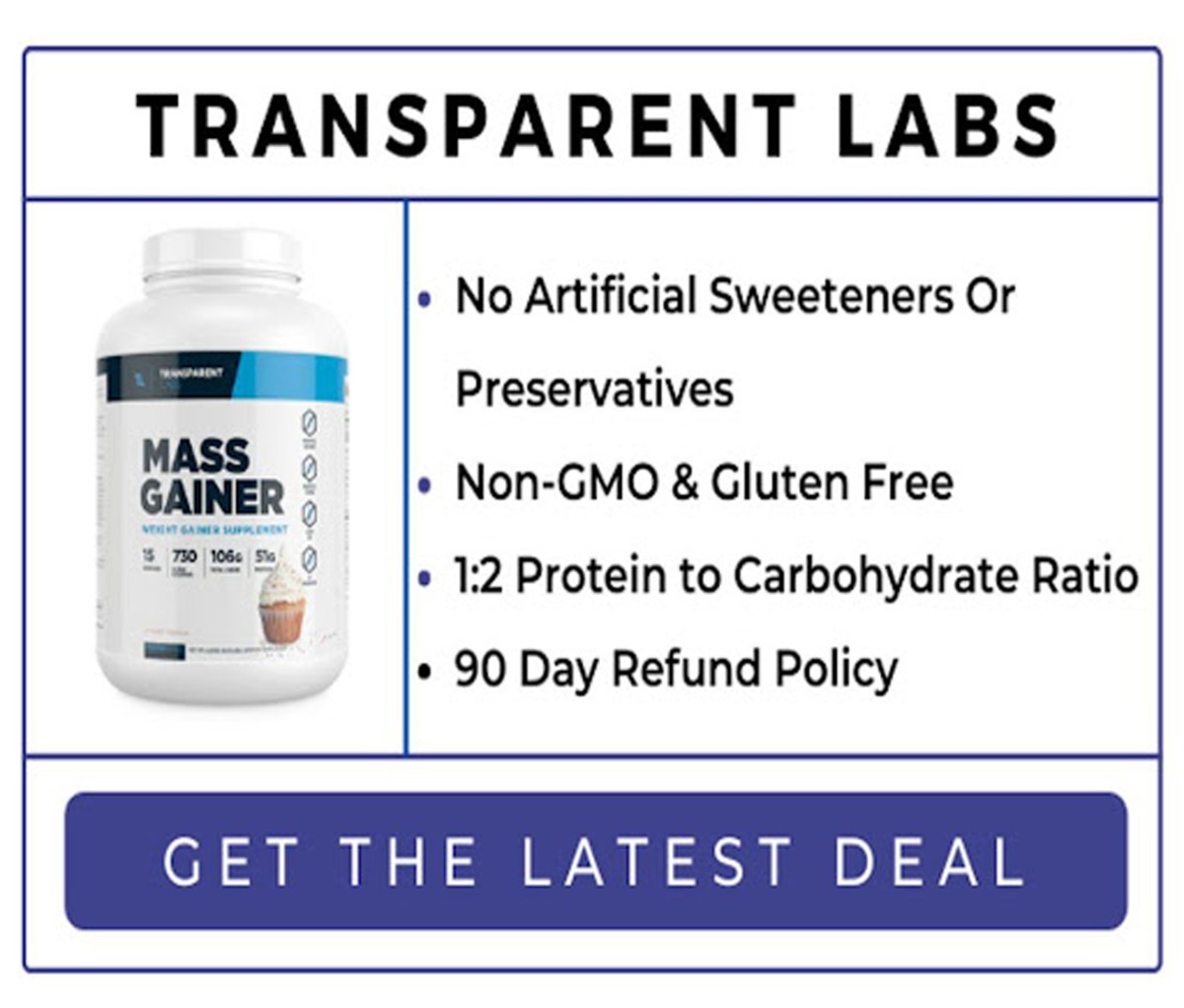 We love our carbs and proteins. Unfortunately, many companies tend to forget about fat and fiber, which are also crucial for sustainable weight gain. Thankfully, we have Transparent Labs' Mass Gainer to make up for this gap. 
The product comprises grass-fed whey protein concentrate, organic tapioca, oats, sweet potato, coconut milk powder, medium-chain triglycerides (MCT), creatine monohydrate, and stevia monk fruit added for some extra sweetness. 
While this gainer has more ingredients than any other on our list, it is also the most suited to the average consumer. There are natural carb sources, a great source of protein, and some fatty ingredients thrown in to make this mass gainer an all-rounder.
Because they don't steer away from sugar, Transparent Labs' Mass Gainer is already sweet without artificial sweeteners or coloring. It's also non-GMO, and there are no artificial preservatives added. All you get is fresh, sweet gains.
The combined power of these ingredients gives you 790 calories per serving. Each serving contains 109 grams of carbs, 53 grams of protein, 15 grams of sugar, and 12 grams of fat. 
Because it contains all the macronutrients, this mass gainer can also serve as a meal replacement. However, it should be accompanied by real food as it doesn't have enough nutrients to cover a full day's worth of meals.
Each tub contains 15 servings, which is pretty standard. And, if you want some extra sweetness, you can get the Cookies and Cream flavor instead of the unflavored one. Please remember that that version isn't gluten-free. But, for what it's worth, it tastes great and is one of the few gainers you can afford to mix with water. 
Plus, Transparent Labs is confident in its products. So much so that they're willing to give you a refund if you're within 90 days of purchase. And, for a dietary supplement like their Mass Gainer, refunds can still be processed if you haven't tampered with the original packaging or used the product.
These, plus free shipping on orders over $150 and their great customer service, really make this product stand out.
Highlights
All The Macros: Transparent Labs' Mass Gainer includes carbs and proteins, and fat, which isn't commonly seen.
Great Taste: The naturally sourced ingredients make the protein powder sweeter, which makes it easier to swallow.
Return Policy: A longer and more relaxed return policy makes getting a refund easier if necessary.
Excellent Customer Service: Lovely customer service agents who do their best to help resolve any issues you might have with the product.
Pros
Ships worldwide

It can be used as a meal replacement

Naturally sweet

No artificial sweeteners or preservatives

Non-GMO and gluten-free

1:2 protein to carbohydrate ratio

Great customer service

90-day return policy

It contains more protein than most mass gainers
Cons
No essential amino acids or BCAAs

Cookies and Cream flavor is not gluten-free

Shipping can take a while
=> Click here to visit the official website of Transparent Labs Mass Gainer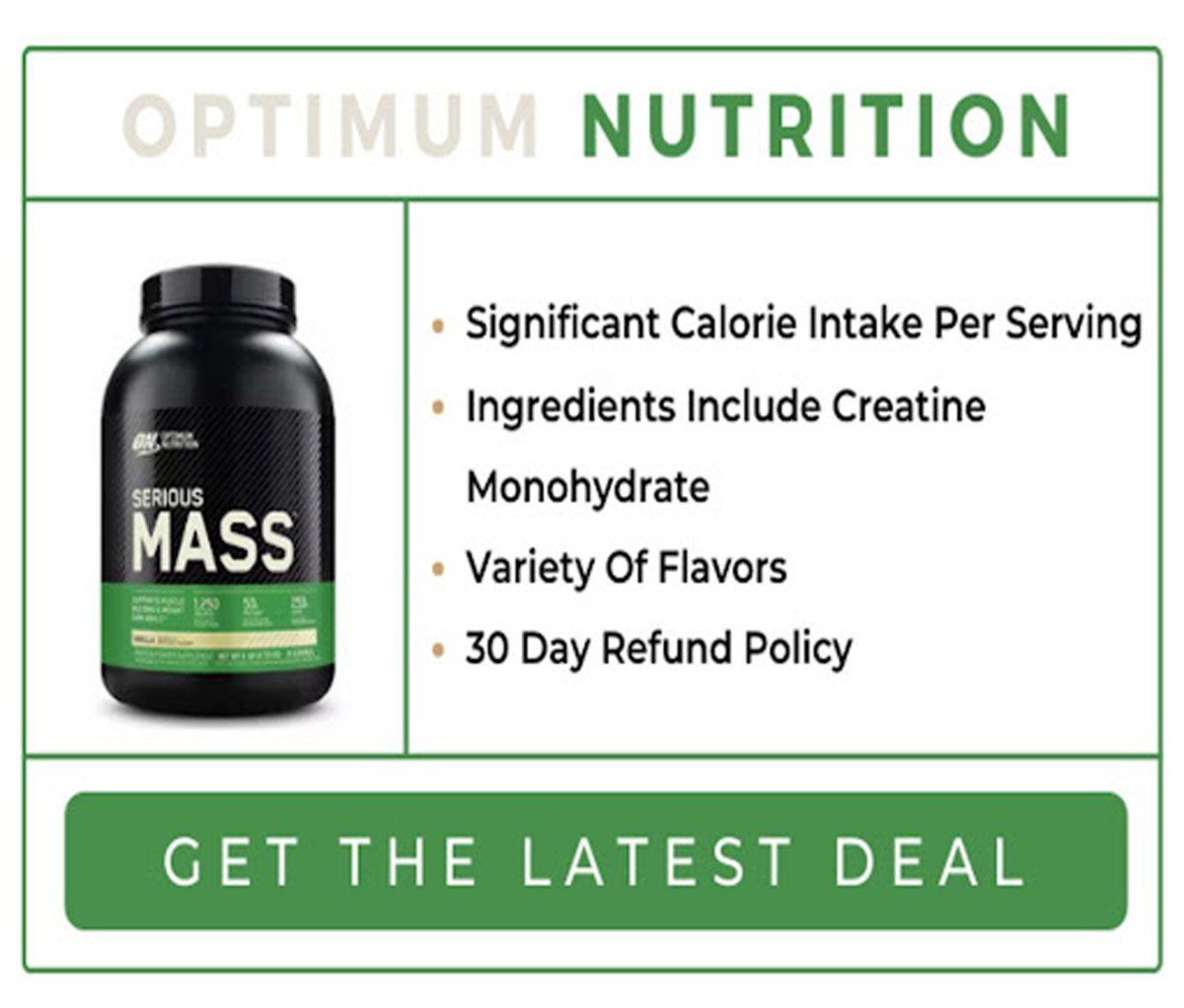 If you're thinking about buying a mass gainer, you must already have some idea of your dream body. Do you want to add some more lean muscle or want a fit bodybuilder-like body? If you're leaning towards the latter, then Optimum Nutrition's Serious Mass Gainer might just be the best mass gainer for you. 
Serious Mass contains many ingredients, including maltodextrin, whey protein concentrate, calcium caseinate, egg whites, sweet whey, medium-chain triglycerides (MCTs), potassium, and sucralose, give or give or take a few. The others that are left out are ingredients that are added based on flavor. 
Each serving of Serious Mass contains 1250 calories, 252-253 grams of carbs, and 50 grams of protein. There are also several micronutrients like iron, potassium, and others. Essential amino acids and BCAAs also make an appearance here, albeit in small quantities. However, there are at least 25 of these additional nutrients to give your body an extra boost.
Every serving also contains three grams of creatine monohydrate. People have come to associate this compound with quicker muscle recovery after exercise, increased strength, and lean muscle growth.
Generally, the ingredients in this Serious Mass Gainer combine to give you more energy and increase your muscle mass. They equally help improve your strength and give you enough calories to stay ahead of your metabolism. 
It also comes in four tasty flavors: chocolate, chocolate peanut butter, strawberry, and vanilla. There's no unflavored version which could be a downer for people that want a clean slate to make their own flavor. 
Optimum Nutrition's numerous coupon codes and discounts available when you buy from their website is a fantastic feature. Plus, they provide free delivery on orders higher than $40.
You can also return your product within 30 days of receipt. Just remember that the product should still be at least three-quarters full to get your refund. But we doubt that you'll ever need to go about this process considering that this particular product offers you both quality and quantity for less money.
Highlights
Many Nutrients: Each serving contains a combo of creatine monohydrate and 25 other vitamins and amino acids, including macronutrients and sodium.
Great for Bodybuilding: Large calorie intake in this product helps build lean muscle. It equally aids strength and stamina improvement. 
Great Taste: Come on, you can't have a flavor called chocolate peanut butter and not expect great things, can you?
Value for Money: Serious Mass provides a lot of value, charging around 20 cents per calorie for the 12lb pack.
Pros
Significant calorie intake per serving

optimum nutrition Tastes great

It contains 25 vitamins and amino acids

Many coupon codes and discounts

30-day refund policy

Variety of flavors

Ingredients include creatine monohydrate
Cons
No unflavored option

It contains eggs, soy, and milk

Contains artificial sweeteners
=> Click here to visit the official website of Optimum Nutrition Serious Mass
And now for additional words from our sponsor.
How We Made This List For The Best Mass Gainer
While the supplement market isn't as hopelessly convoluted as some industries, you could say that it's also problematic in its own way. Mass gainers are meant to boost your calorie, carb, and protein count. But, the wrong set of ingredients could cause long-term issues. 
So, we took a close look at some of the most popular mass gainers available today. Since bodybuilding is on the rise, we had an extremely long list – the kind that would give a random person a headache just looking at it. But, not our team, because we came prepared. 
Next, we delved deeper into each brand. What are their ingredients? From where do the manufacturers source them? What other supplements have been added? What are their customer reviews? Alongside other criteria, we asked these critical questions before proceeding.
If a product did not meet these standards, it was out of the race. By doing this, we shaved down the numbers until we were left with eight products that made the cut. But we still needed to cut that down to the top five.
This was when we moved on to the real tests. We got the opinions of experts in the industry on these products. Doing this allowed us to make the final necessary trim. But, just in case you're still itching to know our criteria for choosing our five best mass gainers:
What We Looked For While Enlisting these Weight Gainers
What Ingredients They Used – You could also refer to this as the formula. We found that the fewer the ingredients, most of the time, the better the gainer. Most mass gainers use the same kinds of ingredients. This is because these ingredients all have the same effect – to increase your caloric intake. The only difference is that some use low-quality, cheap replacements. They obviously didn't make it since the quality of the ingredients decides the taste and efficacy of the product.
The Ratio Of Carbs To Protein – Most products have a lot of calories from carbs. However, we wanted products with several tens of grams of protein. After all, you need a good dose of it after a workout to help you make those gains.
What Micronutrients They Provide – Granted, you probably just want the best mass gainer to provide extra calories. But, what's inside those calories is still pretty significant. So, we picked gainers with vitamins, minerals, BCAAs, and fiber over others advertised with awesome ingredients but contained lots of empty calories.
Taste – We considered the taste of all of our recommendations because we cannot offer you a product that tastes horrible. Although you can sweeten your shake after you make it, a sweeter pick will make drinking it a less terrifying prospect. This means that you'll be a little less likely to give up on your weight-gain journey.
Customer Reviews – The most significant factor we considered, next to ingredients and macronutrient ratio, is what the customers are saying. Most people won't shy away from complaining about a product they didn't like to the company or on social media. This is especially true if it's a weight-related supplement. While there will be individual differences, it's usually true if there's a particular point of dissatisfaction stated by many people on several platforms. 
Value for Money – Do the gains match the asking price? The most expensive gainer might not be the best one for your needs, and cheaper ones present a risk of low-quality ingredients. We carefully compared the ingredients and the cost per serving to determine the mass gainers with the best value relative to price. 
Buying Guide: What You Should Remember When Shopping For the Best Mass Gainer?
Figure Out Your Goal First
Just like other categories have subcategories, mass gainers also have different goals that they're best at. 
Some mass gainers work great for bodybuilders. They provide enough calories to meet the energy needs of their workout while still having more to boost recovery and build muscle all in one serving. 
Other gainers have a more modest calorie count and are best used by people who don't necessarily want to pack on the muscle. They might just want to add a little extra healthy weight and lean muscle, and all those excess calories will just cause them to pack on pounds of unnecessary fat.
This is the reason why you should have a clear goal in mind before buying any mass gainer. For example, do you want to put on a healthy weight and get some lean muscle? Or do you want to bulk up a lot, maybe to be a professional bodybuilder?
The answer to these inquiries will give you an idea of what exactly you want in your best mass gainer. 
While it's great that you want to improve your strength, enhance your looks, and achieve your body goals, you have to keep your health in mind.
If you have any preexisting medical conditions or any allergies, you need to see your doctor before buying any mass gainers. While our five best mass gainers are made with premium products, you may have to tell your doctor the product you want to order. Some doctors might even ask you to hand over the ingredient list to check it for any possible triggers. 
And if you're allergic to anything, please check the ingredients carefully. For example, milk is a widespread ingredient in mass gainers. As such, if you're lactose intolerant, you'll need to look for a gainer that is lactose-free. Vegan gainers are your best bet because these options are usually made of solely plant-based materials.
Please remember that mass gainers are also supplements. If you're taking any other supplements, you'll need to cross-check the micronutrients provided in your mass gainer. This way, you'll avoid overloading your body with excess micronutrients. 
This also depends on the individual. Some people prefer more protein, and some think they don't need a lot as long as it's there. Others don't really care about the ratios as long as the calorie count per serving is high. 
Mass gainers usually set macros at a ratio of 1:2, 1:4, 1:5. Only you can determine how many carbs and proteins are based on your current BMI, eating habits, and exercise plan. 
Tips to Maximize Gains Using a Mass Gainer
Getting a mass gainer could be the end of your weight-gain struggles. But if you don't use it right, it'll become just another thing you tried on your way to your dream body. Now that we've shared how to get your best mass gainer, here are some tips to show you how to use it. 
Don't Underestimate Your Calories.
A lot of people's strategy for gaining weight is simply consuming more calories than you burn. Unfortunately, it's more complicated than that. 
Ideally, you should be taking in more calories than you burn to gain weight. But if you overdo it, you probably won't achieve those sexy, healthy muscles you want. You might get some more belly fat, though.
When counting your calories, you need to carefully calculate how many calories you're getting from regular food, drinks, and snacks and how many you're getting from your mass gainer. Underestimating your calorie intake might lead to you working out less than you should and having excess calories just sitting around.
Ideally, gaining healthy weight should set you at a quarter to a half percent of your body's mass. This guideline only works if you want to gain muscle, and to do it, you'll need around 200 extra calories apart from the one you expend daily. That's the secret formula so count your calories. 
It's not enough to count your calories. You have to plan them, too. 
To make doing this more manageable, you could work out a loose schedule of sorts. Give yourself an approximate time to drink your shake, workout, eat breakfast, lunch, and dinner. Planning out your meals makes you feel like you have something to look forward to and might reduce your urges to eat less healthy food.
On any sort of fitness journey, you'll have to mind what you eat. One mistake many people make in gaining weight is thinking they can eat anything. We're here to tell you that you might gain weight following that strategy, but you might not like how weight is distributed. 
So, you'll need to ingest a lot of whole foods, preferably ones with single ingredients. Think sweet potatoes, steak, and the like. These foods are energy-dense and contain lots of calories for their size. However, they might be a bit too filling, so use your condiments and mass gainer to make up the difference. 
You also need to eat real food – at least three times a day. Plan your food to supplement the nutrients your gainer doesn't offer. That way, your body gets all the nutrients it needs to grow your muscles and keep you moving.
Here's a trick if you're struggling to eat those huge helpings. Eat the high-carb and high-protein food first before reaching for the vegetables. Vegetables typically don't have many calories and can be stuffed in much easier on a full stomach than other calorie-dense foods.
Sleeping properly is vital for muscle growth. Your body needs to rest to repair those muscles you've overloaded and make them stronger. You also need to rest to keep your metabolism going strong. At least seven hours of sleep is an absolute must if you want to see results. No mass gainer will help you if you aren't getting the rest your body needs. 
Frequently Asked Questions On Mass Gainer & Weight Gainers 
Q. Can mass gainers make you fat? 
Mass gainers provide extra calories in powdered form so that you can exceed your daily calorie burn and gain weight. But weight loss or weight gain is governed by the simple principle of calories in vs. calories out. 
Therefore, if you stopped burning as many calories as before, you will gain weight as taking the mass gainer will put you in a caloric surplus. If you're not harnessing all that excess energy, then yes, you will get fat. 
Q. How many scoops should I take a day?
You should take as much as is recommended by the manufacturer. It is advisable to take fewer scoops in some cases, especially if you've never used a mass gainer before. However, you shouldn't recklessly increase the dose. Each scoop is packed with calories, and you might be consuming way more than you can burn.
A manufacturer might recommend between one to four scoops with every shake. Based on that, you can calculate how many calories each scoop contains and make your shake according to your needs. 
Q. When should I drink my mass gainer?
Most mass weight gainers have ingredients that boost energy and improve stamina, so they're great as a pre-workout shake. On the other hand, they also have protein to help repair muscles and speed up recovery, so they do well as post-workout drinks. 
If you believe you could use that extra boost before your workout or need a cool-down drink after a major sweat fest, a mass gainer shake works either way. It all depends on you. 
Q. Do mass gainers have side effects? 
The most common side effect of any mass gainer is stomach issues. Consuming many calories simultaneously can be hard work for the digestive system, especially in the beginning. You can tame these troubles by supplementing with probiotics and digestive enzymes.
Other than that, another commonly seen "side effect" is allergic reactions. Some people find out that they're allergic to certain ingredients by taking a mass gainer that triggers a reaction. Once again, please check the ingredients carefully before buying any gainer.
Q. What is the best mass gainer?
The best mass gainer is Naked Mass from Naked Nutrition. It's got only three ingredients, is transparent with the process, and packs a whopping 1250 calories with each serving, plus essential amino acids and BCAAs. 
There are also various flavors and options for vegans with more taste and excellent customer service that's always ready to meet your needs. What more could you possibly want?
Final Thoughts On Choosing The Best Weight Gainer
As a product that will be instrumental in your weight-gain journey, you need to have the best mass gainer available. We've held up our top five products to exacting standards, and they've passed every check. If you're going to use a dietary supplement, choose one that meets your needs and has gained the approval of experts.
For access to exclusive gear videos, celebrity interviews, and more, subscribe on YouTube!