Entertainment
Aaron Paul Is Finally Breaking Big
Dec 19, 2019
ABOUT TWO YEARS AGO, AARON PAUL was flying back from Italy when the stranger sitting next to him in business class started to talk his ear off. It was clear the man had no idea he was sitting next to an actor—let alone a three-time Emmy award winner—and Paul found him so fascinating, he confided that his wife was pregnant with their first child. "I'd just found out myself, and he was the first person I told," says Paul. That led to a deep dive into the life of this stranger, who, it turned out, had gone from living in his car to making hundreds of millions as an architect. He'd manifested his desires, he said, by writing them down and focusing on them.
Paul, 40, knows he risks sounding like an insane person sharing this, but the stranger on the plane, he says, "sort of changed my life. It just kind of reminded me that things don't just happen, you have to make it happen." And Paul—not one to dismiss a coincidence or a sign—has been making things happen ever since. It's been almost three months since the Breaking Bad follow-up feature, El Camino, wrapped up the tale of Jesse Pinkman, his iconic meth-dealing character from the groundbreaking AMC series. Last July, he launched the mezcal brand Dos Hombres with his co-star and friend Bryan Cranston, and he continues to pitch shows with his production company, Lucid Road. Soon he'll co-star in the Apple TV+ drama Truth Be Told and the third season of HBO's Westworld. And the baby he told that stranger about on a plane? She's now 2, named Story, and the other love of his life, along with his 33-year-old wife, Lauren. "I'm at a really great spot," says Paul. "I'm madly in love, I have a perfect little baby girl…hopefully more on the way." This is where the heart of Paul seems to live: Zen with a kick.
Paul is showing me around his nearly 100-year-old home in Los Angeles' Los Feliz neighborhood. Leading me from the living room into the terraced backyard, he gestures at the waterfall running down the hill into a koi pond. "Honestly, I just love peaceful serenity," he says, "as much as I can get." I ask if that explains his slightly, well, cult-leader choice of an outfit: olive green linen shirt, baggy pants, and black slippers. "Nah," he says, "it was either this or sweats, and I didn't wanna answer the door in sweats."
As we head back into the living room—fireplace lit, candle burning—he explains that his wife's been out of town, so he has the place to himself and extra daddy-daughter time. We settle onto the couch, the kind that sinks halfway to the floor when you sit down on it, and as he speaks, he alternates between shifting forward when he's excited, and leaning back to listen. Right now he's in close: "I would choose the hardest night, the sleepless nights, the vomit all over the bed… I would choose that over anything in the world, you know? It's very hard and exhausting, but it really is true: My life began when my daughter was born."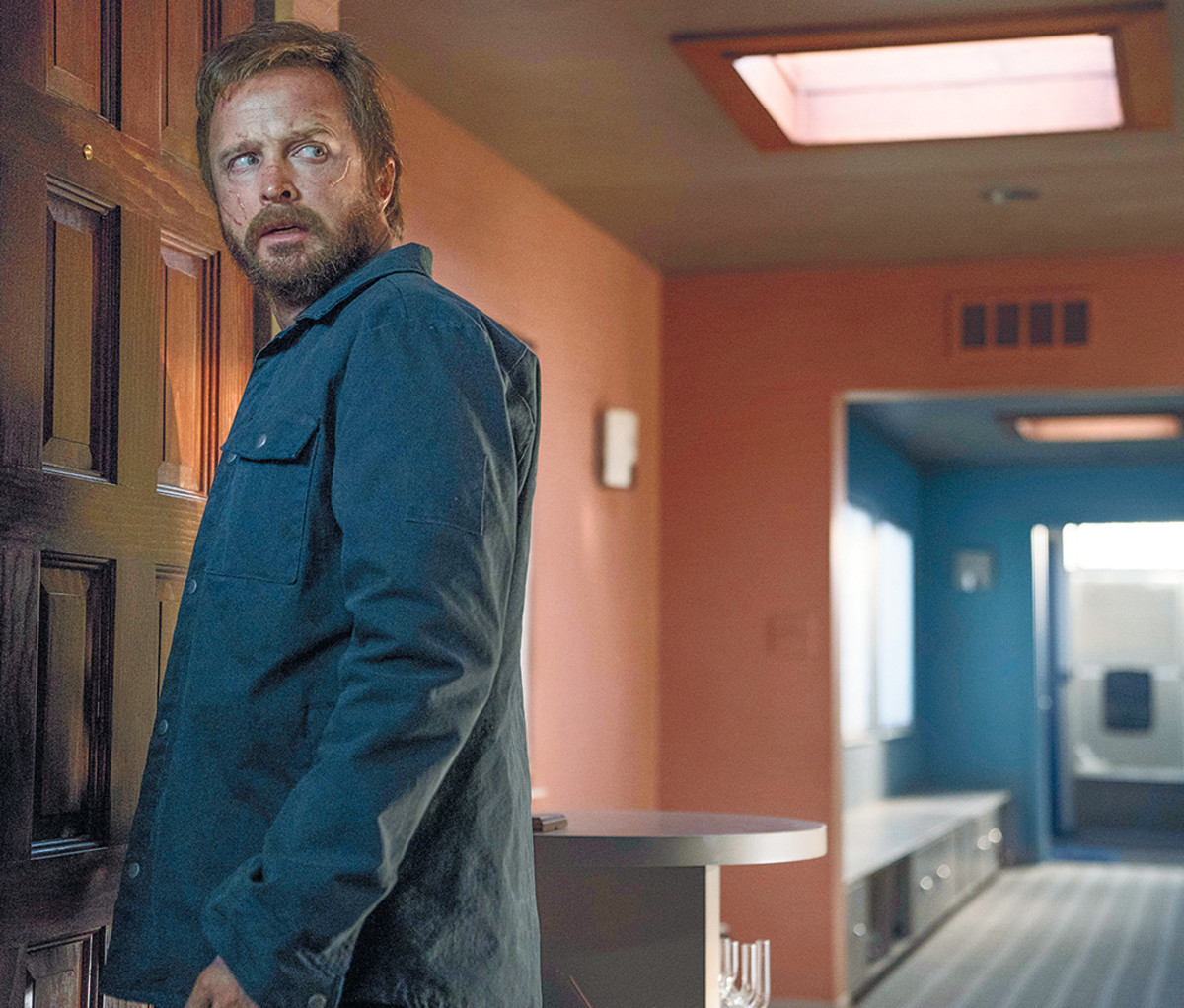 TECHNICALLY SPEAKING, PAUL'S LIFE began in Emmett, Idaho, on August 27, 1979, at 3:30 a.m.—a month earlier than expected. "Not to get too graphic," he says, but while his father was out of town and his three older siblings—Rachelle, Danielle, and Stephen—slept, his mom "went to go use the restroom, and she sat on the toilet and she was like, 'Oh, I'm having a baby.' " By the time the ambulance arrived, Aaron was already out. "It's very symbolic of who I am," he laughs. "I love being early."
His mother, Darla, owned Nutrisystem franchises; his father, Robert, was a Baptist minister. The family moved wherever his father preached—from Santa Maria to Santa Barbara and back to Idaho. Paul remembers a crowded, loud, and loving home growing up, a childhood spent roughhousing with his brother, tearing through the neighborhood on his BMX bike and snowboarding in the mountains around Idaho. The children went to church every Wednesday and Sunday. "I remember having to memorize scriptures," Paul says, "and my father would quiz me on them." Like his father, Paul found he loved being in front of people, so he performed in church plays as a kid and took his first acting class in sixth grade. With long blond hair and Doc Martens, he became a classic theater geek who couldn't care less about football games, dances, dating, or drugs. "I was super-driven," he says.
Paul fast-tracked his high-school classes so he could graduate early. At 17, he headed to Los Angeles in a beat-up 1982 Toyota Corolla. His plan was simple: "Just kinda swing for the fences, really." He changed his last name from Sturtevant to his middle name, Paul, and didn't have a sip of alcohol or lose his virginity until he was 19. He spent 10 years filming commercials, taking supporting roles, and acting in music videos before finally landing his first semi-regular gig opposite Amanda Seyfried on the 2007 HBO series Big Love. It was a coup for his career but his lowest point financially. Then fate was the one who knocked when he got an audition for Breaking Bad.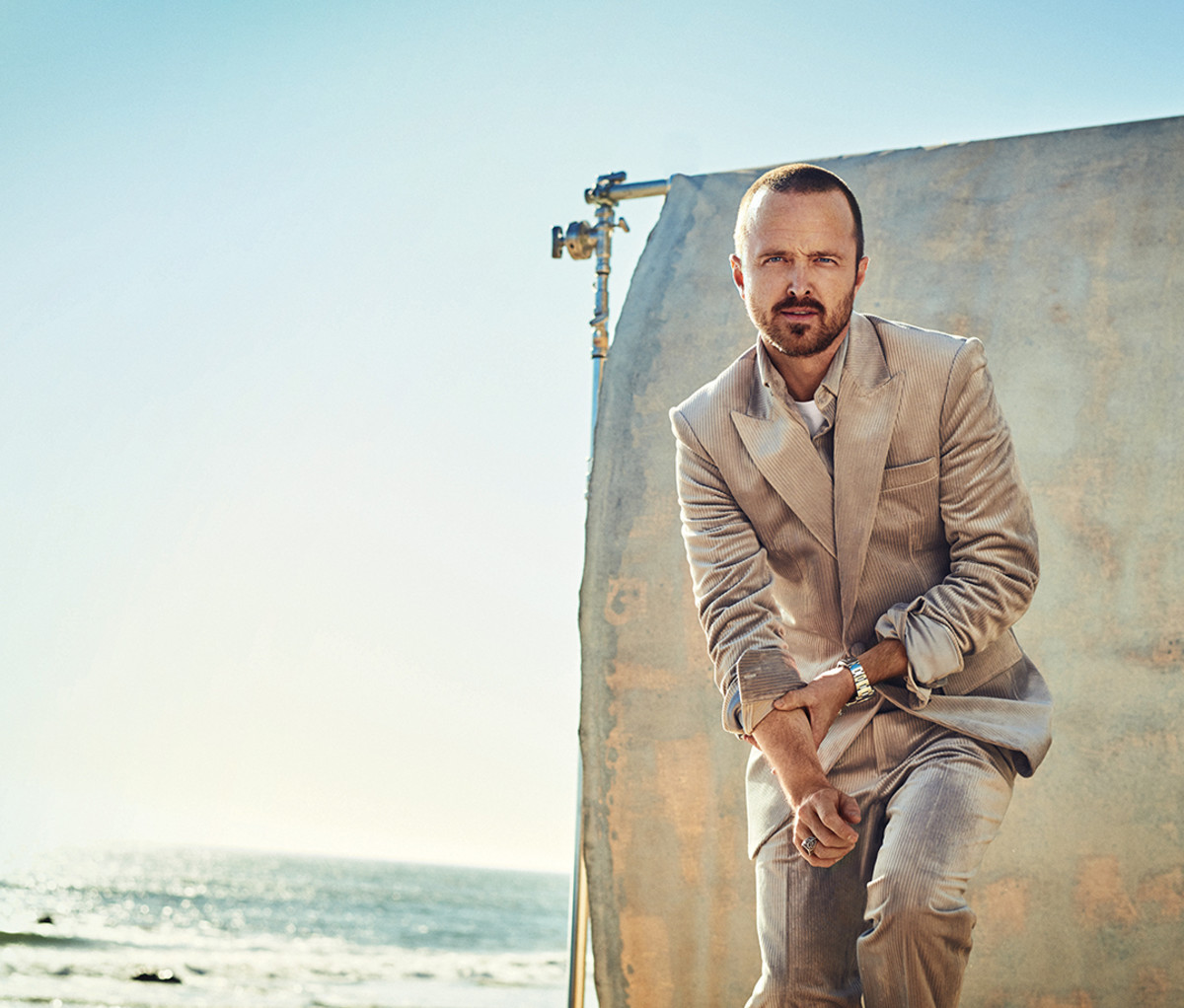 The first time he read for the role of Jesse Pinkman—the former student and future business partner of chemistry teacher turned meth-cooker Walter White—was for the show's creator, Vince Gilligan. Paul was up against three others for the role, including Penn Badgley, before they whittled it down to two. Still, he didn't think he had a shot in hell at the coveted part: "I just kept psyching myself out, looking at the other guy and thinking, What am I doing?" Gilligan noted Paul's nervousness but hired him anyway. "He was so clearly the guy," Gilligan says. "He was the only person who should be playing Jesse Pinkman." In fact, his chemistry with Cranston was so good that Gilligan turned the 2008 one-hander into a two-hander, and the hit show went on to win 16 Emmy awards.
I always try to create a fun environment, a place for people to get together and sort of celebrate life.
Since then, Paul has starred in a range of projects, including the TV series The Path, and a role in the 2014 racing film Need for Speed, where he learned to do 360s on a skid track and took home the film's 1969 Ford Torino GT. (A 1965 Shelby Cobra is his main ride.) Paul still heads out to Willow Springs International Raceway north of L.A. now and then to peel around the tracks for fun. He also signed on to star in and produce Netflix's animated BoJack Horseman, a show about a washed-up actor horse that is really a deep look at one man's depression, which will air the rest of its sixth and final season in January. Paul plays Todd Chavez, the asexual, relentlessly optimistic, slacker sidekick who finally brought the actor a new catchphrase, "Hooray!" Which suits his personality more than "Bitch" ever has.
PAUL HAS A WAY OF INFLUENCING people with his fervor. He's the one who shouted to the teary-eyed cast and crew of Breaking Bad while filming its final episode, "We are all getting matching tattoos by the end of this day!" Forty people jumped on board, and Paul had "No Half Measures" tattooed on his right biceps. He's the one who was on a mezcal kick and suggested that he and Cranston start a liquor brand. So when he met Lauren, founder of the nonprofit anti-bullying Kind Campaign, he went full-court press there, too.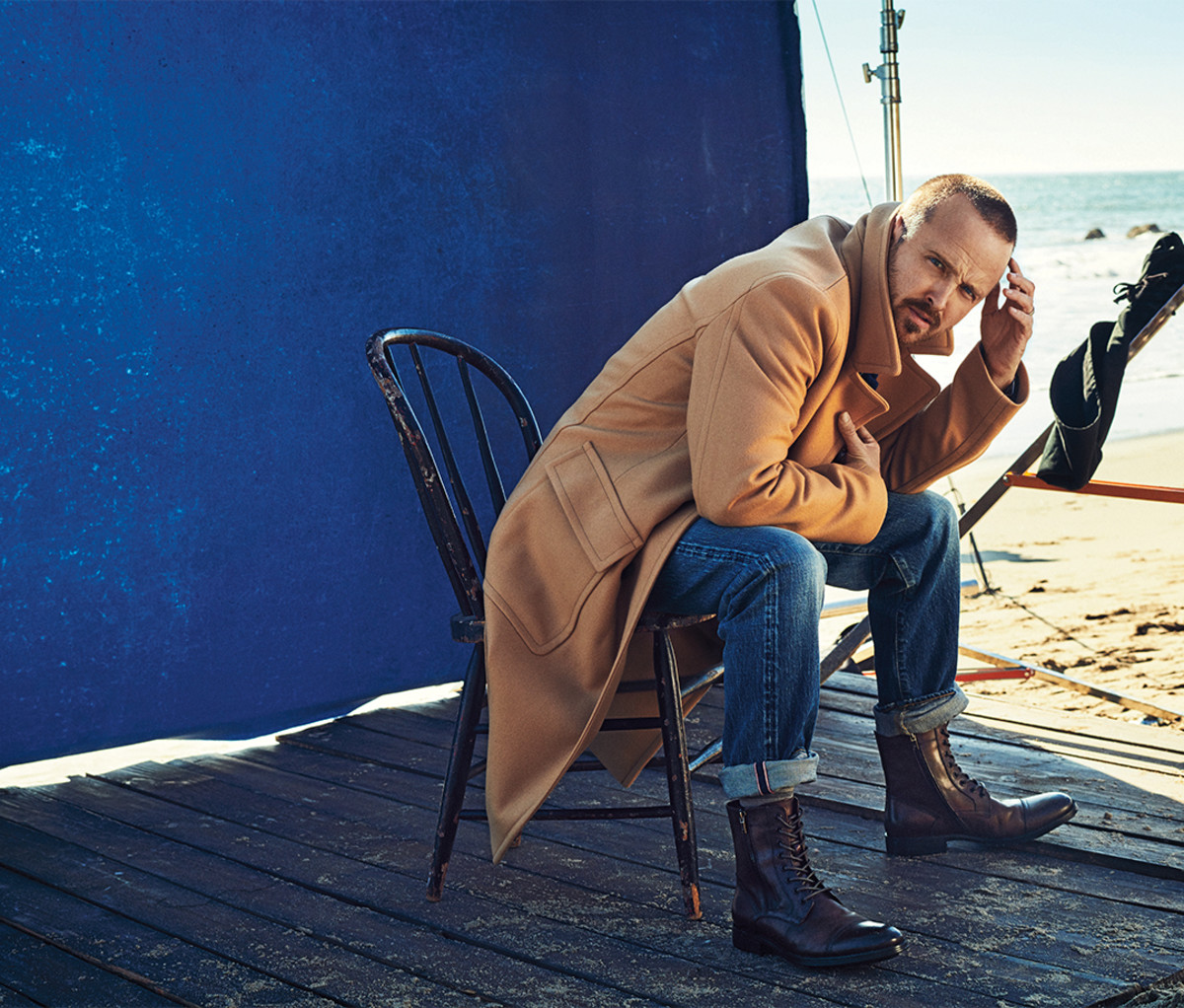 They met in 2010 at a Coachella kick-off house party and kept in touch. Back at the festival a year later, he told her he was going to court and marry her. She was so into the idea, "we named our unborn child," says Paul. "It was very dramatic." The name, "for some reason, was Maxine." For their first official date, he flew her to Vegas, where they had dinner, saw Cirque du Soleil's Love, turned $200 at the blackjack table into 16 grand, met a couple who had just gotten married, and took it as a sign: So they hightailed it to A Little White Wedding Chapel, where they would have gotten married…if the place hadn't been closed.
And he's the one who boldly asked both John Mayer and Mark Foster of Foster the People—the night he met them, before he was even engaged—to play at his wedding. He also tapped David Blaine as their wedding magician. "I didn't want it to be, like, a David Blaine show during cocktail hour, so I asked him to wear a big masquerade mask," Paul says. "People kept coming up to me saying, 'Dude. Your wedding magician was insane. Can I get his card?' "
As Paul likes to say, "Just put it out there." And oh, he has.
He is co-starring in the Apple TV+ drama Truth Be Told, playing Warren Cave, who is in prison for murder thanks to the influence of a true-crime podcaster played by Octavia Spencer, who also is an executive producer on the show. Of their choice to cast Paul, "He was at the top of everyone's list," she says, and "I'm so glad that he chose to play in our sandbox." And there aren't enough italics to stress how deeply she adores him. "I love him. I love Aaron Paul," Spencer says. "He's one of the good guys." Always prepared; always on. And playing across from Paul's menacing prisoner, "I didn't have to act," she says. But "you have to be on alert, you have no idea. He's so unpredictable. It was just magic. Magic. One of the most gifted actors of his generation."
This year, he'll star in Season 3 of Westworld playing Caleb, a construction worker with a robot sidekick named George, who gives the audience a perspective of life outside the park. Because he was a rabid fan of the show, joining the set felt surreal—something he wasn't afraid to express. "He was like a kid in a candy shop," says co-star Evan Rachel Wood, whose character Dolores was last seen escaping the park. "I get like that about the show sometimes, so I loved that I had another person there that could geek out as much as me." She calls Paul one of those special humans, because of the energy he puts out and the immense talent he has. "He's able to pull this emotion up from the depths of his soul that is so believable," says Wood. "I think we, honestly, have yet to see the full range of Aaron Paul."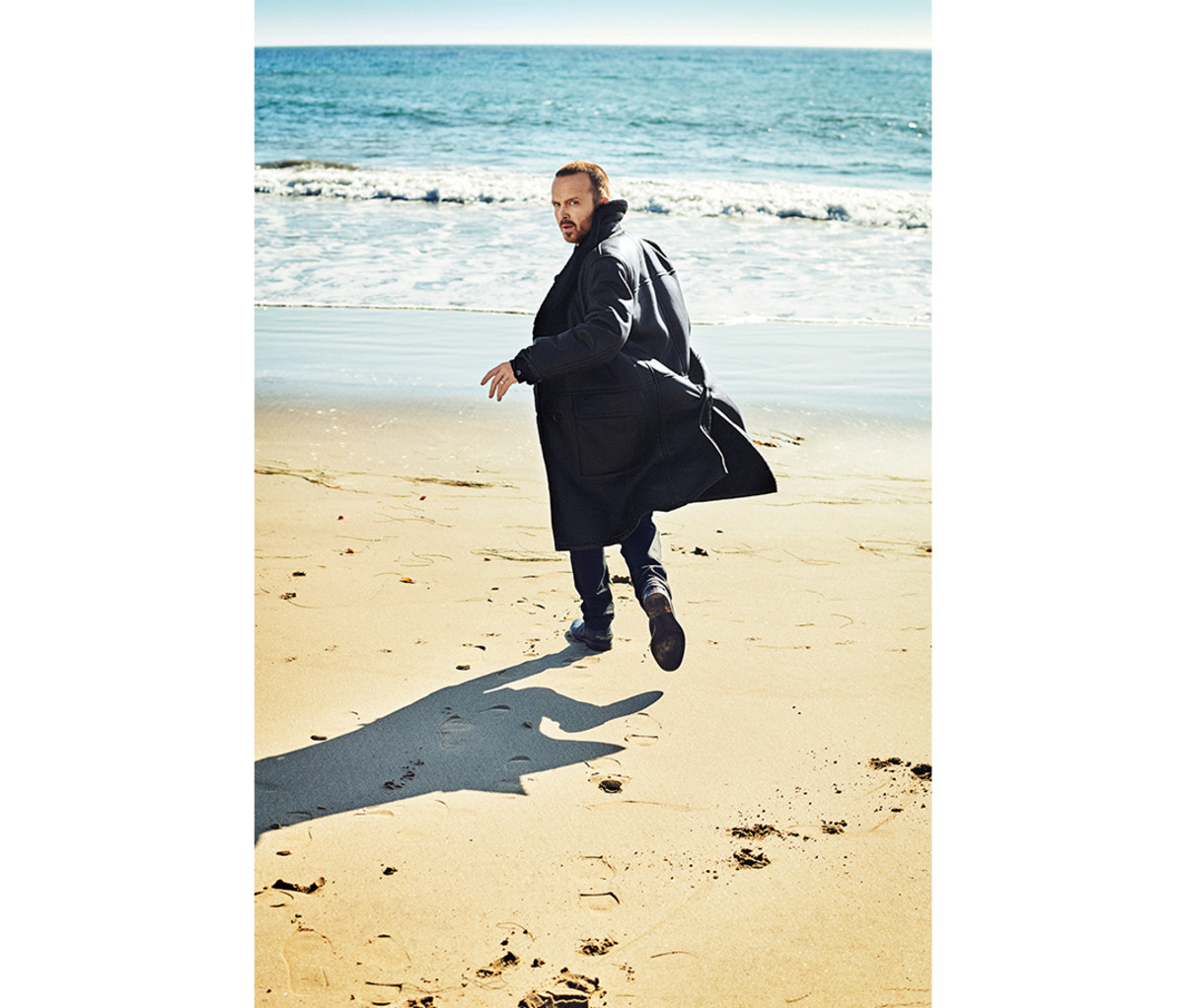 HE WANTS TO SHOW ME SOMETHING. There's a twinkle in his eye as he leads me into what he calls his "movie room," a small space with built-ins displaying tokens of his career: his bevy of awards; the fluffy pink one-eyed teddy bear from Breaking Bad; the framed letter to Brock from El Camino; batch one, bottle one of his Dos Hombres mezcal; a can of Dharma Initiative beer from Lost; an ice pick he pulled out of David Blaine's hand. It's in tune with Paul's love of history. The old house, the classic cars, the fact that he doesn't own a computer. Even the slippers on his feet, bought on Sunset Boulevard 18 years ago, tell a tale. But there's something else. Paul peels back the rug, his energy building like a drum roll.
"So this house was built during Prohibition," he says. I expect to see a trap door under the rug; instead, he's just clearing space to pull open the wall, which reveals a bank vault door with a combination lock. He opens that to reveal a tiny enclave with a few bottles of Pappy Van Winkle (gifts from a production partner) and…there it is: a trap door. He lifts it up to reveal a set of gray concrete stairs.
"Wanna go down there?"
At the bottom is a small room that would barely fit a twin bed, but Paul has big plans for it: He intends to turn it into a speakeasy with wine racks and cushions and candles and chairs. "I always try to create a fun environment, a place for people to get together and sort of celebrate life," he says. That's what the music gear in another room is for, too: Over the past seven years, he's been hosting underground music nights at his house, inviting everyone "from super indie bands to, like, really big bands," he says. "But we never talk about it, or record any of it."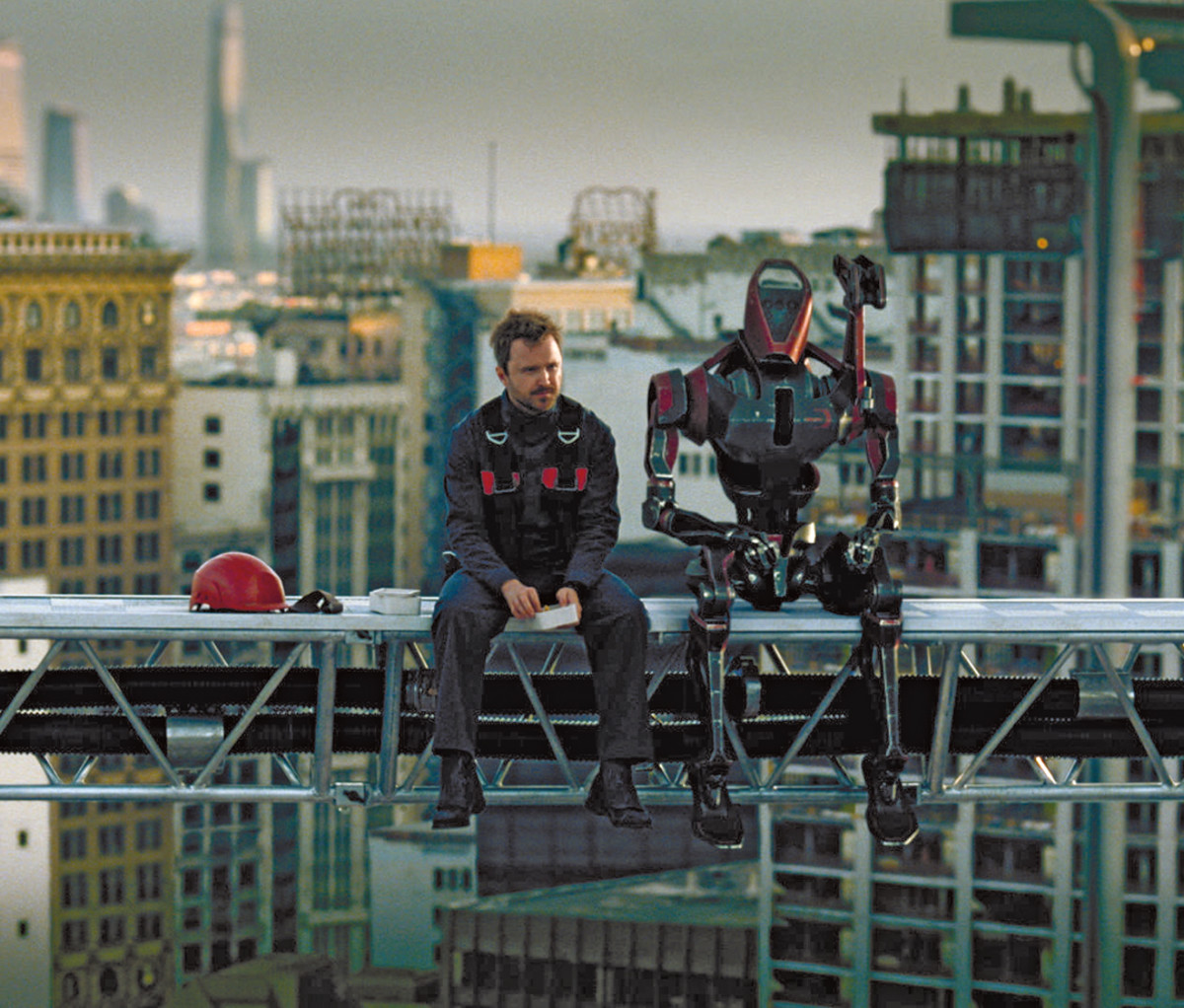 The rest of his downtime he spends with his new family. Lately, he and his wife have been playing backgammon every night on the floor in front of the fireplace. And he lives for Story's nighttime routine in the nursery: dinner, a bath, books in the corner chair. "Then I lie down here," he says, pointing to the floor pillows in the center of the rug, "and she lies on me, and I sing to her," he says, clutching his heart. "Right now, she only wants me to sing 'Yesterday.' "
Which, incidentally, is what Paul's been thinking about lately. "I did leave the nest at an early age," he says, "but at some point I realized I could not wait to get back to my roots." For the last four years, he's been building a cabin in McCall, Idaho, where he plans to spend this winter, pulling out his old Burton board to cruise the runs on nearby Brundage Mountain. "I'm not like, a crazy, adrenaline junkie. I just like to chill."
And that's where Paul is today. He still has the drive he's had since he was a kid, but he's found a sense of balance. So much that if he stopped working altogether, he'd still be perfectly content with what he has right now. "I feel very good, and I will never, one time in my life, take a job just to take a job," says Paul. "Right now, I'm in my sweet spot."
For access to exclusive gear videos, celebrity interviews, and more, subscribe on YouTube!