Actress Alexandra Daddario has been pretty busy over the last few years. From starring in True Detective with Matthew McConaughey, to appearing in Baywatch alongside Dwyane "The Rock" Johnson and Zac Efron, and the upcoming We Have Always Lived in the Castle, alongside the Winter Soldier himself, Sebastian Stan, Daddario has been working quite a bit.
But acting isn't the only thing that's been keeping Daddario busy. Now, the actress has a new role: Collaborating with with Autotrader to help promote "Dogtrader.com," a website similar to Autotrader, but instead of checking out cars, people are able to see what dogs are out there to adopt through help from AdoptAPet.com.
The True Detective and San Andreas star is a major animal lover and a big dog adoption advocate. That's why she teamed up with the company to honor of National Dog Day—which was August 26—and help bring attention to dog adoption.
"I love the idea that they are supporting rescue animals," Daddario told Men's Journal. "We need to get more animals out of shelters and into loving homes. I think it's great to see so much support for dog adoption. Having a dog brings so much joy into your life, allowing you to access that nurturing part of your spirit. It is also nice especially if you live alone—like I used to—to have someone there to greet you joyously every time you come home. It also helps keep you active."
Daddario spoke with Men's Journal about what outdoor activities she enjoys doing most with her dog, why people should adopt dogs, her favorite travel gear, and working with "The Rock" multiple times in her career.
Men's Journal: What do you enjoy most about being a dog owner? What are some of your favorite fitness-related activities to do with your dog?
Alexandra Daddario: I love hiking. Having my dog has helped me explore more of Los Angeles and encouraged me to discover trails that were more off the beaten path. It sounds ridiculous, but I never want my dog to get bored. Along that line of thinking, I'm less bored now that I mix up my hiking. It's not just about working out. It's about seeing things I haven't seen before and being adventurous. When you have a dog around you can't just sit on your couch all day because you have to go out and walk them and take them on hike. It really changes up your lifestyle in a really positive way.
What are you hoping people get out of Dogtrader.com and what excites you about being part of the collaboration?
I hope people adopt a dog! As you explore the website you can see how easy it, especially if you're in the market for a car to suit your lifestyle with your new dog. The website mimics Autotrader.com with their drop down menus as far as breed, size, etc. It's the same way you look for a car by make, model and location. I love hiking and going on road trips with my dog, and the car that I picked was perfect for us because it's big and great for road trips. An added bonus, my dog loves traveling with me! All the options just pop up. It's incredibly simple and trustworthy. I also like getting the word out about Adoptapet.com as that's where I originally saw the dog that I ended up adopting.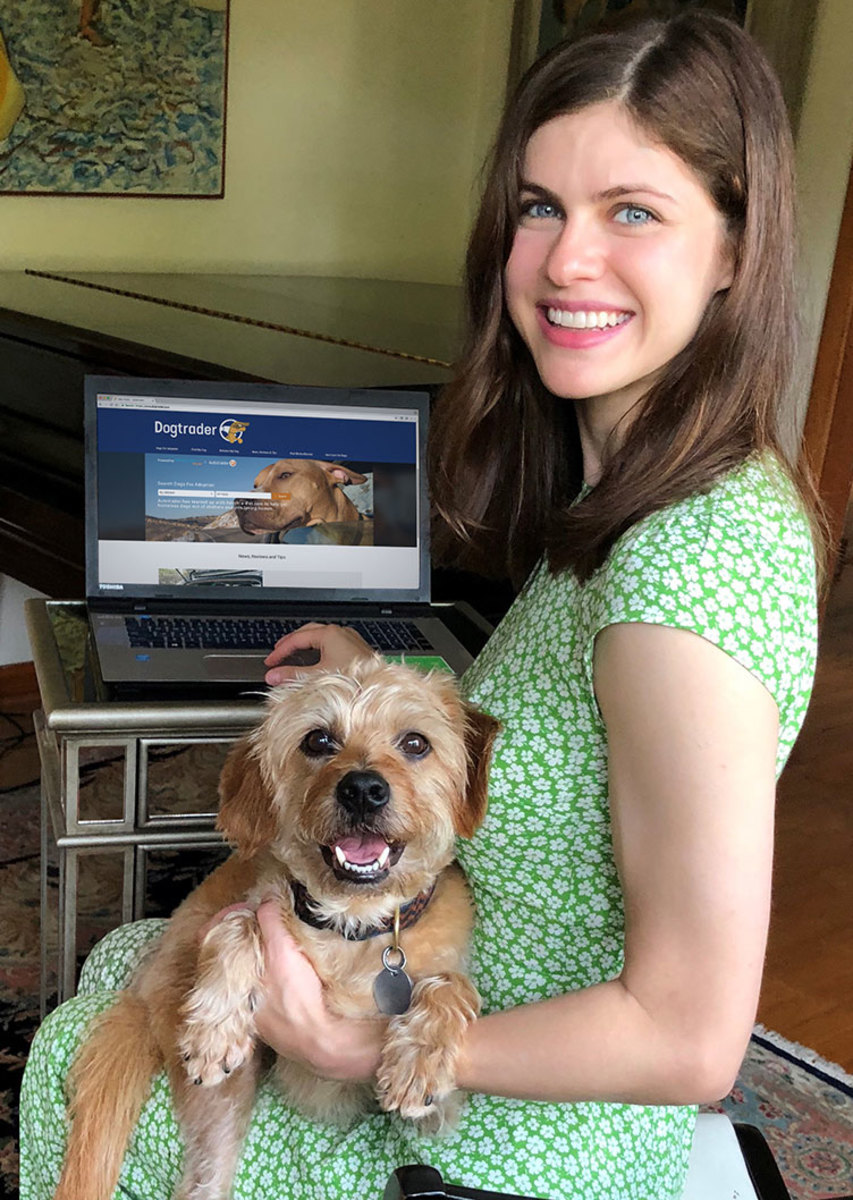 What are some of your favorite ways to train when you're getting in shape for a movie?
I love yoga. I find that it really helps de-stress me and I end up being more productive when I have taken that time to center myself. I love weight training, too. It's helped so much with aches and pains and I encourage young women to incorporate it into their workout routine.
You've worked with Dwayne "The Rock" Johnson multiple times, on Baywatch and San Andreas. What's it like collaborating with a star like him?
He's super inspiring and he's exactly the same guy he portrays himself to be in the media. I love how genuine he is and how willing he is to poke fun at himself. Favorite days with him are his his cheat days—being a believer in cheat days myself—but no one can stop him. When he's eating an entire pan of brownies, there's no stopping that.
As an actor, you've been able to travel so much. What are some of your favorite places you've been? Anywhere you're still hoping to travel?
I love Italy. The Amalfi Coast is one of my favorite places—and it's right near Pompeii, the city that was buried in ash when the volcano erupted and thus it preserved the entire city. It's an insanely interesting place to visit. I love Louisiana, too. New Orleans is near and dear to my heart. Also, I've been desperately wanting to go to Iceland—it's been on my bucket list for years!—I want to see the northern lights. China is also on my list, too. Hong Kong sounds incredible!
What are some of your favorite trips and adventures you've taken?
I did a road trip through the South once. Went to Chattanooga, where I have family, and then down to Memphis, then Mississippi, and then ended in New Orleans for New Years. That was a wonderful trip filled with a lot of BBQ. I also loved my trip to Japan. I went all the way down to Hiroshima and then back up to Tokyo, stopping in Osaka and Kyoto on the way. The food is remarkable and so different from anything I was used to. It was incredible.
Do you have a few pieces of gear or tech that you find essential when you travel?
I always bring a wireless speaker—I like to start my day off blasting music and singing.
As a native New Yorker, what are some of your favorite places in NYC? What places would you tell someone going there for the first time to visit, eat at, or explore?
I grew up in Manhattan, and I'm not actually against the touristy stuff. The city has changed so much since I lived there – it's constantly evolving. The top of the Empire State building is incredible. The Meatpacking district is a great place to walk around and has great restaurants. It wasn't like that when I was growing up. I also love Brooklyn and encourage everyone to have a night out in Williamsburg/Clinton Hill.
For access to exclusive gear videos, celebrity interviews, and more, subscribe on YouTube!