If you're throwing one of your own holiday parties this winter, comedian and actor Adam Devine has some advice for you. The fun-loving star of the TV series Workaholics and movies like Neighbors, Mike and Dave Need Wedding Dates, and the Pitch Perfect franchise, knows what it takes to make sure everyone is having fun.
"I think you need to have an eclectic mix of people," Devine tells Men's Journal. "I think people are sometimes afraid to mix friend groups, but when you bring everyone together, those parties can be great. And if things aren't going quite the way you planned, I say you just throw on a real dancey-type song, and just get people on the dance floor."
If that doesn't do the trick, Devine has another piece of advice: "Grab Nana—don't break her hip—but really throw it down with her on the dance floor. That certainly will get the party going. Once Nana starts dancing, everybody has to start dancing—it's the law."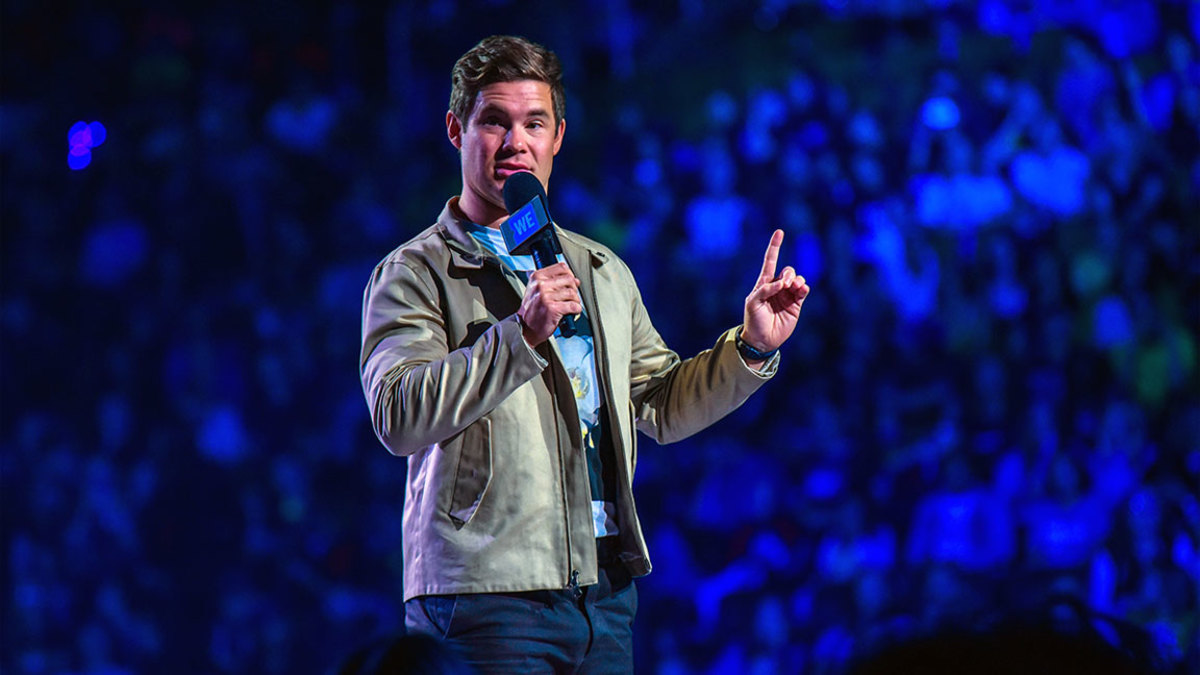 Devine has had a big year heading into the 2018 holiday season after appearing in two Netflix films, When We First Met and Game Over, Man!, which also starred his Workaholics co-stars Blake Anderson and Anders Holm. Devine also toured the country to support his first big comedy special, which will be coming to Netflix soon.
On top of that, Devine, who was named Chief Party Officer by Captain Morgan this year, also has Isn't It Romantic coming out on Valentine's Day 2019, starring alongside Rebel Wilson, Liam Hemsworth, and Priyanka Chopra. "I never thought I would end up doing a bunch of romantic comedies, and here I am doing a bunch of them, and it's been great," Devine says.
Devine spoke with Men's Journal about tips for throwing a great holiday party, his new HBO series with Danny McBride and John Goodman, getting honored with his own day in Omaha, and his favorite episodes of Workaholics.
What are some of the best ways to get through the holiday season and have fun at work or family holiday parties?
I think one thing that helps is just letting loose a little bit. People can feel overwhelmed or stressed by the time you get to the end of the year, and to me, this is the best time to let things go. Now, I'm not saying get too crazy at your work holiday party—although that could be fun—but I think it's the right time of year to just enjoy yourself. Another thing I'd say advice-wise for the holidays, don't be afraid to break out the Christmas sweater when you can. You really only can wear them during this one time of the year, so I think a great way for people to have fun and spice up a party or event is to throw on a Christmas sweater. I feel like the gaudier the better, and the uglier, the brighter they are, the better they are. I think that's the way to go. It's always good to have one or two in the arsenal to dazzle the crowds with.
Your new movie Isn't It Romantic comes out on Valentine's Day. What was it like working on the movie?
It's a really cool, cute movie, and the concept is really great. I'm in it with Rebel Wilson, and Rebel's character, she sort of hates romantic comedies and can't stand them. Then she gets mugged in the subway, gets knocked out, and she wakes up and she's now trapped in a romantic comedy. So everyone who was part of her life before is now the romantic comedy version of themselves. So I played her best friend before who she like never thought as a romantic interest, and then in the romantic comedy version, she starts to realize that I'm actually a good guy for her. It was so fun to shoot, because we shot in New York and since the plot has her stuck in a romantic comedy, we got to shoot in all the most iconic spots in New York City, which was really fun to do.
You've worked with Rebel bunch of times now. What's it been like to build that relationship between you two?
Well, there's only two or three actresses in Hollywood that are willing to work with me [laughs] and luckily Rebel's one of them and she's a great one. No, I'm just joking. It's awesome working with Rebel. She's so funny, and we've known each other for a long time now. We had her on Workaholics Season 1 and it was one of her first things she had done in America. She was fresh off the Qantas flight from Australia and she came and did Workaholics and then we did Pitch Perfect. We've done a bunch of things together since then so it's been cool to do that. She's sort of my work wife in a way, if you will.
Workaholics was such a funny show and had a long run. Do you have any favorite episodes or moments from the Workaholics run?
I like the ones that I'm in the most—that's where we peaked [laughs]. We had a bunch of episodes that were really fun and special, but that first season really stands out to me. Since everything was so new, it's cool to look back at those episodes and look how far we've come. I feel like we got better as we went along, and we knew how to write better. But I would say the first handful of episodes where we were just trying to figure it out and things were really starting to click. Episodes like "The Promotion", "We Be Ballin", "Office Campout", and "Checkpoint Gnarly" and other early first season episodes. Those were all really special and those stand out to me when I look back.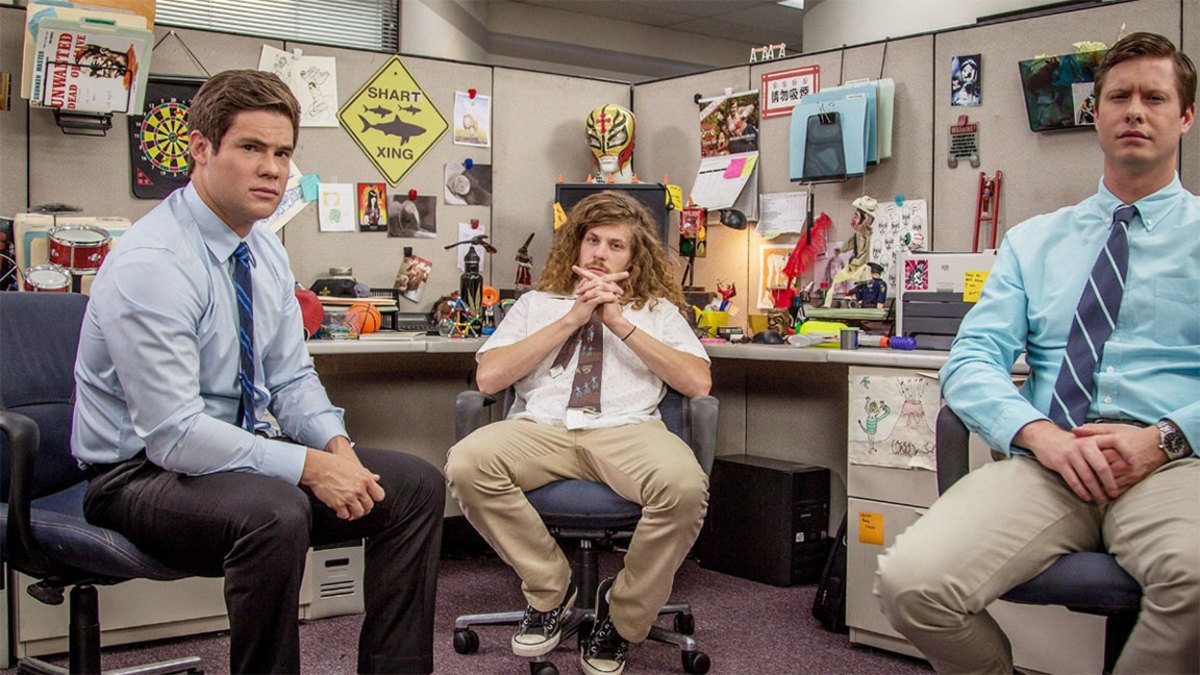 What do you miss most about making the show?
Just doing it with my best friends. It was awesome, it was such a dream come true to get it, and then to be able to do it for as long as we did it, it truly was great. We all are best friends now and we were best friends back then. I was just thinking this the other day, like to get your best friends from when you were 18 years old and to get to work with them professionally and get to do what we did for eight years straight up until we're in like our 30s, it was a pretty special thing that a lot of people don't get to experience. The whole experience of doing Workaholics was such a dream come true now to be able to like do stuff outside of Workaholics with each other is special as well.
This year Captain Morgan named you its Chief Party Officer. As someone who loves a good party, what have you enjoyed about taking on that title?
It's great—I'm like the CPO of the whole Captain Morgan corporation. Back in the day, a lot of people told me, 'Oh, you know, Adam he didn't he didn't finish college. He'll never be a CEO or CFO…' No, I'm a CPO—I feel that that's better. But it's been a lot of fun, and we actually did this really cool thing where we surprised this guy Tyler in Charleston, South Carolina on his 30th birthday. I showed up and then we just sort of threw a party for him. He lost his mind. I was like, 'I hope this guy like actually knows who I am and is excited about it.' But he really was and he was a big fan and it was so cool, like to see his face when we came in and threw him through him a real throw down party.
It's the perfect pairing, me and Captain Morgan. Like sometimes you might do something else and you're like, 'Oh this doesn't feel exactly right.' But for me and Captain Morgan, for whatever reason feels like we're kindred spirits me and the Captain—literally the actual Captain. So I've been having a blast doing stuff with them over the past year now and I hope we can keep it going because it's been great. We had so much fun doing that surprise party that we're going to do another party, a holiday party where I'll show up wherever, anywhere in the US and just sort of just surprise people for a holiday party. I'm really excited for that—stay tuned on that.
You're starring in a new HBO series with Danny McBride and John Goodman. What can you tell us about that?
We were officially picked up for season one. It's called The Righteous Gemstones and we're a family of evangelicals and there might be some corruption going on there. We might not be as great as we seem from the outside. Working with Danny McBride, who is such a comedy hero of mine, and John Goodman, it was incredible. Goodman isn't only a comedy hero to me, but he has like the perfect career that if I were to emulate one person's career I think John Goodman would be a good one.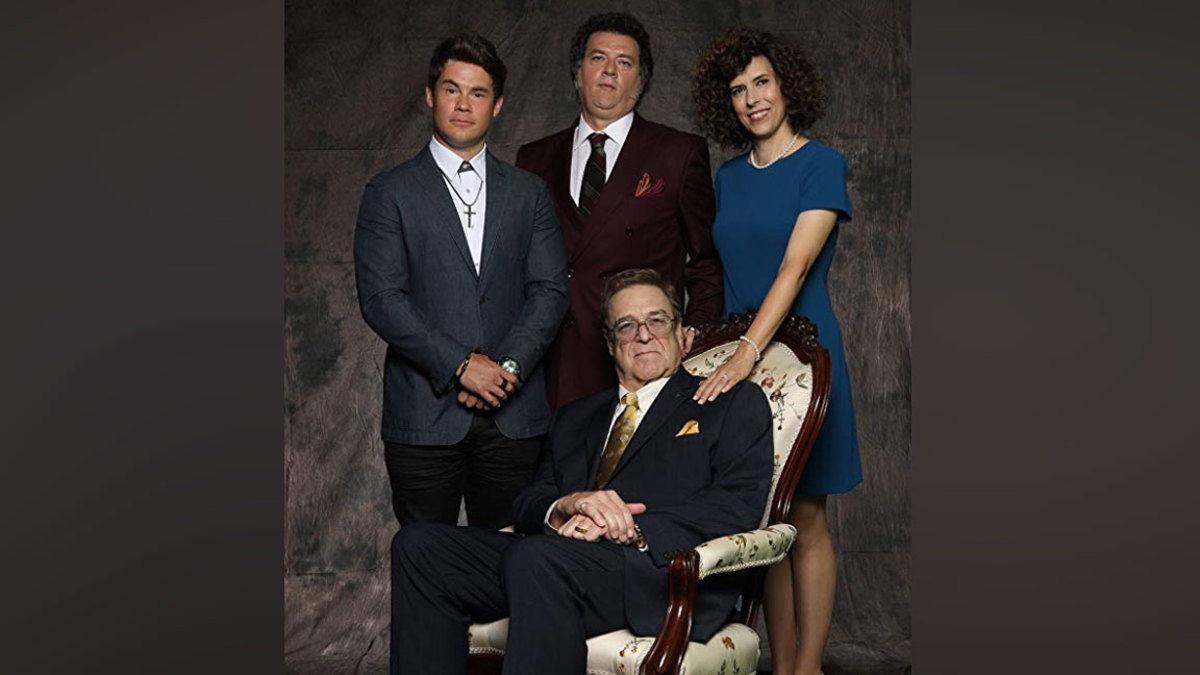 He was a movie star, he was a sitcom star, he does TV and movies, and later he's segued into character-driven stuff, whether it's comedy or drama. He does these fun bit parts where he shows up in dramatic movies and he has such gravitas to him. I think that would be pretty cool, to star in movies and then later get to play some cool, weirder roles. Goodman is someone I look up to and he's an acting king. Danny also is so down to earth and so cool, he' never tried to big-time anyone and he was great to work with.
You have a Netflix comedy special coming out soon. What was it like to tour and perform this year?
It was an incredible experience. Netflix has been so good to me. It was cool to find kind of a home after being at Comedy Central for so long. I did two movies with Netflix, with When We First Met and Game Over, Man!, and now I just did my stand-up comedy special and I'm really excited about it. I did a tour for a few weeks and then we did the special in Omaha, which is my hometown. We did it in this big beautiful theater, the Orpheum Theater. It was fantastic.
What did it mean to you to bring it back to your hometown? How did it feel to be back home after all you've been through and have now accomplished?
It was a truly incredible experience, especially coming back home and looking back on everything that's happened. They actually gave me my own day in Omaha. On November 10, the mayor said, 'Forever and always, November 10 will be Adam Devine Day,' and that was absolutely absurd. To go from just a spazzy little kid from Omaha to having a day of my own was amazing. My dad joked around with me and was like 'This makes no sense!' It was pretty special to go back there and do it there. I think it's important to take some moments to step back and reflect.
It's nice to step back and look where I came from to where I am now and take a second to look back. At the same time, sometimes people they take too long of a moment and then and then opportunities start passing them. I'm the type of person where I want to keep trying to run as fast as I can for now and then when I get like 60 years old and I'm you know, I'm too ugly and movies anymore, then then I'll sit back and say, 'Those were the good 'ol days.'
But you'll still have some movies with Rebel Wilson though.
Exactly! Me and her will do our geriatric pictures together.
What's the next big project for you?
I'm about to start a new movie called Lexi. The movie won't come out for a little while, but I'm really excited for it, because it's sort of deals with the phone culture of our society. Now, everyone is literally on their phone all the time and you can't help it. It's like it's an addiction, even when you have nothing to look at—you still look at it. It's written by the guys who wrote The Hangover and directed Bad Moms, Jon Lucas and Scott Moore, they're super funny and super smart. The premise is basically that the phone that I have, the A.I. on it is so smart, but the phone is defective. The A.I. falls in love with me and messes up my life in a bunch of ways. I think it's going to be really fun and really smart.
The whole purpose of the A.I. on the phone is to make my life better, but it gets me fired from my job, because it thinks I'm too good for the job that I have. There's another part where there's this girl that I like, but it sabotages our relationship because the A.I. is in love with me. So it does all these insane things and it'll be real fun for me to play that and also act with just a phone. It's going to be a real acting experience for me. The script it like 110 pages, and 80 of those are just me talking to a phone. So it'll be pretty fun and interesting to do that. We have a big name that's is going to be the phone, but we can't announce it yet.
It's Rebel Wilson right?
Ha ha, yes! No, it's not Rebel, but she's a real big star. So we're excited to have her. We can't say, but I'm excited about it. And I'm excited for everyone to check out Isn't It Romantic, it's going to be really funny and fun for people, especially if you like romantic comedies. I'm also excited to keep partnering to Captain Morgan because they're such a fun brand, and that's sort of like the type of vibe I'm trying to give with anything that I do. I feel like today in society it's easier to lean into the negative of stuff, and especially with news 24/7 where you're just hearing all this negativity, it's good for a person to go, 'You know what, we're going to just have fun.' Like it's okay to have fun sometimes and that's what Captain Morgan is about—having fun. And and that's what I'm about as well.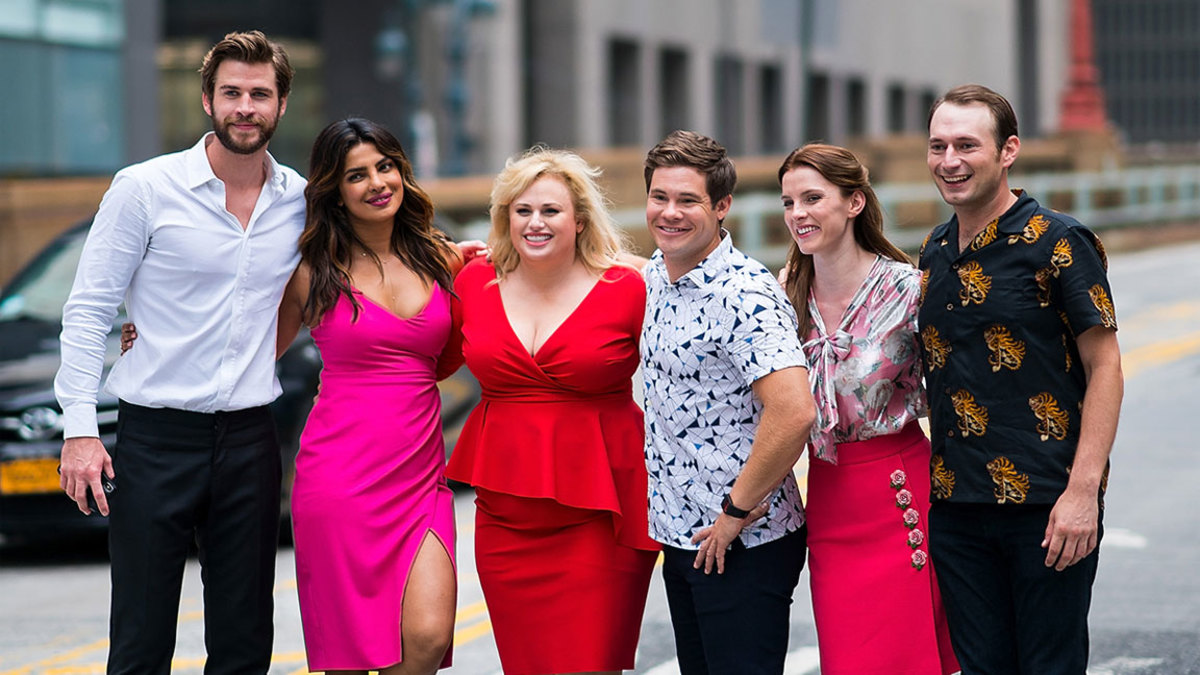 For access to exclusive gear videos, celebrity interviews, and more, subscribe on YouTube!