Entertainment
Andy Samberg Is Ready for Anything
Feb 20, 2020
Unless you're lighting a stuntman on fire, the set of a magazine photo shoot can be a pretty tedious place. A photographer stares into a monitor, a pack of bearded bros in Carhartt pants rigs lights and fiddle with those photo umbrellas, which surely have a purpose (though I couldn't tell you what that is). Somewhere there's a table of Trader Joe's snacks. Mostly it's just a lot of standing around and waiting.
But Andy Samberg—a 41-year-old man dressed in a pink cashmere sweater, pretending to shoot down toy drones with a wooden bow and arrow—is pretty psyched to be here.
For Samberg, a few hours alone is a luxury. In 2019, he hosted the Golden Globes, shot a bunch of episodes of his Emmy-winning sitcom, Brooklyn Nine-Nine, went on an eight-city tour with his comedy-rap troupe, the Lonely Island (performing after Post Malone at Bonnaroo!), shot more Brooklyn Nine-Nine, co-wrote and starred in an unlikely musical parody about Jose Canseco and Mark McGwire, fronted a twisted romantic comedy that debuted at Sundance in January, and changed a whole mess of diapers. Samberg and his wife, the musician Joanna Newsom—the only harpist cool enough to have Paul Thomas Anderson direct her music videos—have a 2-year-old daughter at home.
"I've been working so much," he says. "Parenting is a fuck ton of energy and focus." But here, on set, it's different. "They gave me a haircut!" Samberg says. "And no one asked me to feed them!"
By any account, it's been a remarkable run. And Samberg hardly seems the worse for wear. He remains professionally adorable; his curly hair has been tamed for prime time, but his class-clown spirit remains unchecked—an infectious, come-on-get-happy vibe that's a tonic for these otherwise turbulent times. Still, it's a little surprising to see him here. After all, a goof ball's post–Saturday Night Live career tends to follow a pattern. You take a beloved character from the show and stretch it to an 81-minute sporadically funny movie that critics dismiss as "bloated." Then you show up at a Comedy Central roast.
Samberg, somehow, has rejected that narrative and traveled a different trajectory. He's the star and producer of a long-running network sitcom (rare) that's beloved by legit comedians (extremely rare) and professionally smart tastemakers like Lin-Manuel Miranda (unheard of). But he's also quietly—and impressively—sent the elevator back down for the next generation of comics, executive producing two of the funniest (and oddest) streaming hits of the last year—Netflix's I Think You Should Leave With Tim Robinson and Hulu's PEN15.
How did we get here? Seriously, we're looking around: How did we get here?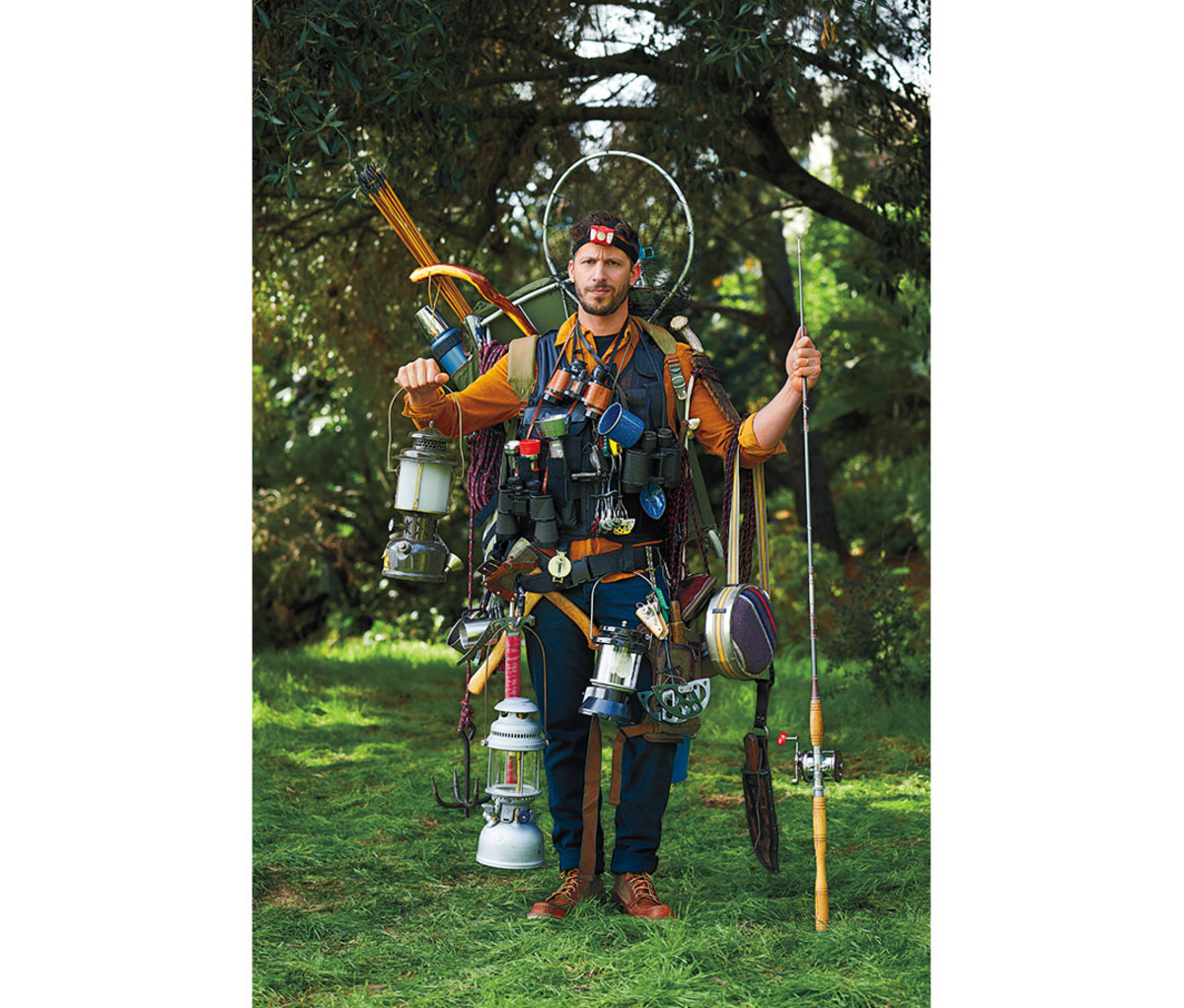 THE PHOTO SHOOT IS TAKING PLACE AT a secluded house on a massive piece of untamed property that appears to have crash-landed in the Hollywood Hills. There are orange and lemon trees and a Moroccan-style cabana alongside a sleek pool. Somewhere in the woods behind us, an animal—unseen but making itself known—seems to be stalking its prey. Samberg does seem at ease, sitting on dirty outdoor furniture and talking about the obvious: the speed with which life moves.
No matter what else Samberg accomplishes, his obituary will surely begin with "Lazy Sunday," the first SNL Digital Short to go viral and a true data point in comedy history. The 2005 rap—about gorging on cupcakes from Magnolia Bakery and going to see The Chronicles of Narnia, which featured Samberg and Chris Parnell—has been credited with reenergizing SNL. But more importantly, it introduced YouTube as a place to watch and (even more importantly) share comedy. It's hard to believe, considering we live in a world in which a Hannibal Burress bit about Bill Cosby, captured by a cell phone in a small club and shared online, can spark a revolution. But in 2005, that kind of thing was unheard-of.
"We were not aware of YouTube until 'Lazy Sunday,' " Samberg says, now dressed in his street clothes—a black T-shirt and a navy hoodie that's been washed too many times. The morning after the short aired, Samberg got a call telling him it was all over the internet. "We'd had our own website with streaming capabilities. After 'Lazy Sunday,' we were like, 'Why are we paying for bandwidth and shit?' "
All of us woke up in a slightly altered world. But Samberg more than most. He was maybe the internet's first boyfriend. He was also SNL's next breakout star. It was literally everything he'd ever wanted.
Samberg grew up in Berkeley, the son of hippies who kept the door to the bathroom open and smoked pot liberally. Young Andy would stay up late to watch SNL—obsessing about it, really—in the Phil Hartman, Church Lady, Wayne's World era. That, in turn, led to him to seek out the comedy-nerd canon: Monty Python, The Jerk, and Mr. Show.
Later, as a student at New York University, he started doing stand-up in the Village—mostly absurdist "The Far Side"–style bits. His first big laugh was a riff on Janet Jackson's 1997 album, The Velvet Rope. In one interlude between songs, Jackson is caught memorably masturbating while on the phone with a girlfriend. Samberg could not resist. "I was like, 'That's one thing that girls could get away with that a dude couldn't,' " he says. "And then I'd act out what it would be like if a dude called up his friend jacking off. It was pretty base."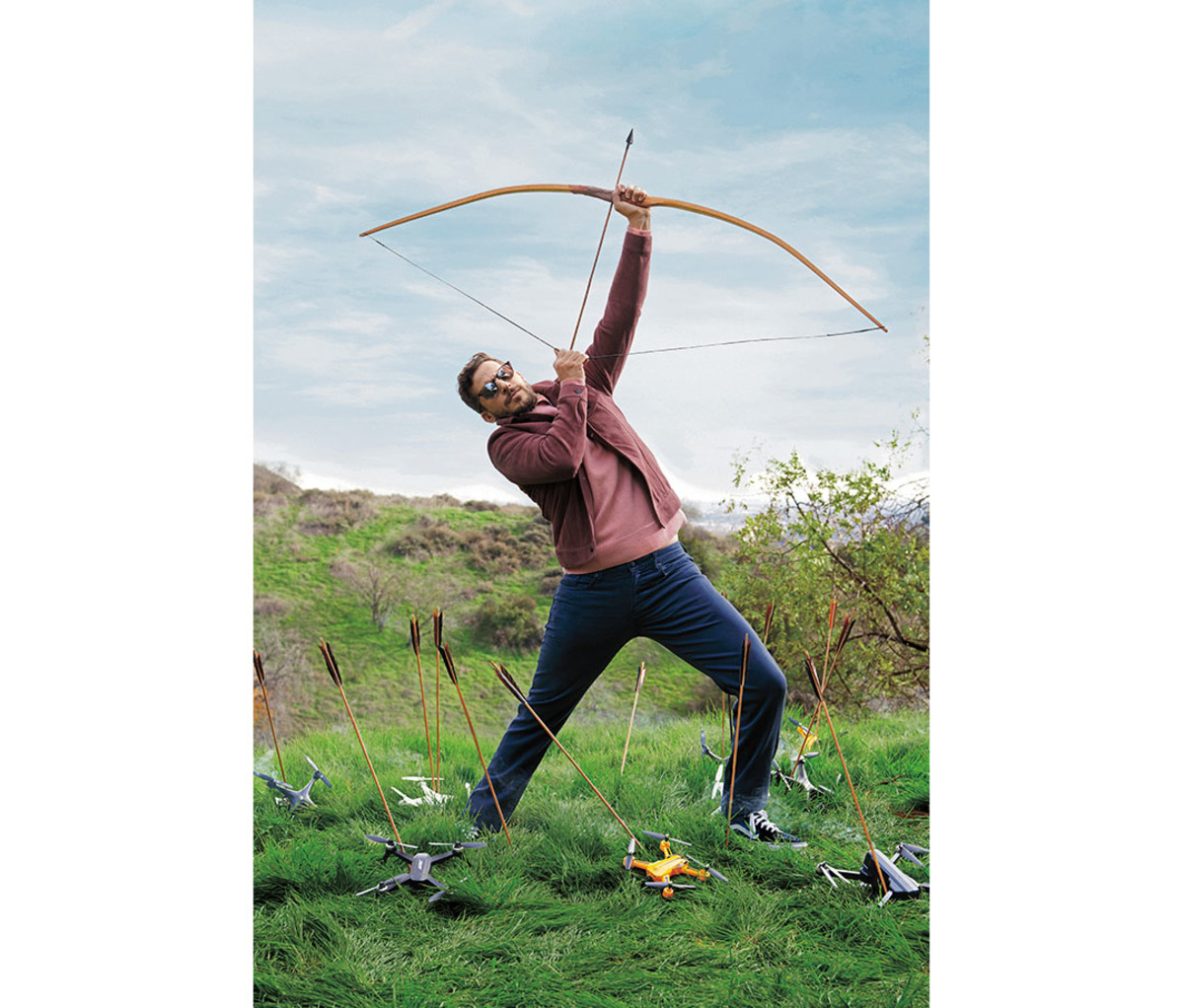 After college he moved to Los Angeles and reunited with his high school buddies and eventual comedy life partners, Akiva Schaffer and Jorma Taccone, to form the Lonely Island—a comedy troupe whose collective, comedic voice grew out of a shared passion for The Simpsons, hip-hop, Python, video games, and skateboarding. Says Schaffer: "We are all into the same things now. Literally, we haven't grown out of any of our interests."
Schaffer remembers the absurdity of that time. "Our first month, me and Andy were kind of intimidated by L.A., Like, what are we going to do here? Jorma had a teeny little studio apartment near UCLA. We had very little money and no jobs. We had an original Nintendo, and we would get full packs of Budweiser." They survived on burritos and canned chili and spent their days making silly videos and a few failed pilots. Those led to a stint writing jokes for the MTV Movie Awards and then, miraculously, an audition for SNL.
In the fall of 2005, Samberg was hired as a performer; Schaffer and Taccone came on as writers. "Lazy Sunday" aired three months later, introducing the Lonely Island as one of the most exciting upstart brands in comedy. While most new cast members have to fight for screen time, celebrities actually sought out Samberg (who always appeared in sketches but made his mark in Digital Shorts) and the "Lazy Sunday" guys. They shot with Natalie Portman ("Natalie Raps"), Justin Timberlake (the Christmas classic "Dick in a Box"), Rihanna ("Shy Ronnie"), Peyton Manning ("United Way"), Seth Rogen ("Like a Boss"), and T-Pain (the Grammy-nominated "I'm on a Boat"). Samberg recalls selling Lady Gaga on "3-Way (The Golden Rule)." Sample lyric: "I know most guys won't freak together…. It's OK when it's in a three-way."
"She was definitely aware of 'Dick in a Box' and 'Motherlover,' " Samberg says. "It was really fun getting to pitch her. Like, 'You'll be in the Fly Girls outfits from In Living Color and the joke is, [Timberlake and I] clearly want to fuck each other and you're just there.' When we asked her, she was like, 'I'm so honored.' " When SNL leaned further into politics, Samberg was quick to adapt while playing to his strengths, memorably enlisting Maroon 5's Adam Levine to serenade Iran's then-president Mahmoud Ahmadinejad (who'd just declared there were no homosexual people in his country) with the gay anthem "Iran So Far."
When he left SNL in 2012 after seven years, Samberg didn't have a vision for the rest of his life. "The only thing I ever wanted in terms of my career was SNL—since I was 8," he says. He wasn't necessarily even thinking about a sitcom. But rather than overthink his next step or worry about his star power or his ego, he did what he'd always done: He followed the funny.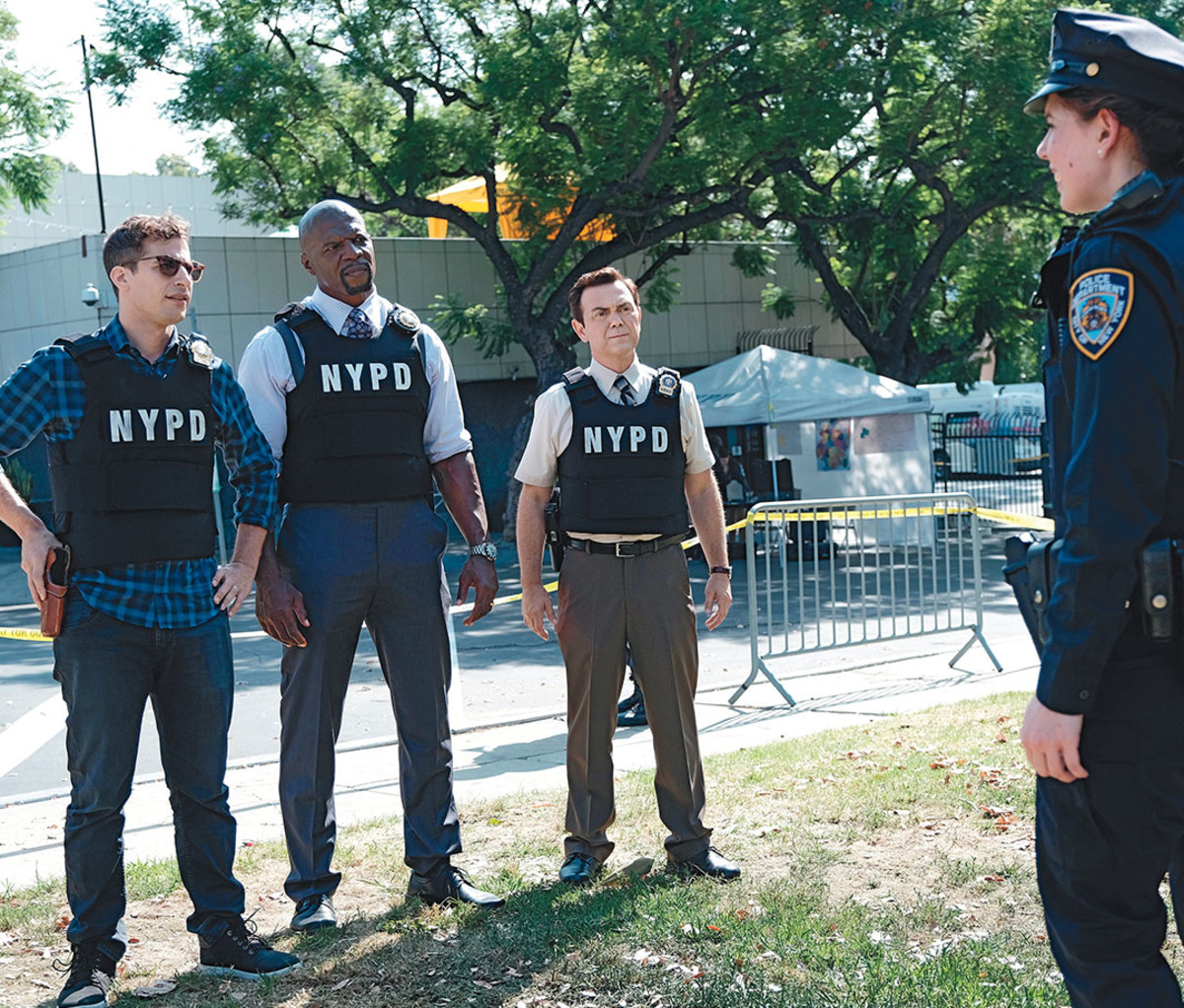 It's hard to imagine Brooklyn Nine-Nine working without Samberg. The show—from Parks and Recreation alums Michael Schur and Dan Goor—is about a hapless crew of detectives working at a Brooklyn police precinct. The ensemble, including Andre Braugher, Terry Crews, and Melissa Fumero, is top-notch. But Samberg's Jake Peralta is the show's North Star: a pop culture–obsessed optimist who wants his life to be a movie where he's the hero taking down bad guys.
It's a slapstick half-hour, stuffed with jokes, that has also somehow managed to tackle hot-button issues including racial profiling and gun control in a way that feels organic. Brooklyn Nine-Nine's "He Said, She Said" episode last year perhaps walked the world's thinnest tightrope: One male character defends himself from charges of sexism or worse, saying: "I'm the kind of guy who thinks Kathryn Bigelow should direct the next Star Wars—and I've said that to other men."
"When people talk about Brooklyn Nine-Nine, I think they talk about how—to use an overused word—woke it is," says Stephanie Beatriz, who co-stars as Detective Rosa Diaz. "Much of that is due to Andy. He's very aware and sensitive to the world we're living in. And frankly, the world I think he wishes we were living in."
Beatriz recalls rehearsing a scene, very early on in the show's run, in which Diaz and Peralta are talking about another woman on the force. "I kind of riffed in rehearsal," Beatriz says. "I was like, 'I don't understand—you've never been this hung up on a chick before.' " Before shooting the scene, Samberg pulled her aside and said: "Calling her a chick sounds really dismissive to me. I don't want to set it up that way. That this is how we talk about women.' "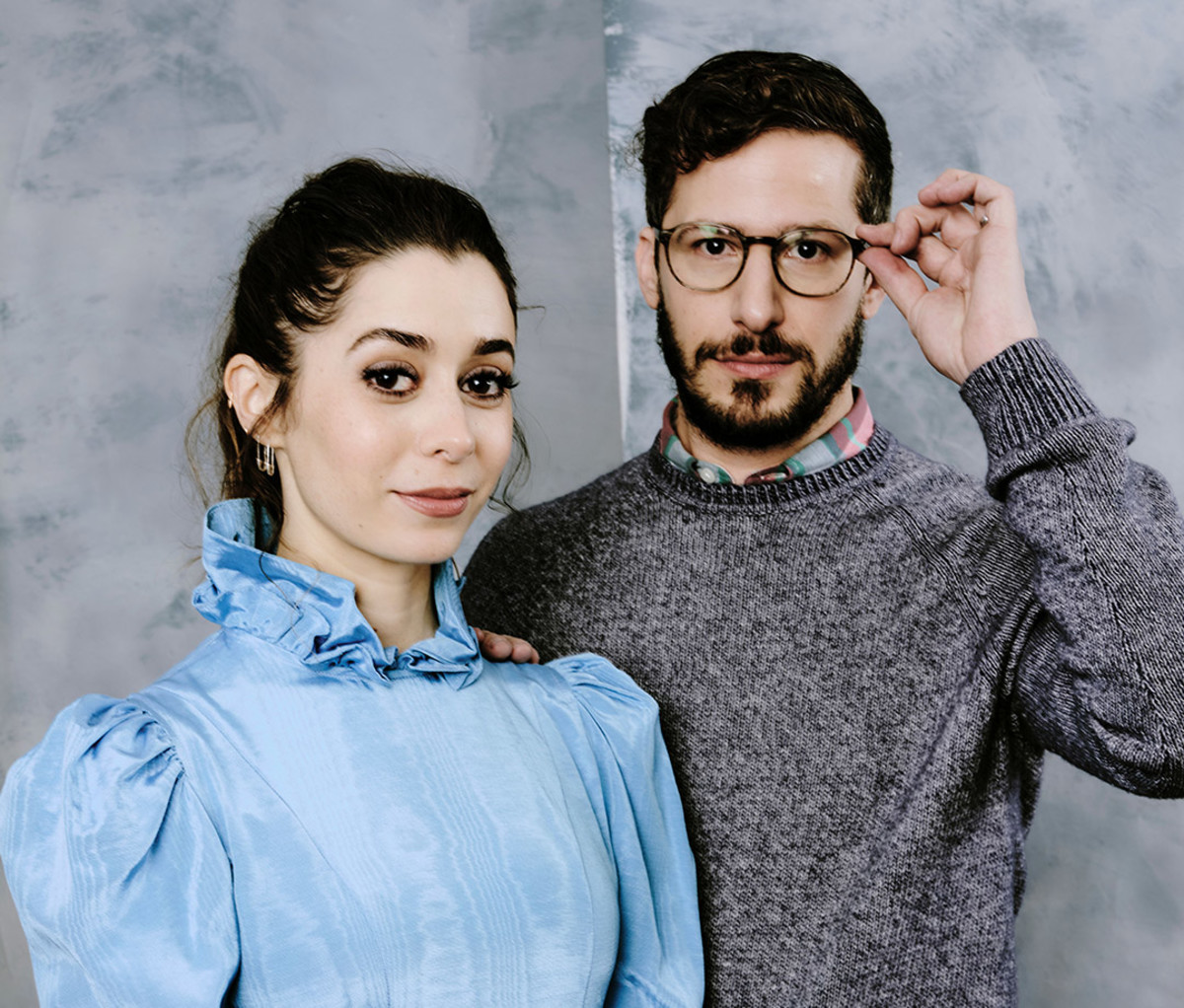 Beatriz is still moved by the memory. "It was important to him, as executive producer of the show and as lead of the show, that the audience understands Rosa and Jake talk about people they're attracted to with respect. It was such a small thing, he probably doesn't even remember it. But it had a huge effect on me."
She's right: Samberg doesn't remember. When I bring it up, he shifts awkwardly in his seat, saying he doesn't want to "get credit" for being human. But the moment dovetails nicely with his theory about why the show has been on the air for 135 episodes and counting. "There are a lot of people who are like, 'I like watching The Great British Bake-Off and Brooklyn Nine-Nine.' You know what? I get that. I can totally see it. That's kind of the big sell of Brooklyn Nine-Nine. It's similar to Parks and Rec in that way. In many ways, it's a utopia that doesn't exist but that a lot of us would really wish to exist. It's nice to live in that space."
SO MUCH OF SAMBERG'S LIFE SOUNDS like the setup to a sketch. The lovable goof from SNL marries the world's most famous harpist and—according to rumor, at least—they live in a historic Hollywood estate? Come on. On paper, he and Joanna Newsom seem like an unlikely match. Her lyrics are famously cerebral and complex; one song on her last album, Divers, managed to reference a painting by Titian, Percy Bysshe Shelley's sonnet "Ozymandias," and the so-called Boy Mayor of New York City, John Purroy Mitchel, who served from 1914 to 1917. Samberg, meanwhile, co-wrote "Jizz in My Pants."
But their meet-cute story shows how perfectly matched they are. When they encountered each other for the first time—backstage at one of her concerts in New York—she shouted in Samberg's face: "You're Steve the Cunt!" It was a reference to a Lonely Island song she loved. Though she was dating someone else at the time, a seed was planted. The two stayed in touch, married in 2013 in Big Sur, and had a daughter four years later. They've never disclosed her name to the press, though they will reveal that the girl is currently obsessed with, of all things, Tchaikovsky's The Nutcracker. "Someone gave us a book of The Nutcracker—you push the buttons and it plays snippets of the music," Samberg says. "It's all she wants to hear. We joke a lot about that. Like, I wonder which side of the family she gets that from?"
Samberg can be guarded about his personal life. If you want to hear one of the world's most awkward pauses, check out his appearance on the Pete Holmes podcast, You Made It Weird, when Holmes asks Samberg how he lost his virginity. After taking a swig of water and a long pause, Samberg gives up the goods—age 16, at summer camp, to a 24-year-old counselor!—but when Holmes follows up, asking if he wore a "bag," Samberg mutters, "No." And then recoils: "How many people listen to this?"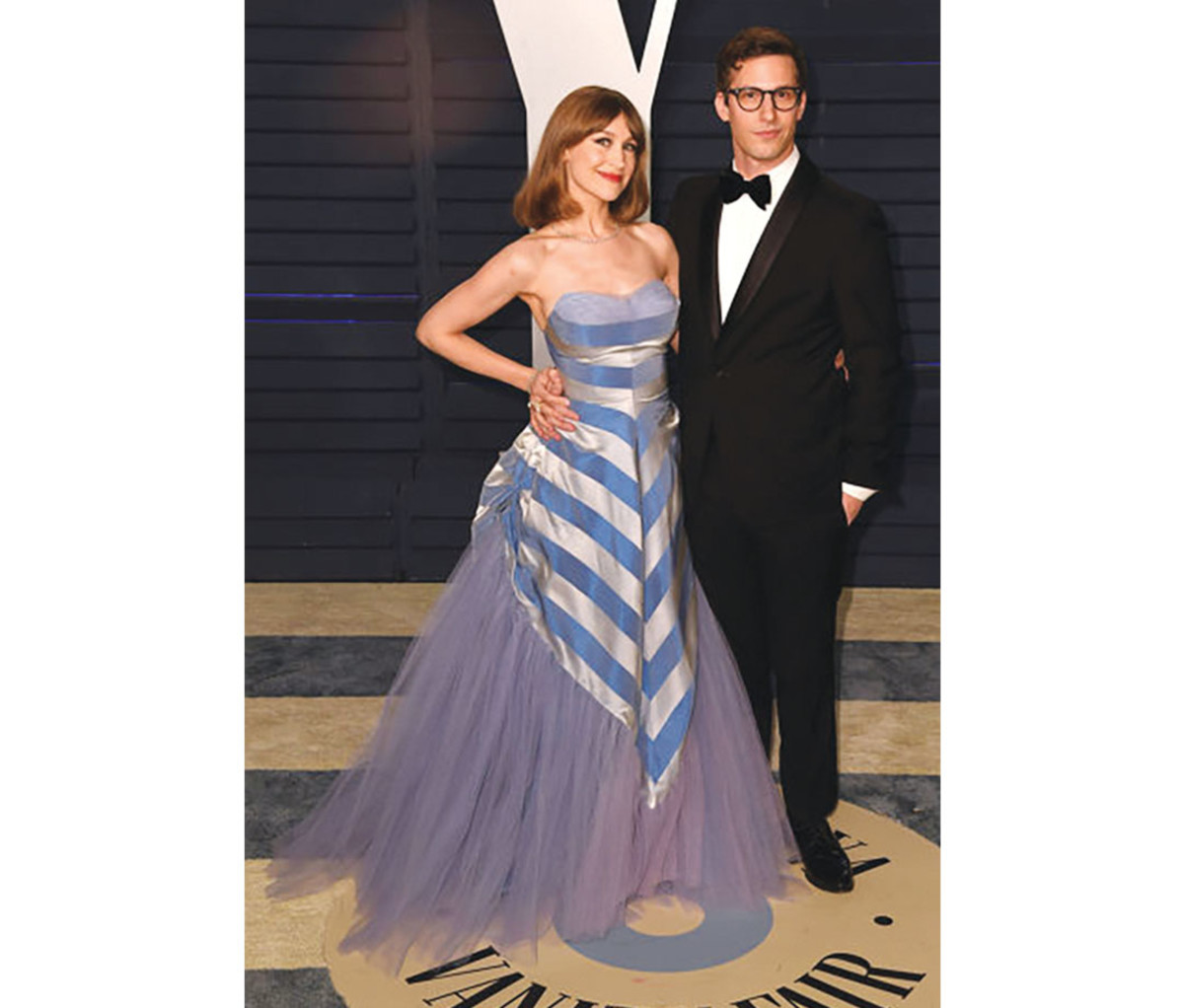 I'm more interested in Samberg's other long-term relationship, with his partners in the Lonely Island, Schaffer and Taccone. If you haven't seen the troupe's underrated movie Popstar: Never Stop Never Stopping—a mockumentary about a boy band's spoiled front man's attempt to go solo—it's a must-watch. Popstar is full of eminently quotable throwaway lines, like how the star employs someone to punch him in the nuts regularly, just to remind him where he comes from. But the movie has a sly, emotional hook running underneath, and it says more about male friendship and toxic masculinity than just about anything in a long time.
Samberg insists the movie's sensitive beating heart was "all Judd." (Judd Apatow was a producer on the film.) But whatever's happening onscreen works because of the Lonely Island's very real 20-year history. Schaffer refers to their relationship almost like a marriage. "We were on the phone yesterday debating if we could ever do more tour dates like we did last summer," he says. "It's a balancing act. I might get offered a movie and go, 'Oh, that sounds fun.' But in the same way, I have to go to my wife and go, 'Hey, would I be able to do this movie?' I also need to call those guys—even if it has nothing to do with them—and go, 'In six months, are we thinking that we would do something together?' "
Schaffer thinks about this for a second, adding: "I think I speak for all three of us—the things that we're the proudest of, and that seem to be the things that people bring up to us over the years, are always the things we've made together."
I ask Samberg what drove them to make a 30-minute "visual poem" about Canseco, McGwire, and steroids, which contains the lyric "She said she wanna fuck me with my uniform on. She grabbed me by the bat, now it's going, going, gone. I never finish sex 'cause I'm so juiced out. But she nutted three times then we bashed then I bounced." Samberg grins. "Working together is how we stay friends," he says. "Because once you're married and you get a little older—you're tired."
I constantly think a piano is going to fall on me. I consider myself very lucky.
It's an odd time in show business. Nobody knows what works anymore. So if you've got any power, why not just make things you love with the people who make you laugh the most? Sometimes it's a TV competition about people who cook tiny meals in impossibly tiny kitchens. (Samberg will host Biggest Little Cook-Offs on Quibi, a new streaming platform, later this year.) Sometimes it's Palm Springs, an offbeat romantic comedy. It's producing PEN15, a risky comedy about puberty and middle school, in which the two 13-year-old leads are played by the two 30-something women who created the show. And no one ever acknowledges the joke. The show shouldn't work, but it absolutely destroys.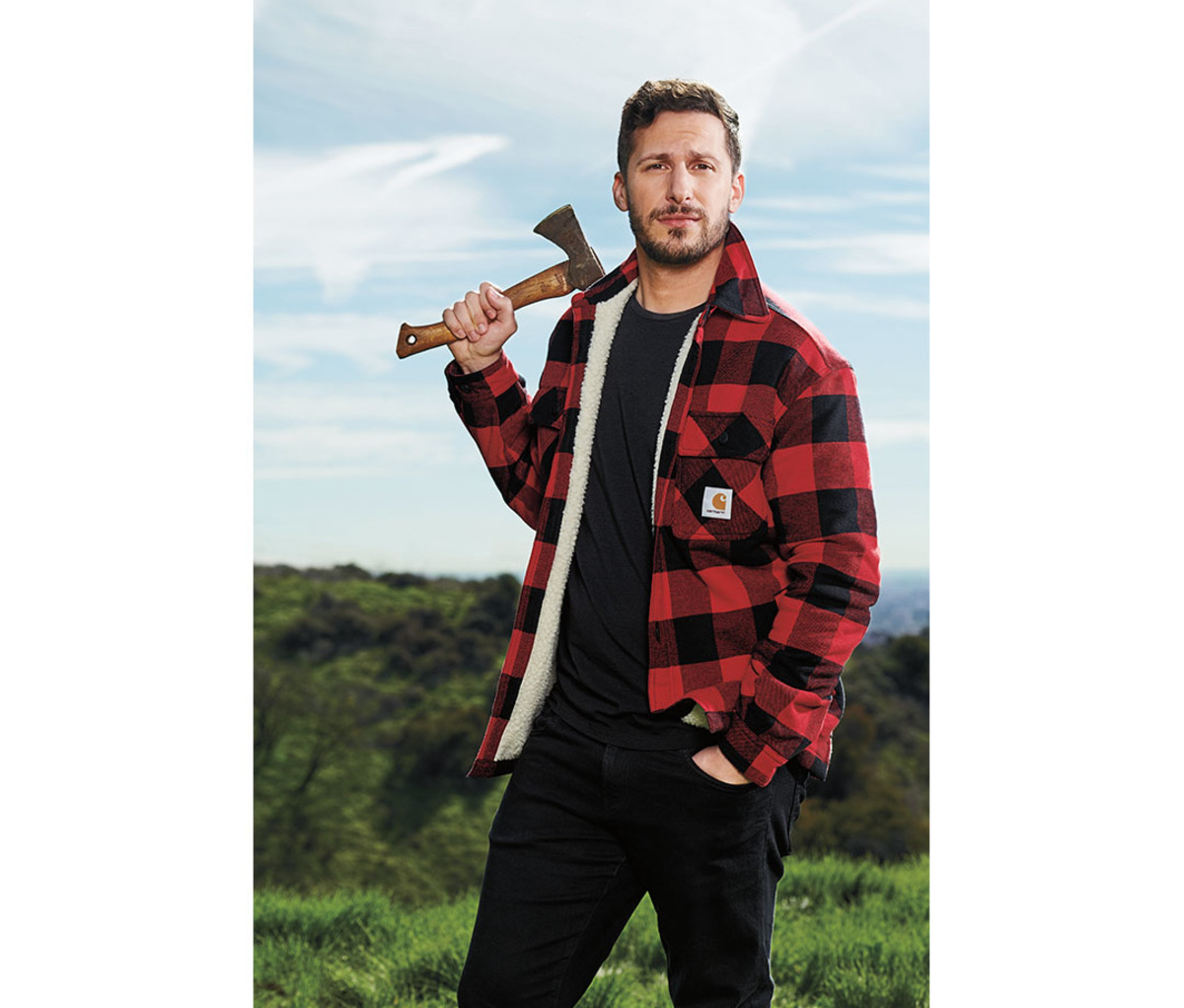 As we wrap up, Samberg and I get to talking about those early Lonely Island days. Samberg smiles wide. He's thinking about a bit they wrote for Vin Diesel and Thandie Newton to perform on the MTV Movie Awards in 2004. "I'm going to butcher it," Samberg says, "but the bit was basically Vin Diesel going, 'You know, Thandie, I didn't realize until today that your name was pronounced Tandy, not Th-andie.' Then she said something about his name. And he said…'Tanks.' Instead of 'Thanks.' " At first Diesel didn't want to do it. "But we were like, 'No, no! It's funny! Trust us, it's funny!' And then it didn't work. Right after, he was like, 'I knew it wasn't going to work.' "
Samberg laughs. Maybe it's at the absurdity of the bit. Or maybe it's about something more—that a bunch of Vin Diesel jokes and bits he wrote with his best friends could somehow lead to SNL, and then Brooklyn Nine-Nine, and then somehow to Joanna Newsom, fatherhood, and to this bench on a stranger's property with fruit trees and a Moroccan cabana and an animal loudly stalking its prey.
"I constantly think a piano is going to fall on me," Samberg says. "I consider myself very lucky. It's like, If you're going to be a human being on earth, I couldn't ask for more."
For access to exclusive gear videos, celebrity interviews, and more, subscribe on YouTube!