If you've already watched everything on your favorite streaming services while staying at home lately, April will see a host of new titles hitting services like Netflix, Hulu, HBO, Disney+, Amazon Prime Video, and more.
Here are all the new series and films you can watch next month.
Some of the notable TV shows and movies include:
Extraction (Netflix): Chris Hemsworth trades in Thor's hammer for this new action film to play Tyler Rake, a mercenary on the black market who is tasked with saving the kidnapped son of an international crime lord. Directed by stuntman and stunt coordinator Sam Hargrave, who worked on Marvel films like Avengers: Endgame, Deadpool 2, Thor: Ragnarok, and Captain America: Civil War, the film also stars David Harbour (Stranger Things) in a key role. Harbour will be making his own Marvel Cinematic Universe debut when he stars in Black Widow, and it's possible he could interact with Hemsworth's Thor in future films. This "action-packed" film was written by Joe Russo, half of the Russo Brothers directing duo who handled the Avengers saga for Marvel.
Chris Hemsworth plays a fearless black market mercenary who embarks on the most deadly mission of his career.

Get your first look at Extraction (via @usatodaylife) premiering April 24 pic.twitter.com/s2G8XiYcBD

— Netflix US (@netflix) February 18, 2020
Earth Month Collection (Disney+): Disney+ will celebrate Earth Month in April with a curated collection of documentaries, series, and films from National Geographic and Disneynature, including Monkey Kingdom, America's National Parks, Wild Yellowstone, JANE, Before the Flood, and Planet of the Birds. See the full list of titles below.
Coffee & Kareem (Netflix): "A Detroit cop reluctantly teams with his girlfriend's 11-year-old son to clear his name and take down the city's most ruthless criminal. Ed Helms and Taraji P. Henson star."
What to do when you're 12 and don't like your mom's new boyfriend? Hire a criminal to scare him off. And *then* team-up with said boyfriend to fight bad guys after accidentally exposing a crime syndicate (whoops). At least that's what happens in COFFEE & KAREEM. On Netflix 4/3. pic.twitter.com/Iag2tfGKop

— Netflix Film (@NetflixFilm) March 10, 2020
Community (Netflix) – The acclaimed comedy TV series will have all six seasons coming to Netflix on April 1.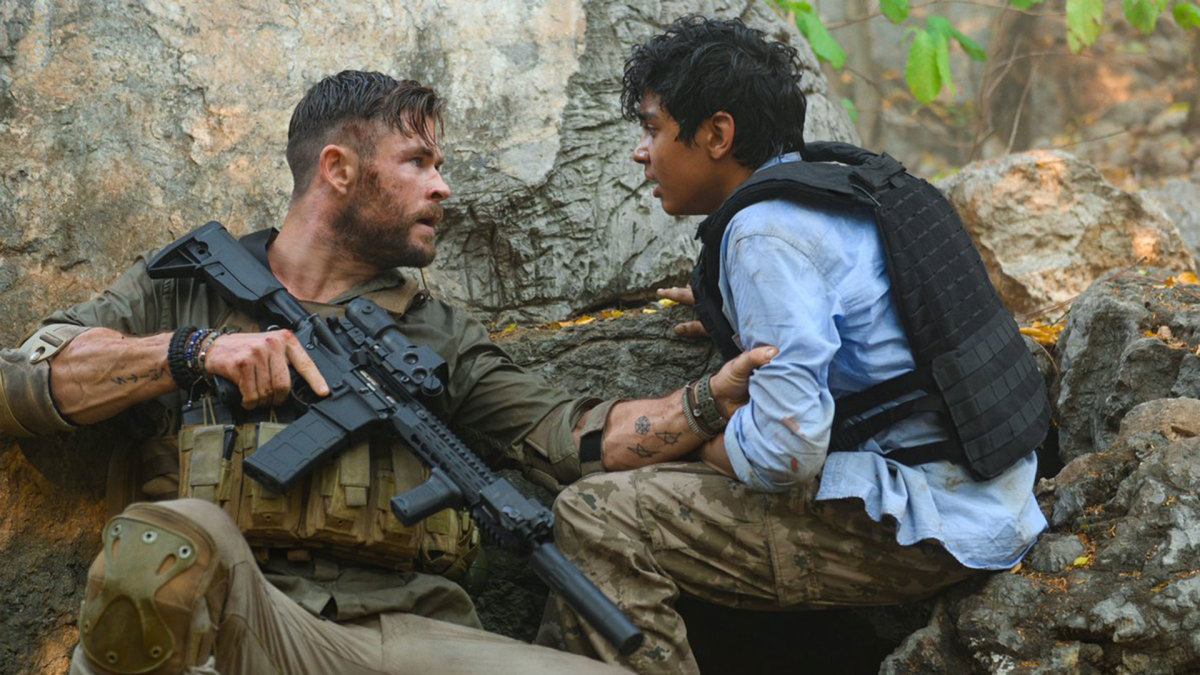 Here's a look at everything new coming to streaming services in April 2020:
Netflix
April 1
Community
Sunderland 'Till I Die (Season 2)
40 Days and 40 Nights
Bloodsport
Cadillac Records
Can't Hardly Wait
Cheech & Chong's Up in Smoke
Community: Season 1-6
Deep Impact
God's Not Dead
Just Friends
Killer Klowns from Outer Space
Kim's Convenience: Season 4
Lethal Weapon
Lethal Weapon 2
Lethal Weapon 3
Lethal Weapon 4
Minority Report
Molly's Game
Mortal Kombat
Mud
Pokémon the Series: Sun & Moon: S3: Sun & Moon – Ultra Legends
Promised Land
Road to Perdition
Salt
School Daze
Sherlock Holmes
Soul Plane
Sunrise in Heaven
Taxi Driver
The Death of Stalin
The Girl with All the Gifts
The Hangover
The Matrix
The Matrix Reloaded
The Matrix Revolutions
The Perks of Being a Wallflower
The Roommate
The Runaways
The Social Network
Wildling
April 3
Coffee & Kareem
Money Heist / La Casa De Papel (Part 4)
April 7
Terrace House: Tokyo 2019-2020 (Part 3)
April 10
Brews Brother (Season 1)
April 17
Earth and Blood / La Terre et le Sang (French Movie)
Sergio
April 18
The Green Hornet
April 24
After Life
Extraction
April 25
The Artist
Django Unchained
April 30
The Victims' Game
Leaving April 30
A Cinderella Story
A Little Princess
A Nightmare on Elm Street
Blade Runner: The Final Cut
The Craft
Crash
Crouching Tiger, Hidden Dragon
The Dirty Dozen
Dirty Harry
Driving Miss Daisy
Friday the 13th
Good Burger
GoodFellas
The Hangover
Harold & Kumar Go to White Castle
Lemony Snicket's A Series of Unfortunate Events
Police Academy
Police Academy 2: Their First Assignment
Police Academy 3: Back in TrainingPolice Academy 4: Citizens on Patrol
Police Academy 5: Assignment: Miami Beach
Police Academy 6: City Under Siege
Police Academy 7: Mission to Moscow
Rosemary's Baby
Rounders
Scream 2
Scream 3
The Shawshank Redemption
Space Jam
Spy Kids
Step Brothers
Strictly Ballroom
The Talented Mr. Ripley
Teenage Mutant Ninja Turtles
True Grit
Disney+
Disneynature:
African Cats
Chimpanzee
Bears
Born in China
Crimson Wing
Monkey Kingdom
Wings of Life
National Geographic:
America's National Parks
Wild Yellowstone
The Flood
JANE
Before the Flood
Planet of the Birds
Sea of Hope: America's Underwater Treasures
Kingdom of the White Wolf
Tree Climbing Lions
Hostile Planet
Wild Russia
One Strange Rock
Giants of the Deep Blue
Kingdom of the Blue Whale
Great Migrations
Earth Live
Winged Seduction: Birds of Paradise
Into the Grand Canyon
April 1
Doctor Doolittle
April 3
A Tale of Two Critters
In a Nutshell
Don's Fountain of Youth
Donald's Dog Laundry
Double Dribble
Dragon Around
Elmer Elephant
Fish Hooks (S1-3)
How to Play Football
Lambert, The Sheepish Lion
On Ice
Out of Scale
Penguins
Pluto's Party
Sea Scouts
Sonny with a Chance (S1-3)
The Boy Who Talked to Badgers
The New Neighbor
The Small One
The Straight Story
Disney+ Originals
Life on the Edge – "Penguins Behind the Scenes"
Dolphin Reef
Diving with Dolphins – "Dolphin Reef Behind the Scenes"
Star Wars: The Clone Wars – Episode 707 – "Dangerous Debt" – Episodes continue weekly
April 10
Life Below Zero (S14)
Paradise Island (S1)
Playtime with Puppy Dog Pals (S1)
Running Wild with Bear Grylls (S5)
Tut's Treasures: Hidden Secrets (S1)
April 12
PJ Masks (S3)
April 17
Brain Games (S8)
Let's Stick Together
Mickey and the Roadster Racers: Nutty Tales (S1-2)
Pluto's Purchase
The Incredible Dr. Pol (S16)
April 19
Just Roll with It (S1)
April 20
Secrets of the Zoo: Tampa (S1)
April 22
Fury Files
Jane Goodall: The Hope
April 23
Disney Rapunzel's Tangled Adventure (S3)
April 24
America's Funniest Home Videos (S12-19, 23)
Man in Space
Mars and Beyond
The Olympic Elk
April 30
National Treasure
HBO
Theatrical Premieres:
Dragged Across Concrete, 2018 (4/1)
Galveston, 2018 (4/1)
Good Boys, 2019 (4/4)
It: Chapter 2, 2019 (4/11)
Stuber, 2019 (4/18)
Original Programming:
Bad Education (4/25)
Autism: The Sequel (4/28)
Series Premieres:
Atlanta's Missing and Murdered: The Lost Children, Docuseries Premiere (4/5)
Insecure, Season 4 Premiere (4/12)
Run, Series Premiere (4/12)
Entre Hombre, Series Premiere (4/19)
Shadows, Season 3 (4/20)
We're Here, Series Premiere (4/23)
I Know This Much Is True, Limited Series Premiere (4/27)
Series Finales:
High Maintenance, Season 4 Finale (4/3)
The Plot Against America, Series Finale (4/20)
Starting April 1:
Alpha and Omega, 2010
Alvin and the Chipmunks: Chipwrecked, 2011
American Pie, 1999
American Pie 2, 2001
American Wedding, 2003
Becoming Jane, 2007
Clockstoppers, 2002
Daylight, 1996
Die Hard, 1988
Die Hard 2, 1990
Die Hard with a Vengeance, 1995
Drop Dead Fred, 1991
The Family Stone, 2005
The Flintstones, 1994
The Flintstones in Viva Rock Vegas, 2000
Glee: The 3D Concert Movie (Extended Version), 2011
The Great Gilly Hopkins, 2015
The Judge, 2014
The Kids Are All Right, 2010
The Lovely Bones, 2009
Loving, 2016
Monte Carlo, 2011
The Nice Guys, 2016
The Predator, 2018
Slumdog Millionaire, 2008
Something Wild, 1986
Sophie's Choice, 1982
Team America: World Police, 2004
Ulee's Gold, 1997
War Dogs, 2016
Water for Elephants, 2011
Xanadu, 1980
Ending April 26:
Kit Kittredge: An American Girl, 2008
Ending April 30:
Bruce Almighty, 2003
The Chronicles of Narnia: The Voyage of the Dawn Treader, 2010
Cyborg, 1989
The Darkness, 2016
The Day After Tomorrow, 2004
George of the Jungle, 1997
Good Boy!, 2003
Hedwig and the Angry Inch, 2001
Homeward Bound: The Incredible Journey, 1993
Homeward Bound II: Lost in San Francisco, 1996
The Ladykillers, 2004
Mary Queen of Scots, 2018
Men of Honor, 2000
The Mule, 2018
Mr. Bean's Holiday, 2007
My Soul to Take, 2010
The Object of My Affection, 1998
Out of Sight, 1998
Puss in Boots, 2011
Religulous, 2008
Rush Hour 2, 2001
The Parallax View, 1974
Upgrade, 2018
Welcome to Marwen, 2018
Won't You Be My Neighbor?, 2018
Hulu
Movies
A Kind Of Murder (4/20)
A Teacher (4/15)
Abominable (4/24)
Bangkok Dangerous (4/1)
Bend It Like Beckham (4/1)
Blazing Saddles (4/1)
Cunningham (4/23)
Diary of a Hitman (4/1)
Dr. Seuss' Horton Hears a Who (4/1)
Dr. T. and the Women (4/1)
Footloose (4/29)
Free Birds (4/1)
Fun in Acapulco (4/1)
Gator (4/1)
Get Smart (4/1)
Gods and Monsters (4/1)
Gorky Park (4/1)
Harry Benson: Shoot First (4/16)
Hud (4/1)
Kill Bill: Volume 1 (4/1)
Kill Bill: Volume 2 (4/1)
Let Me In (4/1)
Little Joe (4/9)
Madagascar: Escape 2 Africa (4/1)
Misery (4/1)
Moll Flanders (4/1)
Paranormal Activity 3 (4/20)
Parasite (4/8)
Phone Booth (4/1)
Repentance (4/1)
Risky Business (4/1)
Romancing the Stone (4/1)
Shirley Valentine (4/1)
Spider-Man (4/1)
The Ant Bully (4/1)
The Book Of Eli (4/1)
The Boost (4/1)
The Chumscrubber (4/1)
The Eternal (4/1)
The Full Monty (4/1)
The Jewel of the Nile (4/1)
The League of Extraordinary Gentlemen (4/1)
The Messenger (4/15)
The Mexican (4/1)
The Sender (4/1)
The X-Files: I Want to Believe (4/1)
Trapped: The Alex Cooper Story (4/1)
Unlocked (4/14)
Vault (4/14)
Victoria Gotti: My Father's Daughter (4/1)
Who Let The Dogs Out (4/1)
Zombieland (4/1)
TV
2020 Billboard Music Awards: Special (4/30)
60 Days In: Narcoland: Season 1 (4/1)
90 Day Fiance: Happily Ever After?: Season 4 (4/1)
Alone: Season 6 (4/1)
Breaking Amish: Seasons 2-3 (4/1)
Bring It!: Season 5 (4/1)
Chopped: Season 36 (4/1)
Cutthroat Kitchen: Season 12 (4/1)
Dance Moms: Seasons 2 & 6 (4/1)
Diners, Drive-Ins, and Dives: Seasons 27–29 (4/1)
Dr. Pimple Popper: Season 3 (4/1)
Fast N' Loud: Season 13 (4/1)
Fixer Upper (How We Got to Here: Looking Back on Fixer Upper): Special (4/1)
Forged in Fire: Season 6 (4/1)
Future Man: Season 3 (4/3)
Gold Medal Families: Season 1 (4/1)
Hidden Potential: Season 1 (4/1)
House Hunters: Season 120 (4/1)
Kabukicho Sherlock: Season 1 (4/1)
Kids Behind Bars: Life or Parole: Season 1 (4/1)
Kono Oto Tomare!: Sounds of Life: Season 2a (4/9)
Little Women: Atlanta: Season 5 (4/1)
Little Women: LA: Seasons 7 & 8 (4/1)
Love It or List It: Season 14 (4/1)
Married at First Sight: Season 9 (4/1)
Marrying Millions: Season 1 (4/1)
Mrs. America: Series Premiere (4/15)
My Little Pony: Friendship is Magic en Español: Season 9B (4/12)
My Little Pony: Friendship is Magic: Season 9B (4/12)
No Guns Life: Season 1 (4/7)
Property Brothers: Seasons 10 & 11 (4/1)
Real Housewives of Potomac: Season 4 (4/10)
Siren: Season 3 Premiere (4/3)
Songland: Season 2 Premiere (4/14)
Special-7: Season 1 (4/22)
Taken at Birth: Season 1 (4/1)
The Bachelor: Listen to Your Heart: Series Premiere (4/14)
The Baker and the Beauty: Series Premiere (4/14)
The Family Chantel: Season 1 (4/1)
The Food That Built America: Season 1 (4/1)
The Kitchen: Seasons 16 – 18 (4/1)
The Masked Singer: Sing-Along Spectacular: Special (4/15)
Til Death Do Us Part: Season 1 (4/1)
Too Cautious Hero: Season 1 (4/6)
TRANsitioning: Season 1 (4/1)
What We Do In The Shadows: Season 2 Premiere (4/16)
Who Wants to be a Millionaire?: Series Premiere (4/9)
Your Pretty Face is Going to Hell: Season 4 (4/3)
Tubi
Adore
Airplane II: The Sequel
And So It Goes
The Big Short
Blood Diamond
Bullet To The Head
Cellular
The Conjuring
The Curious Case of Benjamin Button
Edge of Darkness (2010)
Escape From Planet Earth
The Family
Free Birds
Head Of State
Hector And The Search For Happiness
Jay And Silent Bob Strike Back
The Last Witch Hunter
Monster Trucks
Rock Dog
Set It Off
Shaft (2000)
Shrek Forever After
Total Recall
Universal Soldier
Urge
For access to exclusive gear videos, celebrity interviews, and more, subscribe on YouTube!