When Navy SEALs are on missions behind enemy lines, they need to survive in the wilderness with just the equipment on their backs. So when the cast of History's SEAL-focused show SIX prepared for the series' second season, they trekked for four days into the mountains of British Columbia.
The group hiked over a mountain, camped out in snow-filled forests, built their own fires, and crossed rough-water rivers—all while lugging packs of heavy equipment. By the end of it all, the team summited 7,608-foot Black Tusk, and honed some real-life survival skills.
For actor Barry Sloane, who plays SEAL Team Six leader Joe "Bear" Graves, that dedication to pushing into the wild made all the difference in presenting an authentic SEAL team.
"I know Tom Cruise says this a lot, but we don't have any stunt doubles to do any of the SEAL stuff," Sloane told Men's Journal. "Once you do it in real life, it becomes more natural on the show. They have teams of background SEALs who'll be with us, but we basically do it all. They taught us about navigation, sleeping in the snow, survival in tough conditions, as well as the practical stuff—moving in full gear at altitude."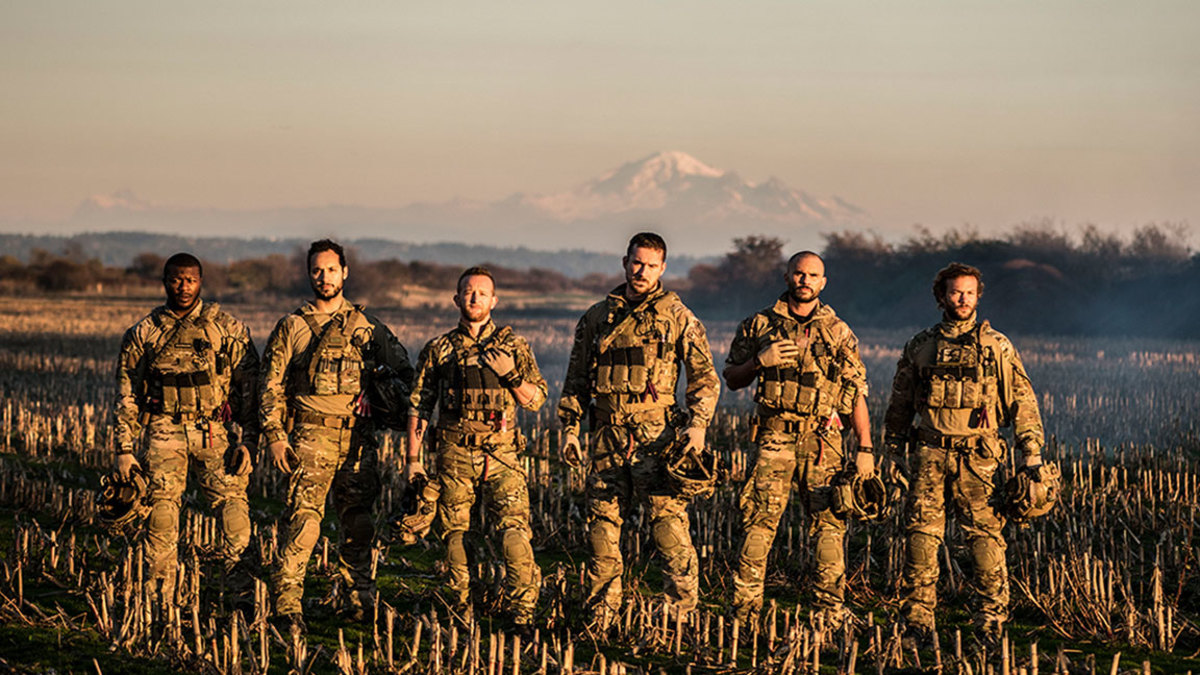 To stay in good enough shape to make it through that type of preparation, Sloane and the cast have done martial arts and CrossFit-style workouts. But overall, Sloane likes to keep his workout routine old-school.
"I'm more into beast-lifting things—going heavy, smashing things with sledgehammers," Sloane said. "Nutrition-wise, when I'm training and bulking, I'll eat as clean as possible. I will also fast in the mornings; it doesn't work for everybody, but it works for me."
That said, he's no ascetic monk: "Even when I diet, I never like to deny myself anything, so if I want to have a beer, I'll have one," he says.
In the second season, Sloane's character steps into even more of a central role after—spoiler alert—the shooting of Rip (Walton Goggins), who was hit in the Season 1 finale. Bear and the team partner with CIA operative Gina Cline (new castmember Olivia Munn) across Eastern Europe as they hunt the terrorists who shot Rip.
Sloane has appeared on the TV series Revenge, Longmire, and Shameless, and in the film Noah. But the Liverpool native found excitement in the new dynamic. "When Rip's not there anymore, the two 'big brothers,' Bear and Buddha (Juan Pablo Raba), start to lock heads and wrestle for control of our family. Juan Pablo and I, we're very, very close. We're like a family anyway, we have a great dynamic. The writers are very good at keeping things fresh."
While SIX hasn't officially been picked up for Season 3, Sloane would love to be back for more: "This cast and crew are incredible and I love working on the show," Sloane said.
SIX airs regularly on Wednesdays at 10PM ET/PT on HISTORY. The first season of SIX is currently streaming on Hulu.
Sloane spoke with Men's Journal about training to play a Navy SEAL, his favorite (other) TV shows to watch, flying in Black Hawk helicopters, and working with Olivia Munn on Season 2 of SIX.
(Editor's Note: This interview has been edited for clarity.)
MJ: How did shooting Season 2 compare to Season 1?
Sloane: This season was fun and challenging in different ways. I feel we expanded the scale and the scope of the show. In [Season 1] we let you into a world, and now, in Season 2, we've locked the door, and you can't leave. You have to follow us down the rabbit hole, and you don't get to turn away.
This might be an odd comparison, but it's like what Quentin Tarantino said about Reservoir Dogs. Michael Madsen's character is charming, fun, always singing a song, dancing—and then suddenly he's cutting a dude's ear off. You don't get to look away now. This season, you're actually inside these guys' heads, which is incredibly intimate for a show like this.
What did you learn from working with real-life Navy SEALs, and how did you bring it to the show?
As an actor, my job is to be sort of hyper-emotional or very emotionally intelligent. What's interesting—and, for an actor, challenging—is that a lot of these SEALs are structured so they don't feel like we do, and don't panic like we do. Everything slows down for them. That's the biggest thing we'd get from the guys all the time. They'd tell us to just "slow the f*ck down."
Sometimes, you go a little Saving Private Ryan-style with the gear, and the soldiers would say, "Those guys were drafted, they were a civilian who was given a gun only a few months ago." The guys we're portraying have the most proficient training on the planet. It's the elite level of the SEALs. These guys are very, very good at what they do. They're in that team because they are able to slow down, make the correct decision, and be like surgeons. They're the brain surgeons of the SEAL team.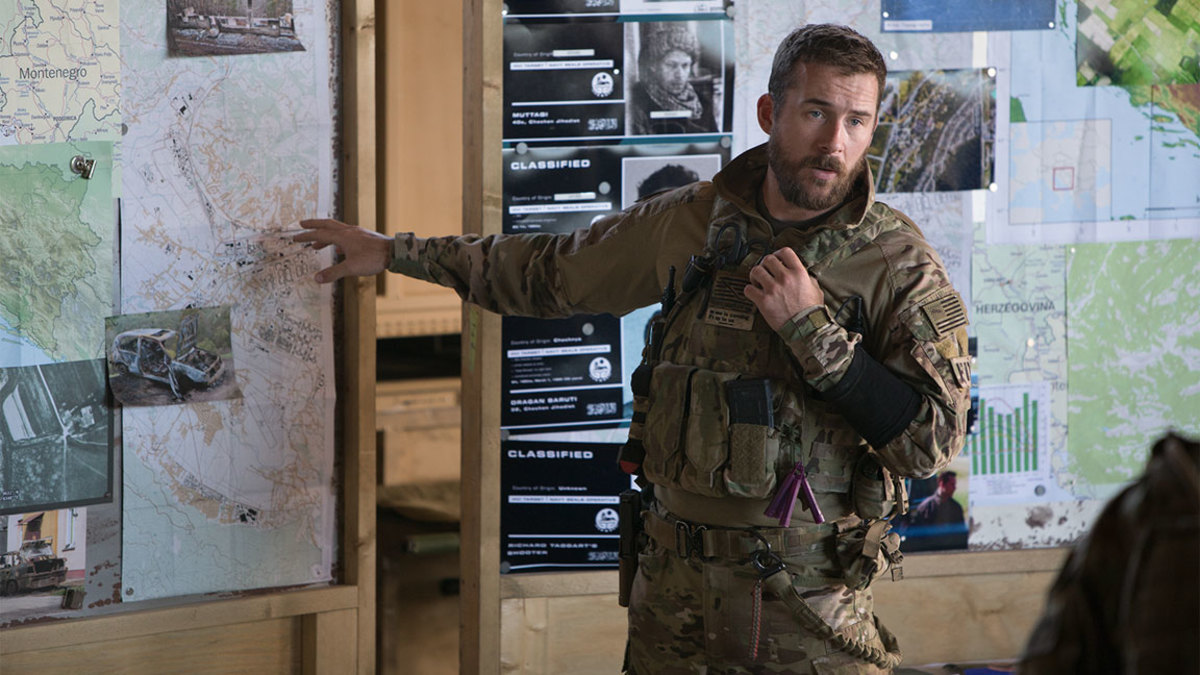 What was it like having someone like Olivia Munn join the cast?
It was great. We had Walton Goggins last year, and to have Olivia come in and add a new energy and a new vibe to the team, it was fantastic.
Coming into an established show that's done well adds a lot of pressure. She's a great actor, and she's joined in and done a fantastic job. There are similarities between her character and Jessica Chastain's character in Zero Dark Thirty—an incredibly strong, powerful woman who's running the show. She's our boss, essentially.
It's also interesting that her part sort of shows the mid-level management of SEALs. There's paperwork behind the bullets you fire and missions you go on. Things are usually overly glamorized: The guys wake up in the morning, they shoot guns, they eat meat, they go home. But there's an admin element to it as well.
You're from Liverpool, but you do one hell of an American accent on the show. How did you get it right?
For me, it's not just about nailing the accent. It's just as much about speech pattern and intonation.
I've lived in the United States for seven years now, and you learn about the the flow of conversation and how to make it right. The English speech pattern can be quite sing-songy. If you just put an accent on this and don't change your speech pattern to that of an American, it's not that the accent is off. Something in the American ear goes, "I don't know where he's from; that's just weird." And so you have to change your pace of the dialogue as well. It's a huge process. With my accent, I can't tell you where Joe's from. He's from America.
What's it like shooting the show on location?
We shot the second season in British Columbia, which was able to stand in for a lot of different places. We needed Eastern Europe, and Vancouver lent itself to that brilliantly—snow-capped mountain ranges, rivers, all that. The first season, which was set in Africa, we shot in Wilmington, North Carolina, and that really fit well, too.
This year looks different from the first season. When the show's initial press release came out, it said each season would take place in a different theater of war, a different country. I think you owe it to the viewers to not keep fighting the same war. With this, if we're fighting a different enemy each year, the show looks different, the performances feel different, it adds a new energy to the show.
What's it like doing the stunts on the show?
It's incredible. When you see shots in the helicopters, that's us in the Black Hawks. Could "we" look an extra 10% more proficient if they had a bunch of SEALs moving for us in those scenes? Yeah, probably. But I know we want to get that authenticity as actors, and that's part of why we do the scenes ourselves. At the end of the day as an actor, why would you not want to do it? You get to put all the gear on. We wear the full weighted vest, the full helmet.
A lot of prep goes into it. If it's a big battle sequence, we'll do two-, three-, four-day rehearsals so that we don't waste the time on set when we're shooting.
Have you guys dealt with any injuries while shooting?
Oh yeah, one with my knee. My knee just went out. My ligaments around the knee popped, basically. There was some pain [laughs]. So I just took painkillers, because I didn't have the chance to fix anything during shooting. Kyle [Schmid] injured his ankle at the start of shooting, but we just get on with it. It's not like either of us couldn't move, but we were feeling the pain. That's also something the SEALs taught us, that you just move with it. One SEAL said, "Believe me, when real bullets are flying, you ain't thinking about your f*cking knee." But anybody who trains hard gets injuries like that anyway, and you just keep going.
What are some other TV shows you enjoy watching?
I like Netflix shows a lot—Stranger Things, The OA, The Crown—those are all great.
For access to exclusive gear videos, celebrity interviews, and more, subscribe on YouTube!