Interview conducted on Friday, October 6, 2017
By now it feels as if Ben Affleck has been around forever. The Boston native caught fire in 1997 when he won an Oscar for writing Good Will Hunting with Matt Damon. The years that followed featured more triumph (Argo, The Town) and plenty of tribulation (Gigli, J. Lo).
Now, as he prepares to renew Justice League, it feels as if we know the guy. That makes writing about Affleck a tricky proposition. What more is there to say about someone whose life has been tabloid fodder for decades? So rather than assigning the usual profile, Men's Journal decided to try something different: We hooked Affleck up with one of this best pals, talk show host Jimmy Kimmel, and just turned on a tape recorder.
Of course, the banter is mostly light—after all these two boned on the set of a viral video called "I'm fucking Ben Affleck", in 2008. But at 45, Affleck is more introspective than ever. Neither he nor Kimmel is afraid to admit that old age is creeping up on them, and they're not reluctant to share strategies for coping with the inevitable. This is what middle age looks like. Ot at least what it looks like on Batman.
JIMMY KIMMEL: As you know, it's always been my dream to conduct an interview for Men's Journal.
BEN AFFLECK: Well, it seems like you should be on the cover.
JIMMY: You'd think so, but I'm not. My first question is: Are you in love with your body?
BEN: Yes. I'm in love with my body. I don't want to break up with my body. I'm very forgiving with my body. I don't have very high standards.
JIMMY: Is that true?
BEN: Yes. That's very true. It's a lot of work to get in shape for a superhero movie. It's much, much nicer just to have the nonsuperhero body. You know what I mean?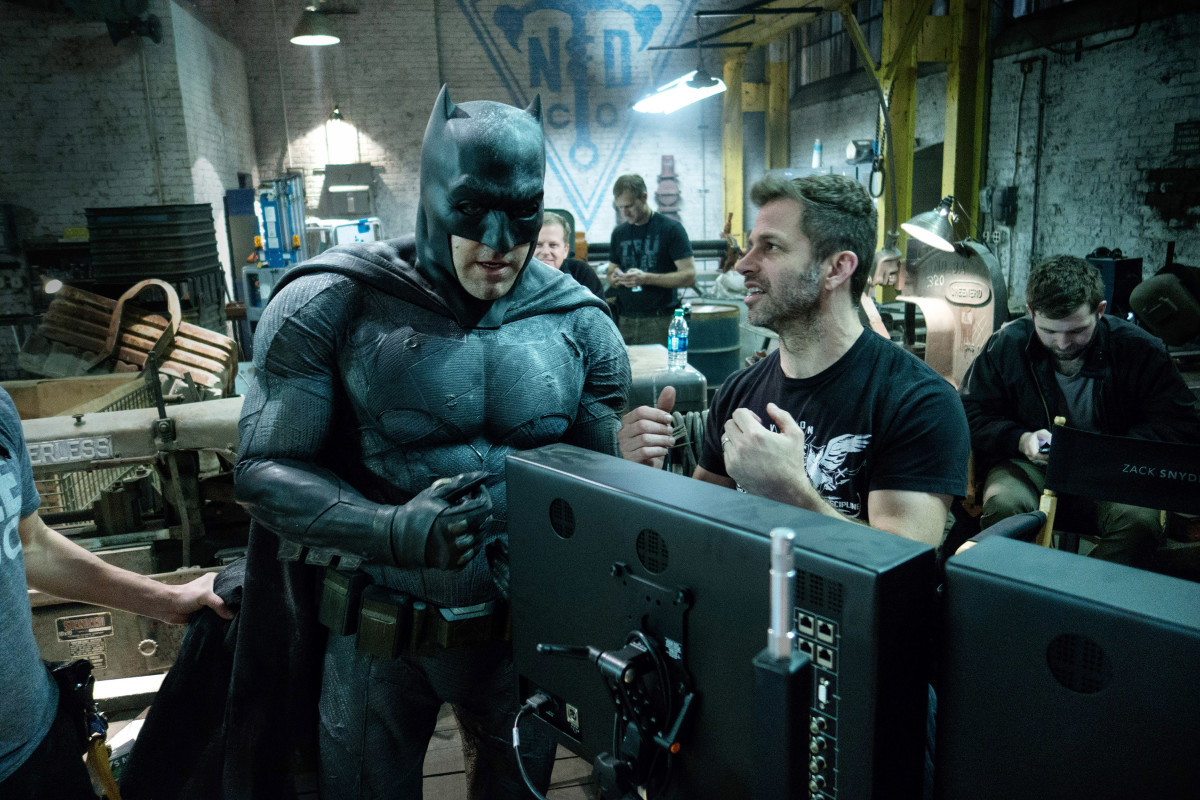 JIMMY: Oh, believe me, I know what you mean. Do you look at yourself in the mirror at certain angles to make yourself feel better about your physique?
BEN: No. I don't own a skinny mirror or anything. I just avoid mirrors altogether. And occasionally, I catch a glimpse of this, like, strange, unshaven, middle-aged man. And I don't recognize him at all. I'm horrified when I realize that actually the huge, shuffling, gray-haired homeless guy is me.
JIMMY: That's the opposite of vanity. Do you  feel like you are vain in any way?
BEN: I think, in all seriousness, you can't help but be critical of yourself when your work is thrown back in your face and you see yourself all the time. Especially with paparazzi pictures. They do the opposite of movies. They try to pick the one where you look the most bloated and grotesque. And then they run the headline. It's, like, "Affleck Homeless for Life!"
JIMMY: It seems as if maybe they alternate. Like, they want to get you looking your worst, then, six months later, they want you looking your best, so they can say how great you look now and encourage people to click on that. Then, three months later, they go back to you at your worst again.
BEN: It has to swing both ways. Otherwise there's no story. There's no drama. So you go from clinging to life on a ventilator, to being 400 pounds, and then back again so they can pummel you next month.
JIMMY: I don't think it even has anything to do with showbiz. I think every human being has a certain amount of vanity. I was looking at my bald spot and kind of fretting about it, and I think my wife was making fun of me. Meanwhile, I'm staring at my own death. I'm witnessing my impending demise, as represented by the bald spot on my head.
BEN: People think that is a suggestion that you're admiring yourself. You know, the fact of the matter is, it's just staring and thinking, "Why do I have bags under my eyes? Why am I so fat and out of shape?"
JIMMY: What kind of workout do you do? Jumping jacks and Jack LaLanne kind of stuff?
BEN: Pushups, jumping jacks, and situps. The same workout I picked up in prison. I stick with that.
JIMMY: Nice. Because you don't need a lot of space.
BEN: Yes. If you can do your workout in a prison cell, then you're doing it right.
JIMMY: Do you listen to music when you work out? And if so, what kind?
BEN: I watch late-night talk shows.
JIMMY: Oh, thank you so much. I love to imagine you grunting and sweating while I'm addressing America.
BEN: We're both sweating.
On Aging Gracefully
JIMMY: What is the worst thing about getting older?
BEN: I feel like I'm too young to have as white a beard as I have. I have a full-on, fucking Santa Claus white beard. And I'm only 45. There's that, and then there's the overall fact that your body has to eat itself and waste away.
JIMMY: For me, it's having to wear reading glasses and not being able to see menus in restaurants.
BEN: I'm not at that point, but Matt Damon is. So it's a nice contrast whenever we go out and order food from a restaurant. Matt's got to put on the bifocals and peer over his glasses at the menu. I can read it all fine.
JIMMY: How old do you feel like you are? Because I'm about to turn 50, but I feel like I'm 24.
BEN: I feel like I'm about 25. And that's who I imagine my peers are. I was an actor as a child. I did a little bit here and there, and I was just always used to being the kid.
JIMMY: Right.
BEN: Then I came out and started working in my 20s. And I was always proud to be the youngest guy on the set. Just recently, I've started looking around and going, like, with maybe the exception of the cinematographer, I'm actually the oldest guy on set. And they're all just looking at me as the guy they have to wait for to walk away before they can light a joint. You know what I mean?
JIMMY: Yeah.
BEN: And I'm, like, "Hey man. It's cool."
JIMMY: You might be a narc. What is it that you see in Matt Damon? Is that being around him makes you feel smarter?
BEN: You know, I've always…I've never been able to put a finger on exactly what it was. But I know there's something special there.

JIMMY: I know you're childhood friends. But if you met him today, you'd hate him, right?
BEN: I don't know. Maybe. I'm not sure. I think at this point, us old guys have to stick together, you know what I mean?
JIMMY: Not in his case. Do his daughters call you Uncle Ben?
BEN: Like the rice, yes. Exactly.
On Acting and Directing 
JIMMY: When your brother, Casey, won the Oscar this year, I was looking at you in the audience. True or false, you were crying?
BEN: False. Outrageous slander.
JIMMY: Were you having an allergic reaction of some kind?
BEN: I was sick, clearly. I was very…allergic. I didn't feel well.
JIMMY: How often do you cry?
BEN: Every time my brother wins the Oscar.
JIMMY: Do other actors treat you differently because you're a director?
BEN: I don't think so.
JIMMY: The reason I ask this question is because I witnessed something once, backstage at an awards show, where an actor was—I won't say who it was—but this person was not so subtly hitting you up to be considered for whatever your next project was.
BEN: Really?
JIMMY: And it was interesting to watch that.
BEN: I mean, that's definitely happened. But it's the condition of being an actor, you know? There's a certain amount of neediness that comes with being an actor, which I identify with.
On Boys and Their Toys
JIMMY: Do you collect anything?
BEN: I used to collect comic books when I was a kid, and baseball cards, but I don't really now. I've started saving props and memorabilia and stuff from movies. I realize that it all just disappears, so I just take them.
JIMMY: I have a lot of stuff like that. I have a lot of memorabilia, including a giant neon Man Show sign that hangs over the bar at our show. And I sometimes look at it and go, "What am I going to do with that once this show is over?" Then sometimes I think, "Oh, maybe my kids will want it." And then I think, "Oh, no, my kids are not going to want this at all. Who is going to want this?"
BEN: I had the exact same thought. Where I was like, "Oh, my kids might like this." And then I was sitting there one day. I was looking at all this shit. I was thinking, "I'm going to die, and my kids are just going to be like, 'What the fuck do we do with all of Dad's bullshit. He's a hoarder. And we've got to comb through it now and throw it away.' "
JIMMY: Do you collect cars?
BEN: I don't collect cars, but I have a '69 Cadillac Sedan DeVille that my brother and I bought in 1991, when we moved to L.A. We've had it restored and kept it up and still drive it periodically. And then I also have a 1966 Chevelle. So I like cars. I especially like '60s American cars. But I don't collect them in the sense that I think you have to have more than two of something to be considered a collector.
JIMMY: I wonder what the number is, as far as cars go, at which you become a collector?
BEN: Leno qualifies. We know that.
JIMMY: Definitely. It's funny because when you came over to my house once, with your new BMW hybrid, and we couldn't…
BEN: It fucking died.
JIMMY: …get it started.
BEN: I had to come back in the house to ask you for help.
JIMMY: We spent two hours in the dark reading the manual, trying to figure out how to get the damned thing started. And it turned out, after all was said and done, this electric car was out of gas.
BEN: That's right.
JIMMY: And if you let it run out of gas, you're screwed. You have to have it professionally restarted. Which seems like a bad feature.
BEN: It's got to have gas to make it run, even though it's supposed to be a hybrid. And I think somebody came by your house the next day to pick it up.
JIMMY: But it turned out we just weren't particularly bright.
BEN: We weren't great car mechanics.
JIMMY: Yeah. We're not men is what we learned, I think.
BEN: Well, that we learned long ago.
JIMMY: All right, well, I think we've covered everything. Hey, your testicles, are they evenly sized?
BEN: So far, so good. But I make sure to check every day.
JIMMY: OK, good.
BEN: Because you never know when you might be in for a surprise.
JIMMY: Just give those things a good little squeeze every day, like a pair of dice.
BEN: I'll give them a little tug in your honor.
JIMMY: Please do. Give them my best.
BEN: You're the best.
JIMMY: Your balls are the best.
For access to exclusive gear videos, celebrity interviews, and more, subscribe on YouTube!