This is sponsored content. Men's Journal is not endorsing the websites or products set forth below.
Delta-8 THC (tetrahydrocannabinol) is the latest trend in cannabis-based products. THC is the compound in marijuana that causes psychoactive effects. The most well-known form of THC products is Delta-9. Delta 8 products contain a less intense form of THC, which gives the pleasant effects of Delta-9 without the unpleasant psychotropic effects. This article will focus on Delta-8 disposable vape pens. Some of the factors we considered were the quality of the pen, convenience, size, and the vape liquid.
Vaping products have also become hugely popular because you can use both CBD and Delta-8 products in the devices. Vaporization allows for them to be quickly absorbed into your bloodstream once the vapor enters your lungs. While there are many different vaping devices out there, this article focuses on vape pens.
Vape pens are one of the most popular vaping devices on the market. They can look quite stylish and are very discrete, while being simple and effective to use. In comparison to other vaping devices, vape pens work just as well at delivering the vapor. Anyone, whether a beginner or a seasoned vaper, can enjoy delta-8 vapes. Because there are so many products on the market right now, browsing them as a new user can cause procrastination.
The vape pens chosen for this list are pens that can be carried discretely enough that no one would know you even have one unless they saw you using it.
Because vape pens have gained popularity in the last few years, the market has been flooded with products. This means that there are some excellent vape pens and some that could be detrimental to your health.
Due to the array of choices out there, we put in the time to research so you can make an informed choice. Some of these vaping pens boast natural terpenes for flavor, Delta 8 distillate, hybrid strains (indica and sativa), and THC oil. Note: Legal weed is only legal if your state allows it. If your health checks out and THC products and Delta-8 is legal in your state, check out one of the vape pens on our list.
Top 5 Best Delta-8 Disposable Vape Pens on the Market
#1. Exhale Wellness – Strongest Delta-8 THC Disposable Vape Pen Overall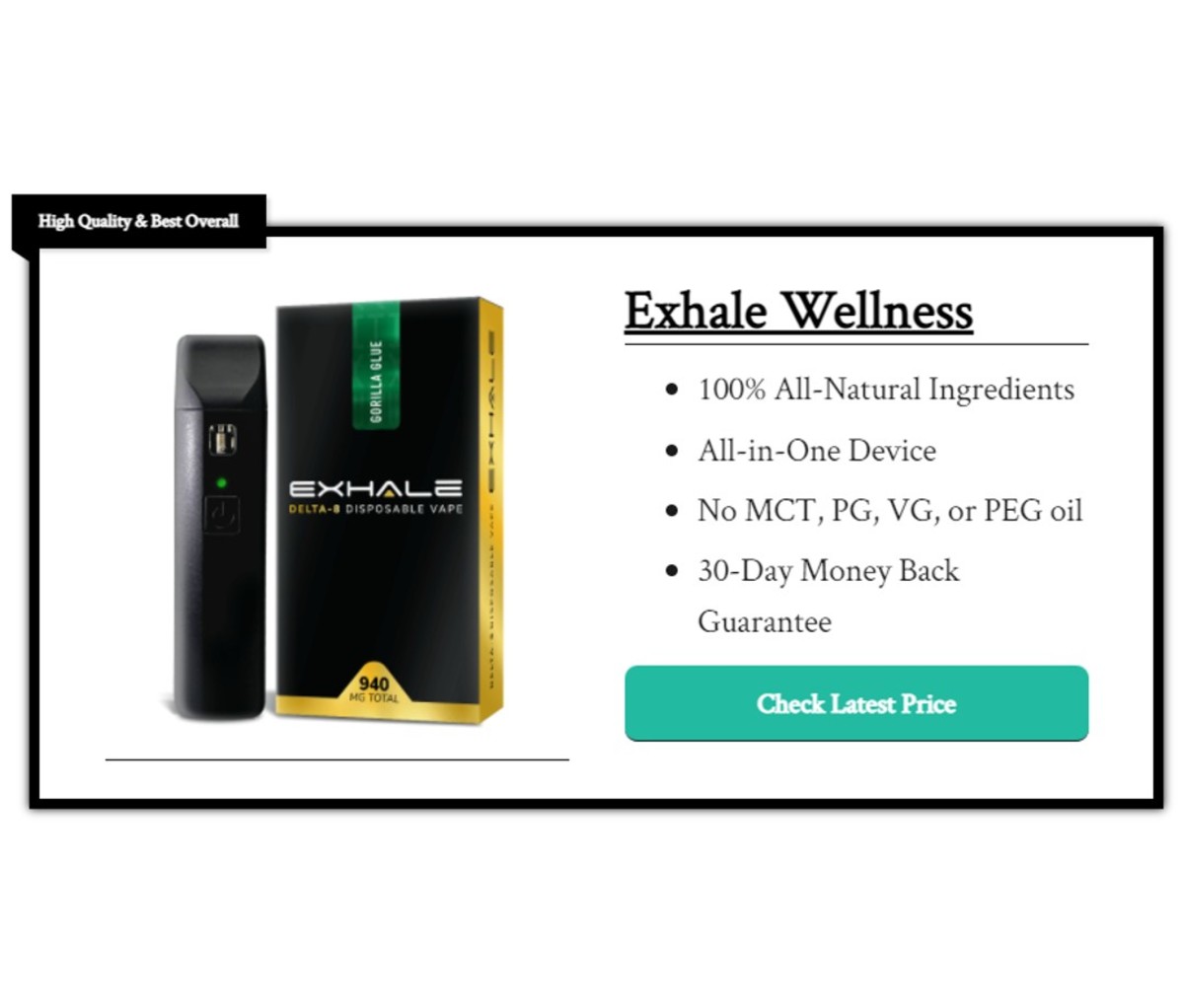 Exhale's website states: "Our philosophy is simple… Nature holds the key to wellness." They are committed to teaching people about the benefits of natural alternatives – including cannabinoids.
As well as teaching others, the people behind Exhale have combined their years of experience in the organic food industry and put it into creating top-quality cannabinoid products.
They use cannabis sourced from certified farms in Colorado and use only dairy, gluten, and GMO-free ingredients in their products, which are also free from artificial colors and flavors..
Highlights
Exhale's cartridges are formulated without MCT, PG, VG or PEG oil, and have set new standards within this sector of the Delta-8 industry. The premium quality of the Delta-8 extract used within these cartridges means you'll get excellent, smooth vapors, and have an awesome experience with your vape. Exhale uses natural terpenes to provide their vape strains with flavor and aroma.
The cartridges are 940mg of Delta-8 THC, with natural flavors that taste great. Exhale's vape pens come in ten different strains: Blackberry, Gorilla Glue, Mango, Cactus Cooler, Jack Herer, OG Kush, Sour Diesel, Blackberry Kush, Fruity Cereal and Pineapple Express.
Pros
• Top-quality, U.S.-grown hemp
• Variety of strains
• Excellent customer service
• Free shipping
• No harmful chemicals
• Third-party lab tested
• 30-day money-back guarantee
Cons
• Only available online
Consumer Opinion
Users of Exhale's vapes and other products state that they provide high-quality Delta-8 THC products with mellow effects.
Many customers explain that if you're a new user, or don't like the harsher effects that some other Delta-8 cartridges can provide, then Exhale's products might be exactly what you're looking for. They provide a smoother, and more flavorful experience than other brands.
⇒ Visit the Official Website of Exhale Wellness for the Best Discount
#2. BudPop – Premium Brand for Most Potent Vape Cartridges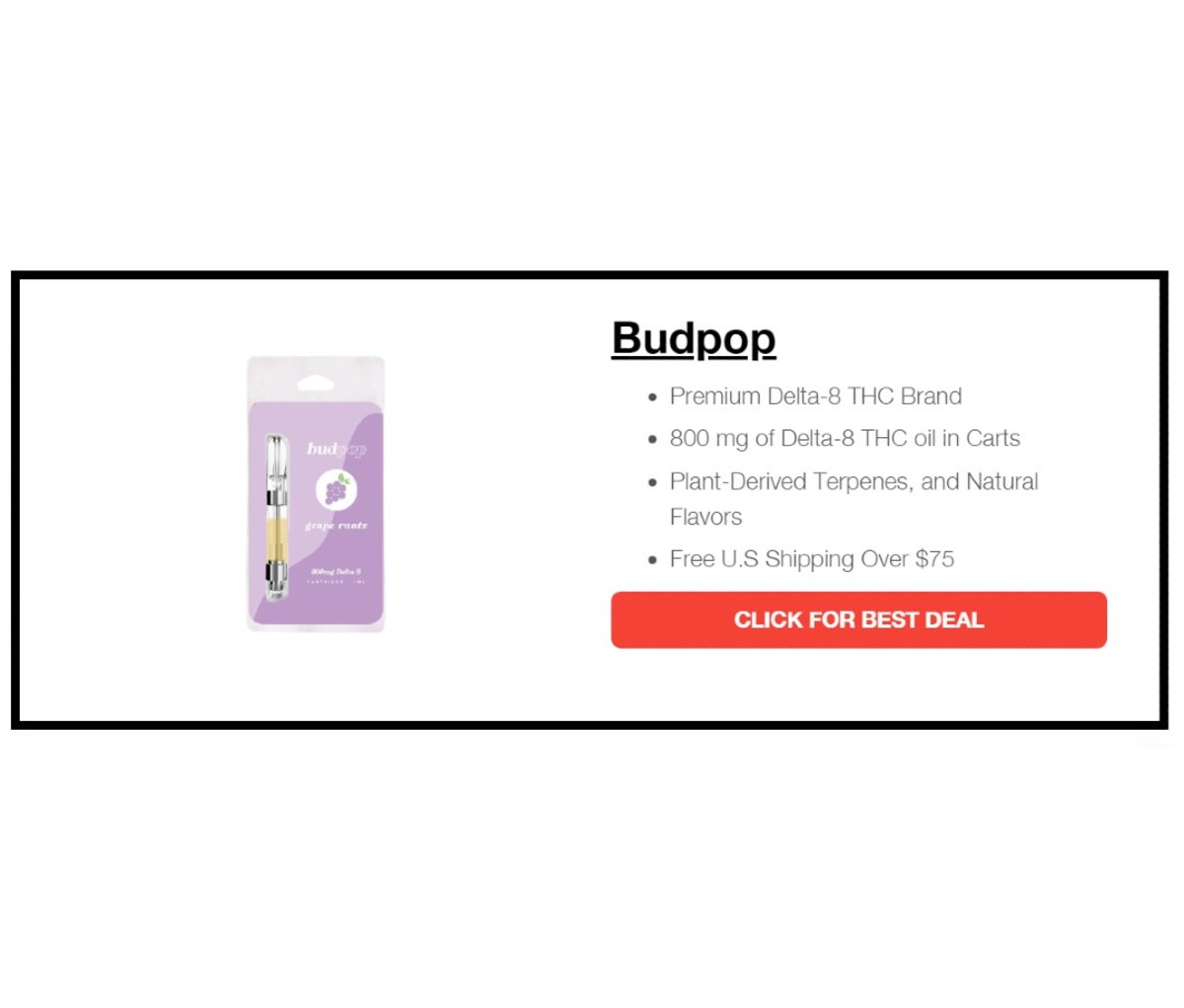 Securing the second position on our list is a brand that pays close attention to its customer's demands. This award-winning brand has rapidly gained ground with its top-notch Delta-8 products, and has provided customers with exactly what they crave. They started as top-tier indoor hemp growers and then made their way to producing some of the best Delta-8 infused products on the market.
BudPop has grown rapidly in popularity in recent years, and it now competes with established brands such as Exhale. They are favored by various unbiased consumers on third-party reviewing sites and are always rated with the best scores for their endless product range. Among their unique Delta-8 products, people gave their cartridges a try and loved them, and many stayed for the convenience of these products. These cartridges are cherished so much that they climbed their way up to the best sellers list and are now frequently sold-out.
Highlights
Strawberry Gelato and Grape Runtz vape carts are available from BudPop. Every draw is a unique experience with a pleasant flavor. Each vape contains 800mg of Delta8 oil, as well as natural tastes and terpenes derived from plants. Terpenes vary depending on the strains used, so you receive exactly what you expect. There is no PG, MCT, VG,PEG, or any other cutting agent in this product. Vapes are composed of food-grade silicone and high-grade stainless steel. A ceramic heater designed specifically for hemp is included. These products have received positive feedback and are well-liked.
Pros
• Reduces anxiety and improves mood.
• Contains less than 0.3 percent Delta-9 THC.
• Natural, Non-GMO hemp used
• Natural ingredients
• Third-party lab tested
•  30-day money-back guarantee
• Excellent customer service
• Free shipping
Cons
• Only available online
• Temporary effects
Consumer Opinion
BudPop is aAnother key player in the cannabis industry and is, BudPop, is well regarded among users. Few other brands offer a 30-day money-back guarantee. The customer support system is equally effective and gives the consumer confidence while purchasing the product.
⇒ Visit the Official Website of BudPop for the Best Discount
#3. Hollyweed CBD – Top Rated THC Weed Pens for Beginners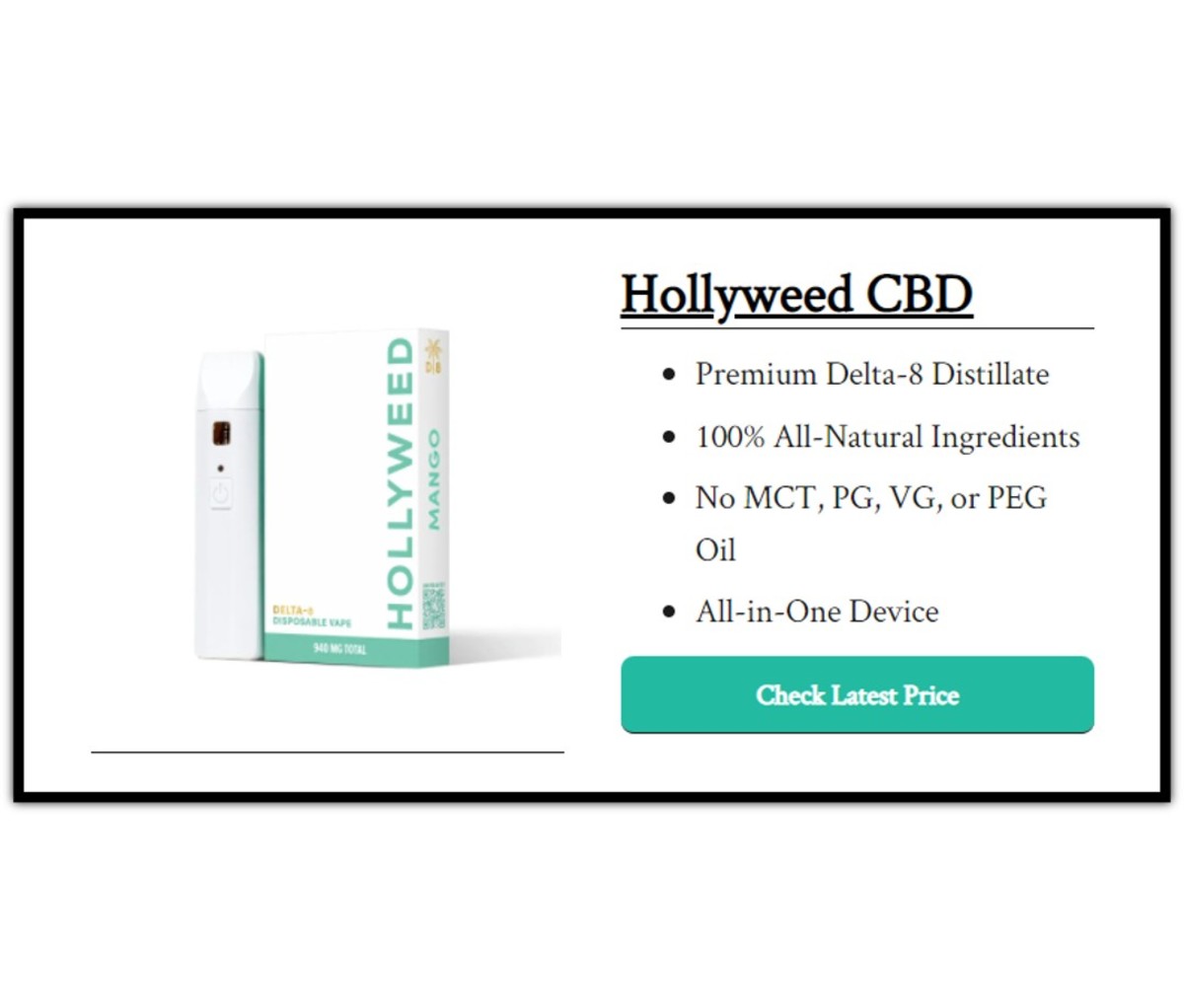 Unlike the more well-known Delta-9, Hollyweed's CBD Delta-8 is distinguished by the fact that its primary source is hemp.
Despite this, the sub-atomic designs of Delta-8 and Delta-9 are nearly identical; however, Delta-8 does not cause any unwanted effects that Delta-9 might.
Highlights
Delta-8 THC is a relatively new addition to hemp-based products for usage, but it is swiftly gaining popularity due to its various medical benefits. They use ingredients that are natural, Non-GMO, dairy-free, and gluten-free.
All of the brand's Delta-8 products contain less than 0.3 percent Delta-9 THC. They've successfully utilized Delta-8's unique assortments to their full potential, resulting in a divine blend of flavors and blends. When it comes to Delta-8 edibles, their products are more economical, which adds to their popularity.
Pros
• High quality products
• All-natural ingredients
• Third-party lab tested
• 30-day money-back guarantee
• Free shipping
Cons:
• Only available on their website
Consumer Opinion
This brand is just as good at supporting customers as it is at making a great product. In addition, the website provides ample information and guidance for all who wish to do research before making the final decision.
Many consumers claim that the company's products help them deal with anxious and nervous feelings. Other customers say that the products help with pain management, with some users also using it to get relief from their arthritis and sciatica problems.
⇒ Visit the Official Website of Hollyweed for the Best Discount
#4. Diamond CBD – Wide Variety of THC Flavored Vape Pens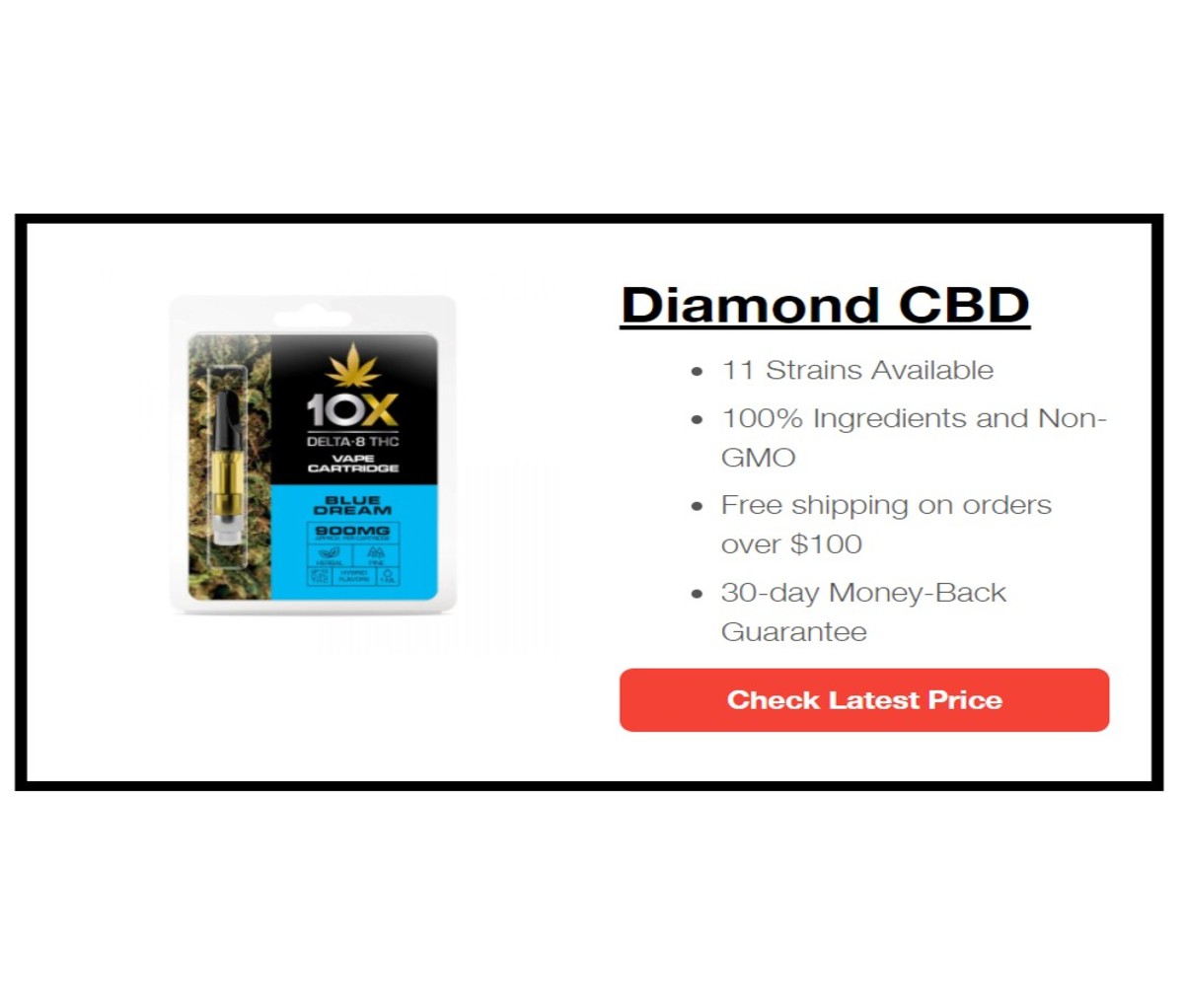 Diamond CBD asserts that their goods are of high quality. It is also well-known as one of the most reliable Delta8 THC carts suppliers in the industry. Diamond CBD's vape carts are made with 100% organic hemp and all-natural ingredients.
The CBD derived from hemp plants is used in the Delta-8 products. Because of its experience in the hemp sector, the brand has been able to develop while focusing on quality, safety, and purity.
All batches of the company's products are guaranteed to be pure and of high quality. They do this by having third-party labs evaluate their hemp extracts and finished goods.
Highlights
Each vape cartridge contains 900mg of Delta-8 THC. There are 11 strains available, including Sour Diesel, Mango Kush, Grape Ape, Blue Dream, Pineapple Express, Lemon Squeeze, Guava, Tangie OG, Strawberry Lemonade, Apple Fritter, and Banana Kush. The brand uses a sophisticated extraction technique. The production method lab sheets are linked to each item page for easy access. The products are manufactured using all-natural components that have not been genetically modified. There is less than 0.3 percent of Delta-9 THC in the cartridges.
Pros
• Simple to use
• All-natural ingredients
• 100% Non-GMO
• Variety of strains
• Soothing effects
•  30-day money-back guarantee
•  Third-party lab tested
• No adverse side effects
• Free shipping on orders over $100
Cons
•  Variety can be intimidating for new users
Consumer Opinion
The quality of the products speaks for itself and makes for some very satisfied customers. Furthermore, a 30-day Money-Back guarantee on every purchase makes the products even more affordable.
Here, you might have to do some leg work as far as getting in touch with customer support is concerned, but if the reviews are anything to go by, you should have a pretty good experience.
⇒ Visit the Official Website of Diamond CBD for the Best Discount
#5. 3 Chi – Most Reputable Brand for THC Disposable Pen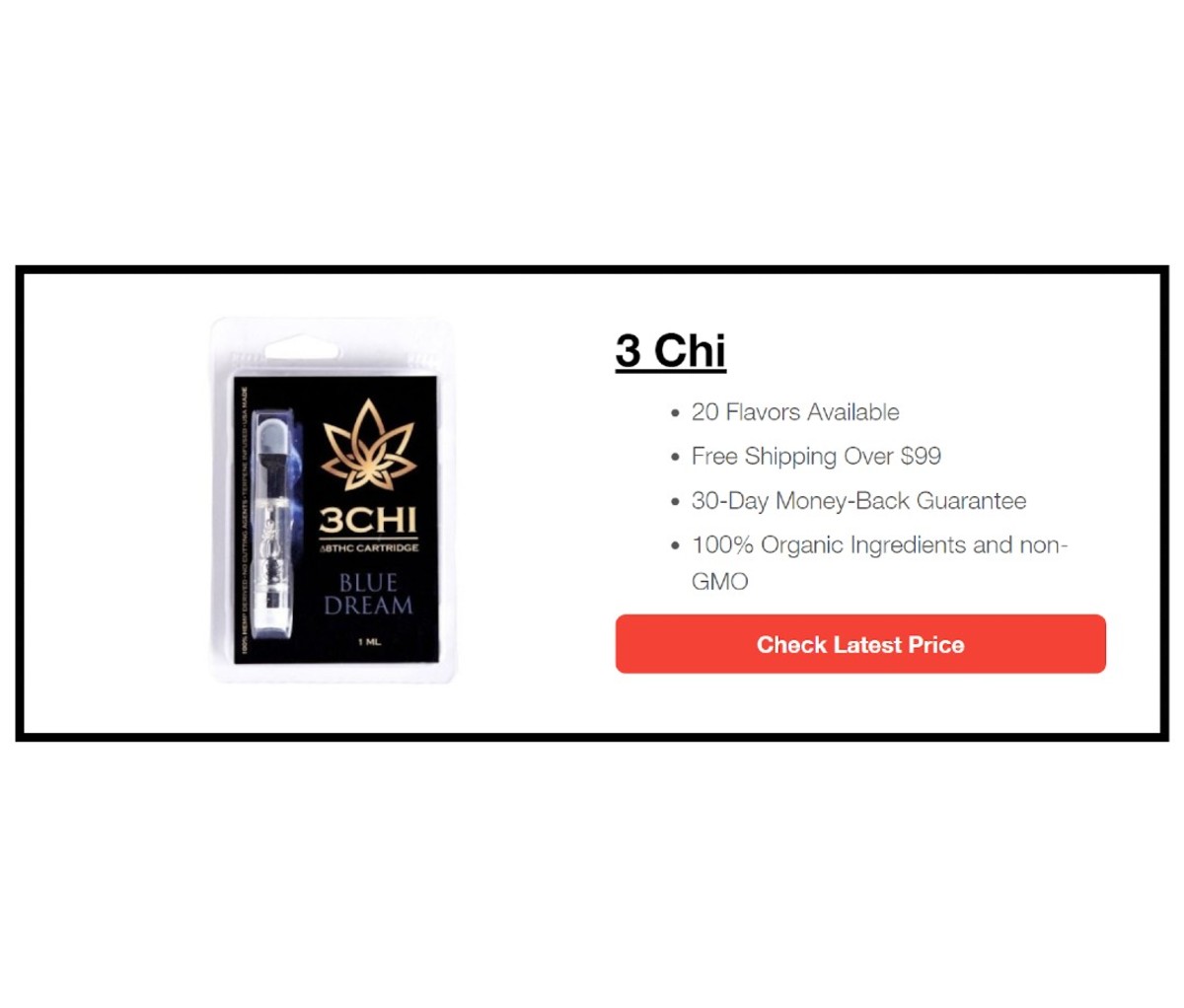 This brand was founded by a biochemist with 15 years of experience in the cannabis field. He witnessed the healing powers of hemp, and since then, 3Chi has been focused on cannabinoid research and bringing the most effective products to the market.
In September 2019, 3Chi was able to offer the USA's first federally legal THC dominant products since the start of the cannabis prohibition. From that point, this brand is one of the leaders in CBN and Delta-8 distributors in the US.
Their disposable vape carts have an unbeatable uplifting feeling, as they contain 75% Delta-8 THC oil, derived from hemp, and are legal. The disposable vape carts are high quality and have great flavors.
3Chi offers a variety of strains to choose from, and you'll feel the Sativa, Indica, and Hybrid effects for each. The ingredients are a broad spectrum of Delta-8 oil and strain-specific terpenes of your choice. There's no Delta-9 compound.
Highlights
The cart activates when you start to inhale, and the recommended serving size is one puff. Be careful since it might be a little harsh for the throat, especially for those who aren't accustomed to concentrated cannabinoid products. You shouldn't exceed 3 seconds per puff.
The 3Chi's Delta-8 vape cartridges  are  pure and concentrated products. The disposable vape cartridges are designed to give pure flavor and convenience..
You must be over 21 years old to start using this product, and you should not use it while pregnant or nursing. There are some health conditions that could interact with the product, so you should consult your physician before use.
Pros
• Effective product
• Nice packaging
• Promotes better sleep and motivation
• Third-party lab tested
• Pure and concentrated product
Cons
• Few flavors available
Consumer Opinion
⇒ Visit the Official Website of 3Chi for the Best Discount
Vape Pens – The Facts!
A vape pen is a small, portable vaping device that allows the user to take it anywhere, and no one will be the wiser. They are also quite stylish looking, because of their shape and size.
Vape pens use pre-filled cartridges filled with various cannabinoid-based liquids that can be vaporized. These cartridges push the liquid into a heating coil, which then vaporizes the liquid.
There are two categories of vape pen: disposable and reusable.
• Disposable Vape Pens
This type of vape pen is what we are looking at in this article. They are very convenient and easy to use. The cartridges in these pens are pre-installed, so you don't have to work out how to change a cartridge. Once they are out of vape juice, you can simply dispose of them.
• Reusable Vape Pens
On the other hand, there is the reusable kind of vape pens. These come with a battery and can be used with cartridges. The battery is rechargeable, but you can just swap it out for a new one as well. You will need to double-check what kind of battery your pen uses.
Factors We Considered When Choosing Vape Pens
Searching for an excellent quality product, no matter what it might be, can be a truly daunting experience, especially if you're new to the product. Thus, doing as much research as you can is very important.
However, a lot of people don't have time to spend hours researching, so that's where we can help. We've done the difficult part, slogged our way through countless products and found the top three.
All the information you need to select the perfect disposable vape pen for your needs is right here at your fingertips. Below we'll tell you how we choose the products.
How We Did It
• We created a list of vape pen brands from those that are most popular as a starting point.
• Once we had the list, we investigated the brands, double-checking their reputations, the quality of ingredients and transparency.
• We also found out what some of the cannabis industry experts had to say about these products and took that into account as well.
• Online reviews played an important role becausewe wanted to know what everyday customers thought about the products once they used them.
• We scoured survey results, finding out what users had said.
• Of course, we investigated the ingredients to make sure no one had tried to sneak in anything harmful or untested into their formulas.
• By checking out the CoA's of the products, we were able to determine the quality of the Delta-8 and the brands' adherence to compliance standards.
• And the last thing we checked was pricing. Something can look and feel amazing, but it's of no help to you if it's too expensive.
Buying Guide: What to Look for When Choosing the Best Delta-8 Vaping Pen
Well, you've got our list, but you want to learn more about how to select your own products for the future. Use this as a guide to learn how to buy a good quality product.
• Ingredients
Like most instances, when it comes to vape oils or liquids, the higher quality the ingredients, the better the end result. With cannabinoids, you want as much purity as possible. Look for hemp plant-extracted Delta-8 that contains little to no additives or contaminants.
Make sure that you go over all the ingredients listed to ensure that they are all safe for consumption. Once you have the safety of the ingredients established, then you can purchase the product knowing you will have a smooth and safe vaping experience.
You should look for Delta-8 products made from organically grown hemp plants that are free of synthetic chemicals and GMOs. The higher quality of the ingredient, the better the extract.
• Shape and Size
In the case of products that you'll be holding, the size and shape of the item are extremely important factors in particular for products that you will use when you are on the go.
When it comes to something that is meant to be convenient like a disposable vape pen, a smaller, more discrete model is going to be preferred to a large, bulky device.
Whilst you might think that a large vape that has more puffs per charge or refill is better, you have to remember that they are less portable because they are weightier, bulkier and more breakable. Larger devices also tend to be more noticeable.
Smaller vape pens, particularly disposable ones, are lightweight, durable, and easy to use. The vape won't look so awkward and will draw much less attention when using one.
• Temperature
A considerable difference between vape pens is the temperature of the heating coil. Typically, you'll want one that runs on the cooler side, as the puffs remain higher in quality and small in size. This can also reduce the harshness of the vapor.
Vape pens that keep a hotter temperature tend to produce larger clouds—essentially giving each puff much larger vapor amounts.
You mostly wind up burning through the vape juice faster and inhale 'burnt', lower quality vapors. Some people prefer this type of vapor, so that is something to think about.
• Features
Features in a vape pen cover a broad range of functions. It can be the make-or-break factor for some experienced users.
In the case of vape pens, these can include temperature settings and pre-programming. These features often make a difference in choosing a product for some experienced users.
• Hemp Source
When opting to use a cannabis product of any kind, you should be knowledgeable of the quality of the hemp plant it comes from. The source should be a reliable, certified farm. Curing, farming practices and extraction methods are all especially important factors to remember when choosing a Delta-8 vape juice.
In general, hemp plants farmed in the U.S. are quite regulated, and some European countries have equally high agricultural standards, making them a safer, higher quality option.
• Third-Party Testing
A third-party lab Certificate of Analysis (COA) is the best way of determining the safety and quality of the cannabis product used within the vape juice in your vape pen. This report gives you completely unbiased facts about the safety and quality of a product.
This is particularly important information for you as a consumer, but also having a COA from a third-party laboratory available for public viewing is good practice for a brand.
Good quality products usually contain a list of cannabinoids, terpenes and the percentages within the product listed in the COA.
This is most often found on the company's website, sometimes included on the product page, but some brands give it a dedicated page. Some brands even include it within the packaging of your order.
• Reputation
The reputation of a brand is vital to its success; a top-quality brand will have an excellent reputation. A brand that doesn't have much or any reputation, is a suspicious sign and you shouldn't trust it.
You really should stick with those that have a good brand reputation, that are very well known within the cannabis market, and are frequently used and approved by many experts in the field, rather than taking a chance on unproven or dubious brands whose products may have safety or quality issues.
• Price
When purchasing any product, price is something that should be taken into consideration. We need to keep the price of the product in mind, and it is a good idea to set a budget.
How much do you want to spend? When you have set your budget, browse items within your price range, then study the labels of the products carefully.
Vape pen prices vary quite a bit, and the products listed here are as affordable as possible whilst maintaining high quality. When it comes to vape products, cheaper products are most likely much less safe.
FAQs: Delta-8 Disposable Vape Pens
Q. How do I use a vape pen properly?
It depends on what kind of vape pen you're using because disposable and reusable vape pens are a little different to use. Disposable pens are quite simple to use, whereas reloadable pens are a little trickier. We'll cover both types, including set up and inhaling.
Firstly, with a disposable vape pen, you don't need to set them up or perform any kind of maintenance. You just need to take it out of the box, start it and take a hit. When the pen is empty, you just toss it and move on. Then of course there are the refillable pens.
With these types of vape pens, you will need to prime the heating coil, then you have to load up the vape juice, and check that the battery has enough charge. You may need to do maintenance and ensure that the settings are adjusted for your preferences.
Priming the coil might not be a term you have heard, especially if you've never vaped before;however, it's fairly straightforward, although maybe a bit messy. You need to take the coil and put a drop or two of CBD oil on the wick. This stops the coil from overheating or burning and is a step you should not skip.
Now for the inhaling part. There are many theories and suggestions about the right way to inhale. Some people suggest that a "low-and-slow" approach works best, others are fans of the "fast-and-hard" approach.
Our research has found that the best method is to puff, then inhale and exhale at your own preference. Don't bother holding your inhale because it won't increase your cannabinoid absorption.
Q. Are vape pens safe to use and should I take any special precautions?
Provided they are of high quality, it is generally agreed that vape pens are fairly safe.  Knockoffs and cheaper brands are likely to have problems.
Here are some tips to help keep you safe when vaping:
• Always purchase products from reputable companies with third-party lab tests which will ensure the best quality, safe to use products.
• Don't use regular tinctures for vaping. These products aren't meant to be used for vaping and could prove harmful to you.
• If you're new, keep the temperature low. Focus on taking smaller puffs, which is even more important for Delta-8 cartridges. Delta-8 can irritate the throat and lungs when large amounts are inhaled.
• Store batteries properly and treat them carefully. They contain a large amount of electricity, so monitor your device when charging it. If the batteries are damaged or faulty, safely dispose of them correctly and get replacements. It's not worth your vape exploding, catching fire, or having battery acid leak on you.
• Store your vape device and liquids away from magnets and metallic objects.
Q. How do I determine the best temperature for a reusable vape pen?
Most refillable vape pens can adjust the temperature. Generally speaking, you want to keep it within 290-420℉, with lower temperatures generally producing a smoother, better vape.
Below 290℉ is not hot enough to make any vapor, and 420℉ is usually too hot (unless you like a larger cloud'). Temperatures above 420℉ will make you burn through the vape liquid faster and burn the vapor, which is unpleasant and terrible tasting, not to mention breathing in burnt plant matter isn't exactly good for you.
In Conclusion: Are Delta-8 Disposable Vape Pens Safe?
Vaping with Delta-8 can be an enjoyable experience, but we suggest that you check with your doctor to make sure it's not going to cause you any problems before you take it up.
You should also check to see if Delta-8 is legal in your state before making a purchase. However, if your health checks out and Delta-8 is legal in your state, check out one of the vape pens on our list.
For access to exclusive gear videos, celebrity interviews, and more, subscribe on YouTube!