This is sponsored content. Men's Journal is not endorsing the websites or products set forth below.
As the use of full-spectrum CBD oil for ailments grows in popularity, you may be wondering if it could help you? Well, the short answer is yes, it can!
Cannabidiol or CBD is a chemical found in cannabis Sativa plants and has begun surging in popularity and consumption. Unlike THC, the chemical compound that gets you 'high,' CBD has calming and medicinal effects. Most of the time, CBD is extracted in oil form, and from there, it is either bottled in CBD Oil tincture or infused with other substances to create food and or drinks.
CBD is still an emerging field, and the legality of its use varies from state to state and nation to nation. However, the benefits of CBD and the ailments they can help with are widely publicized and known. From anxiety and depression to forms of epilepsy and pain, CBD can help them all.
The issue is, how do you choose from many online shops and thousands of full-spectrum CBD products? Don't worry; we're here to help you find what's right for you. After following the industry for some time and trying them out for ourselves, we compiled a list of the best full-spectrum CBD oils you can buy today.
Top 5 Best Full Spectrum CBD Oils Of 2022:
1. Exhale Wellness – Overall Best Full-Spectrum Hemp CBD Oil; Editor's Choice
2. Budpop – Top Cannabis Brand For Broad & Full Spectrum CBD Oil
3. Cheef Botanicals – Popular Full-Spectrum Hemp Oil Brand
4. HollyweedCBD – Recommended Full-Spectrum Cannabis Oil Doses
5. FAB CBD – Most Potent Full -Spectrum CBD Tinctures
Here are the detailed reviews of our top picks: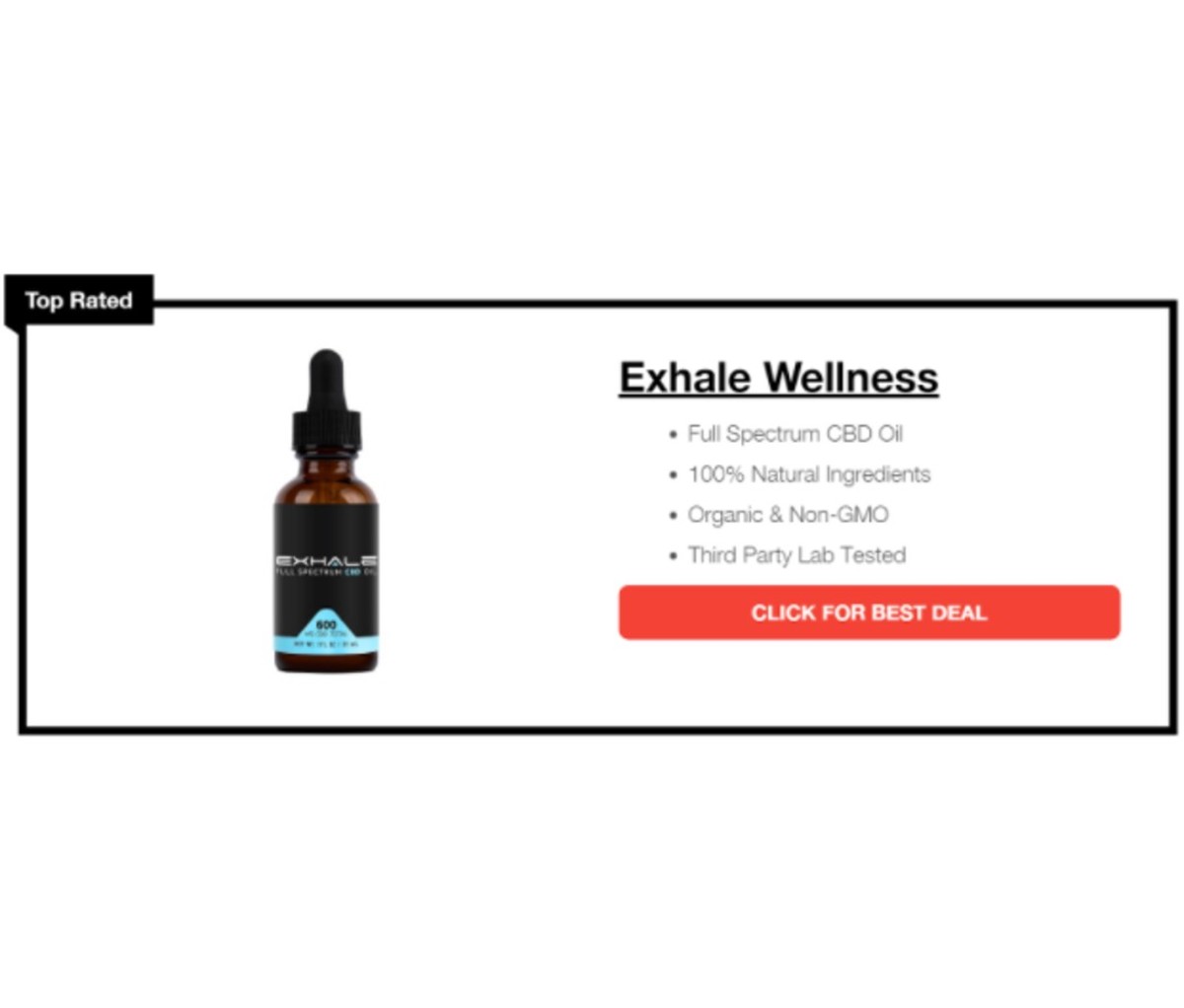 1. Exhale Wellness – Overall Best Full-Spectrum Hemp CBD Oil; Editor's Choice
Exhale Wellness is a new CBD company based in Los Angeles. They have a strong team ranging from professional growers and researchers to everyday enthusiasts. With their skills combined, the team has accumulated many years of experience in the industry.
Exhale wellness sets industry standards regarding its sourcing, manufacturing, and ingredients. Exhale sources its CBD from farmers in Colorado and ensures its plants are of the highest quality, which is also reflected in their end products.
To follow suit, Exhale uses the industry's best manufacturing method, CO2 extraction. Supercritical CO2 extraction gives the manufacturer complete control over the extraction process. This method is also more environmentally safe, provides a high-quality end product, and is safer for consumers and manufacturers.
All of Exhale's offerings are made with delta-8 products. While delta-8 is technically a CBD, it has more in common with THC because of its effects. delta-8 has psychoactive properties, which means you can get 'high' off these products. As a result, it is essential to consider its effects and appropriate dosages. Additionally, the FDA is still looking into the legality of these products, but you can now purchase and consume these high-quality products.
Highlights
• High-Quality Vegan and Organic Products: Exhale Wellness prides itself on being a sustainable and healthy brand. They use environmentally friendly extraction methods, and all their products are vegan-friendly and organic. They do not add artificial colorants or flavors, giving users a natural and organic taste and experience.
• Controlled Dosages: Exhale's CBD oils give customers complete control over their experience. Exhale offers users dosages ranging in 300mg, 600mg, and 1200mg dosages. As a result, it doesn't matter if you're an experienced user or just starting; Exhale Wellness has something for everyone.
• Delta-8 High: As all their products use delta-8, you can expect to get a high out of using their products. This experience means you can feel euphoric, calm, and in good spirits. Additionally, you can control precisely how 'high' you want to be because of the different dosages offered. This means that you can still experience all the great effects of CBD with small doses.
• Excellent Customer Satisfaction: Exhale's oil drops have received overwhelmingly positive results. Customers have reported that the oils have helped ease anxiety, insomnia, depression, joint pain, and much more.
⇒ Visit the Official Website of Exhale Wellness  
Pros
• Environmentally friendly
• Organic ingredients
• Lots of health benefits
• Industry leaders
Cons
• FDA is still investigating delta-8
• No ingredients listed on products
• Third-party lab tests are sometimes inaccessible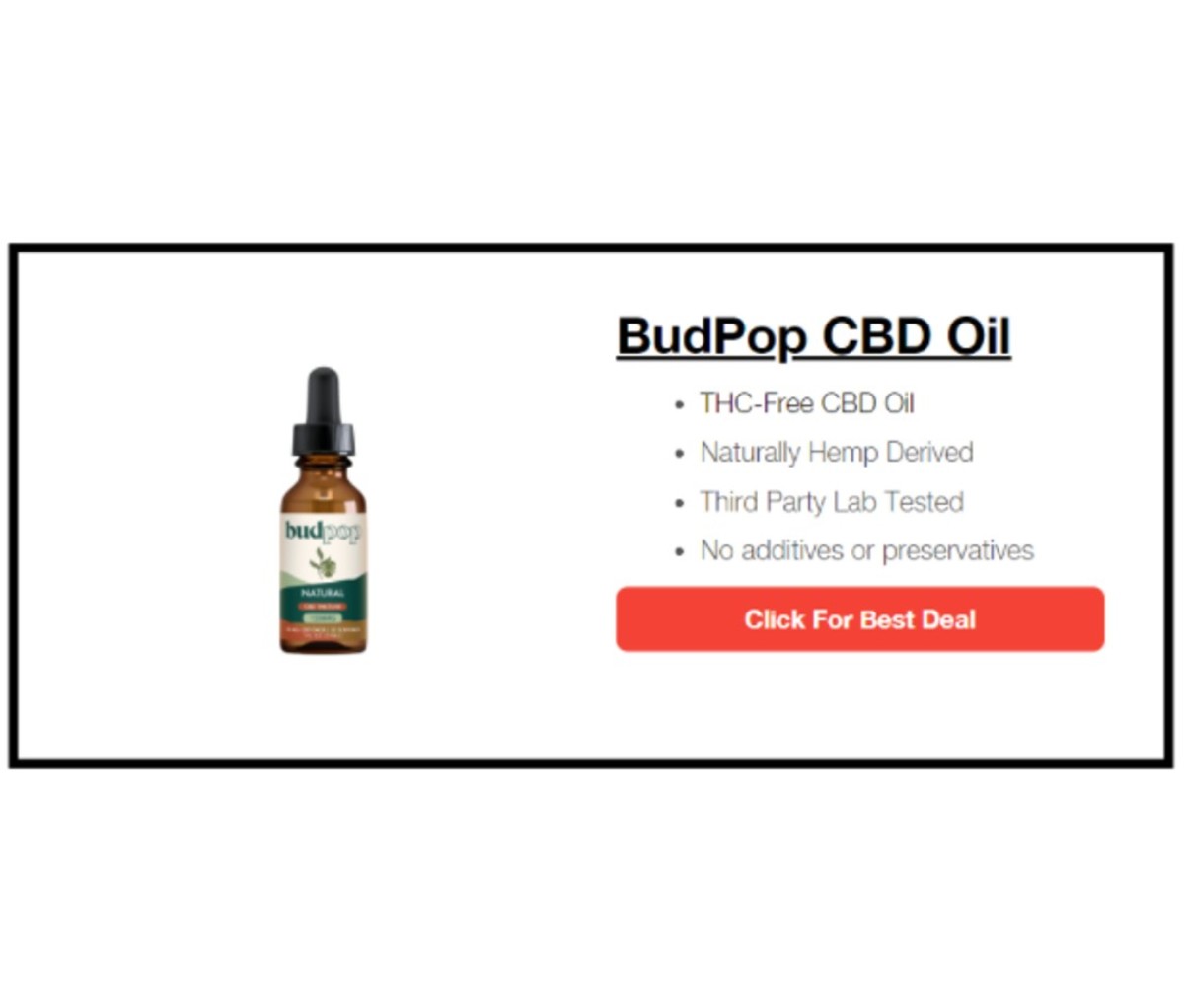 2. BudPop – Top Cannabis Brand For Broad & Full Spectrum CBD Oil
Budpop sources their hemp from Nevada and ensures high-quality and organic products. Like Exhale, Budpop also uses delta-8 for its products. Budpop is considered a premium product and is highly recommended for experienced CBD and THC users. Their products are more potent than others on this list. Their CBD oil dosages range from 1500mg.
Budpop promises and delivers high-quality products. Their sourcing methods produce large quantities of potent and long-lasting delta-8 ingredients. In addition, all their ingredients are organic and vegan friendly, and no pesticides or GMOs are used during the cultivating period.
While the company mainly specializes in gummies, vape cartridges, and flowers, they have recently introduced delta-8 infused CBD oil tinctures. In addition, they currently offer a mint-flavored variant and a natural variant.
The mint flavor provides a refreshing and sweet hint which is excellent for those who do not enjoy the natural flavors of CBD. On the other hand, if you enjoy CBD's natural flavors or don't like mint, Budpop also offers an unflavoured tincture. Both bottles are provided in 1500mg dosages, with each serving amounting to 50mg each.
As a result, their offerings are pretty potent, so we recommend you take it an hour or so before bed. In addition, users have mentioned, it's excellent in reliving sleeping disorders and pain.
Highlights
• Third-Party Transparency: Budpop lays it all out on the table. Their customers can easily see all the ingredients used in their products. Additionally, Budpop makes it convenient for their customers to view third-party lab results on all their products. These certificates mean their products are safe and include exactly what they advertise.
• Great for Experienced Users: Budpop's extraction method ensures a high yield of potent delta-8, which they then infuse with their products. As a result, experienced users can quickly feel the beneficial effects of CBD as if it were their first use.
• Premium Brand: Budpop prides itself on high-quality and premium products. Rightfully so, because their products have distinctive tastes and are superior to many other competitors.
• High-Quality Delta-8 Products: Their bread and butter are superior to delta-8 infused products. From organic farms straight to your doorstep, your potent CBD oil will alleviate problems like pain and anxiety in no time. Budpops is undoubtedly building a reliable and potent name for itself using delta-8.
⇒ Visit the Official Website of BudPop
Pros
• Vegan friendly
• Tested by third parties
• 20% discount on first order
• Exclusive discounts for serving men and women as well as veterans.
Cons
• Vague extraction methods
• Not many products on offer
• It may be too intense for new users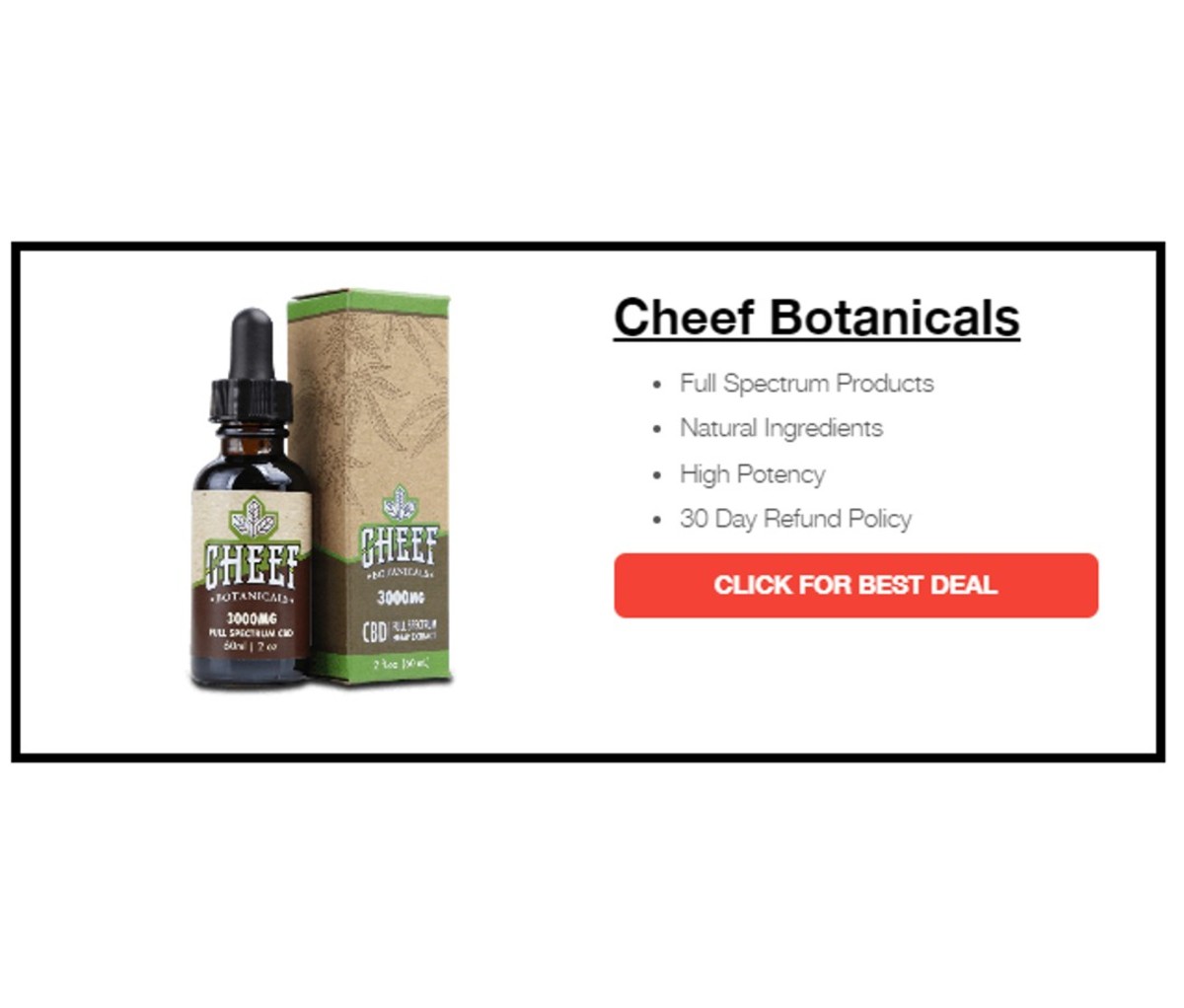 3. Cheef Botanicals – Popular Full-Spectrum Hemp Oil Brand
Cheef Botanicals are a company that has perfected their CBD lineup. They are reliable, and their products are top sheld quality. They certainly know what they are doing as they are based in California and have CBD hailing from Colorado.
Users have reported a wealth of benefits from using Cheef Botanicals CBD products. The main benefits are muscle relaxation and stress relief. The dosages are also relatively low, but users can still feel the benefits. Therefore, users can dose during the day without worrying about their functionality.
As a result, Cheef Botanicals is highly recommended for people that don't deal well with work stress or pain and people new to CBD. Their CBD oil comes at a max dosage of 300mg and a peruse of 10mg. As a result, you can finely tune precisely how much you want to take. If you feel it's not enough, you can simply take another drop without worrying about going overboard.
Highlights
• One-Stop-Shop: Cheef Botanicals has everything you need to get into CBD. They offer a variety of gummies, flowers, and oils. They also have a clean website that is easy to navigate. The purchase and payment options are easy and quick, and they ship to most states throughout the US.
• Total Control Over Effects: Many companies compete to have the most robust and most potent CBD products these days. As a result, it is refreshing to see a company focused on providing customers lower dosages to precisely control what they need. In addition, their 300mg CBD oil is perfect for beginners or people who aren't looking to be overwhelmed by CBD benefits.
• Beginner-Friendly: If you have been suffering from long-term pain, stress, anxiety and are new to CBD, then Cheef is for you. The CBD is quality, but it isn't potent like other stores. Furthermore, if prescribed medicine isn't working or getting too expensive and you've been curious about CBD, then Cheef Botanicals is a great place to start.
• Bang for Your Back: Cheef Botanicals ensures you get quality for the money you pay. Colorado organic hemp and CBD are known for their purity and quality, leading to suppliers charging a hefty amount for them. However, Cheef has exceptionally competitive prices and regular discounts to look out for.
⇒ Visit the Official Website of Cheef Botanical
Pros
• Fast pain relief
• Full-body relaxation
• Reasonably priced
• Colorado hemp
Cons
• Strong hemp flavor may be off-putting
• Bland packaging
4. HollyweedCBD – Recommended Full-Spectrum Cannabis Oil Doses
Hollyweed is run by a team of wellness experts with decades of experience in the medicinal CBD field. Their focus and goals are to promote healthy living by using CBD products. Hollyweed goes to great lengths to ensure its CBD oils are organic and healthy. They are fully transparent in their ingredients and methods. They also use CO2 extraction methods to provide a cleaner and sustainable product.
Based in California and shipping all over the US, Hollyweed is a household brand for many. In 2017 one of their members, Zach Fernandez, changed the Hollywood sign to Hollyweed and forever cemented their iconic name.
Their website provides useful and fascinating blogs about how their products improve health. They also offer some fun recipes where you can add your full-spectrum CBD oils.
Highlights
• Health-Conscious: Hollyweed's primary selling point is its clean and healthy CBD. By using CO2 extraction methods, they provide a clean and safe product. The effects of their oils are meant to be subtle and produce all-around wellness. Holyweed recommends its CBD for everyone and not just those suffering from ailments. Their oils have a wide range of beneficial effects that range from better moods and sleep to energy and concentration.
• Unique Flavors: Most CBD oils are meant to be taken on their own, but Hollyweed promotes adding their oils to your food or drinks. As a result, their oils have unique flavors that complement foods. If you try their oils on their own, you'll find they have an earthy and nutty taste. Their oils are also vegan and a great source of protein. The meals leave you feeling amazing!
• Helpful Blogs: Hollyweed's website offers countless interesting blogs and useful recipes. From the history of CBD, all the way to great meal plans using their oils, they have it all. We guarantee they have something that will interest everyone. We highly recommend you look at some of their recipes as they are delicious with the oils added in.
• Regular Sales: Holyweed has frequent sales and promotions, saving you tons of cash on your favorite products. There is always some deal going on at Hollyweed, so it's always the right time to buy. On top of that, their affordable prices, so there isn't a reason not to give them a try.
⇒ Visit the Official Website of Hollyweed
Pros
• Health-conscious
• Promotes full-body wellness
• Great with foods and drinks
• Helpful and interesting website
Cons
• Vague on third party testing
• It may not be effective for people with serious ailments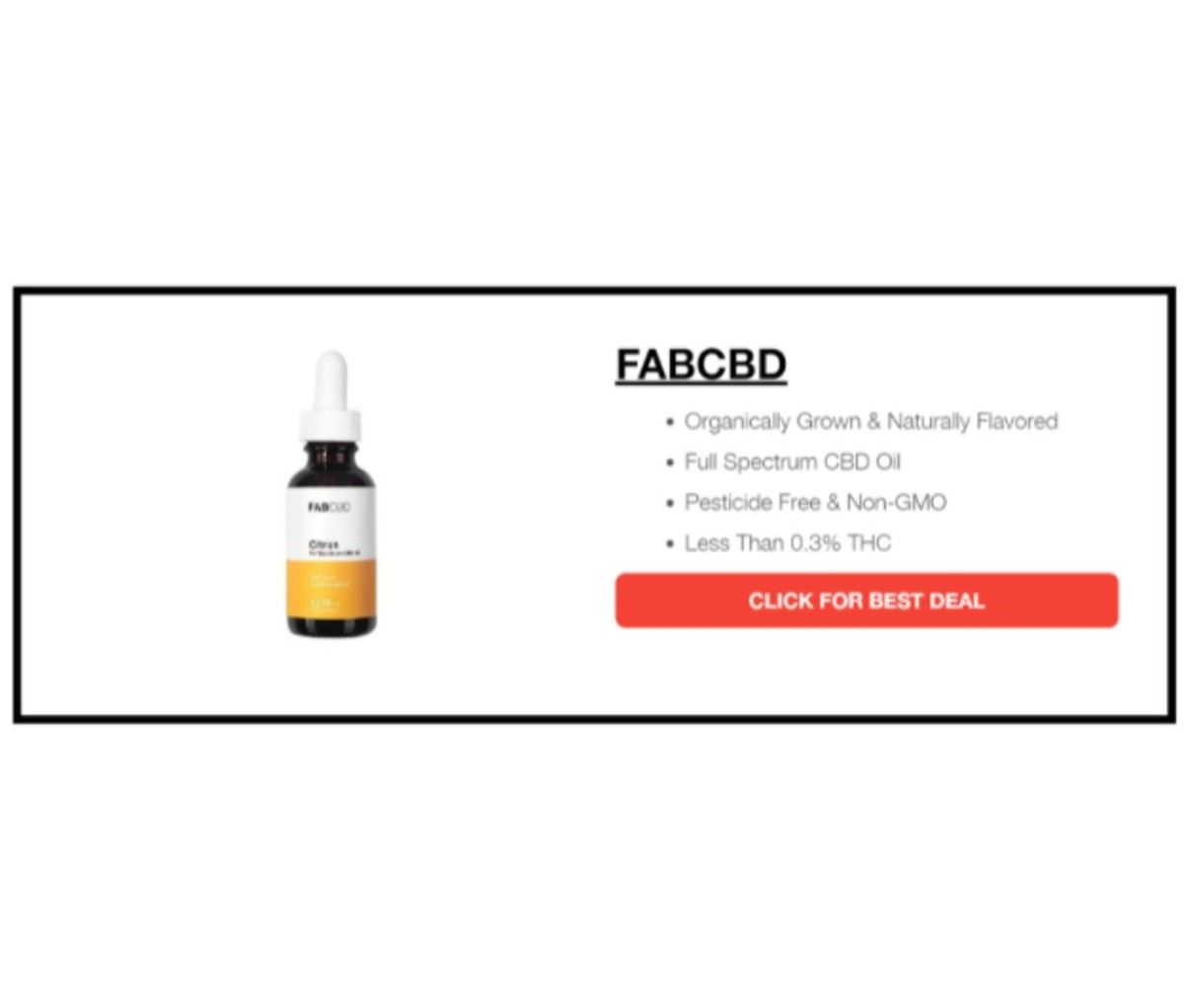 5. FAB CBD – Most Potent Full -Spectrum CBD Tinctures
FAB CBD may have only started trading in 2017, but their team has over 25 years of combined experience in health, foods, and fitness. If you have searched for CBD pain relievers, you have undoubtedly come across FAB CBD.
FAB CBD specializes in creating organic CBD products and is 100% free from harmful chemicals. Their products are FDA certified as they have under 0.3% THC and use Colorado hemp. They also offer a wide variety of products in various forms for different ailments and effects.
However, their full-spectrum CBD oil is some of the best on the market. Most CBD companies will have CBD oil as a selection in their product range, but FAB CBD takes it to another level. They offer their oils in five different flavors and four different dosages. For flavors, you can go with: natural, citrus, mint, vanilla, and berry. Each flavor is excellent and unique, but the mint was the best for us.
For dosages you can choose between 300mg, 600mg, 1200mg and 2400mg. As a result,FAB CBD caters to all clients regardless of whether you are new or seasoned with CBD oils.
Highlights
• Fresh and Warm Website: FAB CBD's website is sleek and informative. Their website is easy to navigate and contains all the necessary information about their products, including third-party lab results. Additionally, their website contains additional information like frequently asked questions and regular news articles about the industry in general,
• You Have Options: Not many CBD companies offer their clients an extensive range of options for their desired products. However, FAB does, and with great flavors and dosage selections, you will find your perfect combo in no time.
• Easy to Use Instructions: On every FAB CBD product are a set of instructions for safe and responsible use of their products. This inclusion is excellent for beginners or new customers still exploring FAB's products. It means you don't need to google the correct dosage for you or get out the calculator either. Everything is clear-cut.
• Points Rewards System: FAB CBD is one of a very few CBD companies that reward their regular customers. With every dollar, you spend you get 5 points. Customers can use these points for discounts on their next purchase. Top this with regular sales and free shipping on orders over $89, and you'll find FAB CBD to be a bargain paradise.
⇒ Visit the Official Website of FAB CBD 
Pros
• Cost-saving
• Wide variety
• Excellent flavors
• Free shipping and 30 days return policy
• CBD products for pets
Cons
• Products are often sold out
• Sold in the US only
with regards to everything CBD.
How We Made The List Of Best Full Spectrum CBD Oils:
Full-spectrum CBD oils are popular for customers with ailments who need fast-acting relief. However, today there are thousands of CBD oils on the market, and not all of them are equal in quality or purity. As a result, we ensured that all the suppliers on this list met our strict criteria. We guarantee that only high-quality and effective products are included.
What We Looked For
• Source: One of the most important factors to consider is the source of their CBD and hemp. In the US, some states have strict guidelines on how CBD should be cultivated; this often leads to a higher quality product. Additionally, many suppliers will go through a lot of effort to ensure their products are organic and environmentally friendly, all big pluses for us.
• Company: The company behind the brand is just as important as the product itself. A reputable company will always have its customers' interests in mind. As a result, we looked at companies' mottos, visions, and, of course, prices vs. quality. A company that ensures customers' health and the environment are considered means their products are well tested and carefully cultivated.
• Potency: The strength of CBD oils varies greatly, and it is essential you know what works for you. That's why we considered each company's dosages and ensured we covered products that suit newcomers and seasoned customers alike. In addition, we paid particular interest to companies that provide more than one dosage.
• Transparency: Some less reputable companies will mix in other substances to lower their production costs or provide cheap and ineffective CBD. Reputable CBD oil companies will use third-party labs to test and verify the contents of their products. As a result, this was the main staple of our criteria. We looked at who tested the products and whether or not the supplier advertised these results on their websites.
• Customer Reviews: A telltale sign of whether a company is legit or not is its customer reviews. We meticulously went through hundreds of customer reviews for each supplier. Only those with excellent customer reviews were considered. It is also a great way to find out how CBD oils work for different ailments and their effects.
Buying Guide – Full Spectrum CBD Oil
• Know Your Dosage
Everyone reacts differently to CBD, and the amount you need to feel its beneficial effects varies between individuals. While most CBD companies will provide a dosage guide with their products or websites, they are very general guidelines. The safest and only way to figure out what works for you is to start small and gradually increase or decrease until you find the right amount. If you are new to CBD oils, go for a Full-Spectrum Oil tincture that provides 10mg per serving. This way, you have more control over how much you take and find your preferred dosage.
• Don't Be Afraid to Try Something New
Full-spectrum CBD oils come in multiple flavors and dosages. Different tastes and effects are noticeable between different brands. So don't settle on just one or assume that all flavors taste the same. Experiment with other CBD isolate products. Perhaps even mix flavors. If you want 20mg, try mixing 10mg of a citrus flavor with 10mg of mint. You should also try the edibles or flowers and see if you prefer that method.
• Know the Specific Laws In Your State/Country
In the US, the use of CBD is legal. However, each state has its laws on what type of CBD is legal. For example, Vermont allows all kinds of CBD for both recreational and medicinal use. But states like Kansas have banned CBD derived from marijuana. Knowing the laws of your state with regards to CBD will let you avoid trouble as well as disappointment. Additionally, some countries still view CBD as a harmful substance, and it is illegal to sell and consume. However, as CBD and cannabis, in general, become more researched and popular, more countries are changing their laws regarding its use.
• Understand the Difference Between CBD and THC
Those unfamiliar with CBD may think that CBD can also get you high and have all the 'stoner' stereotypes associated with it. This is not the case. While CBD and THC have the same chemical compound, they are structured differently. As a result, they interact with your brain's receptors differently. THC is what makes a person feel and behave high. Full-spectrum CBD has calming effects and contains 0.3% or less THC. As a result, it is improbable you will get high from quality full-spectrum CBD.
• Be Aware of Side Effects
While CBD shouldn't give users a high sensation, it may if 0.3% or more THC is present. That's why it's essential to check the ingredients and third-party lab results of the CBD Oil products you are buying. You don't want to deal with being high at work when you just want to reduce your anxiety. Additionally, Hemp CBD oil can make users sleepy or euphoric and behaves differently in each individual. Don't worry about any adverse side effects, as CBD has been proven time and time again to be safe.
FAQs – Best Full Spectrum CBD Oil On The Market:
Q1. What does full-spectrum CBD oil mean?
Best Full-spectrum CBD oil is considered a CBD substance that utilizes all of the full-spectrum hemp extract in the cannabis plant. Using all the plant's contents, users experience a range of beneficial sensations. However, this does mean that full-spectrum CBD contains small amounts of THC, which leads to euphoric feelings.
Q2. How does full-spectrum CBD products & oils make you feel?
CBD causes feelings of relaxation and a sense of calm. It helps alleviate stress and anxiety. However, because full-spectrum CBD does contain THC, you may experience a sense of euphoria as well. Large doses may cause users to feel 'high,' particularly when delta-8 is concerned.
Q3. Will full-spectrum CBD oil cause me to fail a drug test? 
You can still fail a drug test due to the trace amounts of THC in full-spectrum CBD oil. Therefore, consider the laws in your state and go through your employment contract before taking any substances.
Q4. Does full-spectrum CBD oil cause drowsiness?
CBD on its own should not cause drowsiness. However, as full-spectrum CBD contains other elements, drowsiness may be a side effect dependant on individuals. The best way to avoid this is to test small dosages and wait to see the effects. If sleeplessness is an issue for you, try taking the broad-spectrum CBD oil before bed.
Q5. How long does full-spectrum CBD oil stay in your system? 
CBD will generally stay in a person's system for between 2 and 5 days. However, some reports have shown that CBD stayed present in some individuals for weeks. This doesn't mean that the effects of CBD persist for multiple days after a single dose. Instead, it means that trace amounts of CBD may still be found in your system long after the effects have worn off.
Q6. Is full-spectrum CBD oil better for anxiety? 
Current and ongoing research has shown that Full-spectrum CBD oil effectively treats anxiety and chronic pain. Furthermore, customer reviews on the websites listed above show many customers reporting that the full-spectrum oils reduced their anxiety.
Q7. Can you take CBD every day? 
As CBD is fat-soluble, the beneficial impacts of CBD begin to compound. As a result, many suppliers recommend taking CBD every day, especially if you suffer from chronic pain. CBD is a safe substance, and overdosing on CBD is highly unlikely.
Q8. What is the correct dosage for me?
Each person will have their perfect dosage, and you have to experiment to find out. However, we can put you in the right ballpark with these guidelines. If you suffer from mild ailments like sleeplessness, then 500mg is what you should aim for. If you suffer from issues like depression or insomnia, then aim for 1000mg. Finally, if you have chronic pain, 1500mg should ease it.
Conclusion – Best Full Spectrum CBD Oils
There you have it, the best full-spectrum CBD oils you can buy today. As the use of CBD grows, so does the refining and desire for premium CBD. If you have been suffering from minor or chronic ailments, then CBD could be the solution you've been looking for.
CBD is generally cheaper than prescribed medication as well as safer. If you are curious if CBD could help you, there is no better time to try it and find out for yourself. If you stick with the 5 brands discussed in this article, you are guaranteed premium and reliable hemp-derived CBD products. Each has its benefits with a unique natural flavor as well.
This article went through the best places to buy full-spectrum CBD oils. First, we discussed the rigorous judging criteria used to determine our top 5. Then broke down each of the top 5 best suppliers for full-spectrum CBD oil. In doing so, we discussed why we liked them and highlighted their best features. We tried to include a brand for every type of buyer.
Following this, we gave you some valuable things to consider when buying broad-spectrum CBD oil, so don't forget to check back before any purchases. Finally, we answered your frequent questions about CBD to alleviate some stress or concerns.
For access to exclusive gear videos, celebrity interviews, and more, subscribe on YouTube!