This is sponsored content, Men's Journal is not endorsing the services below. Several casino sites listed in our reviews might not be available in your region. To this end, you might want to go through your jurisdiction's local laws and rules to have an idea of online gambling's legality. Since our reviews are geared towards regular players' needs, we may receive a commission for casino site features.  
It's time to live again, folks. As various industries rise from the COVID-induced ashes, we're all getting to grips with living in a post-pandemic country for the first time in our lives.
While restrictions are beginning to ease for general socialization and freedom now, a different type of padlock was loosened while many of us were still living under lockdown.
We're talking about online gambling, of course. Many states across the country have begun to, or have already, legalized online casinos.
A number of said casinos are partnered with land-based hospitality resorts, which are now primed and ready for your patronage once more.
We've put together a list of some of the best online casinos and their land-based counterparts you can visit across the country.
Ready to dive in?
Best Online Casinos for Travelers:
1. Caesars (Caesars Palace, Las Vegas) – Best Online Casino for Travelers Overall
Pros:
• The mecca of gambling
• Exceptional choice of dining options
• Incredible pool complexes
• Great casino games online
• Excellent casino bonuses
Cons:
• On the costly side
Location:
We're not entirely sure there's a more exciting place to be on planet Earth than Caesars Palace in Las Vegas. The original Sin City has been the home of gambling in the USA since the 1960s and is still the king today, despite other states making a play for its crown.
Caesars Palace itself is right at the epicenter of the Vegas experience, next to landmarks like the Bellagio Fountains and high-profile casinos like Mirage, Venetian, and Harrah's. Not that you'll need to move from where you are to enjoy some classic real money casino games.
If you do want to explore the rest of the strip, you can catch the deuce bus from right outside the palace, taking you all the way to Fremont Street in the north and Warm Springs in the south.
Hotel:
There are over 4000 rooms available at the Palace with various levels of luxury and comfort. The least expensive rooms start at around $80 per night, rising into the thousands for the type of decadent suites you'd only ever expect to find somewhere like Las Vegas.
Facilities are at the high standard you'd expect, including an incredible pool complex, an on-site theater, and even a shopping mall. If you're traveling with children, you'll be happy to know there is a kids club in operation that features a tailored itinerary for ages between 3 and 12.
Casino:
Caesars acquired UK bookmaker giant William Hill in 2021 for $2.9bn. The move marked an aggressive expansion into the online gambling market, leapfrogging the competition with William Hill's already exemplary software.
Once you've downloaded the app, you'll be able to place bets on sports from anywhere within the state of Nevada. Perfect for when you're out and about in Vegas taking in the sights but still want to make sure you've got your bets in for the big games on the weekend.
The sportsbook itself features a range of sports and events to wager on, including the heavy hitters like the NFL, NBA, and MLB. New users can register now and make an opening bet of $50 to receive 5,000 caesars reward credits.
Casino patrons can then put these credits towards facilities at any Caesars resort, including hotel rooms, restaurants, food, and general entertainment.
Click here to visit Caesars Casino online
2. BetMGM (MGM Grand, Detroit) – Best Casino Bonuses for Travelers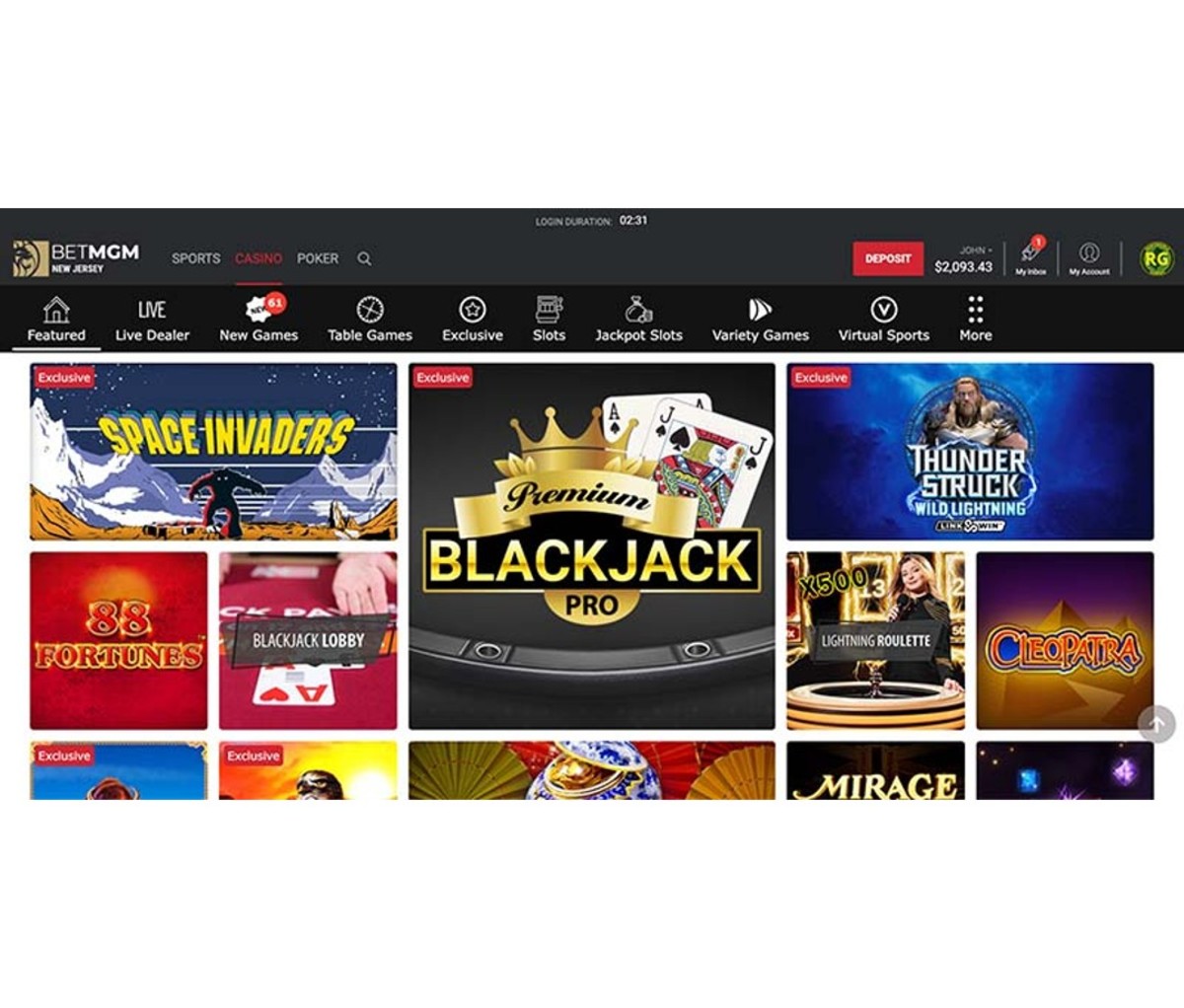 Pros:
• A slice of Vegas in Detroit
• Free wi-fi
• Excellent eateries
• Risk-free bet up to $1,000 online
Cons:
• Expensive minifridges
Location:
Detroit's taken a bad rap over the years, but truth be told, it's one of America's more interesting historic cities. The MGM Grand is slap bang in the middle of Detroit's downtown area, surrounded by landmark venues such as the Ford Field, Little Caesars Arena, and the Fox Theater.
If you're looking to inject some culture into your time here, the Detroit Institutes of Art is less than a 5-minute drive. Inside, you can find over 65,000 works, including significant works of European, Modern, and Graphic art.
But if you're looking for something a bit more accessible, you can also take a quick cab journey to the Detroit Riverfront. America's self-proclaimed number #1 riverwalk features a Sunday Brunch at Valade Park, an ideal family day out and break from Detroit's casino pursuits.
Hotel:
The MGM Grand is a certified luxury hotel. Any doubts about its opulence will fade as soon as you step into its opulent Sin City-like lobby and take in its plush marble interior.
Although the hotel is undoubtedly designed off the back of its Las Vegas competitors, the amount of space here is much smaller. There are only 400 rooms available, but each of them is seemingly as luxurious as the next, with gigantic marble showers and expensive flat-screen TVs.
Casino:
When you first register at BetMGM, you'll be offered an attractive welcome bonus of a $1,000 risk-free bet on the sportsbook or a $1,000 deposit bonus match for the casino. Both come with their own unique set of terms and conditions, so be sure to pay attention to which you choose. Unfortunately, you can't have both.
Whichever you offer you decide on, you'll be off to an excellent start at BetMGM. The sportsbook features further promotions that include a unique and tailored sports betting experience. The casino features a range of table games, as well as exclusive jackpot titles like MGM Grand Millions that you won't find anywhere else.
Much like Caesars and Borgata before, BetMGM offers its very own loyalty program called BetMGM rewards.
Enroll today and earn special points and benefits that you can swap for in-person perks at the MGM Grand.
3. DraftKings (Casino Queen, East St. Louis) – Best Casino App for Travelers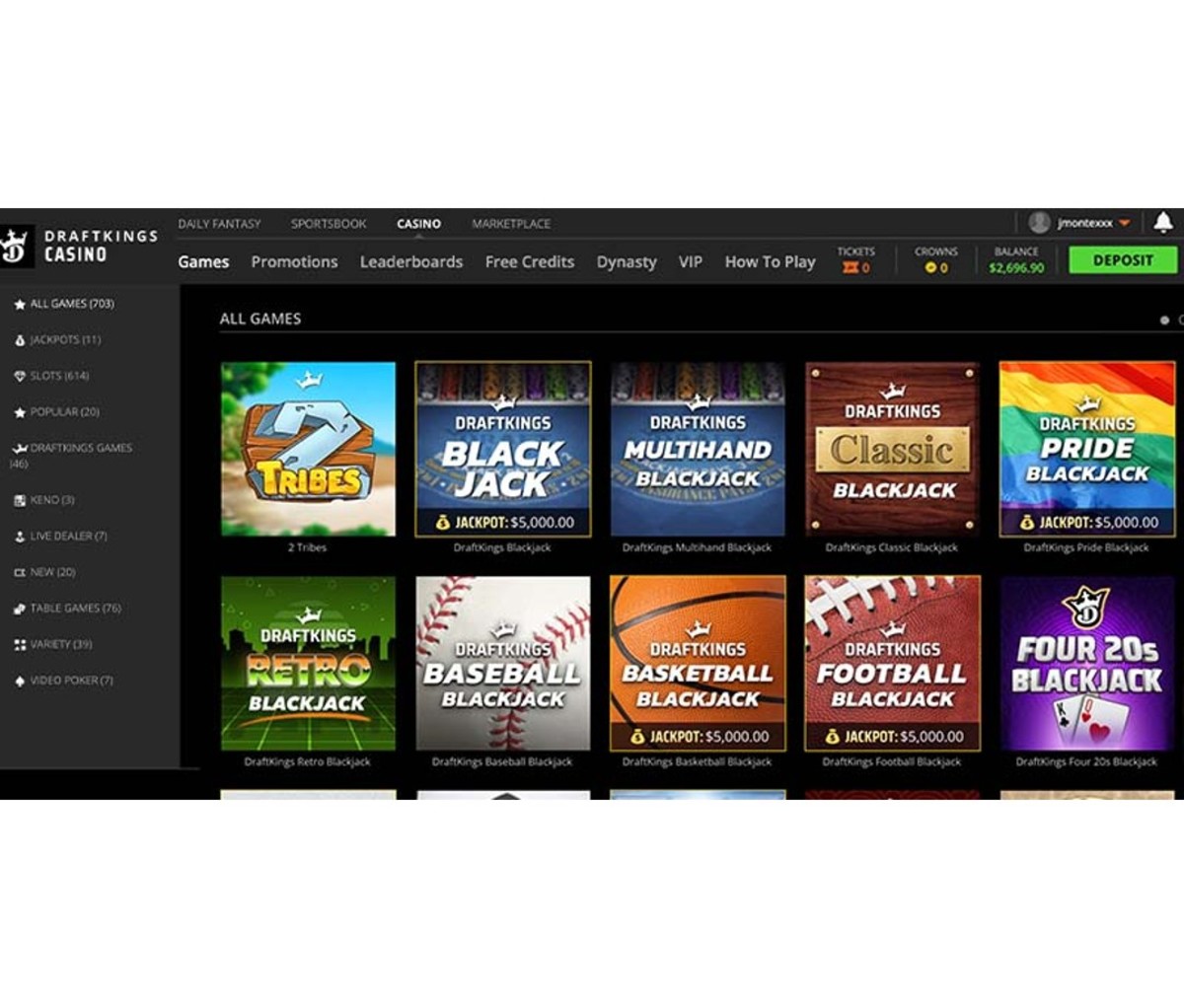 Pros:
• Relatively new renovation
• Popular national brand
• Inexpensive
• Great mobile casino apps
Cons:
• New expansion not yet finished
• Not as luxurious as other options on this list
Location:
East St. Louis is certainly the most low-key of all the locales on the list. Is that a bad thing? Not really. The Casino Queen sits across the Mississippi River next to the Eads Bridge, which conveniently leads straight into downtown St. Louis.
If you're looking for exceptional views of the riverfront, you should definitely be taking the less than 5-minute drive to Malcolm W Martin Memorial park. As well as the aforementioned riverfront views, you can also take in the best view of the prestigious Gateway Arch in the metro area.
Most of you will want to take that trip over the bridge into the downtown St. Louis area if you're looking for something a little more engaging, especially if you've got kids in tow. It's worth noting that Six Flags is a little over a 30-minute drive away if you're looking for a family-friendly day out.
Hotel:
The Casino Queen offers a more modest experience than the upper echelons of the MGM Grand and Caesars, but it's still a pleasant hotel to stay at. There are 140 rooms on offer, with entry-level 'Queen' branded digs, all the way up to 'King' rooms that feature their very own oversized Jet Spa Tubs.
Although the Casino Queen has been around since the early 90s, the recent DraftKings renovation is new. As such, they are working on further developments to amenities, including a $10 million expansion project that will feature a brand new dining promenade for even more food options.
Casino:
You may very well know Draft Kings for its daily fantasy sports betting component. But these days, it's expanded into online casino games and physical retail gambling sites such as Casino Queen.
When you register on the website, you'll be given the opportunity to get a deposit bonus all the way up to $1,000. Those funds can be used across all facets of the DraftKings experience, including the sportsbook and online casino games.
As far as online gambling sites go, while DraftKings is new to the game, it certainly packs a punch. Mobile users, in particular, will enjoy its sleek and intuitive apps, which provides easy access to sports and online casinos on the go across the country.
Visit the DraftKings online casino
4. Borgata (Borgata Hotel & Casino, New Jersey) – Best VIP Program of any Online Casino for Travelers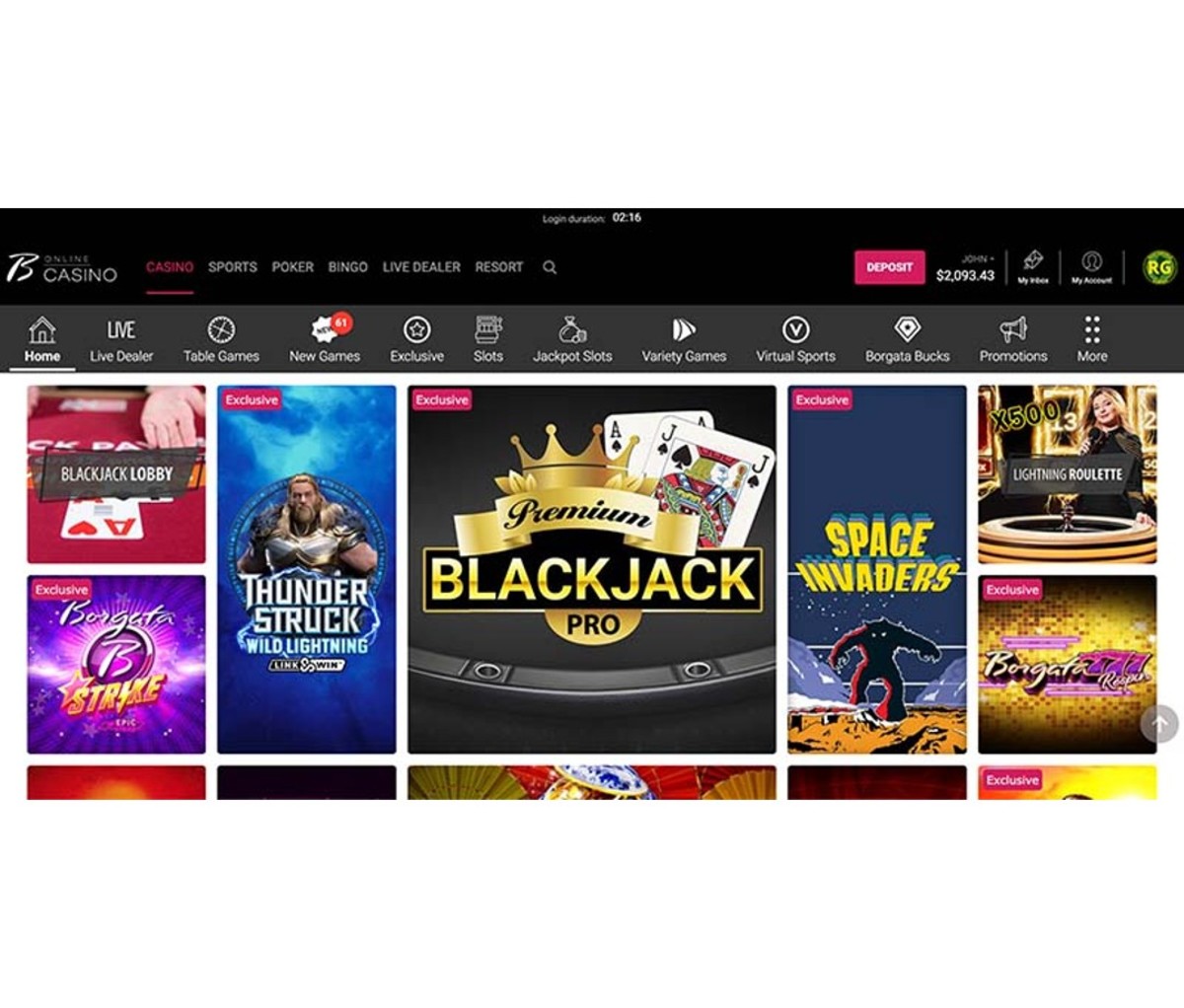 Pros:
• One of the best hotels in Atlantic City
• Ideal for corporate events
• Top tier facilities
• Great progressive jackpots online
Cons:
• Check-ins can take a while
Location:
Nestling in the north of Atlantic City, Borgata's specific location may be its weakest point. It's a 10-minute drive from the boardwalk itself, and there are very few immediate local attractions to take in.
That being said, there are still some excellent local attractions within driving distance. If you're looking to take a break from gambling and real money casino games, you can give your old iron a workout at Brigantine Golf Links, only 10 minutes by car.
A little further out, there's the Renault Winery. As one of the premier vineyard destinations in the USA, it's well worth the 25-minute journey to sample New Jersey's oldest winery, with a proud history of over 100 years.
Hotel:
There's a wide variety of rooms and suites available at the Borgata, with over 2000 to choose from. Amenities include mini-fridges, coffee makers, free wi-fi, and giant flat-screen TVs to enjoy during your downtime.
A lot of corporate events are held in the hotel, and it's not difficult to see why. The vast space inside and exceptional on-site facilities mean you'll rarely leave the building if only to sneak a cigarette – as Borgata prides itself on being the first Atlantic City casino and hotel to get 100% clean air.
Casino:
Borgata features a massive variety of classic casino games to choose from. The first and most prominent feature is its online slots. Players can hunt for lucrative jackpots in the mega slots section, with payouts reaching hundreds of thousands.
For a more classic Atlantic City style experience, you may want to check out the live dealer games on offer. This section is stacked with classic real money games featuring blackjack, roulette, and various forms of poker.
Players can register for the Borgata Online Rewards program and earn points to use towards on-site facilities such as rooms and restaurants. So, every dollar wagered with online casino bonuses also goes towards enhancing your in-person stay, too.
Breaking Down the Benchmarks: How We Ranked the Best Online Casinos for Travelers
Location:
Location, location, location. You can have all the bells and whistles you can dream of inside the hotel and casino, but at some point, you're going to have to leave that place. You know, at least for some fresh air.
It would be highly preferable if upon leaving there were some enjoyable activities to see and do. That's the sort of thing we'll be examining when looking at where these resorts are based. Points will be deducted for landmasses in the middle of nowhere.
Whether you want to take in a bit of local culture or organize a family trip and have a productive day away from casinos and bars, it's always a good thing if there's more to do away from the place you're staying.
Hotel:
Right here is the real meat of the review. These sensational hotels and casino hybrids aren't your usual holiday away. Most of them will come with luxury features that are designed to make your stay more expensive than you've ever imagined.
We can't imagine we'll be the first travel writers urging you to stay away from the minibar and fridge—no matter what time of day it is.
Amongst all general rooms on offer as well as everyday banalities like ease of check-in, we'll also take a look at what sort of entertainment and amenities your hotel has to offer. Beyond just the casino, of course.
Casino:
In this section, we'll review your land-based casino's online counterpart. Whether you're looking to dabble in sports betting or play some real money online casinos, we'll break down the basic pros and cons, plus highlight any particular bonuses you may want to take advantage of.
Best Online Real Money Casinos for Travelers – FAQ
What states have legalized online gambling?
Various caveats apply to this list. If you are unsure of your own local laws, please do your own research.
Below are the states where sports betting is legal online or is in the process of becoming legal and establishing online sportsbooks.
• Arizona
• Arkansas
• Colorado
• Connecticut
• Delaware
• Florida (ongoing litigation)
• Illinois
• Indiana
• Iowa
• Louisiana
• Maryland
• Michigan
• Mississippi
• Montana
• Nebraska
• Nevada
• New Hampshire
• New Jersey
• New Mexico
• New York
• North Carolina
• Oregon
• Pennsylvania
• Rhode Island
• South Dakota
• Tennessee
• Virginia
• Washington
• Washington DC
• West Virginia
• Wisconsin
• Wyoming
Below are states in which you can engage in online casino gambling, including poker:
• Connecticut
• Delaware
• Michigan
• Nevada
• New Jersey
• Pennsylvania
• West Virginia
Do I need to be a resident of these states to use the casino or sportsbook?
No. You simply must be residing or traveling in the state at the time of placing wagers. Online platforms usually confirm this by sophisticated geo-location technology.
And, of course, you're not required to brandish any papers to bet at in-person casinos. We can't imagine that would be optimal for the tourism industry.
Are these top online casinos safe and legitimate?
Absolutely. Every casino featured on this list is fully licensed and regulated. They are globally trusted brands and have been in the gambling industry for many years.
What types of games can I play?
This depends on the state you are in. More states permit sports betting than casino betting. It's the same story for poker.
If you're planning your trip around being able to make sports bets, we advise making sure you check which states allow it.
The same advice for if you want to gamble at casinos or participate in poker tournaments applies.
Related Reading: Best slot sites in Canada
Can I engage in online betting?
Yes. Many states have legalized online sports betting and have partnered with retail sportsbooks.
One of our top picks is DraftKings at Casino Queen in Louisiana.
What sports can I bet on?
This depends on the sportsbook you are betting at. We have made a list of the most common types of sports and events you'll be able to wager on below. Please note that it's not exhaustive.
• NFL
• NBA
• MLB
• NHL
• College sports (restrictions apply)
• Soccer
• Tennis
• Golf
• Motorsport
What type of online casino games can I play?
Much like the type of sports you can bet on, this is heavily dependent on the online casino you are playing at. We've listed some common casino games below:
• Slots
• Roulette
• Blackjack
• Poker
• Baccarat
• Scratchers
Can I win real money from these online gambling sites?
Yes. All of the best online casinos featured on this list and its land-based counterpart is fully licensed and regulated by the relevant local authority to take real money wagers and pay out real money winnings.
Suggested Reading: Best Bitcoin casinos
What types of casino bonuses are there?
Welcome Bonus: This is an incentive for you to sign-up at a specific casino. It's for new users only and is usually the most lucrative promotion on offer.
Reload Bonus: You'll likely be offered reload bonuses if you are a long-term patron of a specific online casino. A reload bonus is given when your e-deposit money into your account after using up your initial funds.
Match Bonus: A match bonus is when the online casino in question matches the amount you deposit with their own bonus. It's usually capped at a certain rate or subject to various terms and conditions.
Deposit Bonus: Any one of the previous bonuses described could also be a 'deposit bonus.' This is simply a promotion that's based on you making a deposit into your account.
Free Spins: Pretty self-explanatory. But not always the obvious truth. Free spins are granted for certain eligible slot games and have terms and conditions attached. 'Free' is a relative term, after all.
How to Sign-Up at an Online Casino
Step 1 – Register at Caesars
• Log on to Caesars
• Click to join and fill out the required details, including your email
• Wait for the validation link to be sent to your inbox
Step 2 – Validate your Account
• Check your email inbox
• If you can't find the link, check your spam box
• Once you've located the link, click on it to complete the validation process
Step 3 – Deposit and Play
• Make a deposit with your chosen payment method
• Make use of the welcome bonus
• Start playing and have fun
Related Post: Best online casinos in Canada
So, What Are the Top Casinos for Travelers?
Although online casinos have now made it possible to get that Vegas/Atlantic City style experience at home, we say, why not have the best of both worlds?
Now hospitality and retail have opened back up, it's time to pay tribute to the original brick and mortar kings, with thanks to the online casinos that helped us through the lockdown.
Whether you prefer the distinct smell of whiskey and floor cleaner that a real-life casino brings, or you're just happy to be playing casino games on your phone, always remember the golden rules:
Have fun and gamble responsibly.
DISCLAIMER: The information on this site is for entertainment purposes only. Gambling comes with its fair share of risks and it's important to recognize that when using online gambling sites.
While we review different gambling sites, you should check with local laws in your area before gambling online. Also, all gambling sites and our guides are rated 21+ only. We may receive compensation from the sites we recommended in our guides, but our reviews remain independent and reader-supported.
If you have a gambling addiction problem or anyone you know does, call the National Gambling Helpline at 1-800-522-4700. In addition, the following free gambling addiction resources can be of help:
• http://www.gamblersanonymous.org/
• http://www.ncpgambling.org/
• http://www.gamblingtherapy.org/
For access to exclusive gear videos, celebrity interviews, and more, subscribe on YouTube!