This is sponsored content. Men's Journal is not endorsing the websites or products set forth below.
You can not predict the time when you need urgent help. It may happen to your loved ones, too. If you live far from your parents or grandparents, it may be complicated to visit them very often. The busy life and work occupy a large amount of our time, so we also lack time to take care of our loved ones.
Innovation and technology move fast forward. There are devices that will cut the worries about the loved ones who need health support. Scientists and technicians worked together and invested huge effort to make some of the best medical alert systems for home use.
Older parents and grandparents will be in touch with you and the emergency center whenever they need help. These medical alert system devices are an excellent gift and a must-have device for older people who live alone or far from their families.
Thanks to technology, many people can be saved in emergencies and get help at the exact moment they need it. Keep reading to find out what we are talking about.
List Of The Best Medical Alert Systems In 2022: 
Medi Hill

–  Overall Best Medical Alert System With Advanced Life Alert Devices 

Luti Band

–  Top Medical Alert Devices For Monitoring Seniors 

CallToU

– Popular Medical Alert System For Emergencies
Here are the detailed reviews of our top picks: 
#1. Medi Hill –
Overall Best Medical Alert System With Advanced Life Alert Devices

Brand overview
Medi Hill is a company headquartered in Greater Philadelphia. Since 2010, these medical alert providers provide affordable and effective medical equipment for people with limited abilities. Using Medi hill medical devices, people with limited abilities can still enjoy their independent life and get help if they need it.
The brand has manufactured multiple medical devices, which are available for every country within the USA. The Medihill trademark guarantees the best quality and excellent service. The story is not ending here. The manufacturers and employees working in this company are passionate innovators and step with the technology, so they can constantly improve and upgrade the features on their devices.
The brand is inspired to create affordable and available medical alert devices for everyone who needs them. Medi Hill works hard to meet patients' needs and make them feel safe and comfortable in their late years. Medi Hill's medical equipment is designed and manufactured to enable communication between the patients and the 911 services.
The most significant achievement of this company is its professional team that is masters in the business and cares about helping others. The monitoring center works 24/7, giving the patients peace of mind thanks to the highly-trained moderators.
Product features
Medi Hill's  Personal Emergency Response System (PERS) enables users to live safely and independently at home, knowing that they can receive help when necessary. The device is easy to set and includes a Fall Detector that automatically calls the Medi Hill assistance when the user is unable to speak.
The in-home por mobile medical alert system or right medical alert system is easy to use and compact. It makes the device practical for everyone around their residences. The console has push-button for emergency assistance and a lot of excellent features, including:
A long-range transmitter of up to 1,000 feet

Illuminated help button

Lightweight and compact pendant accessory

Built-in battery with 24-hour life in case of power outages

Adjustable speaker for two-way voice volume

A cancel button to stop emergency reports sent by accidental button press

The personal accessories are waterproof

Fall detection feature

Three modes to set the device (home, night, and away)

Feature for interaction with other systems like medication reminder or smoke detector
Users can choose various subscription plans. The annual plan offers free equipment rent and costs $21.24 monthly with a discounted price. Customers can choose from the offered Annual, Semi-Annual, Quarterly, and Monthly plans.
Policies
Medi Hill offers free delivery on the Annual and Semi-Annual plan subscribers within all USA states. Customers who opt for other plans will pay a flat shipping rate. The delivery provides package insurance and a tracking option. The delivery takes a standard duration, from3 to 7 working days. During winter, holiday sessions, and extreme weather conditions, the delivery may exceed the predicted delivery time. Unfortunately, delivery outside the USA is not available.
Medi Hill wants to give the customers the best, so they can try its services and devices risk-free. The Medi Hill device comes with a 30-day satisfaction guarantee, meaning the customers can return the device in the predicted period. The medical alert system should be in its original condition, package, and undamaged.
If the device arrives damaged or dysfunctional, the customers should contact the support center within 24 hours of receiving the product. If the devices arrive with a manufacturing defect, the brand will send a new device at no charge. Lost and stolen products will charge a $150 replacement fee unless the customer has taken an equipment protection plan. The customer support team is available 24/7, so the customers can call them and ask for the policy guides.
A medical alert systems, also known as a personal emergency response systems, connects you with a 24/7 call center during an emergency.
What we liked the most
The Medi Hill device is simple to use, even for older people.

It has an affordable price.

It has excellent features, including GPS location.

The portable accessories are lightweight and helpful.

The waterproof technology enables users to wear the equipment during showering.

The fall detector sends an automatic call to the service.

The customers can choose from the various service plans.

Battery life even in electricity outages.

Professional monitoring team and ultra-fast response.

The device can be returned if you are not satisfied with its use.
Pros
Highly reputed and reliable brand

Innovative technologies

Excellent features

Fast response and GPS locator

Waterproof portable equipment

Affordable monthly subscriptions

No hidden fees

Free USA delivery for specific subscription plans
Cons
The healthcare service and delivery is available only in the USA

The brand will charge $150 for lost or stolen devices if you do not use the protection plan
=> Click here this website "Medi Hill"
#2. Luti Band –
Top Medical Alert Devices For Monitoring Seniors 
Brand overview
Luti Band is a technology company that specializes in creating and selling medical alert devices. These devices are actually smartwatches with modern design and incredible features. These smartwatches are created for everyone who wants to live an independent life without worrying about possible emergency assistance.
There is an interesting story behind this company that inspired the founder his own story. Gustavo Rubacha is the founder and CEO of the Luti Band. In his 37th year, he faced a sudden heart attack without any indication of existing health issues. That day changed his life and proved to him that what doesn't kill you makes you stronger.
He was fortunate that he had a company individual that provided him with the needed help at that moment. That person helped Gustavo receive medical attention and live a great life nowadays. At that moment, Gustavo realized how lucky he was to have a carrying individual next to him, and is thankful to the sky for that opportunity.
Since not everyone can have the same luck, he decided to use his technical knowledge and experience and design a product that will help users get urgent help in emergencies. LutiBand is created to simplify life.
Product features
Luti Band smartwatch makes life easier and safer place. Using this smartwatch, people can have access to organizations that help and grant health support services. Luti Band is a miniature version of a smartphone with expanded emergency help features. Let us dive into the features.
Luti Band shows the current location using integrated GPS and updates location information every 180 seconds. With the activation of the real-time tracking mode, the smartwatch will send the location every 10 seconds. The device has incredible memory that records the locations in the last 30 days.
The Luti Band smartwatch can share messages with people close to the user, so he can notify them that he is okay or needs help. Pressing the button two times will send people messages that the user is OK at the moment. This will also send the location of the user. In an emergency event, the user should press and hold the Luti Band button for 3 seconds, so it will initiate a call to the 911 services and notify the close people that the user needs help.
Other features LutiBand include:
Fall detection

Sensors

Who I am info

Medical ID

Reminders

Security clasp

Messages, questions, and alerts
Policies
Luti Band smartwatch comes with a 30-day refund guarantee. Unsatisfied users can request a full refund in the following 30 days of receiving the product. To qualify for this policy, the user should request the policy in the predicted period, be able to prove that the watch is purchased from the official website, and return the product in a functional state. Products ordered during holidays have an expanded refund policy of 45 days. Shipping fees and taxes are non-refundable.
The Luti Band smartwatch is available for worldwide delivery, so the shipping terms and fees may vary depending on the location. Once the customer enters the delivery address, the shipping charges will pop up at the checkout.
Luti Band smartwatch has a one-year warranty. To use the warranty service, the customer needs to return the watch to the authorized Luti Band distributor together with the proof of purchase. The smartwatch can be ordered from the official Luti Band website or retailer partners. The device will be inspected and repaired by the service or replaced with a new one if it has manufacturing defects that can not be repaired. The warranty will not cover damages caused by misuse or mechanic damage caused by human force.
What we liked the most
Fashionable and functional device.

Incredible features that are not met on other similar devices.

The Luti Band smartwatch can measure body temperature, blood pressure, heart rate, blood oxygen level, etc.

The sensors will notify relatives when the user has removed the watch.

The smartwatch will notify connected relatives when the user arrives at specific, previously set locations.

The device records the user's personal information so it can be shared with the emergency centers in emergency cases.

Has a reminder feature when the user should get medications or arrives at a specific destination.
Pros
The best money-worth life-saver

Sophisticated features

GPS locator and notification sharing feature

Immediate 911 call in case of emergency

Fall detector

Temperature and blood pressure sensors

Medicine reminders

Worldwide delivery
Cons
The device may be pricey for some users

Not specified shipping fees
=> Click here this website "Luti Band"
#3.CallToU –
Popular Medical Alert System For Emergencies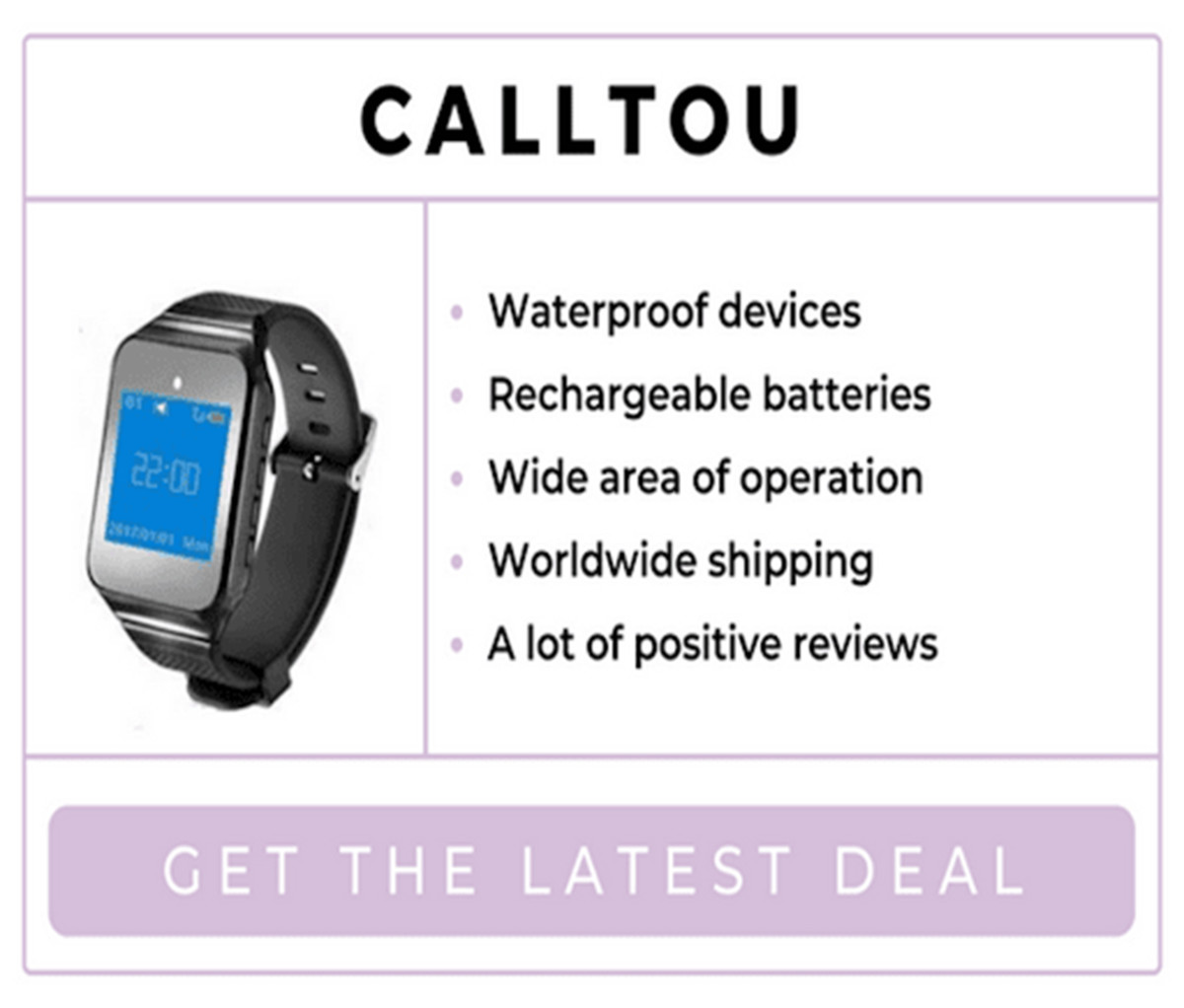 Brand overview
CallToU is a brand known for its excellent auxiliary products. It was founded in 2008, and since then, it manufactures and sells high-quality electronic equipment for hospitals and home use. Besides the health devices, this brand also sells various digital products, doorbells, caregiver pagers, restaurant pager systems, children's intercoms, walkie-talkies, etc.
The brand has excellent experience and knowledgeable employees that put innovations in every new product line. These professional medical alert systems are made to help people improve their lives and be in touch with their families. The optimized technology used to make CallToU devices enable relatives to locate the users and provide them with needed assistance in the event of a medical emergency or disappearance.
CallToU's team is committed to bringing more innovative products to every family and person who needs these devices. Since its founding, CallToU has successfully helped thousands of families to get in touch with their loved ones and give them a helping hand at the moment they need it.
The brand offers 24/7 available customer support, prepared to help with any difficulties or problems during the purchasing or using process.
Product features
CallToU's medical alert system has 2 wrist pagers that look like smartwatches and 5 portable call buttons. This set is excellent for enabling communication between the caregivers and the patients. The system can be used in hospitals, caregiving centers, or at home. The devices are lightweight and require simple installation.
Caregivers can communicate with patients in a range of 500+ feet. The wrist devices have multiple mode features, so the caregivers can feel the vibrations and sounds when the patient calls them in case of an emergency. The push-button or the portable patient device is waterproof, so the users can wear it as a pendant even when they shower.
Both wrist and portable devices work with rechargeable batteries, which are included in the set. A fully charged battery can last up to 3 days. The transmitter uses an Alkaline battery, which is also included in the set, but it is not rechargeable. Once the battery dies, the user should replace it with a new one.
The wrist pager configures multiple call keys for calling the family, hospital, caregiver, or nursing home. The device supports multiple languages, so the users can easily set the device's language to simplify its use.
Policies
CallToU medical alert system can be delivered to most worldwide countries except Brazil, Argentina, Chile, Peru, Colombia, and Bolivia. The brand offers free shipping, but it is not specified if it covers only domestic or all international orders. The delivery time is also not specified, since it can not be predicted and surely told for all worldwide destinations.
CallToU offers a 30-day money-back policy. The customers can try the device and request a full refund in case it does not meet their expectations. The devices should be in the same conditions as received, unused, and unworn, with the manufacturing tags and original packaging. The customer should send the proof of purchase, too.
If the devices arrive damaged, incomplete, or dysfunctional, the customer should contact the support team immediately, so the brand can evaluate the issue and make it right. Sale items and gift cards can not be returned or refunded.
The product exchanges are made by returning the received product, and once the company in the medical alert industry accepts the return, the customer should place a new purchase for the new product. The funds will be automatically refunded on the customer's original payment method. The process may take some time until the bank processes the transaction.
What we liked the most
CallToU

medical alert system comes with multiple devices.

The set includes adhesive tapes, a manual, and 5 batteries.

The pagers and wrist devices are simple and easy for installation and use.

The battery can last up to 3 days.

CallToU medical alert system is convenient for hospital and home use.

The wrist device can record About Me information and send notifications to connected relatives and healthcare centers in case of an emergency.

The portable pagers are waterproof and can be worn as necklaces.

The medical system can be delivered globally.
Pros
An affordable and functional medical alert system

The product can be delivered worldwide

The wrist device has simple and effective features

Easy to operate for older people

Durable battery life

The receiver has 500 feet range

Suitable for smaller and larger areas

30 days full refund policy
Cons
The device has no special features and sensors

Shipping fees are not specified
=> Click here this website "CallToU"
How We Choose The Best Medical Alert Systems For Ailing Loved Ones?
Simple use
Since these devices are for people in their late ages, they need to be simple and understandable. The brands we choose sell simple but innovative devices and systems that can help older people easily press the button to search for help. The Medi Hill and CallToU medical alert systems have a single Help button on the portable devices so that they can be activated immediately.
The Luti Band is also simple to use, but it has a more sophisticated appearance and features. All three brands offer high-quality and effective products, suitable for everyone. People can continue living independently, knowing that they are in safe hands in emergency situations, no matter where they are at the moment.
Incredible features
The devices have awesome features. They have sensors, a GPS locator, endurable batteries, etc. The wrist devices have sensors and buttons to call the emergency institution or relatives connected to the network. The feature enables close friends and family to be in touch with the user, so they will know if the user is OK or needs help. The devices also have About Me information. The user's information will be sent to the people connected with the device, and the hospital or carrying center will know the patient's identity.
The devices will also remind users to take medications, send messages, call 911, measure their temperature, pulse, blood pressure, etc. The innovative technology makes these devices a real-life-saver, so people can feel safe and get help when they need it. The devices also have a fall detector, which notifies the parties connected with the device that the user fell down and is not able to speak or stand up and call help.
Lifesaving investment
Medical alert systems will give everyone peace of mind, knowing that the older loved ones are doing great and have a helping hand in every situation. These devices can save hundreds of lives daily since the statistics show that thousands of people experience a heart attack or get injured by falling. These devices will keep family and friends in touch by receiving notifications about the user's health and current location.
Yes. The devices can locate the user, so you do not have to worry if your parent or grandparent gets lost or confused and goes to a different location. The devices record the most visited locations and the locations visited in the past 30 days. $100 can save thousands of lives.
High quality and resistance
Technology allows us to live freely and safely, knowing that the older people we love are OK. These brands have designed incredibly innovative devices with significant battery endurance and awesome features. The portable devices are lightweight and waterproof so that the users can wear them as a pendant on a necklace even during showering.
These medical alert devices are made with high-quality materials and the latest technologies. The brands stand behind their product quality, offering warranties and refund policies. If the users are not satisfied with the device, they can return it and receive a full refund. So, buying these devices is risk-free, knowing that the brand guarantees their quality and refunds the total paid amount in specific cases.
Trusted brands
The most important thing is to choose a trusted brand that guarantees quality and has a high reputation on the market. Brands' reputation and popularity are built on customers' trust. These brands are professionals in doing their job and offer promising and effective medical alert devices. The devices are specially made for hospitals and caregiving centers so that doctors and caregivers can be in touch with their patients.
These three brands are the best medical alert system manufacturers in the entire USA. Their effort and knowledge are reflected in their reputation and hundreds of satisfied customers and families who left high-rated feedback.
Factors to Consider When Choosing Life Alert Safety System: 
The price
These systems are not gold, meaning they should not be enormously expensive. You can find an excellent medical alert system and portable devices for $100, so do not search for the most expensive. Search for the best one that offers excellent features. Expensive does not point to high quality every time. Search the market and review the products offered there. You can find thousands of brands that offer medical alert devices, so do not rush and search for the most expensive one.
These three brands we mentioned in the article offer incredible features, have long-life batteries, and cost around $100. You can buy quality for an affordable price, so think twice before spending money on expensive but not promising products.
Device's features
The features are the most important thing you need to check. First of all, it is important for the device to have a larger range area connection, so you can follow the user and locate him at every moment. Then, the battery life. You should read if the device is rechargeable or uses replacing batteries.
Then, you can search for the optional features like identification information record, medication reminders, take-off notifications, messaging, low battery indicator, external conditions resistance, temperature, pressure, pulse, and oxygen measuring sensors, etc. Keep in mind that the device should have good features to be worth the price.
What other people say
This is an essential factor to consider when buying any product online. You will strengthen the decision on buying a specific product, knowing that the people who already bought it highly recommend it. Customers' experiences will uncover additional details about the product that the brand did not mention in the description.
You might find lots of positive and negative reviews, but the product might be worth buying until the positive ones are dominant. If most customers are unhappy with the purchase or complain about the brand's services, you better stay away from those brands and search for a trusted one.
FAQs Regarding Medical Alert System & Monitoring Devices: 
Who should use a medical alert device?
These systems are a good investment for everyone searching for a peace-of-mind system that will give protection in cases of a medical emergency, break-in, or fire. They can activate the system by pressing the HELP button, and the emergency institute or close relatives will arrive as soon as possible.
Medical alert systems have a fall detector that would alert the operators and caregivers that the user is injured and unable to call 911 because of a fall. Because of it, these devices are excellent products for older seniors and family members who live alone and far from their families.
How many times can I press the help button?
As much as you need. There are no limitations on how many times you can press the HELP button. It should be activated in case of medical help needed, injury, or other kinds of emergency. The operators will call you once they receive the HELP alert. 
Bay Alarm Medical devices give you access to emergency response teams at home, on the road, and nearly anywhere nationwide.
What types of medical alert systems are available?
The technology allows manufacturers to be creative and design different types of many medical alert systems. For example, you can find a static device, smartwatch, pendant, necklace, portable button, etc. Smartwatches are the best ones so far since they have greater features and sensors for measuring users' pressure and temperature. 
They can also be used as miniature smartphones since they have features to call relatives, 911, send messages, notifications, and current location. The pendants are also a good type of medical alert device because they are simple for mature people. They have no great philosophy. Only a single button that the user should press in an emergency situation.
How do medical alert devices work?
They have GPS locators that indicate movements and unpredictable moves. For example, if the user falls, the device will indicate unusual movement and call the moderators automatically. This is typical for the pendants and portable button devices. The smartwatches have better features and sensors that may notify the operators if the user has different blood pressure than regular, decreased pulse, or increased body temperature.
The static systems have simple buttons so the user can press them in case he does not feel well. Overall, all devices work using nationwide wireless voice integration, GPS technology, and location to follow the user's movement. No matter the device type, all top medical alert systems have a HELP button that sends alerts to the 24/7 USA emergency call center.
What kind of features do the medical alert systems have?
Since the technology is developed at a high level, these devices have incredible life-saving features. All medical alert systems work using two-way voice, the most powerful feature these devices have. This feature allows users to speak with the emergency center operators hands-free. These systems come with a portable one-button device, which is waterproof and enables users to wear it everywhere, even while showering.
The next feature is activity monitoring, or precisely, the deceit follows every movement the user takes throughout the day. If he makes an unusual movement or does not move in a specific area, the device will send an auto call to the center. Depending on the device technology, some devices have medication reminders, pressure sensors, and other more sophisticated features.
Concluding – Top Medical Alert Companies For Older Adults Of 2022
Medical alert devices are a must-have product, especially for mature people who live alone and far from their families. You will be peaceful knowing that they can receive help at the exact moment they need it, no matter if they pressed the button or the device noticed unusual movement.
The devices can even send messages to family members connected to the device, so the user can press a single button to tell them he is OK or needs help. These features can save a life. These devices are totally money-worth investment, so do not think twice if you have a parent or grandparent that lives on his own a little far from you.
Traditionally with most medical alert companies, your monthly subscription fee increases as you add more buttons and devices.
Medical Guardian has grown to become one of the top-rated medical alert systems in the industry.
For access to exclusive gear videos, celebrity interviews, and more, subscribe on YouTube!