NASCAR driver Bubba Wallace goes fast and takes chances for a living. The 26-year-old drives one of the most iconic cars in NASCAR history, Richard Petty Motorsports' No. 43 Chevy Camaro ZL1 1LE. He's shattered racial barriers and broken records. A six-time NASCAR national race series winner, in 2013 Wallace became the first Black driver to win a NASCAR race in 50 years, and in 2018, placed second in the iconic Daytona 500.
Already an outlier in a sport known for its rebel spirit and whiteness, Wallace had enough on his plate chasing checkered flags. But after the murders of Ahmaud Arbery, George Floyd and Breonna Taylor, he opted to go full throttle in the fight for social justice.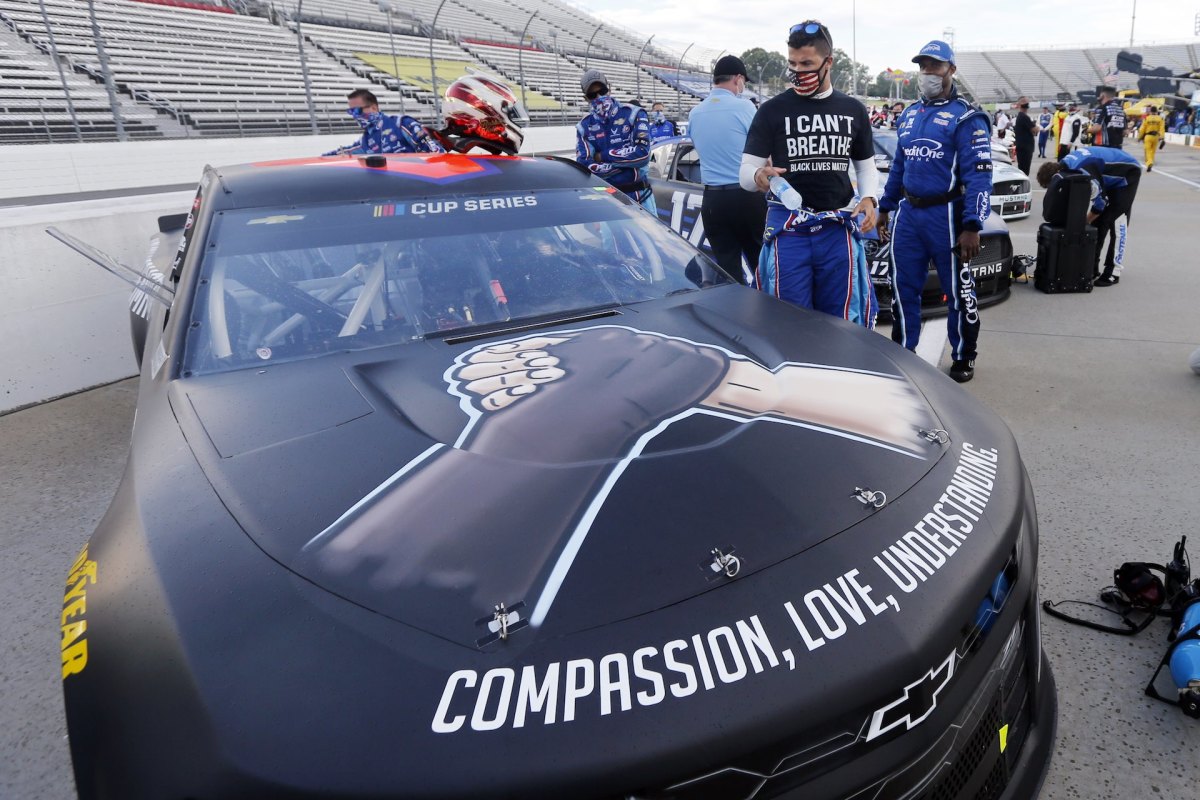 On Blackout Tuesday (June 2), sporting a T-shirt reading "Black Lives Matter" and "I Can't Breathe," Wallace drove car No. 43 wrapped in black with the #BLM logo and the words "Compassion, Love, Understanding," on the hood at the Cup Series race in Martinsville, VA. He implored NASCAR to take a stand on the Confederate flag, something the organization had been struggling with since responding to the 2015 church shooting in Charleston, SC. On June 10, NASCAR banned the flag. The following weekend, in Talladega, AL, protesting fans paraded around the track in trucks and motorcycles, festooned with the rebel flag. A plane flew overhead trailing a "Defund NASCAR" banner and the 'stars and bars' of the Confederacy.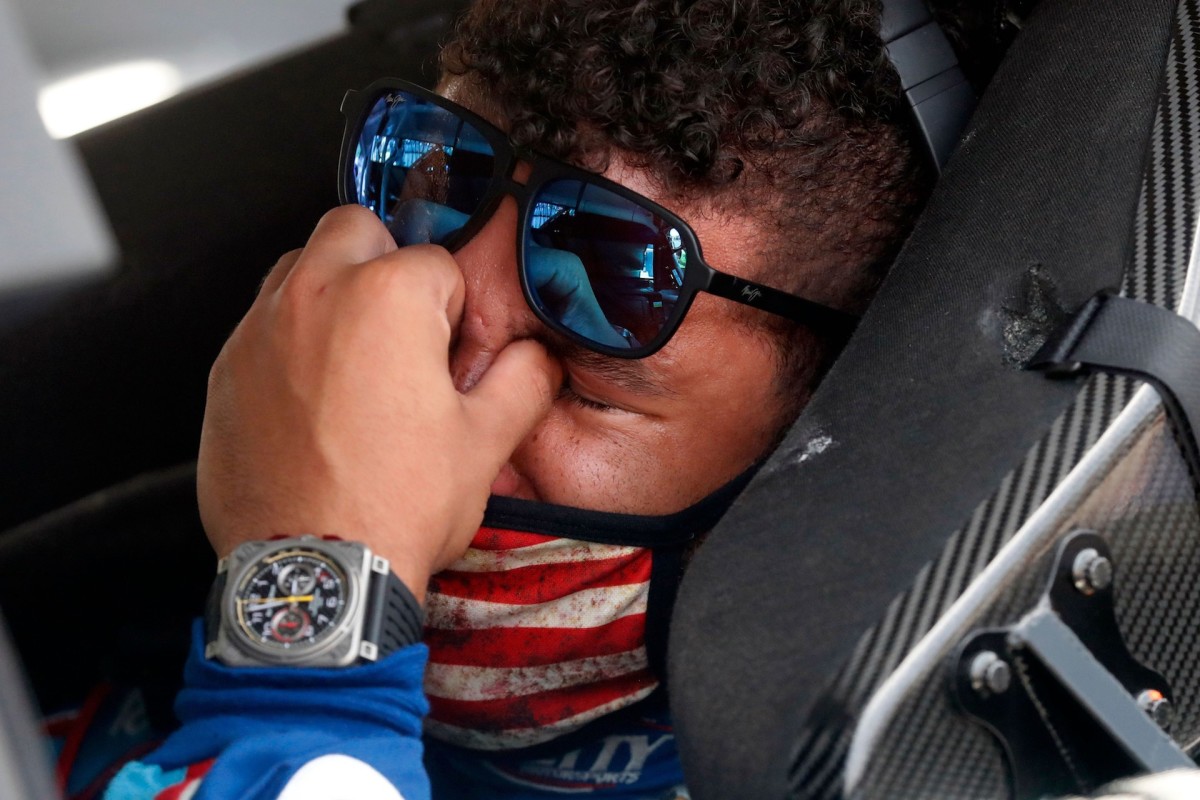 Then things got complicated. On June 21, when the No. 43 team checked in at Talladega for the Geico 500, the crew noticed the garage door pull was tied as a hangman's noose. NASCAR President Steve Phelps contacted authorities and the FBI investigated the possible hate crime. Concluding that the noose had been in the garage since late 2019, the FBI and NASCAR reaffirmed that Wallace's team had been correct to report the situation, but internet trolls quickly decried the incident as a hoax. Two weeks later, President Trump took a stage dive into the fray, tweeting that Wallace should apologize to the NASCAR drivers who stood by his side, and suggesting that the "Flag decision" had caused NASCAR's ratings to sink.
Wallace posted his relief that it was not a hate crime, writing, "Love over hate every day…Even when it's HATE from POTUS." Haters attack him on social media; others praise him for adding his voice to the chorus for social justice, including new sponsor Columbia Sportswear, with whom Wallace signed a multi-year sponsorship deal in July, a move that will amplify the message of racial equality on the track and in the world of outdoor sports.
Bubba slowed down enough to talk with MJ about his rally against racial injustice, driving, and everyday life in times of COVID-19.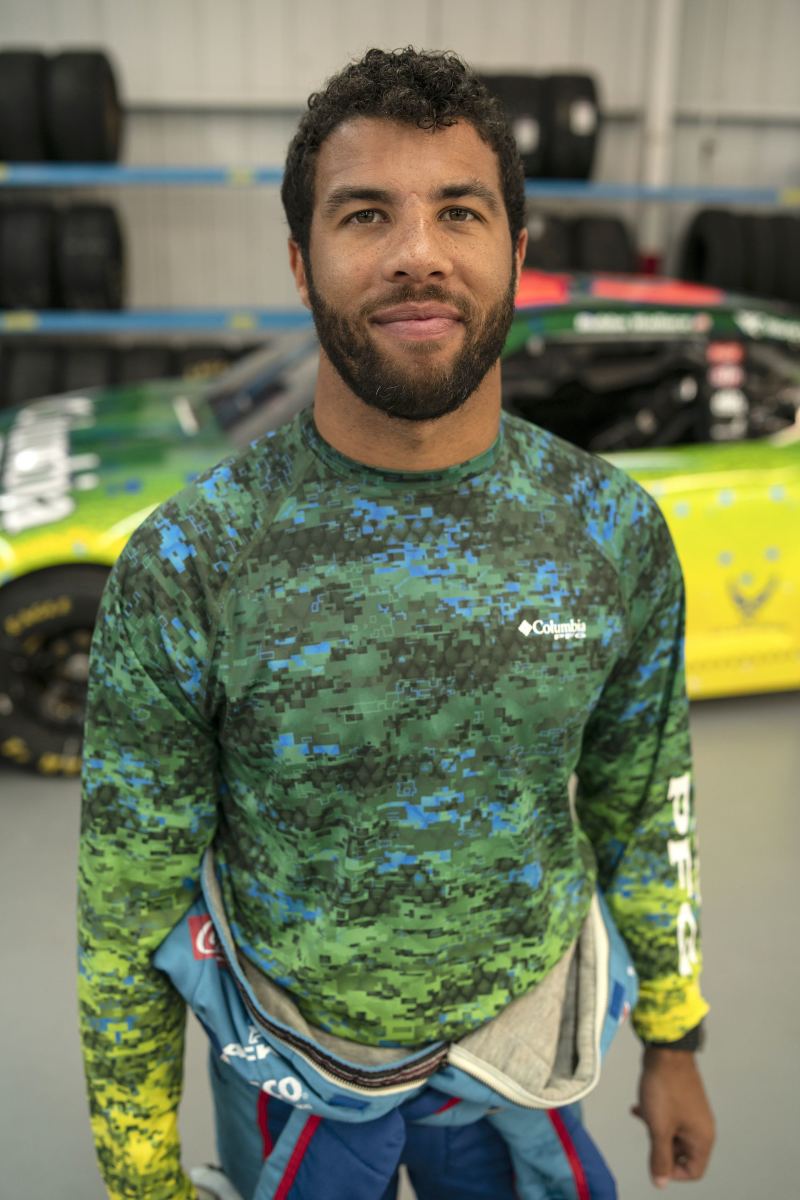 MEN'S JOURNAL: Have you ever gotten a speeding ticket?
BUBBA WALLACE: My record is pretty decent, I've only gotten three tickets I believe.
Give the rest of us drivers your top three skill tips.
Have no fear, practice patience, and be smooth.
 What's your favorite part of a race?
I get excited on re-starts. It's so tough to pass nowadays, it's your one shot to make up as much ground as possible. Sometimes you can pass 10 cars in one lap—that's when your heart rate really picks up speed.
You've been competing against many of the same people for years. Do you have any rivalries or vendettas?
I think you look at racing people in terms of how they race you. You may have payback moments for some guys but they never know when. Still, you race each other with respect.
Some people would argue that NASCAR is more mental than physical….
Anyone who would ride in the car would understand the athleticism involved. In the summer in Florida, it's 130 to 140 degrees in the car. We're maintaining speeds from 90 to a couple of hundred mph for hours on end. Then you add the physical activity of turning the wheel and shifting gears. The G-forces sling you to the right side of the car so you're always pulling back.
What do you do for training?
I do cardio, weightlifting, and especially back exercises. Your back and core take the brunt of the pain while driving. I work out with a trainer. I do a lot of free weights that challenge multiple muscle groups while trying to maintain proper form. Lots of renegade rows with pushups, overhead presses, alternating curls and single leg deadlifts. I'll also do tricep work, mostly pull downs, and light weight/many reps and bench presses.
Can you describe the pivotal moment when you decided to go public with your support of #BLM? What shifted?
After hearing of Ahmaud Arbery's story, and then watching the video over and over again, it hit me hard. I didn't sleep well, and I couldn't get it off my mind. I felt like I couldn't be silent and had to say something and stand up for what is right and use my platform to promote compassion, love, and understanding.
 

View this post on Instagram

 

You've established yourself as a role model for the sport, the #BLM movement and young people. Will your new role as an advocate for social equity impact how you drive and interact on the track?
It makes me want to go out and compete to silence the naysayers. It has been quite a journey over the last few months, just to juggle everything from COVID-19 to my commitment to the #BLM movement to the noose incident and interaction with POTUS. I don't sit here and worry that I have so much on my plate, but managing what I see as a social responsibility and the racing side of things can be challenging.
Now that NASCAR races are being held, what are you looking forward to the most in the upcoming season?
For us, it is hoping to get back to normal after COVID. And figuring out where we want to go with the team and car for 2021. I'm looking forward to seeing the results of a cultural shift inside of NASCAR. It will be a sight to see, but there will be some backlash. I know I've pissed off some people and we'll have to see how it unfolds.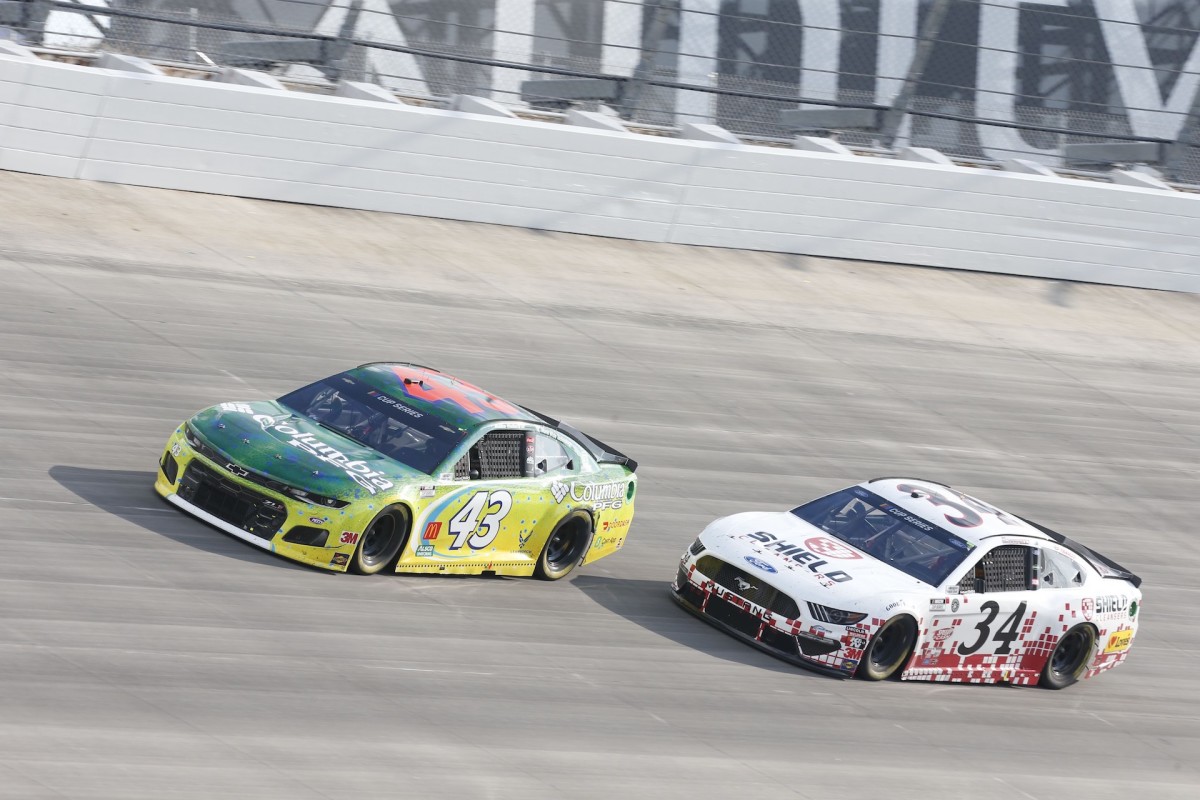 What do you say if someone says something, in person, or on social media, that you think "crosses the line." How do you keep your cool?
I try to remember that I am carrying a torch, and have companies who are financially supporting me, my team, and NASCAR. I don't want to hurt others by saying something impulsive. We want to push the envelope for social justice, and that means listening and getting the message across in a way that brings people together.
What does social justice mean to you? Racial justice?
It is equality, love compassion, understanding, a better job of practicing patience, better job of listening and practicing compassion for brothers and sisters…even if it doesn't impact you. You have people who are your friends who are treated differently because of their skin color, who are being judged differently. People need to practice love and patience.
In light of the publicized demonstrations against police violence and social justice, do you see signs of hope for the Black community? How are you doing with the negative social media you get?
We can only hope and pray that things will change. And stand up for what is right. Inside the sport it is tough to read that people are against me, since what they are reading is not always factual, for example that I called all of NASCAR and our fans racists, or that I called for hate. There is a problem with misinformation. People who want to believe bad things will.
In your IG post about loving, not hating, you mention that young people should never let anyone get them down. What do you do when you're feeling blue?
For me it is music, heavy metal in particular. Music puts me in a zone, a different perspective in a new light. It cheers me up and gets me happy. I encourage people to find something outside their normal routine they can always have in their back pocket for when they need it.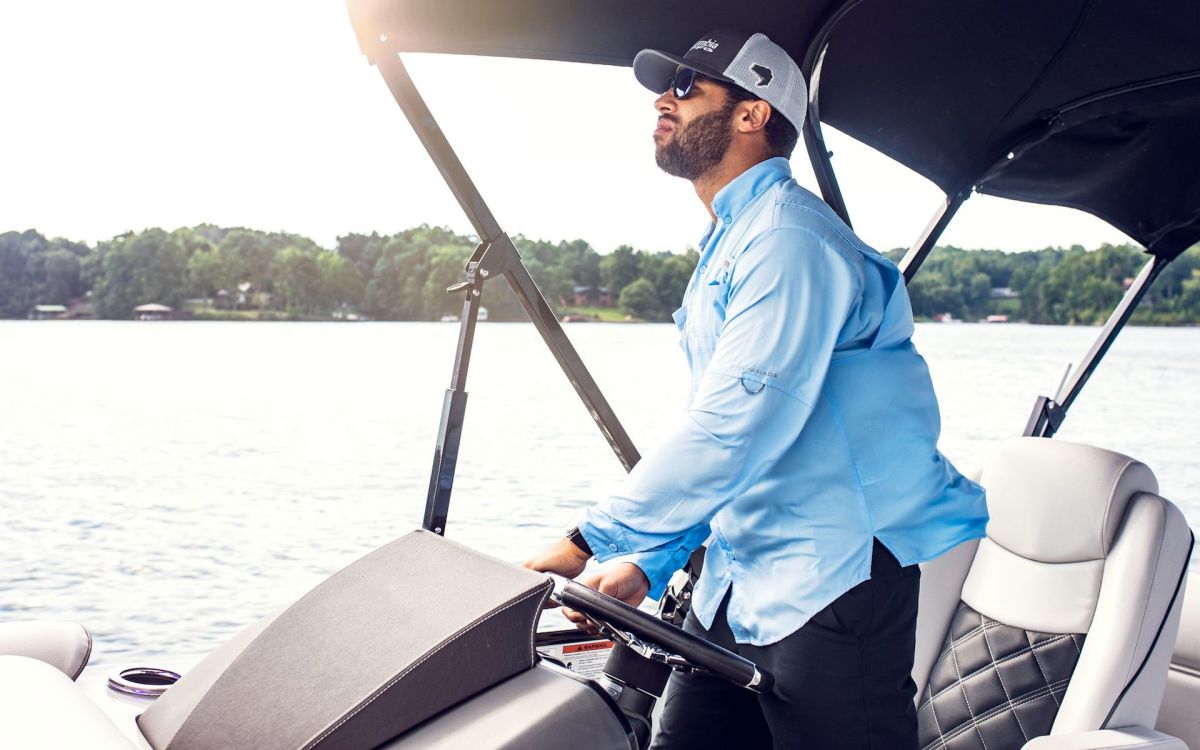 How did you get involved with Columbia?
I've always had love for the brand. They reached out to my management team and I thought it was pretty cool. I have a bright yellow Columbia ski jacket that I bought years ago and still wear a lot. It's been a blessing and honor to be involved with Columbia as we share the same values about standing up for what's right, love, equality, making it better for the next generation and exposing people to the outdoors. I'm excited to work with them on ways to inspire more people to get outside.
What do you like doing outdoors?
Amanda and I hike and mountain bike, and we're excited to do more fishing. I love outdoor photography. Clouds are one of my favorite subjects to shoot, they are always changing shape, always evolving.
What can our readers do to help the cause of social justice for not only the Black community, but all communities of color?
People can educate themselves on why people are feeling differently on issues. And then try to bring awareness to those issues. Bottom line is to speak out on what's right.
For access to exclusive gear videos, celebrity interviews, and more, subscribe on YouTube!