Crash Is Still King
With 'Crash Bandicoot: On the Run!', the Legendary Game Is Fully Unleashed on Mobile
This article was produced in partnership with King.
With the launch of his new mobile game, Crash Bandicoot: On the Run!, one of the biggest names in gaming history is now fully unleashed on mobile—and out to prove he's still got the speed and skills to capture the world's attention. Just don't call it a comeback. He's been here for years.
Maybe choosing Top of the Rock for Crash Bandicoot's Men's Journal cover shoot wasn't the smartest choice logistically speaking. It's cramped up here. The photographer's assistants are wrestling with lights and a reflective umbrella, looking like they might puke any minute, nauseated by the dizzying height. But the famed photographer insisted this New York landmark wasn't just a great option, it was the only one.
"Crash Bandicoot is larger than life," she says matter-of-factly. "You don't capture the hugeness of his persona, his influence, or his place in gaming lore by taking his portrait in a studio. For a quarter of a century, the world has been at his feet. And that's exactly what we're here to portray."
Her subject—that affable marsupial—is draped comfortably in a director's chair, munching a Wumpa fruit as a hair stylist fluffs up his shiny orange coat.
"Not too much, darling," the photographer warns. "Neat is fine, but this bandicoot is a creature of raw, untamed energy."
A smile cracks across his face. It's typical for Crash to let his action do the talking since he burst onto the scene in 1996 in the original Crash Bandicoot for PlayStation One. A smash hit, Crash's first game redefined the platforming genre for the 3D realm. Two sequels followed, then Crash showed off his versatility, branching out into racing and party games.
The pure shot of adrenaline Crash delivered to players around the world soon proved too big to be contained as a Sony exclusive. Once his rookie contract expired in 2000, Crash was everywhere, appearing on virtually every console and gaming device in a wide variety of genres over the next 20 years.
But the world changed. Smart phones became the gaming device of the new millennium, and runners—which simplified gaming mechanics for touch screens so players didn't need to push their character through the environment—exploded in popularity. Suddenly, the settings, aesthetics, and hallmark chaotic speed that Crash made famous were now everywhere, but sapped of their heart and soul, lacking an it factor that couldn't be replicated. In short: They simply weren't Crash.
SOME CELEBS THINK 20 SECONDS OF BEAR CRAWLS IS HARD. HA, TRY BANDICOOT SPINS FOR FIVE.
Luckily, fans won't have to settle for imitations much longer. On March 25, Crash will launch the 22nd game of his storied career: a new mobile adventure, Crash Bandicoot: On the Run! While the game fits neatly into the runner category, it's so much more, offering a deep, character-driven experience that marries the very best elements of runners and platformers.
Players will get a chance to guide Crash on treacherously complex runs, smashing crates, destroying enemies with TNT, and chomping down Wumpa fruit in unique environments—from tropical jungles to snowcapped mountains to dangerous laboratories. Along the way, they'll engage in epic boss battles against the creations of Crash's longtime nemesis, Dr. Neo Cortex.
"Look, imitation is the sincerest form of flattery, and I assure you that's how Crash sees any game that apes his style," says Coco, Crash's younger sister who will also be a playable character in the new game. "All of those games owe a creative debt to my big brother. Crash never felt a need to step forward and say, 'Hey! I can do that, too!' It's always been self-evident. He made this game because he had something brand new to offer fans and, trust me, it's going to blow them away."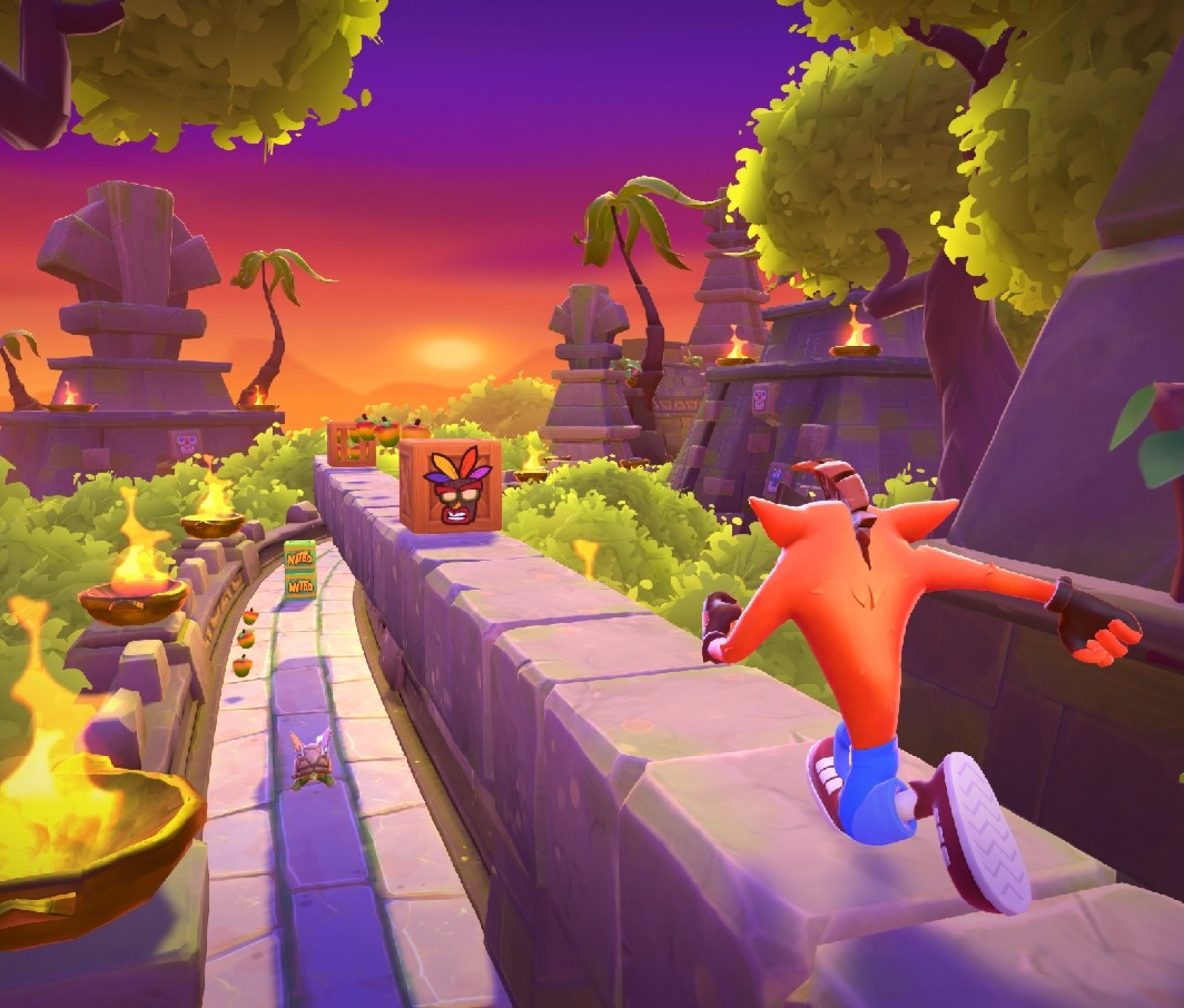 Indeed, Crash Bandicoot: On the Run! appears set to revolutionize the runner category, just as the original Crash Bandicoot changed platforming forever in 1996. The game is at once visually gorgeous, easy to learn, difficult to master and, befitting the times, social—players can cooperate and compete with one another. Moreover, no two Crash Bandicoot: On the Run! experiences will ever be the same; Crash Points earned in-game make it endlessly customizable, putting myriad snappy character mods in the hands of the player.
Meanwhile, the cover shoot still hasn't begun thanks to the tight quarters; a large pile of wooden crates in the corner will have to move before the photographer has enough space to frame her subject. Crash notices the assistants struggling to lift them and clears his throat to get their attention, then makes an "Outta my way" motion with his hand.
In the blink of an eye, Crash runs and jumps toward the top crate, spinning as he descends, annihilating the entire stack. Then he saunters over to his mark near the edge of the roof, the glorious New York City skyline behind him. He folds his arms and strikes a pose, and she begins snapping photos in rapid fire.
"See?! What did I tell you?!" the photographer shouts to the crew. "A creature of pure energy! He wastes no time! He wastes no words! All action! I love it!"
Cover shoots typically last hours as photographers goad their subjects into dozens of poses and outfits, but after five minutes she reviews the images on the monitor and announces, "When you know, you know. I've got my cover. Let's get out of here."
Next stop: Chelsea Piers sports complex on the Hudson River. Everyone piles into the photographer's 1960 Volkswagen Bus—all except for Crash who will, naturally, run.
"I love it," Crash says, stretching his quads. "The wind in your fur, the bugs in your eyes…"
Keeping in peak physical condition has been essential as Crash gears up for the release of Crash Bandicoot: On the Run! which, for completionists, promises over 100 hours of gameplay. Crash lost track of how many miles he logged in preparation, Coco says.
"Oh, is this the part where I detail my routine?" Crash chimes in. "Some celebs think 20 seconds of bear crawls is hard. Ha, try Bandicoot spins for five."
As for food?
"Plant-based diets are all the rage right now, but I've been ahead of the curve for years—Wumpa fruit is all a Bandicoot body needs. Anyway, smell ya later!"
In a flash, he's gone.
"He could run those 100 hours straight through," Coco says, watching her brother disappear down the street. "The running isn't the issue. Again, this isn't your typical mobile game. It has layers players aren't expecting, but will love all the same. The challenge lies in the boss battles, maneuvering through tight and dangerous places, discovering every secret, and finding hidden pathways."
And with that comment, Coco touches on something much deeper: Consumers are drowning in choice, and they don't like it very much. By the latest count from Statista, there are 957,390 games on the App Store. In such an oversaturated marketplace, even casual gamers become jaded. Everyone thinks they've seen it all and no one wants more choices—they just want one choice that makes them feel great about never giving the other million a chance.
Gamers don't just want fun. They want sustenance. And all signs point to the fact that Crash Bandicoot: On the Run! is going to be just the game to provide it. This might not be the answer to humankind's search for meaning, but it will be the answer to the search for meaningful in-game progression.
"Progression is a very big part of the new game," Coco confirms. "Dr. Neo Cortex—the mad scientist who's responsible for mutating me and my brother, and gifting us with speech—well, he's out to destroy us; and he's using power crystals to activate multiverse gateways and unleash a brand-new slew of enemies in our direction. Players are going to have to commit to continual improvement…but we've made it so fun and progressive, I think they'll do just fine."
Coco pauses, gazing out the window.
"It's Crash I worry about," she continues. "He's so fearless, and it costs him sometimes. I've seen him get smooshed, shot, electrocuted, and blown up by so many precariously placed TNT crates over the years. He's always bounced back, but this new game…it's just so big."
this isn't your typical mobile game. It has layers players aren't expecting, but will love all the same.
Coco's uncharacteristic apprehension is cut short as we arrive at the pier. We hop out and the assistants begin unloading. Inside, Crash is already waiting, having easily beaten us on foot. In the end, the photographer decides to leave most of her gear behind, reasoning, "Oh to hell with the lights. Let's capture this animal in his element!"
But as she says this, it suddenly seems like it might not be possible. Someone either intentionally leaked our location or simply got too careless. As a result, a throng of fans is now pressed up against the front door and clamoring for Crash's attention.
"We love you Crash!" screams one fan who's holding a sign that reads, "CRASH IS KING!"
Crash greets the crowd, showing off his signature spin move as he signs autographs and poses for selfies with blinding speed. Somehow, everyone in attendance gets a piece of the action. They explode in applause—half thankful, half in awe of the otherworldly feat they've just witnessed.
When the hullabaloo dies down, the photographer asserts control. "Ready when you are, darling," she says. "Just do your thing."
Crash hits the turf running at top speed, spins, then vaults off the wall until he's hanging from the rafters, some 50 feet off the ground. She snaps away as he effortlessly parkours to the far side of the room. He drops to the ground, then runs straight back at us, somersaulting over the other athletes in his way, his tongue carelessly flapping in the breeze.
"Marvelous!" she shouts. "Absolutely marvelous!"
This goes on for another 20 minutes, and it's breathtaking how easy he makes it all look.
"I'm not showing off," Crash says. "Well, I'm not just showing off. The more moves you've got in my new game, the more resources you'll collect, then you can build an absolutely sick home base."
This catches the attention of several folks who've stopped to admire the scene. Their eyes go wide in surprise.
"Oh yeah," Crash continues. "The base is where you'll mount each run from—and store your weapon arsenal. I can't say much more than that for now."
The photographer reviews her monitor. "Perfect. Just perfect. We're done here."
Crash says thanks to the crew by way of a wink and a knowing smile, then runs for the door. Outside, he shows off for the crowd one more time before flying down the street.
"I'm sorry," Coco says. "You didn't even get a chance to ask a question, did you?"
She's right, but it doesn't matter. He told quite a story without saying much, just as he's done in every game for the past 25 years.
Besides, murmurs from the crowd fill in any gaps. The nervous anticipation for Crash Bandicoot: On the Run! has electrified this city—and the world.
One teenage fan, Jack, is wearing a T-shirt with Crash's portrait that reads "UNLEASHED on MOBILE, March 25."
He scolds his friend Thomas. "What do you mean you didn't download it yet?" Jack grabs his friend's phone, and after a few quick taps, hands it back.
"Done…seriously, though, what's wrong with you?"
Thomas looks thoroughly embarrassed as he mutters, "I don't know…I guess I just forgot. Thanks for making me come down here today. Crash is one of the biggest gaming icons of the 90s."
Jack stops dead in his tracks.
"Nineties?" he scoffs. "No, no, no dude. One of the biggest gaming icons ever."
And in just a matter of days—as Crash invades every phone on the planet—there won't be any Thomases left to doubt it.
For access to exclusive gear videos, celebrity interviews, and more, subscribe on YouTube!