Entertainment
Crime-Fiction Master James Ellroy on His New Novel, World War II, and Why Trump Lacks 'the Charm of a True World-Class Dictator'
JAMES ELLROY, THE SELF-PROCLAIMED DEMON dog of American literature and greatest living crime writer in the world, is sitting in a red velvet banquette in Elway's, an upscale if somewhat generic steakhouse on the edge of a largely deserted shopping mall in Denver. Wearing a loud and loose-fitting Hawaiian shirt, he is tall and rangy, his bullet-shaped head freshly shaved, eyes bright behind wire-rim frames. Which is to say that he does not exactly fit in among the early-evening Elway's crowd—mostly junior execs from nearby financial firms and families with young kids, everyone tanned and happy in that Coloradan way.
Ellroy's main turf is Los Angeles, specifically the stark and brooding film noir landscape of the city's post–World War II years. Over the past three decades and more than 20 books, he has staked a claim as the poet laureate of dirty cops and the women who might redeem them, of doomed romance, steamy menace, and violence.
So what the hell is he doing at John Elway's joint in the Mile High City?
Ellroy lives here now. He moved to Denver in 2015, to reunite with his second ex-wife, the novelist Helen Knode, trading a house in the Hollywood Hills for a loft in Denver's LoDo neighborhood. The new crib is close to any number of ultra-trendy, chef-driven chophouses. But when the craving for red meat strikes, Ellroy hops into his Porsche Cayenne and travels the 20 minutes or so across town to the Cherry Creek Mall. "It's the signature Denver steakhouse, and John Elway is the signature Denver guy," Ellroy says. "It's just a square steakhouse. There's nothing hip about it—they don't tell you the provenance of the steak, how humanely it was killed, or any of that bullshit. There are better steaks in Denver. But there's no better place."
Aside from becoming a regular here, Ellroy hasn't exactly integrated deeply into Denver life. "I know how to get to the dentist; I know how to get to the place where I get my head shaved; and I know how to get to the dealership to get my car serviced," he says. "But I don't know the city for shit."
That's not really a problem, because it doesn't much matter where James Ellroy collects his mail. Whatever his actual address, his true home has always been the past. These days, that means Los Angeles, in the immediate aftermath of the bombing of Pearl Harbor—the setting for his new thriller, This Storm. It took Ellroy more than two years to write the novel. But even as he gets ready to take his act on the road on a U.S. and European book tour, he still has not let it go. "I live in 1942," Ellroy says. "There is no America today. As much as I enjoy being alive at this particular moment of the world, I don't connect to it at all."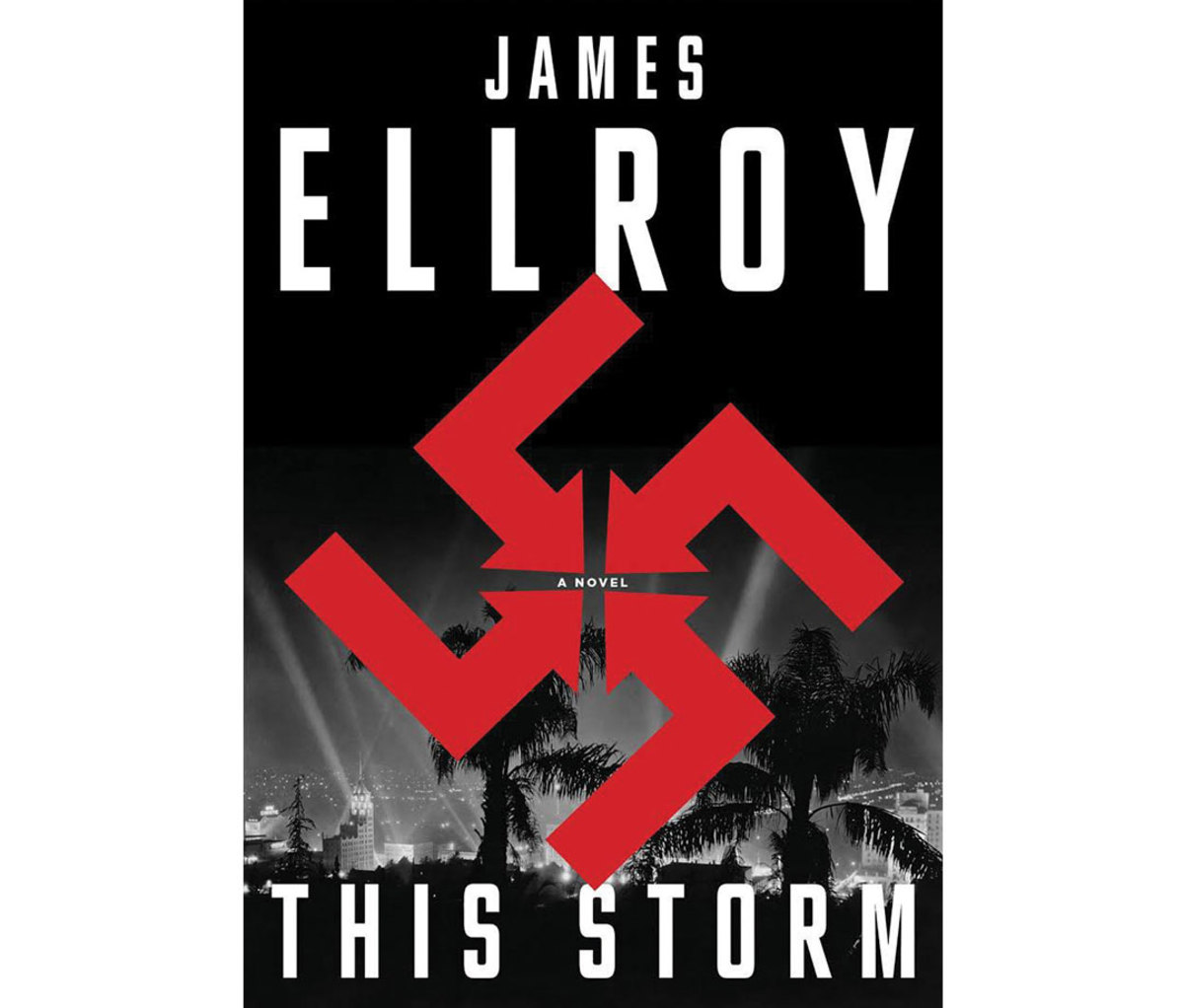 Our waiter, a silver-haired gentleman also named James, approaches the table. He's clearly served Ellroy in the past; the two have a rapport. Ellroy leans in, drapes his long arms across the white tablecloth. "OK, James," he says and orders a lobster cocktail, a bone-in rib eye—"medium well, no butter, blackened on both sides"—and a Caesar salad.
I ask about his interest in World War II— until recently, after all, most of his work has been set in the '50s and '60s. "It's just pervasively in the American imagination," he says. He remembers being 8 years old, spending hours thumbing through his parents' stack of old Life magazines, reading about the war and the Japanese internment, gawking at photos from the front lines. "It was 1956, and I believed World War II was still going on," he says. "My mother said, 'No, sonny. The war ended in 1945, three years before you were born."
Ellroy was skeptical. He still is. "I believed then that the war was still going on," he says. "And I still believe it today."
IF YOU'VE FOLLOWED ELLROY'S CAREER, attended his readings, or seen his TV appearances (spend some time on YouTube—you'll be glad you did), you know that his greatest creation may be the character of "James Ellroy" itself—the jive-talking hepcat noirist with the impossibly dark and haunting backstory. This is a writer, after all, who introduces himself at readings as "James Ellroy, the demon dog, the fowl owl with the death growl, the slick trick with the donkey dick."
"You can spend time in his company and almost wonder—am I with James Ellroy or am I with 'James Ellroy?'" says Thomas Mallon, a friend of Ellroy's and author of a series of historical novels set in Washington, D.C., most recently Landfall. "Sometimes it's hard to tell."
But Ellroy's stuck-in-the-past rap is more than mere schtick. Now 71, he has never used a computer or owned a cell phone. He writes his books longhand, on white notebook paper, delivering the pages (via fax machine—a rare concession to modernity) to an assistant to be typed up. He knows absolutely nothing about the internet or social media. "I don't even know how to turn the damn TV on," he says.
If Ellroy has been condemned to live in the past, the sentence was handed down in June 1958—the year his mother, a nurse named Jean Hilliker, was found strangled to death and dumped in the bushes by the side of the road in the downscale Los Angeles suburb of El Monte (a crime he attempted, unsuccessfully, to solve in his 1996 memoir, My Dark Places). Ellroy was 10 at the time, his parents were divorced, and he yearned to live with his more permissive father. He and his mother argued about it often; in one case, she grew so angry she hit young James, who fell and gouged his head on a glass table. "I issued a curse and wished her dead," Ellroy says. Three months later, that wish came true.
The guilt messed with his head. Ellroy moved to Hollywood to be with his father, a down-on-his-luck schemer who claimed to have once been Rita Hayworth's business manager. For Ellroy's 11th birthday, his father gave him a book called The Badge, by Jack Webb, a collection of stories about horrific crimes committed in Los Angeles, crimes deemed too grisly to use on Webb's television series, Dragnet. Those stories, combined with the horror of Ellroy's mother's murder, birthed an obsession with crime—first reading about it, and then committing it himself.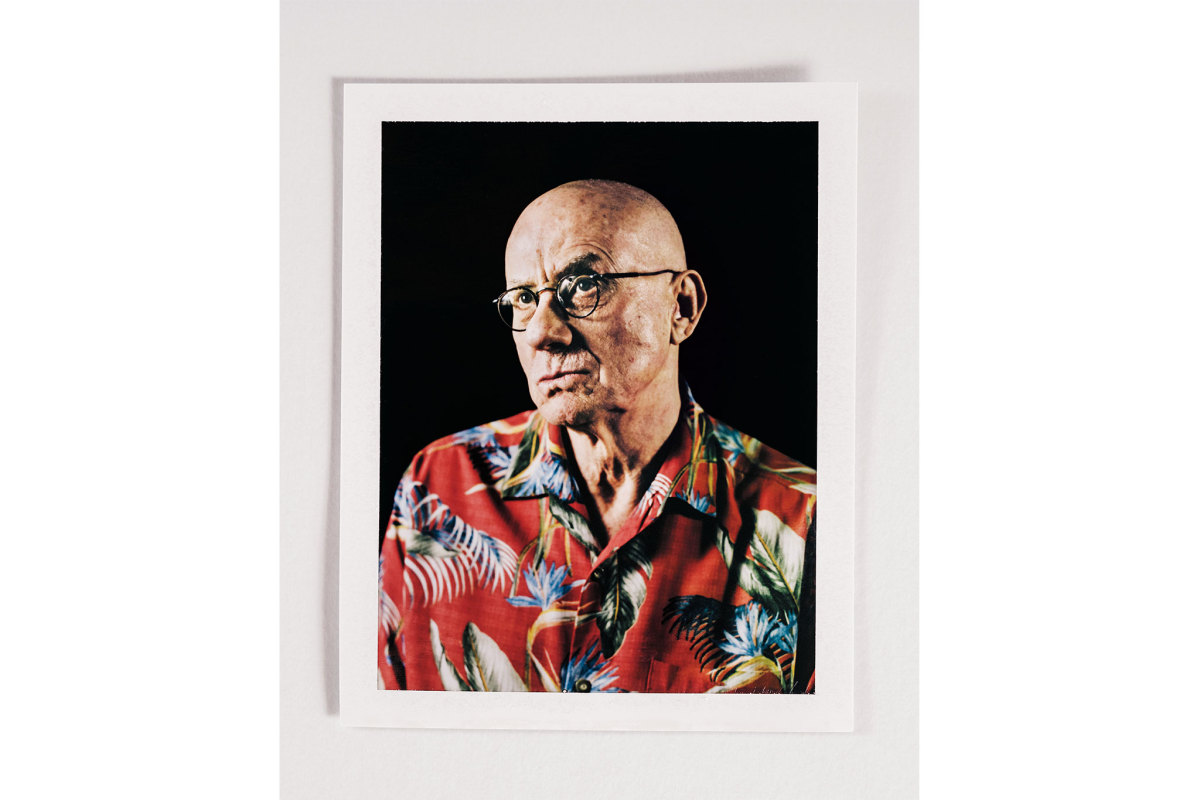 At first, that meant peeping into the bedroom windows of the girls from school who never talked to him. But soon he graduated to breaking into empty houses, rifling through drawers for lingerie to sniff, raiding medicine cabinets for bottles of pills. He was kicked out of high school; his father died soon thereafter. Armand Ellroy's last words to his son? "Try to pick up every waitress who serves you." Says Ellroy, "It's a legacy I have followed—with mixed results."
He spent the next decade quaffing Thunderbird and popping pills. He robbed houses, sold his blood, spent time in jail, and slept in parks. Yet throughout it all, he never shook the sense that he was destined to become a writer. By his late 20s, he'd cleaned up and landed a steady gig caddying at the tony Bel-Air Country Club, slinging bags for folks like Milton Berle, James Garner, and Glen Campbell. At night, he'd blast Beethoven and write. In 1981, his first book, Brown's Requiem, was published, followed by three increasingly bleak crime thrillers about a brilliant, disturbed cop named Lloyd Hopkins.
Everything changed in 1987, with the publication of The Black Dahlia. Set in 1947, it's a retelling of one of the city's grisliest unsolved crimes—the murder of Elizabeth Short, a wannabe actress whose body was found hacked in two at the waist. This book was different—less police procedural than a sprawling, symphonic reckoning with sin, temptation, and transcendence. Three sequels—L.A. Confidential, The Big Nowhere, and White Jazz—followed, completing what is now known as Ellroy's first Los Angeles quartet. His next three books, the so-called Underworld USA trilogy, used the assassination of John F. Kennedy to explore a secret, conspiratorial history of America at large. "The real Trinity of Camelot was Look Good, Kick Ass, Get Laid. Jack Kennedy was the mythological frontman for a particularly juicy slice of our history," Ellroy writes in 1995's American Tabloid. "It's time to embrace bad men and the price they paid to secretly define their time."
BACK AT ELWAY'S, THE STEAKS ARRIVE AND Ellroy removes his glasses. "I get food on them when I eat," he says, "even at this age."
The conversation turns to This Storm, the second in a planned second L.A. quartet of novels. Ellroy says the idea came to him as an epiphany.
"One cold rainy Saturday night, I was looking out my window and had a vision," he says. "A bus full of forlorn-looking Japanese, handcuffed, driving up the snow-covered mountain pass in a U.S. Army transport bus, to the Manzanar internment camp. It just came to me—the second L.A. quartet—real-life and fictional characters from the original quartet and the Underworld USA trilogy, in L.A. during World War II as significantly younger people. I thought, 'Now I know what I'm going to do for the next 14 years of my life.'"
The first installment, 2014's Perfidia, begins on the eve of Pearl Harbor and ends on New Year's Eve. This Storm picks up the narrative there. The city is under nightly blackout restrictions. Japanese citizens are being rounded up and imprisoned. Crooked cops are on the make, looking to profit off the chaos. Japanese submarines are rumored to be off the coast of Baja, as secret Communist cells plot mayhem at home. There's the spoils of a decades-old unsolved gold heist and a bloody double-cop slaying in a South Central flophouse. Subplots abound—schemes within schemes within schemes.
The book weighs in at 577 pages and is packed with 91 characters. They're Ellroy's people—contract killers, leg breakers, flesh peddlers, blackmailers, mobsters, and rogue cops. It's populated with characters from Ellroy's earlier books, like Dudley Smith, the roguish homicidal detective from the first L.A. quartet, and Kay Lake, the heroine of The Black Dahlia; Elizabeth Short, teenaged and very much alive, makes an appearance. These fictional creations exist alongside actual historical figures like William Parker, who went on to lead the Los Angeles Police Department; Orson Welles; and Erroll Flynn. Barbara Stanwyck shows up in a stag film. Everyone is at once fiercely ambitious and utterly compromised, and constantly yearning for more. "Secrets, trauma, hidden shame, the desire to get past it, overweening sexual passion, the desire to fall in love…" says Ellroy. "That's these people."
"I LIVE IN 1942. AS MUCH AS I ENJOY BEING ALIVE AT THIS PARTICULAR MOMENT, I DON'T CONNECT TO IT AT ALL."
And then there's the language. It's safe to say that no one writes like Ellroy. Soaked in blood and hopped up on Benzedrine, the sentences land in sharp jabs—violent, profane, offensive, and frequently hilarious. Here's detective Elmer Jackson, investigating a murder in South Central: "Local jazzcats made him. They sniffed grief and gave him dat wiiiiiiiiiide berth. He magnetized resentment. He percolated fear and hate." Violence erupts often, and with great fury: "Dudley swung the bayonet crossways. He shattered the priestkiller's ribs and lanced through to his heart. All that blood. Communista red." It's a wild ride, and tough to put down once you sync with Ellroy's weird, staccato rhythm.
"I was exhausted when I finished it," Mallon says. "Every sentence advances the plot. There's never a moment when there isn't something happening. As a writer, it makes him both spectacular and exhausting."
Ellroy, for his part, would be the last person to argue with that. "Nobody's done what I've done," he boasts in a matter-of-fact tone. "Nobody's written books this big. This priapic. This tortured. This searching. This nihilistic. This powerful. That's how I feel."
ELLROY'S LOFT IS MORE office than home; Knode keeps her own apartment down the hall, where the couple spend most of their time together. His place is austere, starkly lit, and decked out with sleek, mid-century-modern furniture, the walls painted dark blue. A bookcase is filled with complete sets of Ross MacDonald, Ed McBain, and other icons of crime fiction. On Ellroy's office walls hang an elaborately framed portrait of Beethoven and some old LAPD mug shots. A statuette of a Maltese falcon—the black bird from the film noir classic—is perched alone on a shelf, dramatically lit from below.
Opposite a neat and tidy desk is a black leather Eames chaise lounge—a chair, Ellroy tells me, designed specially for Billy Wilder so he could take naps on the set. This is where Ellroy likes to sit, stare into space, and brood. "It's as if there's a rectangular screen in front of my eyes, like a CinemaScope screen from an old black-and-white movie," he says. "I'm feeling the scope of the book, the time frame of the book, the history of the book—a waking dream state." He emerges from those states with an outline. In the case of This Storm, that outline was 450 pages long.
When the final two books of his second quartet are complete, Ellroy's collected works will consist of 11 novels spanning 1941 to 1973, a three-decade investigation of American history—of what Ellroy likes to call "the secret human infrastructure of large public events" and the "private nightmare of public policy."
I can't help but mention that more than half the country is currently living a private nightmare of public policy and ask him what he makes of President Trump. Trumpworld, I tell him, often feels to me like a James Ellroy fever dream sprung to life, the contemporary embodiment of American Tabloid.
We're sitting in his living room. The blinds are drawn, so it's cool and shadowy. Ellroy, who is sunk deeply into a black leather chair, may claim to live in 1942, but he's clearly been paying attention. "American Tabloid is about this crazy world simmering half a step below Camelot," he says. "It was buried then. It had a certain panache. Now, it's all out in the open." As for the president himself, "Trump doesn't have the charm of a true, world-class dictator," Ellroy says. "He exemplifies male self-destructiveness. He's a guy who lives only to justify his fantastical garishness and obscenity." At the same time, he gets the appeal: "Americans love to say, 'Fuck you.' He's the big 'fuck you' to all pieties."
It occurs to me that there are those who might say the same thing about Ellroy. But the novelist is bracing for the last laugh. In June, to coincide with the release of This Storm, Knopf is reissuing handsome new editions of the L.A. Quartet and Underworld books as part of its Everyman's Library series. That'll put Ellroy shoulder to shoulder with the likes of Toni Morrison, John Updike, and Virginia Wolff.
Does the demon dog of American literature, that slick trick with the donkey dick, really belong in such esteemed company, I ask. He responds with a quote from the Irish writer Frank O'Connor. "O'Connor wrote that 'a literature that cannot be vulgarized is not literature at all and will not last,'" Ellroy says. "I am a great vulgarian."
For access to exclusive gear videos, celebrity interviews, and more, subscribe on YouTube!