Dave Bautista is just as excited to see Avengers: Infinity War as you are.
Sure, he's an actor, former WWE superstar, and all-around badass. But first and foremost, Bautista is a fanboy—and when the self-described "supergeek" found himself working alongside Robert Downey Jr.'s Tony Stark/Iron Man in Marvel's latest crossover movie, he had to pinch himself.
"I don't think it's hit me yet that I'm part of what could be the biggest movie ever," Bautista tells Men's Journal. "I'm more excited as a fan than anything. It was a dream of mine to work with Robert Downey Jr.; I've been a fan of his for so long. Iron Man is an incredible movie, and it started it all. I had been praying for years this crossover would happen, and now it's here and I'm excited to see this battle against Thanos brought to life."
While Avengers: Infinity War seems like a foregone conclusion after 10 years of Marvel Cinematic Universe movies, the summer tentpole wasn't always a sure bet. Back when Bautista was cast as Drax in the first Guardians of the Galaxy, some industry critics wondered if the more "obscure" superhero team were doomed to become Marvel Studios' first flop. Instead, the Chris Pratt-helmed Guardians crushed the box office, garnering nearly $800 million worldwide and transforming Star-Lord (Pratt), Drax (Bautista), Gamora (Zoe Saldana), Groot (Vin Diesel), and Rocket Raccoon (Bradley Cooper) into some of the MCU's most popular characters.
"I had a chat with one of the producers before we did Guardians," Bautista says. "He said, 'Let me ask you a question: What movie did Chris Hemsworth do before Thor?' I couldn't think of it. After he did Thor, he became Chris Hemsworth, and now he's Chris f*cking Hemsworth. It really put things into perspective. Everyone in the world sees these movies. You fly across the world and people know who you are. It's really surreal."
Just as Infinity War is a major culmination of MCU storytelling, it's also a big moment for Bautista's career. Playing Drax opened up opportunities to star in big-budget action films like Spectre and Blade Runner 2049. Bautista has even more projects slated for 2018: Escape Plan 2 with Sylvester Stallone, Final Score (described as "Die Hard in a football stadium"), and Hotel Artemis, an original action film from Iron Man 3 writer Drew Pearce. Bautista isn't done with Drax yet, either: Bautista will be shooting the third Guardians of the Galaxy film in the future, and of course he has Avengers 4 in 2019.
"In some ways, Hotel Artemis may be the project I'm most excited about this year," Bautista says. "Sharing scenes with Jodie Foster was incredible, and it's just a smart, well-shot, really cool movie. It's an odd thing to say, but I'm closing in on 50 and I feel like I haven't even started yet. I feel like I'm just getting warmed up, and with these projects, I think everyone will get a sense of the trajectory that I'm on."
Men's Journal caught up with Bautista to talk about shooting Avengers: Infinity War, how he trained to play Drax, his favorite places to travel, and who he'd assemble for his own Avengers team. (This interview has been edited for clarity.)
MJ: Avengers: Infinity War is a culmination of 10 years of MCU films. What was it like working with so many other actors and characters? Which ones did you have the most fun with?
Dave Bautista: This whole group is amazing. There are so many fantastic people in this film. You see it a bit in the trailers. Working with Robert Downey Jr. was amazing for a few different reasons. I'm a massive fan, and I've been watching his films since I was younger. When I was at the Avengers 2 premiere, Robert actually went out of his way to come up to me and tell me how much he loved Guardians. For me, that was a huge moment.
Josh Brolin was just incredible, too. At first, I couldn't connect how he'd play Thanos, but once I saw it, I realized: This guy is ominous and terrifying. Brolin was perfect to play Thanos.
Drax has become one of the funniest characters in the MCU. How did that humor develop in Guardians, and then into Infinity War?
It's something that I've developed and, in some way, am still developing. I think I had an instinctive timing for comedy, which I didn't realize that I had at all. James [Gunn] noticed it on Guardians and just started writing great stuff for me. It's weird, because when I went to auditions, I never found myself to be funny. If I got comedic lines, I'd wonder: "Are they going to be funny when I say them?" But I think I've been getting more confident, and not being so self-critical, and that's really opened it up.
Drax has a strong connection to Thanos: Thanos' henchman Ronan killed Drax's family. How did those stakes impact your performance in this film?
Yeah, that definitely made an impact. The loss of his family is the true root of Drax, and why he's driven to fight Thanos. He's just heartbroken over that loss, and that always drives him. Actually, everyone I think will be surprised in the way that Marvel has kind of intertwined Thanos in everybody's past. I think what they did was really smart. Everyone is going to see that Thanos has really affected all these characters in different ways, and now they're all out to get him. No matter where they're from or what they're about, Thanos has done something to them—and not in a good way—and that's why everyone is teaming up for this war.
Drax's superhero uniform is basically shirtlessness. How did you train and prep for the stunt work in this movie?
Doing the Avengers got me to hire a personal trainer [laughs]. For the first time in my film career I was actually really concerned about looking better. I wanted to not only look big, but also look toned, like a superhero would: big figure, small waist. When I get too muscular, it can look out of place for certain roles, so we focused in on making the muscles look more round, shoulders looking more round, my waist look more tapered, and my thighs looking more developed…. We went back towards a real bodybuilding style.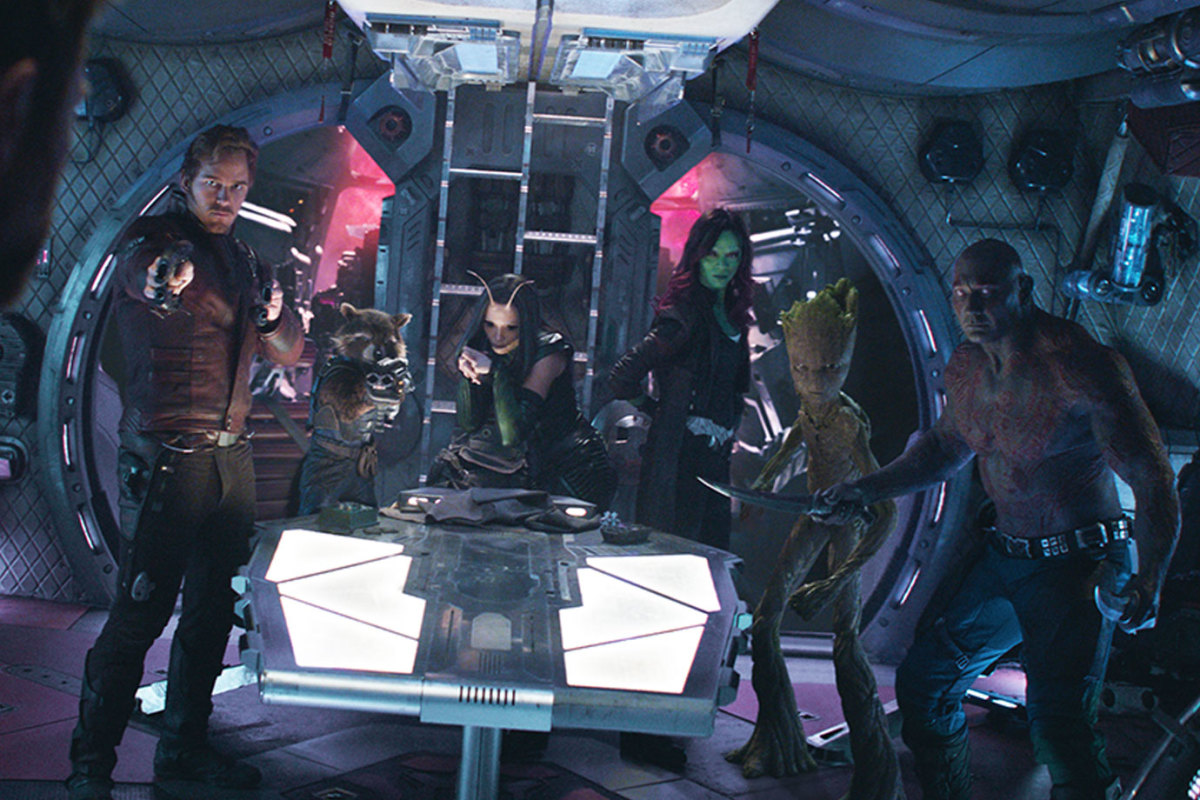 What was your diet like during your training for Avengers?
Each day, I would eat one or two meals with carbohydrates. They would have a lot of protein, and good fats—avocado, coconut oil, nuts, stuff like that. But my daily diet had a lot of protein. I don't eat red meat or pork. It was mostly eggs and poultry. Gluten-free and dairy-free as well. My wife is a vegan, so it just works for us to eat clean and healthy all the time.
If you could put together your own Avengers squad—excluding your fellow Guardians because you're already on that team—who would you recruit?
I definitely would grab Mark Ruffalo/The Incredible Hulk. I just love that guy. Anthony Mackie/Falcon would be great too. Mackie is one of the funniest people I've ever met. He's hysterical. It was hard to keep a straight face with him on the set. I'd also bring Evangeline Lilly/The Wasp. She's just a brilliant person, such a sweetheart, and almost like an on-set therapist. Everyone wants to spill their guts to her. Definitely Paul Rudd/Ant-Man, too.
And Rudd still looks the same as he did 20 years ago.
He does! Rudd's not aging! He's just a sweetheart of a man. I could spend all day talking to that guy. He's just a warm, good guy, and I love people like that. I love nice people, positive people. It sounds simple, but it's more uncommon than not to find that, and it goes a long way having people that are nice and genuine, and we really had that on the set.
You have some cool projects coming up, including Hotel Artemis. What did you enjoy about working on that and what are you excited for people to see?
I'm really excited for people to see Hotel Artemis—maybe more than Infinity War [laughs]. Avengers has a monster cast, but so does Hotel Artemis. Jodie Foster, Jeff Goldblum, Sterling K. Brown, Brian Tyree Henry—it's just amazing.
The role actually came about because of Drax. I was referred to director [and Iron Man 3 writer] Drew Pearce by one of the Marvel producers, and it was just a fun movie. Obviously, it's a much smaller-budgeted film, and a smaller film in general, but it's got a really cool factor to it.
What was it like working with Sylvester Stallone on Escape Plan 2?
I took the part in this film because I wanted to work closely with Sly. He had a role in Guardians 2, and I just love him. He had so many memorable films from when I was growing up, and I think people actually overlook what a talented actor he is. In our first scene together, we banter in a car. We sat down and I said to Sly: "I'm not going to be a fanboy today. I'll spare you. But tomorrow, I'll have a million questions." Before we got out of the car 20 minutes later, I drilled him with a thousand questions. I just couldn't control myself [laughs].
We actually have a lot in common. Not only do we have the film connection—he loves film, loves the whole process, the storytelling, acting, and moviemaking—but he's also a meathead like me! We have that meathead-musclehead connection, and we'd talk about training and fighting and films, and I just felt like we were kindred spirits.
What are your favorite places you've gotten to travel during your career, and what places do you really want to visit in the future?
I've never been to Africa. I've never had the chance to go there and I would really love to. One place I absolutely love is London. I've spent a lot of time in London over the last five years and I've really grown very fond of the city. I just I know London; I feel like I blend in there. There's a certain sophisticated vibe that I love about London. Australia has also always been one of my favorite places in the world. If I had to pick a spot in Australia it'd probably be Sydney.
What are some of your favorite outdoor adventures?
Being in London, I was just afraid to drive there [laughs]. So I spent my time there cycling and I love doing that. I like to surf, I've done that in San Diego. I always like being outside. I think I'm a rugged individual, I just haven't had many opportunities to go out and do it. I've never gone mountain climbing. It's my dream to just load my bikes on my Jeep and go out in the desert—mountain biking or something like that.
For access to exclusive gear videos, celebrity interviews, and more, subscribe on YouTube!