SCARY GOOD
Ewan McGregor Is Back on Top—Again
Oct 24, 2019
IRON MAN IS EATING A HOT DOG. The Little Mermaid is charging her cell phone. And I am lost.
It's late August and I've come to Anaheim, California, for D23—a three-day event where Disney executives will announce programming for the company's new Netflix killer, Disney+, a streaming service launching in November. Some 7,000 fans (many in costume) are seated inside a convention center, waiting for their favorite stars to come out on stage and wave. It's like Comic-Con for anyone who gets a boner for Donald Duck. Or maybe it's the world's most expensive pep rally.
And everyone is playing ball. Among the boldfaced names I see: Marvel president Kevin Feige; Avengers stars Elizabeth Olsen and Paul Bettany; Thor: Ragnarok director Taika Waititi; and funnyman Billy Eichner and Anna Kendrick, his co-star in Noelle, a new comedy about what happens to Christmas when Santa Claus has a nervous breakdown. Meanwhile, everyone's talking about Angelina Jolie and whether she'll show up to promote Marvel's The Eternals.
As for me, I'm supposed to meet Ewan McGregor somewhere in the bowels of this cavernous hall. If he's hard to find, that's by design. The dude's been instructed to make himself scarce, lest he spoil today's big surprise. The internet's been rife with speculation for weeks, but he's about to make it official: After a 15-year absence from the Star Wars universe, McGregor is set to reprise his role as Obi-Wan Kenobi in a new TV series.
"It's a fucking massive relief," he tells me when I'm finally ushered into his trailer. "Because for four years, I've been having to lie to people about it."
At 48, the boyish enthusiasm that made him a star still registers large. Behind the pale eyes and that thick mane of hair, dressed in black jeans and a black T-shirt, he still feels like the optimist from Trainspotting who—in the face of addiction—decided to "choose life." He emotes like the lovesick poet from Moulin Rouge who sang an Elton John song to a cynical Nicole Kidman. And if he's feeling particularly optimistic today, it makes sense: While Hollywood is in serious flux and white men of certain age are (finally!) being pushed aside for fresh and diverse perspectives, McGregor's weathered the tide, with a slew of potential franchises coming, including the Suicide Squad spin-off, Birds of Prey (And the Fantabulous Emancipation of One Harley Quinn), plus this month's long-awaited sequel to Stanley Kubrick's The Shining, Doctor Sleep.
I am eager to hear about it all. But first, McGregor has a question for me: "Tea?"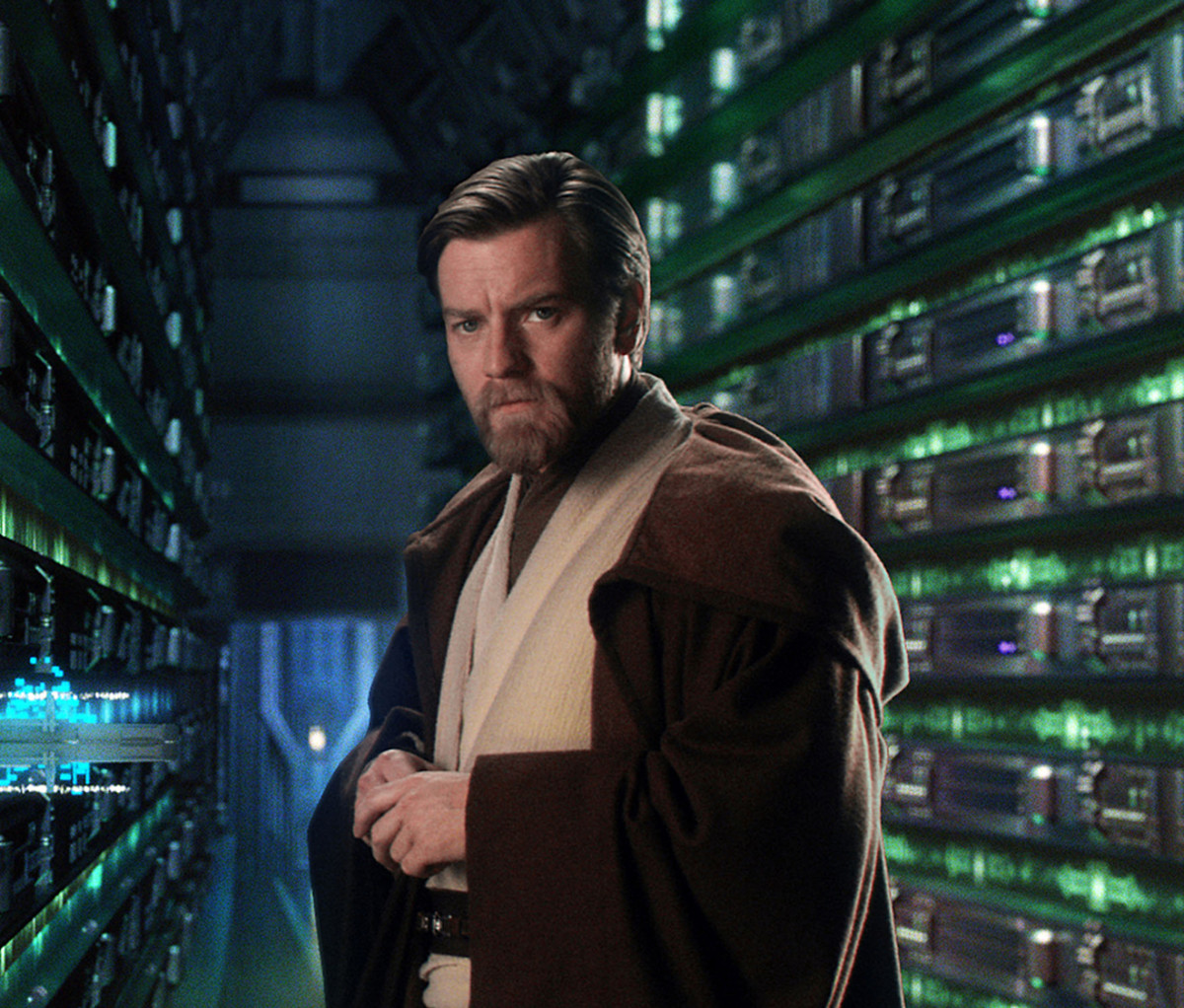 WAY BACK IN 1997, WHEN McGREGOR was cast as Anakin Skywalker's mentor, Obi-Wan Kenobi, he was getting coffee with Christian Bale. They were on the set of Velvet Goldmine, the Todd Haynes cult classic about London's glam rock scene, and McGregor was maybe 26 years old. Of that moment, McGregor says: "We were just two kids on a fucking rooftop…."
It was a whirlwind time. Trainspotting had made him an international star, but he still felt like one of us. We were '90s kids and he was our poster boy, a hero plucked from the crowd to represent our excitements and fears about the coming millennium. In his early 20s, he'd shared a London flat with Jude Law and his Trainspotting co-star Jonny Lee Miller, who was dating Angelina Jolie at the time. Thankfully, smartphones hadn't been invented yet.
Pouring hot water from the kettle, McGregor recalls: "My brother was two years older than me, and he was in the Royal Air Force. But he was living with me and Jude and Jonny and occasionally Angelina. For six months, he had to work in the Intelligence Department. He'd come back in his suit from the war office to this, like, chaos. He worked for the Ministry of Defence! He shouldn't have been around some of the things…."
"Like what?" I ask with a smile. "Drugs?"
"Well, things like that, you know—It was pretty hectic in there."
McGregor was still drinking then, still getting himself into trouble. He and his then wife famously conceived their first child while filming Trainspotting ("Made in Scotland!" McGregor once said), and the film ignited his career. He was young and hot and wildly brash, memorably talking shit about Hugh Grant's acting in the press and calling David Letterman "arrogant and uninteresting."
McGregor got sober not long after. And he's been clean for two decades. His sobriety is, in part, what drew him to this month's Doctor Sleep. The film (and the Stephen King book it's based on) picks up 30 years after the events of The Shining, or 30 years after the Overlook Hotel was destroyed. McGregor stars as the grown-up Danny Torrance—Jack Nicholson's son in the film, and the boy who cried, "Redrum." When the story opens, Danny (now Dan) is a drunk who abuses alcohol to keep the literal ghosts at bay. He gets sober only after waking up next to a woman with a beer gut and a toddler—a kid who reaches for a pile of Mommy's cocaine, calling it "canny."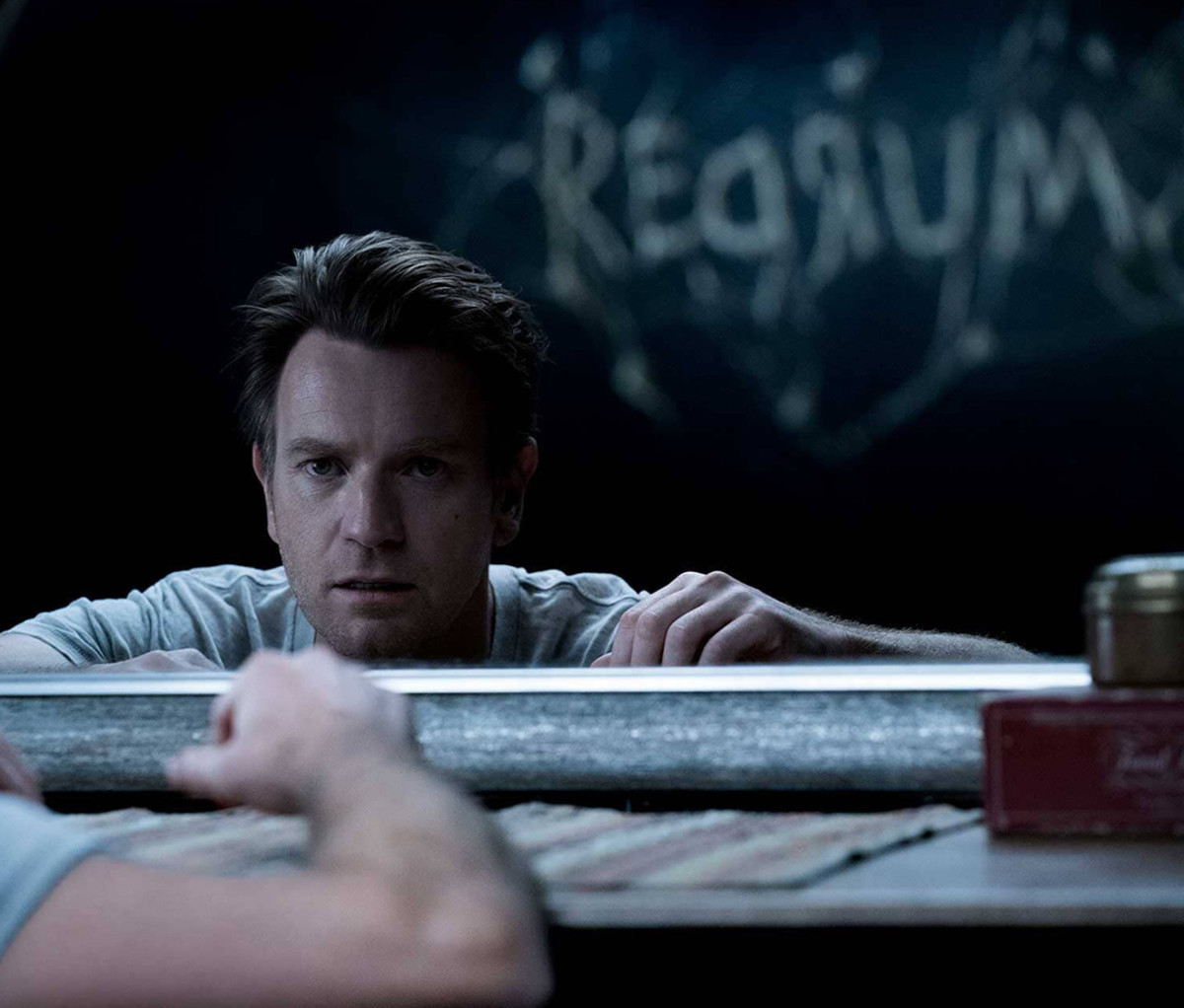 "I've been sober for years," McGregor says. "This was the first time I got to explore that in my work. What intrigued me was the fact that when we meet Dan, he's like a rock-bottom alcoholic, and then finds recovery."
McGregor won't reveal the moment in his life that caused him to get sober but will say: "The rock bottom's neither here nor there, really. It also wasn't as hectic as some other people's. But it's not a competition. I was just not able to manage all the different strands of my life—my professional life, my family life, and my drinking life. So something had to go. But it was fun to go back and play some real fucked-up drunk scenes. It was quite funny. But it was all still frighteningly alive in me, you know, even after 20 years." That pain that lurks beneath the surface is, in part, what makes him so good, says his co-star Rebecca Ferguson (incidentally badass in the recent Mission: Impossible films). "Ewan has such a kind face. But he has such power and strength when needed. That's what he does so brilliantly—the dark reality of his characters—and yet we can always fly into the psychedelic existence of his imagination."
In Doctor Sleep, Dan finds himself haunted by ghosts from the Overlook Hotel. On a lark, I ask McGregor if he'd ever seen a ghost. And, well, I'll let him tell the story.
"I had an incident when I was at drama school…" Here he sets his saucer down and leans in. "It was maybe my 19th birthday. I was living in the top room of this house in East London. Everyone had gone home for Easter, and I was alone. I'd nicked someone's video player from their room. I watched Blue Velvet and I was running a bath and I was standing in my robe. And I had this terrible pain in my back. I ripped off my robe. And there was this burn mark; the back of my robe was scorched. I ran around thinking I caught fire or something."
McGregor couldn't find the source of the burn and was so creeped out that he slept at his uncle's apartment that night. But when he returned the next day, he told his downstairs neighbor what had happened. "And he went sort of pale," McGregor says. "I said, What the fuck? I eventually teased it out of him. An old, Jewish, reclusive guy had owned the flat before. He never really left the place, and it was full of newspapers. His brother used to come and give him a cooked meal two or three times a week. His brother got ill and hadn't been over for a few days. The guy was in the kitchen—putting the pan on—and he fainted because he was so hungry. And this pot boiled and set fire to the kitchen. The people upstairs smelled the burning and dragged him out of the kitchen. But he died of the burn marks to his back. Every night after that, my door would open, the phone would ring, things would move around."
McGregor raises an eyebrow, saying: "I did get out of there two weeks later."
It was fun to go back and play some real fucked up drunk scenes. But it was all still frighteningly alive in me, you know, even after 20 years.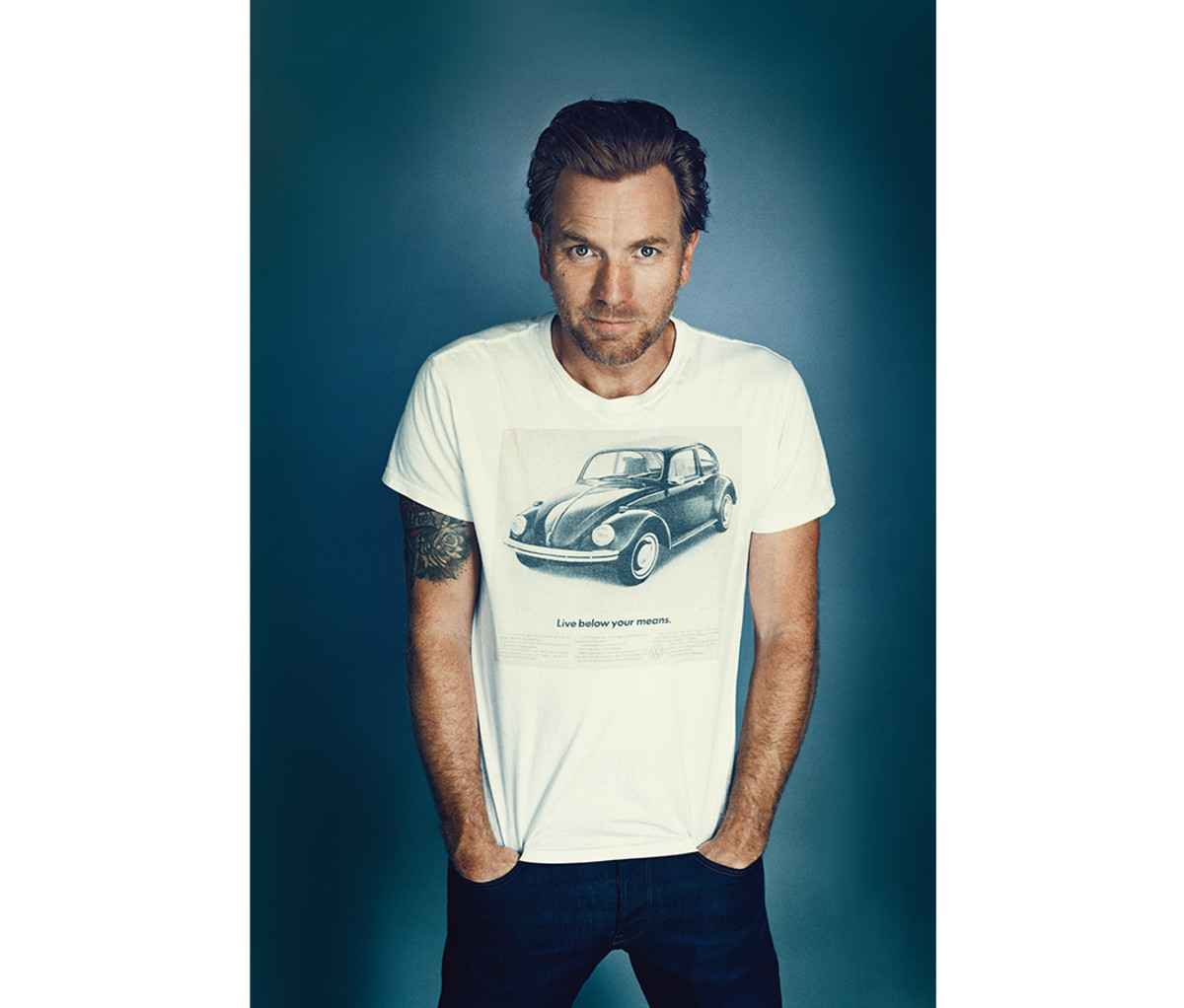 IF ANYONE SHOULD BELIEVE IN the Unknown, maybe it's McGregor. How else to explain his rise? How the son of two teachers from Crieff, Scotland, dropped out of school at 16, apprenticed at a local theater (where he was forced to put on brown makeup to play an extra in A Passage to India), and somehow conquered Hollywood, eventually buying a house in Brentwood with room for more than a dozen vintage motorcycles, including a 1971 Moto Guzzi Ambassador.
For a time, McGregor seemed to enjoy his fame—or the adventures it made possible. In 2004, he convinced a British TV network to send him and his buddy Charley Boorman on an epic, 20,000-mile motorcycle ride from London to New York (via Central and Western Europe, through Mongolia and beyond), which they chronicled in a docuseries called Long Way Round. It was a bromance writ large, with moments of comically awesome absurdity. When the two men were served a steaming-hot bowl of testicle soup in Mongolia, McGregor memorably shrugged: "It's just meat in the end." Adding with a wink: "But then you've got to watch for the burst…"
A second televised road trip followed—from Scotland to Cape Town—but then, well, it gets a bit murky. McGregor was always working, always in the public consciousness. But the work sometimes felt ponderous. There was a string of little-seen indie films and then a run on Broadway in a revival of The Real Thing, opposite Cynthia Nixon. McGregor played a troubled, philandering playwright, but his heart didn't always seem in it. According to one review, he was too pretty for the part, looking "like a scratch-resistant doll that has only just been removed from its packaging."
An unlikely starring role in Season 3 of FX's Fargo brought that spark back. It was his first major TV role—as if the distinction between film and TV still mattered—but the appeal was obvious: McGregor played two brothers, polar opposites out to settle a childhood feud. One was happily married and wildly successful, the so-called Parking Lot King of Minnesota. The other was way more fun to root for—a balding, paunchy parole officer madly in love with a grifter.
McGregor won a Golden Globe for the double act, beating out Robert De Niro (as Bernie Madoff), Geoffrey Rush (as Picasso), and his old roommate, Jude Law (as the Pope). That trophy is now proudly displayed—well, where is it exactly? "I'm having my house redone," McGregor says, suddenly realizing he doesn't actually know. "It's probably…I've got these two big pod things. My whole life is in these pods!"
I can't help but notice a change in McGregor. We'd first met five years ago in New York when he was doing the play. It was for another magazine, and he'd seemed anxious that afternoon. Maybe even unhappy. He was doing all the things a great actor was sup- posed to do—Broadway! Low-budget risks! Pulitzer Prize winners!—but he was working so often, he started to feel a little like that guy who stays late at the office because he doesn't want to go home.
But he seems noticeably lighter today. Maybe it's the fact that we're not trudging through a foot of snow during a Manhattan winter. Maybe it's the fact that he's about to greet 7,000 screaming Star Wars fans with a major announcement. Maybe it's the fact that he's older and recognizes the vagaries of the business for what they are. (When asked if he sees a thematic through-line between the characters he's played, he shrugs: "They all look like me.")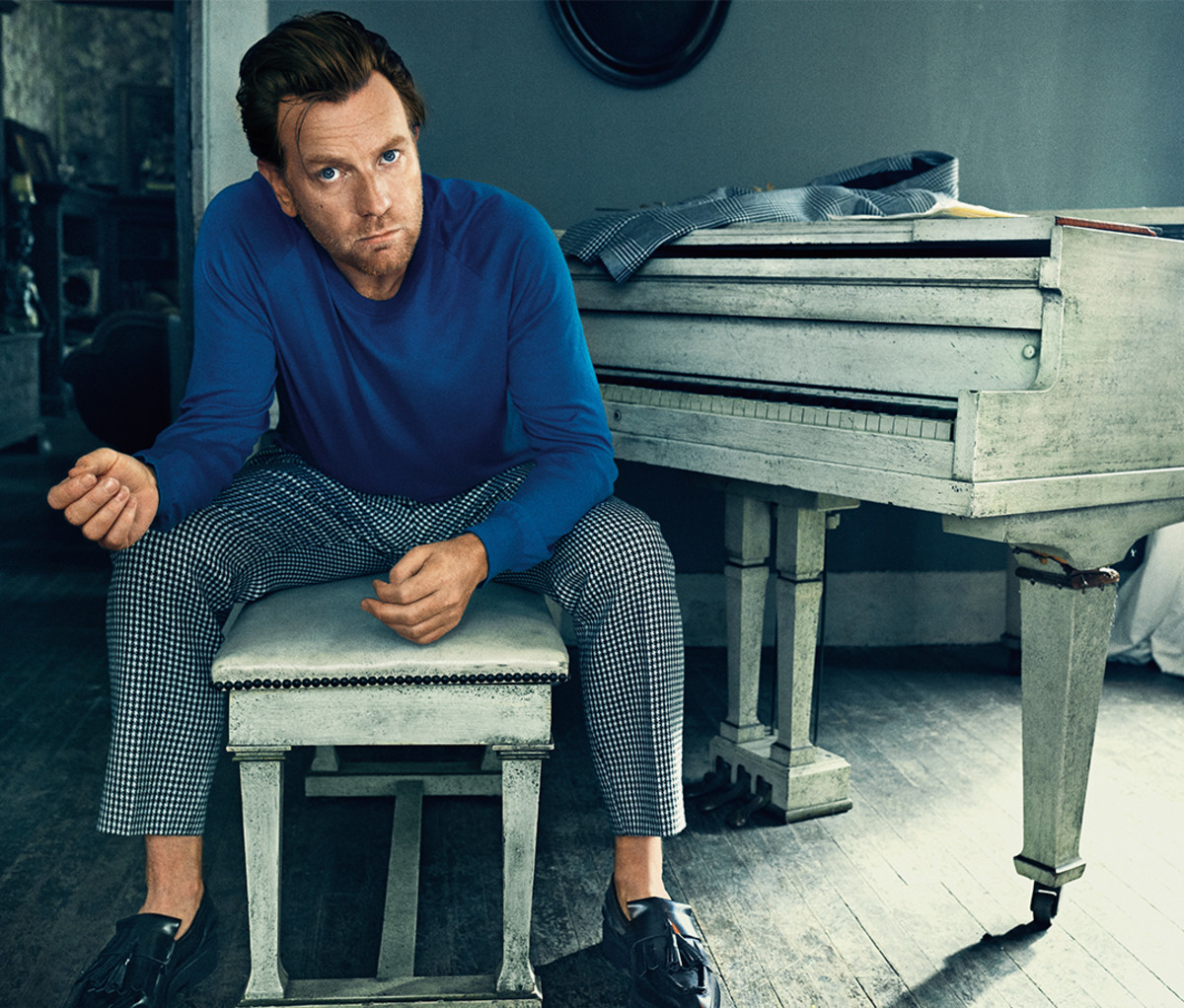 Or maybe it's something else. Maybe it's something as corny as new love. Shortly after filming Fargo in Calgary in 2017, he and his wife of 22 years split, and at some point he got together with his co-star, Mary Elizabeth Winstead.
"Lighter?" he says. "Today? As opposed to then?"
He smiles and leans back.
"I am better," he says. "I am happier. I think that's true."
THIS WINDING PATH HE'S ON, THIS almost 30-year-old career? It reminds me of something Winstead's character says in Fargo. She and Ray (aka Fat Ewan) have just disposed of an accomplice to a crime—by dropping a large A/C unit on his head. She wants to move on; Ray is concerned with covering their tracks. "I've never killed anyone before!" he says. She deadpans: "Me neither. Life's a journey."
Hell, yeah. McGregor's seen himself and the industry change wildly (and suddenly). He directed an adaptation of Philip Roth's American Pastoral in 2016, which, in his own words, "wasn't seen." Then he starred in a TV show that everyone saw. "I don't know about people going to the cinema anymore to see the kind of movies that I make," he says. So why not have some fun? Why not do a sequel to The Shining, one of the most celebrated, and most controversial, films of all time? "I think if it was a remake of The Shining I would probably have gone, 'No,'" he says. But a sequel? Why not?
And why not play the villain in February's Birds of Prey—Margot Robbie's Harley Quinn spin-off—where he'll appear as a murderous rich prick called the Black Mask. McGregor tore into the role with unabashed glee, describing the Black Mask as the perfect villain for "the Time of Trump." The character is "an absolute narcissist," he says, "spoiled in his upbringing to the point of having no contact with what life or people are about, who has a skin this thin and wants nothing more than to be the center of attention." According to online chatter, the Black Mask is also maybe gay, living with his right-hand man, Victor Szasz, played by Argo's Chris Messina (with awesome bleached-blond hair). Of the gay thing, Messina called to say: "I don't want to give anything away, but that's a fun theory. We definitely have a very interesting bond."
I want to get closer to how Obi-Wan felt while Alec Guinness was playing him. I feel like I'm grayer and nearer him in age, so it'll be easier to do that.
What's more important than internet rumor, he says, is that McGregor is scary as shit onscreen—precisely for the reasons we first fell in love with him. "He's an incredible villain because he's so likable and he's so seducing," Messina says. "You're like, I like him, he's cute, it's fun being in his world. And then he'll bite your leg off. He has these incredible turns of violence, this ferocious quality. There are a couple of moments in the movie where he rages that he really went there, and you could hear a pin drop. Then he would turn on a dime and then go back to the charm of the character."
With so much in the hopper, McGregor has managed to squeeze in a disappearing act. A few days after we meet, he's scheduled to leave for a third Long Way Round installment, this time for Apple's new streaming service. Over three months and 14,000 miles, he and Boorman (with whom he recently reconnected) will do the Pan-American Highway in reverse, traveling from Tierra del Fuego, in Argentina—the tip of South America—all the way back to Los Angeles.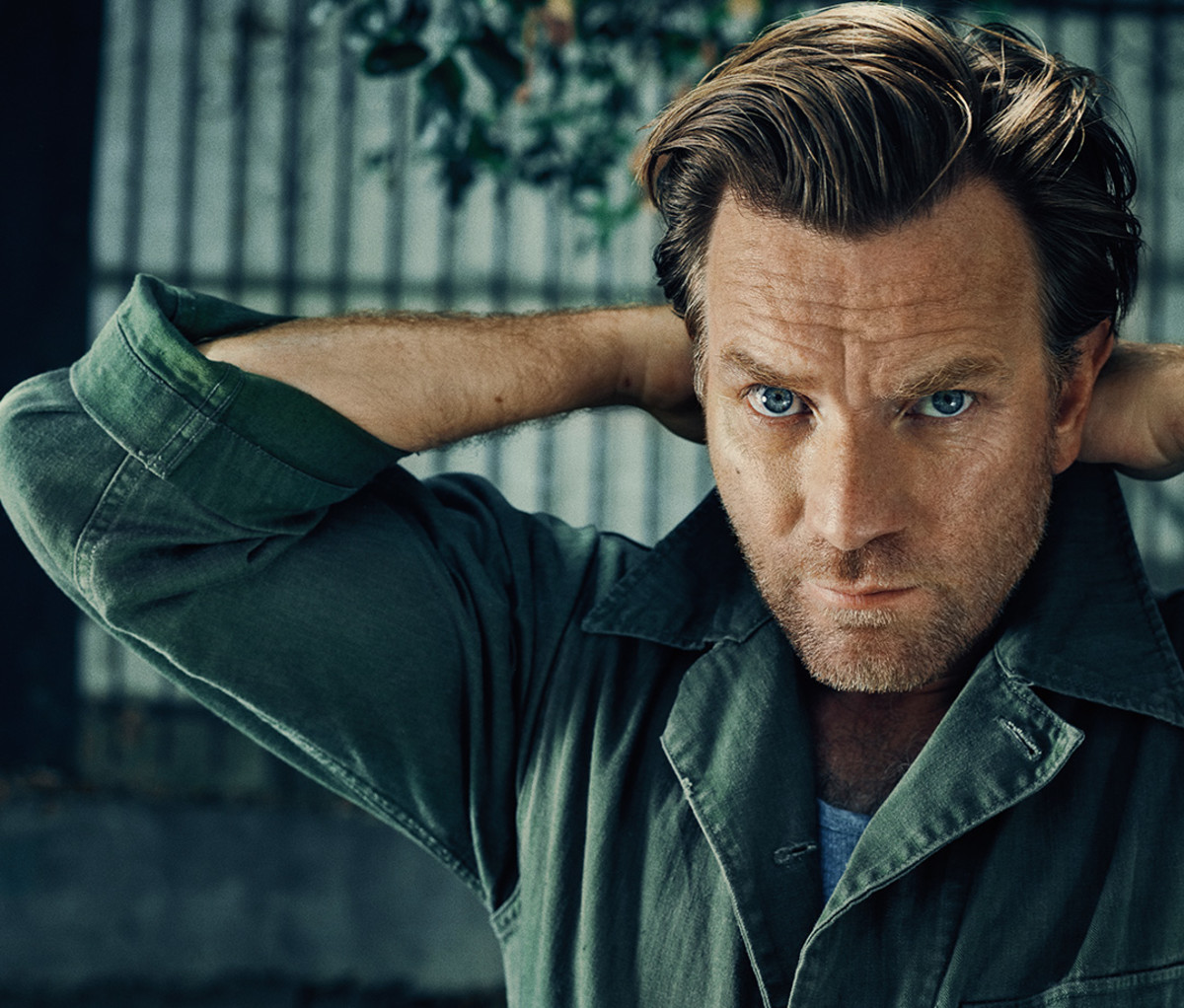 Of these journeys, McGregor says, it's always in some way about discovery. "It's a test of who you are," he says. But it's also about leaving something behind. "Like, I just sort of imagine dropping these emotional baggages off as I ride along," he says, "these emotional baggages that I've been carrying around for years. I'll leave a little pile of them, like breadcrumbs from South America to here."
McGregor won't shoot the Obi-Wan Kenobi series until next summer. But fans are already salivating for spoilers. Will they use de-aging technology on McGregor? Will we encounter Obi-Wan as a hermit on Tatooine? Will we see him try to dismantle the crime syndicate, Crimson Dawn (tying up loose ends from the Han Solo prequel)?
"The storyline sits between Episode III and Episode IV," he says, dropping us a breadcrumb. The last time we saw him in the role, "the Jedi Order was falling apart. It will be interesting to take a character we know in a way and show him—Well, his arc will be quite interesting, I think, dealing with that the fact that all the Jedi were slaughtered with the end of Episode III. It's quite something to get over."
For the record, he hasn't rewatched his own Star Wars films since they were first released, but he plans to. He mostly remembers them being disliked because "they were political." (To paraphrase Jar Jar Binks, Meesa think he no remember good.) Of returning to the character after 15 years, he insists time is only an asset. "I want to get closer and closer to how Obi-Wan felt while Alec Guinness was playing him. I feel like I'm grayer and nearer him in age, so it'll be easier to do that."
He then reiterates the obvious: "I'm not allowed to tell you anything about it." Though he did let it slip that the series will be six hour-long episodes. (Feast on that chum, fanboys!)
With that, an assistant comes to get him from his trailer. He's due on stage in a few minutes, where Kathleen Kennedy—the head of Lucasfilm—will introduce him, telling the crowd: "After secrets and fibs and not being able to talk about it, I am thrilled to bring out a beloved member of the Star Wars family."
When McGregor finally appears, there's a standing ovation and the ground actually rumbles. He can't contain that smile. The moment is so unabashedly genuine, so unironic, I thought: Where have I seen this before? Oh, right. The final frame of Trainspotting, when he walked toward a new future. Choose life!
We catch up by phone a few days later—just before he leaves for South America—and I ask what the moment felt like. "I spent most of the '90s wishing I'd been a rock star," he says. "I always felt it would be nice to know what that scream felt like. This is my version of that."
Related posts:
For access to exclusive gear videos, celebrity interviews, and more, subscribe on YouTube!