Even from within the armored truck, C.J. Chivers heard the gunshot. On assignment for the New York Times in Karma, Iraq, in October 2006, he and Dustin Kirby, a Navy trauma medic, had just taken their seats, after a raid that morning had produced a cache of rifles and bomb parts. The Marines had encountered no insurgents during the search. But as their caravan prepared to roll out, a sniper fired a single shot—striking a turret gunner in the head. Now Kirby needed to step up, before his fellow serviceman bled out
The 22-year-old medic sprinted 100 yards to the front of the convoy. Chivers, himself a former Marine, followed and watched as Kirby kept the man breathing, dressed where the bullet had entered and exited his skull, loaded him into a helicopter, and, ultimately, saved his life. Kirby was a hero. But two months later, he was the one who needed rescue when he suffered a gunshot wound to the face.
Chivers' time with Kirby serves as the basis, in part, for his new book, The Fighters, an account of six U.S. servicemen who fought in the Afghanistan and Iraq wars from 2001 to 2013. "I tried to download their brains and thought processes in real time," says Chivers, a Pulitzer winner who has spent 17 years covering the conflicts, often from the battlefield. "I'm just the caretaker of their stories, so I don't try to impose what I might think about what happened."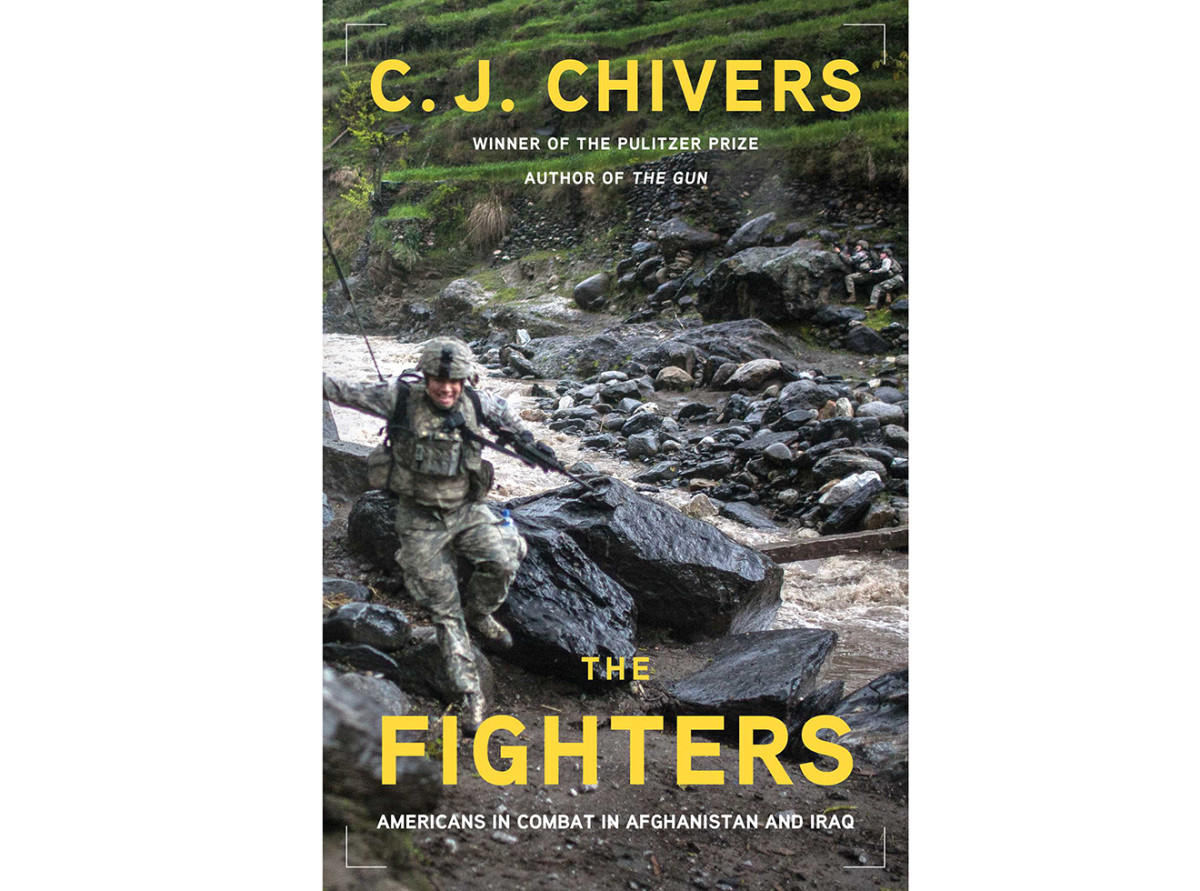 The book captures the anxiety and courage of the men as the wars play out day by day, then year by year. Along with Kirby, we meet F-14 pilot Layne McDowell, who learns that the Twin Towers have been hit while he's aboard a carrier in the Arabian Sea. Then there's Sgt. 1st Class Leo Kryszewski, next to whom, in 2004, a rocket lands outside a store, killing the guy beside him. The wars drag on, and more servicemen are introduced: In 2009, Spc. Rob Soto dashes for cover as mortar rounds fall around him; the next year, 1st Lt. Jarrod Neff gets ambushed while driving the Taliban from a village.
Taken together, these individual experiences form a unified narrative about the campaigns. "When you put all the pieces up on the wall," Chivers says, "it coheres into a picture of a larger strategic failure—even set against solid personal actions, selflessness, commitment, proficiency, and competence that you can feel in many of these characters."
The almost seven years that Chivers served in the Marines, including the Gulf War, no doubt attribute his distinct ability to connect with soldiers and to tell their stories. In 2014, however, he tried to leave the war beat, having tired of studying violence. But "it's hard to rinse this stuff out of your head," he says, and he believed that he had to document what these young men endured. Chivers has pulled back some, though; he now runs a small commercial-fishing operation in Rhode Island, in addition to reporting. At 53, he says he plans to spend his 60s on the ocean "living largely without the fucking internet or the phone, in a rhythm of provision and labor, and not having to think about this shit."
Even so, The Fighters will stand as an essential record of Americans in combat in the years following September 11, much as A.J. Liebling's The Road Back to Paris or Michael Herr's Dispatches did for servicemen of the past. But with the effects of the wars still playing out and Americans still deployed in Afghanistan and Iraq, Chivers has little hope that these men's stories will change U.S. policy or how the Pentagon conducts campaigns. "History tells us not to expect that," he says.
This story appears in the print edition of the August 2018 issue, with the headline "Grunt Work."
For access to exclusive gear videos, celebrity interviews, and more, subscribe on YouTube!