Written in partnership with Ascend Agency
Online shopping has become popular among consumers across the United States. With numbers totalling 256 million in 2020 according to Statista, the industry is expected to increase to 291.2 million consumers making their purchases online by 2025. This year-over-year growth is supported by the popularity of e-commerce shopping across multiple industries like fashion, electronics, and media. Online shopping is facilitating another aspect of e-commerce, which, according to Grandview Research, is on a trajectory to reach $557.9 billion in revenue by 2025: drop-shipping. Drop-shipping, put simply, is selling items online to consumers without holding physical inventory. Once the order is placed and paid for, third-party distributor packages and ships the product directly to the consumer. This innovative e-commerce area is hit and miss for some, but at the helm of true innovation in the industry is AC Hampton.
Growing up in Kansas City, Missouri, AC Hampton knew that his ultimate goal in life was to create generational wealth when he got older. What he didn't know was that early in his college career he would be introduced to the one thing that would get him there. He started his first e-commerce business, Sneaker Labz, using Instagram when he was a junior in college at the University of Missouri. He posted sneakers on his Instagram page, buyers ordered them, and his distributor shipped them directly to the consumer. He found success with this, making a profit of close to $10,000, still only in his junior year.
During his senior year, his roommate was involved in drop-shipping. Hampton decided to give it a try but soon decided that too much went into it and went back to Sneaker Labz, as it had already proven successful for him. As graduation neared, Hampton knew he wanted to spread his wings and get out of Missouri for bigger opportunities available in Oakland, Baltimore, and Dallas. Little did Hampton know that his choice of moving to Dallas would set the wheels in motion for his current success.
Initially, the job Hampton originally moved to Dallas for did not work out like he thought it would. As a sales representative for E&J Gallo Winery, Hampton thought that he would be dining in the finest hotels and speaking with high-end clients. Instead, he found himself putting together displays at the back of local retail establishments that had already purchased the winery's products. It was during this first job out of college that Hampton learned some hard truths about spreading his wings and flying solo. Experiencing a break-in after moving to Dallas left him with nothing. Shortly after the break-in, Hampton left this job on November 24, 2018, and worked toward pursuing success for himself online.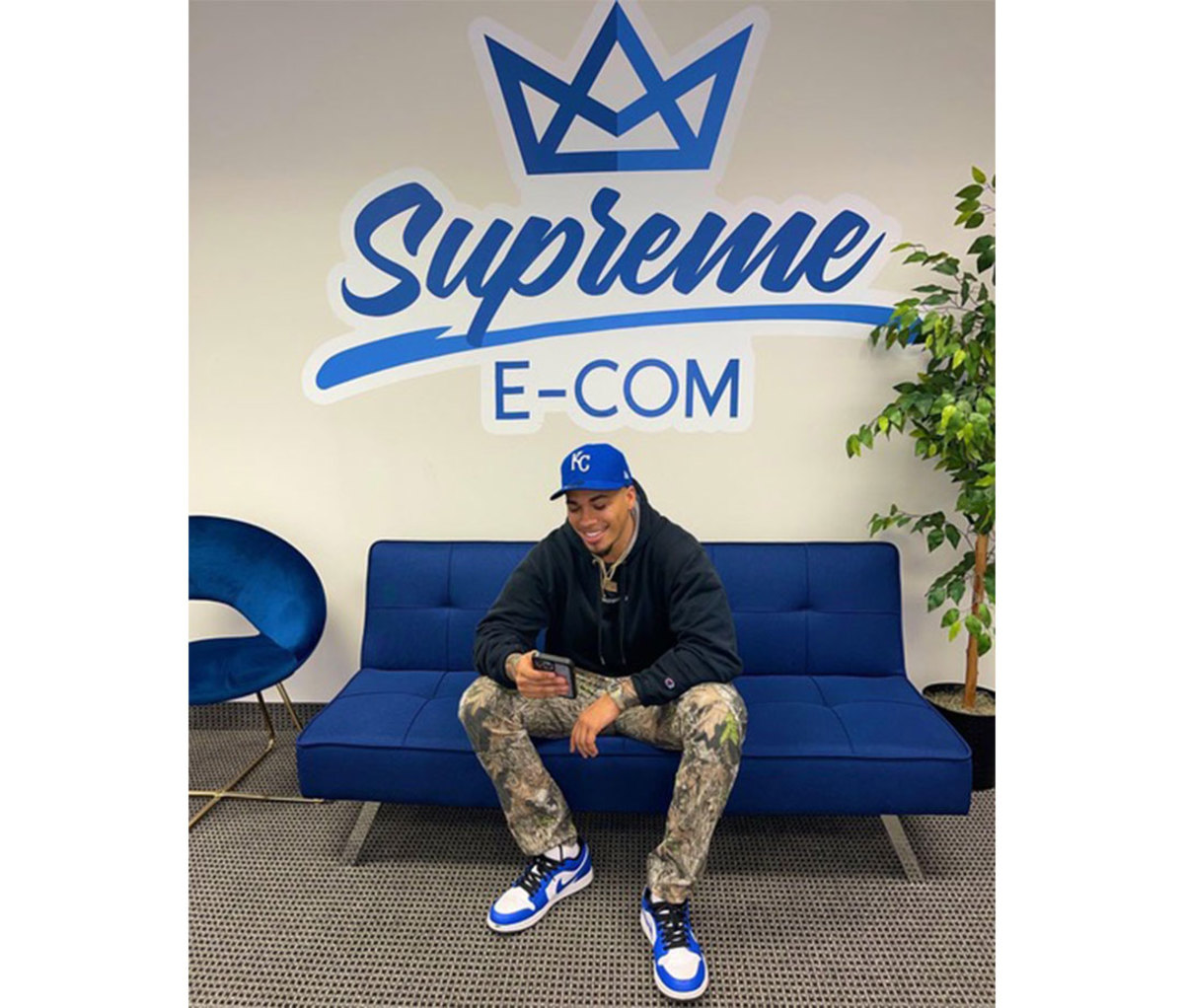 Success soon knocked on Hampton's door, after he spent ample time researching drop-shipping and purchased a self-paced course to learn the ins and outs of the business. After setting up his first drop-shipping store, he went through 50 products before finding his first hit, exactly one month after quitting his job with E&J Gallo Winery. His first product, a mobile phone screen enhancer called The Spark, brought him $175,000 in sales in 30 days, netting a profit of around $15,000 to $18,000 overall. Once The Spark fizzled out, Hampton had to find the next product. This was a process that he repeated over and over again in the early days of his drop-shipping success story.
Devastation struck again before AC Hampton could hit it big with a new product online. In a matter of 30 seconds, Hampton found himself homeless, with nothing but his laptop, cell phone, and the clothes on his back after a crane fell and destroyed his new apartment building. Living in a local church and trying to crawl his way back to success, Hampton created Lavish Moms, a store selling a portable baby bed that provided him with consistent, rather than seasonal, success. After generating almost $1.9 million from his Lavish Moms shop, his success was beginning to get noticed. After a suggestion from a friend, he began making YouTube videos to teach others how to hit it big in drop-shipping as he did.
Supreme Ecom, AC Hampton's agency for drop-shipping, started with just himself. Soon, he hired who he refers to as the "original five" to help facilitate all the mentorships, courses, and one-on-ones with students. With more and more interest being shown in the industry and Hampton's methods, he now runs a 30-member team, primarily made up of former students from his program.
Holding onto his founding principles, AC Hampton says, "It's not about how much money you can make in this world, but how much knowledge you can teach others to change their lives." Growing up, Hampton's mom travelled for two weeks out of the month to support the family. He knew that when the time came for him to have a family of his own, he wanted to be present and wanted to build the generational wealth for himself that would allow him to be there, go on family vacations, and create those memories that last a lifetime. Supreme Ecom has allowed him to do just that, with a baby and fiancée at home. He is able to support them while being present in their lives. His ultimate goal now is to help others establish the same type of generational wealth through drop-shipping. His transparency makes it easy for those students enrolled in his program to change their lives and the lives of their children, just like he did.
For access to exclusive gear videos, celebrity interviews, and more, subscribe on YouTube!