Two summers ago, the USS Houston, a Los Angeles-class attack submarine, made way out of the naval base at Pearl Harbor with a special guest aboard. Gerard Butler remembers standing on the deck with the boat's captain, Commander Scott McGinnis, taking in the view and inhaling the sweet Hawaiian air before experiencing his first submarine dive.
"The captain passed me a cigar," says Butler over coffee at the Essex House in New York City. "I decided not to say I'm not the biggest cigar smoker."
When the captain hands you a cigar, you smoke it.
That morning was the beginning of three days of drills on the boat, and Butler, along with director Donovan Marsh, had been invited aboard to observe as research for their upcoming drama Hunter Killer. The movie's script, based on the novel Firing Point about a U.S. submarine commander tasked with carrying out a dangerous rescue mission in foreign waters, was approved by the Navy and thus granted them the invaluable opportunity.
The activities onboard included battle station situations, sharpening the response time in case of a 'man overboard', firing sequences, and quick surfacing. Butler found the experience and cooperation from the military instrumental in making a gripping nautical thriller in league with previous submarine dramas like Run Silent, Run Deep, The Enemy Below, and The Hunt for Red October.
Men's Journal: What drew you to this story?
Gerard Butler: I loved the script from the first read; it was just a classic story with great drama, characters, and action. I knew immediately that this would be a great chance to revisit the submarine genre, of which I am just a massive fan. I hope this movie will make people go back and watch those classics again. I remember reading the script and it took me back to some of those stories. I knew that I had to make it. I even had a dream about it before we started the process where I was on a naval base. I took that as a sign.
What is it about the submarine genre that you love?
For one you're dealing with the highest stakes possible on a nuclear submarine. Not only are you battling with your own mortality, but there's this looming ability to end the modern world as we know it. I was also drawn to the relationship between the two submarine captains, Captain Joe Glass [Butler's character] and the Russian submarine captain. They're two guys who are able to see the world differently than everyone else. There's this code—an understanding of the rules of conduct.
What was it like being onboard the USS Houston?
I was excited obviously, but I won't lie there was a moment where I really felt that pressure change and it hit me that I was really diving on a nuclear submarine. You start to hear these strange ringing sounds from the hull, and you're leaning back to compensate for the angle. I'm not sure if you can really be prepared for that. I slept in the XO's [executive officer] room, which had two bunks. I would sleep when he was working and he would sleep when it was my shift.
During the drills what did you observe from Captain McGinnis?
I got to see them execute all the tactics and sequences we do in the movie, which was amazing. You could see the camaraderie the captain had with the men. In a way he was one of the guys, but at the same time he wasn't. He always made sure they were on their toes. I would catch him slightly fucking with them, testing them, letting them know that they had to prove themselves to him.
Speaking of captains, what did you learn from the actual Navy submarine captains you came into contact with?
One thing you learn while spending time with any of these submarine captains is they're all pretty brilliant. They're all nuclear physicists. Their minds have to work in a very particular way. I was very impressed by Commander Scott McGinnis, who captains the USS Houston, and his passion was just contagious. He's able to speak on the phone, talk to me, and deal with a crew member's problem all at the same time. Even when they're off duty, most of these captains are finding ways to keep their minds working, playing cribbage or solving trigonometry problems, because they know their mental agility needs to be sharp. I wanted to do right by them.
Did they give you any kind of advice?
One of the things they imparted on me was the fact that no matter how much you plan, a mission will never go how you think. So it's not just about the planning, but the ability to change the plan as problems arise. Sometimes you have to throw out the rulebook, which is what you see Captain Joe Glass do, because going back to port is not an option.
Did you guys get to let loose at all on the boat?
Funnily enough there was a night that we watched one classic submarine thriller, which I actually love, and I got to sit there with the crew while they yelled how everything onscreen was, "Bullshit!". I realized that those guys were going to be the toughest critics, and I had to make sure I put in the work.
What kind of drills did you participate in?
Out there in Hawaii we had this wet trailer, which would fill with freezing water up to your chest in three minutes. We would run drills in there, fixing pipes and trying to contain leaks. These tasks would be tough to do if there wasn't any water coming in, so it gets almost impossible with your nerves going. It was so fucking scary.
How did you bring that commitment to set?
I had our military advisor Captain Caleb Kerr spend two hours with our whole crew so he could express to them the psychological effect that those scenarios can have on a man. That the pressurized water can sometimes even cut through you. That a fire can get out of control in 30 seconds. It is not just that you might get hit with a torpedo and perish right there, there is also the chance you get hit and live the most torturous existence ever for hours as the boat is destroyed. Sinking isn't just losing a boat; it is losing every soul aboard that boat as well.
Did you start to feel the actors playing your crew start to respond to that?
I started to feel it amongst the cast as the filming went on, because we were spending so many hours in those roles. Instead of just shooting the movie as we needed for the script we did everything that we could to involve every character with what was happening on the screen. So everyone was reacting to the commands that I was giving as Glass.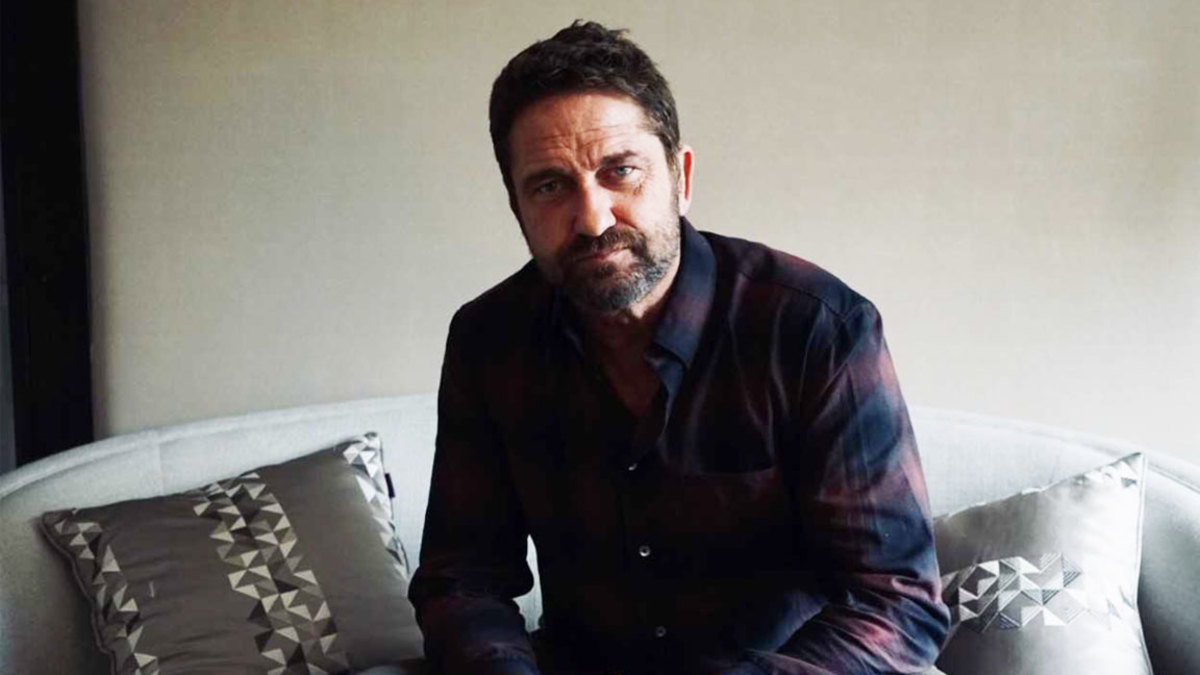 I understand you built a pretty legit control room for the submarine scenes.
Once we had experienced the real thing there was really no other way to go, we were so intent on making the submarine action look real instead of a typical soundstage we built a 15-ton set on top of a gimbal that would allow for jolting yet balanced movement. We could fit the entire crew cast as well as camera in there, while we were all moving around, and shoot the action all in one go. I remember when Captain Kerr finally stepped on the real submarine set that we had built, he turned to me and said, "I wouldn't be able to tell that I wasn't on a real sub right now." That meant a lot to us.
What elements did you want to bring?
Looking at a true control room it is hard to process all the technology that is actually in there, LED screens, digital maps, interfaces with multiple layers of information and we got it down to the button. The same effort went into getting the commands that we were shouting correct as well. For the audience, even if they don't really understand the commands exactly, they do understand the truth of that moment, because they can see we do.
What are you hoping the audience feels in the theater?
I want audiences not only to just have a great thrill ride, but also to understand what people on these subs have to go through. I mean what they are faced with every day is just incredible. They will even get to see some of the actual guys do it, because the Navy let us film the crew of the USS Houston gearing up and in the water for some of those large dramatic sequences. It is quite a sight to see.
Gerard Butler's Hunter Killer hits theaters October 26th.
For access to exclusive gear videos, celebrity interviews, and more, subscribe on YouTube!