After nearly a decade of development, the story of John Gotti has finally hit the big screen. The twists and turns the project took on its way to theaters was almost as dramatic as the life of the Gambino crime family boss himself.
Over the years, Gotti was connected to directors Barry Levinson, Nick Cassavetes, and Joe Johnston, as well as actors like Al Pacino, Joe Pesci, Lindsay Lohan, and Anthony Hopkins before Entourage actor-turned-director Kevin Connolly stepped in to direct John Travolta in the lead role. Even after production was finished, the drama didn't stop. Lionsgate planned a day-and-date theatrical and video-on-demand release for the film, but the producers wanted a classic theatrical release, so they bought back the rights and secured one on their own.
Connolly, who is best known for playing fan-favorite character Eric "E" Murphy on Entourage, said the theatrical release for Gotti was part of the "old school" nature of the film.
"The whole experience of this movie is a throwback," Connolly told Men's Journal. "John Travolta is throwback, and this movie is a throwback to those days when you just had a true movie star playing an iconic character. It's like an old-school movie. There's a social media element, but the whole thing was like an old-school press junket. We had an old-school movie star and we told a classic story."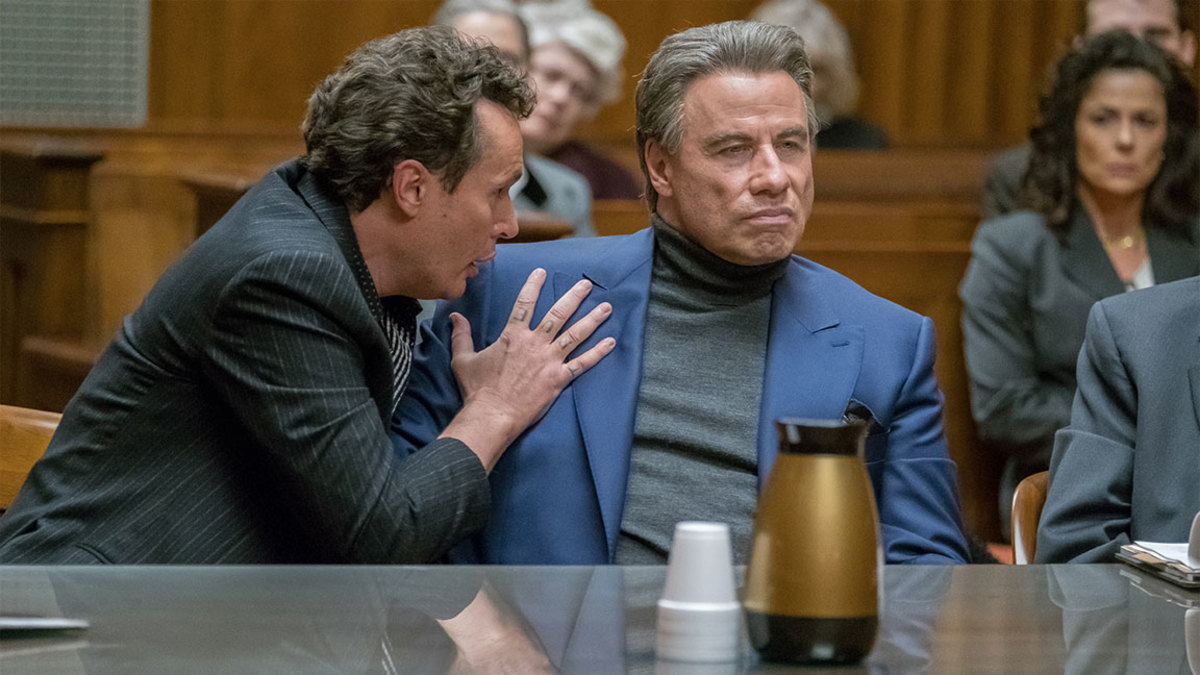 Even though Connolly is done with Gotti, he's not done with directing just yet. Connolly is working on another film, and is directing some TV, including multiple episodes of Snatch and The Oath, both of which air on Sony's Crackle platform.
"Being a director wasn't something that happened overnight," Connolly said. "I've been working at it a long time. I started at square one and made a short film with my own money, did some TV episodes of Entourage and Unhappy Ever After. That got me into the unions, so I've been in the Director's Guild for almost 20 years now. I'm excited to keep working."
Connolly spoke with Men's Journal about working with John Travolta on Gotti, making his own gangster movie, about his favorite all-time movies, and why Entourage likely won't be back anytime soon.
MJ: What was it like working with John Travolta on the film? He was out there everywhere promoting the movie, he looked like he was having a ball.
Connolly: Travolta was incredible in this role. To watch what this guy was doing to promote this movie too was incredible. That's what old school movie stars do. That's why Will Smith and Tom Cruise get the big bucks, because they know how to go out and meet people. This is how it was done back in the day. You went out everywhere and you took pictures, and the way John does it, it's all very real. You have to drag him away, because he wants to sign every last autograph and he wants to take every last picture.
What were some of the biggest challenges you faced while working on Gotti? How did you first get involved in the film?
Gotti was by far the most complicated thing I've ever been a part of. There were a lot of production challenges, and big personalities, but I feel like I'm a much better director now after completing this job. This was like an independent movie with studio movie elements. On Gotti, you don't want to let down John Gotti Jr., John Travolta, or the Gambino crime family, so there was some pressure.
One of the biggest challenges was finding locations. I've had people say to me, "How could you shoot the Gotti movie in Cincinnati?" But what a lot of people don't understand, and especially people who live in New York, is how much the skyline and the city has changed from Gotti's time. We went back to scout the original Ravenite Social Club, and around there is like a high-end shopping store now. As crazy as it sounds, there were parts of downtown Cincinnati that looked more like New York in the '80s than it does now, there were just better locations for us there. And obviously the budget was a factor as well. We still shot in New York, but it was hard to find locations in the city on our budget, and make look like the time period of the film. We had an overall great experience in Cincinnati.
Another thing that people have to understand that's also unique about this particular movie, is that I didn't cast John Travolta. John Travolta cast me and brought me in as director. John was on this movie, so I kind of took charge of a moving ship, if you will. It had set sail already and I came in. But also there was a Travolta element of it for me, you know, I remember seeing Grease in a drive-in movie theater, so it was pretty incredible to be a guy from Long Island directing John Travolta.
Speaking of your Long Island roots, did you feel a connection to the story because you're a New York guy and grew up there for part of this real-life story? 
Yes, that was definitely part of it. I might be dating myself, but those were the days when you'd come home from school and you sit down with the family and there were like three news channels, right? And you turn on Channel 7 or Channel 11 with Bill Beutel or whoever the local New York broadcaster was, and there was John Gotti marching in and out of court, or it was about his Fourth of July parties. My mother and father are both very blue collar, my dad was a truck driver, but ironically, there was something about Gotti, that for all his flash, he was sort of anti-establishment at the time. So the blue collar people were sort of behind it and they were like, "Yeah, look at this guy thumbing his nose at authority." I remember my father just loved John Gotti. He was kind of a cult hero locally.
How did you balance telling the real-life story with some of the more unsavory parts of Gotti's life? Did you have any pause with that element of it?
In one sense, I'm from Long Island and John Travolta is starring in the movie, so am I going to say no? I don't think I can do that. Now, of course, Gotti did some terrible things, but I was trying to tell the story as it really happened. One of the things that people have said is that it glorifies the mob and it glorifies John Gotti, but the truth is, the movie is based on a book written by John Gotti Jr., and this is from that perspective. John Gotti Jr. and I were talking one day, and he knows I'm Catholic and I go to church, and he said to me, "When you go to church, you pray to God. I pray to John Gotti." I thought that was interesting. I'm a filmmaker, and it was my job to tell this story. If people really wanted to get into like glorifying things, I mean come on, what about video games? John Gotti died handcuffed to a bed in jail, it's far from a glorious death. He didn't sail off on horseback into the sunset.
Did you take inspiration from other mafia movies and crime movies?
This movie was made in really kind of an independent spirit. We didn't have the money that Black Mass had or Carlito's Way, or even Goodfellas, so we had to take a different approach from some of the other mob movies. So while I love many of those gangster films, I knew we had to do our own thing. I was just trying to make us unique. Let's see John Travolta play John Gotti, the same way you would go to the theater to watch Pacino play Richard III, let's go see Travolta do it. John wanted things to be as real as possible. Their clothes were real, those were all John Gotti's suits, ties, rings, and jewelry, and we even shot outside the Gotti's real house. Having John Gotti Jr. on the set helped too. He'd go, "No, no you can't say that. He would not say that. My dad would not say that," and I'm like "Well, John, it's a movie nobody's going to know that your dad wouldn't say that." And he'd say back, "Yeah, I don't care. My father would tell them to stand down this way."
What are some of your favorite gangster movies and favorite films in general?
I'm a movie buff. I'm a bit of cinephile, so I'm not afraid to go back and watch some old movies, those throwback movies of the 1970s and 80s. I love the movies that Brian De Palma and William Friedkin were doing, things like The French Connection, The Godfather, obviously, Apocalypse Now, Taxi Driver. That really was the golden age of cinema. I always like the movies that had a slow burn, like The Deer Hunter. One day John Gotti Jr. and I were talking and he asked me when the last time I walked out of a movie and was just blown away. For me it was with Straight Outta Compton. I walked out and said, "holy sh*t, wow." I just wanted to watch it again. There are new movies that strike that cord, but it's hard these days. It's more complicated to go to the movies now, since people have an 85-inch TV in their house, so it's like a movie theater in there.
What were your favorite episodes and memories from Entourage? Do you think it could ever come back again?
Nothing is ever going to be more fun than that show. It hit at the perfect moment at the right time. I've never had more fun directing than on Entourage; I loved working on that show. My favorite episode in hindsight is the Joshua Tree episode "Tree Trippers" when we did mushrooms. Shooting it was miserable, because that heat was just wild. It's one of my favorite to watch, and it makes me laugh, but it was one of the hardest to shoot. I also loved the Medellín episode "Welcome to the Jungle." It's actually my favorite season, because we start on the set of Medellín and we end at Cannes. And having been at Cannes this year for Gotti, trust me, the irony was not lost on me—and social media didn't let me forget that [laughs].
As for Entourage coming back, timing is the essence of life in a sense. It started in 2004, and I can't explain it, but it's just what people wanted. It was like lightning in a bottle. But the truth is, now, the climate has changed. I don't know if people want to hear that same stuff anymore. Back then, it was funny and people laughed, but I think now with what's going on in the industry, I don't know that people would respond to it the same way. There are a few very popular lines that, if we did today, we might get in trouble for it. We had our run and we had an epic run. How many shows ever get eight seasons and a big studio movie? Very few, so what else could we want? It was a great experience to have been a part of something that was in the pop culture Zeitgeist. And with streaming on HBO Go, we still get people coming up to us telling us they're watching it, so we're even getting new fans now. It was an incredible experience working on that show.
Had you always had an interest in directing during your career? What advice have you received along the way from directors you worked with?
I think when you do one thing long enough, eventually you just sort of develop other interests. It's sort of human nature. I turned 44 this year, and I started acting when I was 6 years old. So I've been in front of the camera for over 30 years, and it's not about not liking acting or anything like that, but it wasn't something just overnight either. I've been working at it a long time, and it's still hard. It's a very, very difficult world to navigate.
I've learned so much from Nick Cassavetes, who I worked with on The Notebook and John Q. I directed some of the second unit for Nick, I shot the opening title sequence, that's me, the first six or seven minutes of The Notebook. In hindsight, The Notebook was such a smashing sort, of iconic romantic film. It'll go down as one of the best. Granted, I know Titanic did the insane the business that it did, or whatever, but, I feel like The Notebook is going to be like one of the great all-time love stories, certainly, of our generation. But, at the time, nobody knew that. You don't know that when you're making it.
Nick taught me the nuts and bolts of how to make a movie, and how to handle things on set. I also worked with Denzel Washington on John Q and when he directed Antwone Fisher. With Denzel, he gave me some simple advice, but it was really great advice, he said: "Hey man, it's called show business. There's the show and then there's the business." It's simple, but it rings true, and when Denzel or John Travolta come to set, they're ready to work. They're all about the scene and the acting. Always prepared.
For access to exclusive gear videos, celebrity interviews, and more, subscribe on YouTube!