John Wright Hickenlooper Junior. It doesn't melt on your tongue as much as it gets lodged like a wishbone in the windpipe. (Twenty-eight letters!) It sounds made up – a character from one of Kurt Vonnegut's lesser books, which it sort of is. But we'll get to that. Presently, Hickenlooper is skating toward reelection as governor of Colorado, just as he skated to his previous three electoral victories, the first two as mayor of Denver. In November, he will face Bob Beauprez, a product of a political collective that displayed its wisdom recently by playing the Dating Game theme song at a gubernatorial debate on women's issues. A loss seems unlikely. There are some who wish the governor would do more – like maybe exploring a 2016 presidential wild-card bid or, more likely, floating his name as vice presidential material. Hickenlooper has his doubts.
Since the rise of the caveman, the common wisdom has been that Americans crave politicians we can relate to, people we want to buy a beer. If that's true, then Hick – that's what everyone calls him – is your man: He made his fortune in actual beer! He's not cut from the high-achiever cloth of Clinton and Obama, mini-presidents since their tweens. He was bullied, diagnosed with dyslexia, repeated the seventh grade, shot himself in the foot with a .22, took a decade to get two degrees, started writing a coming-of-age novel that blew, and completed a never-produced script for Moonlighting. As a grown-up, Hick got fired from his job as a geologist, sought a bride on The Phil Donahue Show, and ran pigs through the streets of Denver.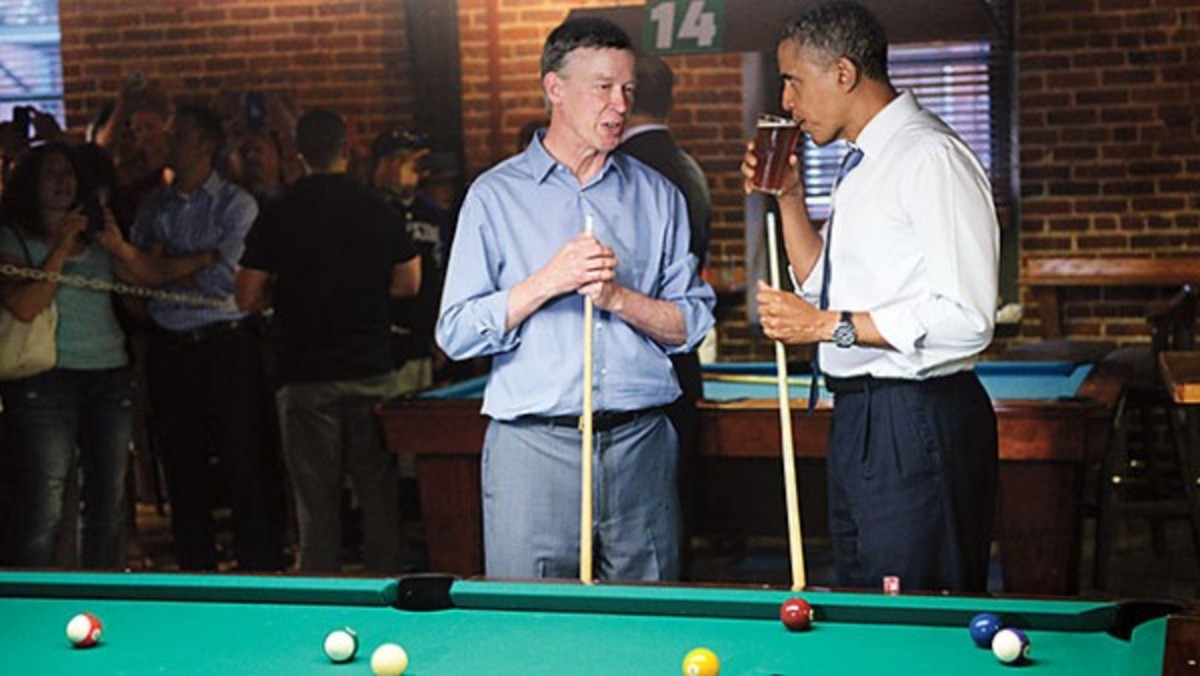 The governor hosts a game of pool at Wynkoop during the president's July trip to Colorado. (RJ Sangost / The Denver Post / Getty Images)
You say this Hick dude sounds like a clown? What if I told you he filmed one political commercial asking to raise your taxes while jumping out of an airplane and shot another in a shower, fully clothed, to wash the muck from dirty campaign ads? What if he truly believes Dr Pepper is better in a glass, which releases its glorious bouquet?
Now you're thinking Hick sounds like Jesse Ventura, last seen doing an online conspiracy show that may or may not be filmed in a cave. But what if the clown is the man who piloted Colorado from a $1 billion deficit to a $720 million surplus? What if he's pro-fracking in a state where eco-types roam the land like unculled deer? What if he was a Democrat who has passed bipartisan legislation in a purple state equally divided between Wait Wait . . . Don't Tell Me! enthusiasts and gun-rack families who see the Bible not as the good book but as the only book? What if he shepherded Colorado through the Aurora theater shooting, floods, wildfires, locust infestation, and more shootings? What if he misses his dad more than he can say while raising his own boy with an ex-wife down the road who he is still in love with? And what if he has 1,657 friends but is still alone, puttering around his sprawling house late at night, staring at the yellowing grass as the floodlights flick on and off?
Is that someone you'd want to buy a beer? Someone who has lived an actual life rather than constructed a résumé of shimmying up the greasy political pole? Is that a man you can trust with our truly fucked-up country?
Or does that sound too much like you?
Hick's brown-gray hair looks like it was cut by a threshing machine. That's not on me; that was according to a newspaper column. And it doesn't bother Jerry Middleton, his perfectly named elderly barber.
"I didn't mind," says Middleton. "I didn't need new customers." He looks like he was cut from the cast of a gangster film, maybe because he was once busted for running numbers. It's the penultimate day of the legislative session, and Hick has ducked out of the Denver state capitol for a quick cut. Hick likes Jerry, and Jerry likes Hick, but there's also intel to be gathered. Most powerful Coloradans in search of a discreet, bad haircut come to see Jerry. He mentions a local billionaire.
"He's mad at you," Jerry tells the governor.
Hick makes a sour face as Jerry combs his hair to the right.
"Hmm, wonder why. Maybe it's the fracking issue. I'll call him."
The fracking issue is this year's tainted Rocky Mountain oyster. Earlier in the day, Hick was in his office surrounded by a gaggle of aides, his Jos. A. Bank jacket draped on his chair. Above him hung a gigantic mural of a classic Colorado vista: a ranch house at the foot of the Rockies. His chow chow, Skye, wandered in, sniffed, and trotted out. Unlike most Democrats, for Hick it's not a question of yes or no on fracking. He knows Colorado is sixth in the nation in natural gas production, and the industry provides more than 80,000 well-paying jobs, often to those who don't have a college degree.
With very few exceptions, Hickenlooper is unequivocally pro-fracking in Colorado. "There's a mile and a half of solid rock between our groundwater and where they're drilling," says Hick. "Other states it's much closer."
Today's sticky wicket is trying to head off a state referendum that would give counties and towns more control over how close fracking could occur to homes and businesses. Jared Polis, a bow-tie-wearing congressman who, in the best spirit of nimbyism, became outraged only when a fracking operation went up a few hundred yards outside his million-dollar home near Boulder, is the patron of the referendum.
Hick looks a bit tired, maybe because last night he cooked salmon for eight at his place. It was an eclectic group of doctors, administrators, and staffers furiously thumbing their phones. His 12-year-old son, Teddy, wandered in and puckishly shook hands with everyone before disappearing to do his homework. The subject matter rambled from the fundraising woes of his GOP opponents to whether Hick personally needed more frequent colonoscopies. Blueberries and ice cream were served.
Now he was trying to save the state from a costly rectal exam that would only pleasure political consultants and ad buyers. Hick's view is that having county-by-county fracking regulations is a recipe for lawsuits and chaos. He enjoys chaos in his own life, not so much in his state. He wants the legislature to work out a compromise. There's another thing: The last time Coloradans had a chance to vote on a referendum, they legalized weed, 55 percent to 45 percent, against his wishes.
The governor listens to his advisers and then chimes in. "Look, we need to put a call in to Stan Dempsey," Hickenlooper says, mentioning the president of the Colorado Petroleum Association. "Get Dempsey to talk with the CEOs at BP, Chevron, Shell, and Exxon. See where they'll move on this."
It is instructive that Hick's initial thought for adjudicating the issue is not to call in Polis for a meeting or one of the three billion Colorado environmental groups, but instead to phone the head of the energy lobby to see how far they're willing to bend to avoid a referendum. In his first year, he enacted a fracking-fluid disclosure rule – making energy companies publicly list what chemicals they're pumping into the ground – with the cooperation of both the CEO of Halliburton and the head of the Environmental Defense Fund. He went so far as to drink a glass of fracking fluid to prove its safety. (He disclosed this at a U.S. Senate hearing, and Minnesota senator Al Franken asked him if it was part of an oil company cult initiation.)
And it also displays something Hick likes to keep hidden: He can play hardball. (Going against type, he's a big fan of Machiavelli's The Prince.) On the last day of the 2011 session, Hick's budget deal­ – he'd eventually take the state from a Great Recession deficit into a sizable surplus­ – brokered with significant GOP support, was in danger of falling through. He let the Democratic state senate president know that his inability to close the deal might become public and wouldn't help him when he ran for Congress. The pol got onboard. At the end of the 2012 legislative session, Hick was having bourbon in his office when the GOP speaker of the House came in and told him that he would not be honoring his agreement to bring before the House a vote legalizing civil unions. Hick was pissed, bolting from his office and wandering the statehouse grounds for an hour with his security detail searching for him. But he moved decisively, calling a special session of the legislature the next afternoon. The House ignored it again, but the session created such a storm that inaction came with a price, and more Democrats were voted into office in 2012, and civil-union legislation was passed in March 2013. Hick got his way.
Back at the barbershop, Jerry brings out a metallic torture contraption, slips it over his withered right hand, and begins to give Hick a violent massage above the neck.
"Everybody ends up thinking they've got this little narrow self-interest: It's no different than trying to sell sandwiches," says Hick. Each word vibrates out of his quaking face like a 25-cent-a-minute massage bed at a 1970s Travelodge. "It's a lot of work, and you're just talking and talking and trying to frame their self-interest as being broader. That's where deals take place in business. Politics isn't, or shouldn't be, any different. There's no percentage in angering half your customers."
Hick slips his jacket back on and hands Jerry $20. "I love the neck and scalp massage," whispers Hick in the elevator, rubbing his jaw. "But the face one kind of kills. I don't have the heart to tell Jerry." Out on the street, Hick runs into a woman in a business suit with a flowing scarf. It's Frances Koncilja, a litigation attorney who has known Hick since he first ran for Denver mayor, in 2003.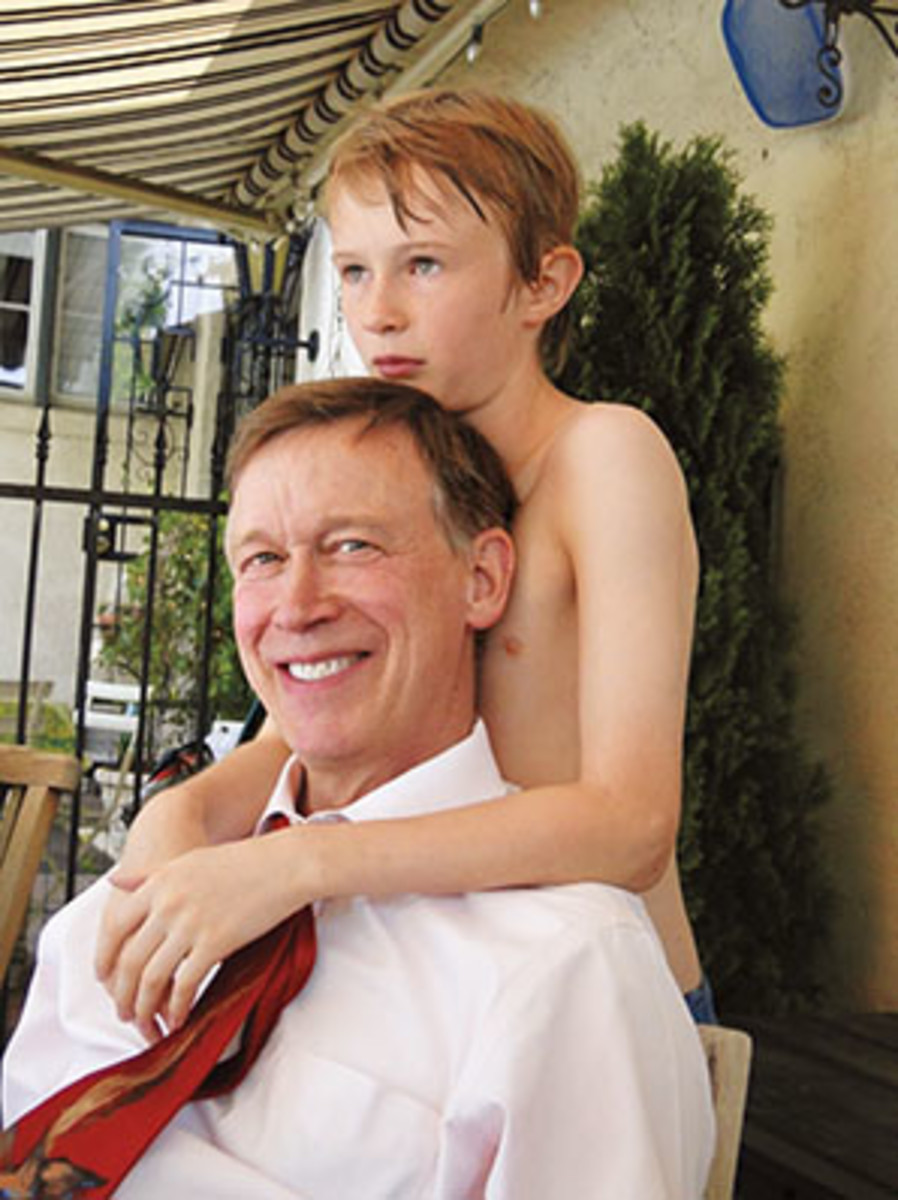 With son Teddy, now 12, at a swim meet. (Courtesy John Hickenlooper)
"I remember when he showed up, and I thought maybe I'll give him a hundred dollars because I feel sorry for him," says Koncilja with a smile. "But he was so smart and charming. I ended up backing him."
She then wags a long finger at the governor.
"But John's more of a Calvinist. He thinks the rich should keep their wealth. Me? I think if you're rich, you must have been a pirate."
Hick just smiles. He doesn't like to disappoint people, and folks can't stay mad at him. The trait has been ground into Hick since he was a little boy.
"John comes from a family where his dad died when he was young," says Roxane White, his chief of staff, who also lost her father young. "What do you want to do if you're John? Persevere and make things look easier than they are."
That may explain why Hick doesn't go from the barber back to the capitol, but instead heads to the squash court. He asks me what I'm doing tonight. I tell him I'm going to hit a Rockies game at Coors Field. Hick makes a face.
"By yourself?" This won't do. "We'll have a beer at the Wynkoop, my old place, before the game. Just one, I have a ton of work to do."
Hick and I have been sitting at the main bar of the 30,000-square-foot, three-story Wynkoop Brewing Company, which he opened in 1988, for about five minutes when he tells me how a deep depression launched his beer career. For the first time of many, he prefaces what he is about to confide with "My staff is going to kill me for telling you this . . ." which is both a subtle attempt to woo me and Hick's being somewhere near Mars on the Myers-Briggs extrovert scale.
He was in his freshman year at Wesleyan University. "I was obsessed with this woman," says Hick. "I couldn't eat; I couldn't sleep; and I couldn't function. So I dropped out."
Hick's jacket is gone­ – the tie was never there – and checked sleeves are pushed up his arms. Hick's life is one long run-on sentence, and he simultaneously talks about heartbreak, hops, and yeast, and all that other stuff beer nerds drone on about while monitoring the Rockies' Nolan Arenado's 25-game hitting streak. He speaks fast with a complicated accent that is hard to place: sort of plummy, sort of Dutch like his last name.
He says he took a semester off from Wesleyan and volunteered in Maine helping a group of parents build a school and learning to home brew with them in the evening. They were using Fleischmann's yeast, so the beer was profoundly undrinkable, but it started Hick on the path to lager creativity. On its own, Hick dropping out of school over a girl might just be a funny, well-worn anecdote in a politician's life story. And sometimes that's how Hick plays it: Later, after he'd gone back to college, he was engaged to a woman who studied witchcraft and owned a parrot.
"I turned out to have more in common with the parrot," says Hick.
Not a bad line either, but the reality is the college struggles were a cap on a childhood of pain. His mother, Anne's first husband was killed in a plane crash, and her second husband, John, his father, was diagnosed with intestinal cancer when Hick was in kindergarten. His father lingered for two painful years that stripped Anne of whatever faith she had in God. One of the stories Hick likes to tell about learning about empathy as a child is of whining to his mother at six or seven about her never coming to his school activities in their town just outside Philadelphia, and his older brother Sydney's throwing him against a wall and whispering, "Don't you think she'd rather be there than at the hospital?"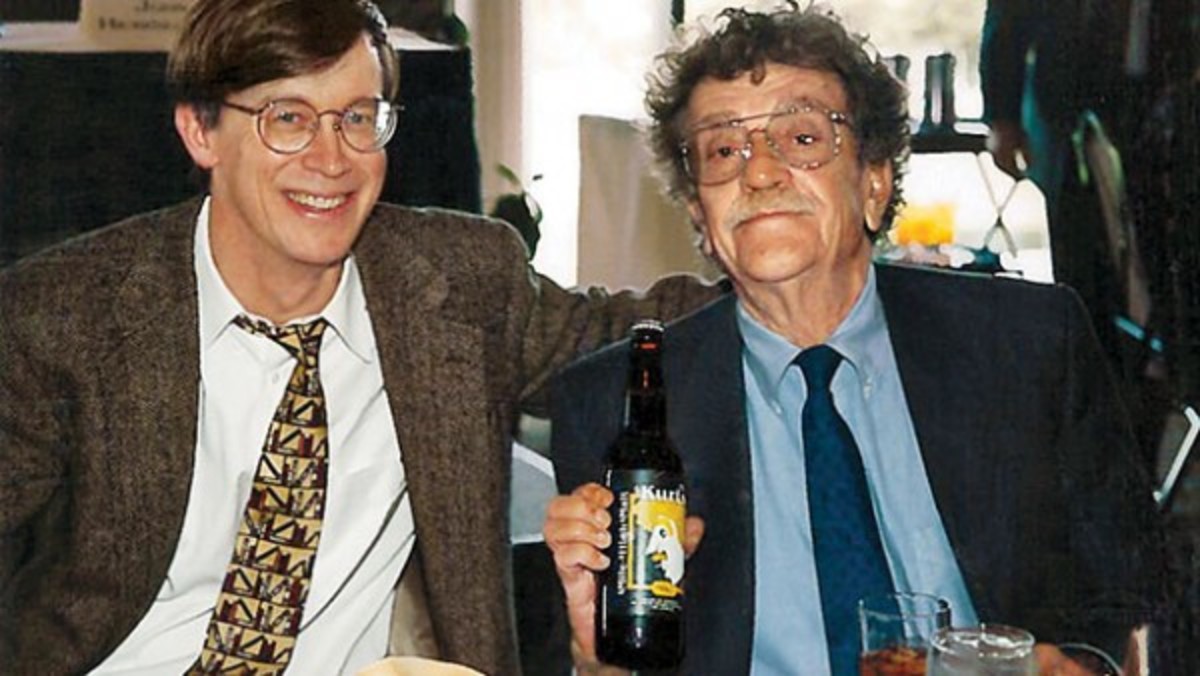 With Kurt Vonnegut, his father's fraternity brother, in 1997. (Courtesy John Hickenlooper)
Anne was nicknamed Shrimpie because she was just five feet tall but was also a dynamo all-league lacrosse player at Vassar. She expected a lot from her youngest son. He'd come home from elementary school and Shrimpie would pull out her chart. On the left side were basic things. Did you say anything mean about someone behind their back? Did you tease someone in front of others? Did you pay anyone a compliment today? He'd either get a gold star, a silver star, or a purple star, based on how he'd done that day.
Dad left enough insurance money that his kids wouldn't lack for material things, but Hick's mother couldn't make up for everything the boys had lost.
"She was so busy, she made it clear to me she'd help, but I'd have to figure things out by myself," says Hick.
He pauses for a moment and yelps at the television as the Rockies start a rally. He looks at his watch, thinks about calling the trooper who waits around the corner to come get him, but he keeps talking. He confesses to being bullied in junior high.
"A kid named George was the ringleader," says Hick, as he orders two more elaborate beers. "They came after me one time and chased me. I outran them, but it scared the living daylights out of me. Every day, they'd always be saying, 'We're going to come get you.' I was paralyzed. I was just in tears."
Hick's mom eventually found out and transferred him to a private school, where he had to repeat the seventh grade after being diagnosed with dyslexia. Around the same time, Hick started acting like a fatherless son. He shot himself in the foot while fooling around with a .22. He didn't tell his mom. He started lifting items from the neighborhood five-and-dime. He got busted stealing a dish sponge he thought might make his after-dinner chores easier. Shrimpie took him to see a neighbor doctor, who pronounced him OK. It wasn't until after their session that Hick realized it was a psychiatrist.
Shrimpie was a product of the Depression; her father lost everything, which explains her son's fiscal tightness, personified by budget surpluses, a freezing house in the winter, and no AC in the summer. Shrimpie got remarried late in life. Hick was visiting her one day when he came across a copy of The Joy of Sex on the nightstand. Some of the pages were dog-eared.
"That made me so glad," says Hick with a grin. His eyes shoot up at the screen as the Rockies plate another base runner. He pounds the table in triumph. His mind drifts back to the book. "That she found happiness and joy meant everything to me."
Hick divested from the Wynkoop Brewing Company when he was mayor of Denver, but a sense of ownership doesn't go away with a bill of sale. We head up to the second floor, and he grabs my arm and points to the bar.
"Two Ukrainian girls sanded that down; they were so beautiful. So beautiful." He bashes through the swinging doors into the kitchen. The cooks look at him sideways."This place was half the size before! I'd come in, and even if I was in a bad mood, when I hit the doors I knew it was time to put on a show."
Hick wanted to be a writer until his pals read his attempt at a Catcher in the Rye–style novel. They told him it was awful. Hick made a U-turn and fell in love with geology, which meant he had to start over with basic science classes. It took him a decade to get his two degrees. He worked as a geologist in Colorado but got laid off in the oil bust of the 1980s.
At loose ends, he visited his brother in the Bay Area and went to his first brewpub. Hick thought it was an idea that would work in Denver, so he and his brother returned to Colorado and rented an old warehouse downtown. They named it the Wynkoop. Edward Wynkoop was one of Denver's founders and an iconoclastic Union colonel who tried to foster good relations with Native American tribes. (Wynkoop is also the name of the street the brewery is on.) Shrimpie wouldn't invest (too risky), but Hick caught some breaks: Beer as a fetish took off, and, in 1995, the Rockies and Coors Field moved in a few blocks away.
Hick cuts through a banquet room where a framed document on the wall catches his eye. It's a draft of a letter sent to early Wynkoop investors explaining delays in the grand opening. It's full of Hicksenian self-deprecation: "As to when the much-anticipated grand opening will appear, the tarot cards are not clear." At the bottom is a handwritten Hick note: "What do you think, maybe a little too cute?" This is a criticism often tossed at Hick by doubters, who roll their pupils at his chronic quirkiness. Hick reads the letter twice.
"Oh, this is so cool! It's to one of my partners." Hick frowns and shakes his head. "He drank himself into oblivion – he fell down a staircase and died."
When the bar opened, Denver still had a soft spot for a late-arriving self-promoter. Hick offered to pay anyone $5,000 if they could find him a bride, and the bet was picked up by Phil Donahue, who had him and his prospective brides on the show. Hick realized that making news didn't have to be about life or death; it just had to be entertaining. Riffing on Pamplona's running of the bulls, he hired pigs to run past the Wynkoop annually, until the ASPCA got involved. He invited Kurt Vonnegut to the Wynkoop, knowing he had been a fraternity brother of his father's at Cornell.
"I'm Hick's son, can you tell me anything about him?"
"You're Hick's son. He was a great and funny man."
That started a friendship, with Vonnegut sending him faxes with stories about his dad, filling in a lot of Hick's blank spots. (Vonnegut eventually did a parody video for a Colorado charity fundraiser in which he claimed to be Hick's real father, and Hickenlooper makes a cameo in the book Timequake.)
In 2001, a college friend invited Hick down to Austin, where they crashed the birthday party of Helen Thorpe, a journalist Hick immediately fell for. He courted her relentlessly until she moved to Colorado. They married in 2002, and their son, Teddy, was born the same year.
His entry into politics wasn't exactly over issues of global consequence. The new Broncos stadium was going to be called Invesco Field, leaving the classic Mile High Stadium name in the dustbin, which Hick thought was sacrilege, so he arranged protests. Few remember that Hick didn't exactly win – the new place was eventually named Invesco Field at Mile High – but it was enough to make his friends think he had the smarts and mind-set to be mayor of Denver, which was sort of funny since Hick didn't vote that often.
Hick started at 3 percent in the first mayoral poll, but won over voters with weirdo commercials in which Hick filled expiring parking meters with change and bemoaned how high meter rates were driving shoppers to the suburbs. "Helen looked over the paper after I got endorsed by the Denver Post, and her eyes got big," says Hick with equal parts pride and resignation. "She said, 'I had no idea you'd win.' "
Before we can leave the Wynkoop, a hostess says there's a group of German and Austrian tourists who want to meet him. Hick poses for pictures and informs them that the Wynkoop's first award-winning beer was made with hops provided by a German brewer. Hick tells the goggle-eyed group they gave the beer a naughty name in the brewer's honor.
"We called it slang for 69 in German." They chuckle nervously.
Now it is really time to go home. Hick piles into the backseat of a state trooper's SUV and is swarmed by his dog, Skye. He laughs and looks at his phone. "I'm in so much trouble, but that was fun!" Hick's SUV squeals away; Skye looks out the side window, tail wagging.
When Hick was elected mayor, in 2003, Denver had a $70 million deficit, which he closed by cutting the number of city employees, and offering those who remained higher pay if they worked more efficiently. (He cut his own pay at the same time.) After a man was shot by cops while reaching for a soda can in his bedroom, Hick instituted a community-based police oversight board. He jumped out of a plane in a political ad to get voters to increase taxes to fund a $4.7 billion transit plan that happened to culminate this May with the opening of a revamped Denver Union Station. In 2007, he was reelected with 87 percent of the vote.
"I don't understand the purposes of personal attacks," Hick told me in explaining his mellow approach in an era of slash-and-burn politics. "You don't see Coke going after Pepsi. It would just make both look bad, and they'd have to spend a ton of money rehabbing their brand."
Hick was a political comet – he was named by Time one of America's top mayors – but there was one problem: Helen dreaded the spotlight as much as he craved it. He decided to run for governor in 2010 partially with the misguided idea that campaigning would respark their relationship. He tried to turn statewide barnstorming into a family adventure, but though he became the first Denver mayor to be elected Colorado governor in more than a century, it probably cost him his marriage. A year after he was elected governor, they split; she and Teddy moved not far from Hick's house. (Helen declined to talk for the story.) Suddenly, Colorado's most gregarious man was alone. The first months were especially rough.
"Teddy would often lead the way," says Hick one afternoon at his house as his boy plays with a friend. "He would ask me almost every day, 'How is it? How's it going?' And I'd tell him, even if it was sad stuff."
But he didn't tell Teddy all about Aurora. Hick was overnighting in Colorado Springs when the call came in a little before 1 am that there had been a massacre at a midnight showing of the latest Batman movie. Twelve were dead. By 8:30 am, Hick was in Aurora, watching footage of the murders in a police trailer. He couldn't believe what he was seeing. He went to the hospital and started going room to room. President Obama arrived to pay his respects. Hick thought his own words of consolation rang hollow, so he sought Obama's counsel in a hospital room.
"Does it get easier?" he asked. "I don't know if I'm helping anyone."
"Part of our job is to be consoler in chief and just let people know that you care," Obama told him. "That means a tremendous amount to people. You'll get better."
Hick took the advice, and over the next two years became better at grieving than he would have ever hoped. There were fires in the canyons and floods in the lowlands and more shootings.
Then, tragedy struck inside his own office. A recent parolee, Evan Ebel, killed a pizza deliveryman. Then, using the deliveryman's uniform and pizza warmer, he approached the home of Tom Clements, Hick's head of the Colorado Department of Corrections. Ebel knocked on the door, and when Clements opened, he shot and killed him. Making the sadness all the more heartbreaking was the fact that Ebel's father, Jack Ebel, had been a friend of Hick's for 30 years, since his geologist days. In an eerie coincidence, when Hick hired Clements, he told him about Evan Ebel, without mentioning his name, and they discussed the long-term impact on young prisoners like Ebel of being held in solitary confinement. Before shooting Clements, Evan Ebel had served eight years on an earlier assault charge and was mistakenly granted parole, inspiring conspiracy theorists to suggest that somehow Hick had intervened for the son of a friend, which infuriated the governor. When a TV crew badgered Hick (for a second time) about whether he had finagled to get Ebel released, Hick lost it. "What a stupid question," he said, his voice quavering. "Why would you even ask that?" It was as if Hick couldn't comprehend a world in which cynics could contemplate he'd play a role in a slimy backroom deal.The Colorado legislative session came to an end on May 7. The fracking issue wasn't resolved and a referendum loomed, something Hick had dreaded from the start. His failure to broker a deal exposed the limitation of his compromise ideology. Still, on most issues, Hick had got his way, including the establishment of a credit union to handle the state's weed profits, a necessity since banks won't handle drug money even if it's legal.
The governor can't believe he spends so much of his time talking about the weed issue. Hick thinks it sucks for the Colorado brand image to be the butt of late-night jokes about getting the munchies. His detractors found it hilarious that a man who made millions on beer would be against legalizing pot, but Hickenlooper isn't so much opposed to marijuana as he's convinced all the jokes about the state "going to pot" hurt his cherished "Colorado brand." And though he's cracked wise about the benefits of a tightly rolled joint, he thinks the way pot edibles – a giant portion of the legal market – are labeled is truly dangerous.
I made a joke about a local television station running a scare segment on kids' getting into their parents' pot gummies, and Hick rebuked me.
"No, that's a real problem," said Hick, his ever-present smile disappearing. "Not everyone is responsible. We're working on making the labeling more clear." Still, the weed wedge broke toward Hick's best-of-all-possible-worlds persona: He was able to stand against it­ – pleasing conservatives­ – but now that it has passed, Hick can say he has no choice but to enforce the laws, which offends no one.
After the session closes, Hick and his staff follow a long-standing Colorado tradition of bipartisan drinking, and adjourn to Stoney's, a local bar, with legislators of both parties. Two young staffers buy Hick a shot, but a thirsty speechwriter intercepts it. Hick still imparts some wisdom.
"If you drink the shot without the cup ever touching your lips, then you won't ever get sick or get germs from the shot glass," he tells the junior staffers. He laughs loud. "This is the advice that I have to share with young people."
Through the fights and fires, Hick's staff tried to take care of him, especially after he split with Helen. The staff is made in his image, tireless and semi-dangerously irreverent. A staffer had an argument with an anti-evolution zealot who said he believed Jesus lived at the same time as the dinosaurs. The staffer now has a giant tat on his back of Jesus riding a dinosaur. At a staff meeting, chief of staff Roxane White passed out copies of the management book The 4 Disciplines of Execution, and the head of corrections had Hick spitting out his coffee when he quipped, "Thank God. I thought we were talking about a different kind of execution."
In Hick's office are pictures of Helen and Teddy and knickknacks like a license plate given to him by Vonnegut from the Mercedes he finally felt comfortable buying after Slaughterhouse-Five had been number one for months. But there's also a posting of The Optimist's Creed, which ends with the line, "To be too large for worry, too noble for anger, too strong for fear, and too happy to permit the presence of trouble." Hick actually believes it, but his staff was still worried as the statewide tragedies piled up.
"I've said to him, 'You're going home to an empty house – and you can't do that tonight,' " says White. " 'So which one of your friends do you want to go to see tonight?' Nobody as extroverted as John should go home to an empty house after those kinds of things."Hick's think-out-loud style has become less of an asset as he moves into the infighting of state and national politics. He got in trouble with Obama for saying the president was "not fluent in business." As we rode over to the press event announcing that United Airlines would be flying nonstop from Denver to Panama City, Hick mused, "I guess we shouldn't mention those Denver companies' rebuilding the canal with a $1 billion cost overrun." His staff in the car looked at their shoes. On another occasion, Hick talked about flying in a helicopter to visit flood victims just weeks after his hip surgery. He couldn't resist adding, "A governor on crutches helping flood victims isn't a bad shot for television."
After Aurora, Hick suggested on Meet the Press that the real issue with the mass shooting was mental illness­ – a longtime policy concern for Hick from his mayoral days – and not the size of magazines that a murderer could buy for his semiautomatic rifle. Hick eventually changed his mind and passed legislation limiting magazines to 15 bullets. He says the switch was about evolving on a tough issue based on more information, but his detractors saw it as dithering. Hick didn't help himself in June when he met with sheriffs opposed to the ban and seemed to second-guess his support for the bill, joking, "How many apologies do you want? What the fuck?" The quip went over better in the room than with his detractors, who saw a backslide.
Law-and-order issues have dogged him his entire administration. Hick ran for governor in 2010 as a pro–death penalty candidate, but when the Nathan Dunlap case came before him, it caused the greatest crisis of his administration. There was no question that 19-year-old Dunlap had murdered four employees at an Aurora Chuck E. Cheese's in 1993. But when it came time for Hick to sign the death warrant, he couldn't do it. He learned about Dunlap's serious mental issues­ – a factor his sentencing jury didn't know about – and heard White tell him she would resign if Dunlap were put to death. Hick called his friends for advice. One of them asked him a simple question: "Will you be able to sleep if you put this man to death?"
The answer was no. But rather than commute Dunlap's sentence, Hick gave him a stay of execution for the length of his administration, which, if he is reelected, runs until January 8, 2019. Critics saw it as political cowardice, just punting the problem to the next guy. Hick claims he was giving Coloradans time to think about where they want to stand on the death penalty.
Hick can cite numbers on the cost in millions spent to put a man to death and society's changing views on the punishment. But he says he was always an eye-for-an-eye, tooth-for-a-tooth politician until he met with then Denver archbishop Charles Chaput for more than an hour as the Dunlap case sat on his desk. He left the meeting a changed man, which is either brave or Chauncey Gardiner–esque naive.
"I was so clueless," says Hick. "It has no deterrent value. It depends on which DA you get, in what county you committed your heinous crime." His eyes widen, and he thrusts his hands apart. "I never realized that there is no eye for an eye, tooth for a tooth anywhere in the New Testament." His voice drops a bit. "We didn't go to church a lot after my dad died."Later in the week, Hick piles into a tiny plane and flies through the Rockies for a commencement speech at Western State Colorado University, in Gunnison. He glances at his speech until his phone buzzes.
"It's Helen. Teddy just made an unassisted double play," reports Hick. "Doesn't mean there isn't doom around the corner!" He looks up from his notes. "You know, we named him after Ted Williams, who died the day Teddy was born. The Buddhists believe when you die your body circles the earth seven times, and that takes three to five hours, and that was about the time it took before Teddy was born."
Hick touches down in Gunnison and within 15 minutes is in a cap and gown. He speaks for just 12 minutes. He talks about hanging out at Wesleyan so long he thought he was going to get tenure, his botched novel, his failed geology career, and Shrimpie's refusal to invest in his brewery. But he brings it around to resilience and his refusal to quit until the Wynkoop was a success. He ends with: "Be nice, never give up, good luck, and giddyap."
There is a stop at a ranch to sign a bill bringing WiFi to the rural parts of the state, and then he is gone, back home by 3 pm He slips into a fleece jacket and watches Teddy shoot some baskets in the driveway near an old Checker cab Hick bought on a lark.
The one thing Hick has tried to dodge all week is talk of a 2016 run as either a presidential candidate or a folksy VP, maybe playing the Biden role for Hillary. Part of his reluctance is the fact that he is up for reelection, part of it is dread at leaving Teddy for Iowa and New Hampshire, and part of it is a frank admission that the kind of guy who names a beer after a sexual position wouldn't fly outside Colorado.
But maybe it could. Hick talks for a couple of hours about the middle ground and the art of compromise. I ask him if he might run not so much to win, but to get the old-fashioned idea that the center is where America stands, not left or right. He looks at me as if I'm presenting him with a new concept.
"I don't know. That's a legitimate question that I haven't thought about – I think that's been valuable to Colorado, right? That even with things like the death penalty, there's a value to having someone look at it with an out-of-the-box kind of approach."
We wander inside, and Teddy joins us. In some ways, his son has been his best adviser, agreeing with Dad's political detractors that slow political decision-making is his father's greatest vice. He told his pop he couldn't live that way at school. So Teddy gave him some advice: "Get the facts; make the decision; move on."
It could come in handy in 2016. Presidential politics have a long tradition of crushing optimists, so we'll see. Hick could end up pulling a New Hampshire upset or becoming a Saturday Night Live punch line. Either way, Hick would leave a mark. It might be on him; it might be on our country.
Hick wraps a long arm around his son, reveling in being the father he himself never had. He points to a chin-up bar hanging above the doorway into the kitchen.
"Why don't you stay for a beer? I think Teddy's record is nine. Right, Teddy?"
"Dad."
I make my excuses and head out toward my car. Hick shouts from the top of the steps.
"I may call you later."
There are so many more things to talk about.
For access to exclusive gear videos, celebrity interviews, and more, subscribe on YouTube!