Leader of the Pack
Jason Momoa Is Hollywood's Apex Badass. But There's More to Him Than Motorcycles and Red Meat
"You eat meat, right?" Jason Momoa asks as we pass through his interim Toronto residence—a three-story Victorian—into the backyard, where two massive tomahawk rib-eyes hiss and smoke over a glowing grill.
"Here, grab one," he says, snatching up the hunk of meat, childlike grin smeared across his signaturely hirsute face. The intense greeting seems medieval, classic Momoa—downright Dothraki—so I do as Khal Drogo instructs, holding up a smoldering, frenched rib bone just long enough for a selfie.
Checking the photo, Momoa issues the next directive. "We can't post these," he says poignantly. "You can see the houses behind us." It's odd to hear a man who embodies nomadic warlords and towering superheroes concede to such precaution. But inadvertently revealing your exact location to 16 million Instagram followers is a no-no, whether he's hanging here or at his actual home in Los Angeles' Topanga Canyon.
There are other pics that he's more eager to share, namely of an antique Land Rover just secured in a swap for two vintage Harley-Davidson choppers, a rare trade from his collection. "I usually just hoard everything when it comes to bikes and trucks and cars."
One might guess as much from the '36, '37, and '39 Harley knuckleheads parked on the grounds. "Those are just my choppers. My other bikes are on the way here," he admits. "I love them all—knuckles, pans, shovels. They're all different, they all sound great, and they're all fucking awesome."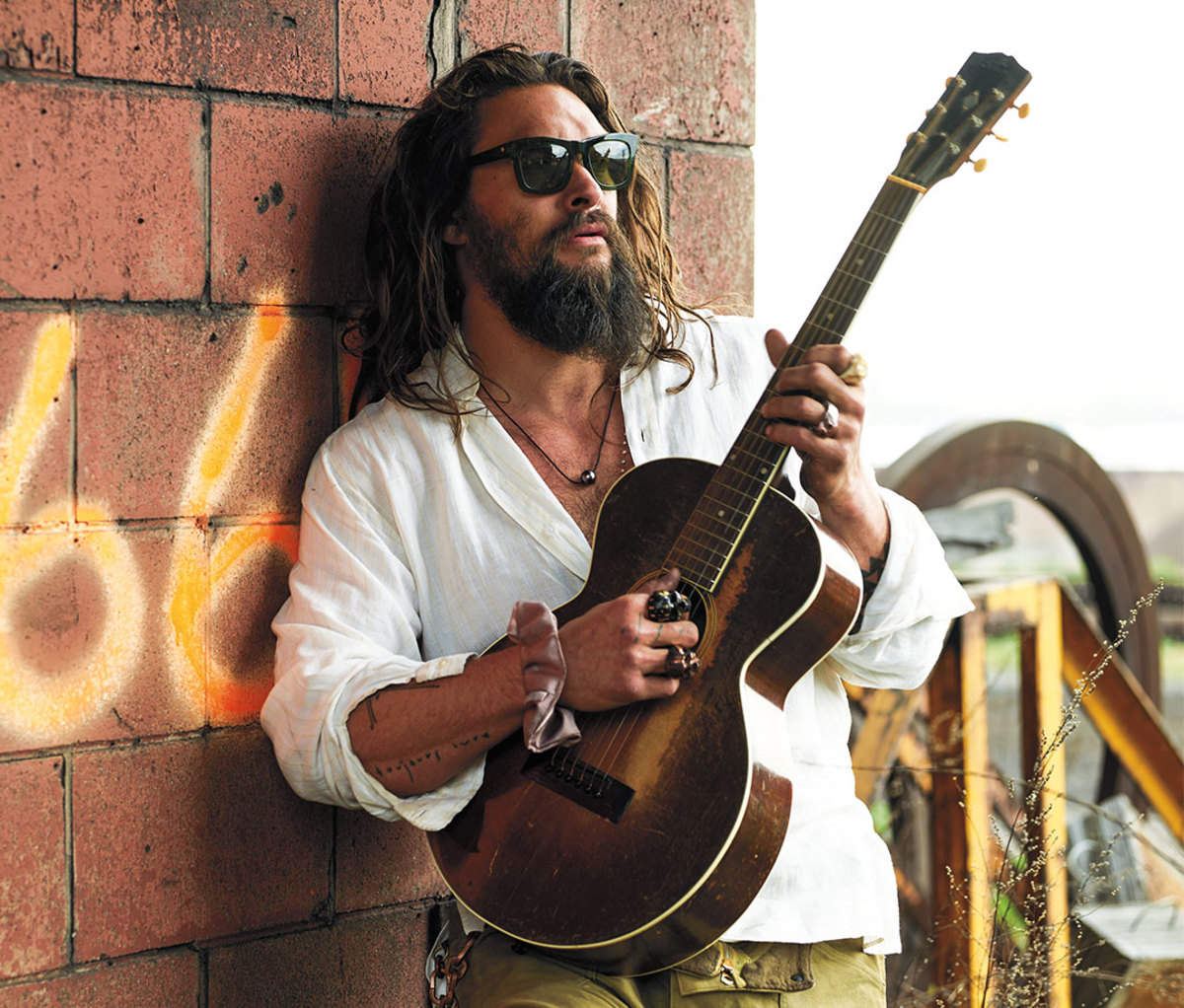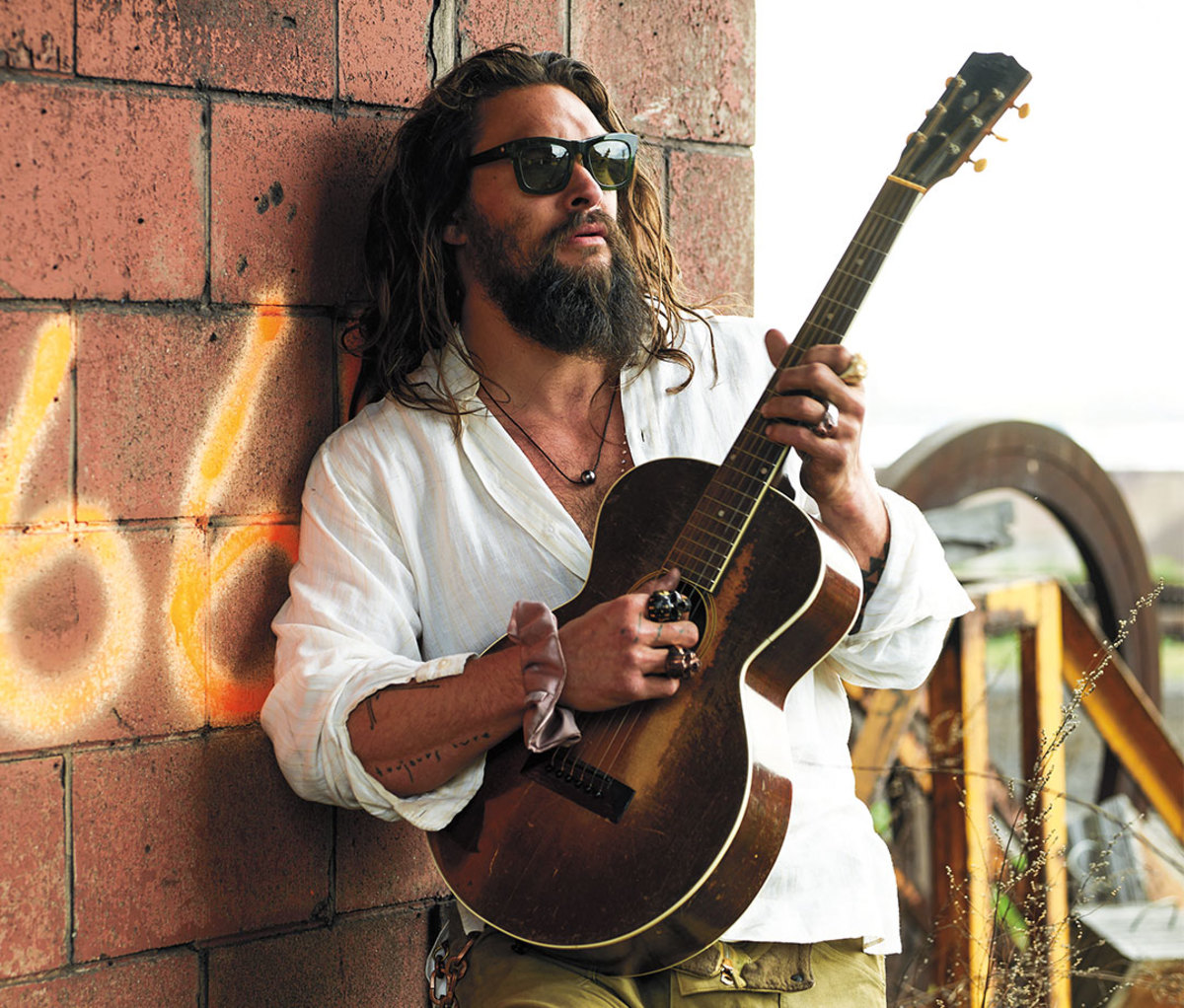 And though he craves the sound "when you kickstart the bike and the motor growls right back at you," the self-proclaimed "gas and oil guy" knows it's a guilty pleasure. As a fierce advocate for ocean health, he's making the shift to electric. "A lot of my trucks have been converted into e-vehicles," he says. "I run solar power, and I love Harley's electric LiveWire. You twist the throttle and jump to 100 miles an hour in three or four seconds. It's a whole different sport, and there ain't nothin' about it except—bravo!"
This sort of full-throttle enthusiasm is Momoa's true superpower, demonstrating that he's got more than physical DNA to sustain his rapidly multiplying pursuits. Beyond his most visible presence as an actor, now he's producing documentary passion projects and even parlaying his ongoing relationship with Harley-Davidson into directing a six-part series spotlighting real riders around the country.
Resplendent in pink shoes and purple pants, Momoa opens his Army-style sweater to reveal the pattern of V-twin motors on a Hawaiian silk shirt—part of a new apparel collaboration with Harley-Davidson. "This is the motor from my first motorcycle, a '56 panhead with a '48 springer front end," he says, noting that he named the bike after his grandmother Mabel. Then, with a jovial turn, he tugs the fly of his pants, also part of the collection. "Not to flash my crotch here, but look, right behind the zipper." Yep, the lettering on the thin strip of fabric reads, "Aloha." With a belly laugh, he zips back up.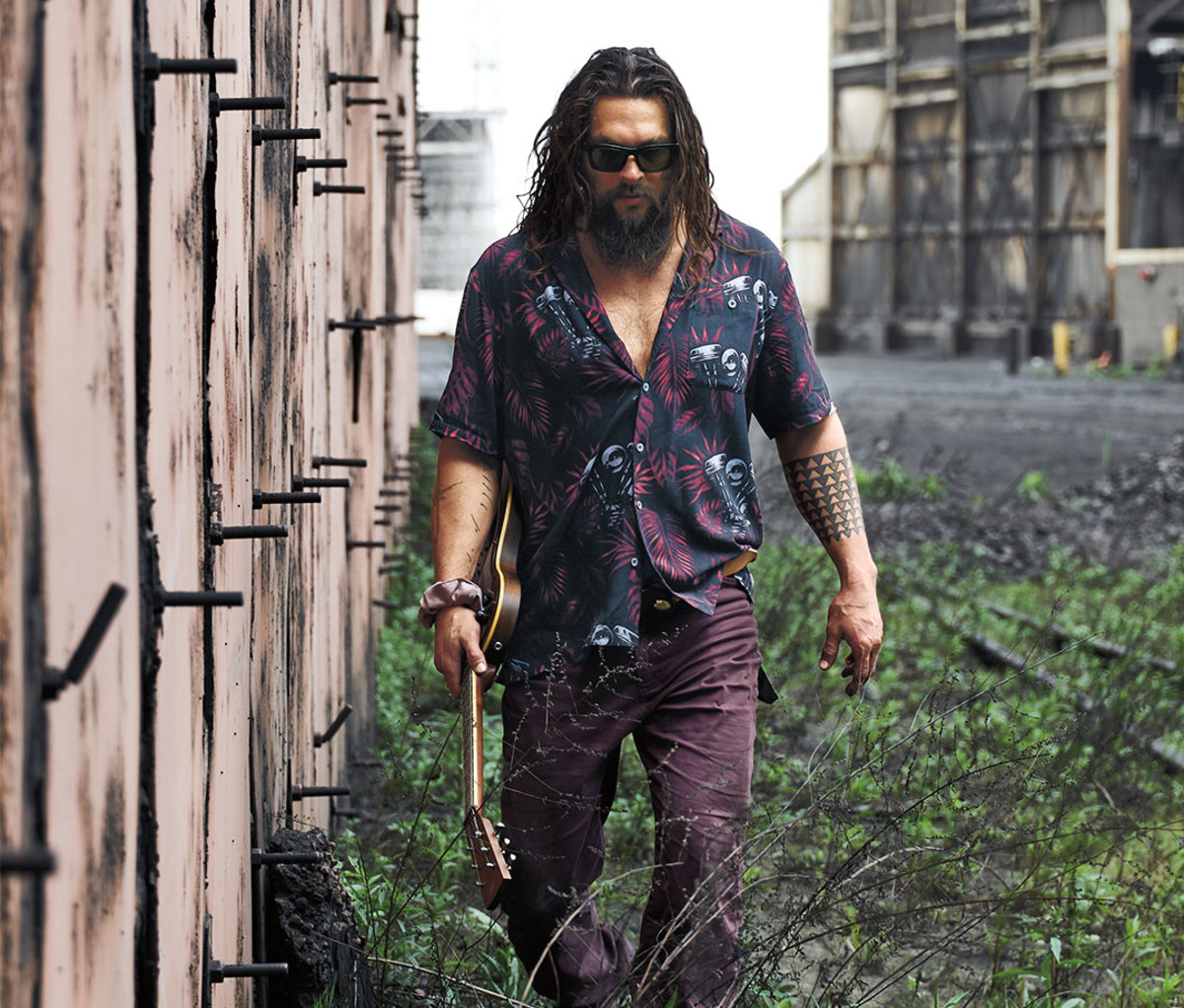 The Toronto house is also currently home to Pride of Gypsies, the production company founded by Momoa and director Brian Andrew Mendoza. It's a semi-bohemian collective of artists and filmmakers with a shared sense of storytelling. "Brian is my best friend in the whole word, the DP of everything I've shot, and my producing partner," says Momoa. The two have been making films together since Momoa's 2014 directorial debut, Road to Paloma. And with the full slate of projects they're undertaking, a burgeoning camp is required to keep up. All under the same roof: a special-effects makeup designer, costume and wardrobe designers, videographers, photographers, personal driver, personal trainer and healer, personal makeup artist, personal assistant, and stunt double.
Their current mission is to complete the second season of See, concerning a tribal, post-apocalyptic world in which humans have lost the power of sight, for Apple TV+. The pandemic shut down production in spring 2020, then the crew returned to Canada six months later to resume filming using extra precautions. So Momoa largely has been apart from wife Lisa Bonet and their two children, Lola, 13, and Nakoa-Wolf, 12. "I've been locked in," he says. "I haven't been home in seven months. But the babies were out here for a long stint."
Momoa spends no time bemoaning the adjustment to uprooted life multiplied by pandemic protocols. Playing See's lead character, Baba Voss, now battling to rescue his miraculously sighted daughter from his estranged warlord brother (played by Dave Bautista), offers a new opportunity to learn. "I find myself not holding eye contact, so when I listen, rather than facing you directly, I face you with my ear. That's how Baba hears—by pointing his ear toward the sound."
Momoa extends his arm and snaps his fingers toward a nearby wall, and then again toward open space, demonstrating the difference in sound. "You can actually feel your surroundings by listening. You can echolocate as the sound of the snap comes back at you off the walls. It's beautiful to use it to build these awesome characters with full reliance on other senses."
Given the wardrobe and makeup requirements common to much of Momoa's oeuvre, it might have been a relief to film a soon-to-air Netflix movie (and pal Mendoza's directorial debut), Sweet Girl, in which he plays an average contemporary man seeking to avenge his wife's death while also protecting his daughter. But that didn't stop him from diving back into the fantastic for another big Netflix film.
Before finishing the season of See, and with help from members of the Pride, he would transform daily from Baba to Flip, his character in Slumberland, slated for 2022. The new role is a psychedelic sidestep from Momoa's barbaric warrior-hero bread and butter. He plays an eccentric, horn-headed outlaw who guides a young girl through fantastical dreamscapes in search of her missing father. "Dude, he is my spirit animal," says Momoa. "I've got horns, sharp teeth, and a fantastical pink wardrobe with purple boots that leave my claws coming out of them."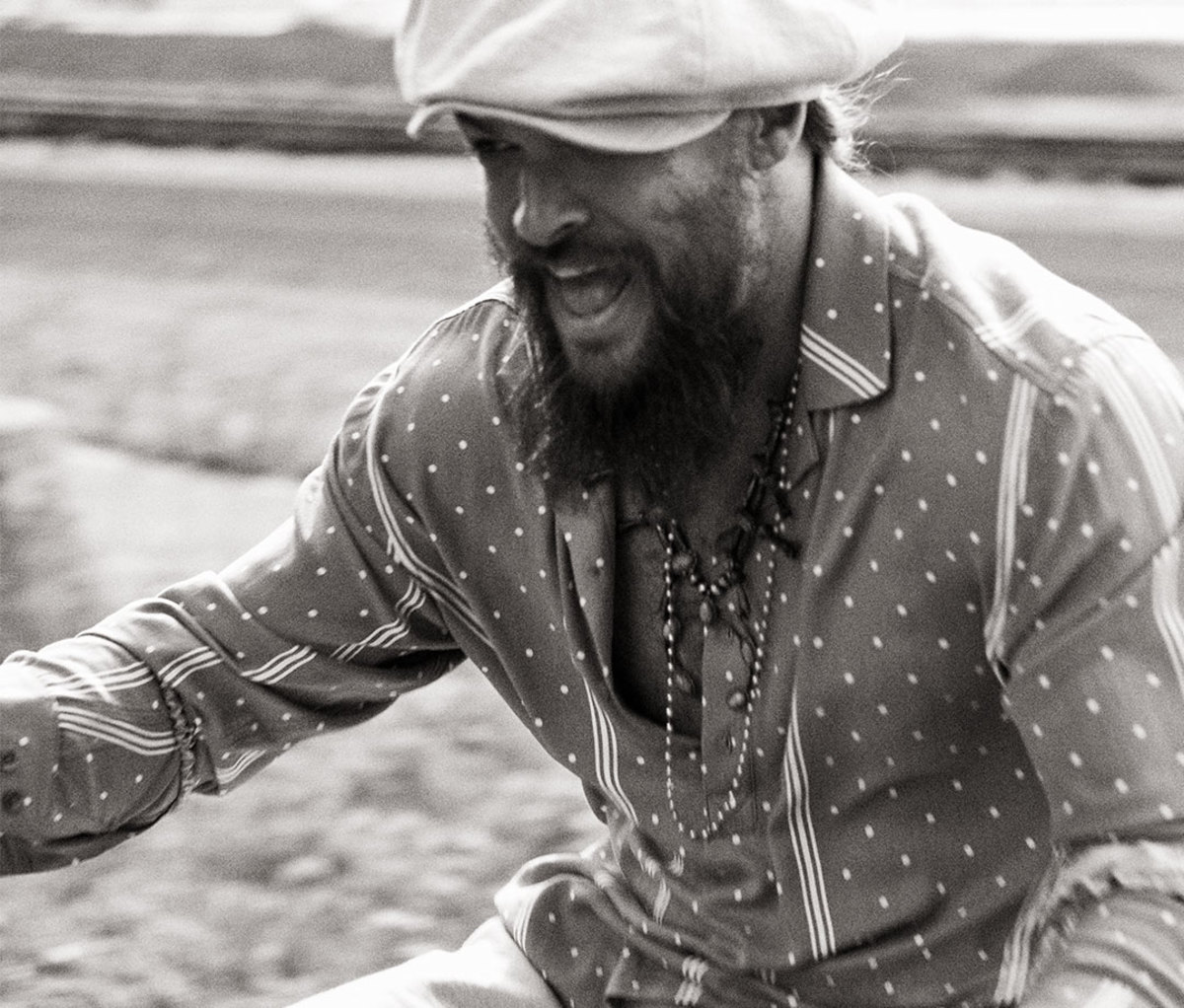 This burst of projects and brand ambassadorships stands in fairly stark contrast to leaner days of not-so-long ago. In fact, just after exiting Game of Thrones in the show's first season, Momoa was flat broke. "We were starving," he recalls. "I couldn't get work, and we were completely in debt." Things turned around in 2016 when he first cameoed, some-what against type, as a certain superhero who commands fish. Subsequently, he fleshed out the character in 2017's Justice League and top-lined 2018's Aquaman, which grossed more than $1 billion in worldwide box office, becoming the DC Extended Universe's most successful film to date.
Momoa shows off a special Batman Begins–inspired mask that special-effects makeup artist Matt Aebig is creating for his son. "Wolfie loves Batman. We made a cast of his face while he was here so Matt could make him this," says Momoa. "He loves all the costumes and props. We watched the screening of Dune together, then I gave him the prop swords from the movie—he already broke them."
Oh, yes, the pandemic-delayed Dune—the new, big-budget adaptation of what is often called the greatest science fiction novel of all time. Momoa takes on the role of Duncan Idaho, the sword master oyal to protagonist Paul Atreides, played by Timothée Chalamet. So, is Momoa's inner geek genuine enough to be a true fan of the sprawling, futuristic saga? Yes, the stoke is definitely real. He leans back in unadulterated glee and howls: "Bro! Besides Game of Thrones, just to be in this world—it's fucking beautiful!"
As Momoa tells it, director Denis Villeneuve sent him a 60-page visual presentation as a way of asking if he'd consider the part. "Ha, you had me at fucking hello!" Momoa laughs. "The coolest thing about my character is that he's the Han Solo—the swashbuckling rebel who stirs the pot. And he's really close to Timmy's character." Just considering the ensemble cast has Momoa beaming, starting with the "dream" of working alongside Javier Bardem. "So to work with Javier on this epic film and also with Josh Brolin—I love Brolin! And Rebecca Ferguson killed it, and Oscar Isaac is my new man-crush. I'm just so pumped for the world to see it."
How does he rate the fan-dividing 1984 version directed by David Lynch? As Momoa explains it, he doesn't watch previous productions. Instead, he sticks to the books and scripts, a choice made easier by the Lynch film not being part of his childhood. "I grew up with a single mother who raised me on Gone With the Wind," says Momoa. "She never let me watch movies with people getting their heads lopped off or joining in orgies. My preparation was more about spending time with Denny and spending time in my imagination to find those places in myself where I could play Idaho's character."
Having evolved from brawny Hollywood cog to the organizing force behind Pride of Gypsies, Momoa leans into the importance of pursuing what you love. "I just do the things I want to do and love to do," he says. "I've had a pretty stable career of being an actor, but there are stories and things I want to do in filmmaking. With a great script, sound design, and imagery, you can change people's viewpoints with cinema. That's what I'm moved by. Filmmaking is the ultimate form of art for me. It's what transported me out of small-town Iowa—to be able to see the world, become excited to inspire others, and make great stories. So, when that door began to slowly open, I kicked it in and brought all my friends with me. I love directing and producing. You get to tell more, you get to do more."
Filmmaking is the ultimate form of art for me. It's what transported me out of small-town Iowa.
You also get to leverage fame into branded do-gooding. Inspired by the milieu of Aquaman, Momoa recently launched Mananalu, a sustainable canned water intended to help cut back on single-use plastic bottles. "There are a lot of things I want to heal in the world by using my platform," says Momoa. "It's not always about producing a movie, it's also about producing ways to help make the world a better place. That's where my heart is."
Duly inspired, and a tad overwhelmed, I thank Momoa for the hospitality and, of course, the perfectly grilled tomahawk steak. He reaches out with a parting elbow bump and asks a sincere question, lowering his head to really hear the answer: "Was that the best dinner you've ever had during an interview?"
Damn straight.
For access to exclusive gear videos, celebrity interviews, and more, subscribe on YouTube!